Blue is a classic colour for the kitchen as well as being a colour of relaxation, and with the kitchen being the heart of the home, we've collected the best blue kitchen ideas to inspire your next renovation or DIY project.
Cozy blue kitchen idea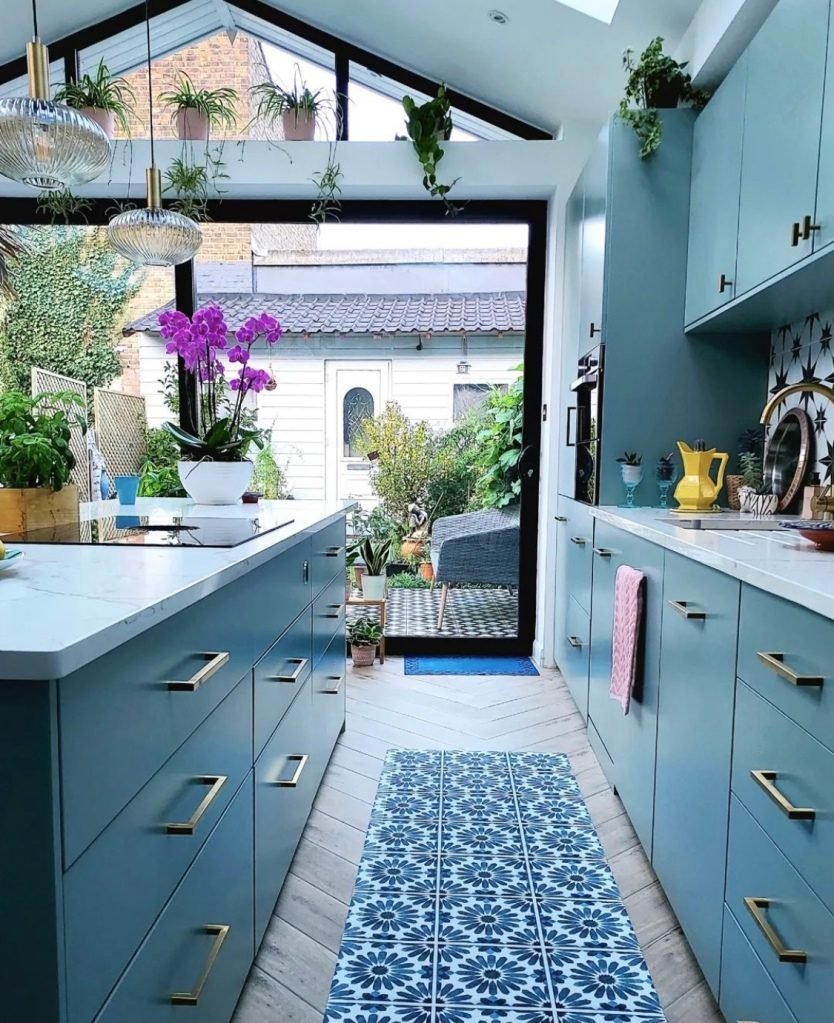 Create a comforting ambience in your kitchen with a mid blue colour scheme that can easily brighten up a space while still looking dark and cozy. Give your blue kitchen contrast by bringing elements of nature like wooden flooring to complete the look.
Paint colour idea: if you love the blue kitchen idea above, opt for Farrow & Ball's 'Oval Room Blue' for your cabinets or walls for a relaxing kitchen aesthetic.
Light blue kitchen idea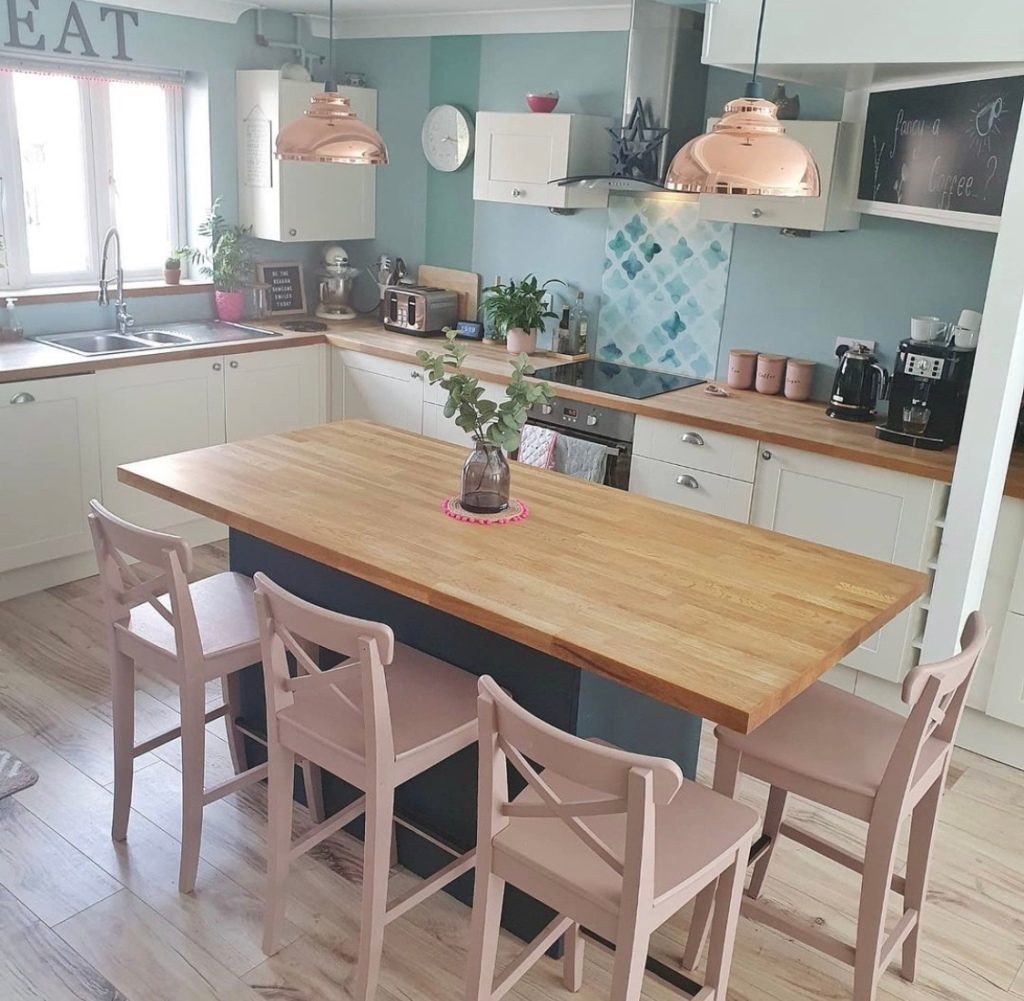 Brighten up your kitchen with light blue accents for a fun and airy look to your kitchen. Whether you're looking to add colour to your entire kitchen, or just in some parts of your space, adding light blue can really make all the difference. Associated with health, light blue is great for the kitchen to give you a feeling of positivity.
Contrast a light blue kitchen with white features with cabinets or flooring so that the overall look is broken up and easy on the eye.
White and navy blue kitchen idea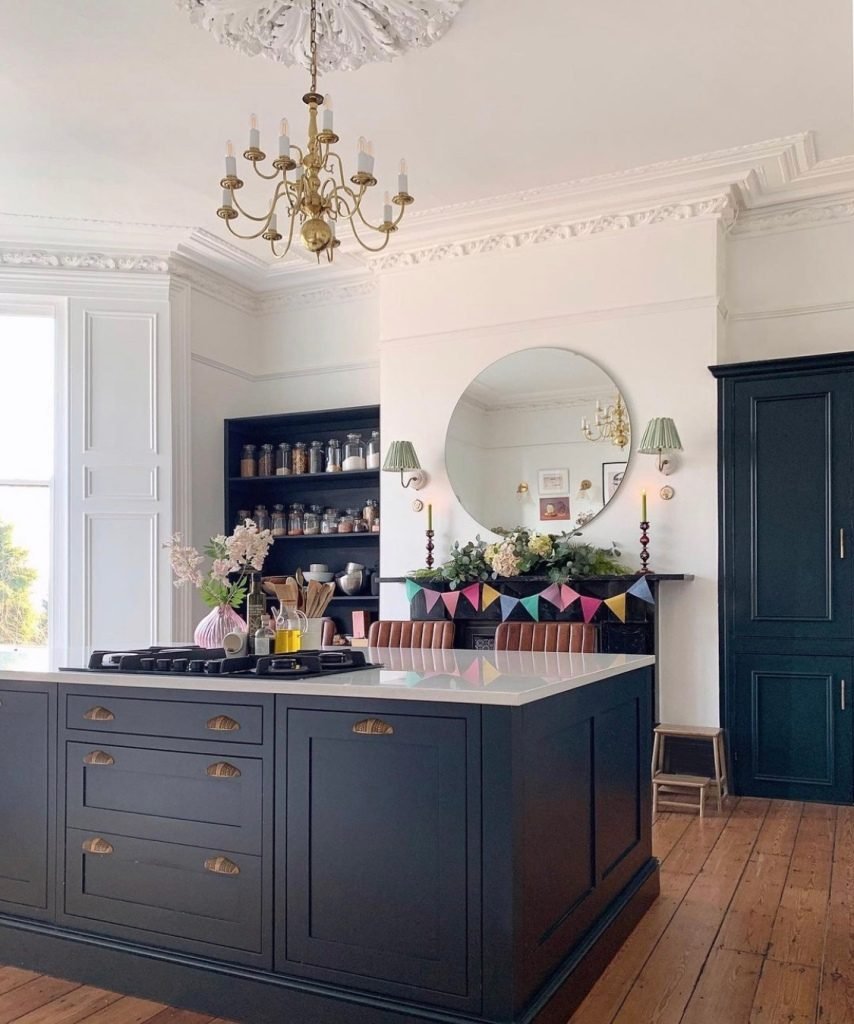 Create a bold look in your kitchen with a white and navy blue colour scheme that is classic and will look timeless. If you're looking to incorporate a blue kitchen island, choose a glossy white countertop to make the space look elegant and luxurious. Follow the look through with matching navy cabinets, then fill in the rest of your space with bold white to create a contrast.
Cottage blue kitchen idea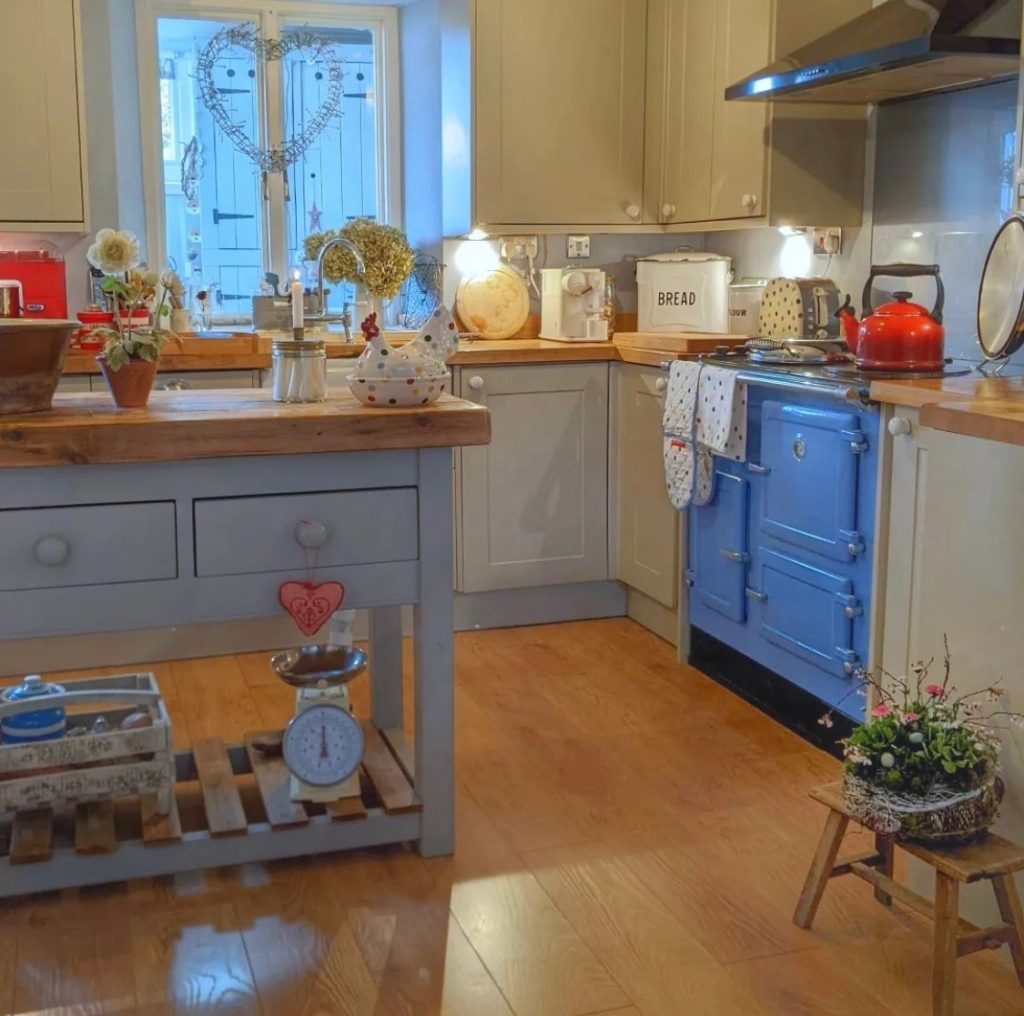 If kitchen comfort is your go to style, why not incorporate baby blue shades into your kitchen to bring in the essense of the countryside. Perfect when matched with subtle colours like grey, cream and wood textures, baby blue is uplifting and adds a pop of colour to your kitchen while still giving you that feeling of nature.
Blue and marble kitchen idea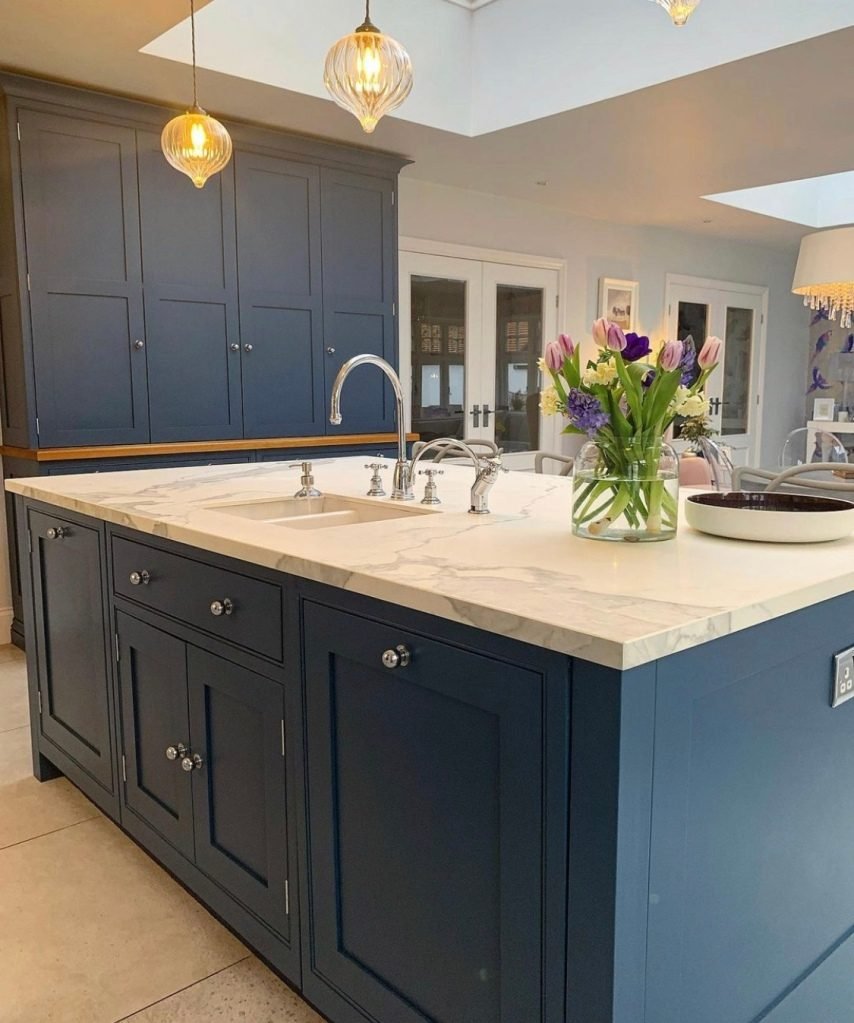 Navy blue combined with marble adds a luxurious finish to a blue kitchen design. Darker shades of blue represent calmness and this is a great colour choice for a kitchen especially when, at times, calmness is the farthest feeling you experience when cooking. Therefore decorating with a relaxing colour palette can add to your experience in the kitchen.
Light blue and off-white kitchen idea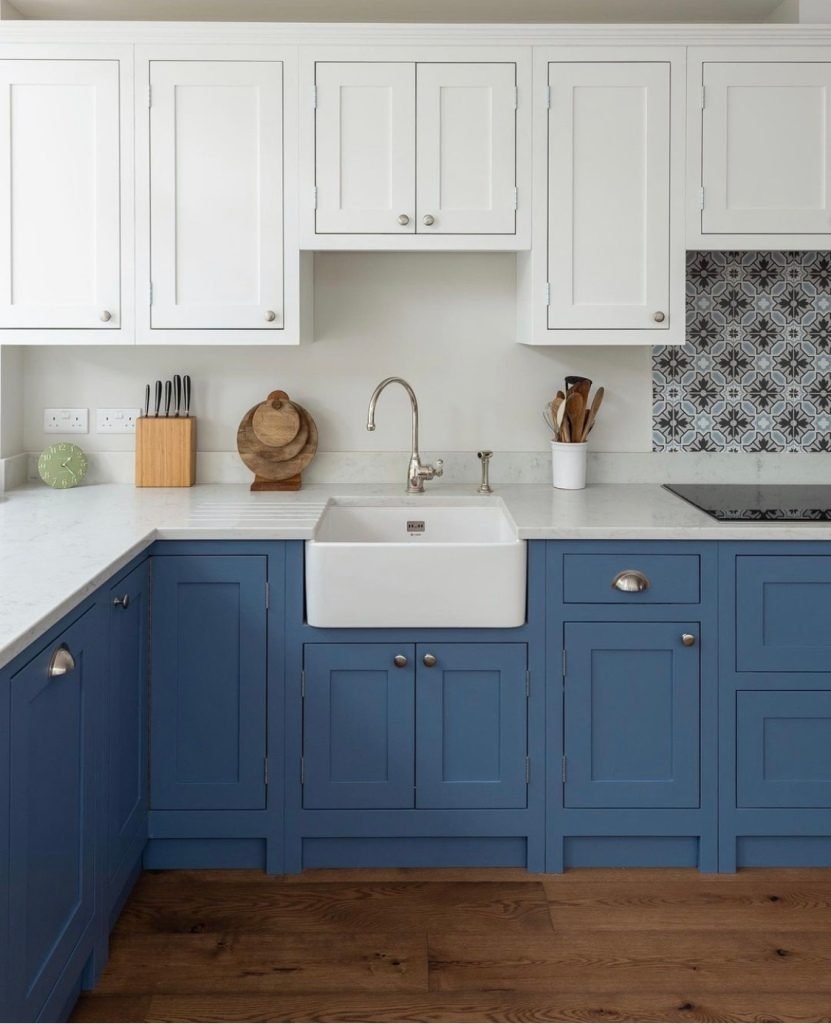 Making a bold statement in the kitchen doesn't always mean having bright and eccentric decor choices. If you love interior design elements that use pastel or toned down shades, why not incorporate this into your blue kitchen?
The gorgeous example above illustrates how you can use a soft blue colour against an off-white canvas to make your kitchen stand out. Furthermore, adding a statement sink to your kitchen like this deep bowl will transform your kitchen space instantly.
Country style blue kitchen idea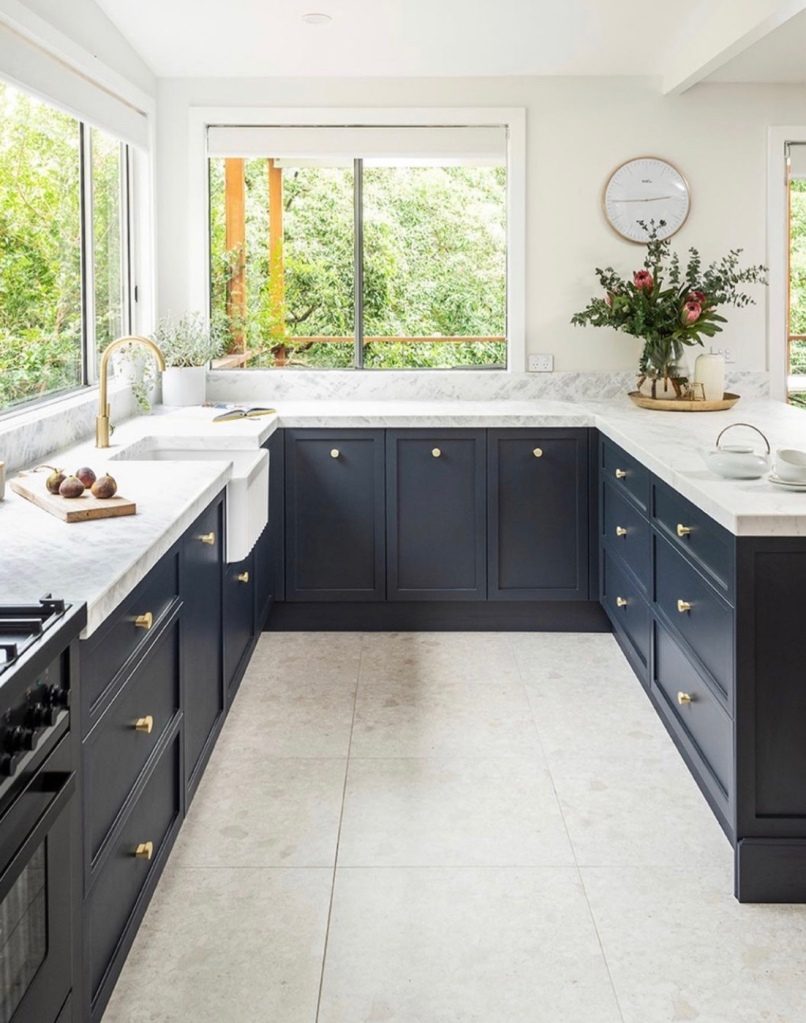 For a contemporary style kitchen that still oozes with country charm, opt for navy blue shaker style kitchen that is simple in design. We love this timeless dark blue kitchen that modernises a rustic style as well as making the space feel more open and spacious by removing upper cupboards that would usually block the space.