Are you thinking of upgrading your kitchen without the huge costs of doing so? Kitchen Islands are a hot trend in the home right now and for 2021, with so many on the market for every different kitchen style, choosing the right one can be difficult. We've made your decision much easier with our favourite picks for 2021 to inspire your kitchen ideas.
Scroll down to discover the best kitchen island ideas including seating and storage.
Modern Kitchen Island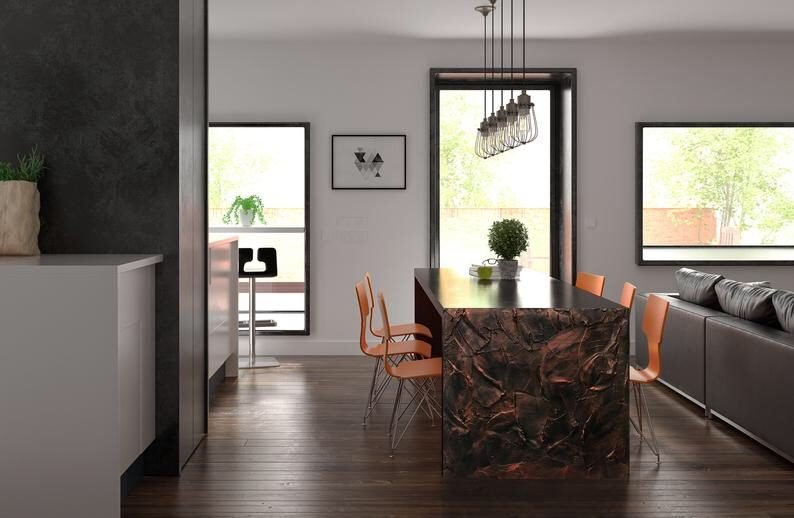 Kitchens with an open plan living room, like this design on Etsy, should choose a design that seamlessly goes together with the surrounding decor. We love this ultra-modern and contemporary kitchen island/dining idea in a beautiful black and copper colour scheme that plays into the space with earthly colours with a modern twist. The large surface space on this breakfast bar means that you can transform it into a kitchen island workspace easily as a two-in-one kitchen feature.
Shop the kitchen island on Etsy here.
Cottage Cream Kitchen Island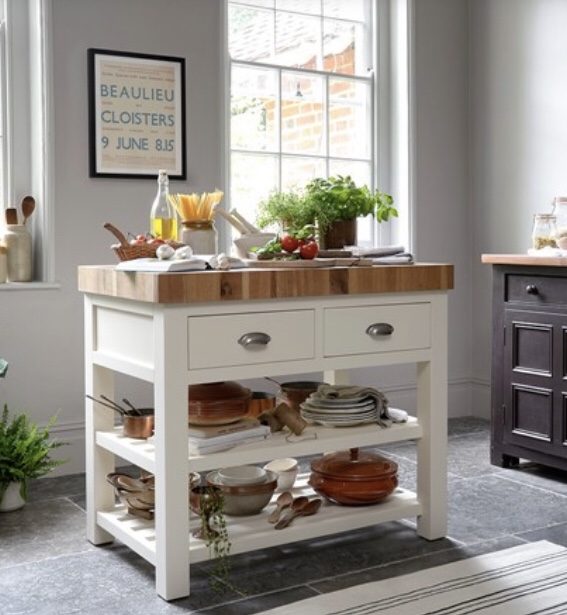 Easily prepare your meals and store all your kitchen essentials on this gorgeous cottage-inspired kitchen Island from Cotswold Co. If you've got an open kitchen space with room for a kitchen island, this is ideal as it's not oversized and it features shelves and drawers for extra storage. Plus, the beautiful cream and wood colour means that you can add this to just about any kitchen colour scheme without looking out of place.
Shop the kitchen island on Cotswold Co here.
Stainless Steel Kitchen Island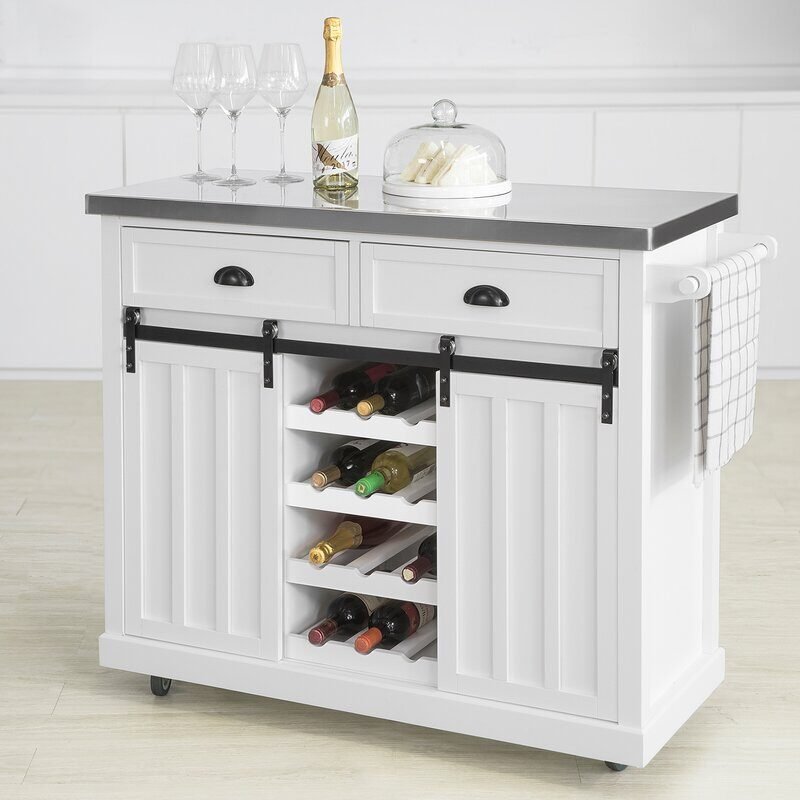 This show-stopping Kitchen Island from Wayfair is the perfect storage solution in your kitchen. We love the stainless steel work surface that allows you to prepare food, and the built-in wine rack for an instant bottle to glass top up whilst you cook. The sliding doors and two upper drawers are great for additional storage in your kitchen too!
Shop the kitchen island on Wayfair here.
Blue Kitchen Island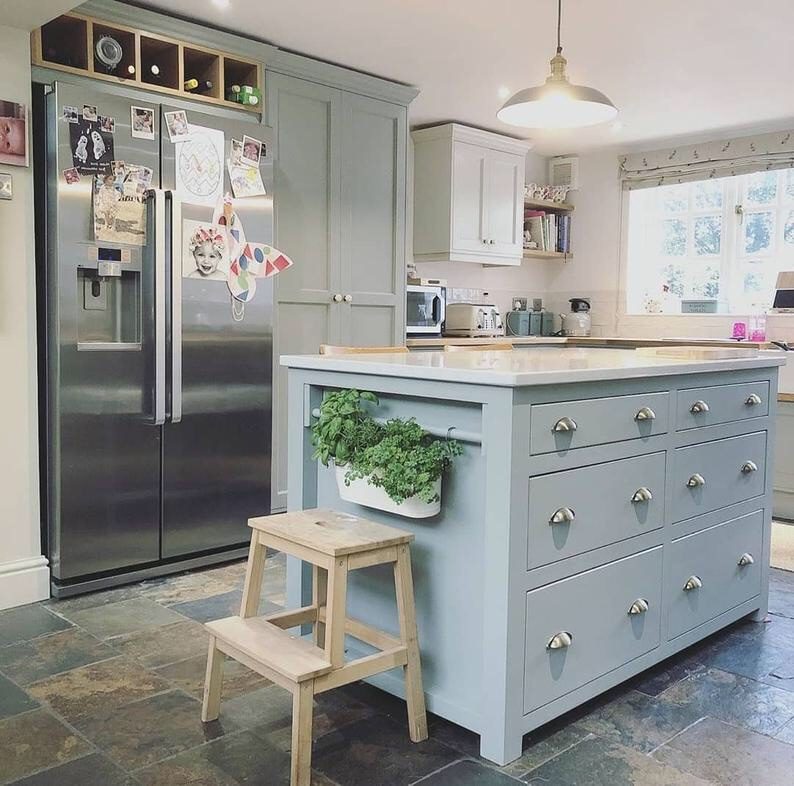 Large kitchens need large kitchen islands to help fill the space and make it homely. This beautiful pastel blue kitchen island from Etsy has plenty of storage on the front with 6 drawers – 4 of which are deep drawers for the ultimate storage savvy chef! The back of this kitchen island is hollowed out to serve as a kitchen bar for dining space in your kitchen and we particularly love the rail feature on the side for tea towels and plant potters to hang.
Shop the kitchen island on Etsy here.
Small Kitchen Island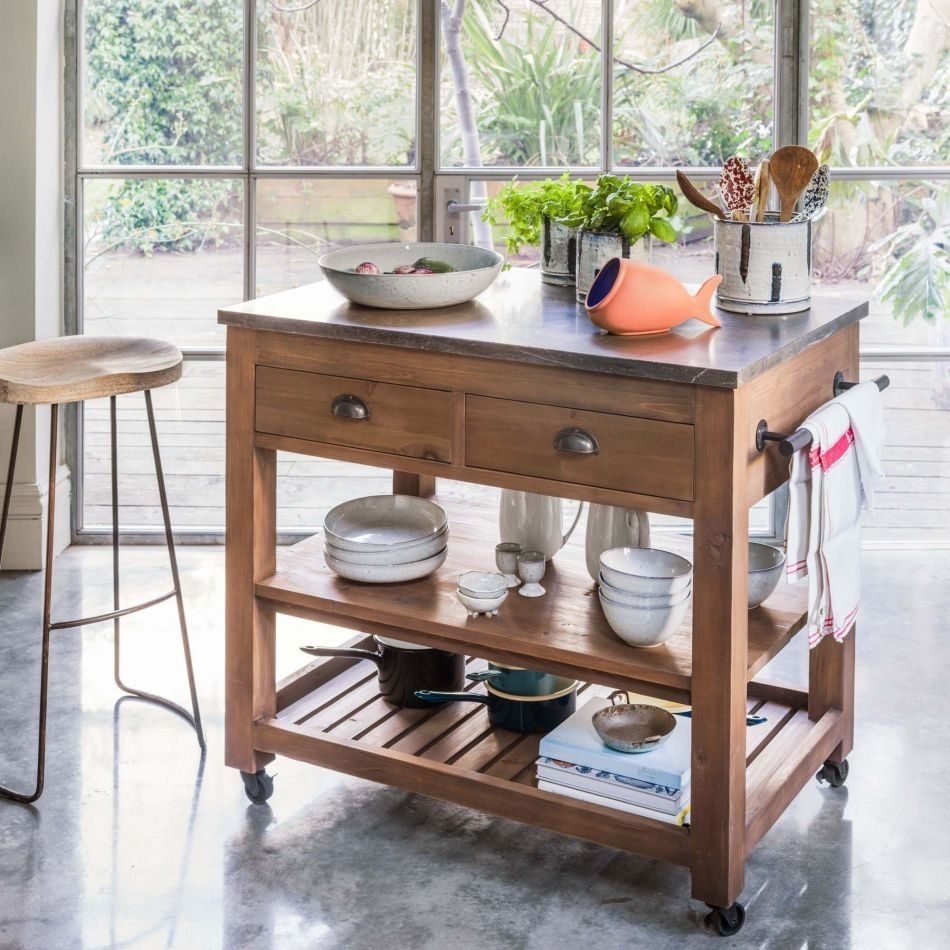 At Style Your Sanctuary, we love home decor that's eco-friendly and this beautiful kitchen island from Graham and Green is handcrafted from recycled pine wood. We love the beautiful pinewood against the limestone top for a homely countryside kitchen look. The double shelf and side tea towel rail are perfect for storing your food prep and utensils for an easily accessible kitchen space.
Shop the kitchen island on Graham and Green here.
Cream And Black Kitchen Island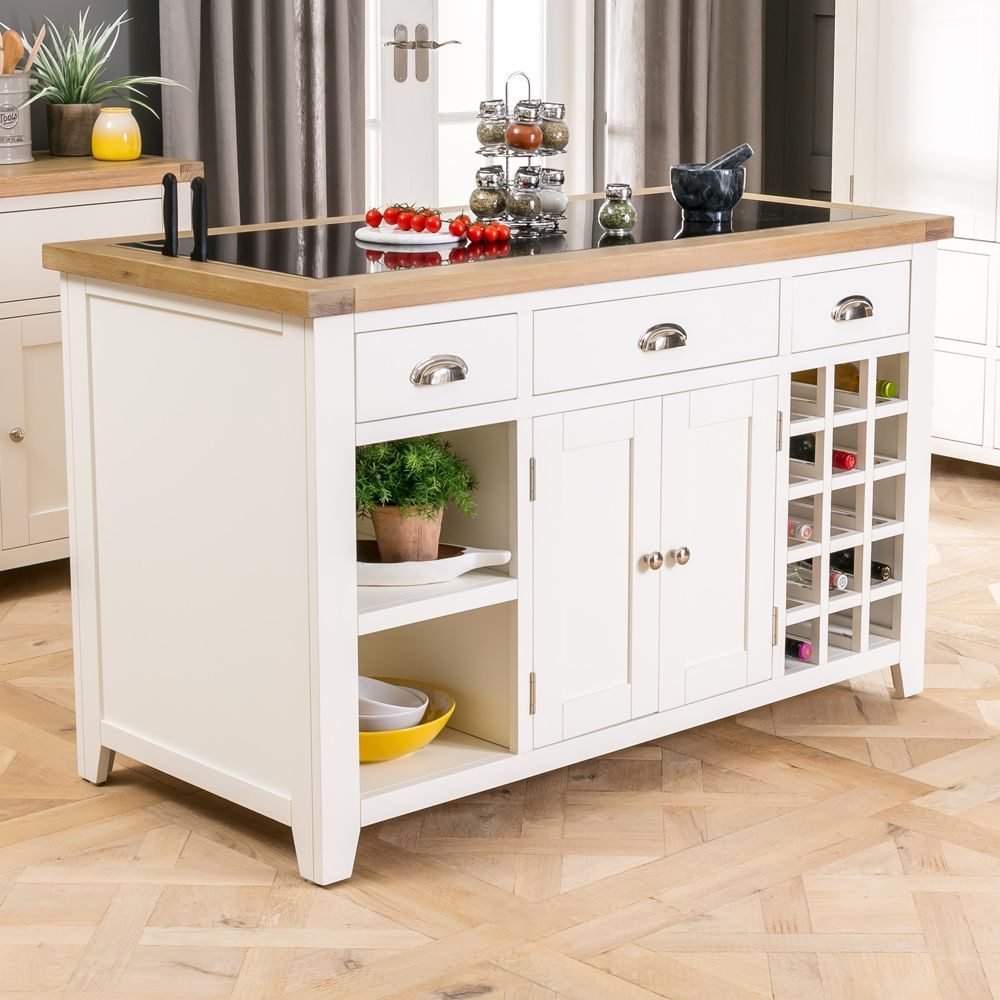 Timeless kitchen schemes like this white and black large kitchen island offer everything you need from being practical and modern with preparation and storage areas. We love the white and black granite top for a luxurious finish as well as the 30-bottle wine rack and an open-shelf area for plenty of prep storage.
Shop the kitchen island on The Furniture Market here.
Farmhouse Style Kitchen Island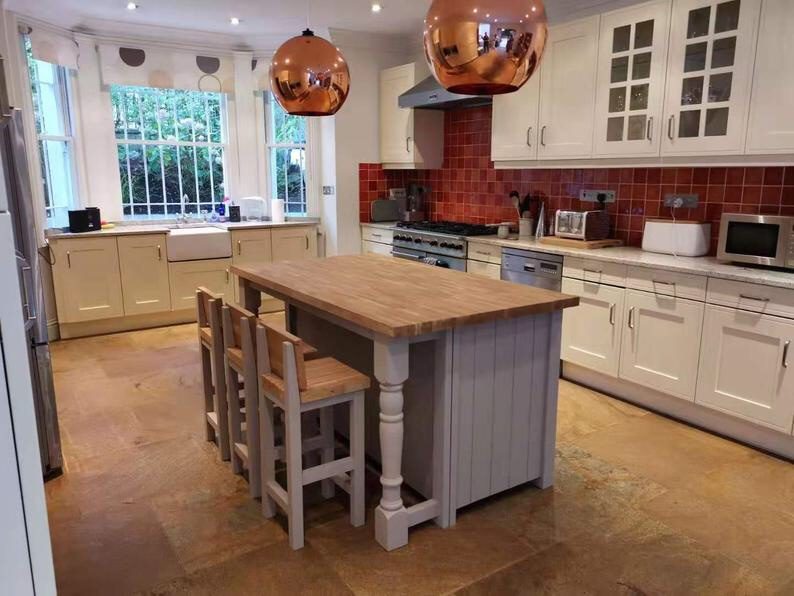 Add a pop of colour to your Farmhouse style kitchen with this gorgeous grey-blue kitchen island on Etsy. We love the natural wood top and the grey-blue unit for a contrast look, which is on-trend for 2021. The matching stools for the breakfast bar section is a great add-on feature to serve as a dining/ prep station in your kitchen.
Shop the kitchen island on Etsy here.
White Kitchen Island For Small Spaces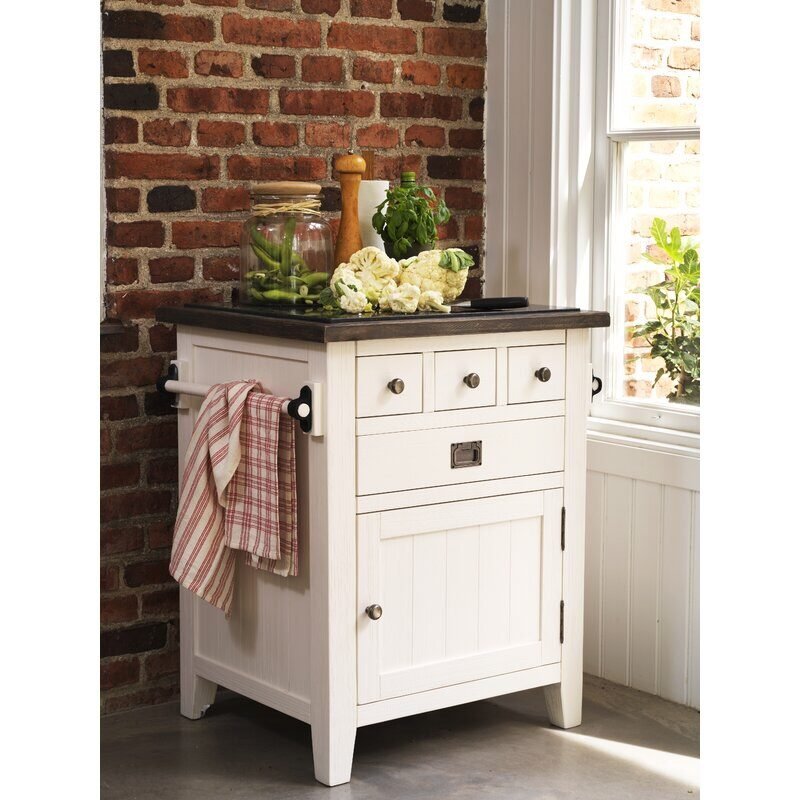 Tiny kitchens with space for additional storage can opt for something like this kitchen island from Wayfair. We love the classic look with a Granite top and simple storage for a no-fuss kitchen island/storage solution for a small kitchen.