Have you decked out your home with Christmas decoration yet? If not – or if you're looking to add to your Xmas setup, read on as we round up some gorgeous Christmas decor style to inspire your 2020 Christmas at home.
Classic Red Christmas Decor Style
Fill your home with traditional festivities this Christmas with a red decor theme. From shiny baubles to wreaths and wooden nutcracker displays. The classic red Christmas decor style is utterly magical and warm with all the iconic features of a cozy Christmas. See below for our top buys.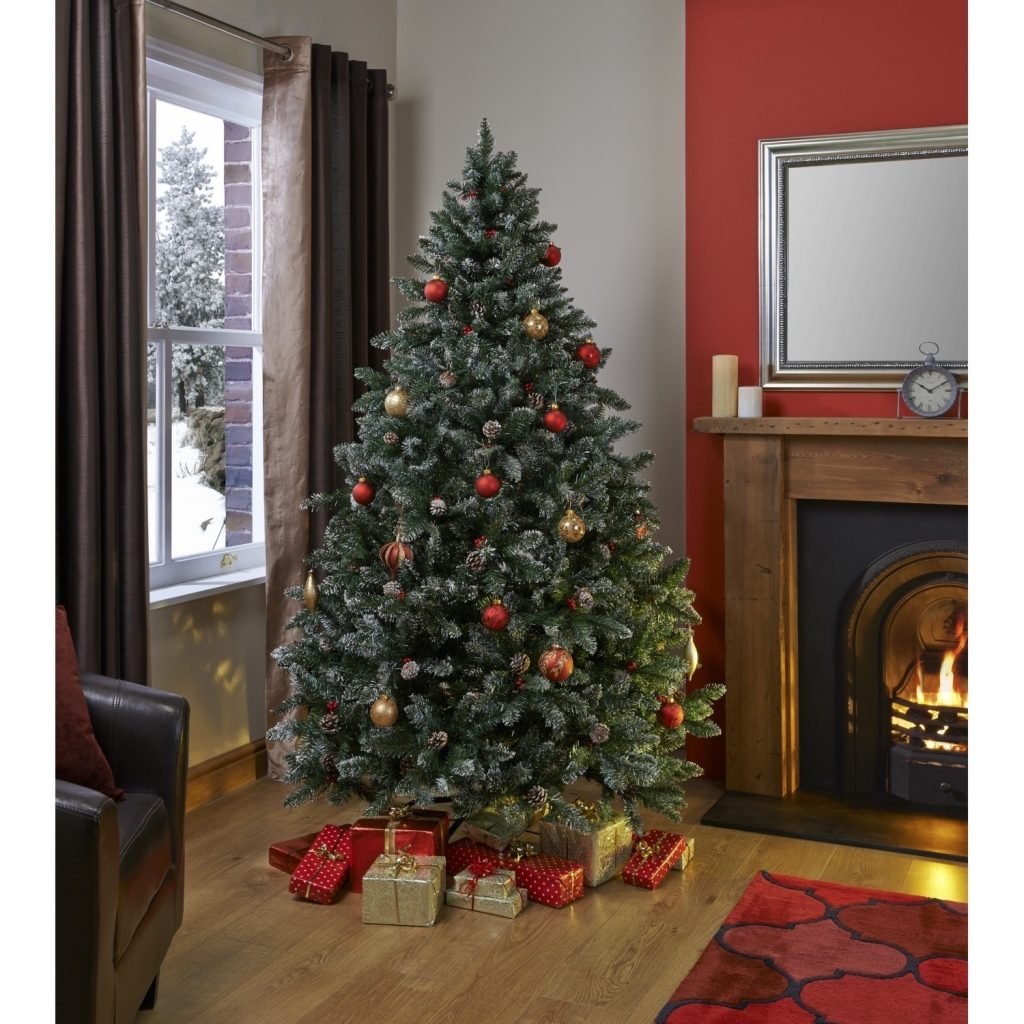 For a classic Christmas opt for a bulky tree for a full effect, which will look traditional and cozy. Buy here
Shiny and textured baubles will add a contemporary twist to a festive classic tree. We adore these Japanese-themed baubles from John Lewis with a gold finish. Buy here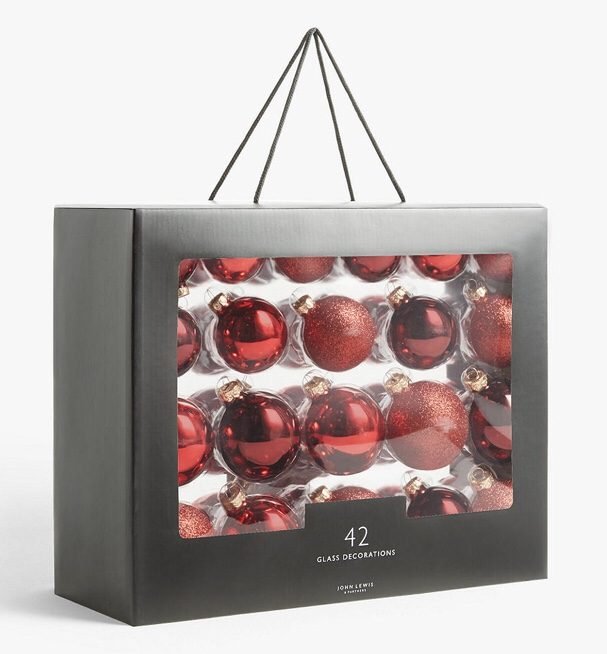 Spread the festive joy by decorating your fireplace with a personalized traditional red stocking for every member in the home (even your pets!). Buy here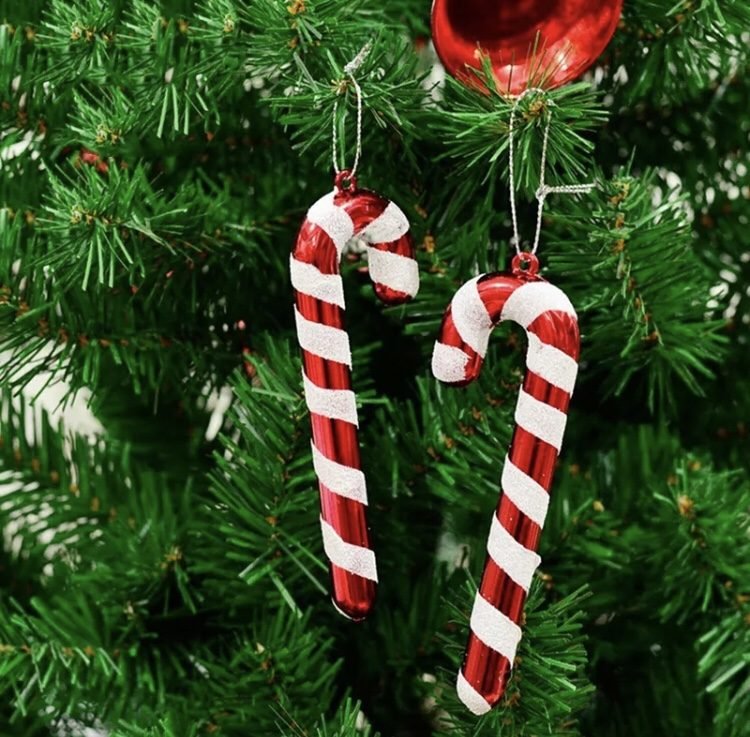 Combine red baubles with delicious candy cane decor for your tree. We love these shiny candy cane ornaments from eBay for a classic and elegant look. Buy here
Guard your tree, fireplace, or hallway with a classic nutcracker ornament, which is hand-crafted and hand-finished. Buy here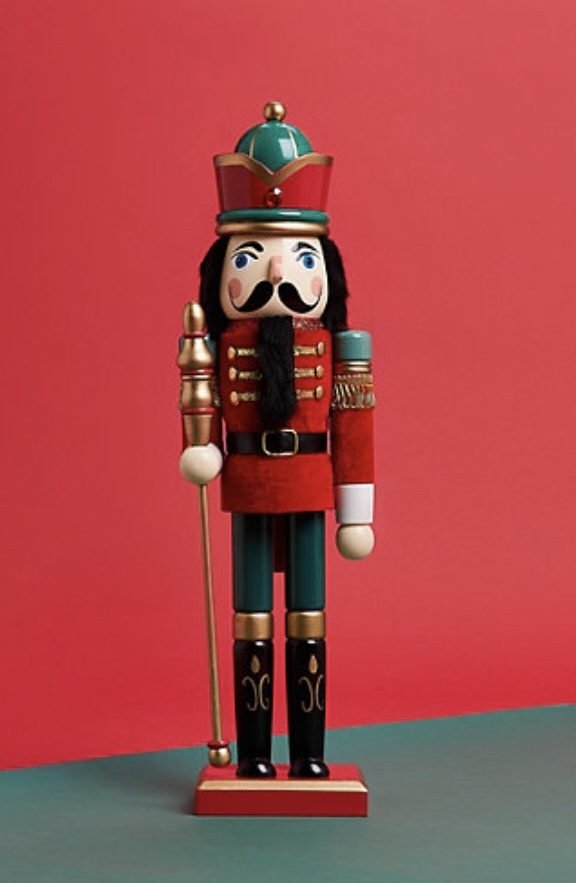 Shabby Chic Christmas Decor Style
Complete your country cottage interior style by adorning your tree with shabby chic decor this Christmas. This style of Christmas decoration allows you to incorporate different textures that will still make your tree look soft and feminine. See below for some of our handpicked shabby chic decor ideas.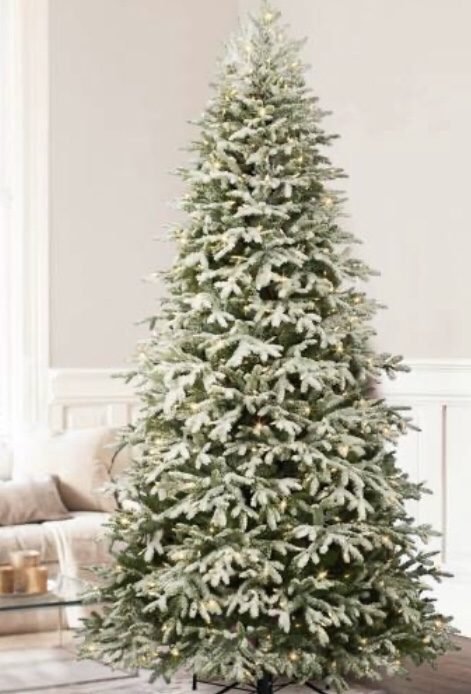 Choose a frosted tree when opting for a shabby chic style, which will add to the distressed look that you will want to achieve. We love this Frosted Fraser Fir Tree which looks like it has just been sprinkled with fresh white snow. Buy here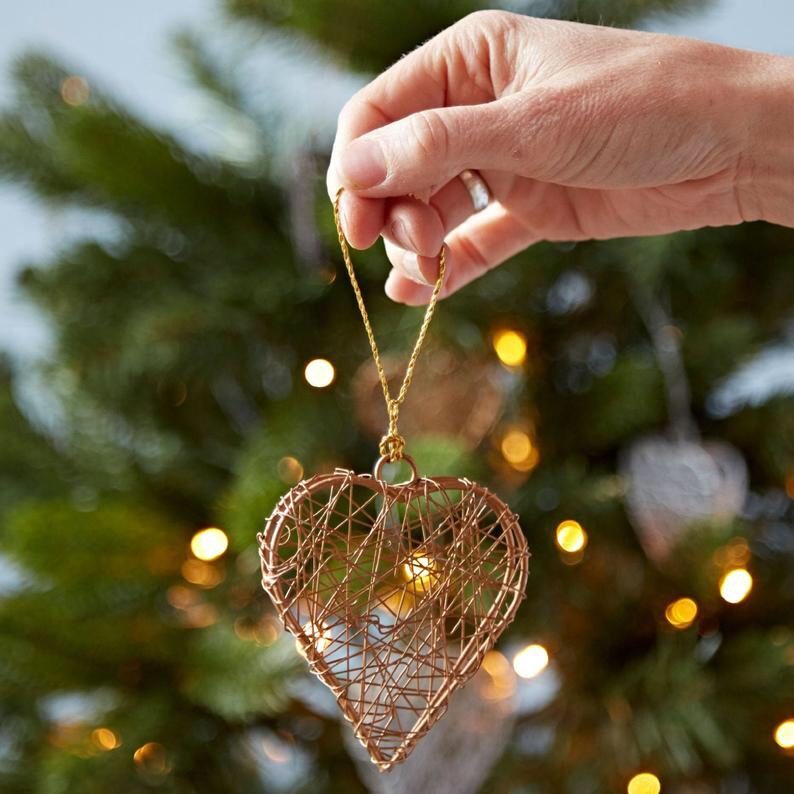 This heart metallic tree decoration will add a shimmer and glam to your tree while offering texture and romance with the love heart design. Buy here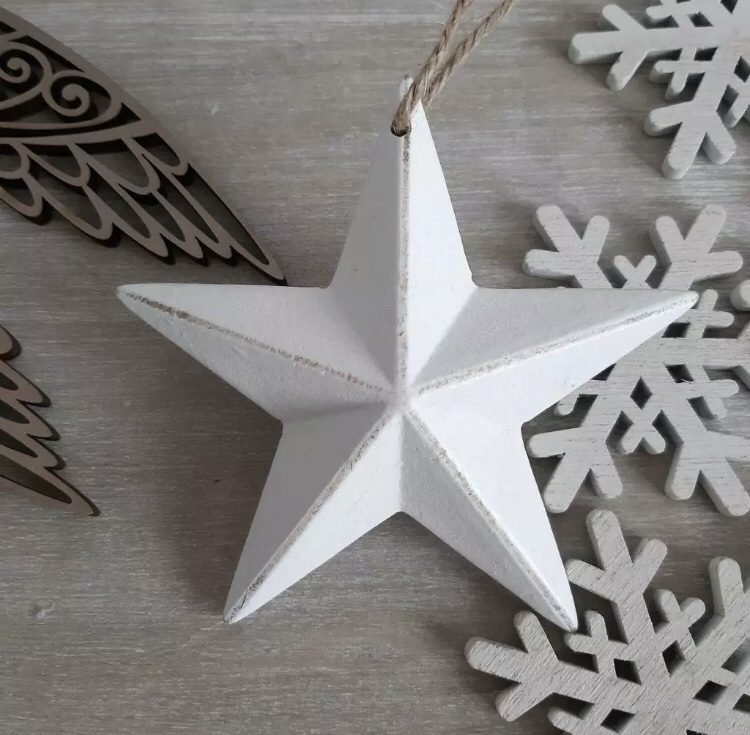 A distressed hanging star on your tree will look utterly festive and chic, especially on a white dusted tree. Buy here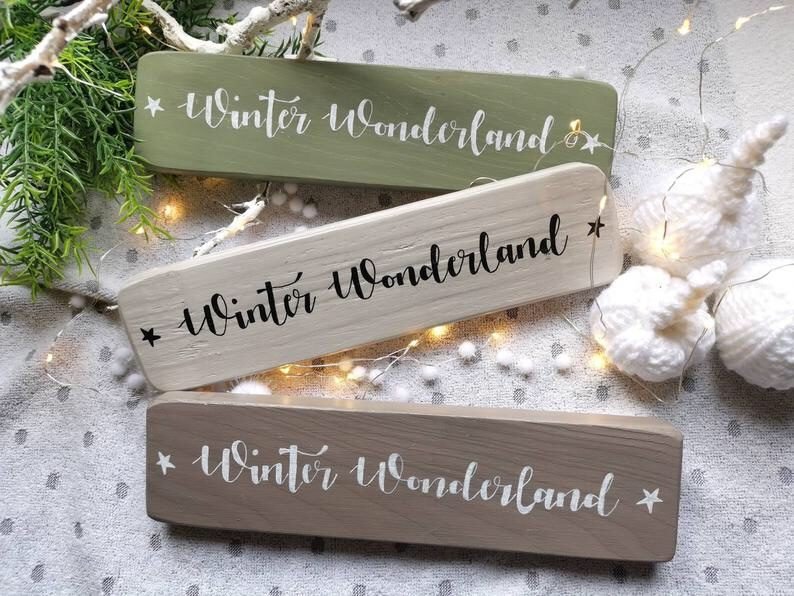 Furnish your living room with country cottage style by placing beautiful Christmas signs for festive decor that oozes with shabby chic style. Buy here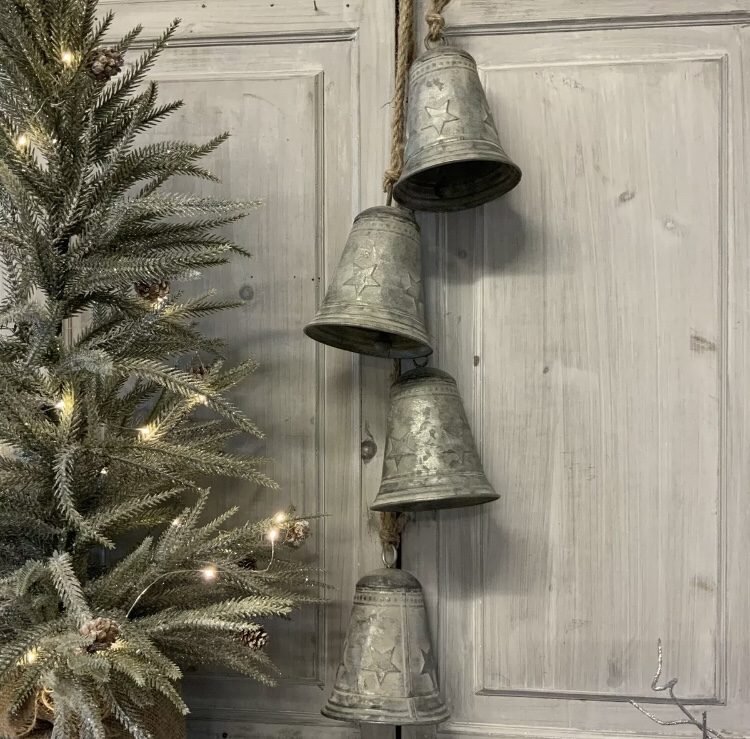 Deck your fireplace with festive joy with these distressed French grey bell hanging rope trimmings. Buy here
Pink Christmas Decor Style
Every girl dreams of a pink Christmas. Spread joy and happiness with a fun pink Christmas for a modern take on the traditional green tree. With so many different baubles, ornaments, furnishings and trimmings on the market – dreaming of a pink Christmas can be a reality while still being stylish and festive. Ps. a pink Christmas isn't just for young girls… see our range of pink Christmas ideas below the entire family can enjoy.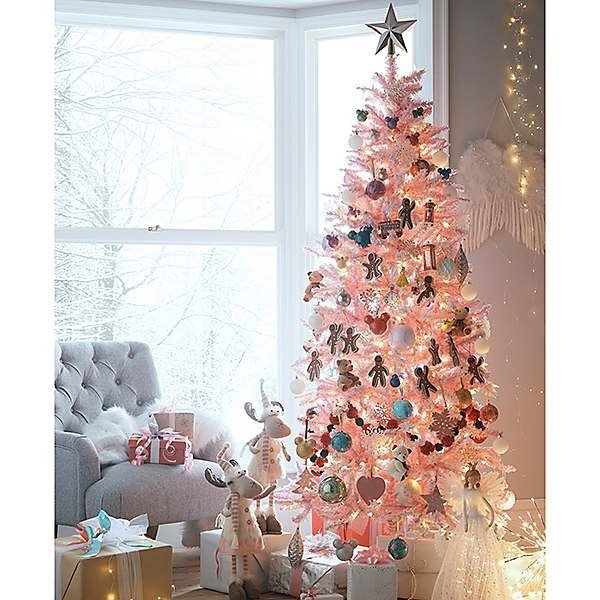 Go big with your pink Christmas theme with a 6 foot pink Christmas tree just like this one from Curvissa. We love the warm LED lights that give it a cozy look. Buy here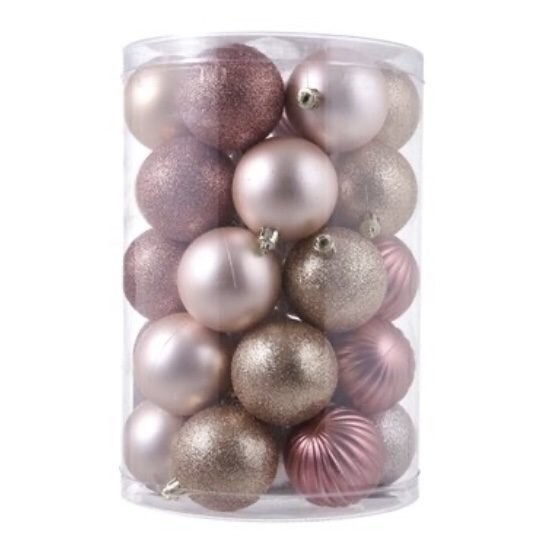 Add volume to your pink Christmas tree with contrasting baubles like these ones from Homebase, which offer 4 different shades of pink – from champagne to plush pink. Buy here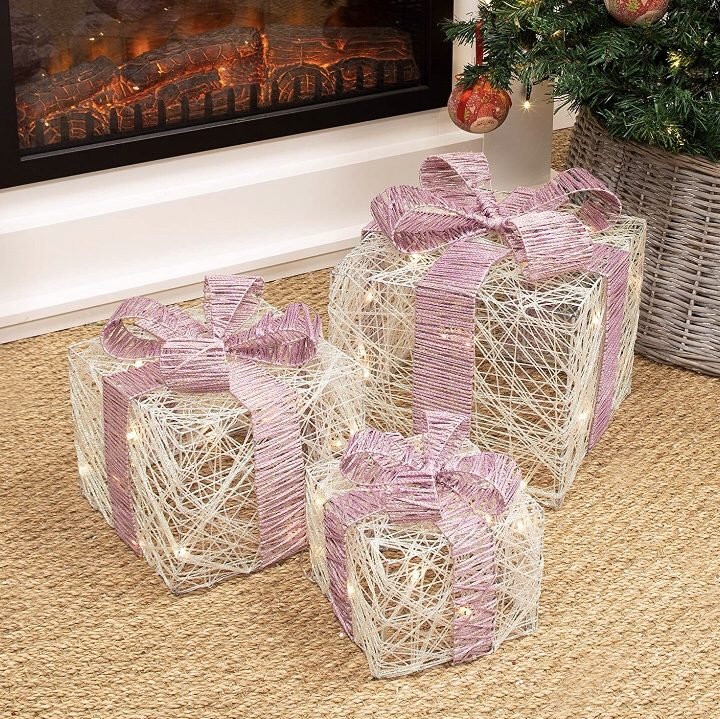 Make your tree look extra pink and festive with these light-up Christmas present displays with gorgeous bow design and chic style. Buy here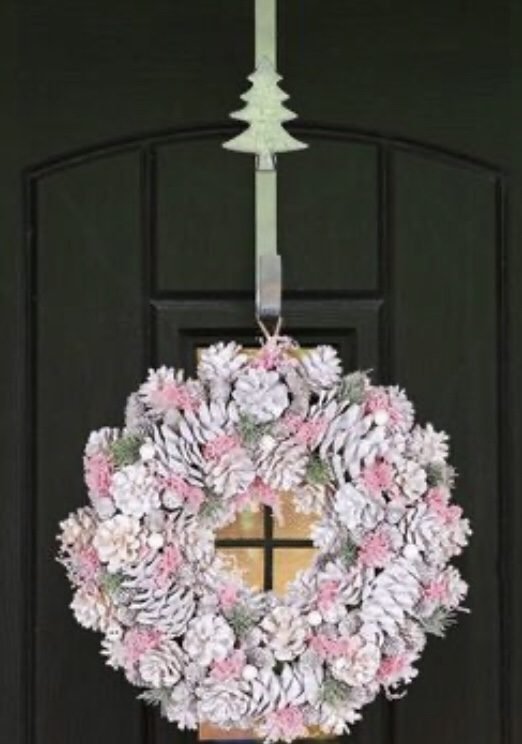 Continue the pink Christmas decor theme on your door with this beautiful frosted wreath with pink detailing for a luxurious and elegant festive touch. Buy here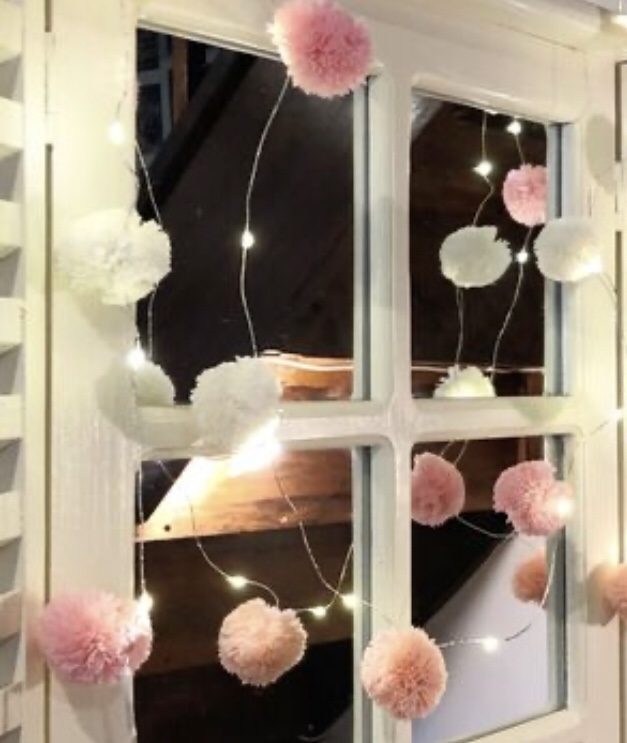 Combine a pink Christmas with a white one by adding pink pom-pom lights like this gorgeous garland, which looks like snow falling. Buy here
White Christmas Decor Style
Do you dream of a white Christmas? Sprinkle a snowy scene in your home with frosty themes from snow-covered trees, dusted baubles and snowy ornaments. See below for our top frosty festive picks for white themed Christmas decor.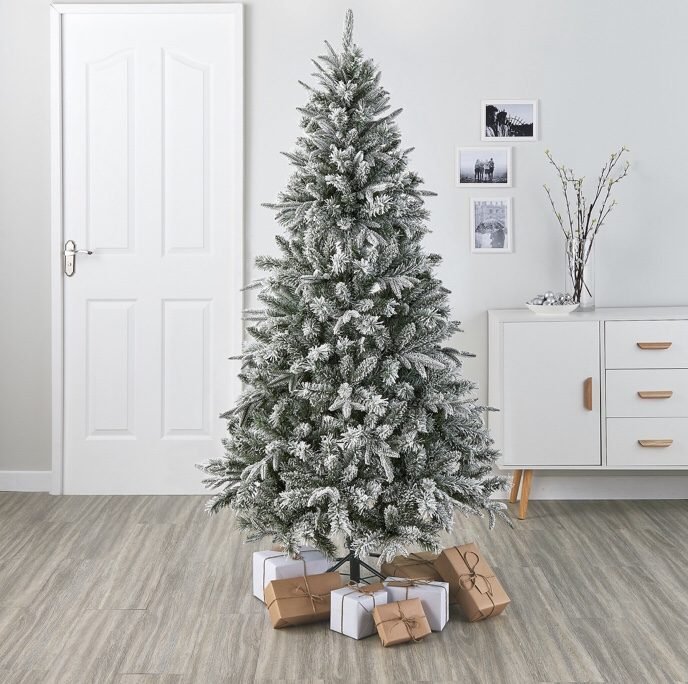 Choose a snow dusted tree rather than a pure white style to make it look real and authentic just like this gorgeous artificial tree from B&Q. Buy here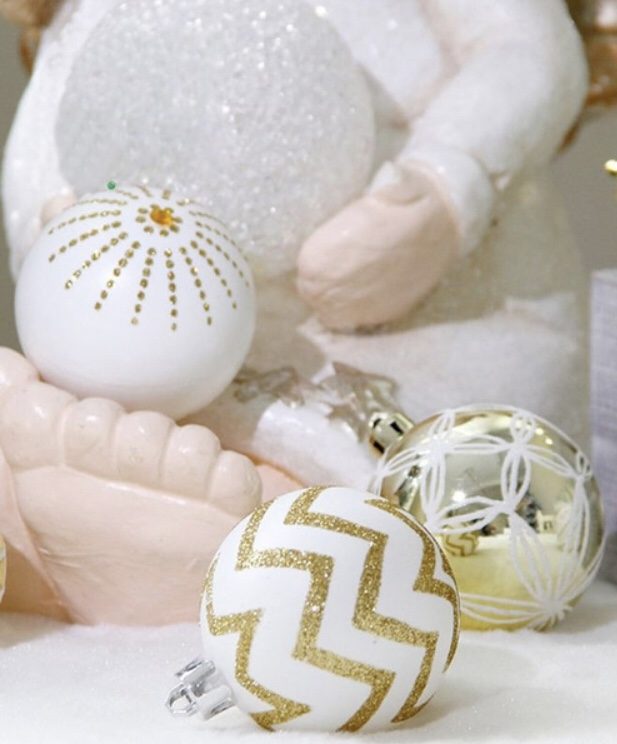 Deciding on how to decorate a white Christmas tree can be tricky. It's good to think of one colour theme for your tree so that you don't make your tree look mismatched. These beautiful white and gold baubles will add a sparkle of elegance and glamour to a white frosty tree. Buy here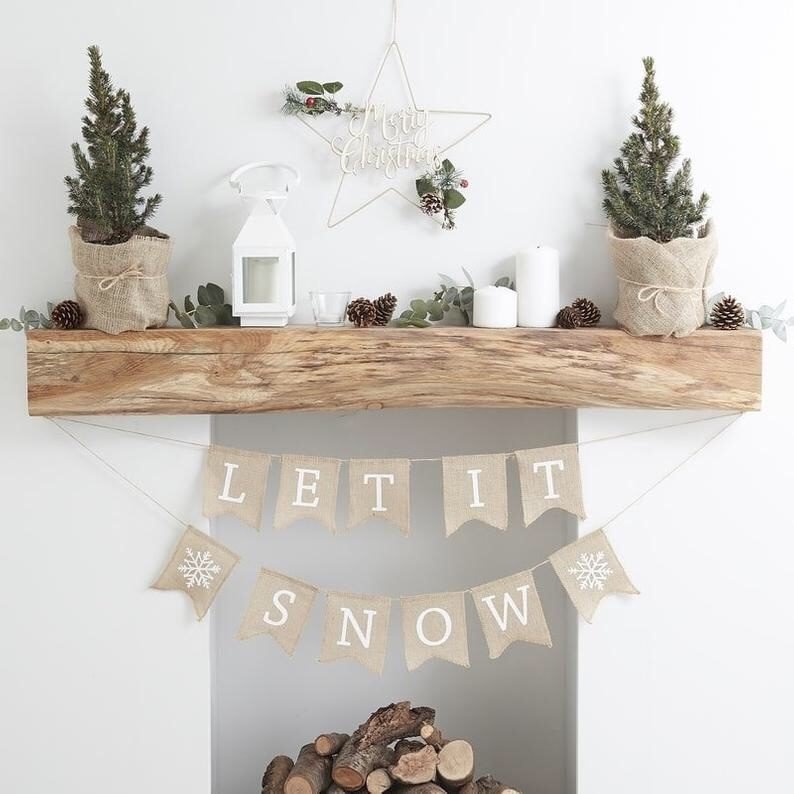 Express your love for a white Christmas with this "Let it snow" bunting that can be hung over your fireplace for a magical focal point in your living room. Buy here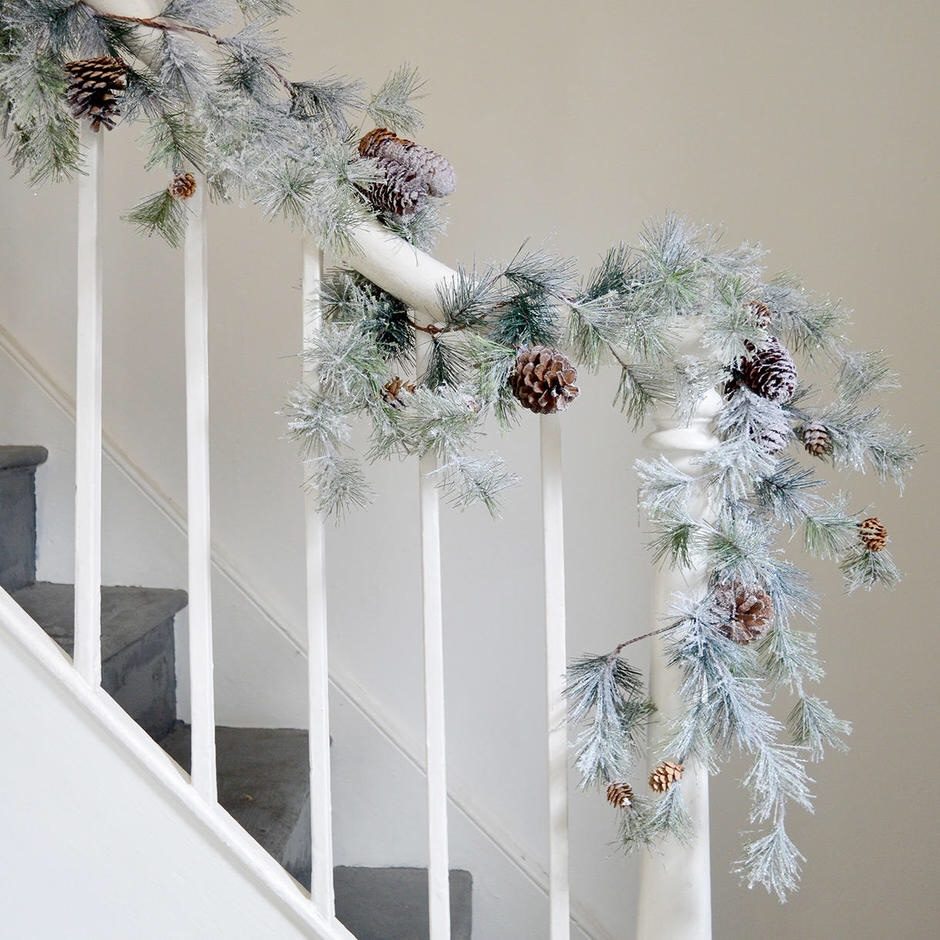 Spread the snowy Christmas decor theme throughout your home with a frosty garland just like this one with faux pine and cones. Buy here
Vintage Gold Christmas Decor Style
Bring in the festivities with a vintage gold Christmas decor style, which offers a nostalgic feel to your Christmas setup. A colour scheme of gold, red, green and white is traditional and less modern than most of our previous picks. See below for some vintage Christmas decor style.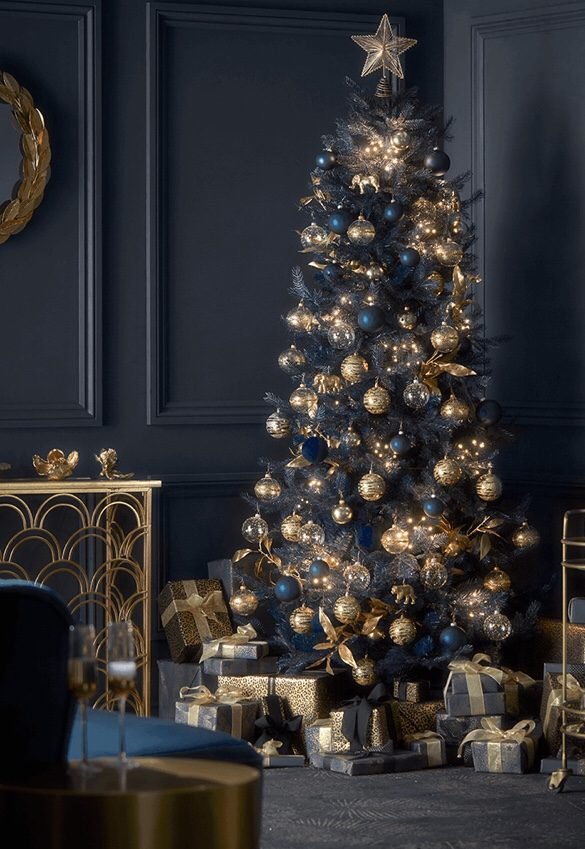 Mix and match blues and golds for a warm Christmas tree setup just like this one from Cox and Cox, with gold be blue baubles in unique styles – from elephant ornaments to leopard print baubles. Buy here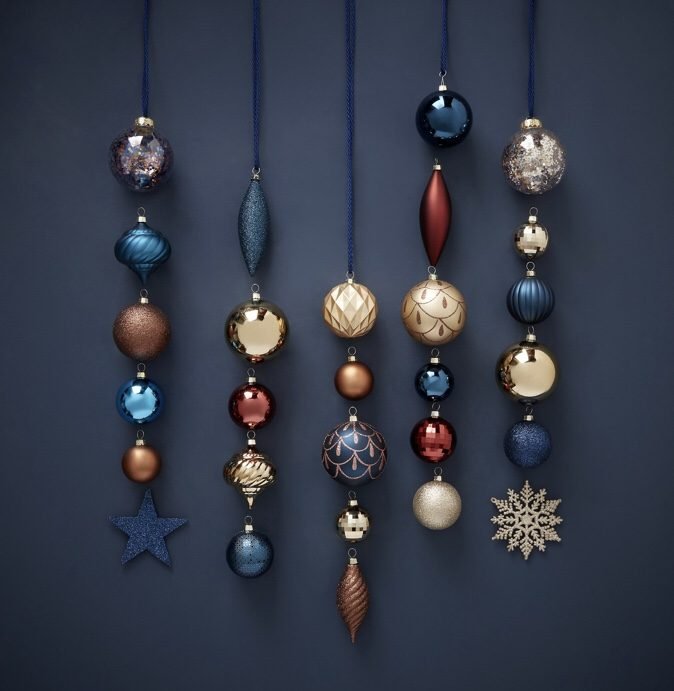 Adorn your tree with Art Deco style with this set of assorted baubles from B&Q. As well as gorgeous gold baubles, there's rich colours like blue, red and gold for a classic tree. Buy here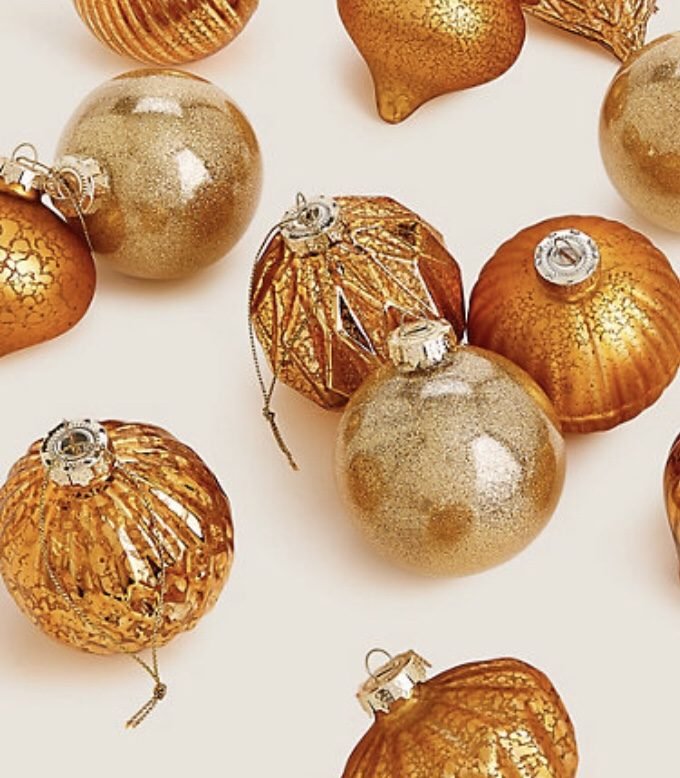 For an all gold decorated tree, this luxurious bauble set from M&S offers a vintage and classic feel with distressed style and traditional shapes. Buy here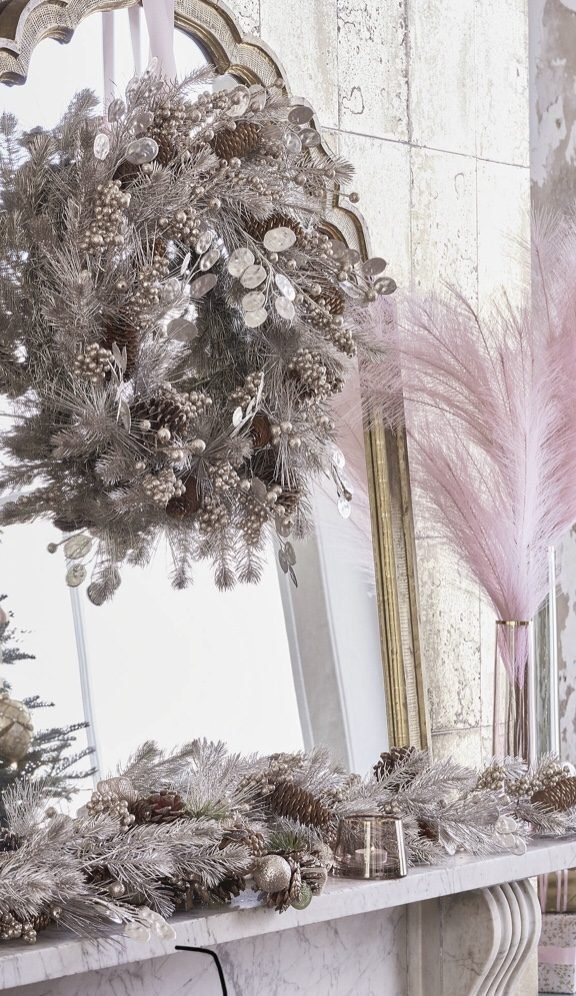 Feather garlands and wreaths bring in a throwback vintage vibe for magical Christmas decor style, just like this one from John Lewis. Taking inspiration from the renaissance, this beautiful wreath is perfect for a vintage gold Christmas. Buy here
Nordic Christmas Decor Style
Soft lighting, natural colours and minimal decor are all elements for a cosy Nordic Christmas. Below we have handpicked our favourite minimal Christmas decorations that give the maximum look for coziness at Christmas.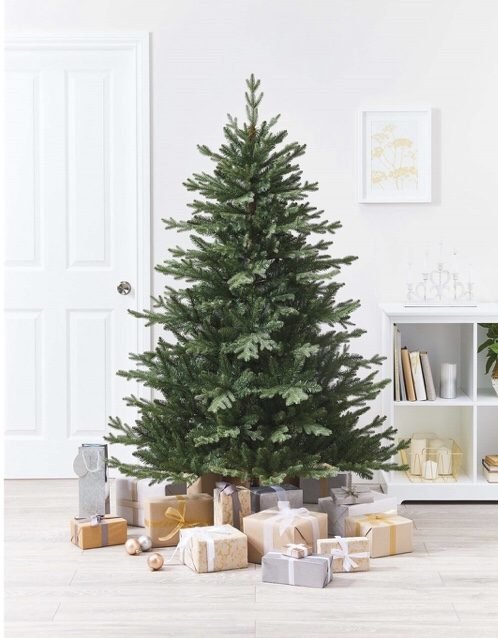 When designing a Nordic Christmas theme in your home, choose a tree that resembles a forest tree for an authentic feel. Just like the one above from Homebase. Buy here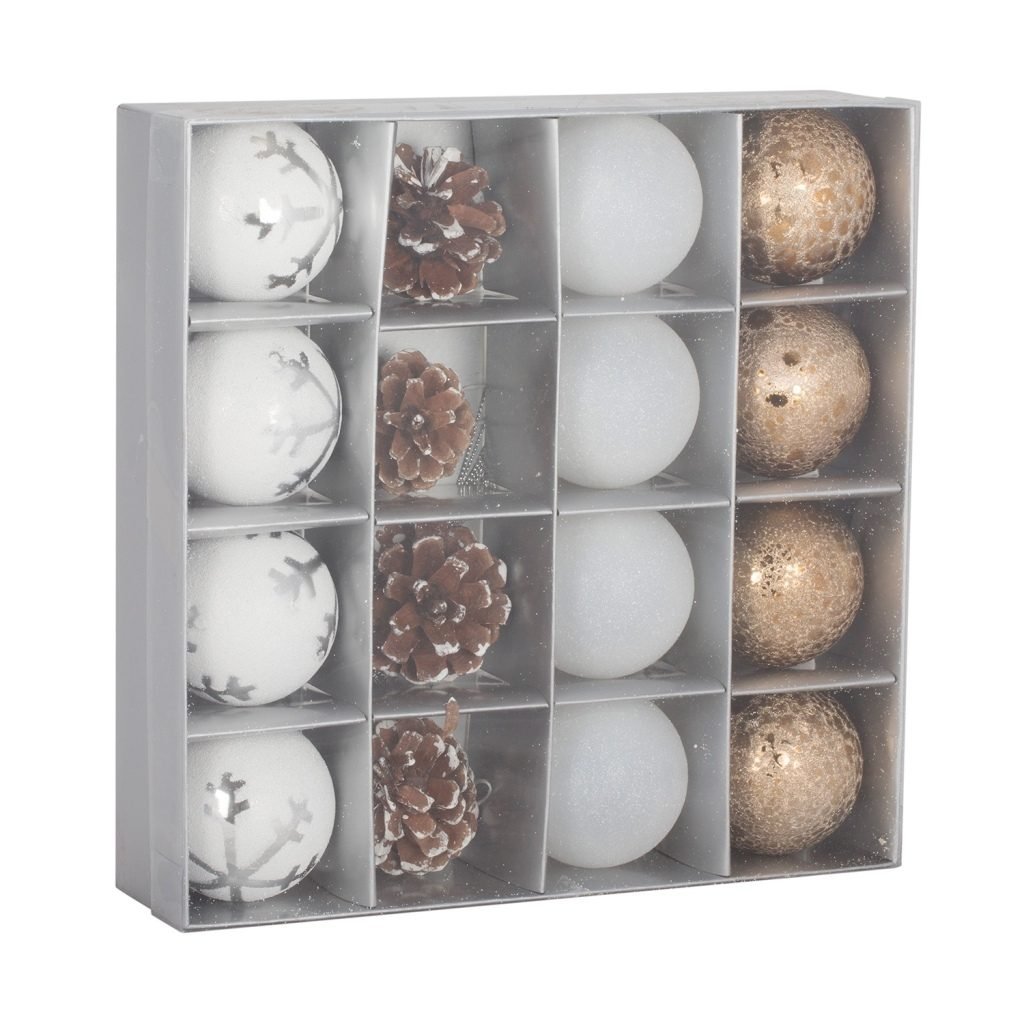 Keep the style of baubles to a minimum with a few of your favourite styles that represent nature. This Scandi bauble set from The Range features snowy baubles, frosty pine cones and warm gold baubles for minimal and natural Christmas decoration. Buy here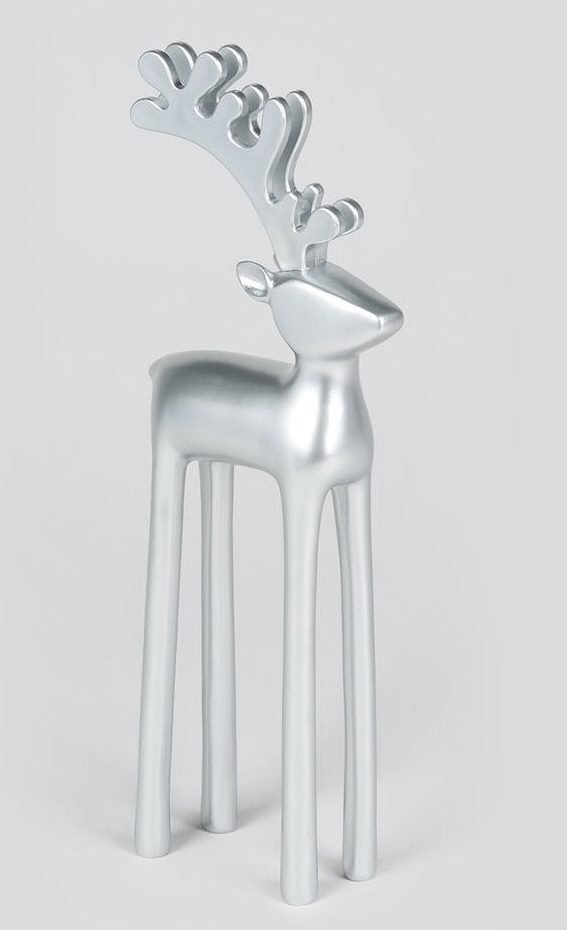 Continuing with the minimalist theme, place subtle Christmas decor around your home, like this gorgeous silver reindeer, which will make a lovely ornament by the tree or fireplace. Buy here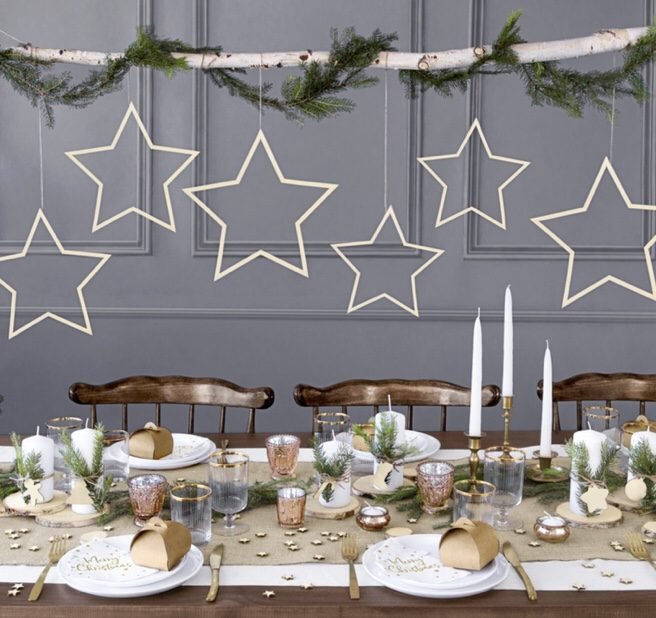 A great way to bring the festivities around the home is to incorporate simple hanging decor like these Nordic hanging stars that will look beautiful in many places in your home without looking cluttered. Buy here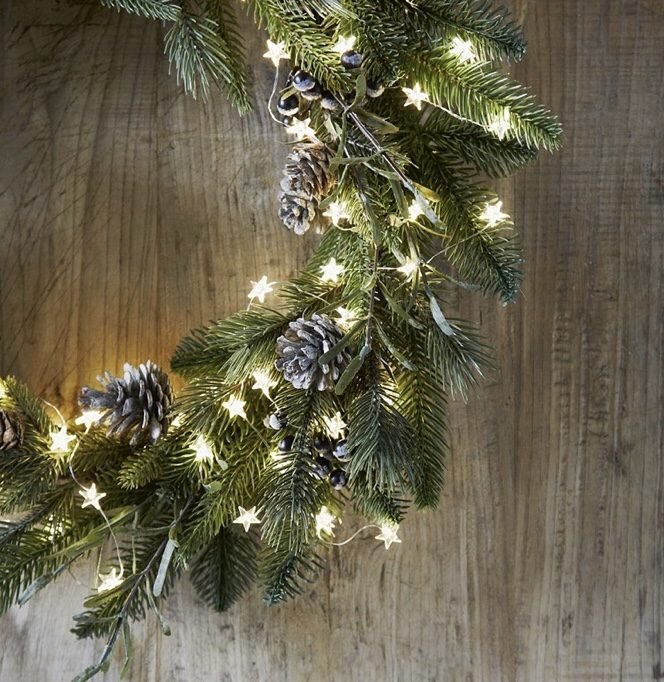 Finish your tree with some pretty lighting for your Nordic Christmas setup with these star lights from The White Company. You can use them around other parts of your home to bring in the cosy vibes including around wreaths, on your stair rail, along your fireplace and your walls. Buy here