Are you thinking about updating your kitchen? We've got a variety of kitchen trends in 2021 that will give you ideas and inspiration for your next renovation. From modern and rustic design to moody kitchen trends, we've included every detail for any kitchen style for the year ahead.
Dark Kitchens
Bold doesn't always mean bright and this year, kitchens are getting a dark makeover with moody interiors creeping into kitchen spaces for 2021. A dark kitchen design creates a space to introduce luxe gold taps, granite sinks and works beautifully against hardwood flooring.
1 of 11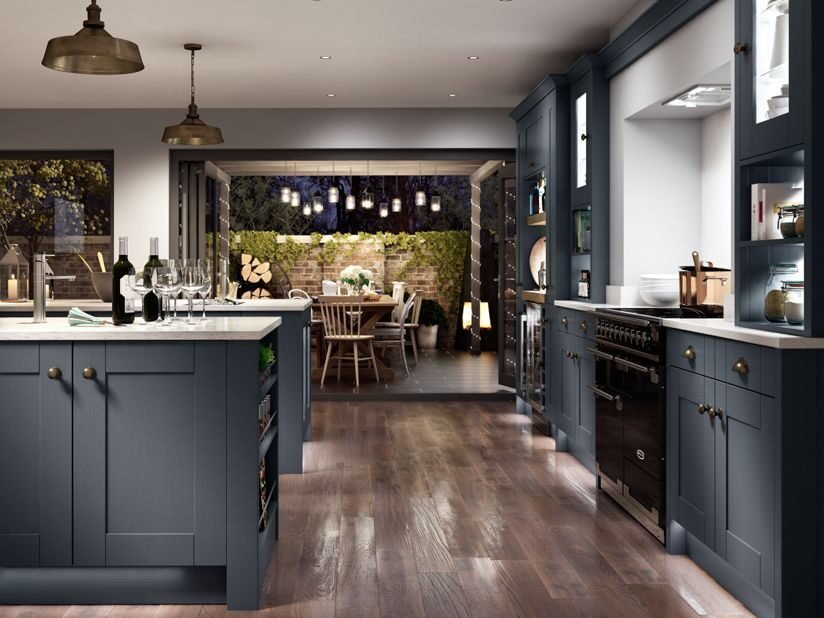 Image source Wickes
The Milton kitchen range at Wickes is a gorgeous example of a dark kitchen that oozes with elegance. The soft grey/blue cabinets against the dark hardwood floors and brass fixtures make this kitchen feel homely and stylish, no matter what the occasion.
2 of 11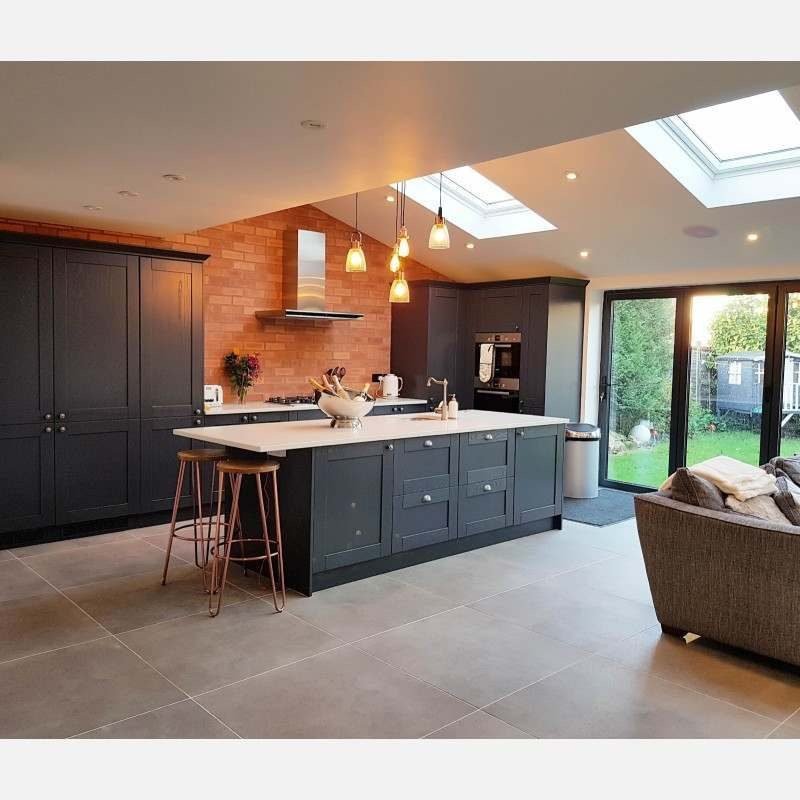 Image source Tile Mountain
Dark kitchen floor tiles add to the moody kitchen trend in 2021 to contrast with dark cupboards and orange lighting for a relaxing ambience.
3 of 11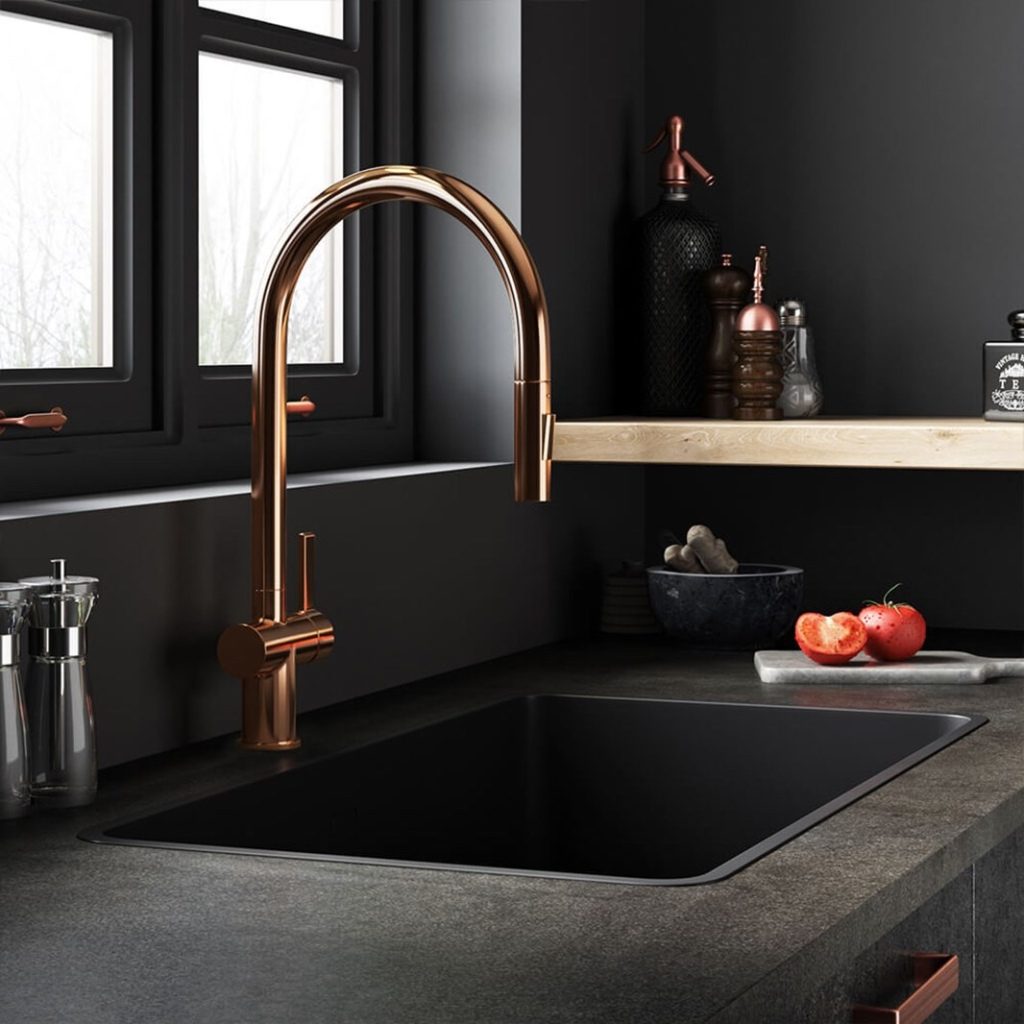 Rose Gold Tap from Tap Warehouse
It's all in the details when putting together a dark kitchen and this rose gold tap will add the luxury in the design for a sophisticated sink feature.
Simple Kitchens
Taking inspiration from Scandi style for a decluttered and clean kitchen is a big trend for this year. As we are spending more and more time in the kitchen, we look for ways to make our cooking spaces spacious and uncrowded with unnecessary things.
4 of 11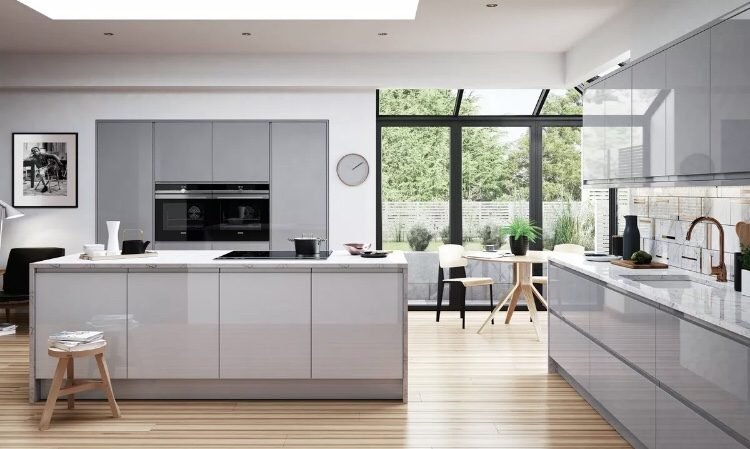 Grey gloss kitchen from Magnet
Keep your utensils and kitchen accessories neatly hidden away with this minimal kitchen design by Magnet. Pale colour schemes like this grey and white kitchen instantly make your kitchen look clean and tidy.
5 of 11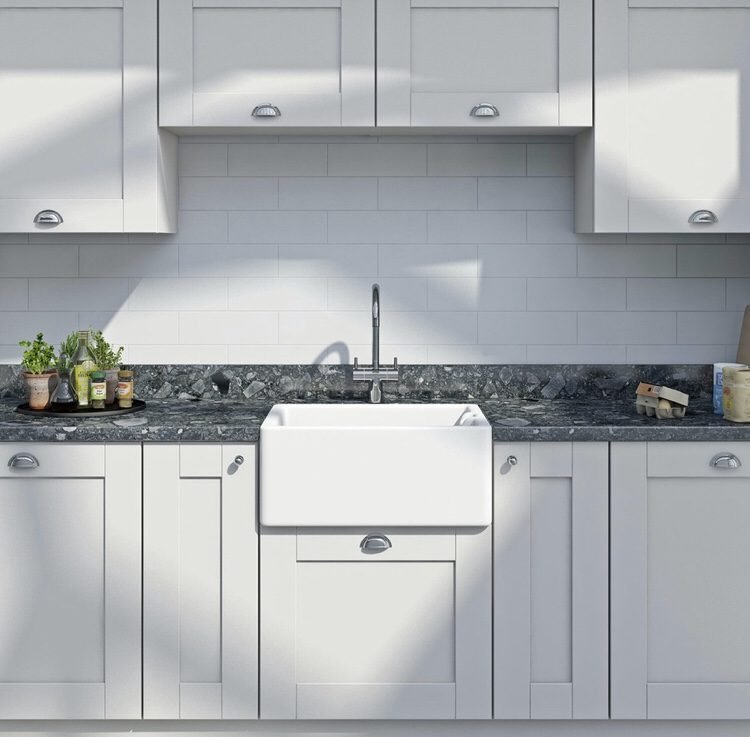 Match a grey kitchen with a deep sink that becomes a design feature and focal point in your kitchen. This gorgeous grey kitchen mixes gradients with pastel grey cupboards and dark grey countertops to make the white sink stand out as a decor feature.
Marble Kitchens
Marble countertops and splashbacks are going to be a big trend in the kitchen for 2021 providing a luxurious feel to the home and a modern space to entertain.
6 of 11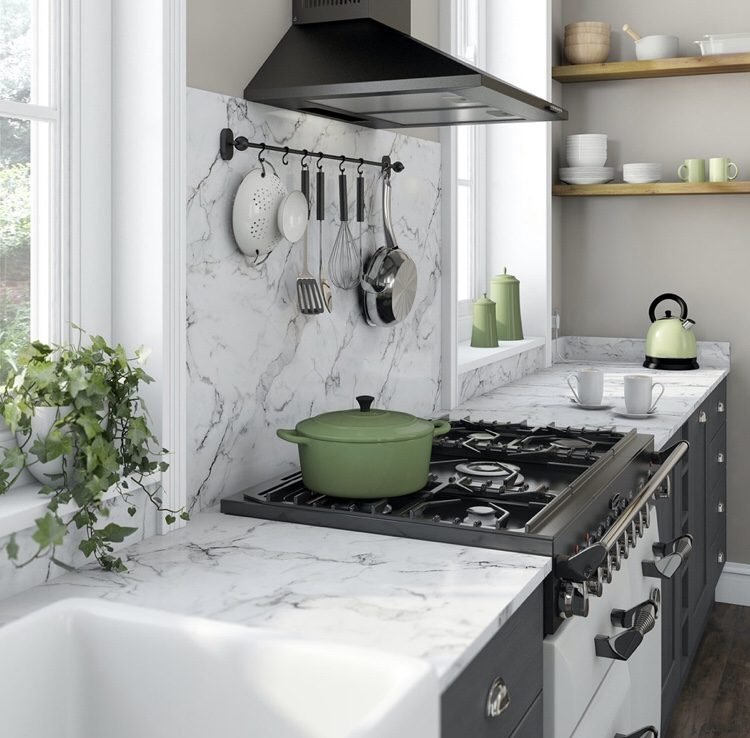 Image source Victoria Plum
Matching your countertop to your splashback creates an elegant marble kitchen style so you can add bold accessories to your kitchen to make the space pop with colour. Break up the marble by painting your cupboard doors a dark shade to bring the contrasting look that is stylish and clean.
7 of 11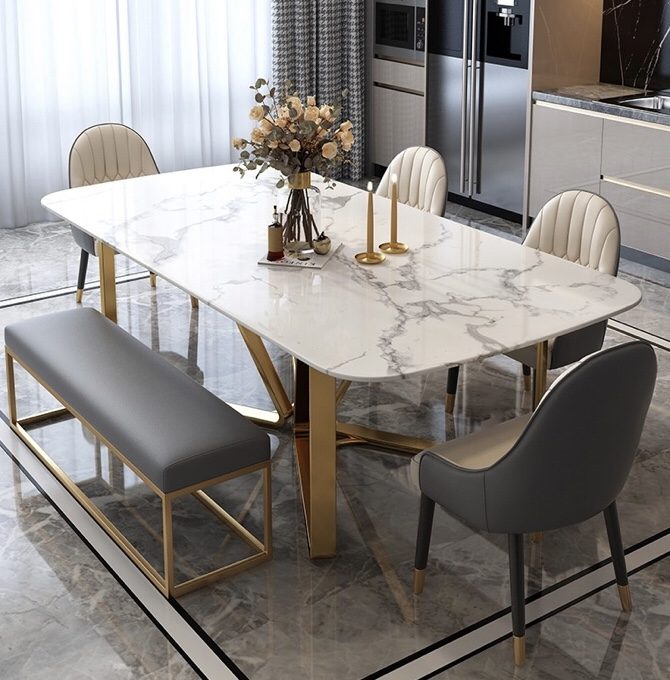 Image source Homary
Follow the marble trend into your dining room too with marble effect table and contrasting seating for an elegant and modern space in your home that carries on the tone of marble kitchen designs.
Related article: 10 Marble Accessories For Your Kitchen
Natural Kitchens
Elements of nature will creep into home spaces in 2021 and the kitchen is no exception. Cabinets and storage will be stripped back to natural wood for a timeless style and fresh look.
8 of 11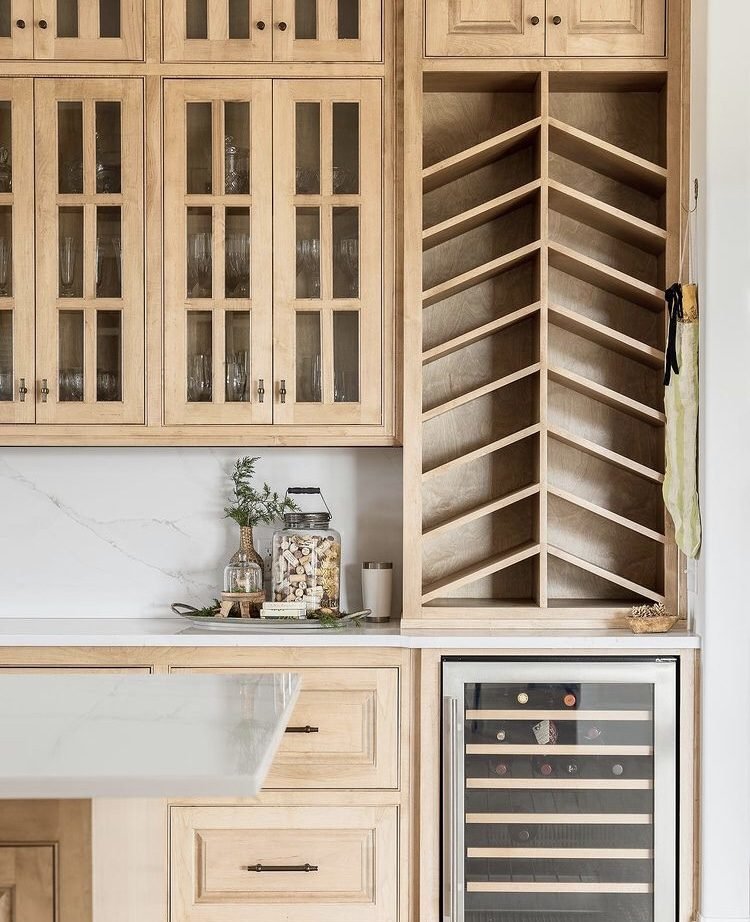 Image source @micahabbanantodesign on Instagram
This gorgeous stripped back kitchen feels clean and rustic while being elegantly modern. The simple glass windows and white marble countertop contrast beautifully to bring in the feel of nature and simple design.
Clever Pantries
Getting more out of your kitchen is always a good idea and that's why kitchen pantries will be a huge kitchen trend in 2021. After a year of being bound to our kitchens making baked goods, we've become savvier in the kitchen and design trends will echo this with nifty pantry ideas.
9 of 11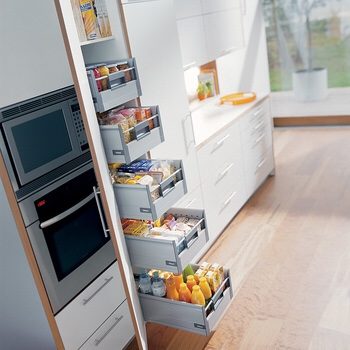 Image source Clutter Free Kitchens
Pull out drawers between your cupboards is a great way to maximise on space without the addition of bulky cabinets. We love these larder drawers that make storing your necessities a breeze (and your new favourite hobby).
Airy Kitchens
Sky lights and large windows that invite indoor and outdoor living are going to be a huge trend in 2021 as we crave more from our entertainment spaces in our homes.
10 of 11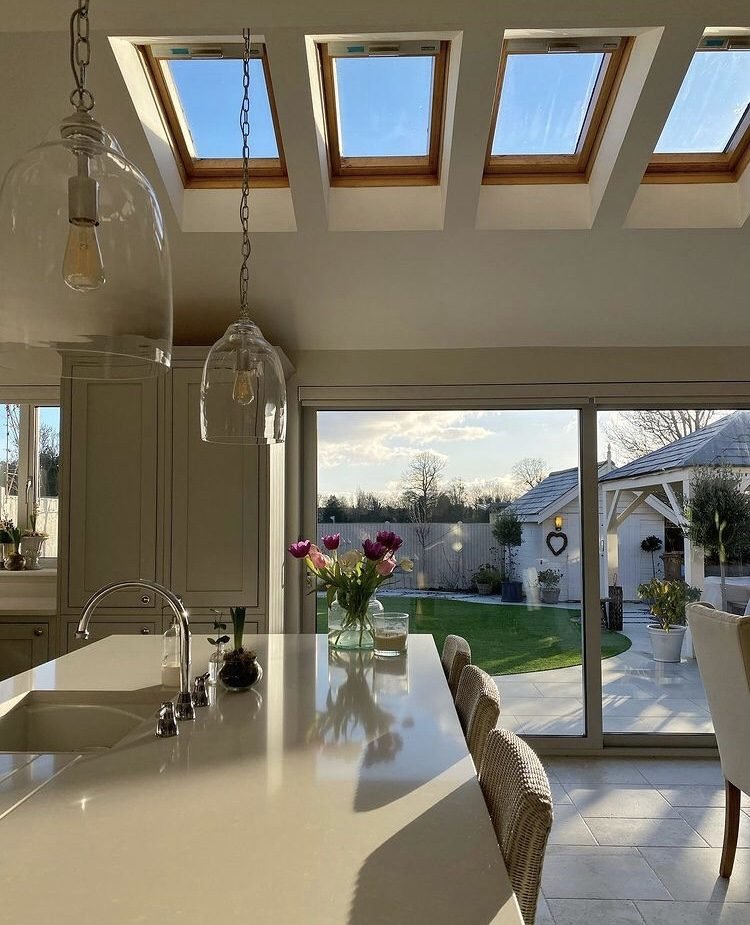 Image source @the_suffolk_nest on Instagram
Dining is an activity that we do in our homes and outside in our gardens, which is showcased in kitchen designs for 2021 with more open plan living and dining kitchen spaces. We love this gorgeous kitchen that allows for natural light to seep through effortlessly.
Multi-Toned Kitchens
Combining two colours in the kitchen is set to be the biggest kitchen trend in 2021 as it creates a depth of style that mixes and matches together. Think light and dark contrasts, kitchen islands that take on a style of their own and a mixture of textures from hardwood floors to shiny fixtures and matt finishes.
11 of 11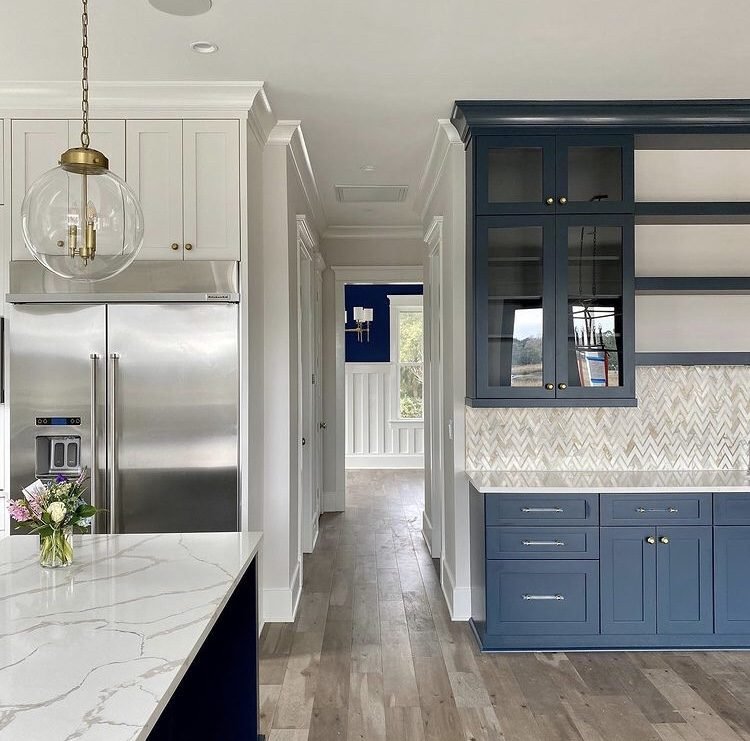 Image source @seaislandbuilders on Instagram
This multi-toned kitchen is the perfect example of how you can mix and match your kitchen to look unique to your style. From the dark and light cupboards that contrast to the marble countertop and pattern wall.