Moody decor is a hot trend right now and that goes for dark living rooms too. Our interior ideas for a dramatic and dark lounge will give you all the inspiration you need for a cozy and colourful space you'll love. See below for our ultimate guide.
1. Pick the right paint colours for a moody living room style
Opting for a dark living room design needn't be gloomy, in fact, dark rooms can be just as aesthetically pleasing and relaxing. From soft shades to moody hues, there's a whole range of beautiful living room wall colours you can use to transform your living space. See below for 5 dark colour scheme ideas.
Dark green living room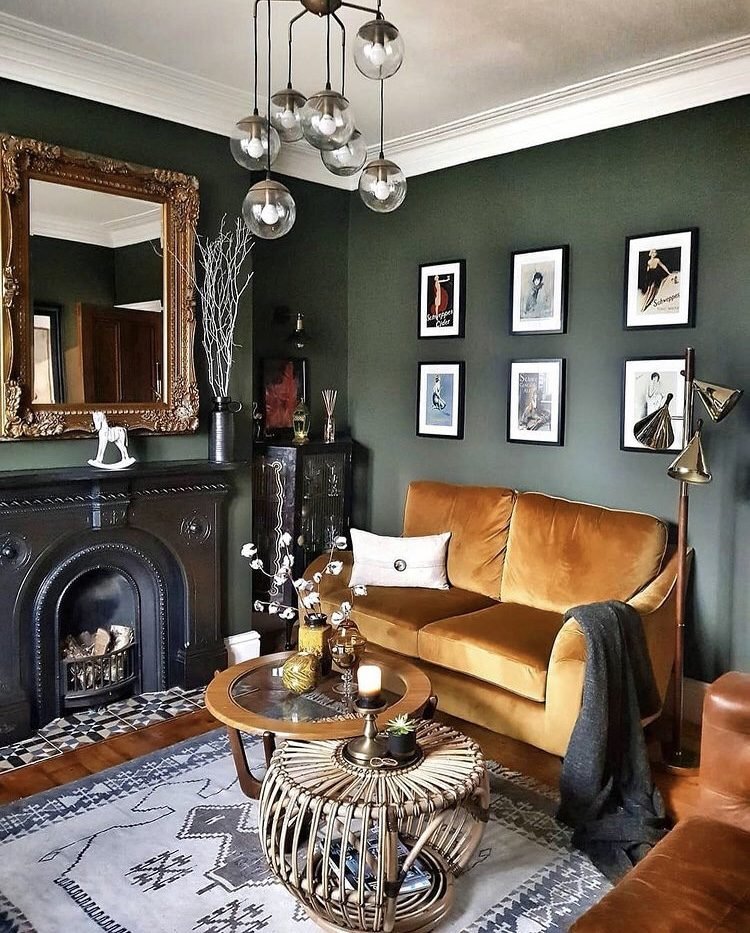 Image source @color_place_interior on Instagram
Inspired by nature, green is a colour that symbolises growth and harmony. While dark green is more associated with money and ambition on the hue scale, a dark green living room creates a pace that looks lavish and extravagant. Especially when you incorporate gold furnishings.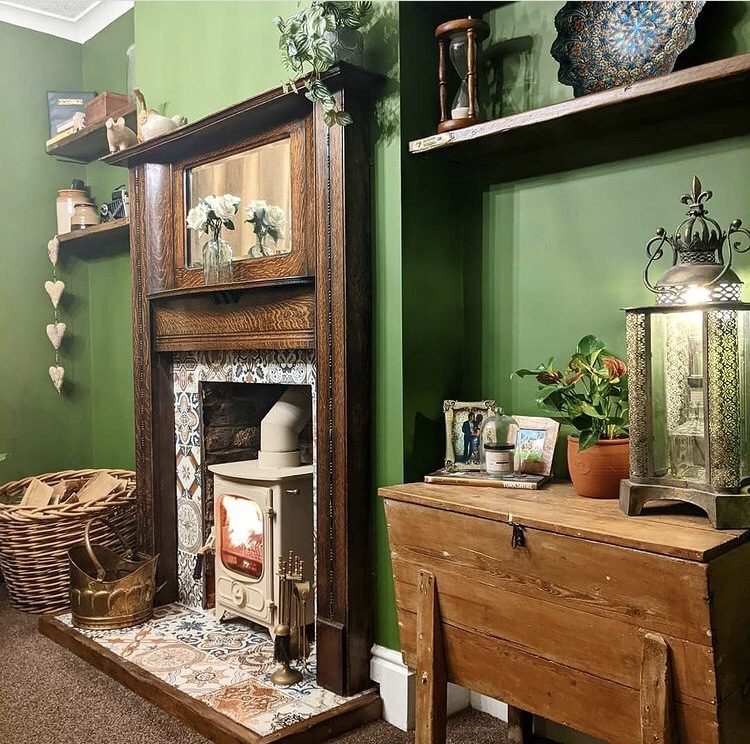 Image source @at_grove_house on Instagram
Introduce wood furnishings and flooring if you are looking to style your lounge with elements of nature.
Dark blue living room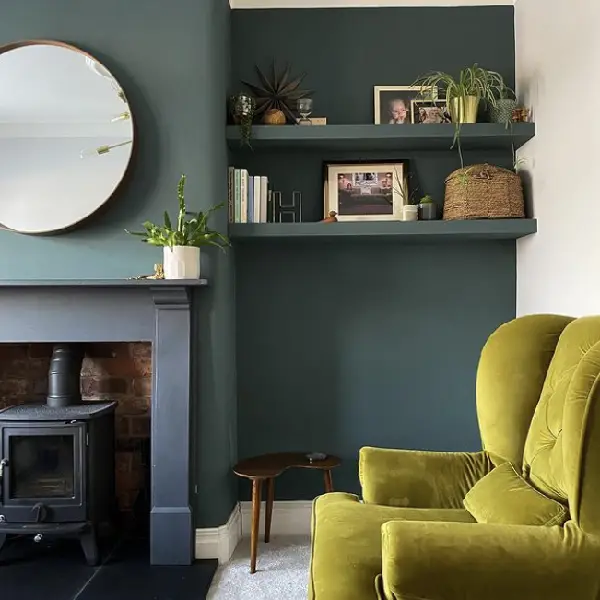 Dark Victorian living room design using bright furnishings to add a pop of colour while keeping the moody ambience / Image by @mabel.in.the.house on Instagram using Inchyra Blue by Farrow & Ball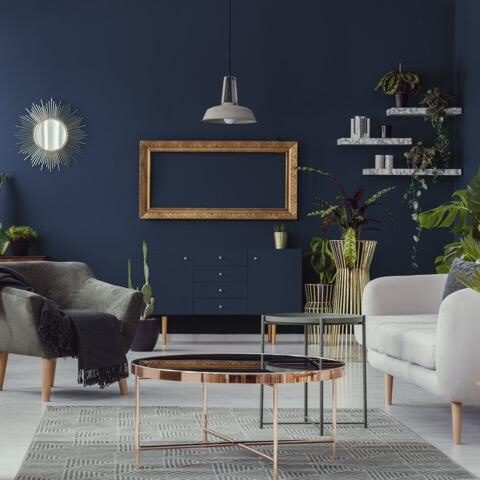 Image source Victory Colours
Blue is a popular shade for the living room as it is a calming colour, which is why it's a perfect shade for your dark living room. Ideal if you're new to decorating with dark colours, blue can be styled in many ways to still feel bright and comforting. This rich and elegant dark blue living room design by Victory Colours uses contrasting interiors to brighten the space beautifully with light flooring and furnishings to make the space appear bigger and brighter against the dark blue.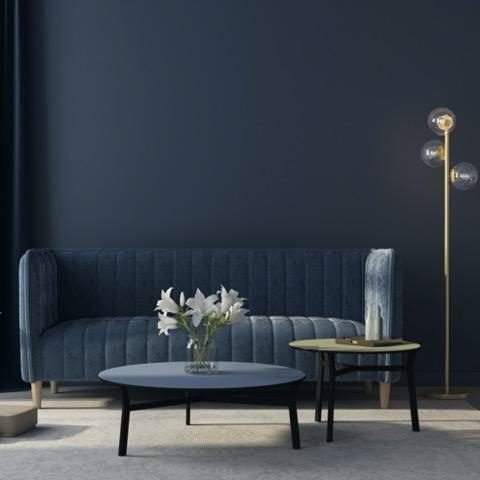 Image source Victory Colours
Inky blue living rooms, just like this design by Victory Colours infuses modern interiors for a minimalist look that is effortless and classic. Match with crisp whites and neutral colours for an elegant living room style.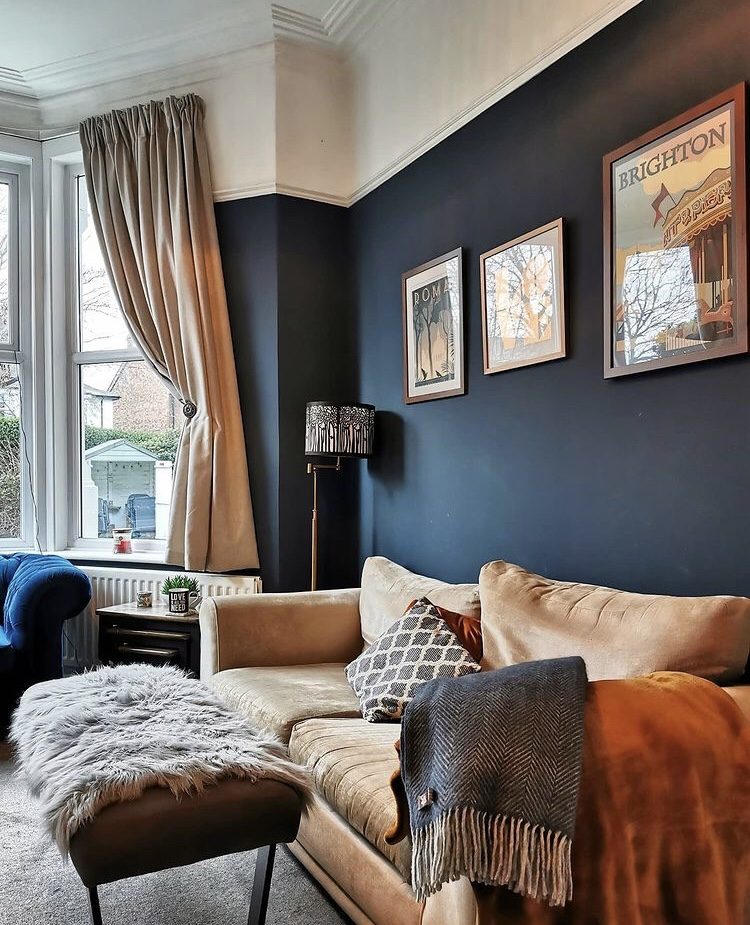 Image source @victorianmanse on Instagram
Break up your walls with a dark shade of blue to create a ranquil ad warm space. Match with warm interiors such as soft curtains, throws and plush brown sofas, just like the gorgeous dark living room design.
Dark green and grey living room
Grey is a great base colour for a living room as it serves as a neutral colour to work with. Combine with dark green and you get a mix of natural and calming interiors for a cozy space to relax.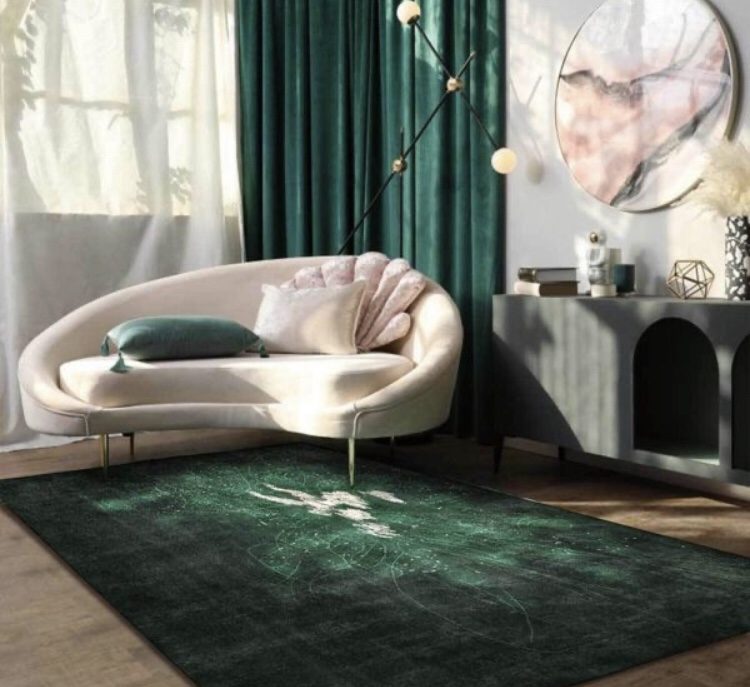 Image source Litfad
Bring dark interiors into a light grey living room by introducing rugs, cushions and curtains to make the space pop with moody touches for an elegant and sophisticated living room design, just like this set up by Litfad that uses texture to colour the space.
Dark grey and blue living room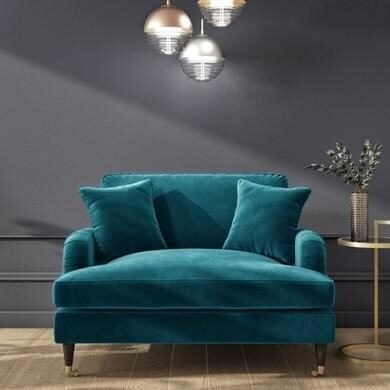 Image source Furniture123
Blue and grey are both calming colours that work exceptionally well together. Blue furnishings against dark grey walls is an easy-on-the-eye colour combination to work with when considering a dark living room in your home. This gorgeous teal blue velvet loveseat by Furniture123 will instantly brighten up your dark grey living room while looking sophisticated and lavish.
Black living room
For a dramatic and moody living room look, opt for black as your colour base, which makes your space look sleek and cozy. If you are not keen on going all-in on black walls, you can always paint your living room a dark grey and match with black furnishings to bring in the dramatic mood.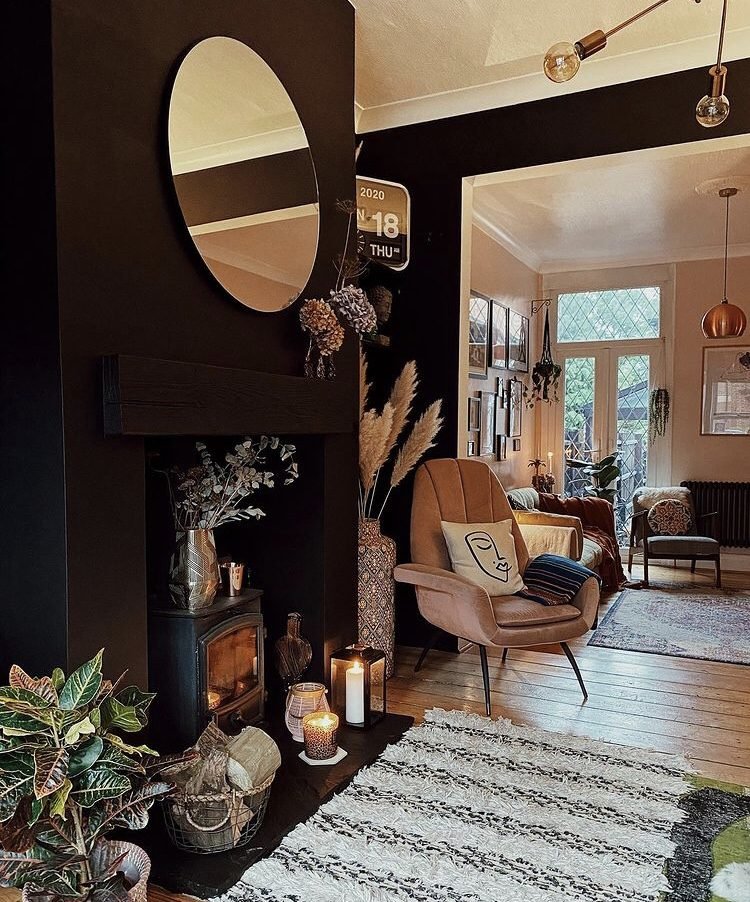 Image source @gemmaberlyn on Instagram
This living room design by @gemmaberlyn is a great example of how you can use texture like rugs, pampas grass and wooden floors to give warmth to a black living room. The mirror on the fireplace is also a great feature as it will make the space appear brighter and larger.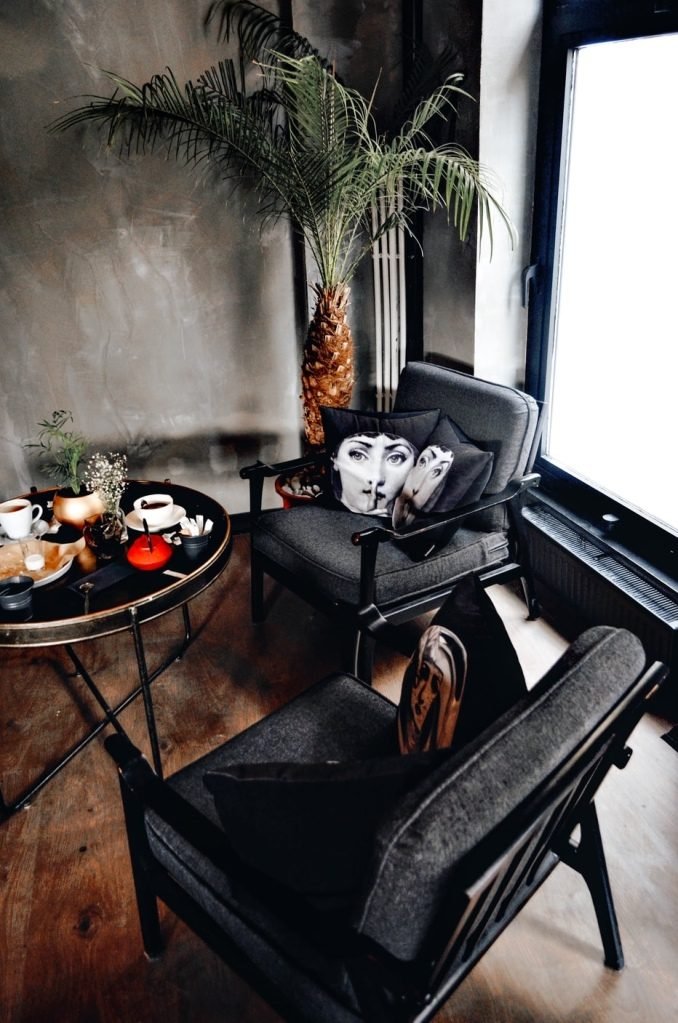 Image source: Unsplash
This cute tea corner is perfect for relaxing with natural wood textures that bring a sense of natural elements into the space while still being moody.
2. Combine your dark living room with dark furniture
It's not just about painting your walls darker to create a dramatic living room look, your furnishings play a great part in bringing texture, style and functionality together. Below we have picked some of our favourite dark living room furniture to complement dark living room colour schemes.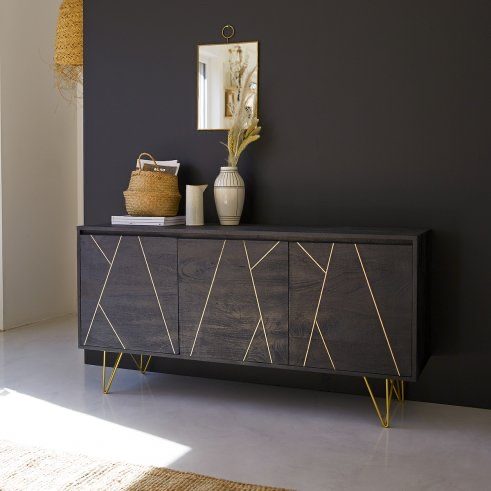 Image source Tikamoon
Dark wooden sideboards with gold detailing like this gorgeous mango wood sideboard from Tikamoon is a functional piece that can be used as a TV stand. The Art Deco brass painted metal and pin legs brings in the lavish look that a you want from a moody living room.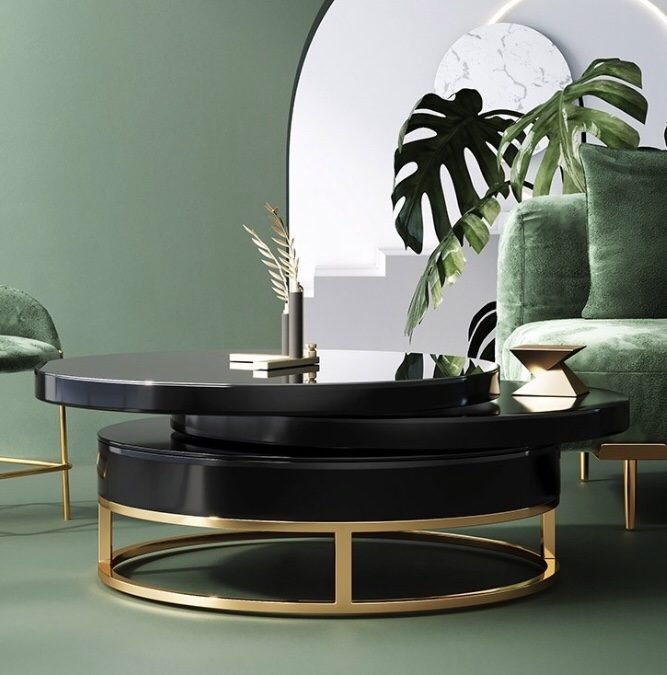 Image source Homary
A sleek black coffee table, like this one from Homary is elegant and retro with beautiful gold detailing for a lavish interior style. We love how striking it looks against a green wall and velvet furnishing.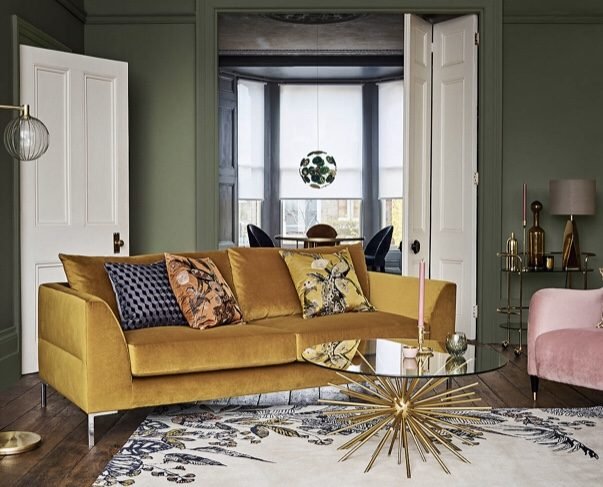 Image John Lewis
For a retro theme living room, bring in patterned textures like cushions to add character to your sofa.
3. Mood lighting in a dark living room
Dark rooms need good lighting and a great way to style and light your living room is by placing floor lamps and side lamps that will add to the warm ambience in your lounge. Below are some of our favourite mood lighting.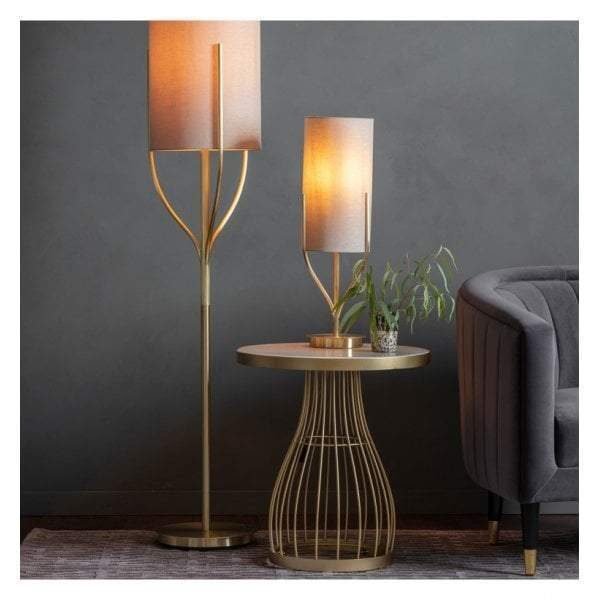 Image source House of Isabella
This gorgeous floor lamp has a warm orange shade to give off a cozy glow against dark walls.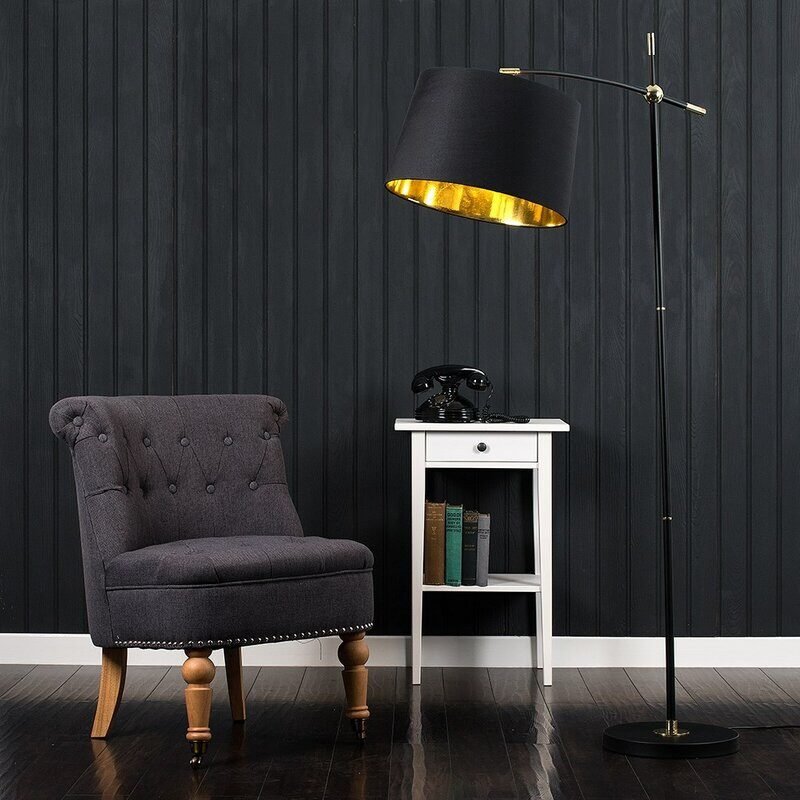 Image source Dunelm
Keeping your lighting simple is great in small spaces and this gorgeous black floor lamp with metallic gold interior adds a touch of glam to your lounge.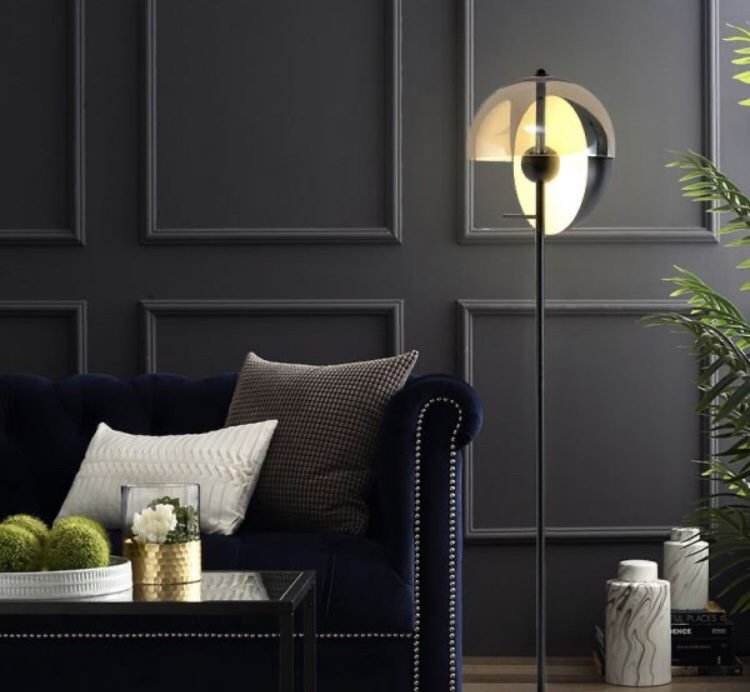 Image source Litfad
If you love reading in your living room, this beautiful and stylish floor lamp is quirky and cool for making a statement in your mood lit lounge.
4. Ceiling colours for a dark living room
Contrast a dark room by painting your ceiling with a lighter colour to brighten up the space and create an illusion of higher ceilings and brightness.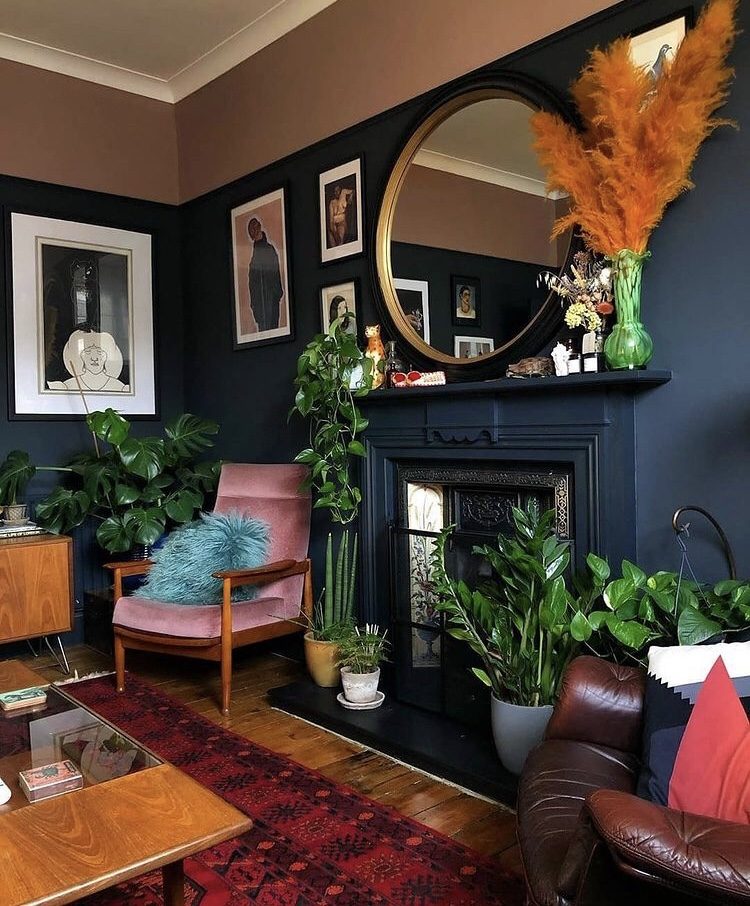 Image source @myvictorianhouselove on Instagram
This beautiful dark blue lounge infuses different colours throughout and the two tone wall matched with the light ceiling makes this space completely unique.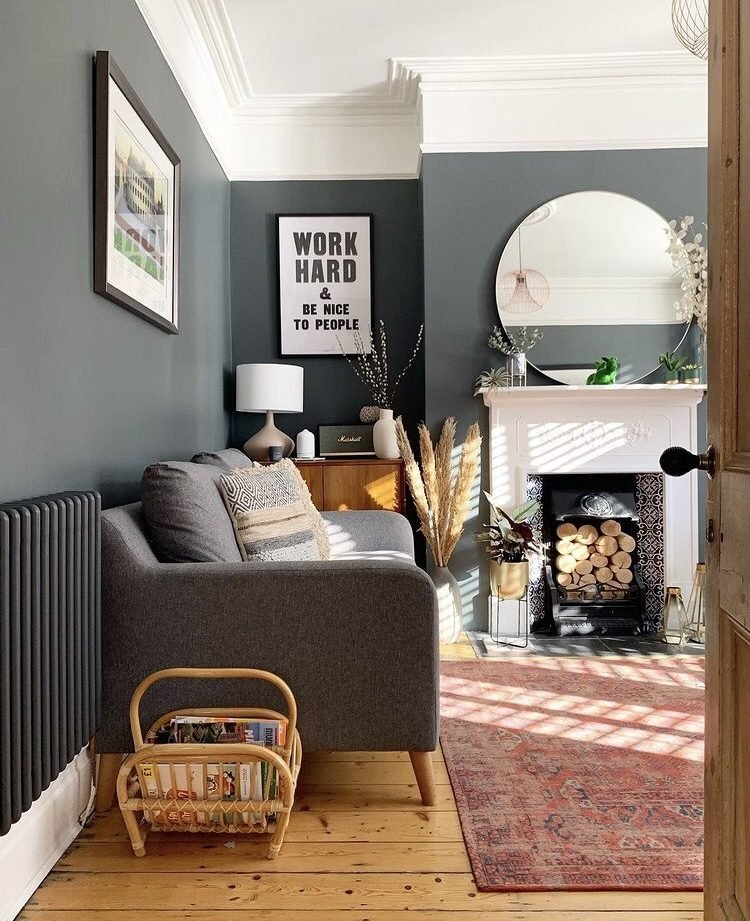 Image source @thehousethatjenbuilt_ on Instagram
Break up a dark lounge with crisp white ceilings. This grey living room idea is perfect inspiration if you love the idea of dark walls but a bright space overall.