In every shade of grey.
Love grey but not sure how to style it in your bathroom? We've made the ultimate list of beautiful bathrooms in every shade of grey to create the perfect place to relax and refresh. From light grey bathrooms to moody shades and textured walls, we cover all interior inspiration ideas for the bathroom of your dreams.
Scroll down for seriously gorgeous bathroom ideas…
1. Dark grey and black bathroom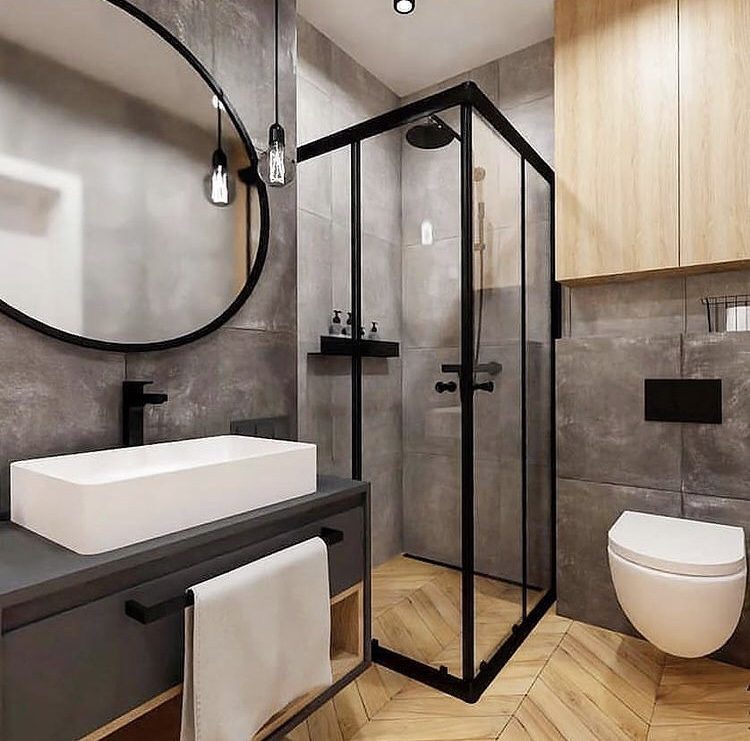 Image source @homeasy.loft
Styling a dark grey bathroom is a great way to create a moody spa atmosphere in your home. Even if you don't have a bathtub, you can still create a relaxing ambience. Mix dark grey tiles with black clean lines like this design on Instagram that creates a bold outline on the shower which is then matched on the mirror and lighting feature. Brighten up the space with light wood flooring which will also open up the floor area.
2. Light grey marble effect bathroom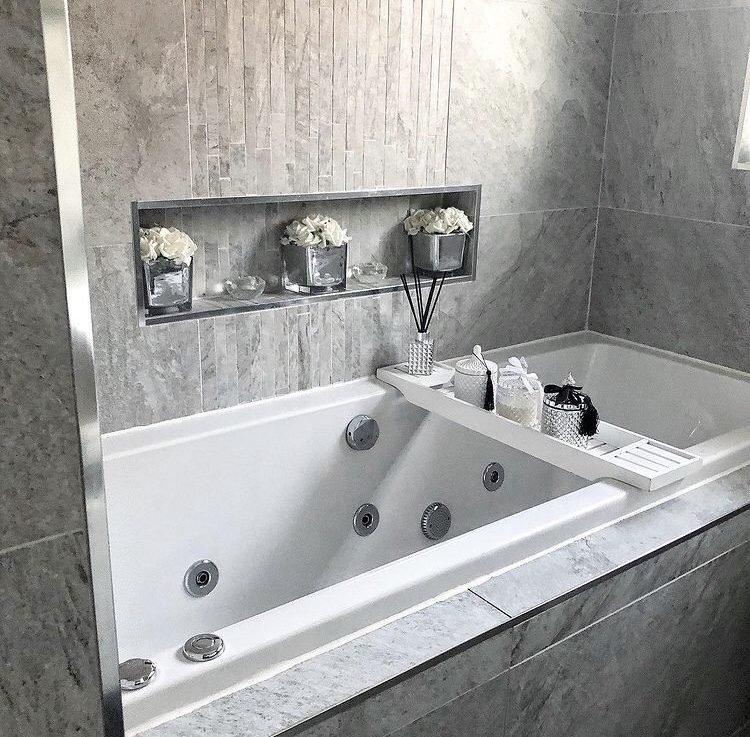 Image source @homesweethome_at_23
Go glam in the bathroom by decorating your walls and bath with grey marble effect tiles. This gorgeous bathroom design is sophisticated and tranquil for a relaxing soak any day of the week. Furthermore, the white bathtub is a bold statement when against the marble tiling which will transform any bathroom space. We particularly love the indented tile wall shelf with mirror framing and accessories for double glam.
3. Grey and gold bathroom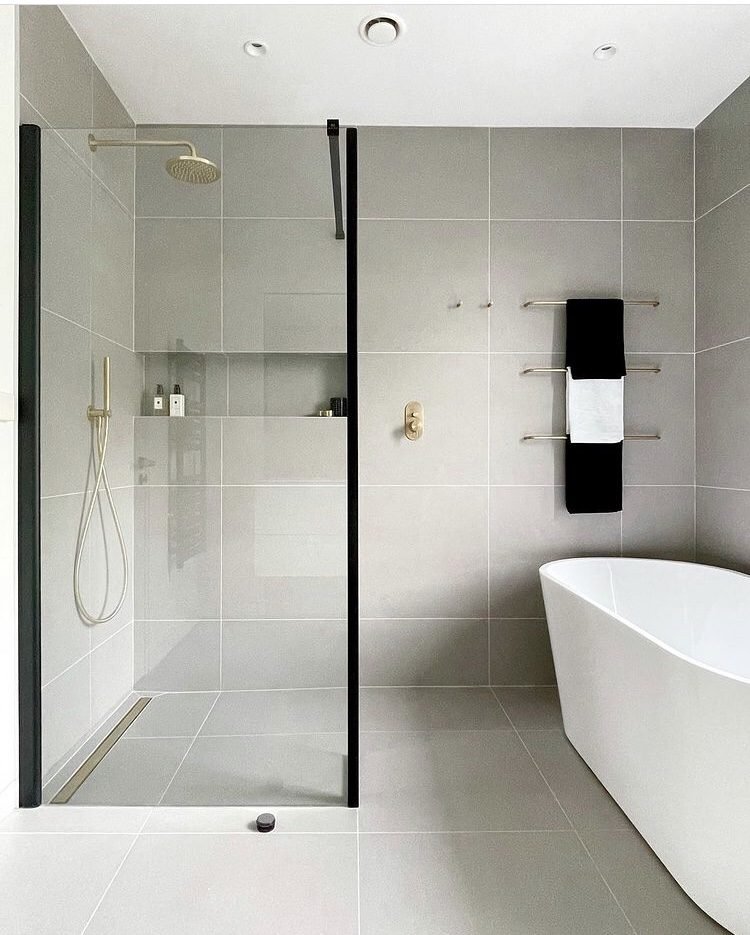 Image source @Irishmodularhome
Style a modern grey bathroom with simplicity like this ultra-sleek bathroom design on Instagram. The large light grey tiles matched with the gold shower fixtures make the space contemporary and stylish without over-accessorising the space.
4. Country grey bathroom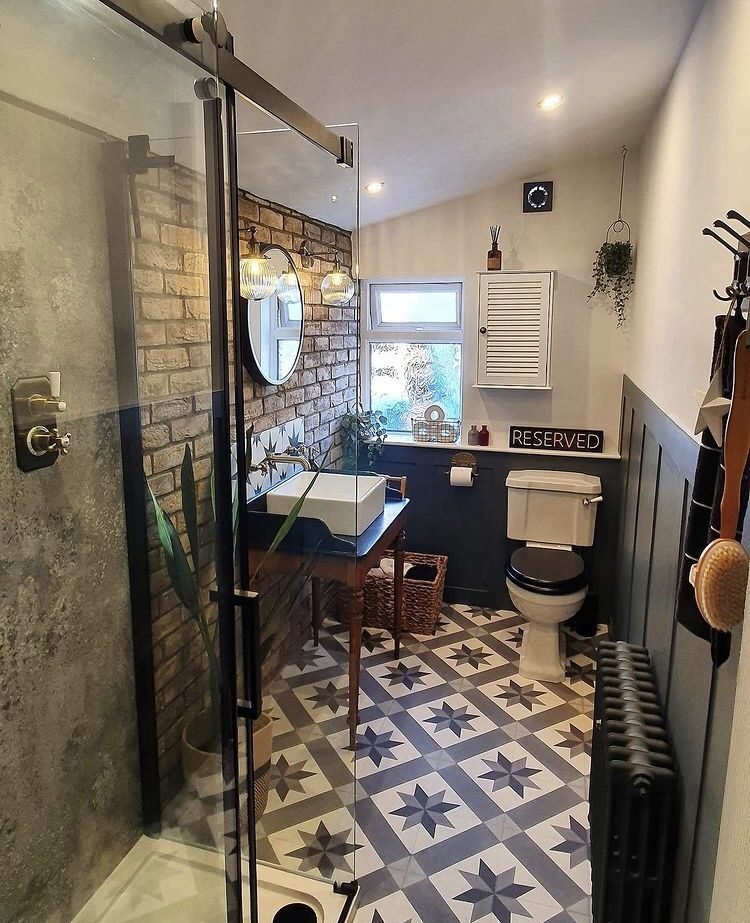 Image source @_daisycottage
Mix and match patterns and textures for a cottage-inspired bathroom just like this stylish design from Instagram. Combining pattern floor tiling and the natural exposed brick wall is the perfect blend for a country or farmhouse-inspired home. The gorgeous grey wood panel, tiled floor, and shower feature wall all add different textures and depth to the space.
5. Grey and white bathroom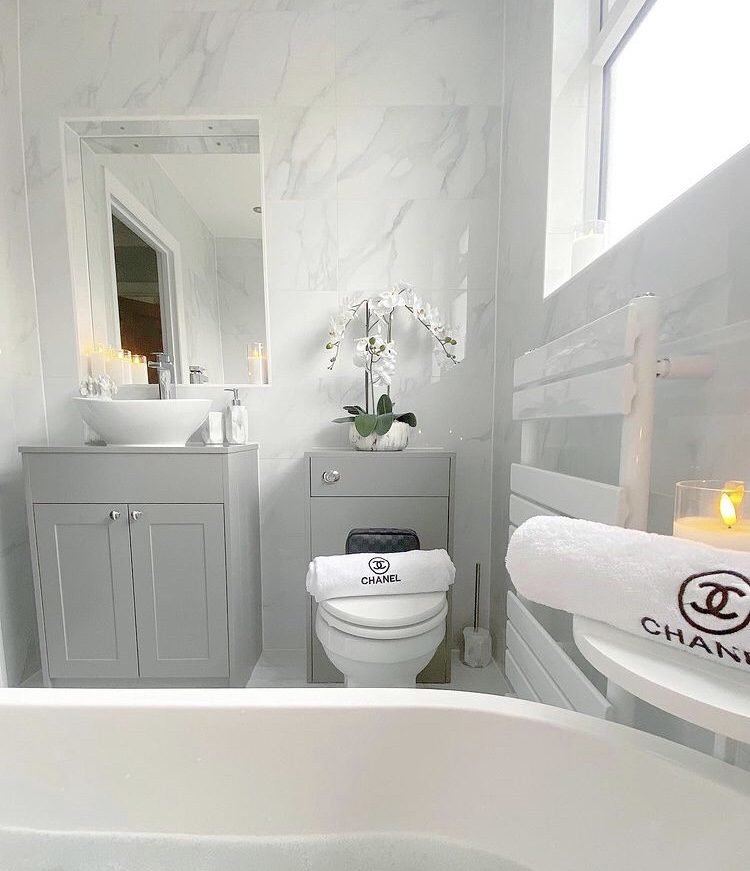 Image source @livingmybesthome
For a clean and fresh bathroom combine grey and white together. If you love the idea of having a white bathroom, but you don't want it to look clinical, adding grey features will work with your space to bring in contrast. We love this design on Instagram that subtly uses grey vanity cupboards and marble tiles with grey to bring in the luxurious style to a white bathroom space.
6. Statement grey tub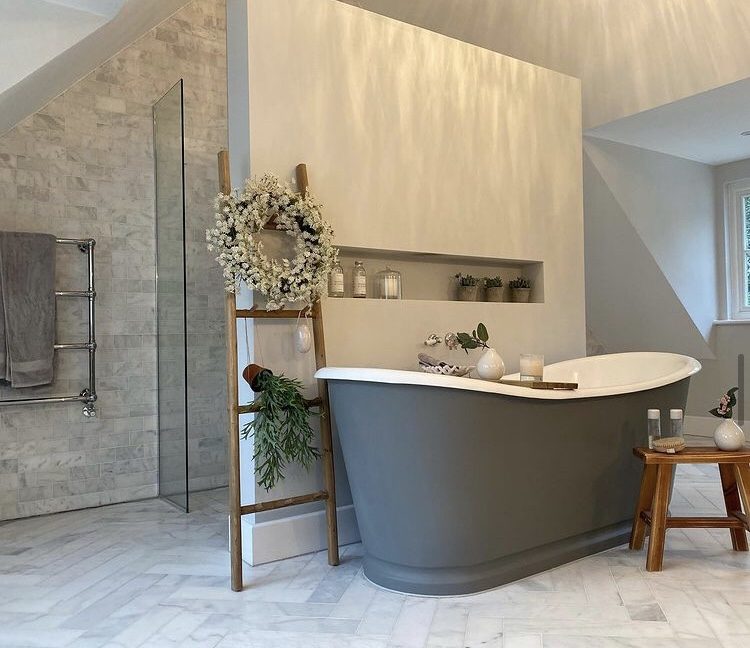 Image source @lottieshousebuild
Bold statement bathtubs, like this beautiful design from Instagram is the perfect way to dominate a large bathroom space. We love the dark matte colour and white roll top that is striking and bold. Furthermore, the hidden shower behind the light grey wall sets off the contrasting look in a beautiful way to create texture against the deep soaking tub.
7. Textured grey bathroom tiles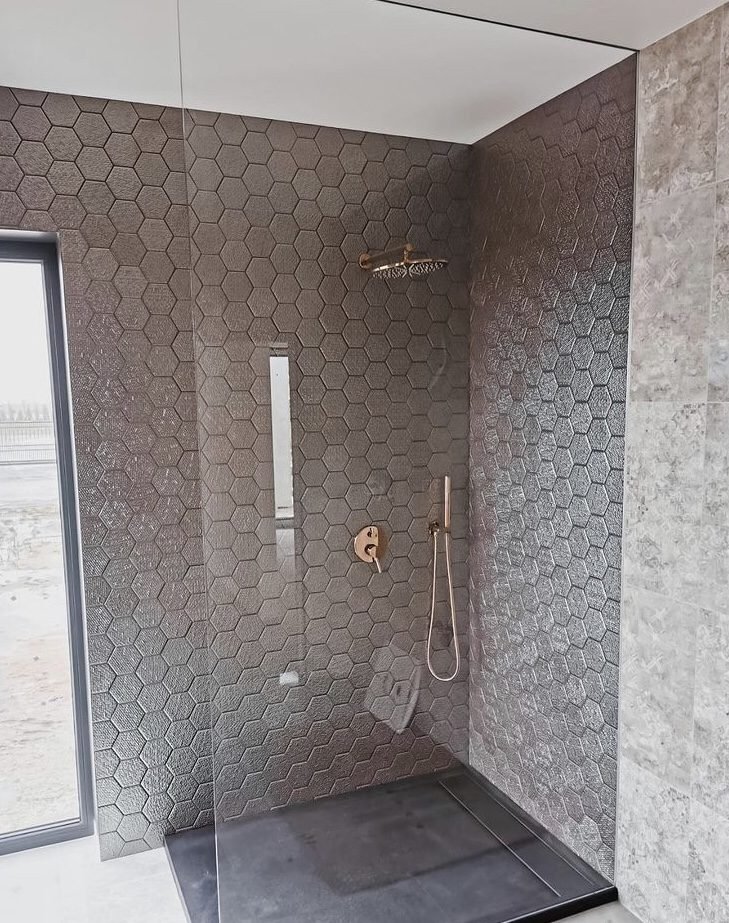 Image source @slow_life_slow_home
Adding texture to a grey bathroom is an excellent way to incorporate depth into your grey colour scheme. This beautiful honeycomb tiling in the shower on Instagram matched with grain effect tiles adds a striking contrast to separate the shower and the additional bathroom space from each other in a clever and unique way. 
8. Grey bathroom panels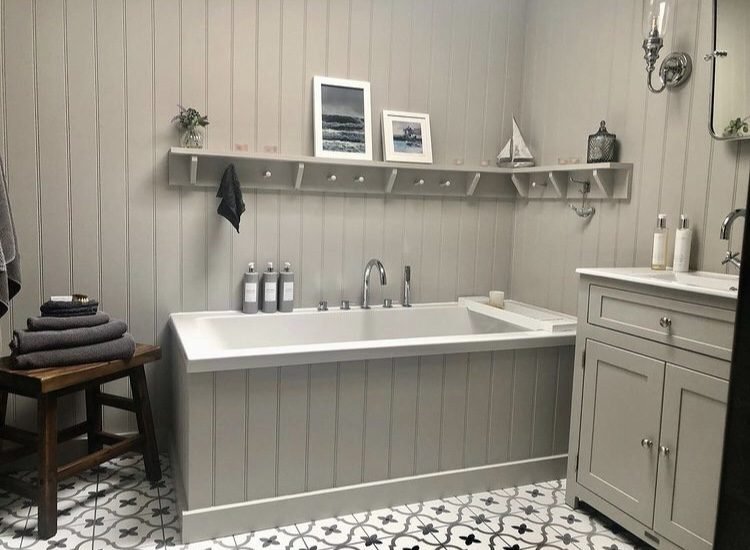 Image source @Suffolkbarnstyle
If you have a big bathroom why not swap tiling for panelling to really add depth to your large space. This gorgeous design on Instagram has us envious for its country style with photo frames, lighting and footstool. Which is combined with modern elements like the pattern floor tiles and tap fixtures.
9. Black and grey simplicity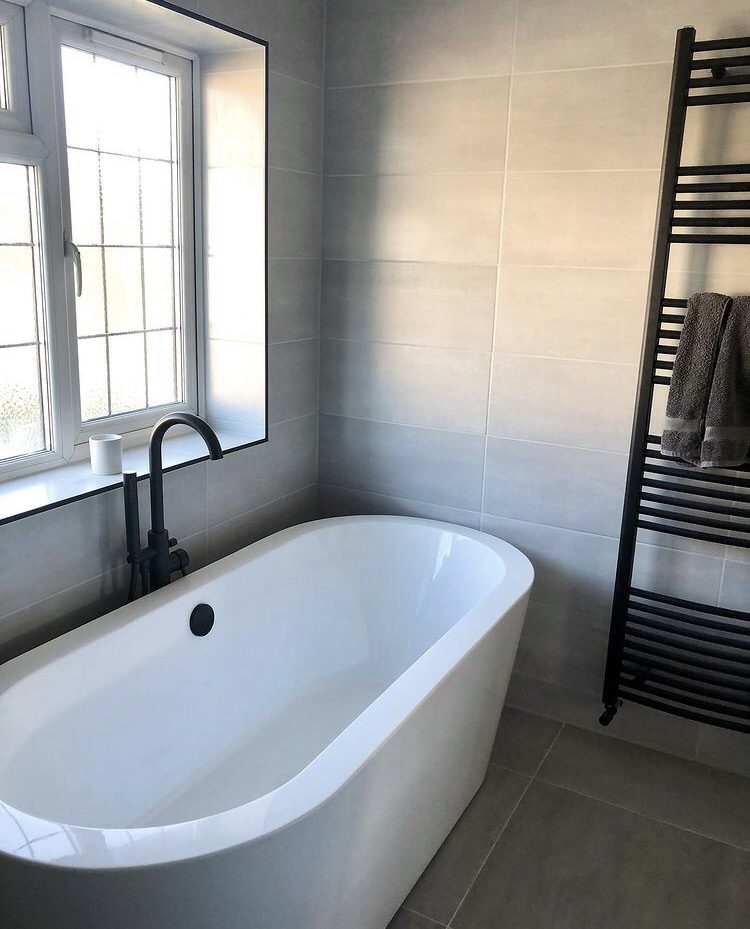 Image source @theharmerhome
Go modern and minimal in your grey bathroom with statement decor that doesn't need to be overdone. This design on Instagram is a great example of fine details in a simplistic way. Using a simple black, grey and white colour scheme, this bathroom features clean and bold lines that are easy on the eye and flow seamlessly to look minimal and elegant.
10. Elegant grey marble and glass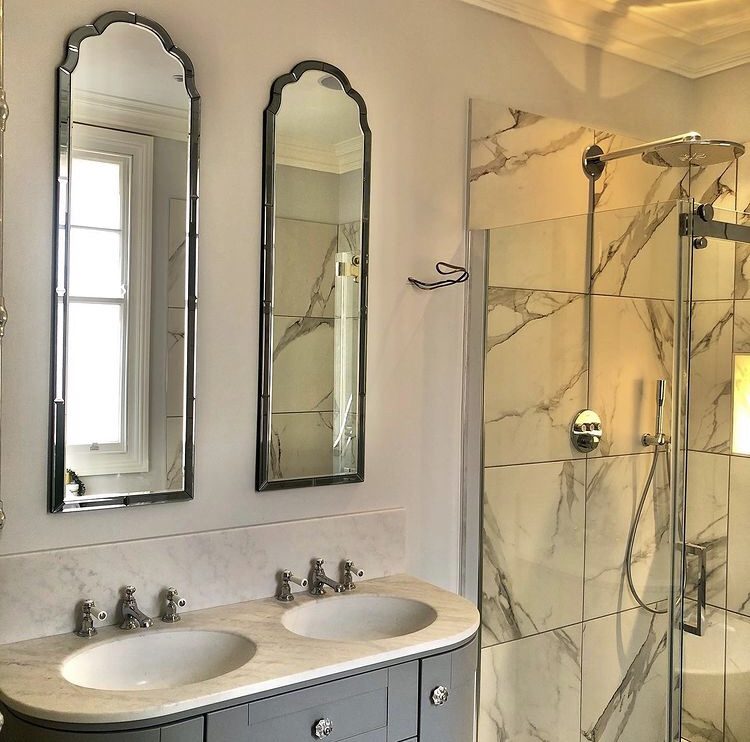 Image source @park_reno_2_flats_to_1
We know we've already included a marble-style grey bathroom in our top picks, but this gorgeous bathroom caught our eye on Instagram. Featuring marble top twin vanities with mirrors and a bold marble shower cubicle, the mix of two marble textures work effortlessly for a glam look. Finished off by dark grey painted doors under the vanities for contrast, this design is the gorgeous inspiration for your next renovation.
Looking for some more inspiration?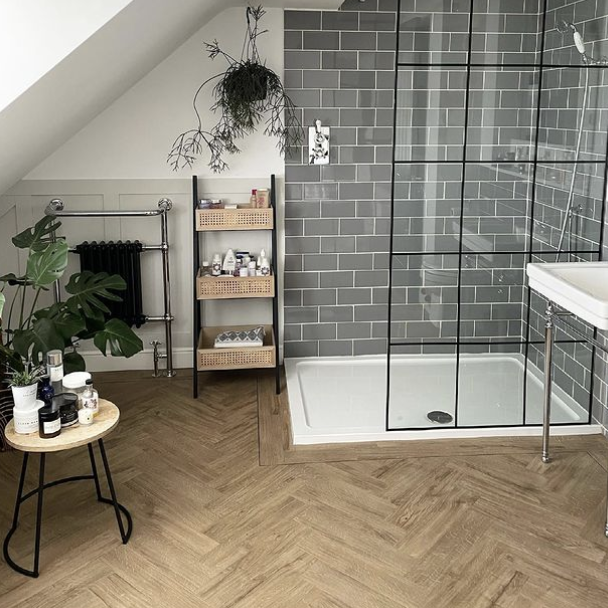 Bathroom Bedroom Decor Inspo DIY and renovation Hallway How To Interior Trends Kitchen Living Room Uncategorized