Bringing traditional cottage aesthetic to a modern home
How do you get the modern cottage look?
Modern cottage interiors allow you to fill your home with the aesthetics of a cottage without having to find an actual cottage to reside in (bonus if you have one!). Using elements like beams, log fires, textures, patterns and natural decor to bring in the natural elements found in a cottage home.
Neutral colours to compliment exposed bricks for country charm
1 of 12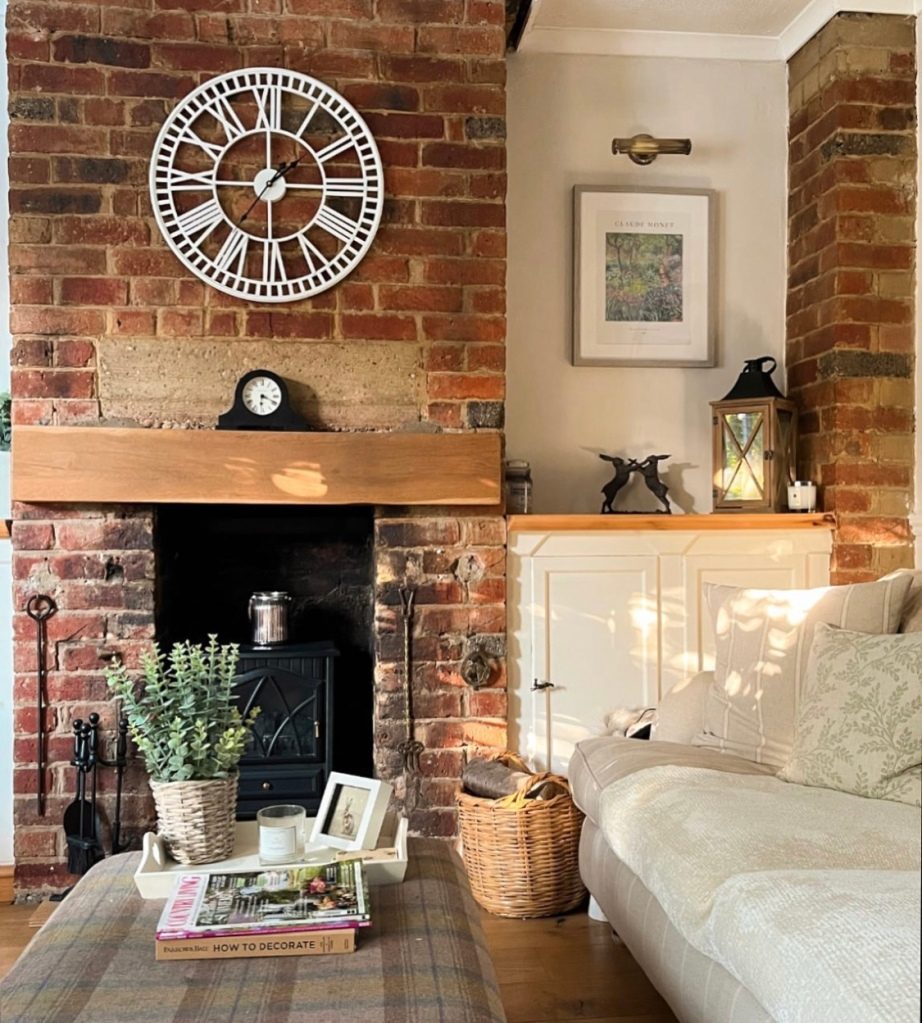 Neutral colours such as creams, browns, greens and greys work well for a subtle cottage interior style. For an authentic cottage design, add in some texture to your space with an exposed brick wall to bring in more elements of nature to your home.
Super cozy sofas and chairs adds texture to a modern country home
2 of 12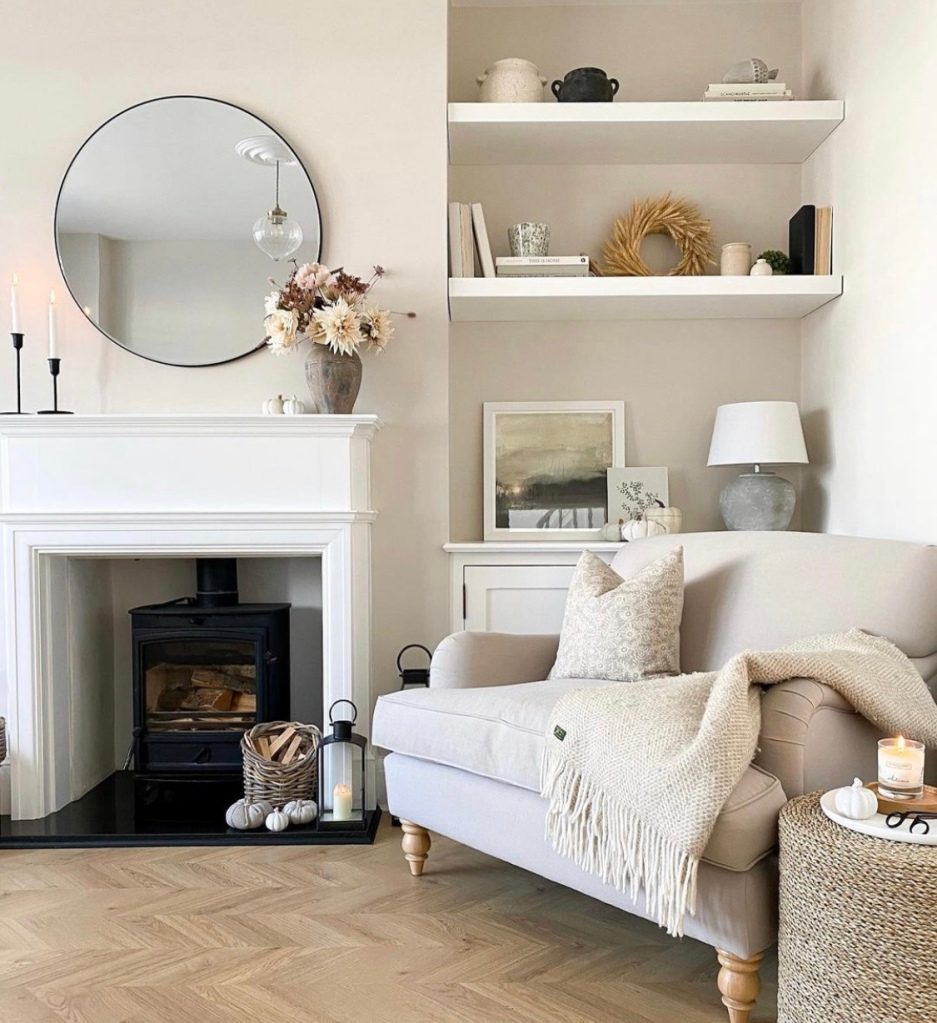 Get the look: wall colour – Skimming Stone by Farrow & Ball
If you've not got a traditional cottage home to decorate, you can still bring in the charms of the countryside with a touch of modern country aesthetic. Add chunky, cozy furnishings, throws and decor that has a neutral colour palette for a warm feeling of being surrounded by nature in the countryside.
Use pastel green kitchen cupboards for a subtle cottage core look
3 of 12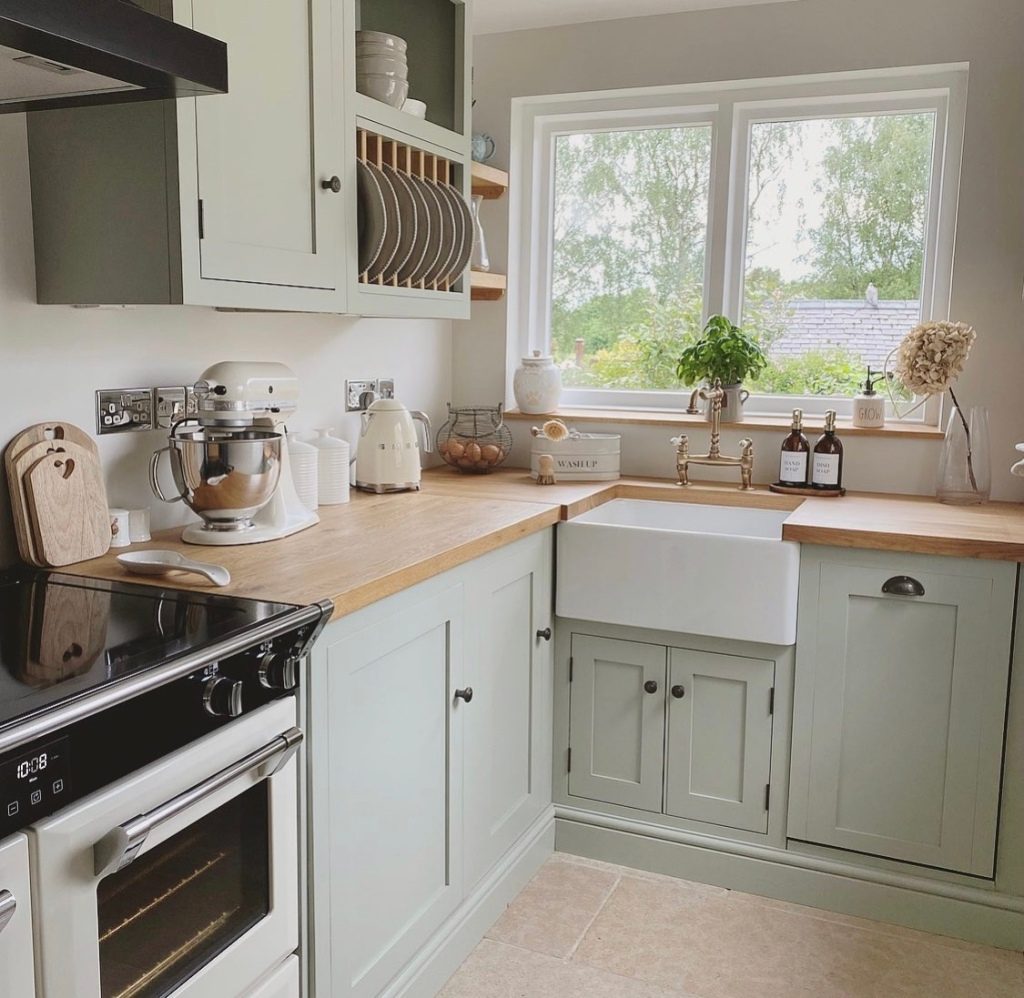 Modernise your kitchen by painting your cupboard doors and adding new handles to them for instant transformation. Opt for a pastel green colour to feel close to nature, which brings in the farmhouse aesthetic that you expect in a cottage. Furthermore, complete the look with a deep bowl sink for a statement look.
Mix and match bathroom tiles for a cottage aesthetic
4 of 12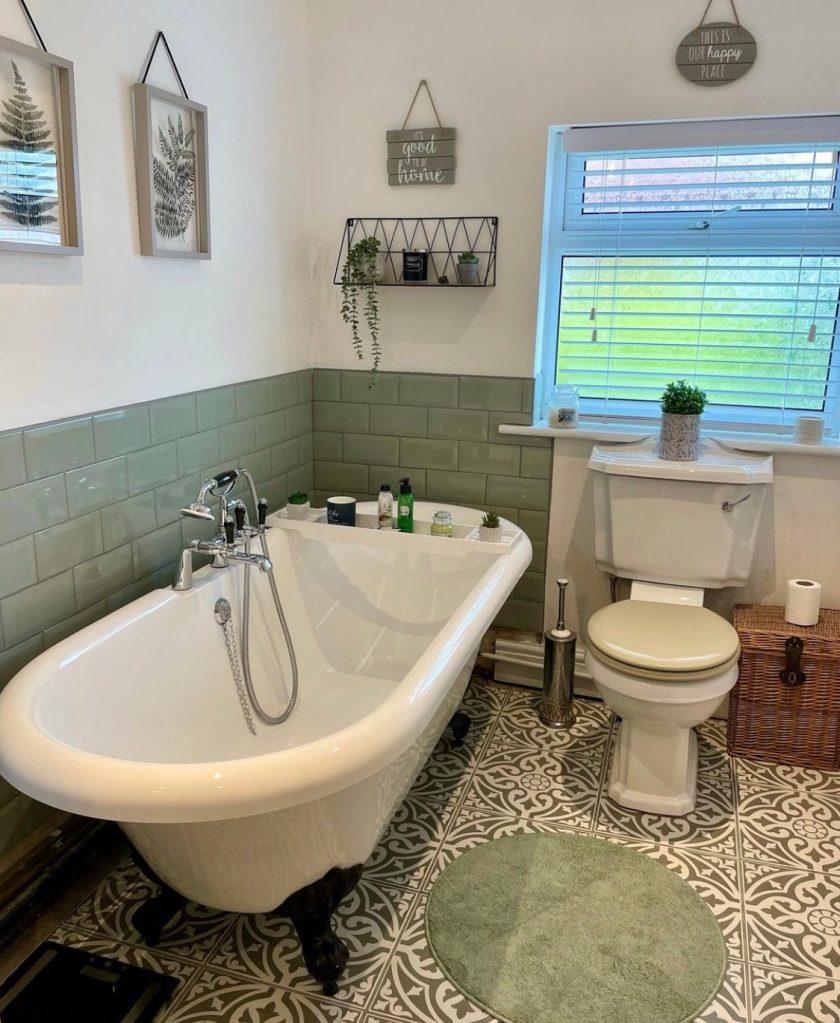 Layer up your bathroom with texture and patterns through tiling that exudes nature while being full of character. A green bathroom palette is a great way to bring nature to your bathroom and pairing with white allows the room to feel bright whilst still being cozy.
Beamed kitchen for cottage interior style
5 of 12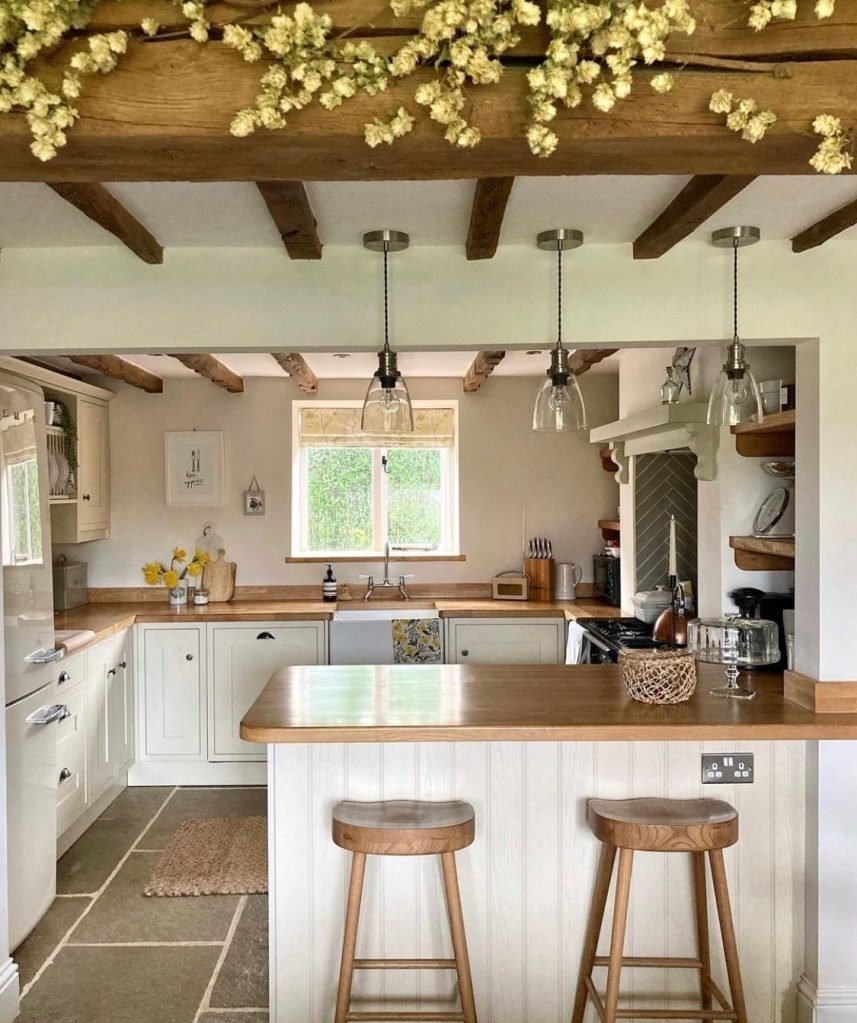 Exposed beams are a staple for cottage interiors, a great way to modernise this is to give them a fresh lick of paint so it has that new look without having to replace them. We love this modern take on a cottage kitchen that plays with contrast with the white walls and cream cupboards against the wooden beams and countertops.
Neutral dining room idea for a modern cottage
6 of 12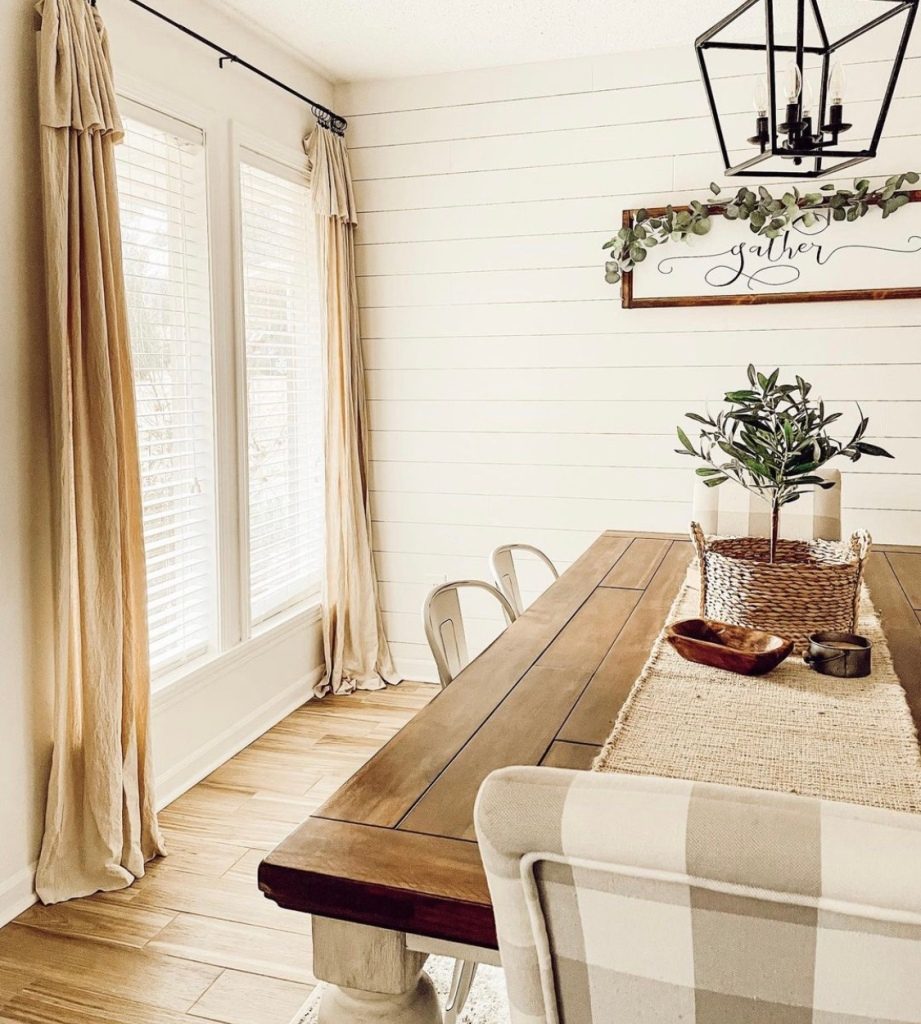 When designing your dining space, choose natural looking furnishing such as oak in a light colour to keep the palette simple and earthy. Dressing your table with florals, light textiles and cushioned chairs will bring the look together for a modern dining setup.
Tablescape with earthy tones for modern style
7 of 12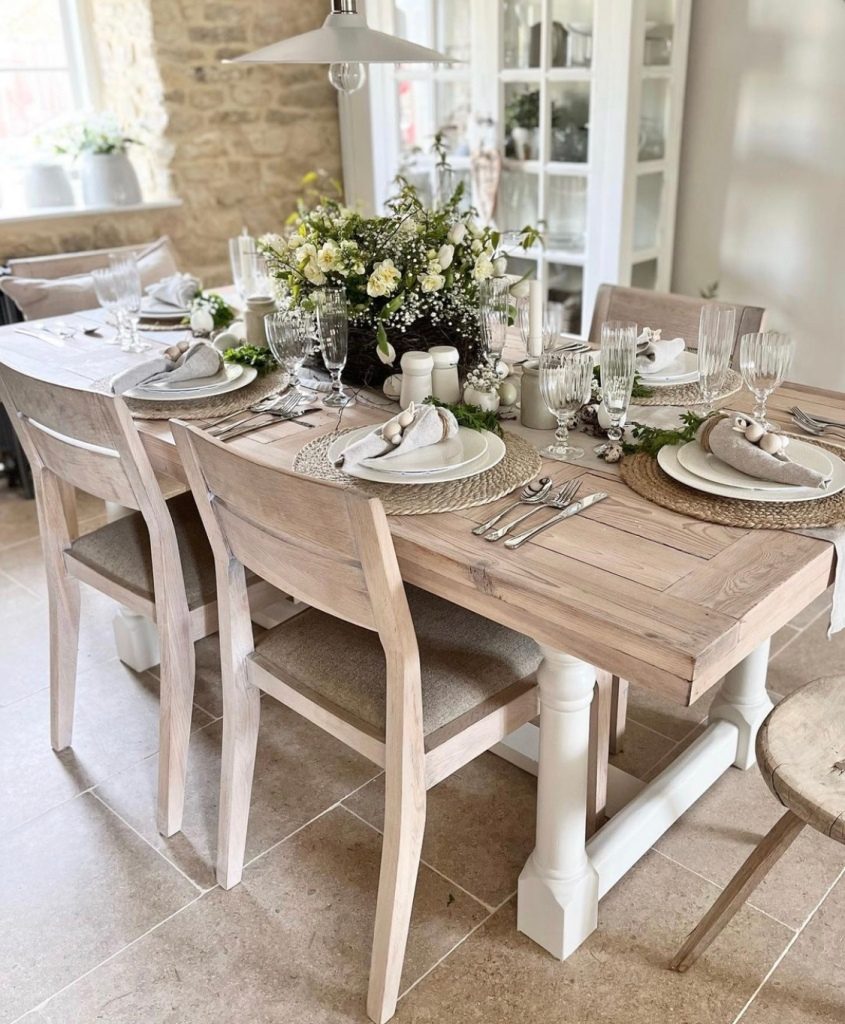 Dress a natural wood dining table with modern cottage interiors such as woven placemats, glossy decor and finish off with a huge bouquet of white and green florals for a centrepiece that is fresh and brings the outside indoors.
Cream and white colour palette for a modern cottage interior style
8 of 12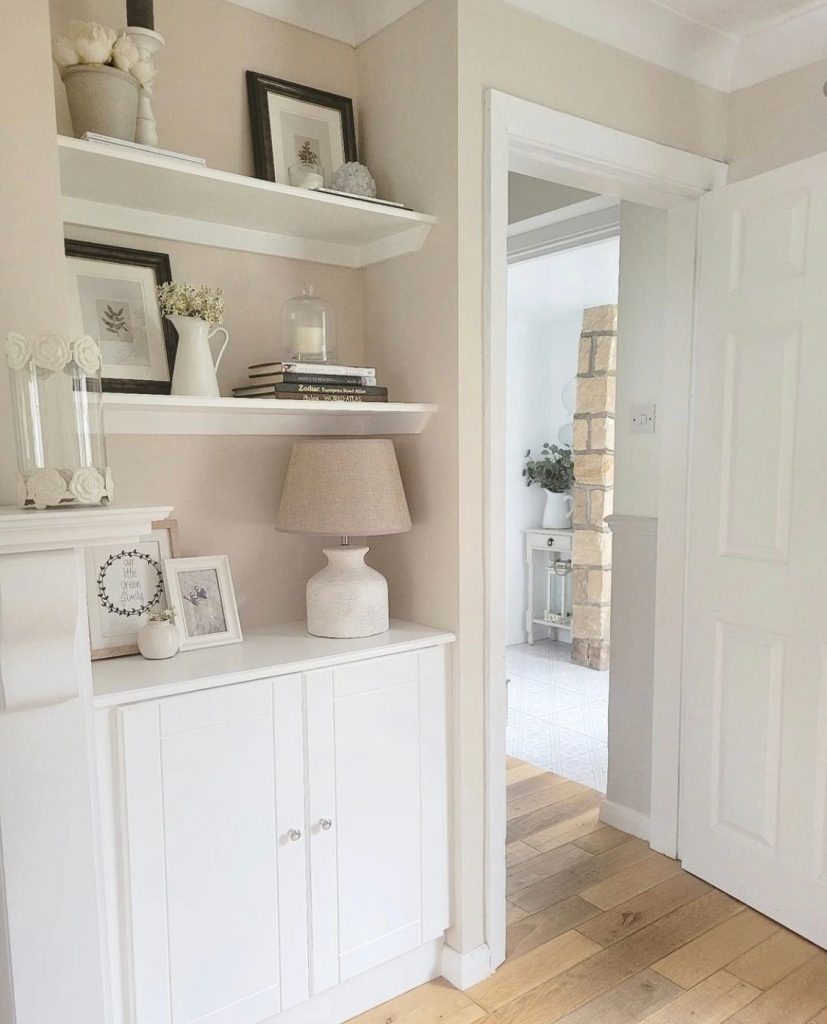 Subtle colours are perfect for a modern cottage home to bring in cozy and delicate hues. Traditional cottage interiors can sometimes feel dark with brown hues and dim lighting, however adding a fresh white with cream can really warm a space up whilst allowing the home to feel light and airy for a modern ambience.
Modern exposed brick reading corner
9 of 12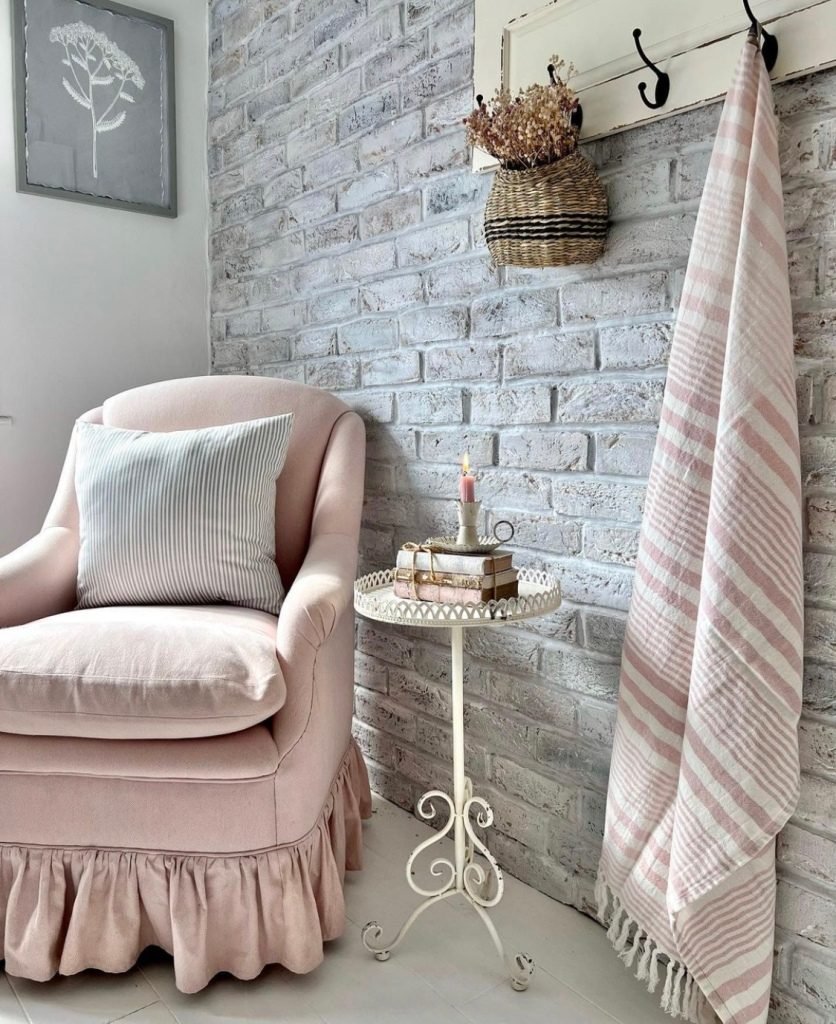 Get the look: Chair is from Arlo & Jacob
Update an exposed brick wall by painting it in a light grey tone that still gives it that rustic look, while allowing the space to introduce warm colours such as pink through furnishings to complete the look, which is right in trend right now.
Use logs and fluffy textures for a cozy modern cottage home
10 of 12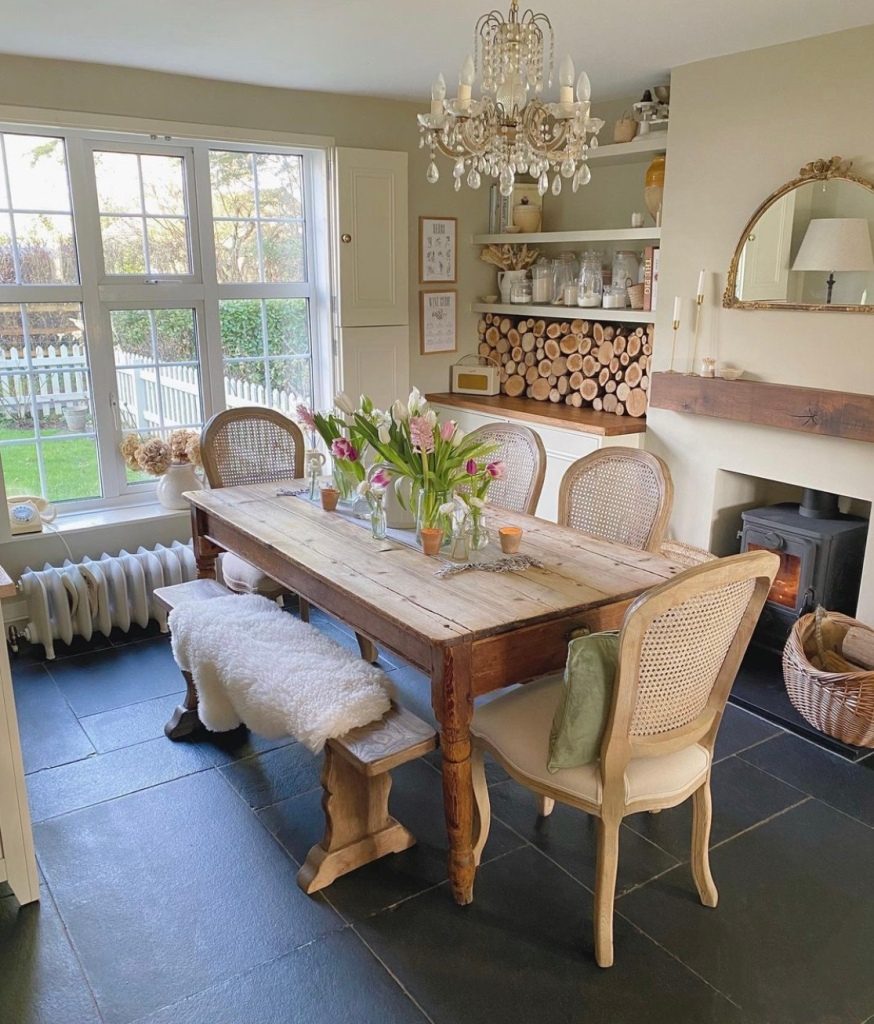 Add elements of country style living into your home for a modern cottage aesthetic such as fluffy throws, fresh flowers and mounted logs that will give your home the look and feel of the countryside.
Add a pop of colour to your entrance or mudroom
11 of 12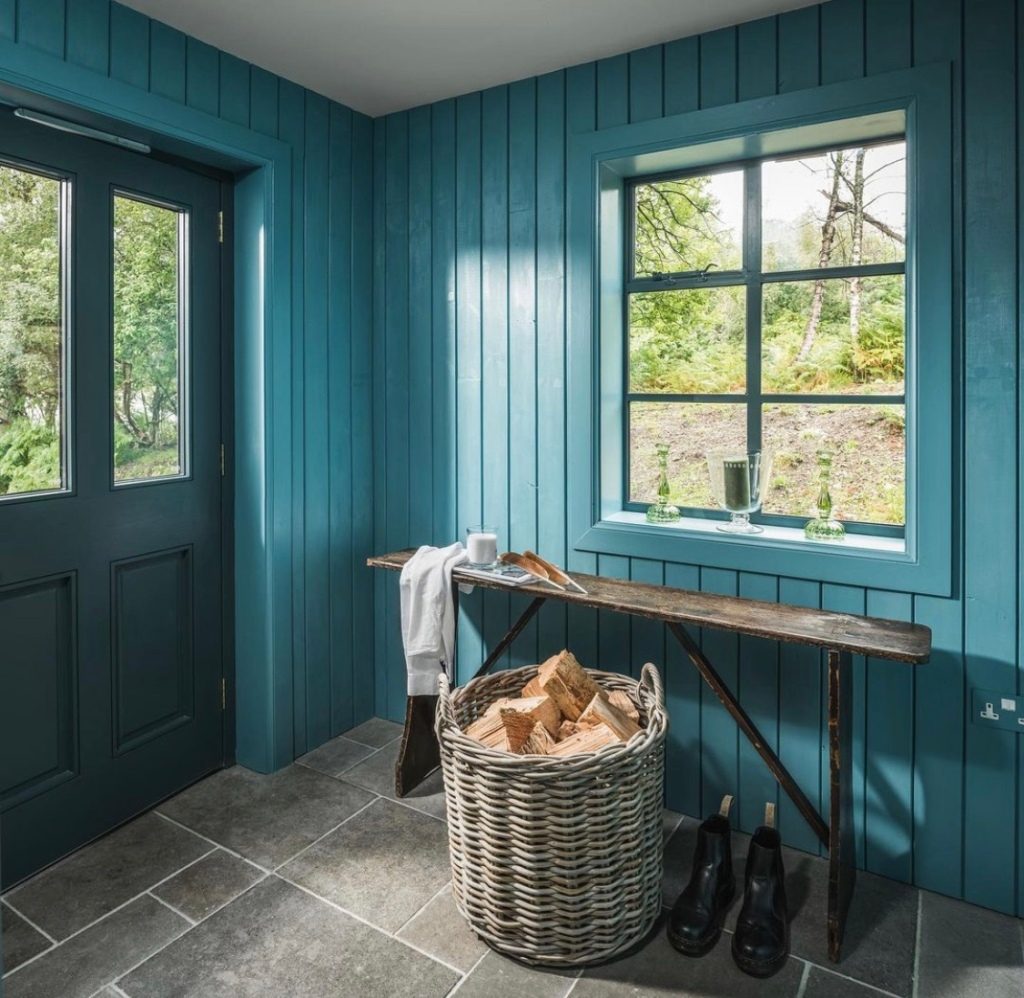 Get the look: paint colour is Stone Blue by Farrow & Ball
Modern cottage interiors allow for bright colours to enter the home to make the space feel full of character and to be fun. We love this blue entrance/mudroom that utilises panelled walls for a traditional look but brings in bold colours to modernise the space.
Use panelling and rod hooks for a cottage aesthetic in the bathroom
12 of 12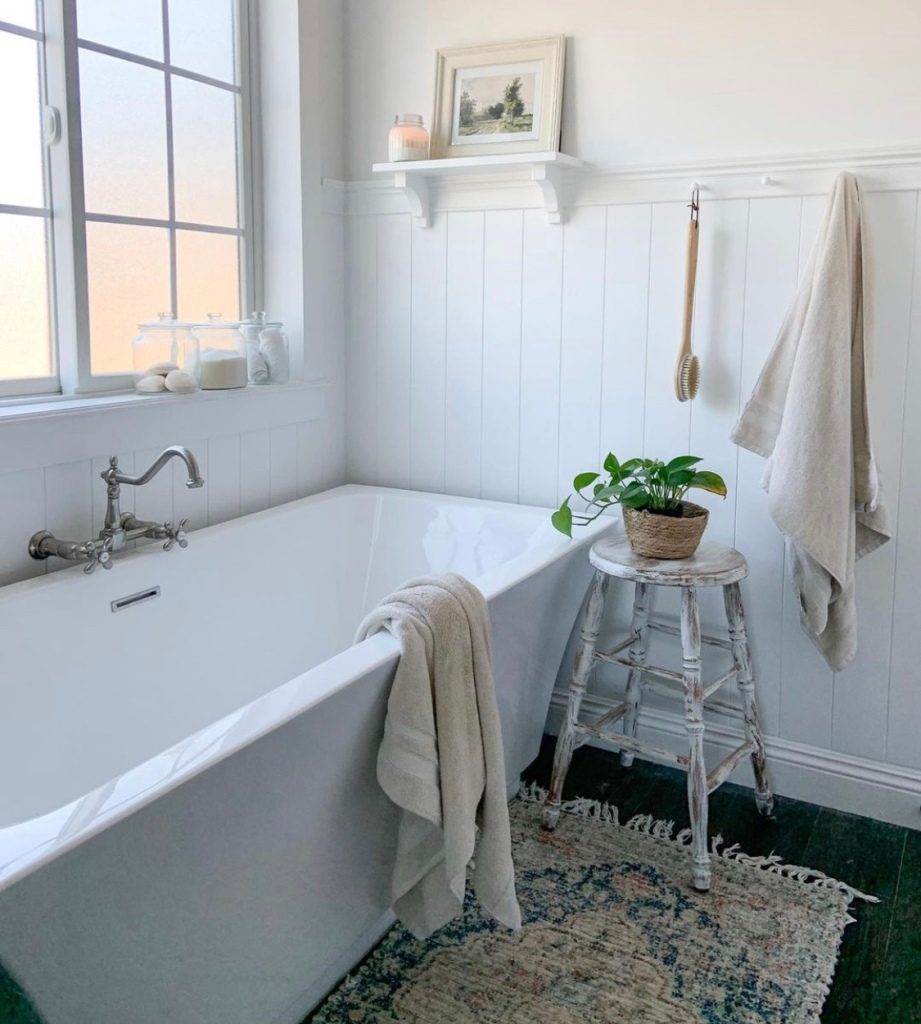 Get the look: Panelling from Home Depot
Accessorising a modern bathroom with elements of cottage core can bring both the old and new together in a fresh way. We love this all white bathroom with vertical panelling and rod hook rail for a traditional cottage feel. Furthermore, combining shabby chic with glossy textures allows the two styles to play against each other.