Are fireplaces still on trend?
Absolutely! With more and more people spending time at home, the fireplace is coming back as the focal point of the living room to add coziness and is a core style feature for most homes. Furthermore, with Victorian and period homes being a big trend in 2022 and will continue in 2023, fireplace design ideas are not going anywhere.
How to add a fireplace to a home without one
Even if your home doesn't have a fireplace, there are ways to make your own fireplace setting to look like the real thing. See our ideas below to see all our fireplace ideas including tile, brick, log burners and painted fireplace ideas. 
Fireplace ideas with log burners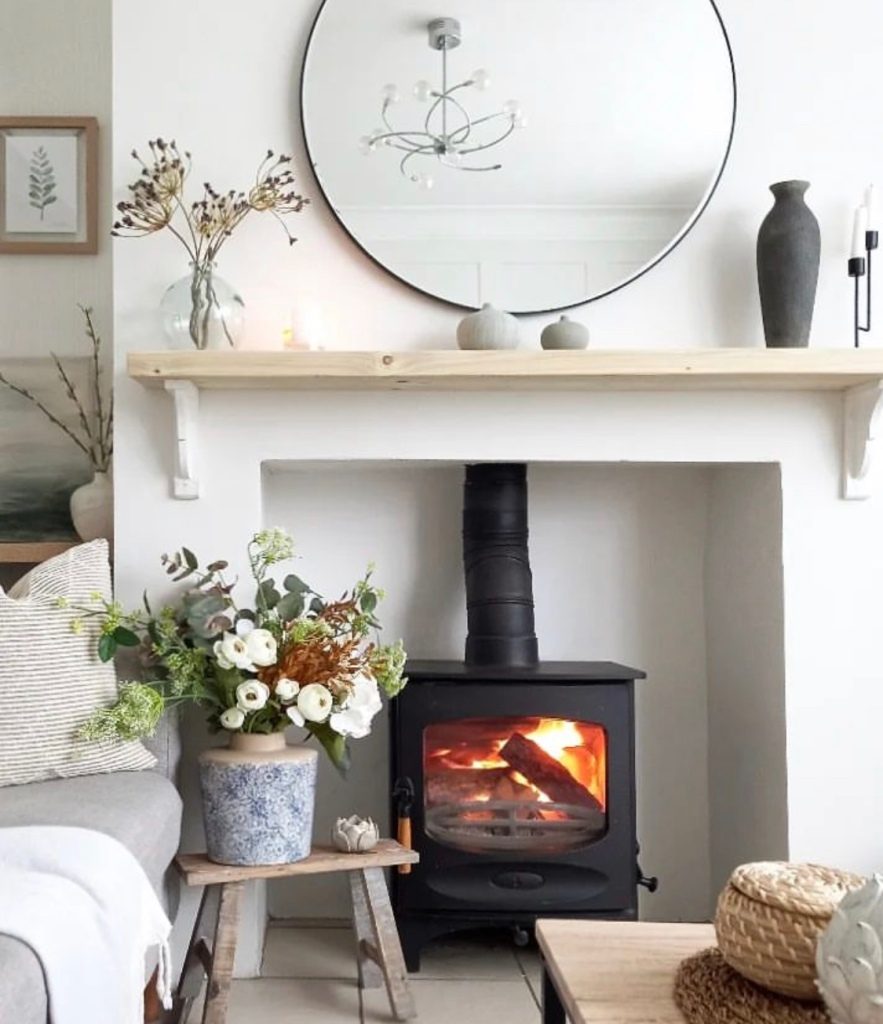 Perfect to warm up neutral interiors, a log burner fire is a great way to add coziness into a living room. For interiors that are stripped back with white walls and earthy tones, choose a black log fire to really make the space pop.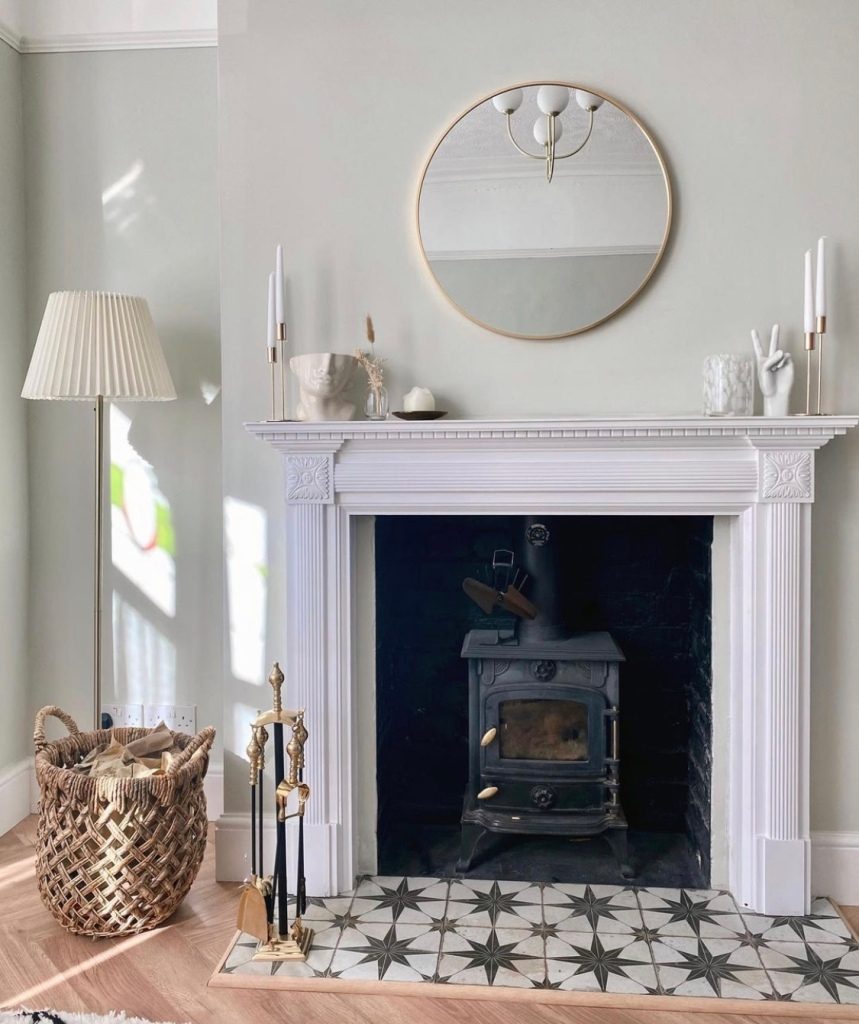 Contrast neutral and modern interiors together with a rustic log burner that creates a featured fireplace look. To make your log burner stand out more, add a tiled floor to give the space extra character that flows out of the fireplace and works its way around the room through decor elements and colours.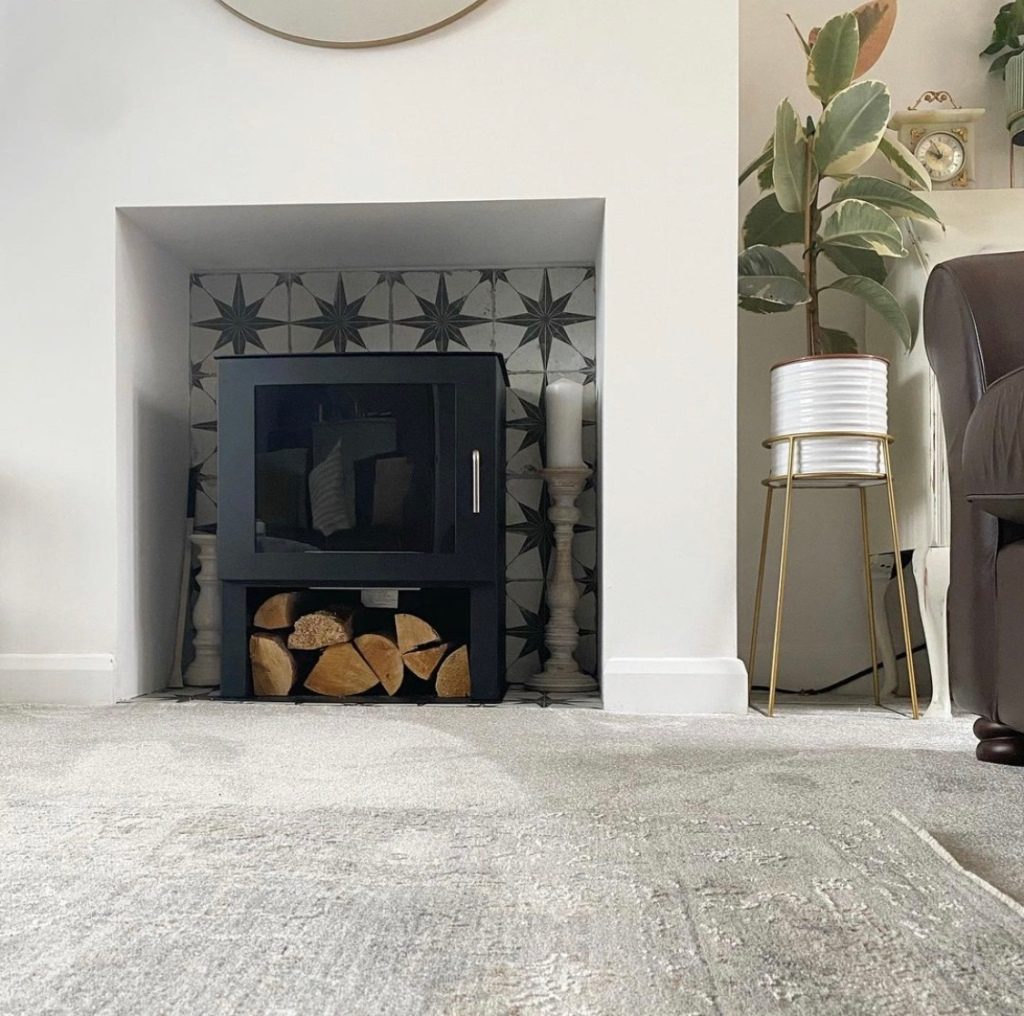 Faux lights fireplaces are great for homes that haven't got the facility for a real one and they look just as beautiful and cozy. If your fireplace is simply a squared hole in your wall, make a feature out of it with an electric log fire and decorate the inner fireplace with pattern tiles for a featured look. We also love the log arrangements to give the space an authentic feel.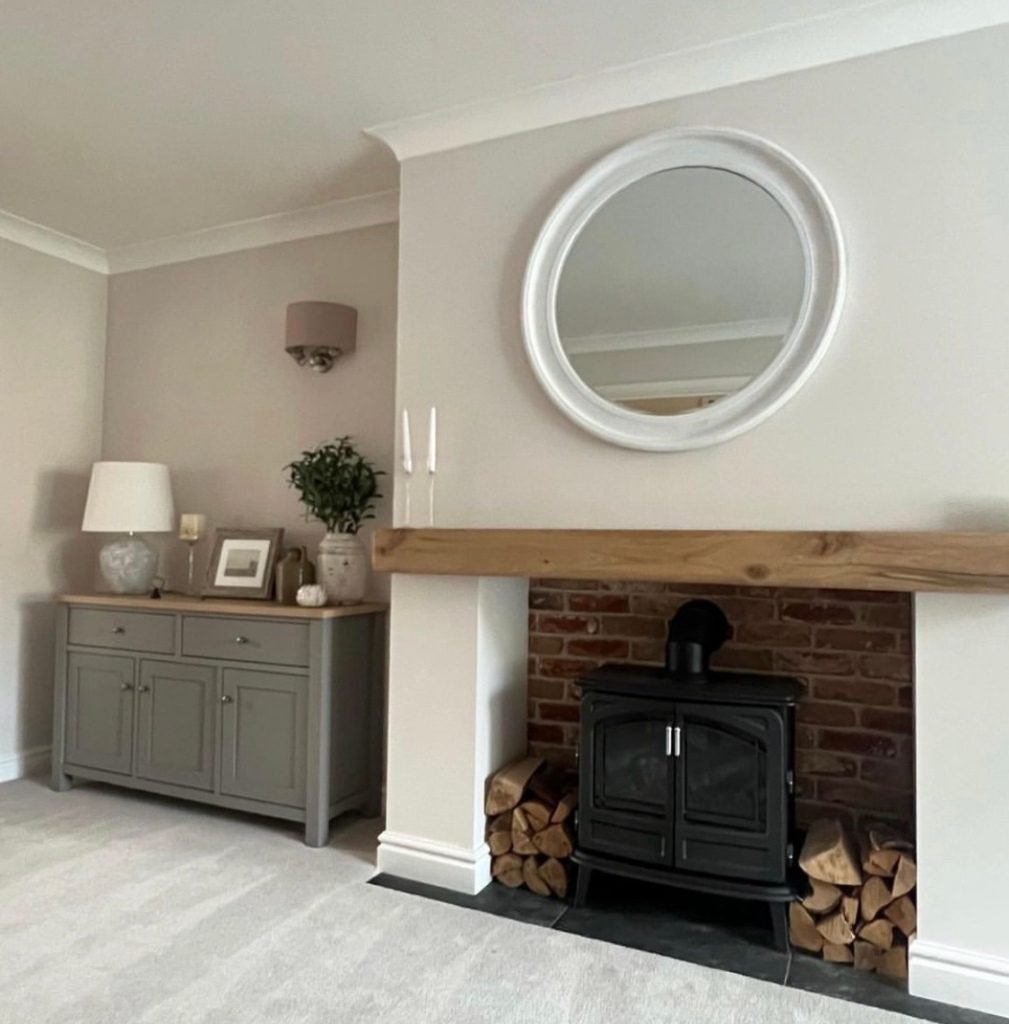 Get the look: Beam by Traditional Oak Beams
Traditional beams and log fires are two elements made for each other when it comes to styling a super cozy fireplace setting. For country style homes, keep the paint colour palette to a minimum with neutral and base colours for a clean look.
Victorian and period fireplace ideas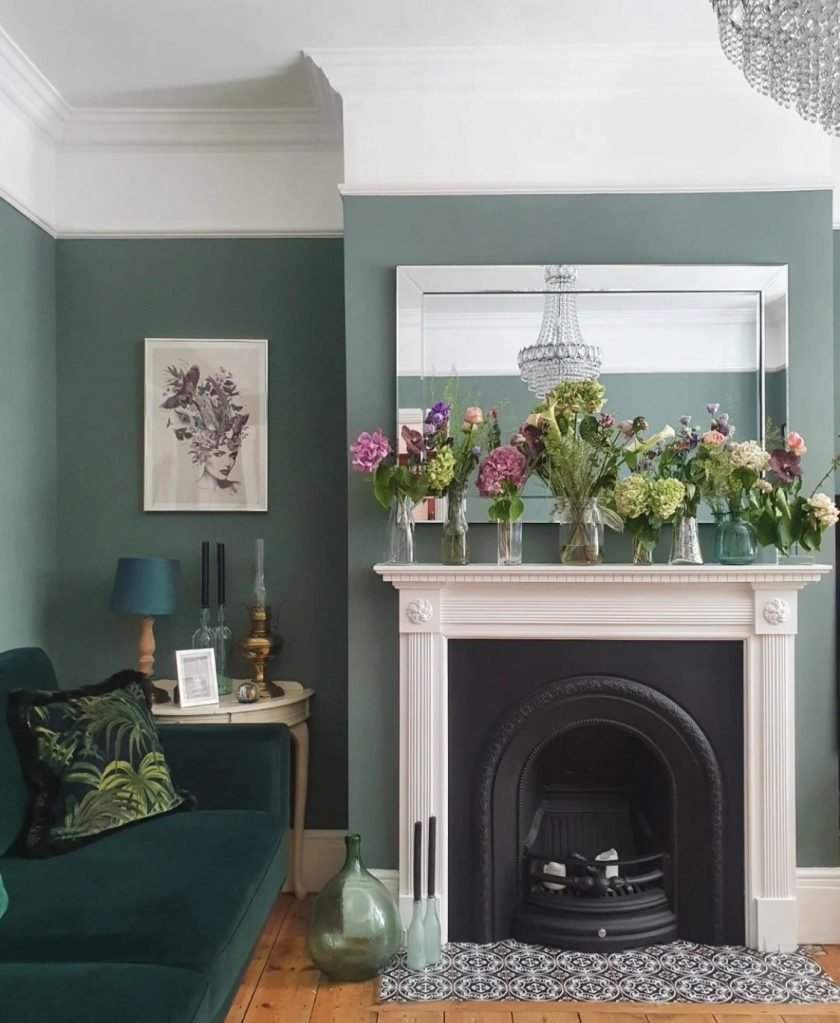 Add a touch of elegance to a Victorian style home with a detailed, yet subtle fireplace design that adds character. Choose a fireplace design with intricate patterns and clean lines, like this gorgeous white mantel with black fireplace.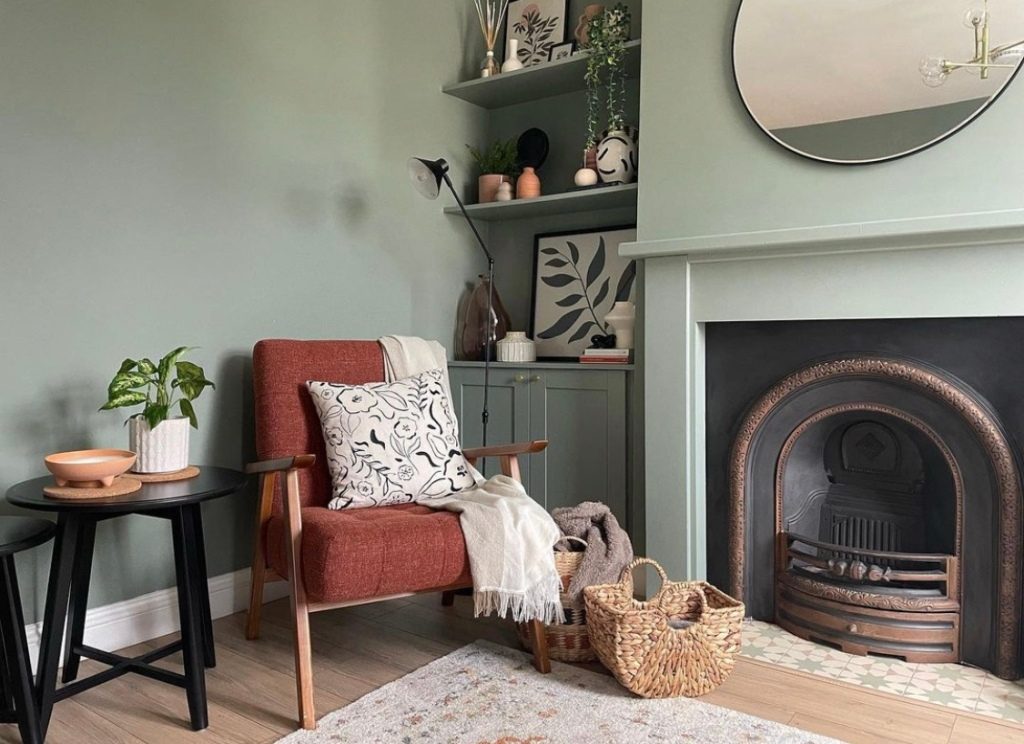 Victorian and period style homes thrive off of unique features and this is what happened here with this gorgeous fireplace that was found on Facebook marketplace.
Sophie explains about her fireplace thrift find: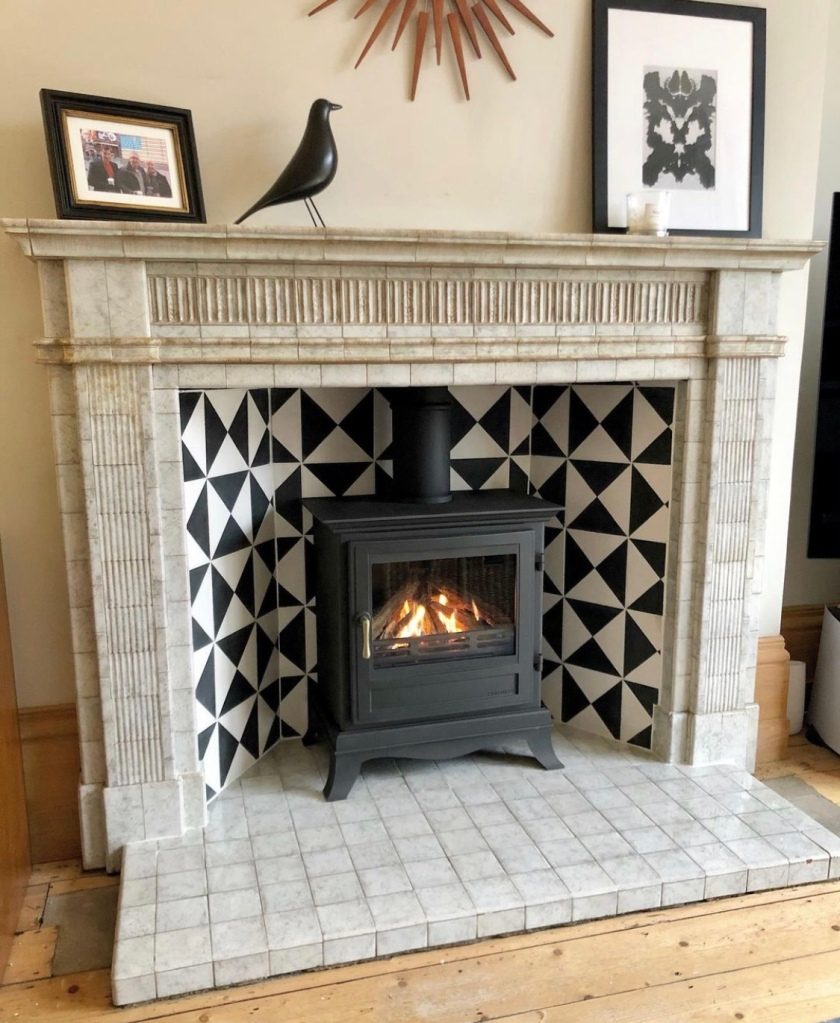 Get the look: tiles are from London Ecaustic
Combine two design elements in a fireplace for a unique and full of character style, like this gorgeous stone and tile log fireplace that mixes up contemporary and old style design for a completely one-off look. We love how the modern comes through from the bold tiles and log burner, and is bordered with an intricate stone fireplace mantel for a past time look.
Fireplace tile ideas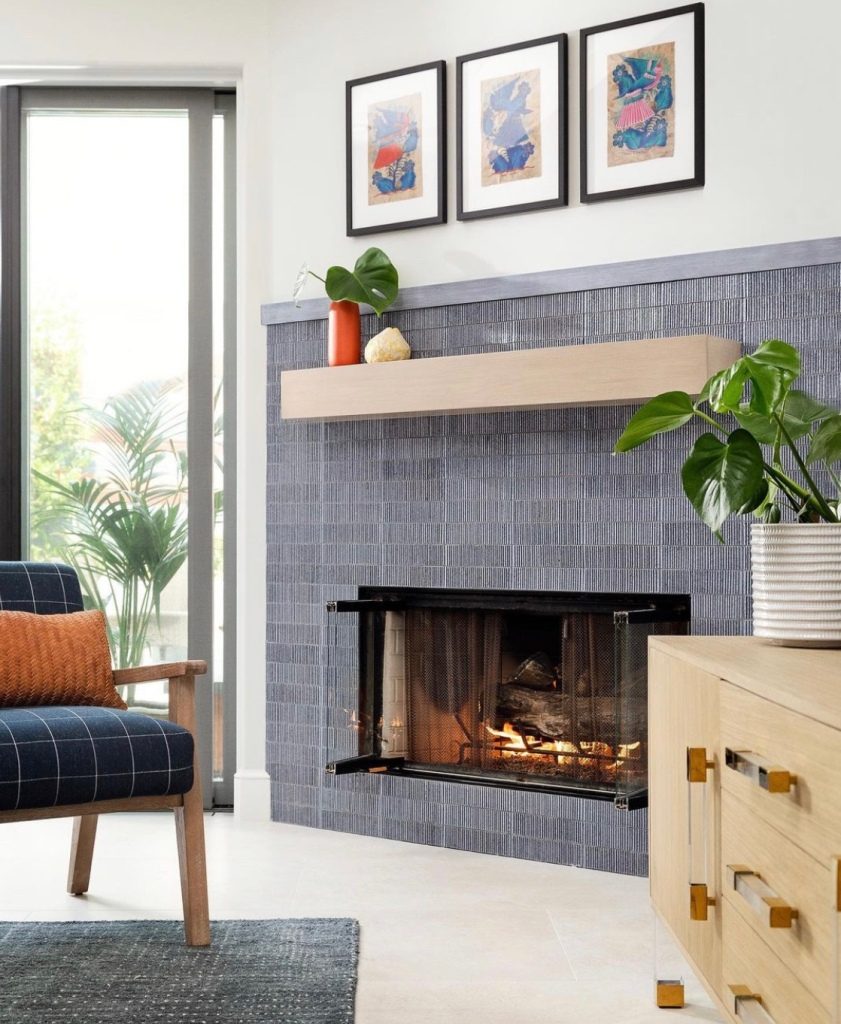 Create a modern fireplace that takes the centre stage of the room by using tiles to add texture to a minimalist space. We love this grey tiled fireplace with an in-wall fireplace that makes the grey stone tiles feel warmer.
You may also like: 10 Grey bathroom tile ideas you can steal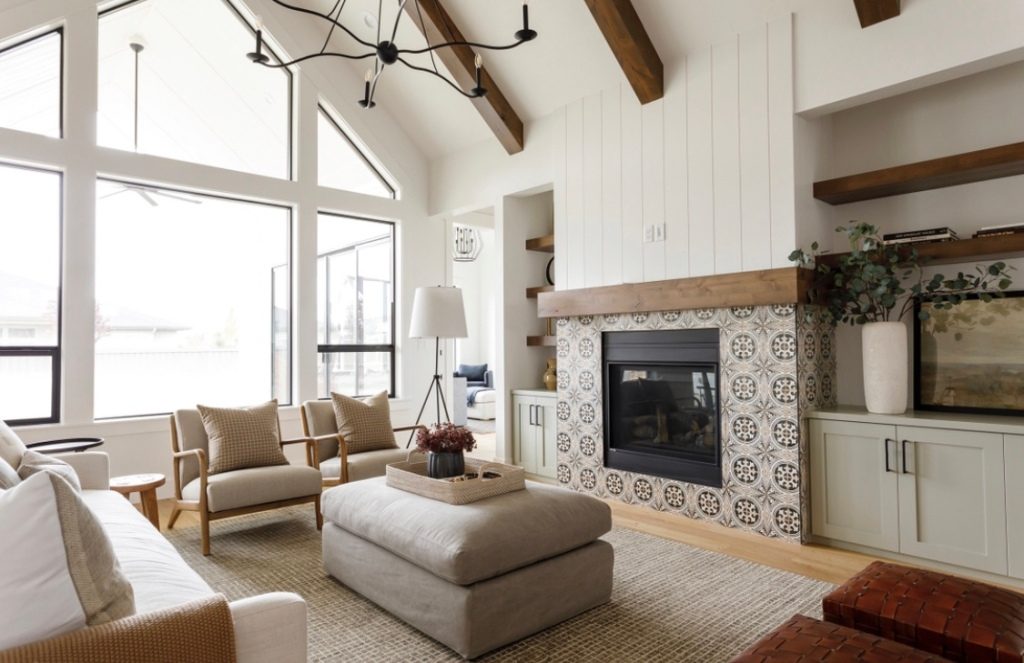 Tiled fireplaces are great for modern homes that don't have original fireplace mantels, as they can give the illusion of an original fireplace through clever styling. We love this tiled fireplace with wooden beamed mantelpiece for a rustic and authentic look.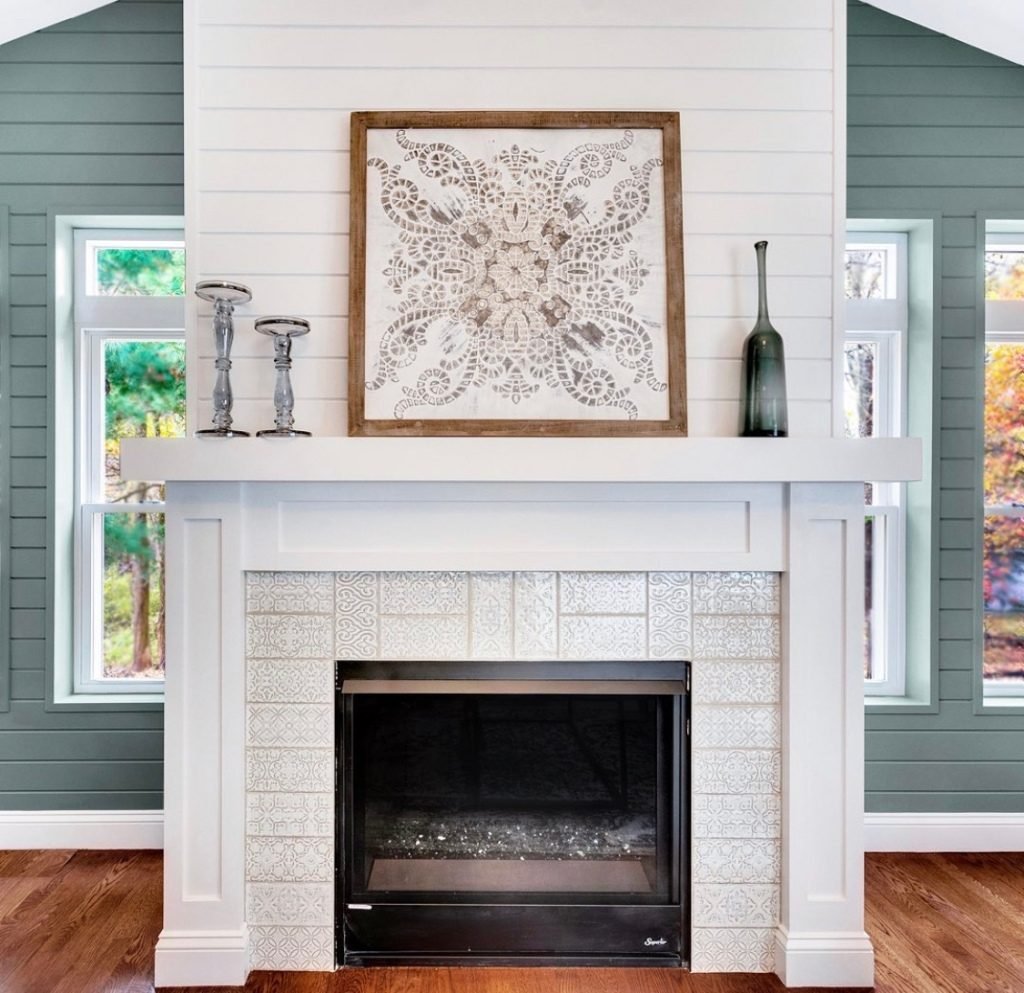 For a bespoke fireplace idea, why not transform a modern shiplap fireplace with vintage style tiles to add character, texture and unique style. Mix and match how you position the tiles that will play with the line structure of your space to feel fun and unique.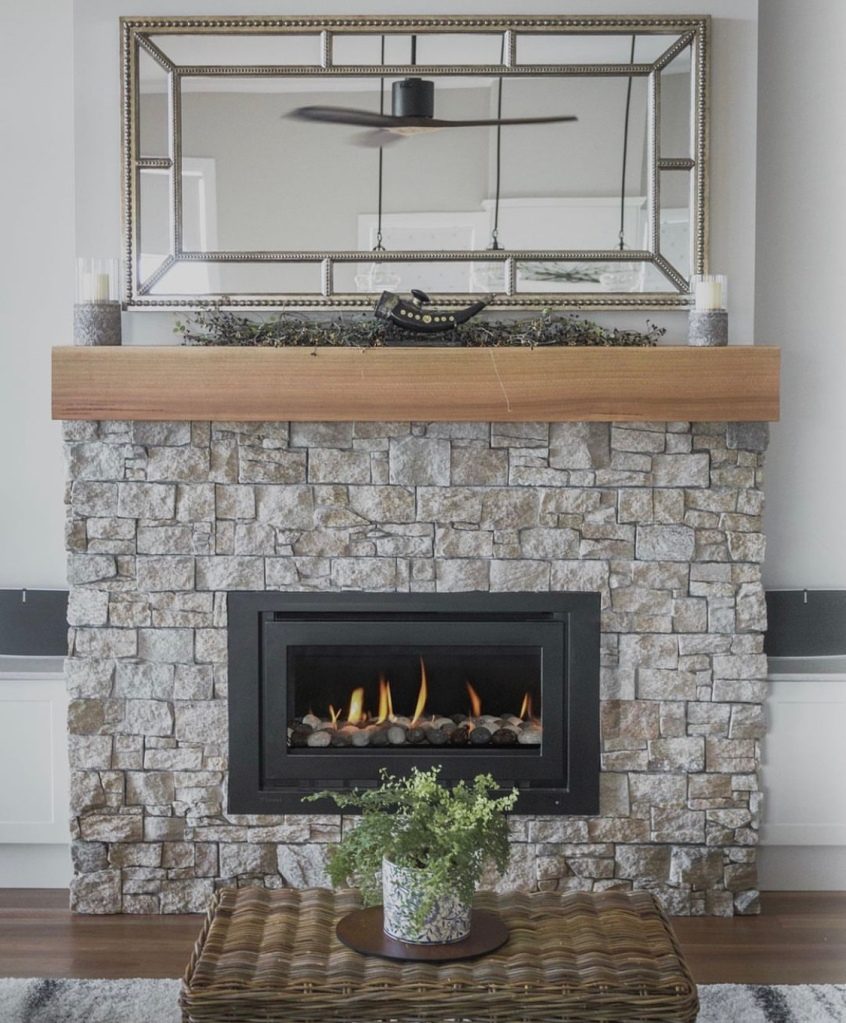 Get the look: Tiles from Jacobs Tiles at East Maitland, Mantel: 200×200 Blackbutt
Create a natural looking fireplace with stone or brick effect tiles for a homely design that takes centre stage of your room, complete the look with a blackbutt mantel for an authentic fireplace design.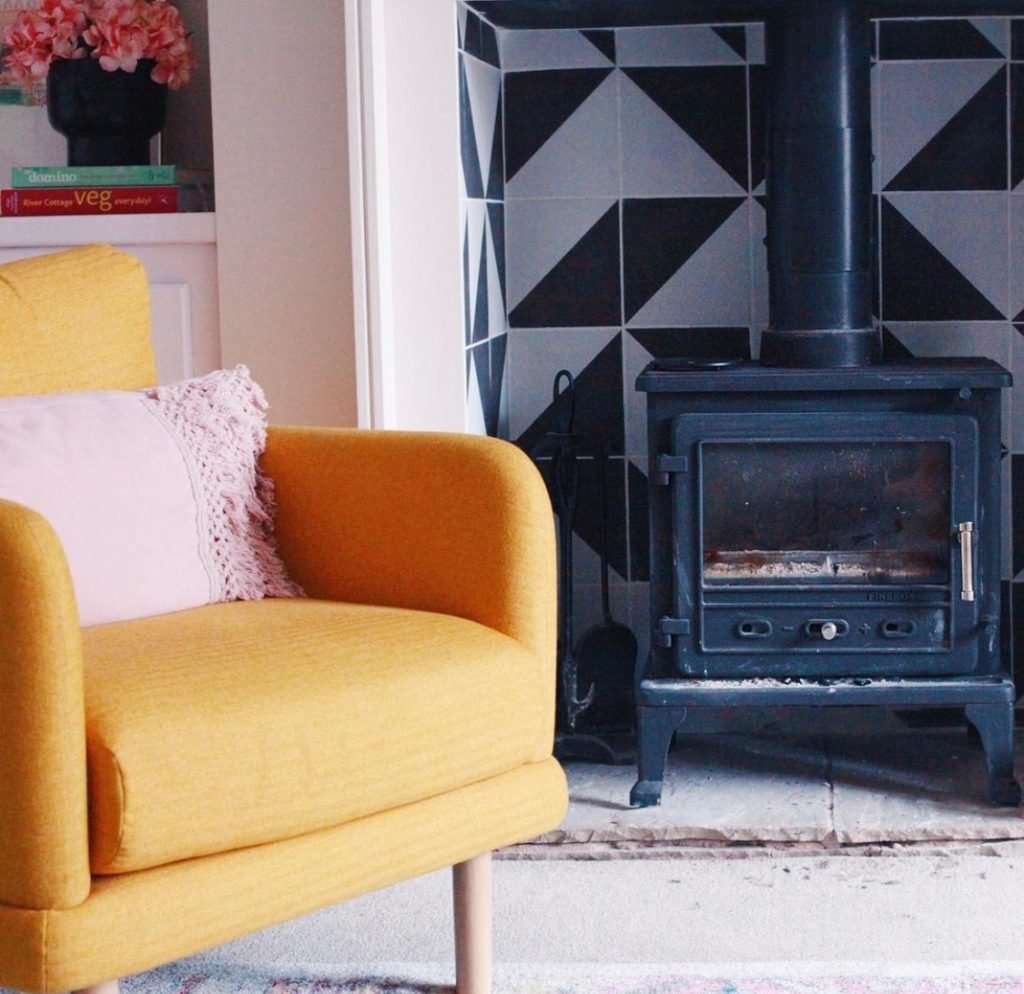 Get the look: tiles from Your Tiles
Styling your fireplace with bold tiles, like these from Your Tiles will give a neutral home a pop of colour and pattern that adds depth and eye catching. We love this fireplace styling with bold furnishings that complement the darker fireplace setting.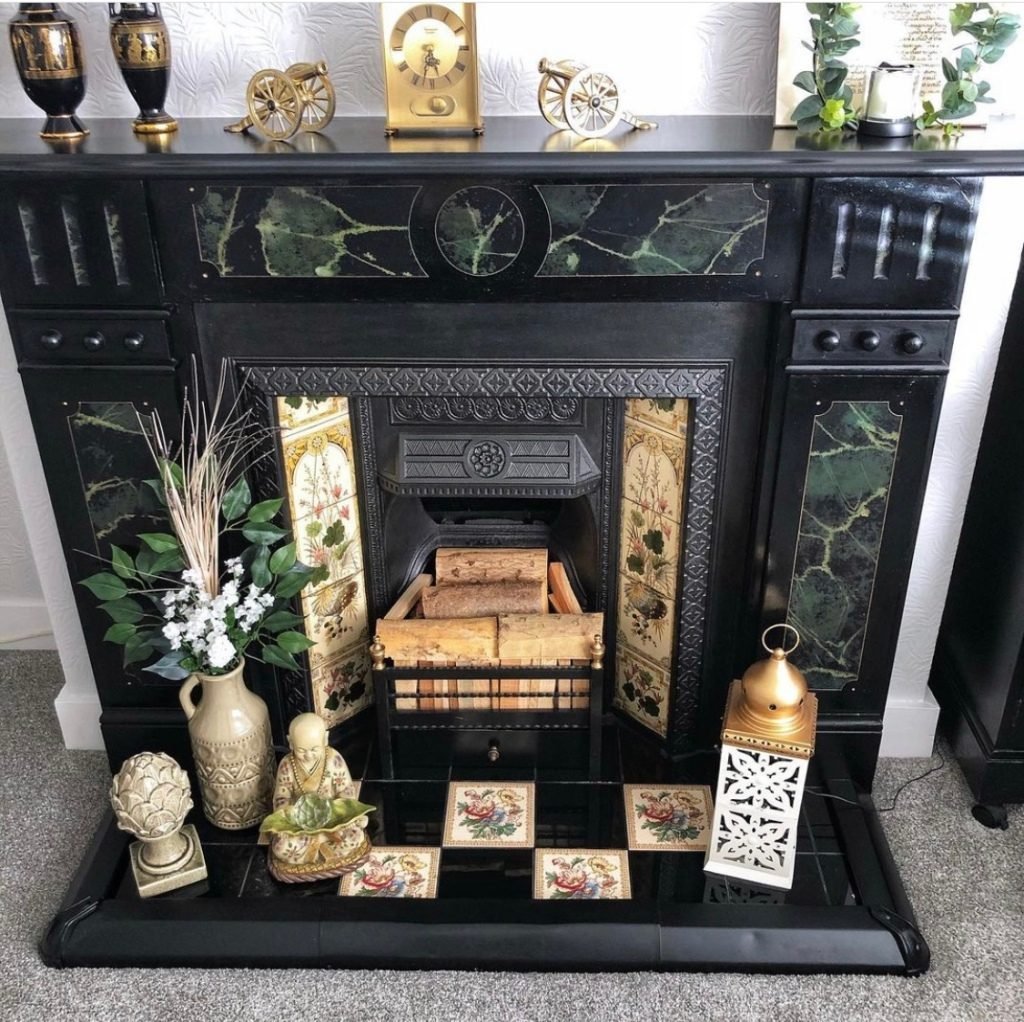 Maximise on your fireplace with a tiled hearth to compliment a maximalist interior, just like this gorgeous slate fireplace with checked tiled hearth. Dark fireplaces can really pop when a splash of colour is added and we love the intricate floral tiles that add a vintage vibe to the fireplace.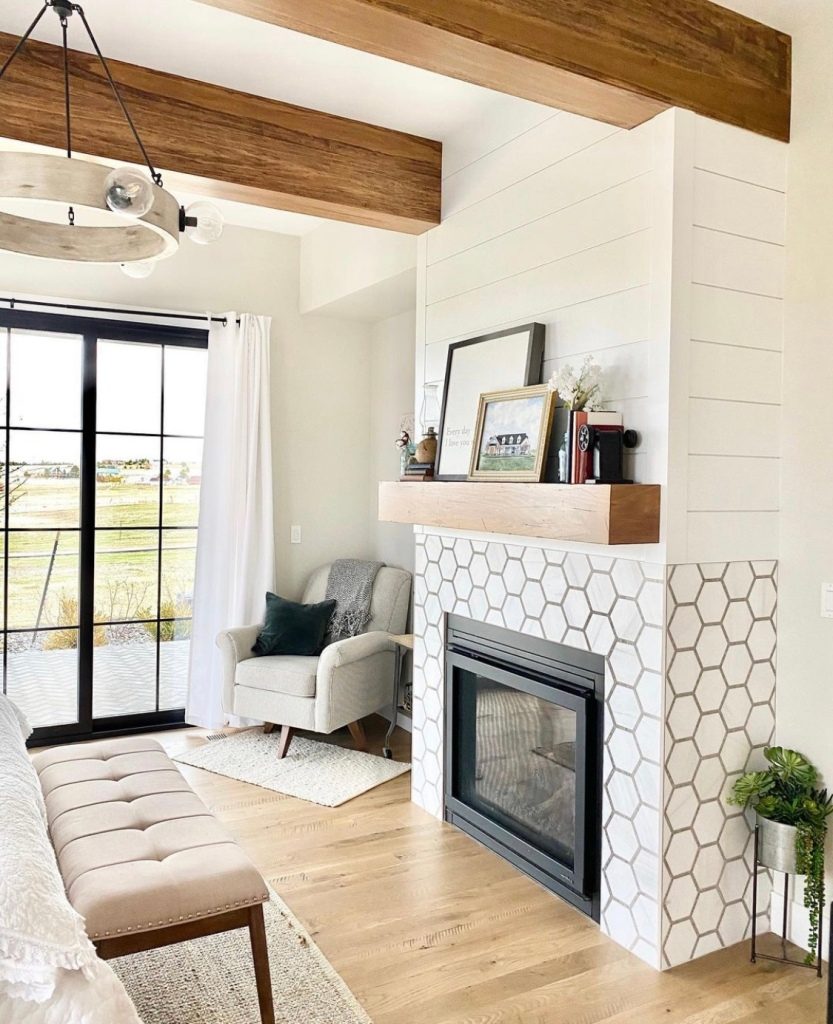 Get the look: tiles from Jeffrey Court
Add show stopping tiles around your fireplace to make a statement look in your home. We love this combination of tile and shiplap to create a space full of texture and pattern in a minimal style home for a delicate way to add simple style in a soft way for a neutral and calming ambience.
Modern fireplace ideas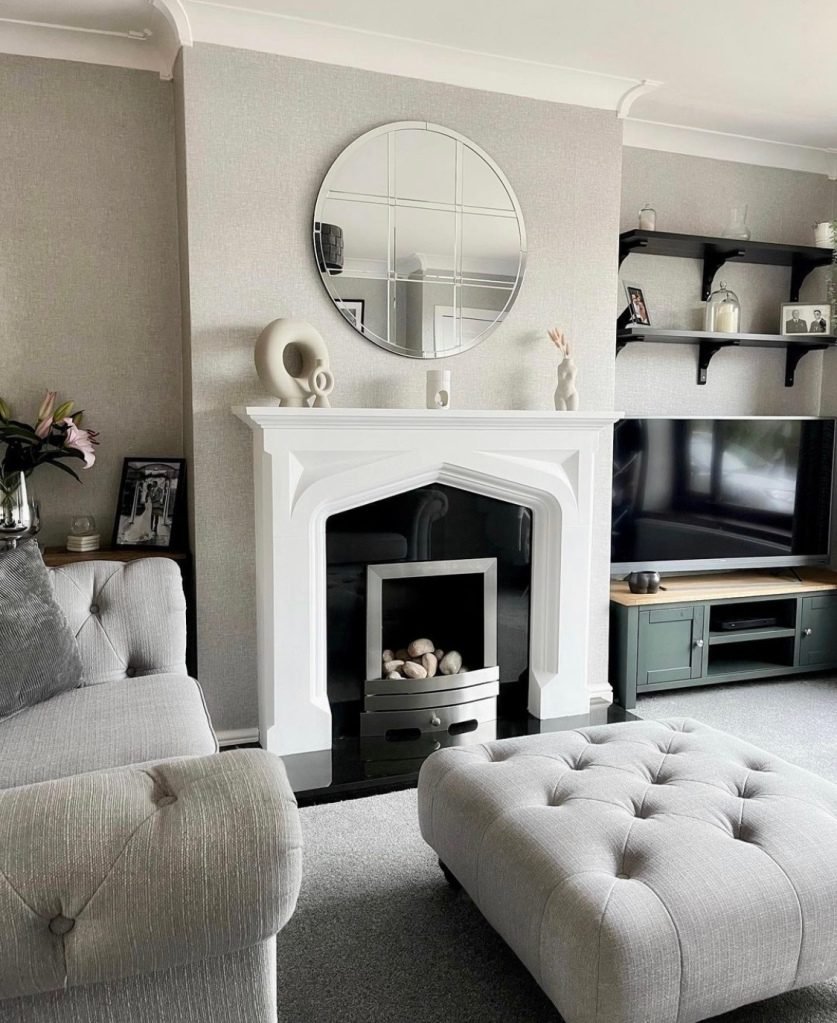 Feature a show stopping fireplace in the centre of your room for ultimate modern style. For a classic look, go for a white mantel with black and steel fire feature, that will be timeless and will go with any interior styling. Match your furnishings to a monochrome fireplace with cozy grey sofas and ceramics that add softness to the space.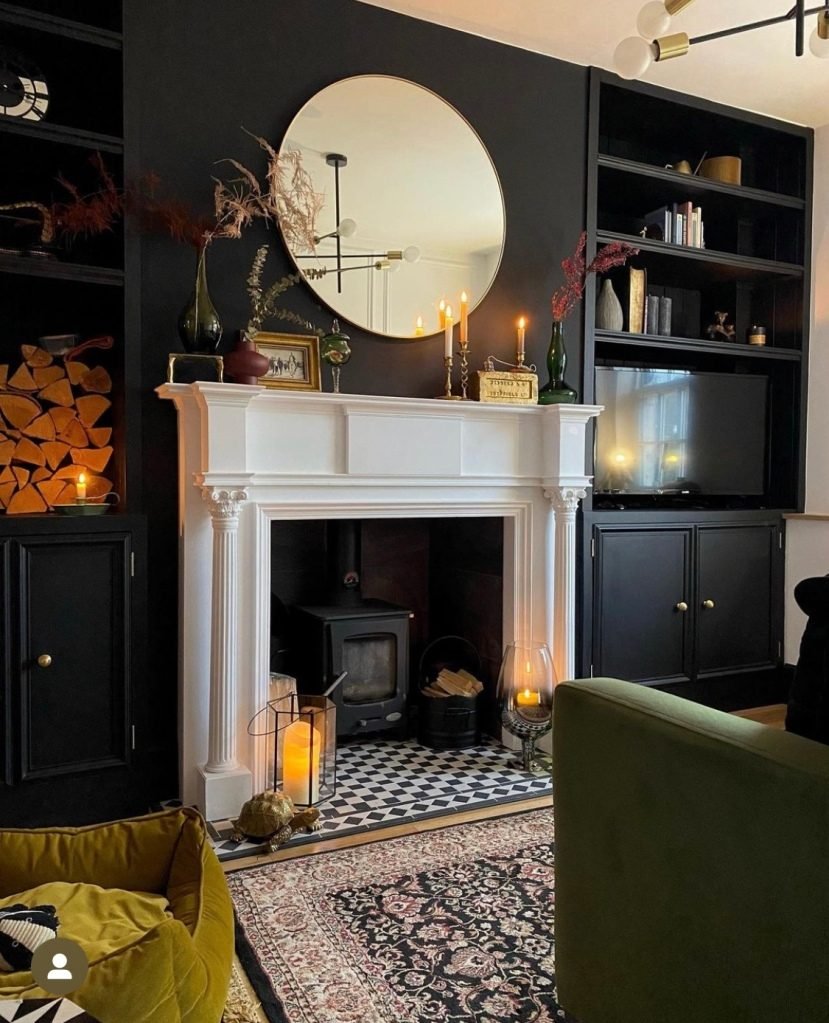 When staging a fireplace, adding hearth tiling can really bring out character to the space and this is an ultra modern way of doing this. Go against the grain and choose a tile that stands out from your living room decor, just like this beautiful checked tile that clashes with a vintage patterned rug for a maximalist decor look.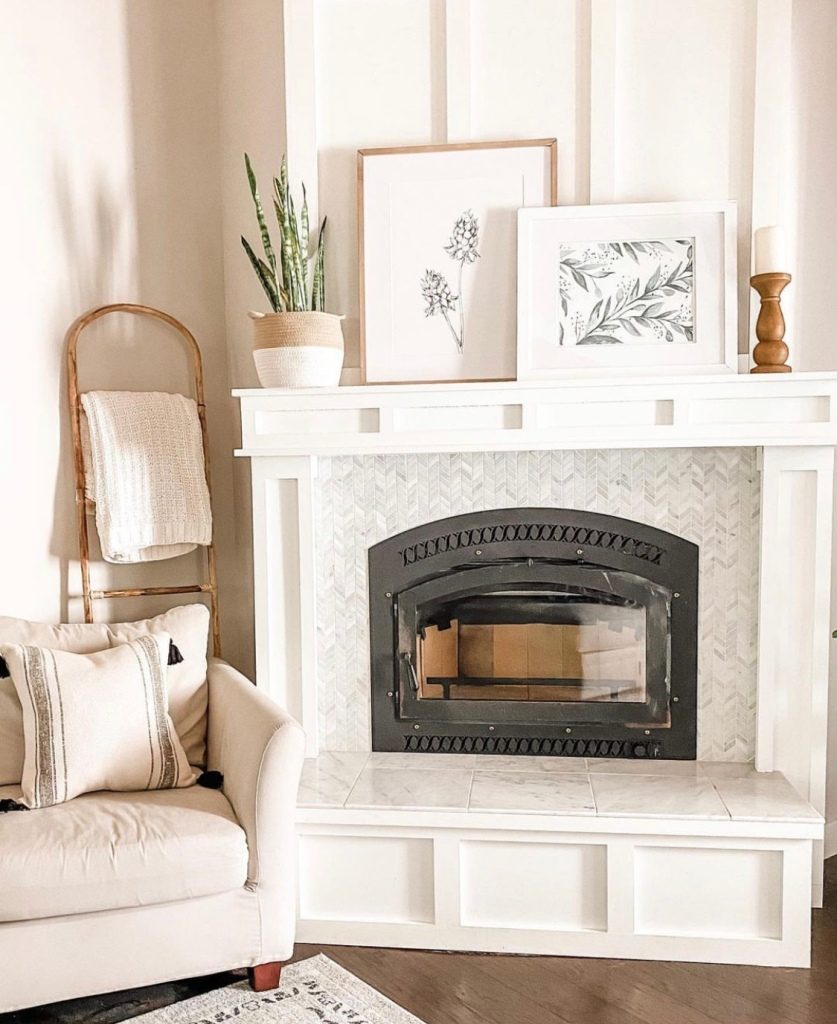 Shiplap and cladding fireplaces are super modern and add simple design for fireplaces. Choose a white or tone of to make your modern fireplace look classic and sophisticated for a look that will last years.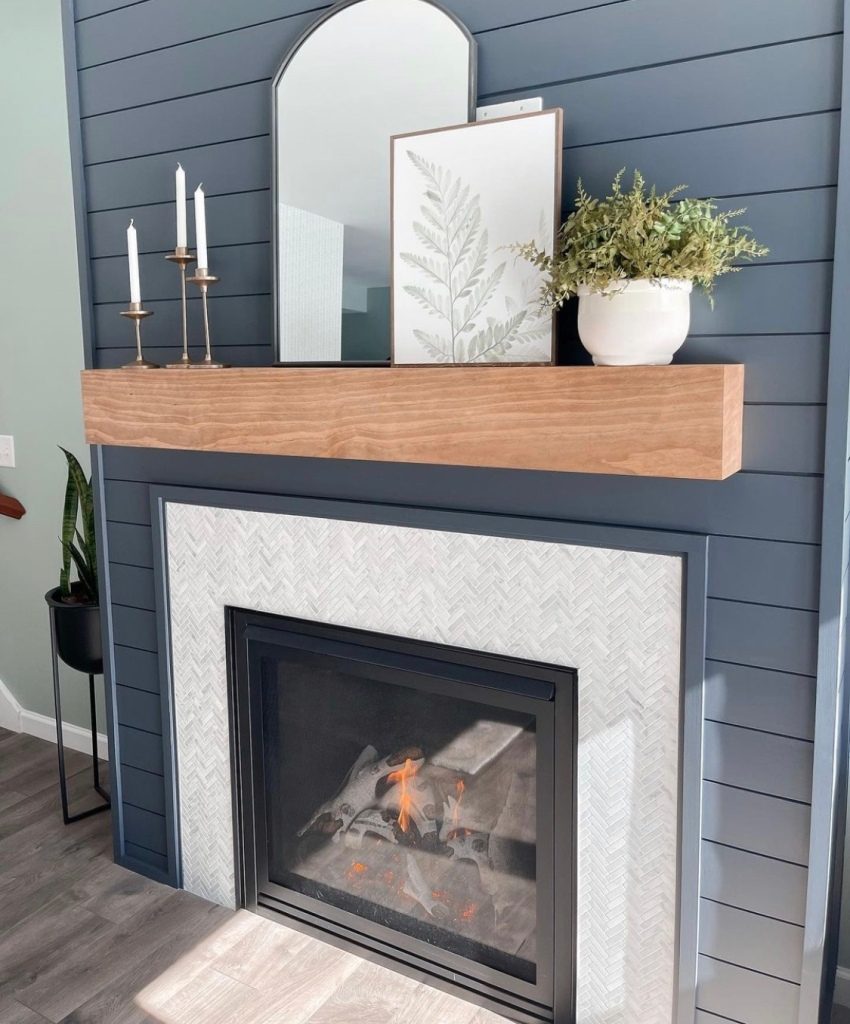 Get the look: paint colour: Cyberspace by Sherwon Williams, tiles by Home Depot
If your home doesn't come with a fireplace, create one! This is exactly what happened here and we love it. Using a panelled wall to create a feature space, then adding a beam and modern gas fireplace really transforms this space into a cozy retreat with warm blue hue by Cyberspace by Sherwon Williams and subtle tiles by Home Depot.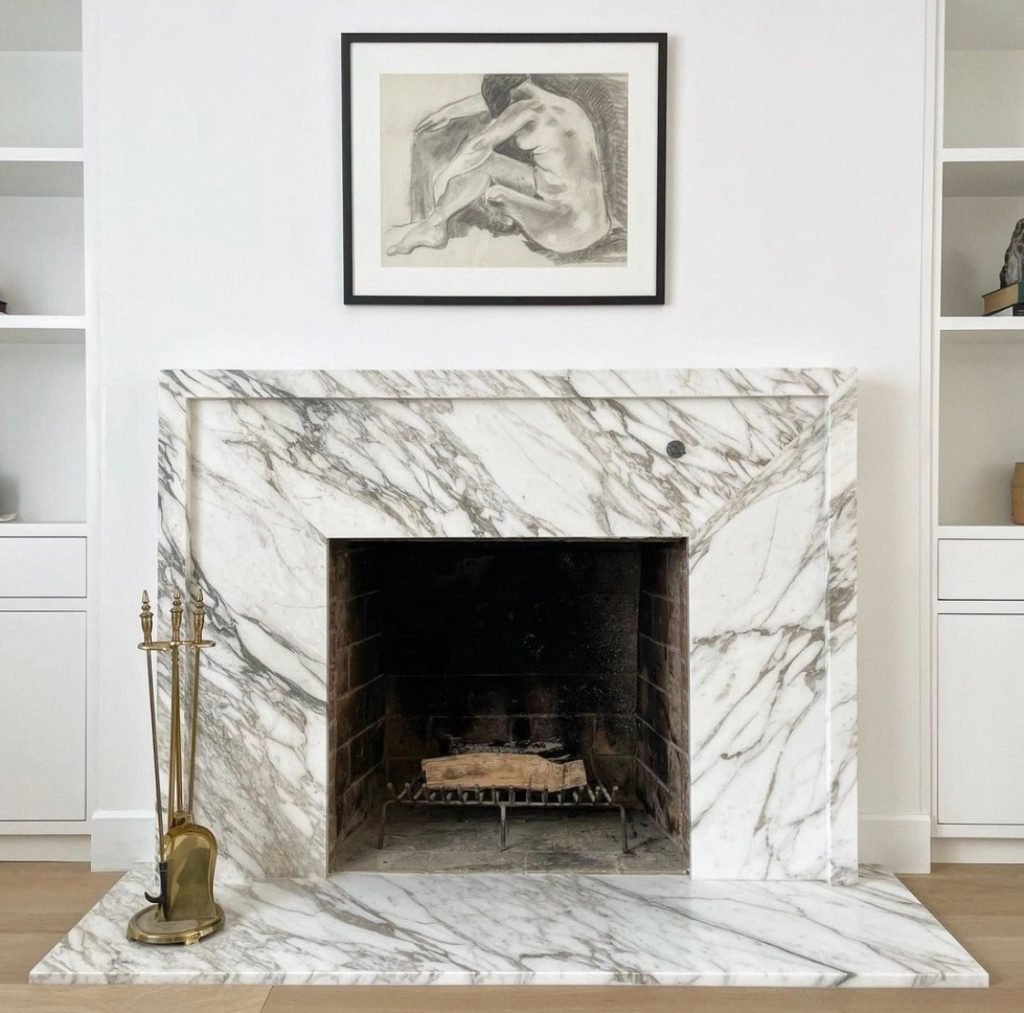 Get the look: marble fireplace by Arta Ceramics
Add sophistication to a white living room with a marble fireplace for a luxurious look in your home. Choose a honed marble fireplace like this design from Arta Ceramics, which is Matt and non glossy to compliment softer decor in the living room to feel homely and comforting.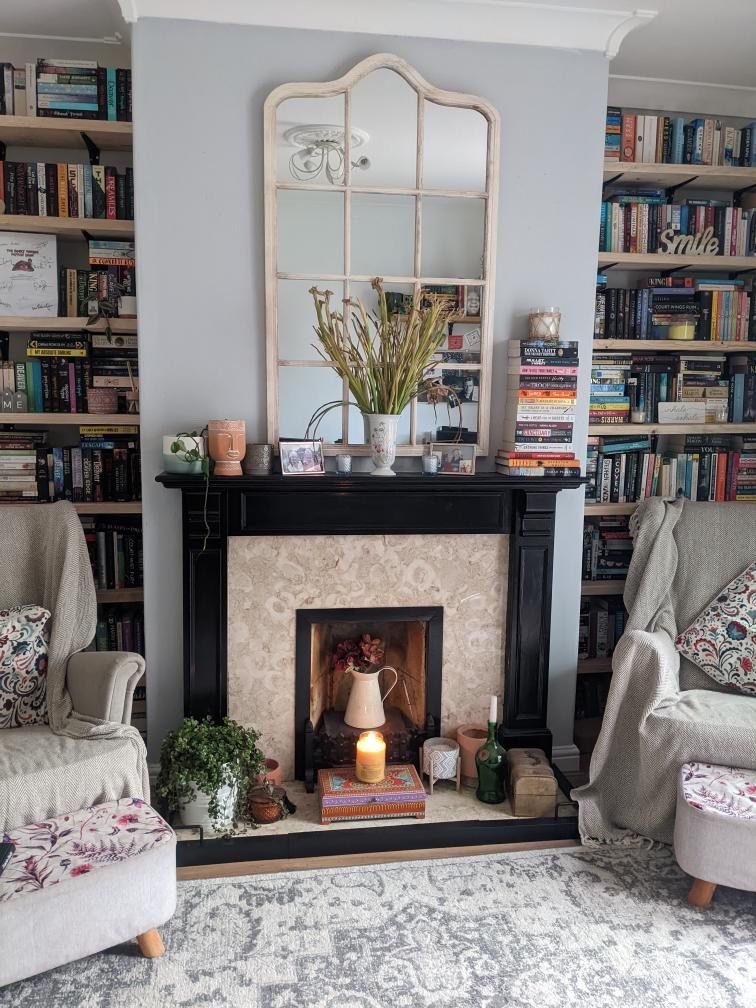 If you love the idea of adding marble to your fireplace but you don't want the entire mantel to be covered in marble, why not opt for a marble surround. This allows you to mix and match textures and materials together for a unique look, just like this bold fireplace with black mantel and marble surround which is bold and a beautiful focal point in the living room.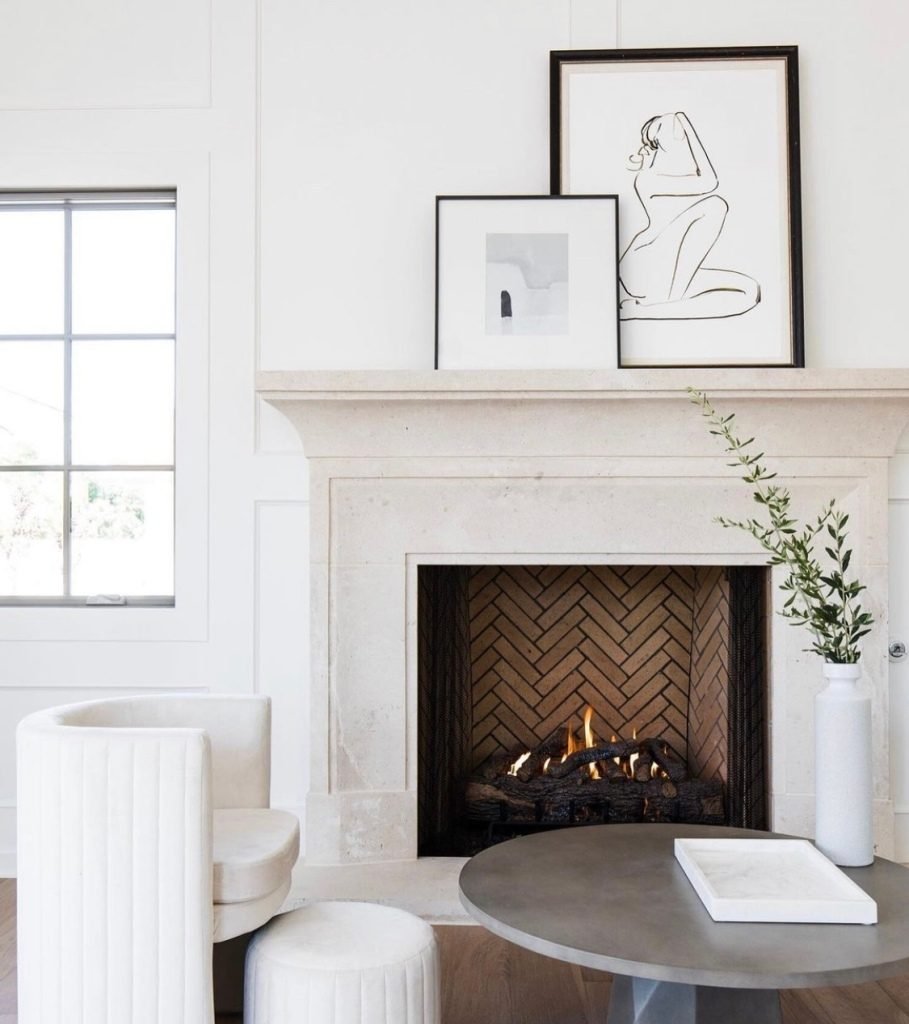 For a minimalist home style, opt for a soft white/cream fireplace that lets the fire do all the talking. To warm up a light surround, add tiling into the centre of your fireplace for subtle style without compromising on the soft colour of the living room. We love this gorgeous modern home that plays with straight lines in a fun way to create structure and focal points.
Brick fireplace ideas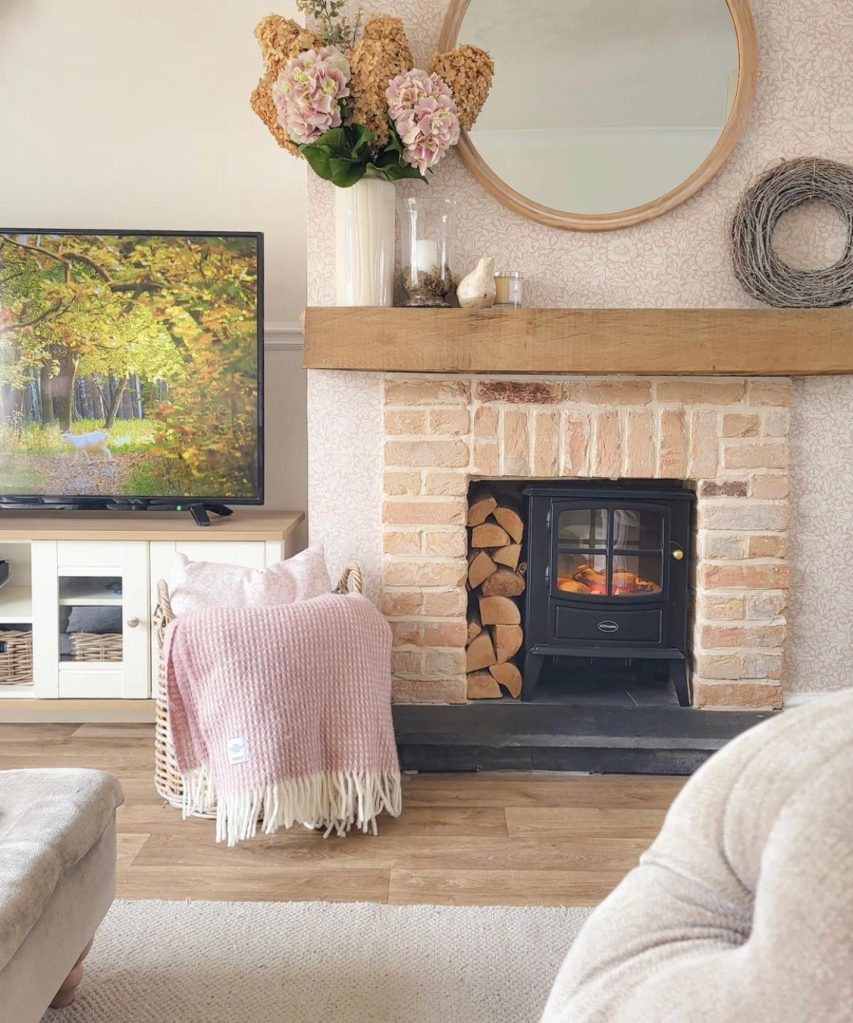 For a subtle fireplace opt for a brick feature for an authentic and natural look. We love this simple brick log fire design that gives the room a cottage core ambience. For a soft brick fireplace design, choose lighter colour bricks or sandstone bricks for a delicate design that still looks natural and cozy.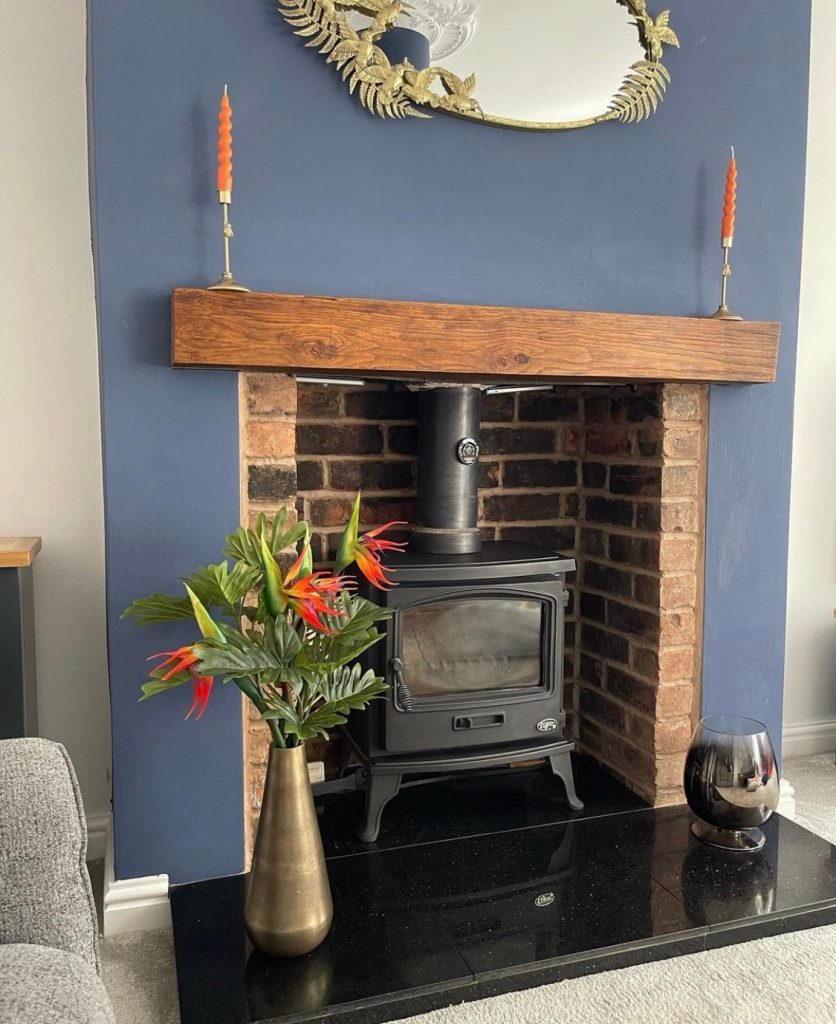 Simplicity is key when it comes to having a brick fireplace and this gorgeous warm and cozy design has all the elements for comfort. From the stained beam to the glossy hearth and classic log fire burner, all design elements come together to compliment the warmth of the blue wall perfectly.