What is maximalist decor?
Maximalist decor and interior design is all about getting the most out of your space possible. Using furnishings, accessories and colour, a maximalist home or room uses these to adorn the space with little to no space left empty. A maximalist loves to fill every corner with character and personality and typically doesn't tend to be clutter free.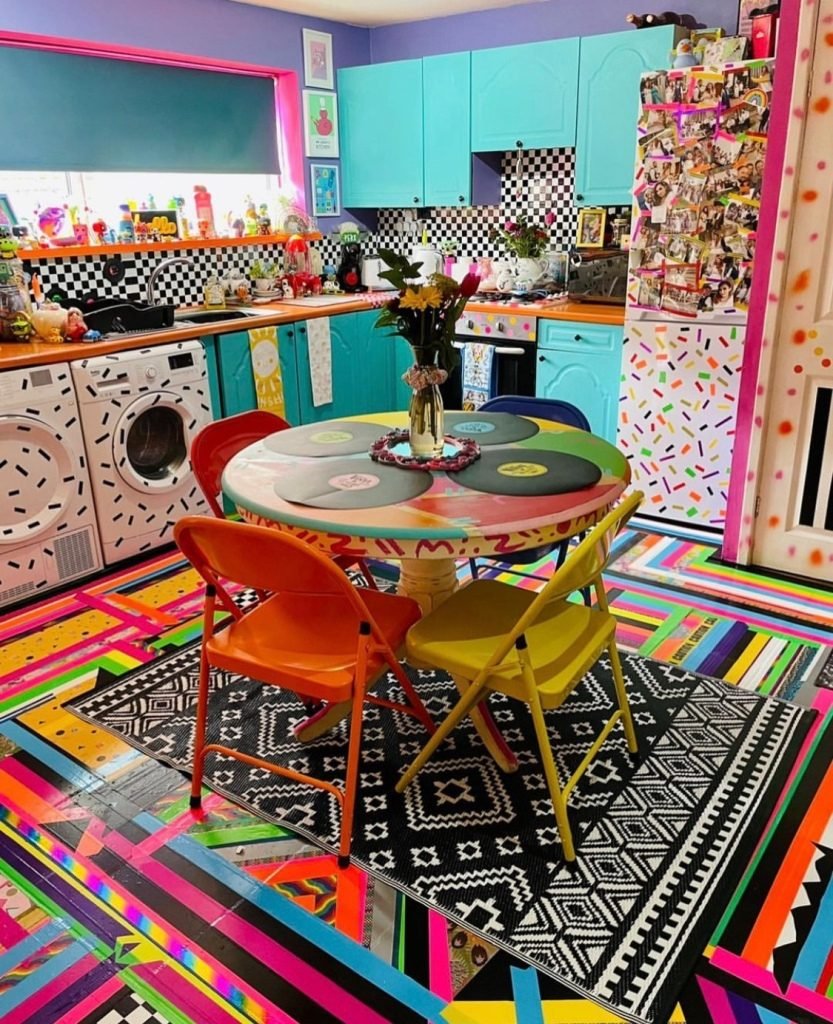 Leave no surface untouched when it comes to maximising on your decor and interior style. We love this bright and busy kitchen design that infuses the 90s with neon colours and bold patterns for a retro kitchen style.
"My tips for a maximalist home are to fill it with things you love and decorate it in a way that makes you happy. Add layers of colour, texture, objects and patterns and never fear taking a risk! Basically be bold and throw out the rule book – it's your space and more is always more!"

Prettypocketprojects
Shop maximalist kitchenware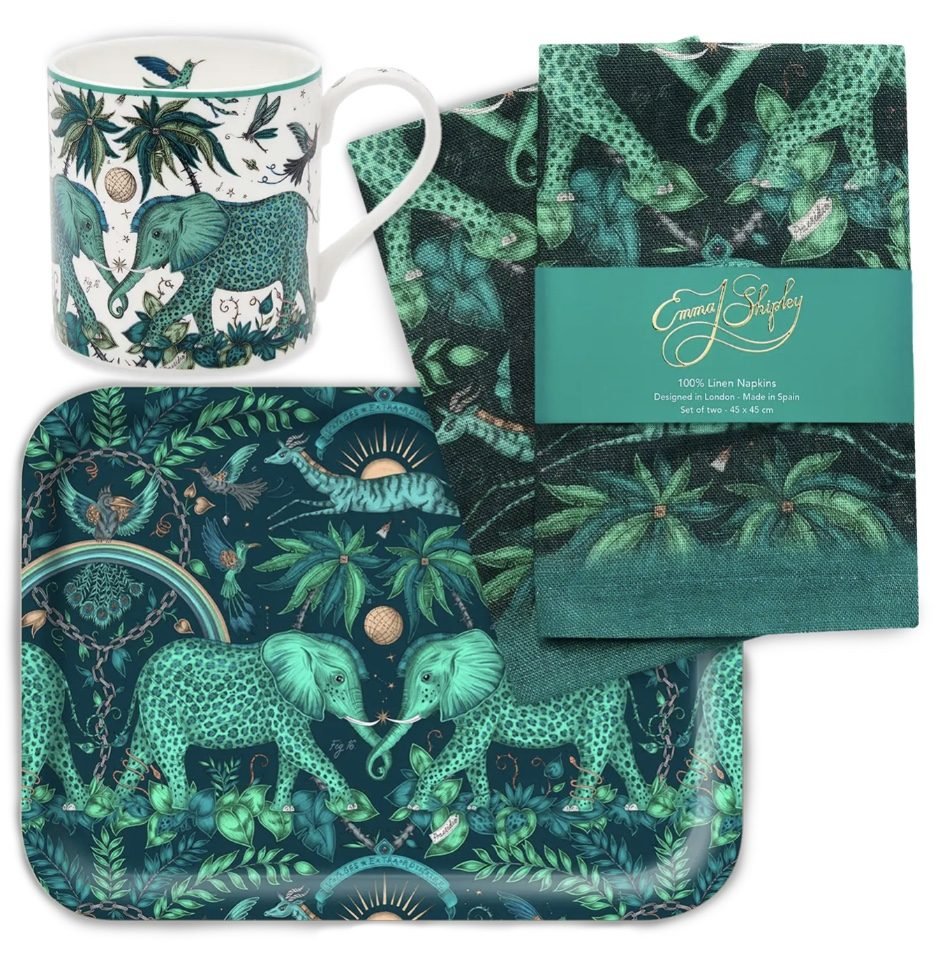 Add vintage decor for unique character in your home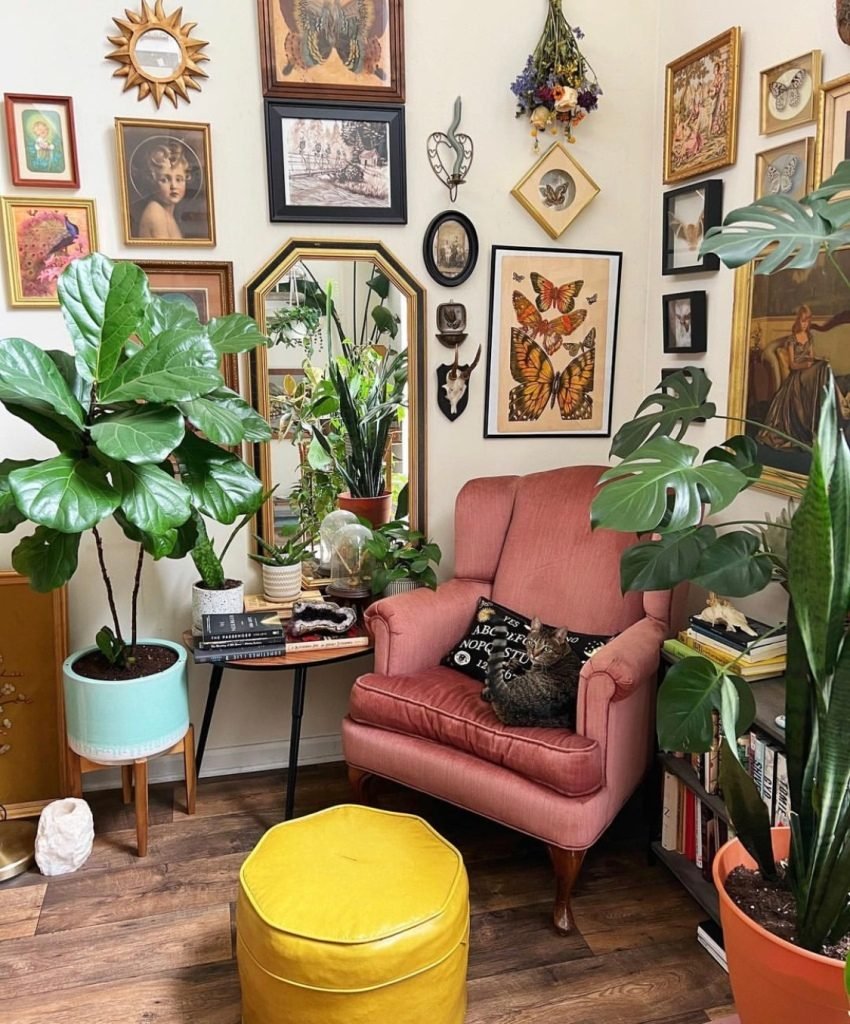 Love neutral interiors? Infuse maximalist style with a neutral colour scheme like this vintage-infused reading corner. A great way to maximize on your space is to fill your walls with artwork to express your unique style and personality.
Tip: use different shapes and sizes when it comes to framing your artwork to make your walls busy.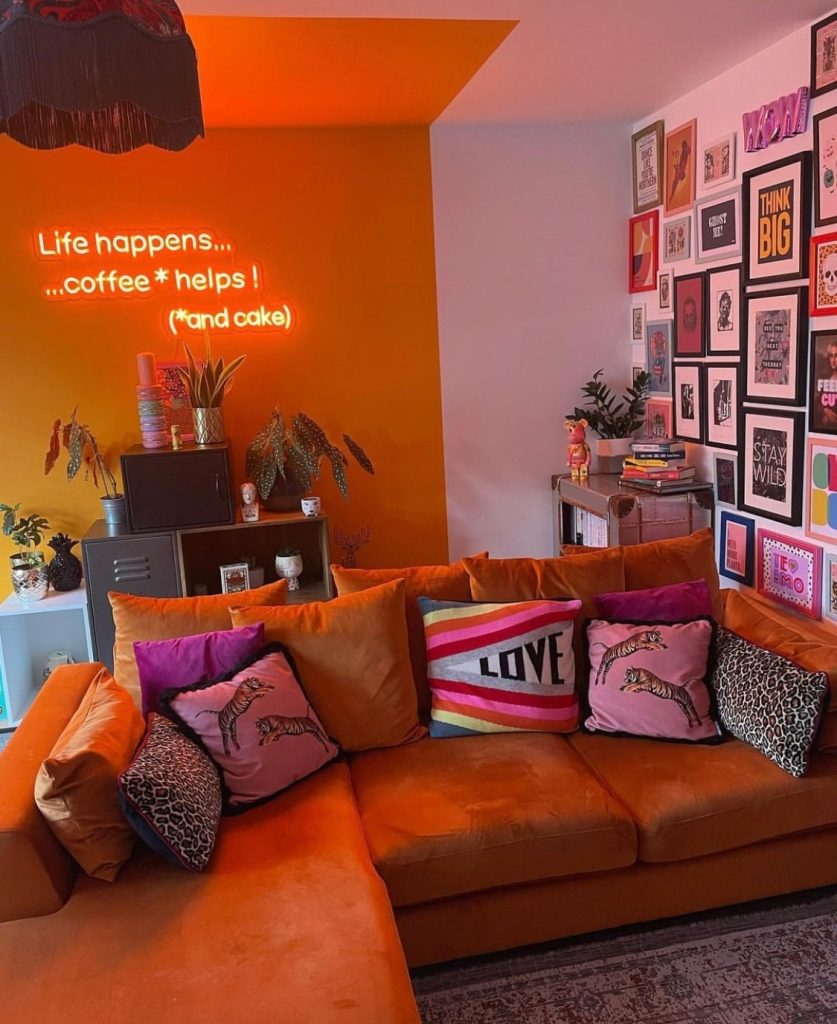 Take inspiration from this cozy orange lounge that plays with layers of colour and texture and effortlessly blends decor elements into the primary colour scheme. If you're not sure where to start, firstly choose one or two colours that you really want in your living room. Then you can start to incorporate similar shades to layer your space with maximalist decor.
Shop maximalist living room decor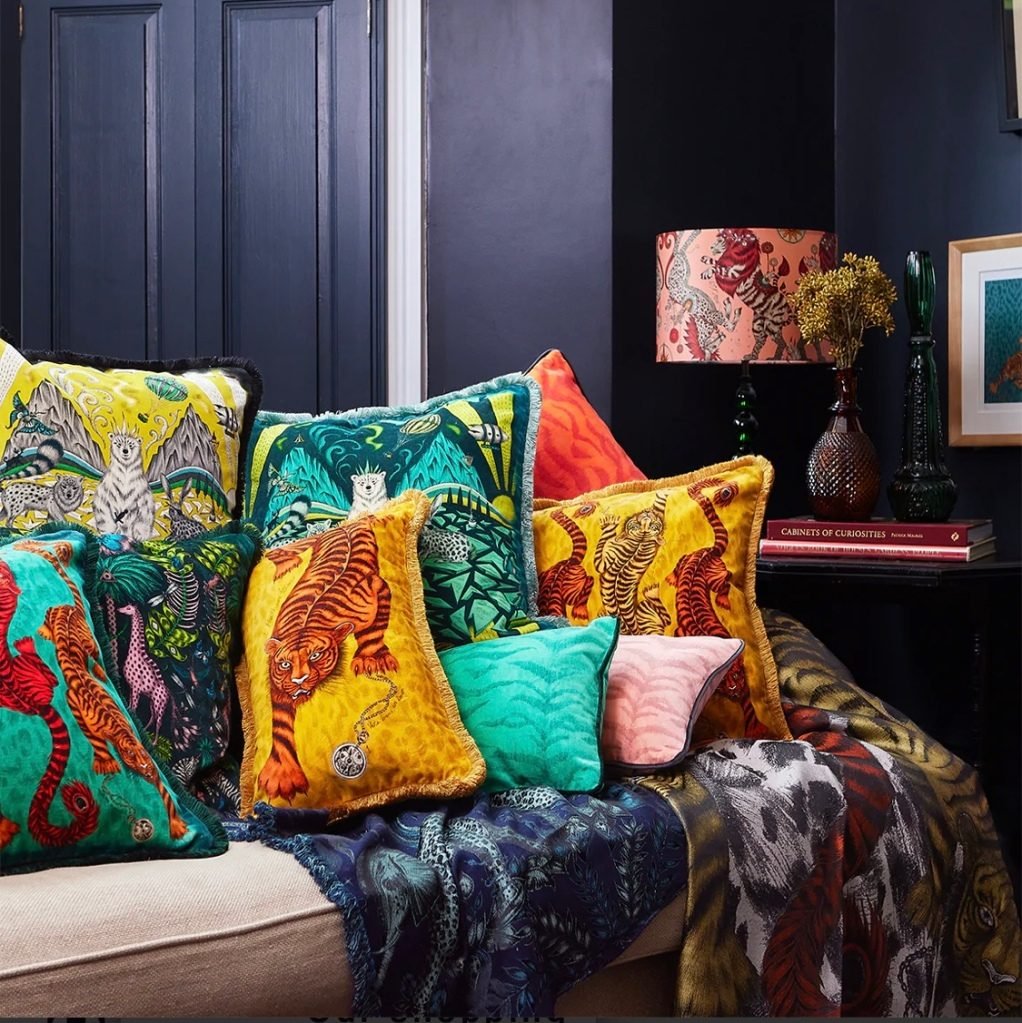 Layer your living room with various textured furnishings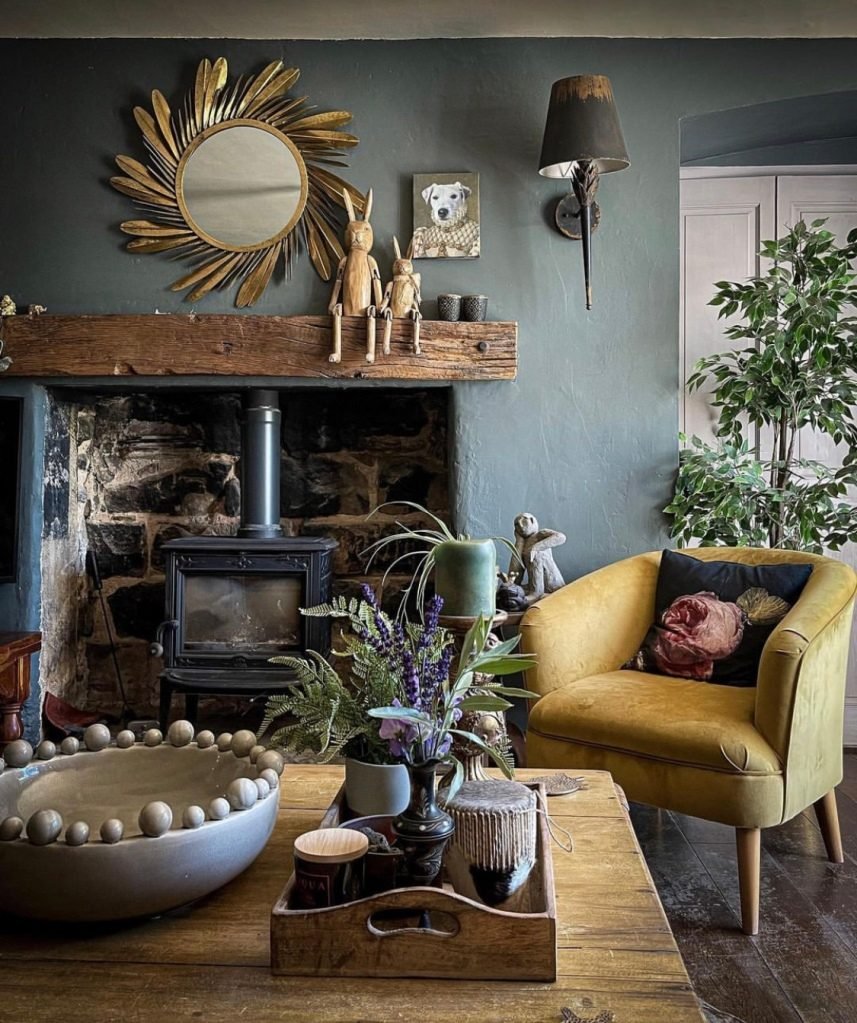 Having a country style home can still be styled with maximalist decor and this cute and cozy lounge is the perfect example. Carefully arrange your decor and accessories across the room to fill vacant surfaces to really get the most out of your space. From coffee table books and trays, to fireplace accessories – the opportunities are endless.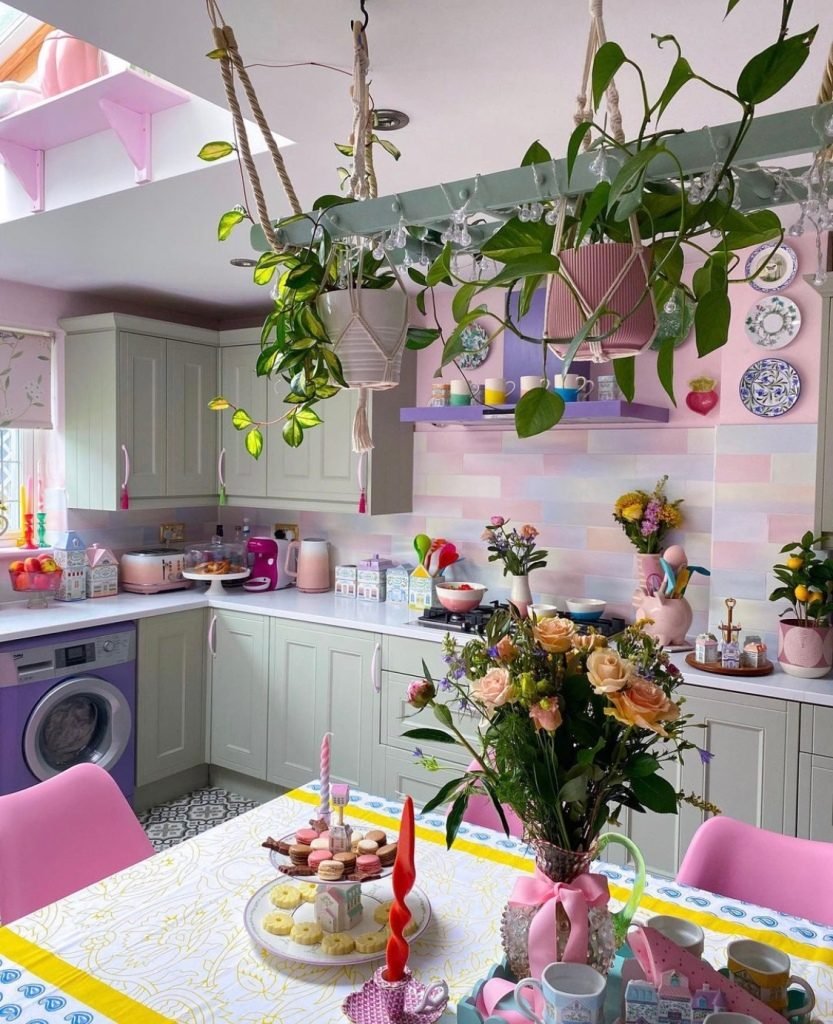 Pastels are a great way to add colour to a space without overpowering it. If you're thinking about having a maximalist kitchen space, why not consider a pastel colour palette? We love this design that features a unique backsplash and a statement dining setup.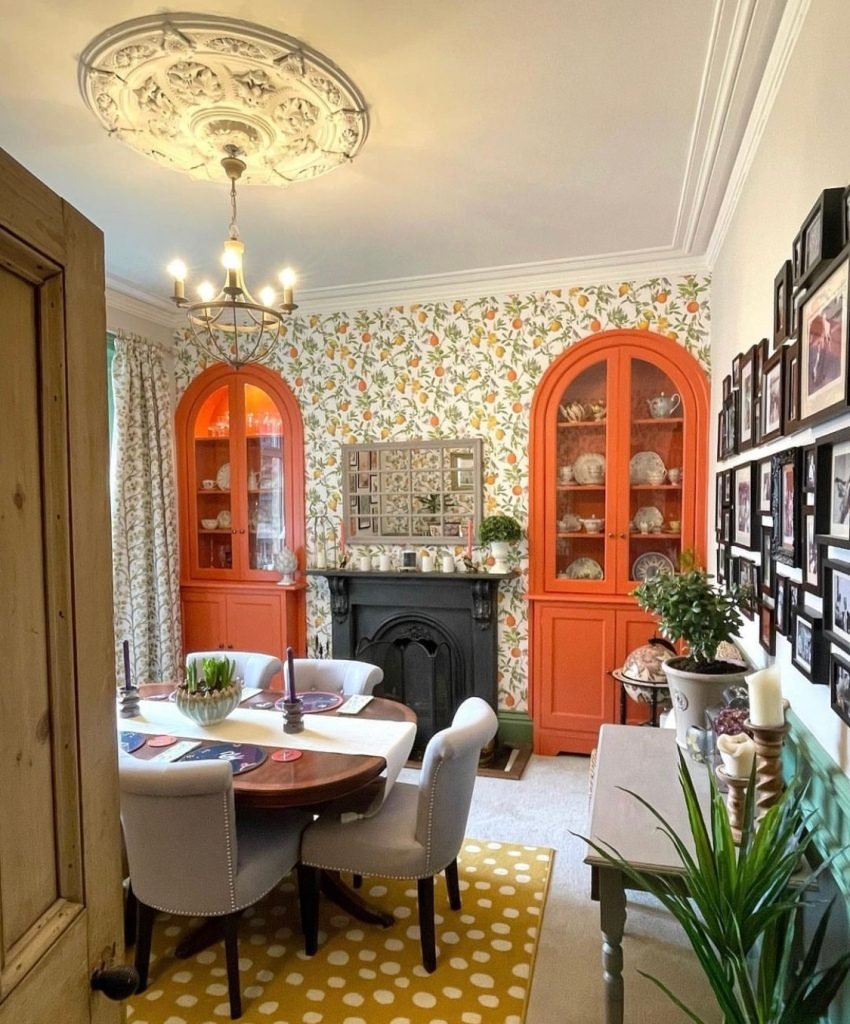 Inspired by Victorian home style? Vintage decor and maximalist interiors go hand in hand. From busy prints to grand lighting fixtures and cozy fireplaces. We love this grand dining room that layers prints and textures with an orange colour scheme and no bare walls in sight.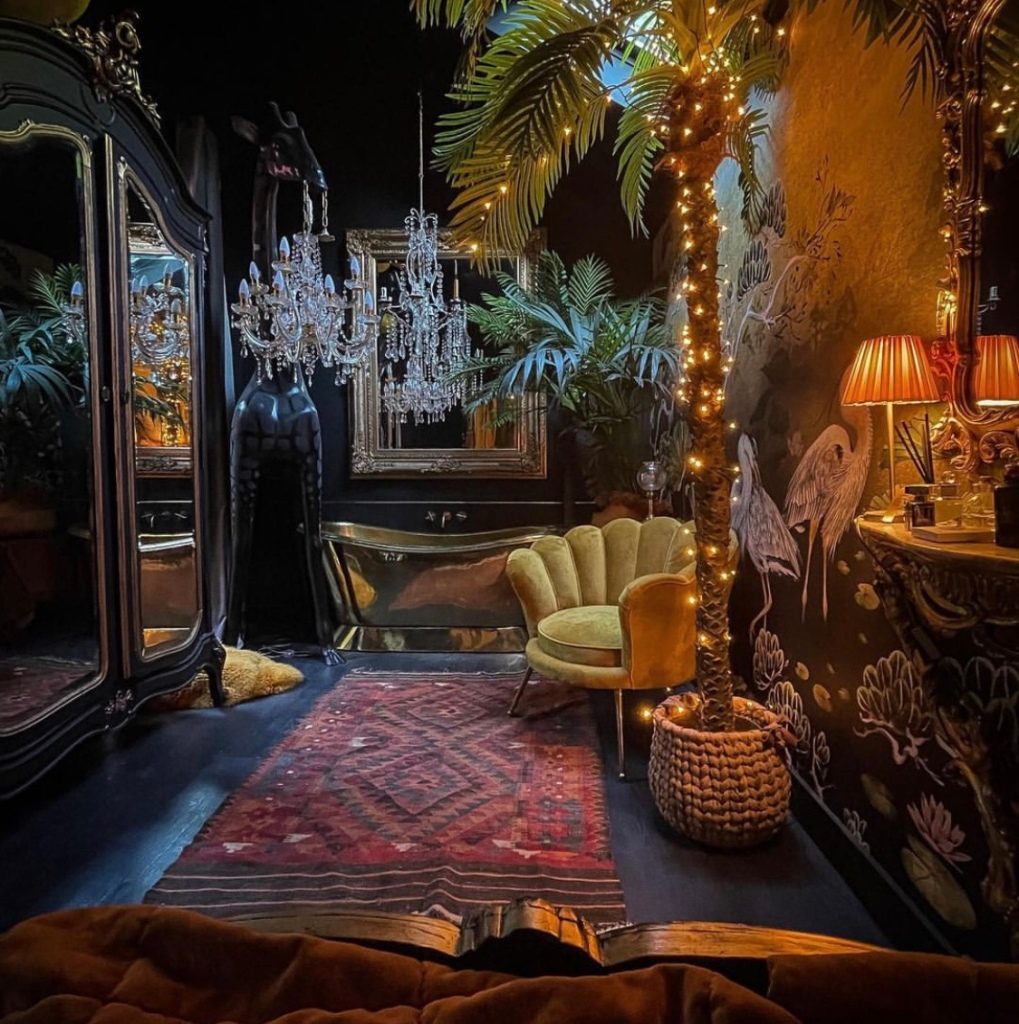 Dark interiors are perfect for maximalist and eclectic interior styles to give your space that warm and cozy feel. To style a dark room, make sure you have plenty of warm lighting with lamps and candles to set the tone. Combine with patterned rugs, velvet furniture and leafy plants for a super cozy, eclectic home.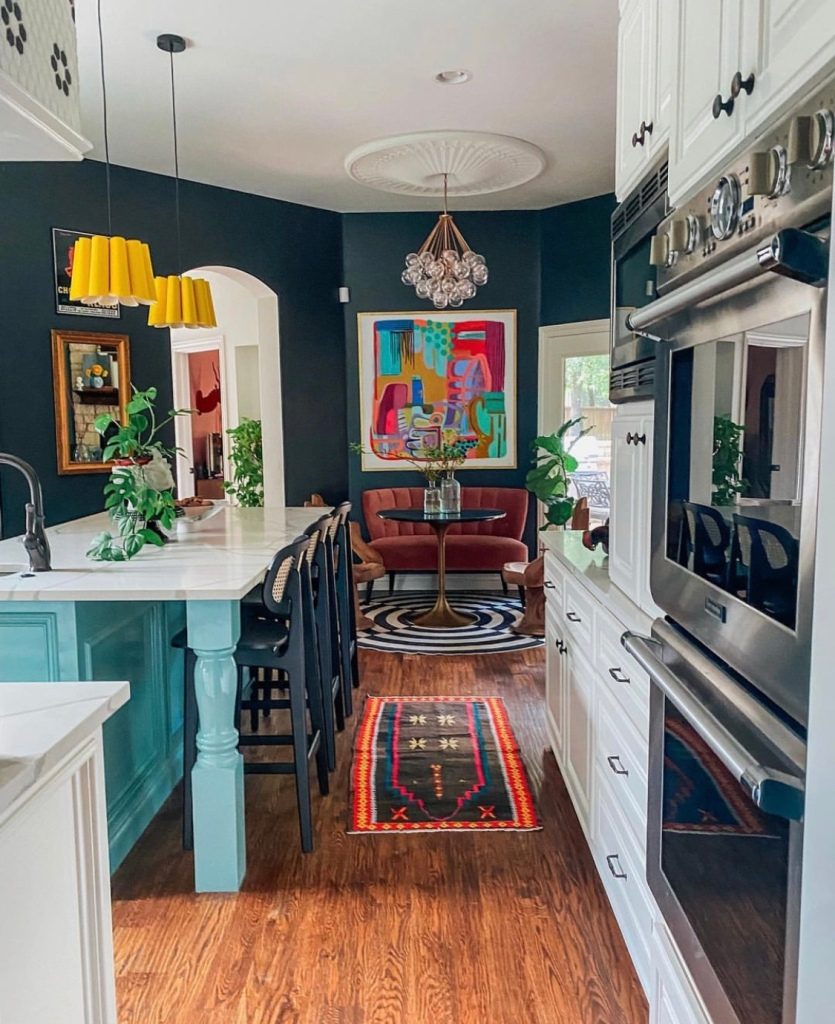 Bring colour into your kitchen by sprucing up your dining space with a fun colour palette and unique decor finds such as rugs and pendant light. We love this blue open plan dining space that leads to the kitchen in a bold and full of character way. Furthermore, keeping your ceilings neutral can create a striking contrast against maximalist decor interiors.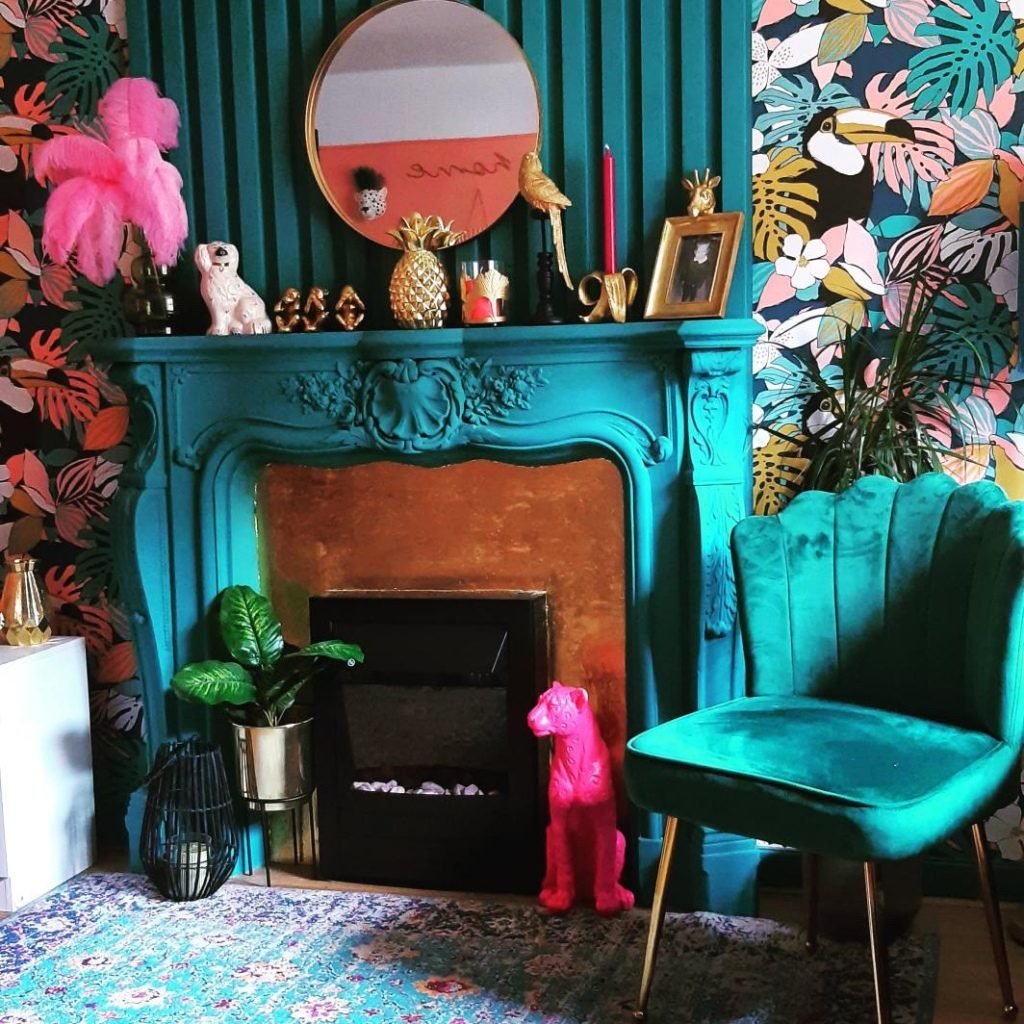 Maximising on your space doesn't have to mean overspending. The beauty of a maximalist home is finding unique decor that can be presented or up-cycled.
I am all about budget when I make over a room. Like my fire place which cost me £5.00. Try carboots, ebay the market place.upcycle gives my room a personal touch and stops new builds looking to boxy. Don't be afraid to add colour to your home it lifts your mood and makes you cheerful.

myhomeovertherainbow
Shop maximalist decor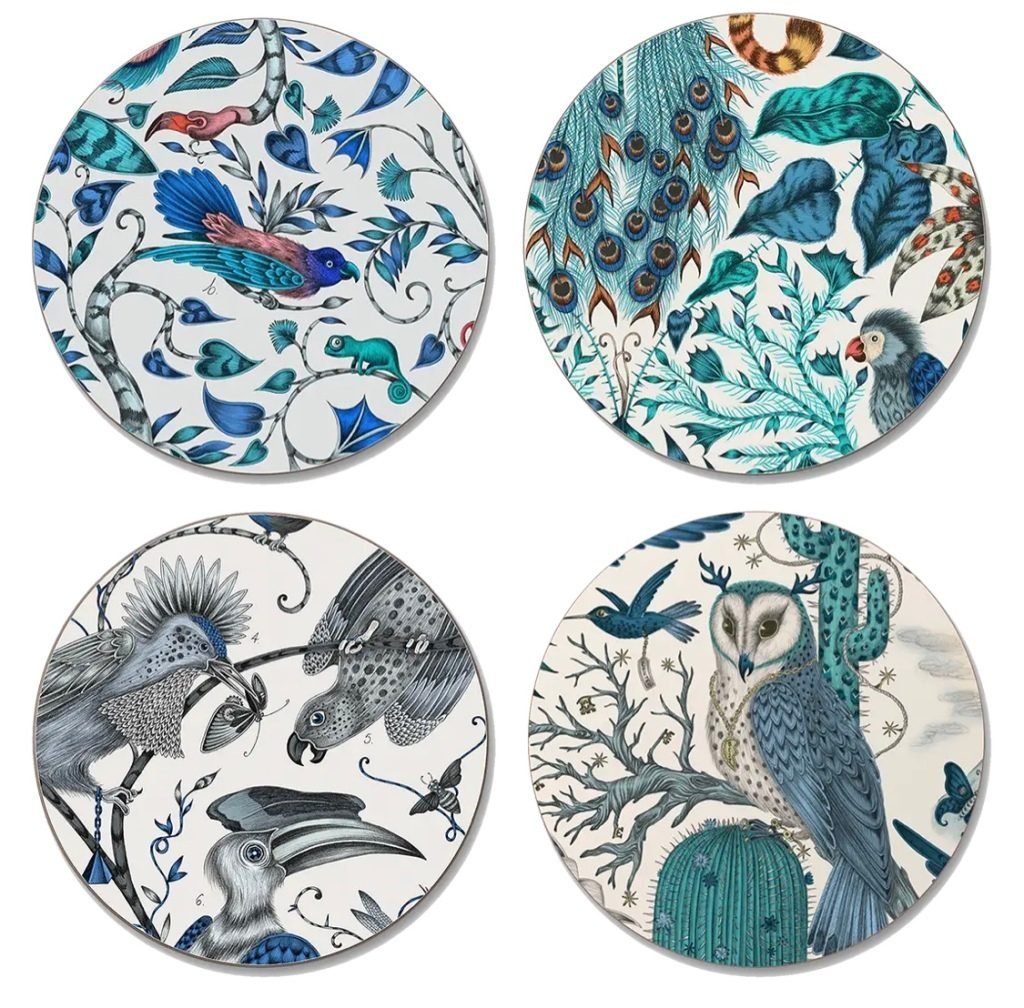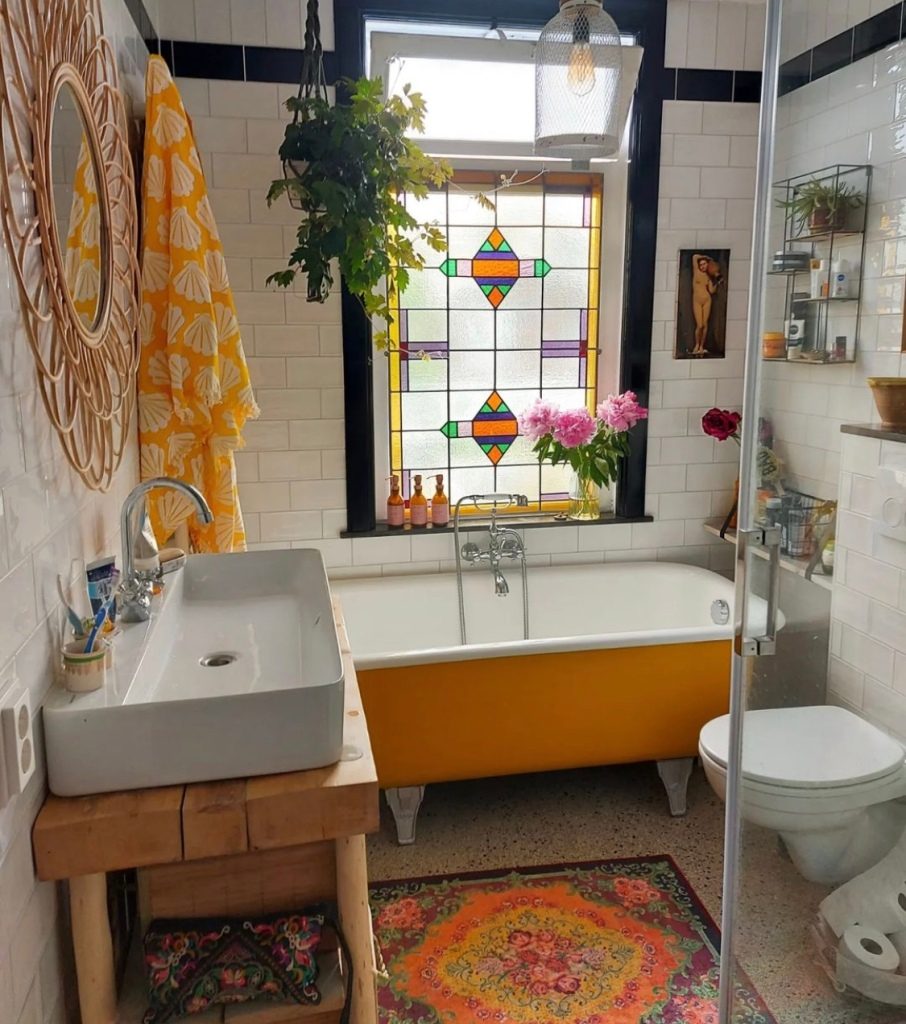 Give your bathroom a complete overhaul by adding simple colours changes, like painting your bathtub, adding textures rugs and plenty of florals.
We can't get over this gorgeous stain glass window that takes centre stage and really sets the colour scheme of the room allowing for fun shades to creep into the space like orange, purple and green.
This article contains affiliate links. We may earn a commission on selected products.