Cream hallways are welcoming, cozy and easy on the eye. Sprucing up your space with cream as your primary colour will make your hallway feel open and airy, even if it's small or narrow.
Want to know how to make a cream hallway look welcoming and interesting? Continue reading below to reveal the 5 cream hallway ideas to inspire your next project.
1. Use a monochromatic scheme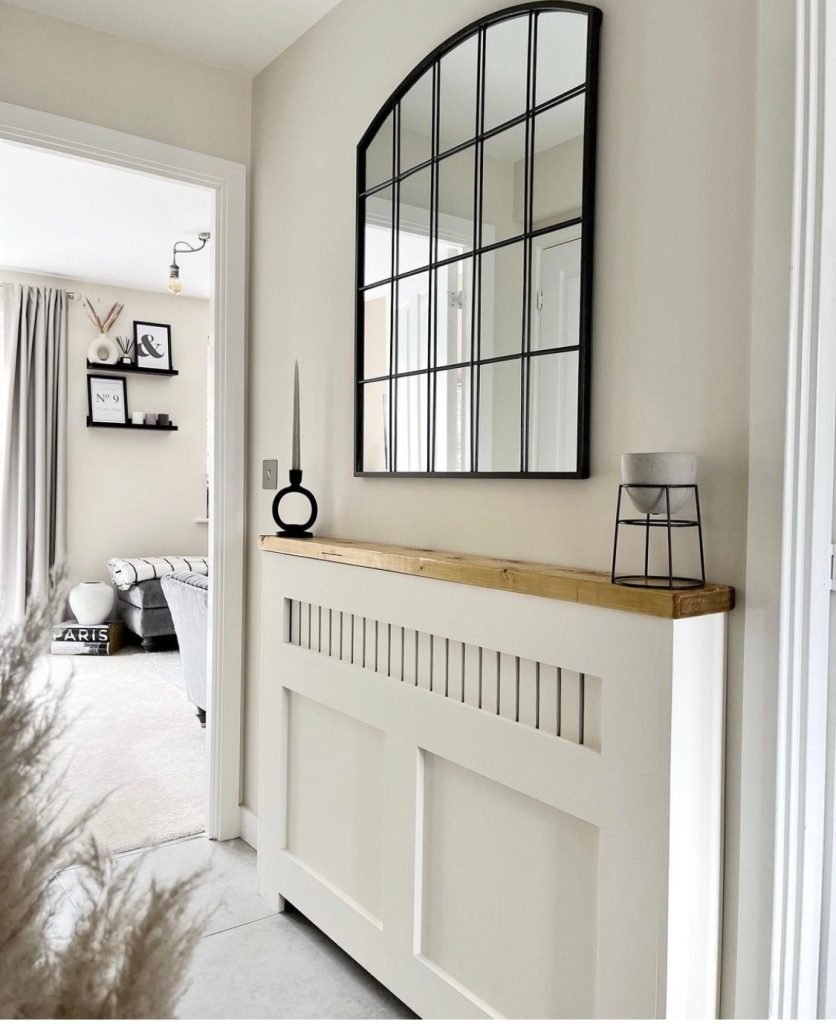 Offset white skirting boards and furnishings with a cream wall in your hallway to soften your space. Balance cream and white with black decor features such as mirror frames and accessories to create a bold look.
Get the look: Paint shade: Slipper Satin by Farrow & Ball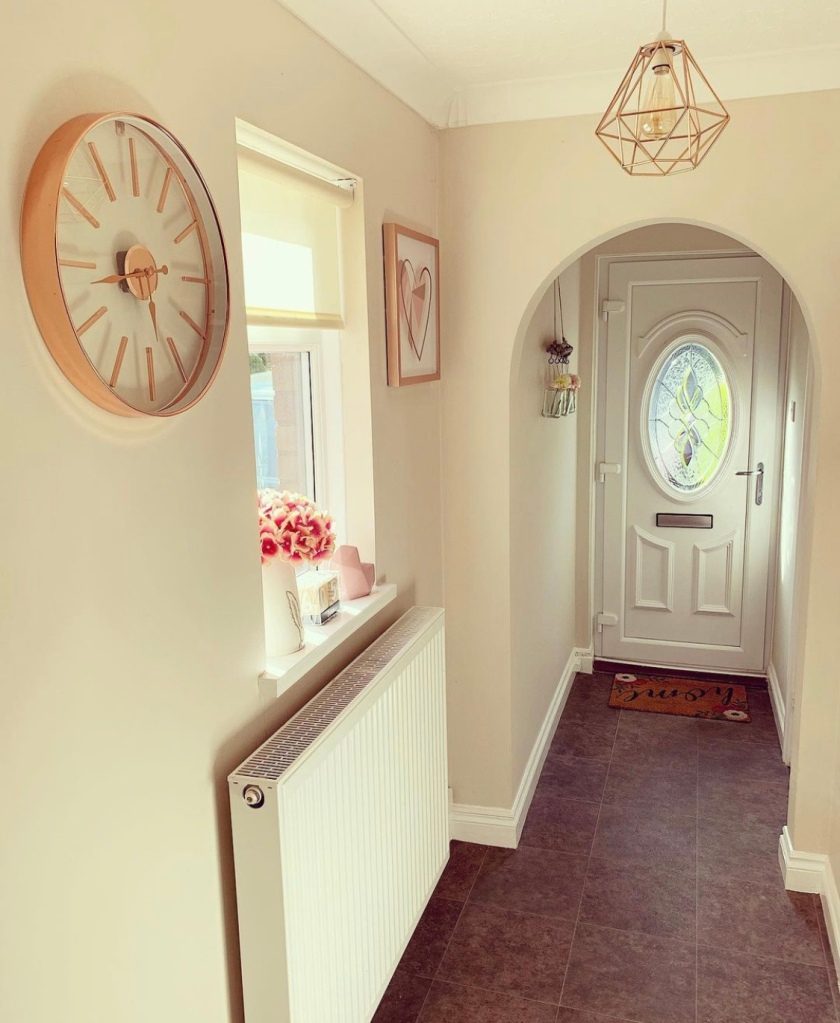 For a delicate entranceway paint all your walls a neutral shade of cream for a relaxing and calming vibe to your home. Adding rose gold decor will keep the delicate look to your cream hallway.
Get the look: Paint shade: Natural hessian by Dulux
2. Add a cream stair runner for a statement look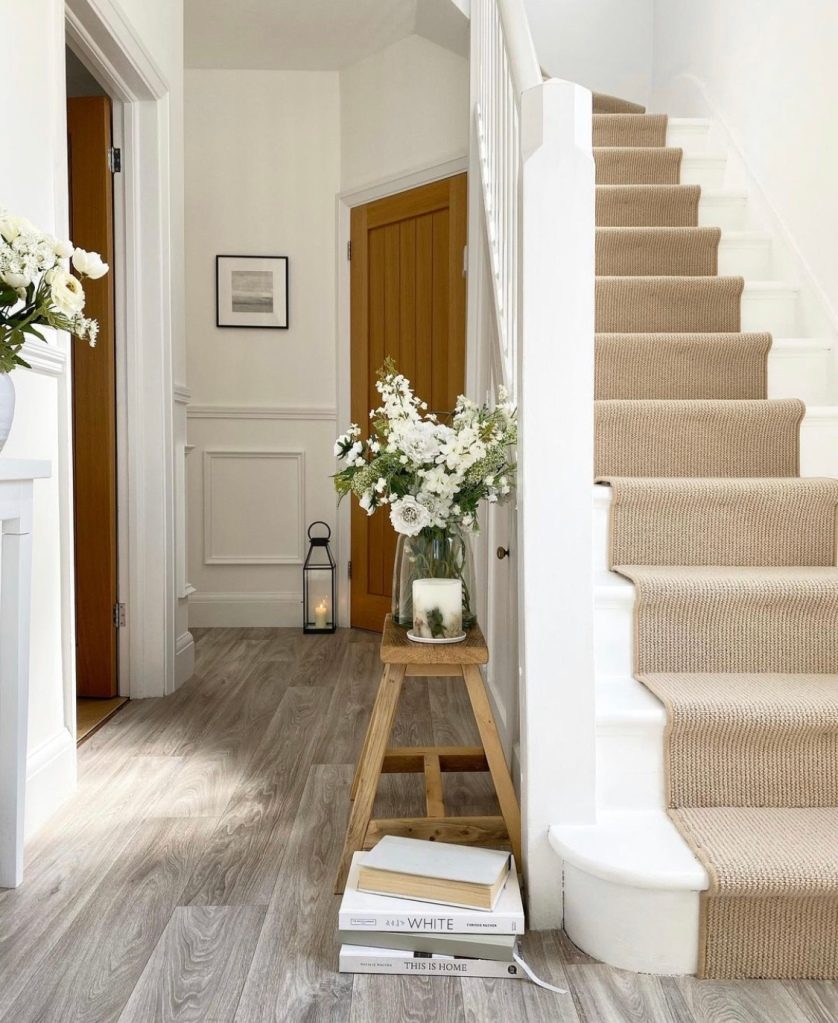 Transform a cream and white hallway with a luxurious stair runner to complete the space. A simple switch from hard surface stairs to a soft cream runner not only adds texture and warmth but creates a statement look against the doors and furnishings.
Get the look: Stair runner: Avebury Chippenham Grain by Cormer Carpet Co
3. Cream and wood are the perfect match for a welcoming hallway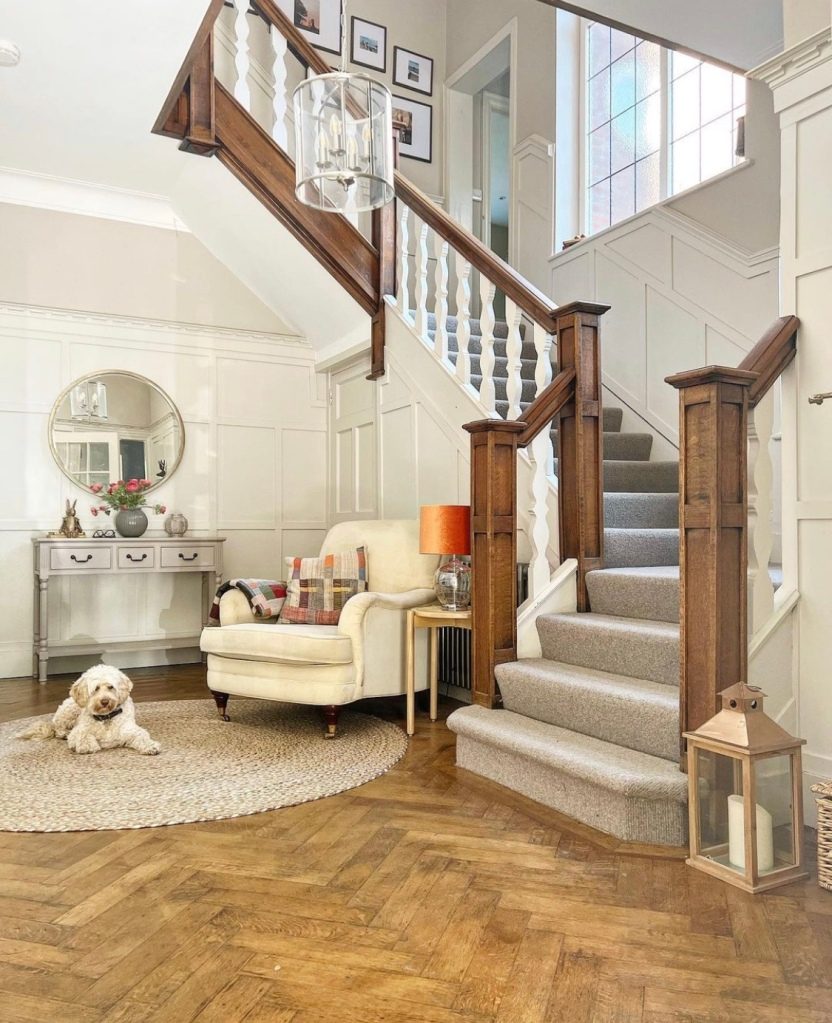 Cream and wood accents are great to combine in your hallway, making your space feel natural and inviting. Don't be afraid to layer up your creams throughout your hallway for a neutral and cozy ambience. 
Play around with different shades of cream paints on walls and panelling. Add in cream carpets and rugs, furnishings and artwork to bring everything together.
Get the look: Paint shades: Brushed cotton by Valspar
4. Cream and dark green hallway idea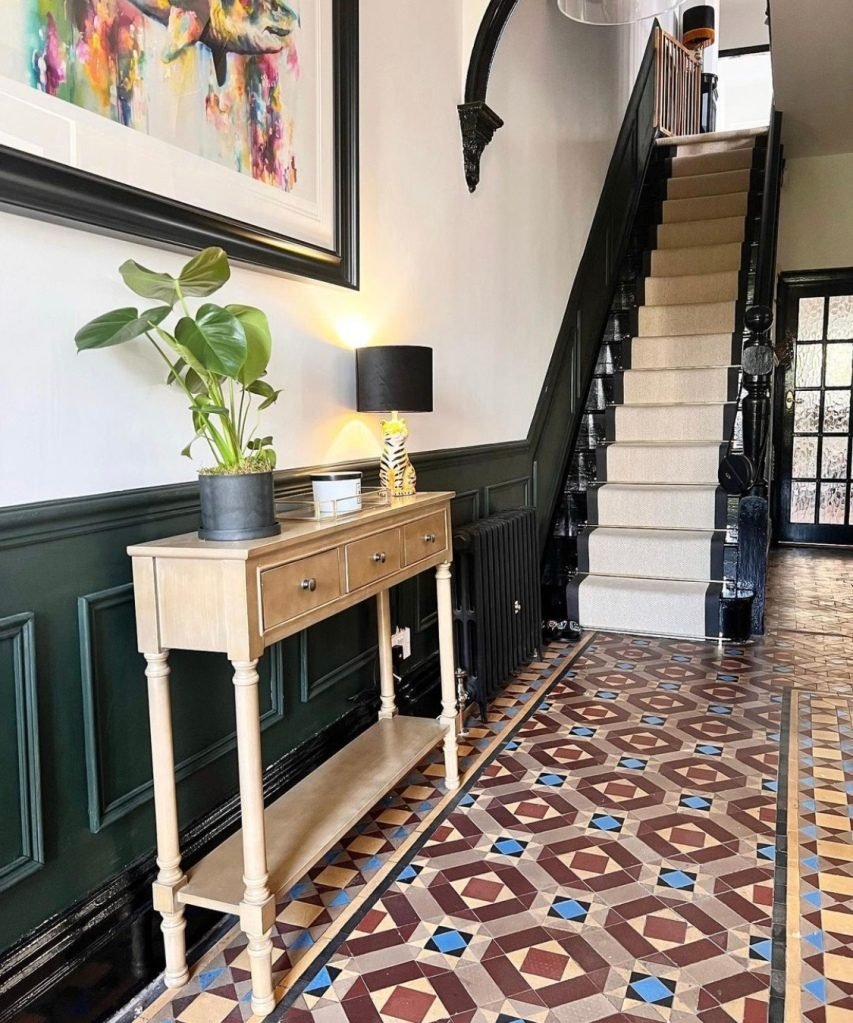 Create a contrasting look in your hallway by combining a cream palette with a darker colour. Painting your lower walls or panelling with a darker colour will make your walls look taller and your space bigger. Carry the look up your stairs for an effortless look that carries through upstairs.
Get the look: Paint shades used: Flint by Little Greene and Forest Symphony by Valspar
5. Add contrast to a cream hallway to make it more spacious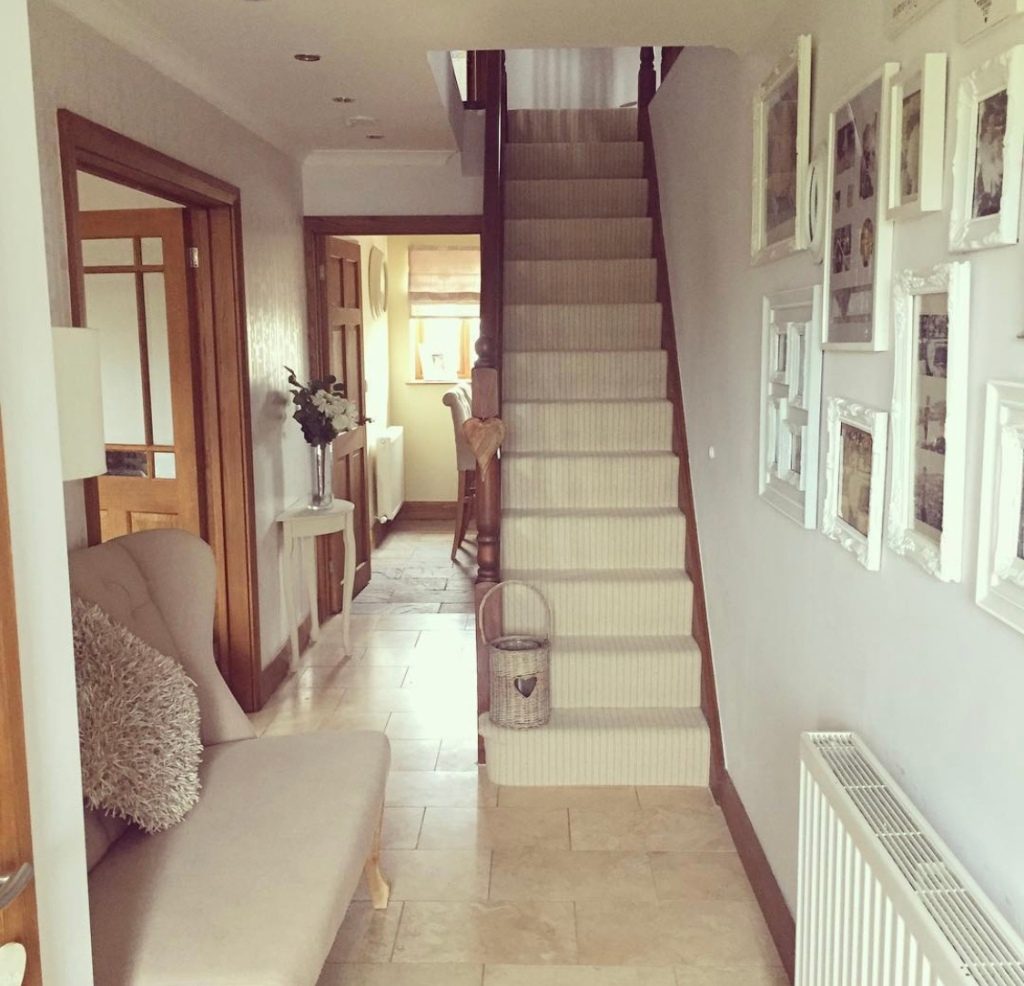 Contrast your hallway by layering a cream colour scheme. Opt for darker tones on the flooring and gradually decorate your hallway with light shades of cream to draw the eye up, which will make your space appear bigger and brighter. Adding white elements to the space will also contribute to making your space feel brighter.
Get the look: Sofa: Home Sense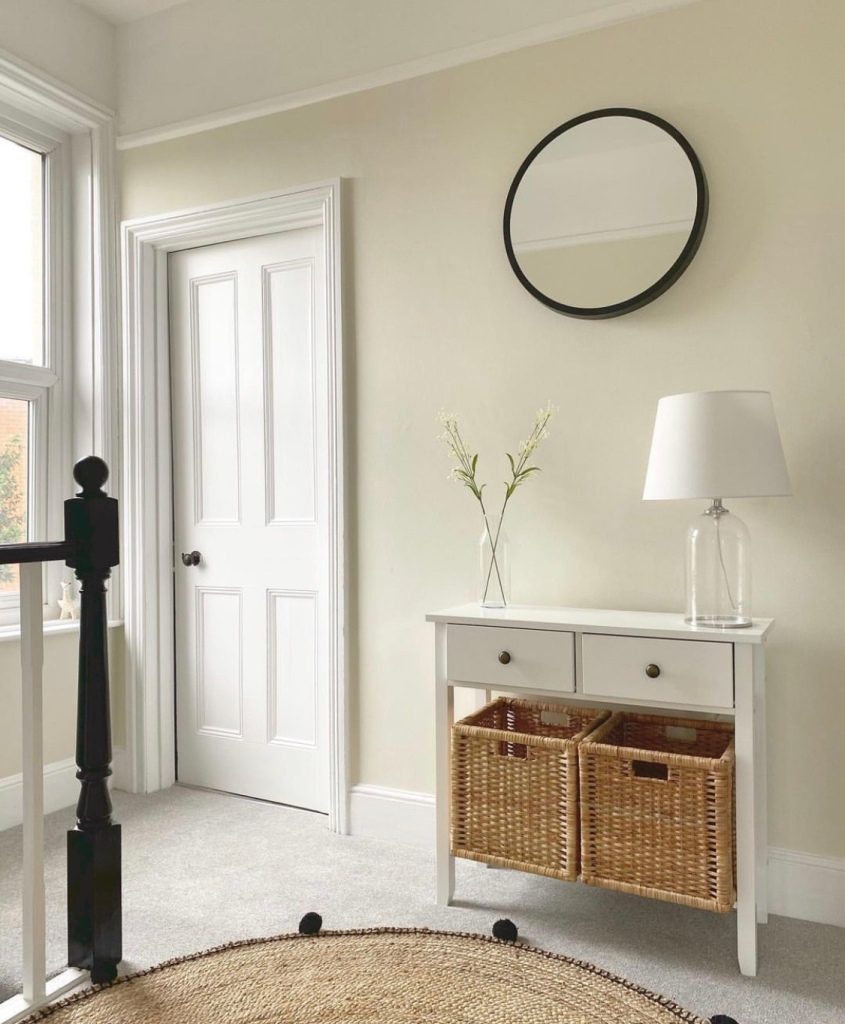 Style a cream landing and hallway with neutral decor for a calming through space. Combine cream carpets with rugs to layer up your palette for depth then go bold with black lines to bring it all together.
Get the look: Console table: Wayfair / Wicker basket: IKEA
Cream Hallway Ideas FAQs
Welcome to our Cream Hallway Ideas FAQ section! As interior design enthusiasts, we are here to provide you with some expert advice and answers to common questions about creating a beautiful cream-themed hallway.
Want some personalised style advice? Get your free interior design style board here.
Why should I choose a cream colour scheme for my hallway?
Cream is a versatile and timeless colour that can create a sense of warmth and elegance in your hallway. It's also a neutral shade, making it easy to pair with various decor styles and colours. Plus, cream can make a small space appear larger and brighter.
What are some paint colour options for a cream hallway?
When selecting a paint colour, consider shades like Egyptian Cotton, Champagne, or Ivory. These warm and inviting tones will help you achieve that cream-inspired look without being too overwhelming.
How can I maintain the cleanliness of my cream hallway?
Cream can be forgiving, but it's essential to keep on top of cleaning. Regularly dust and vacuum the space, and promptly clean up any spills or stains to prevent discolouration. Consider using rugs or runners in high-traffic areas to protect the flooring.
Can I incorporate accent colours in a cream hallway?
Absolutely! Cream pairs beautifully with accent colours like soft pastels, muted blues, or earthy tones. You can introduce these colours through accessories, artwork, or small pieces of furniture to add personality and character.
Any final tips for creating a stunning cream-themed hallway?
Start with a clear vision of your desired style, incorporate elements that reflect your personality, and don't be afraid to experiment. A cream hallway can be a canvas for your creativity, so have fun and enjoy the process of designing a space that welcomes you and your guests with warmth and elegance. Happy decorating!