Are you looking to incorporate the timeless beauty of Dulux Egyptian Cotton paint colour into your home?
We are excited to share with you some inspiring ideas and practical advice on how to utilise this sophisticated shade to transform your living spaces. Whether it's your living room, bedroom, bathroom, let's dive in and explore the possibilities of creating a cozy and elegant ambiance using this delightful hue.
Firstly, what colour is Dulux Egyptian Cotton paint?
Dulux Egyptian Cotton paint is a gorgeous, versatile shade that exudes timeless elegance. It is a warm and inviting off-white colour with subtle undertones of creamy beige. This hue beautifully captures the essence of the soft, natural fibers found in Egyptian cotton, creating a sense of warmth and sophistication in any space. Whether used as a primary wall colour or as an accent, Dulux Egyptian Cotton adds a touch of understated luxury to your home's interior design.
Creating an enchanting living room using Dulux Egyptian Cotton
The living room is often the heart of the home, and with Dulux Egyptian Cotton, you can infuse a sense of tranquility and warmth. Consider painting the walls in this subtle shade to create a soft backdrop that harmonizes with various interior styles. Complement it with rich earthy tones like deep browns or caramel for a cozy atmosphere, or pair it with crisp whites and pale blues for a refreshing coastal vibe. Accessorize with plush cushions, patterned rugs, and metallic accents to add depth and visual interest.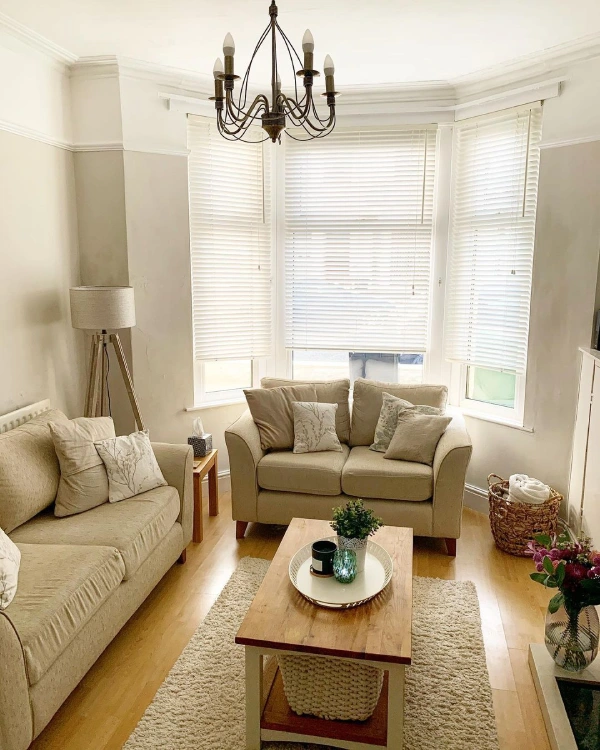 Image by @cartrefcanton on Instagram / This beautiful Victorian living room gets a soothing makeover using Dulux Egyptian Cotton to keep the space feeling open and light.
Style Dulux Egyptian Cotton with…
Match Dulux Egyptian Cotton Paint with cream and black sofa cushions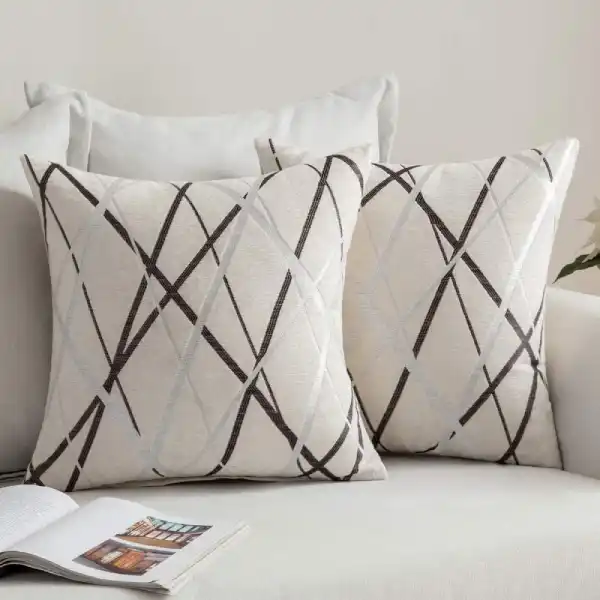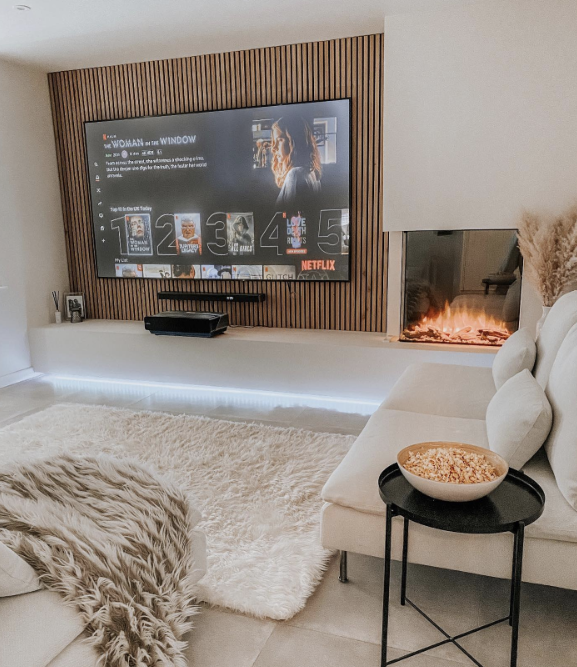 Lanni has created a super snug living room using Dulux Egyptian Cotton with wood panelling, a statement fireplace, and plush textiles for a luxurious finish / Image by @lanni_loves_interiors on Instagram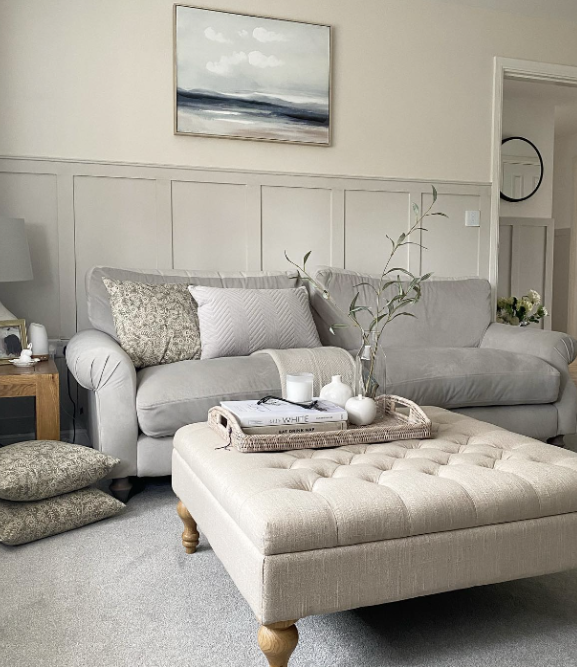 Samantha uses Dulux Egyptian Cotton paint on the top half of the living room walls serving as a gentle canvas for the grey panelling. The beautiful sandy furnishings such as the poufee, artwork, and accessories complete the look / Image by @allabout_thehome on Instagram 
Buy the look – cream pouffe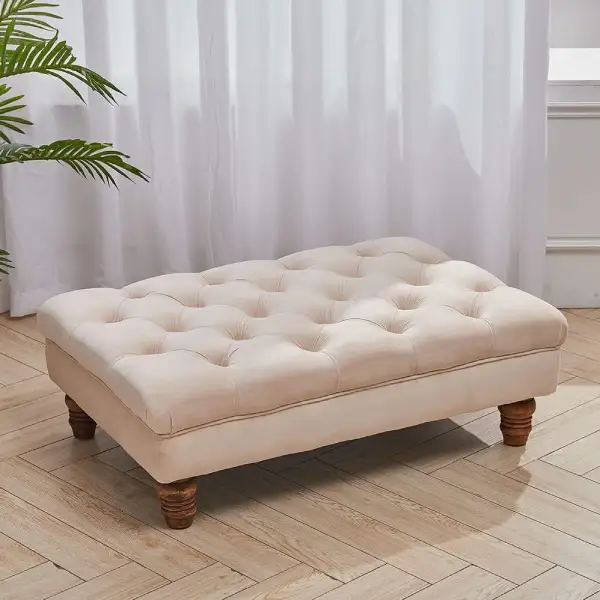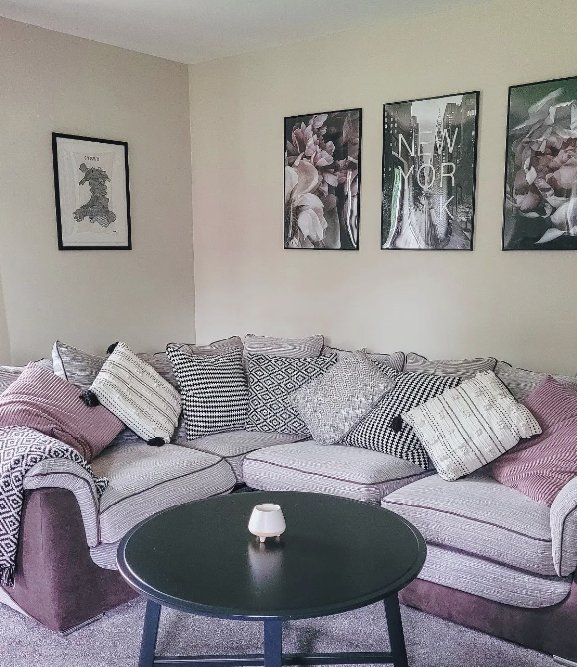 Lowri uses Dulux Egyptian Cotton as the primary wall colour in the living room. To add sophistication, she has incorporated the use of purple through decor and furnishings for a subtle touch of colour / Image by @homewithlowri_ on Instagram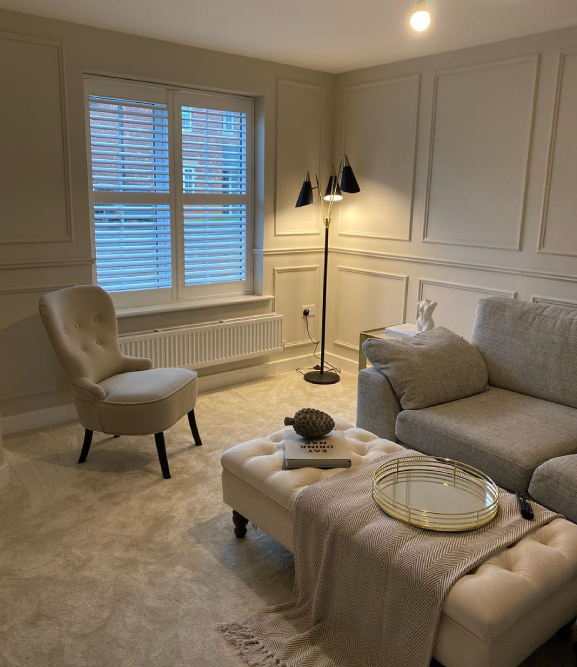 For an ultra-cozy living room, position ambient lighting and muted furnishings for a relaxing living room that oozes warmth in the evening just like this design above / Image by @ourgosfordhome_157 on Instagram
Get a similar look with this mid-century teddy rocking chair…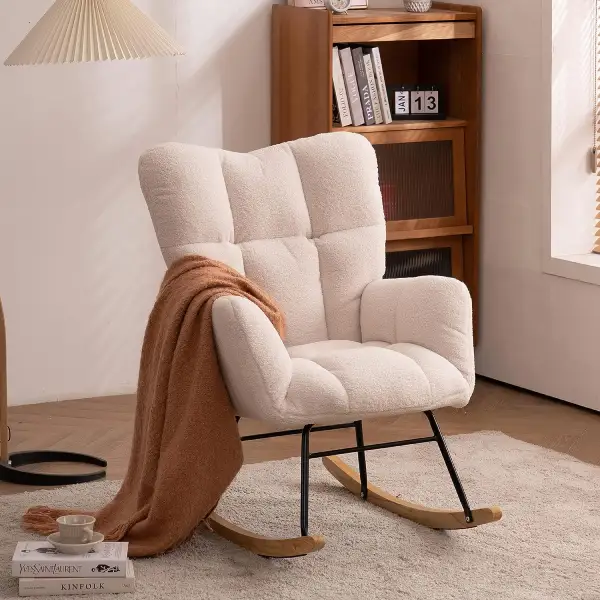 Styling a serene bedroom with Dulux Egyptian Cotton
Transform your bedroom into a serene sanctuary with Dulux Egyptian Cotton. This versatile hue works wonders when painted on the walls, fostering a peaceful ambiance that promotes restful sleep. Combine it with delicate pastels such as blush pink or lavender for a dreamy and feminine feel. Alternatively, create a sophisticated look by incorporating deep purples, charcoal grays, or emerald greens as accent colors. Introduce soft lighting, luxurious bedding, and textured fabrics to complete the tranquil oasis.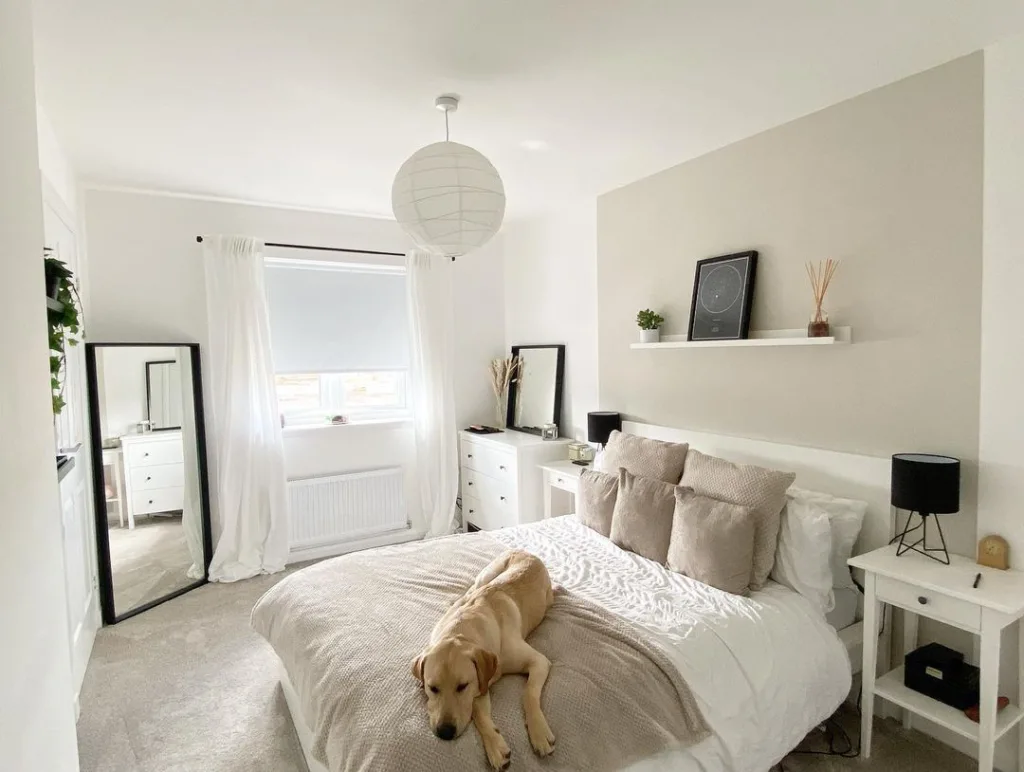 Image by @ournewbuildalbury on Instagram / Dulux Egyptian Cotton styled in a white bedroom with accent wall and soft cream bedding to match for a monochromatic look
Get a similar look with cream bedding…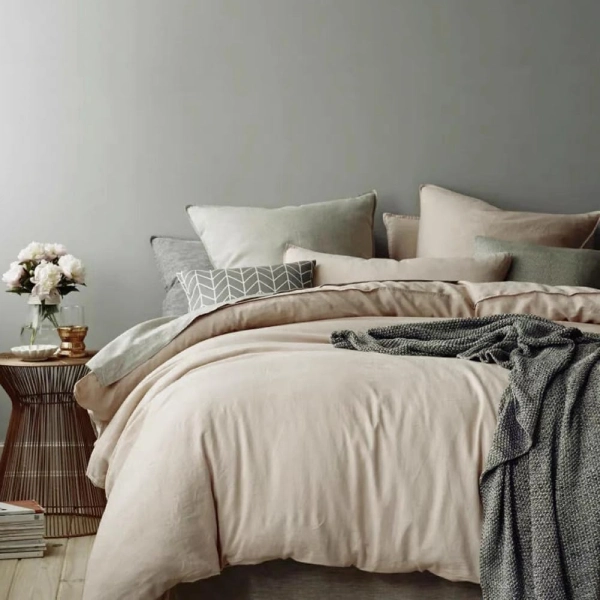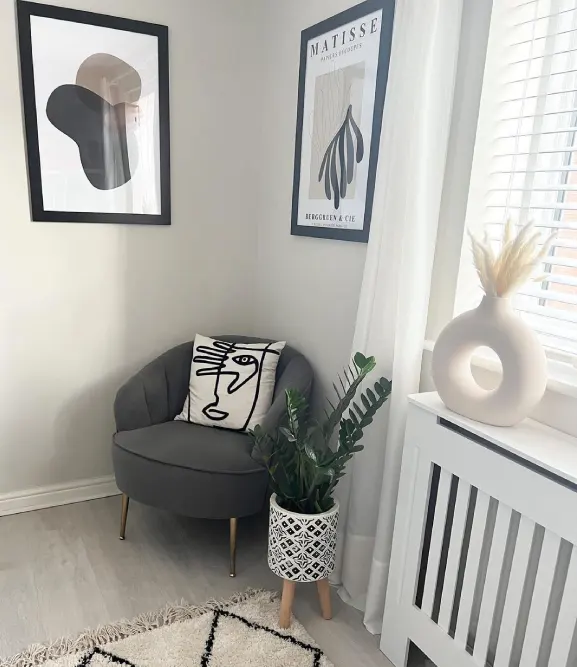 Zoe styles her second bedroom with dark grey and black to bring out the subtle shade of Dulux Egyptian Cotton for a contrasting look that is neutral and calming / Image by @zoexkell on Instagram
Express your elegance with Dulux Egyptian Cotton in the bathroom
Give your bathroom a touch of refined elegance by embracing Dulux Egyptian Cotton. This hue lends itself beautifully to creating a spa-like atmosphere. Use it as a backdrop for natural materials like marble, wood, or rattan to achieve a harmonious blend of textures. For a fresh and airy look, pair it with crisp whites and soft blues. Enhance the space with plants, fluffy towels, and decorative mirrors to create a luxurious retreat.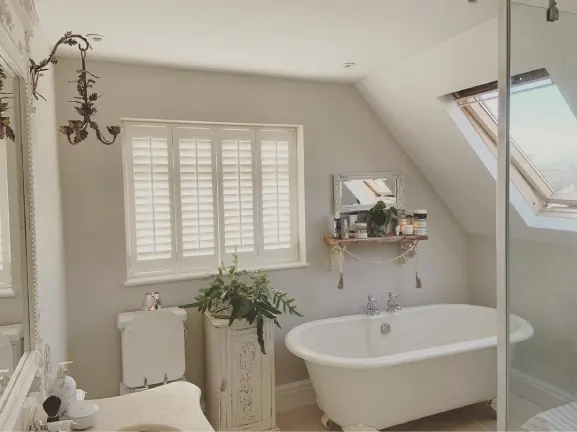 Use Dulux Egyptian Cotton on all the walls in your bathroom and complete the design with shabby chic decor and a statement tub for a boho rustic style / Image by @brightonfrenchchicboutique on Instagram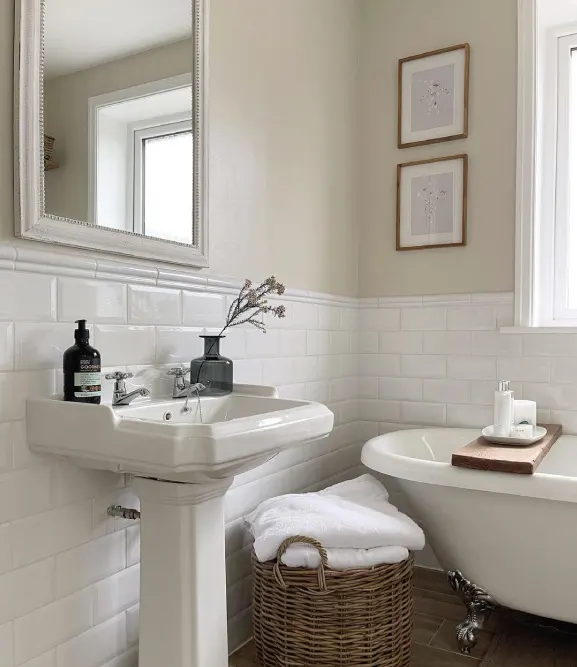 Rachel uses Dulux Egyptian Cotton to offset the bright white tiling and add warmth to the bathroom and pairs it with wooden decor to infuse natural asethetic / Image by @rachelsorbyhome on Instagram
Will you be using Dulux Egyptian Cotton in your home?
Dulux Egyptian Cotton paint colour offers a world of design possibilities for every room in your home. Its timeless and versatile nature allows you to create spaces that are elegant, cozy, and inviting. By following the ideas and advice shared in this article, you can infuse your living room, bedroom and bathroom with a touch of refined charm. So, go ahead and embark on your design journey, and let the enchanting allure of Dulux Egyptian Cotton elevate your home to new heights of sophistication.
Want to share your home on our blog? Reach out to us on Instagram!
[caf_filter id='10500′]