What is the best colour to paint your hallway?
Pick a colour that best represents the rest of your home. For example if your home is neutral and minimal, you'll want to keep that style for your entranceway to set the tone for the rest of your home. Likewise, a colourful home will suit a bold hallway. With many different colours schemes and styles to choose from, we've handpicked some of our favourite homeowners' hallways to offer you the inspiration you need. Read on to see our top picks. 
Blue and pink hallway idea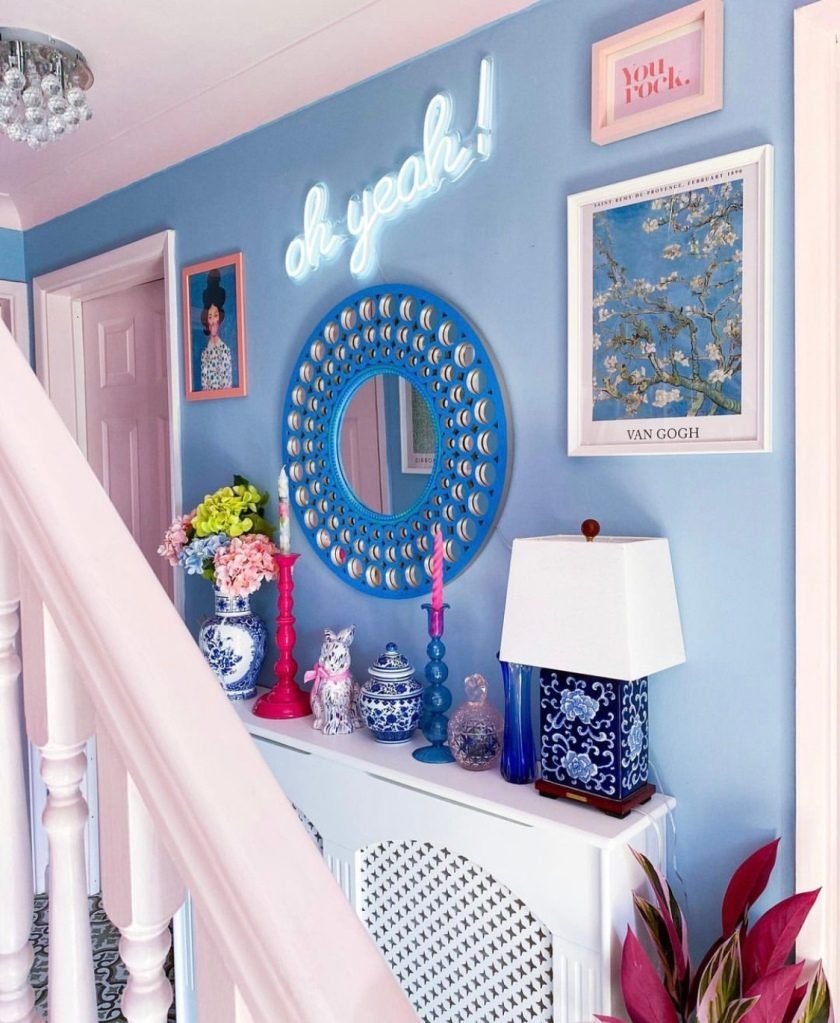 Create a bold and bright hallway with a blue and pink colour scheme that will fill your space with character. Over at Reka's home, blue takes centre stage with pink accents flowing through with playful accessories such as candle holders, artwork and painted railings. This colour combo works really well as opposites attract, and together, blue and pink instantly catches the eye to brighten the hallway.
Paint colours used: Dulux Heritage Light Teal
Black and white hallway idea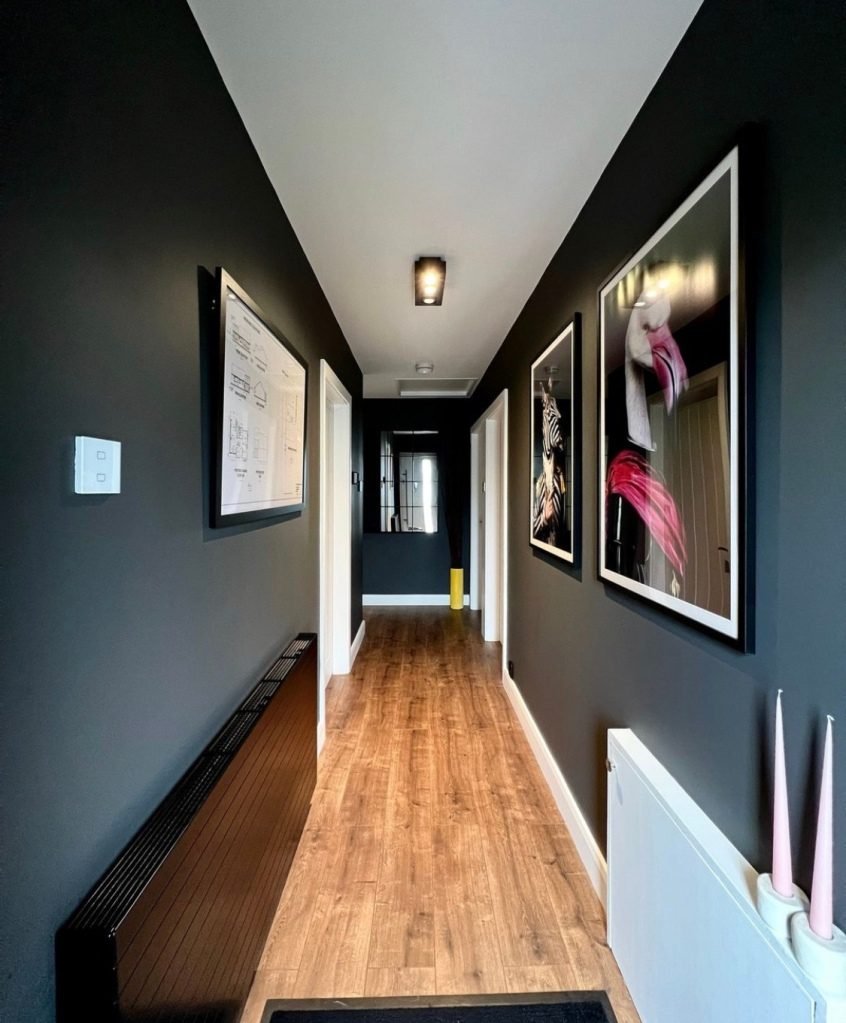 Dark hallways can look and feel really cozy when styled in the right way. For example, this gorgeous design by Lee uses charcoal black walls against a crisp white ceiling, combined with wooden flooring to create a dramatic contrast. Furthermore, the artwork with dashes of colour add to the look to give the hallway subtle colour.
Paint colours used: Dulux Heritage Bowler Hat and Helmi 19 on the woodwork.
10+ Moody Bedroom Designs For Coziness
Pink and black hallway idea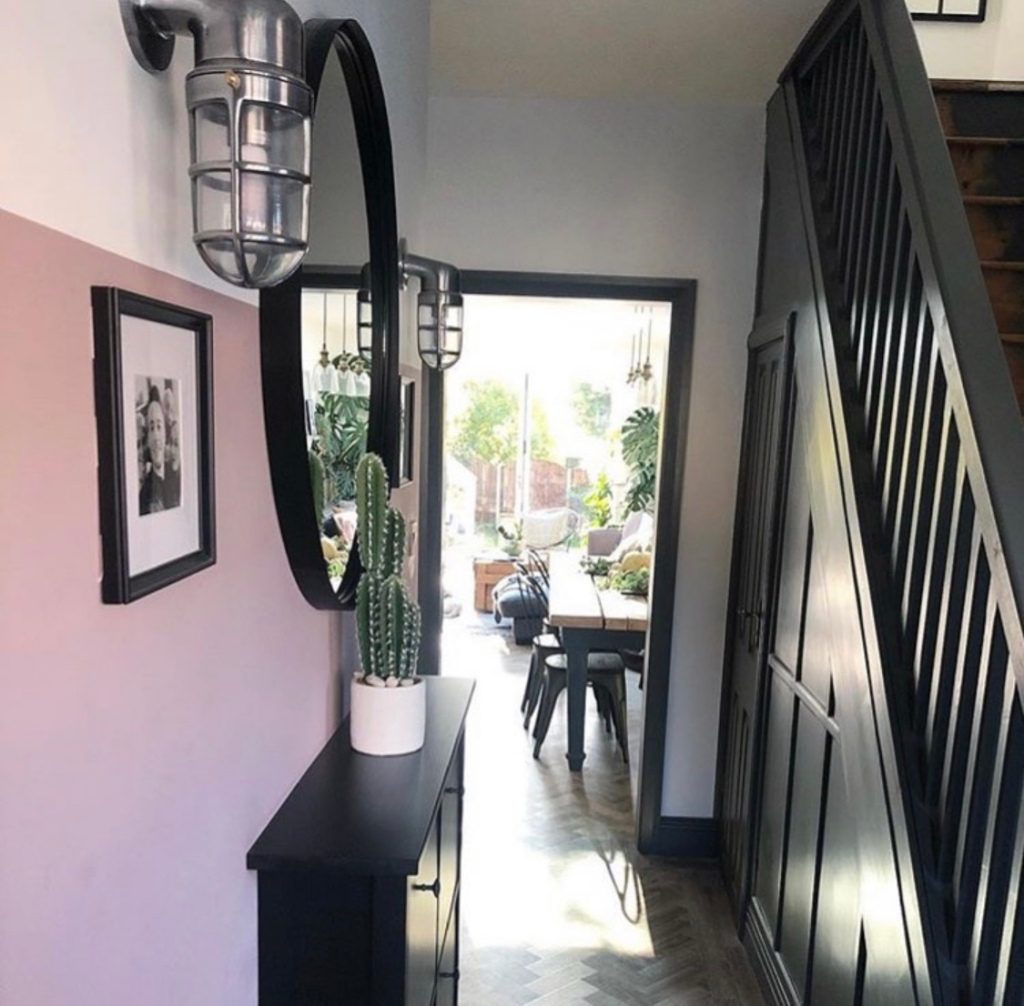 Why not add colour to a black and white hallway with a touch of pastel pink to soften your space? Perfect in a Victorian style home, this gorgeous design uses paint in a fun way to add contrast and unique style by painting half way up the wall. This is a fab technique that tricks the eye in knowing where the ceiling and walls meet, instantly makes the space feel bigger than it is. 
Style a black and pink hallway with statement wall art to make pink walls pop!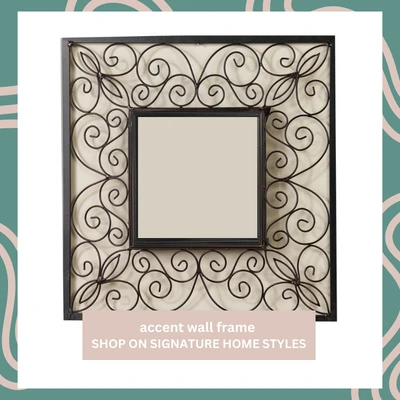 White and pink hallway idea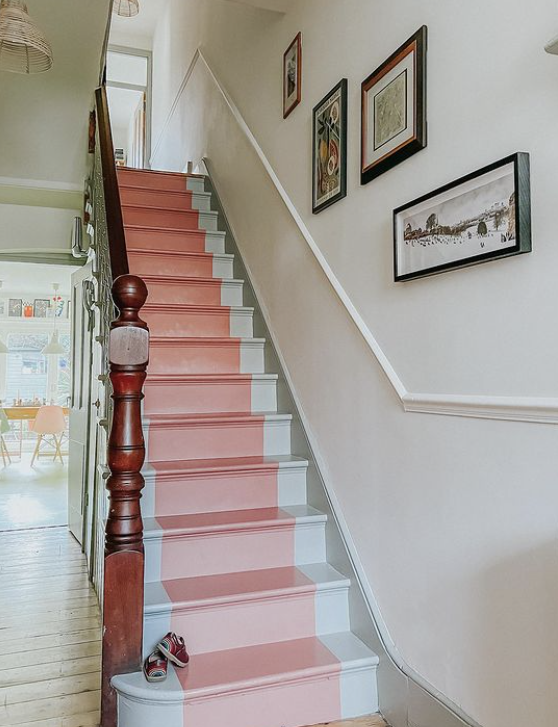 Image by @samscottwood has painted the stairs pink and grey to make the hallway stand out against the white walls and flooring for a fresh and colourful look. Paint colour used Lick Red03.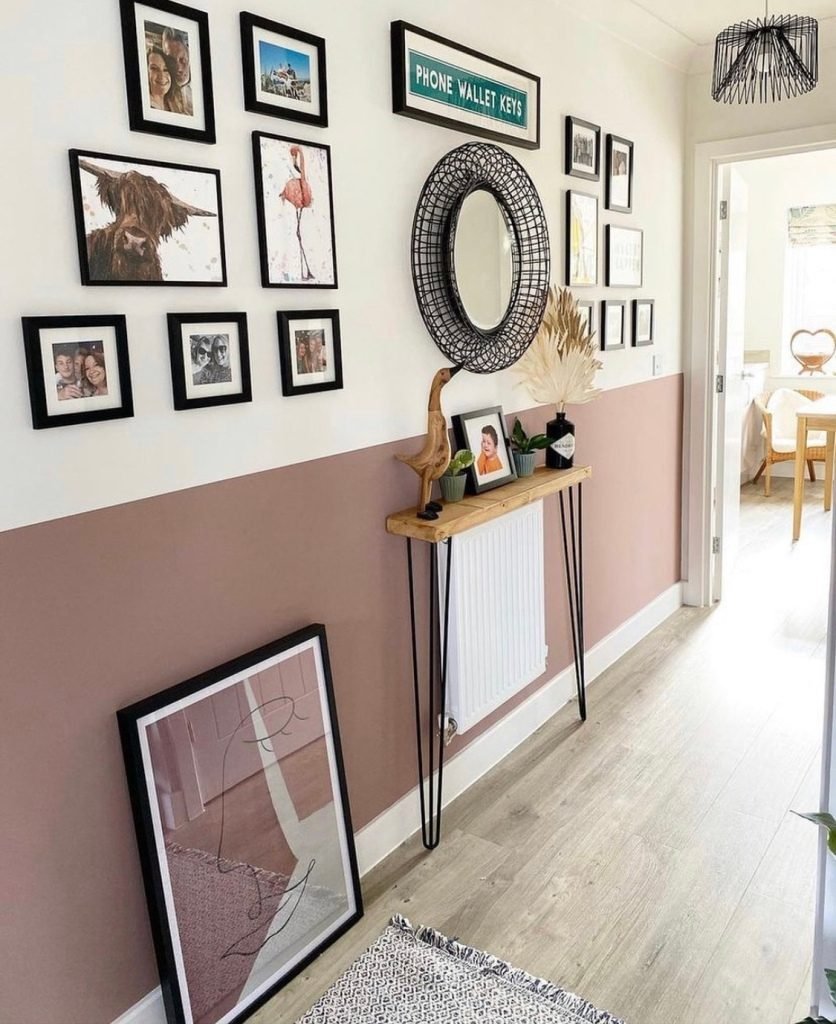 Decorate your hallway with a bright colour palette to make your space feel bigger and airy. Break up your walls with a half and half colour palette, such as pink and white to create a bold contrast. This technique is simple and easy without having to panel your walls. It's also a great way to break up a small hallway without bulky furnishings. To add more character to your home, style the top half of your wall with artwork for a gallery entrance way. 
GET THE LOOK: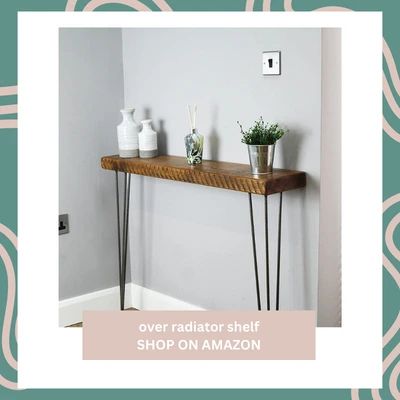 Green and cream hallway idea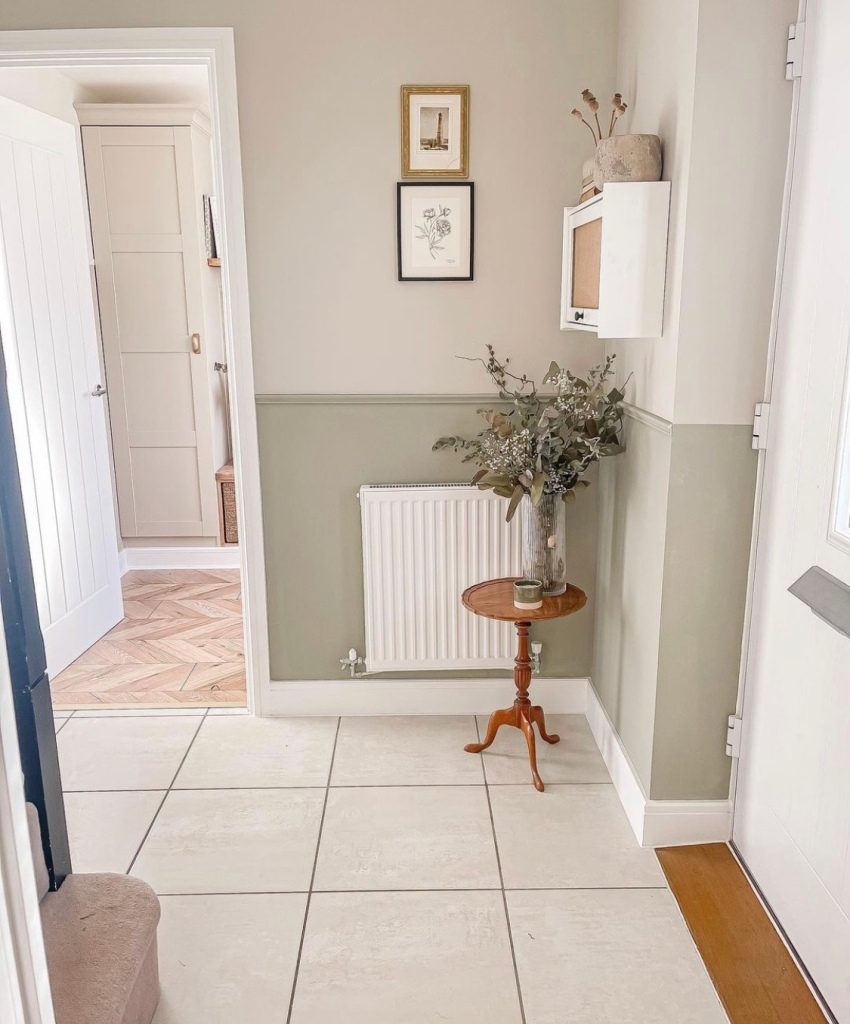 Neutral green is a peaceful and calming colour to spice up your hallway. If you've got a corner section in your hallway why not give it a new zest of life with a coat of paint to make a statement look. We love this green and cream colour scheme that gives us feelings of a country home retreat. Furthermore, adding MDF strips halfway up your wall to border off the paint work will complete the look.
Paint colours used: Farrow & Ball shaded white and french grey
Best panelling ideas for your hallway
Green hallway idea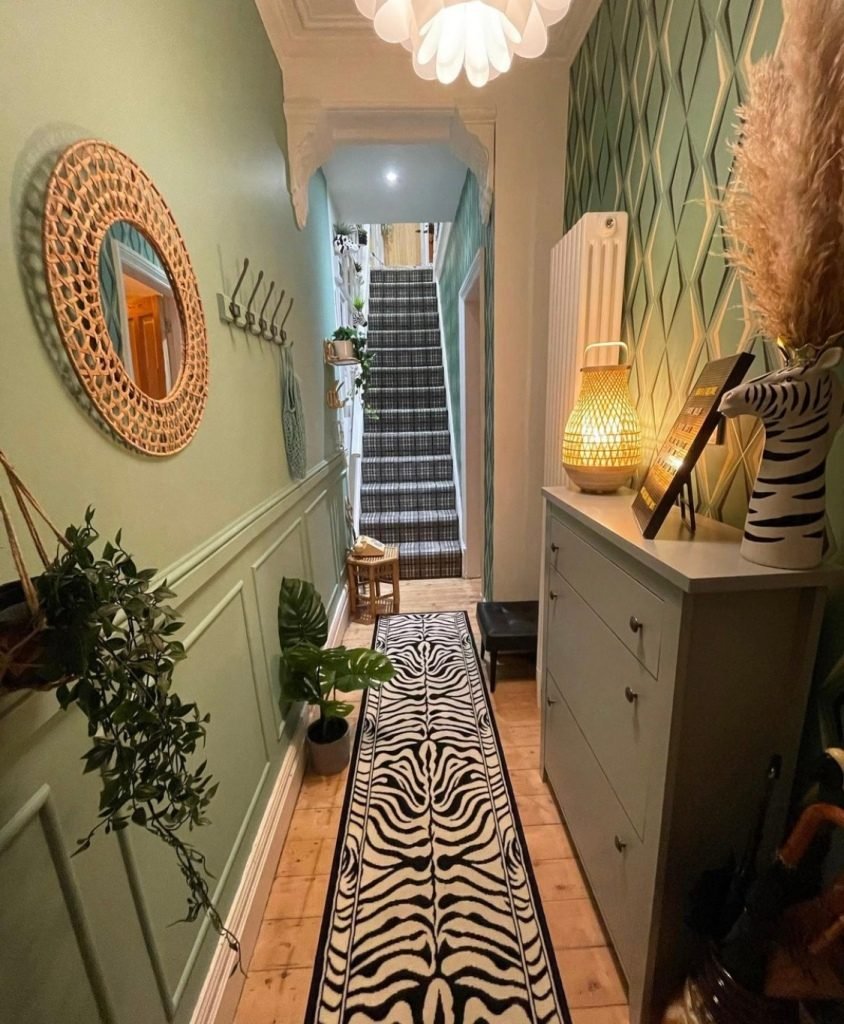 Give your hallway a total transformation with a vibrant, but neutral green colour scheme. Set the tone for your home by incorporating character, from period panelling to pattern textiles and wallpaper. We love this green entrance that is bright, bold and full of character. Furthermore, the mood lighting adds a welcoming touch to the hallway making us feel that warm welcome.
Find more home ideas below!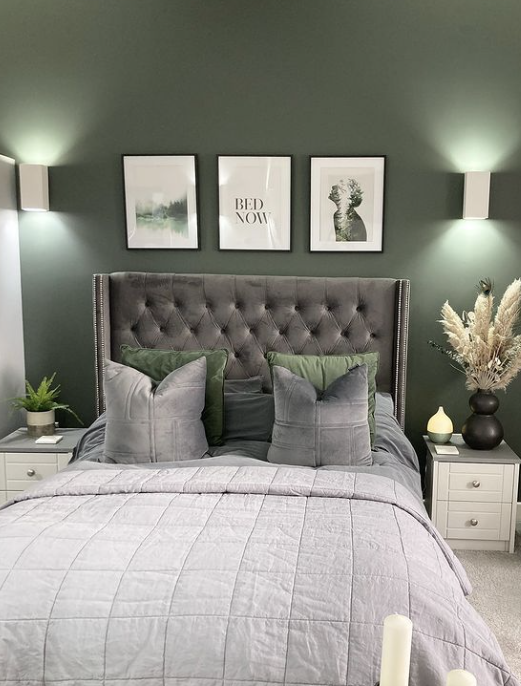 Advice Bathroom Bedroom Decor Inspo DIY and renovation Garden Interior Trends Kitchen Living Room Uncategorized