Dark, cozy and full of character living room ideas
Dark walls provide your living room with comfort and style. Whether it is royal blue, intense green, charcoal grey or black wall colours you're thinking of adding to your space.
If you're not sure where to start, discover our favourite homeowners living room styles that have been decorated with dark paint colours below.
Dark blue paint colours for your living room
1 out of 9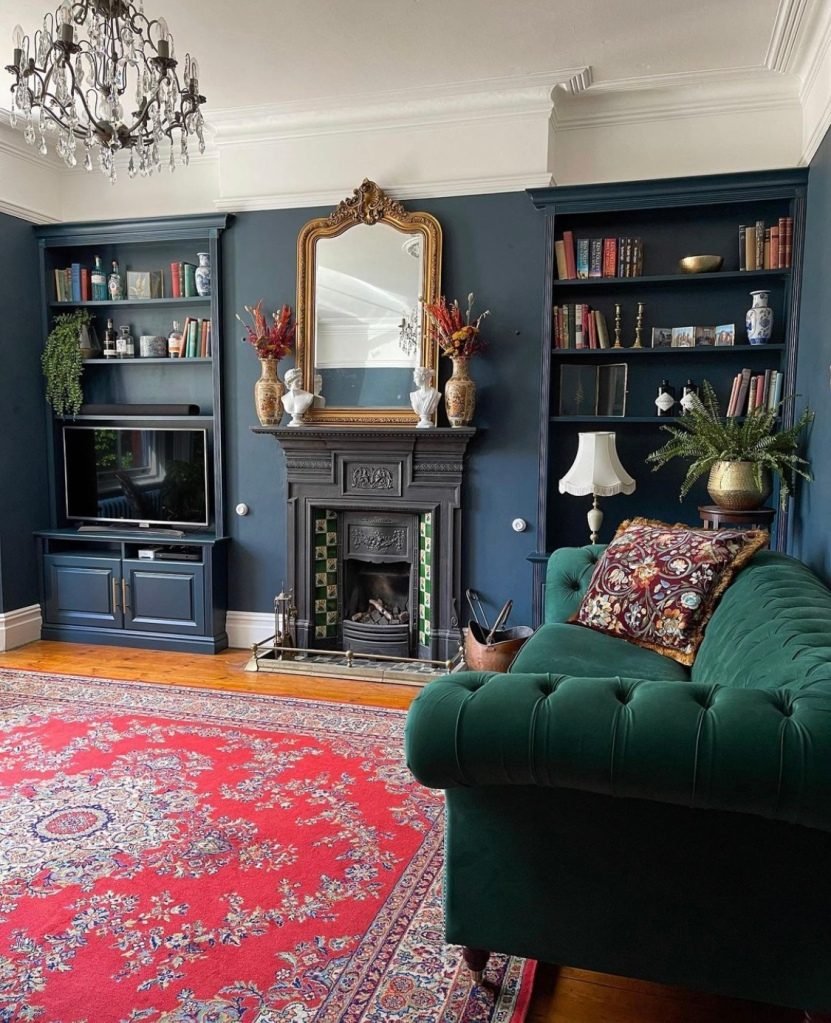 Paint colour used: Hague Blue by Farrow & Ball
Give your living room a dramatic look with a dark and rich blue scheme. Finish off the room with a white ceiling to dramatize the walls to keep the space feeling bright and airy. Hague Blue by Farrow & Ball is pigmented for a response to every kind of light, which is great to set the scene throughout the day.
Elegant Victorian decor ideas to makeover your bedroom
2 out of 9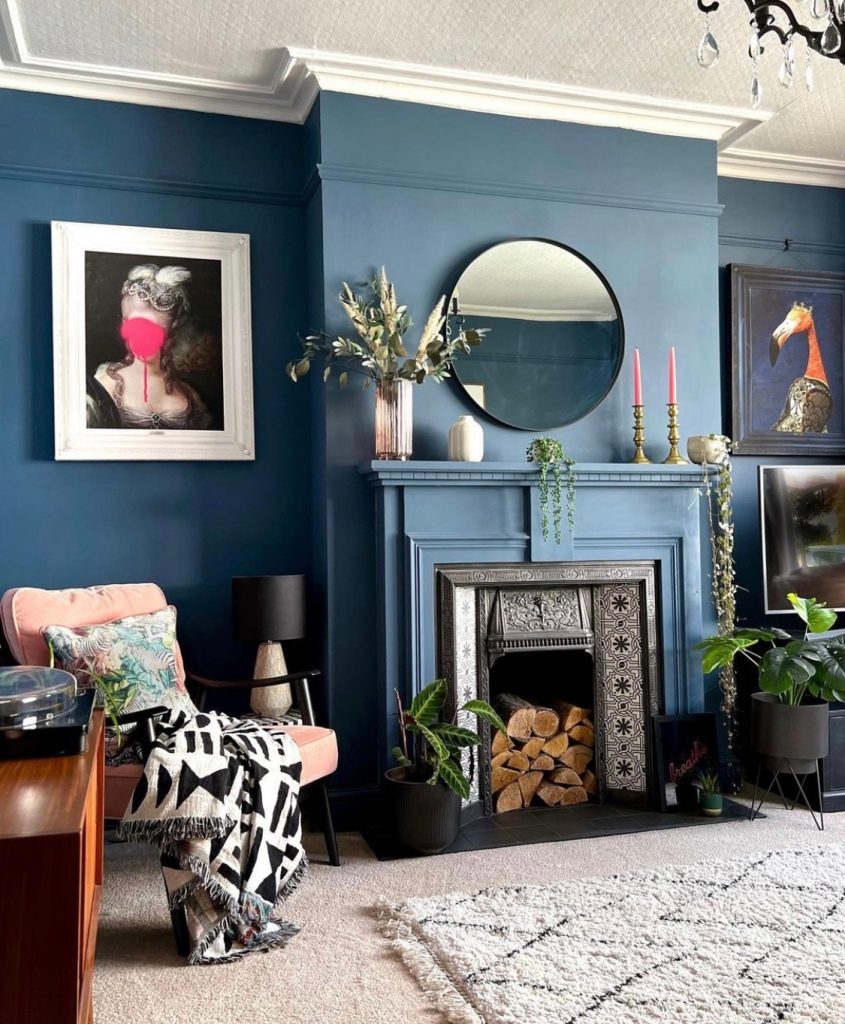 Paint colour used: Hicks Blue by Little Greene
Opt for an inky blue shade which still has the balance of light and dark. We love how Hicks Blue by Little Greene is used in an Edwardian home to give an extra dose of dramatic ambience and works wonderfully to expose the cozy fireplace. Opt for lighter walls and ceiling to really let the walls take centre stage.
Best fireplace ideas to transform your living room
3 out of 9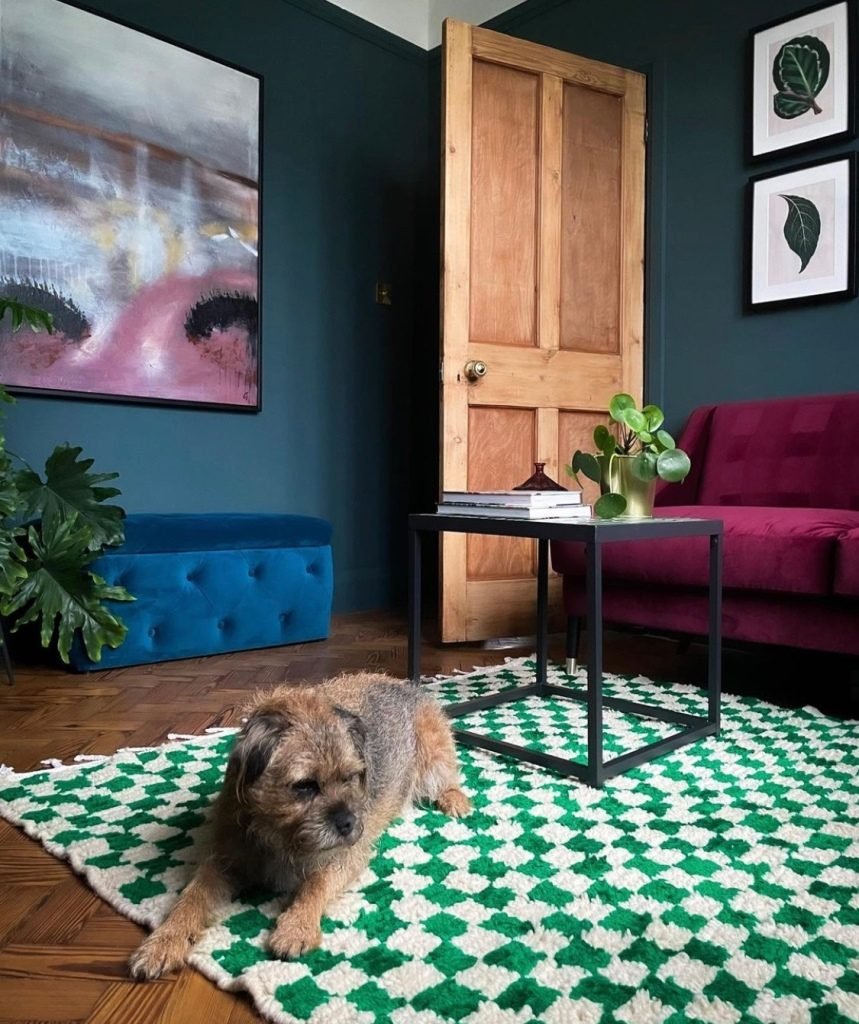 Paint colour used: Teal 03 by Lick
Combining dark painted walls and rich decor provides an elegant and sophisticated interior style that also looks timeless. We love this combination of blue, green and purple that still has a dark and cozy look but introduces a pop of colour for a fun look.
Dark grey paint colours for your living room
4 out of 9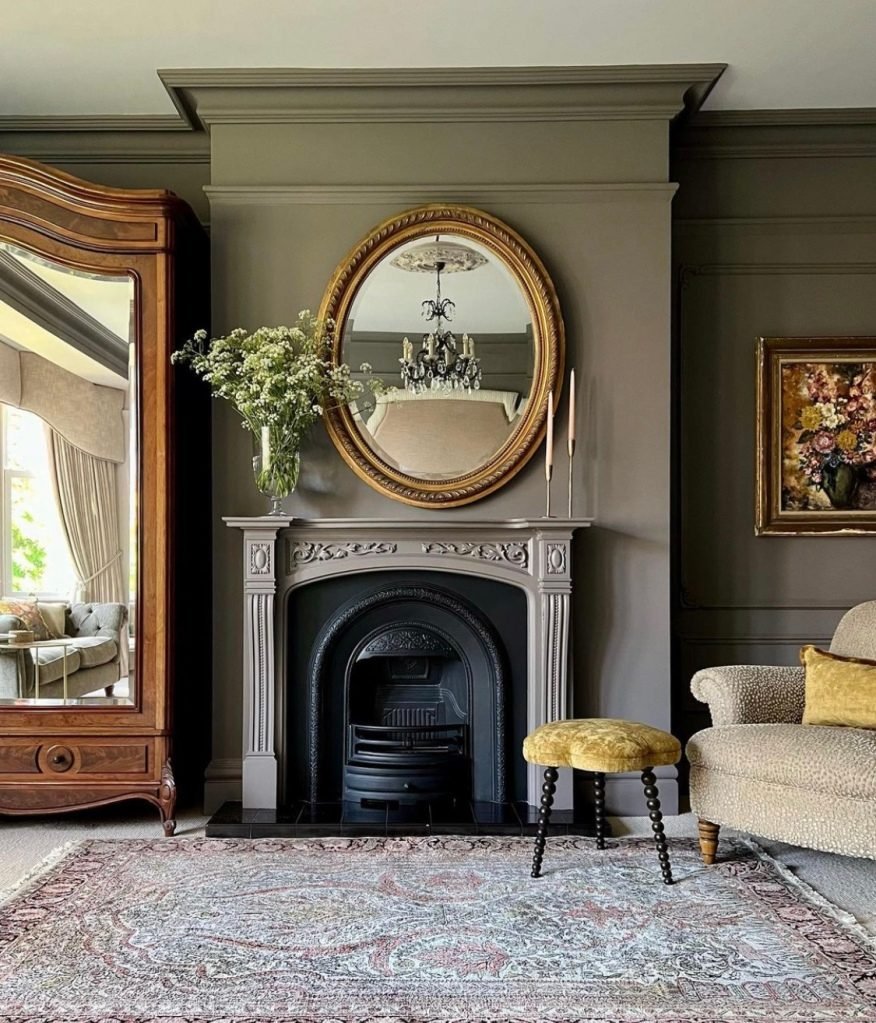 Paint colour used: Knightsbridge by Little Greene
Dark grey is a relaxing colour for your lounge space as it is neutral and goes with just about any other colour of the rainbow. For a dark and moody ambiance, combine Knightsbridge by Little Greene with yellows, golds and greens for a look that keeps you in touch with nature for its calming effects.
Contemporary colours that go well in a grey bedroom – Ideas with images
5 out of 9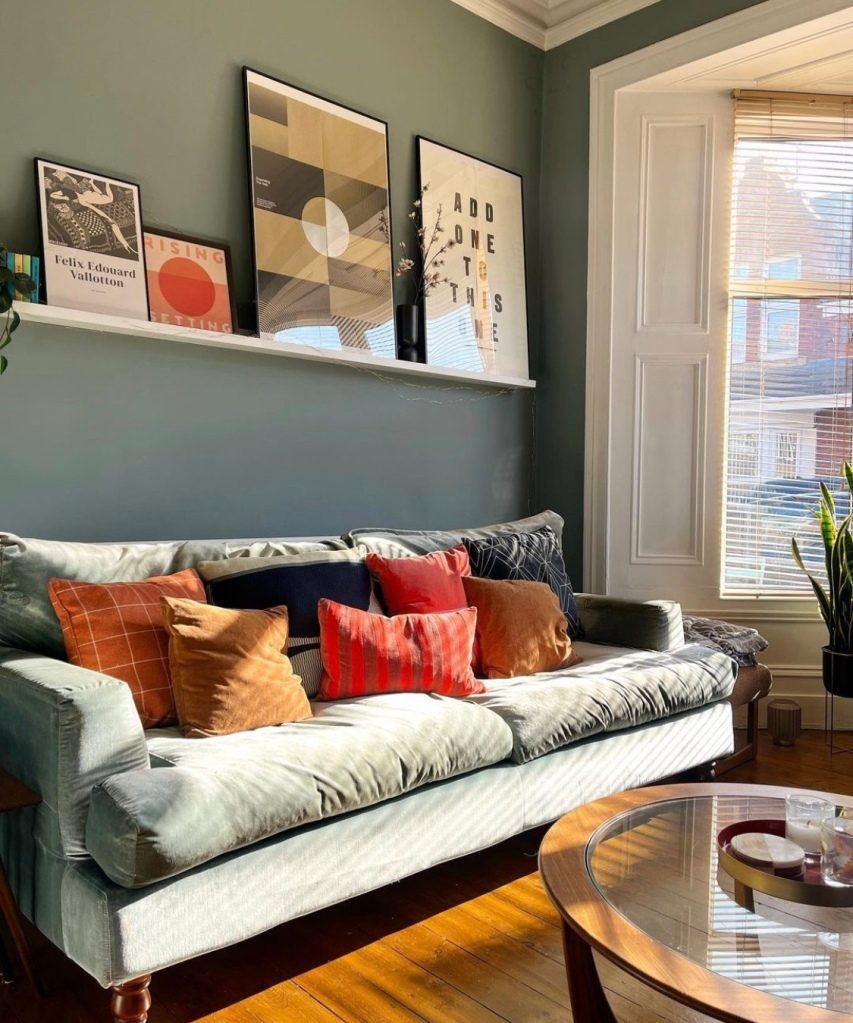 Paint colour used: Travelling Minstrel by Valspar
Match a grey sofa with dark grey walls for a subtle contrast and layering of shades for a restful look. Dark paint colours such as grey allow you to use a secondary colour scheme to add character to your home, as it serves as a neutral base colour. We love the use of different shades of orange against the dark colour scheme of this living room for a bright look.
Dark accent wall idea
6 out of 9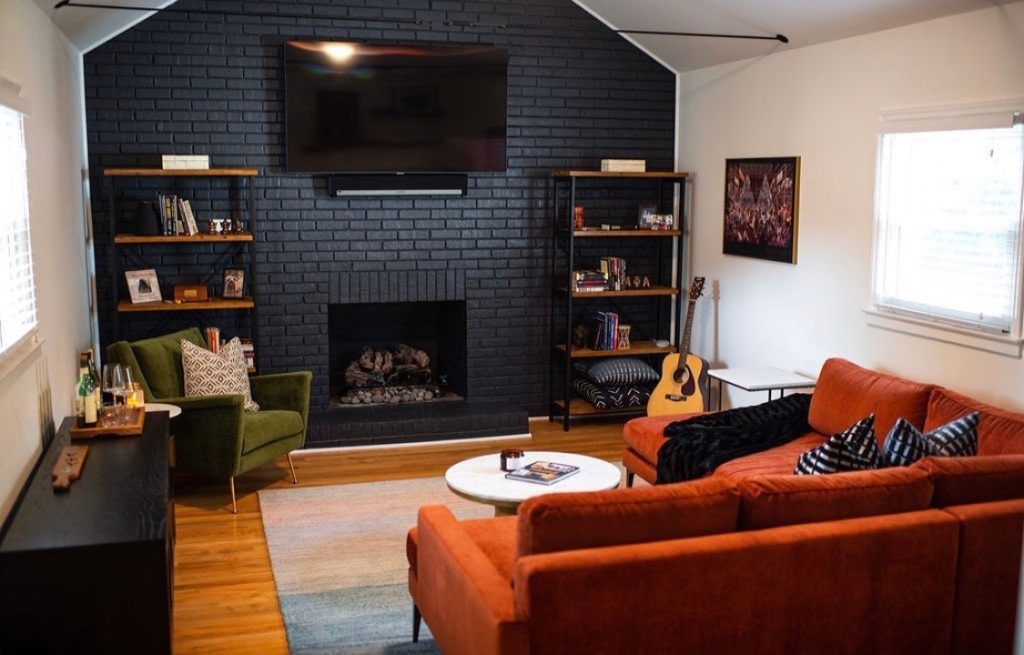 Paint colour used: SW Tricorn Black
Not ready to take the plunge to paint all your walls dark? Instead, play with the idea of an accent wall for a striking look. It will also give your living room a focal point too. We love this dark brick accent wall that makes the space pop. Furthermore the brick wall gives the space texture to avoid looking flat. Make sure to add black or dark living room decor to help your wall styling flow throughout your room for a consistent look.
Dark navy and green living room idea
7 out of 9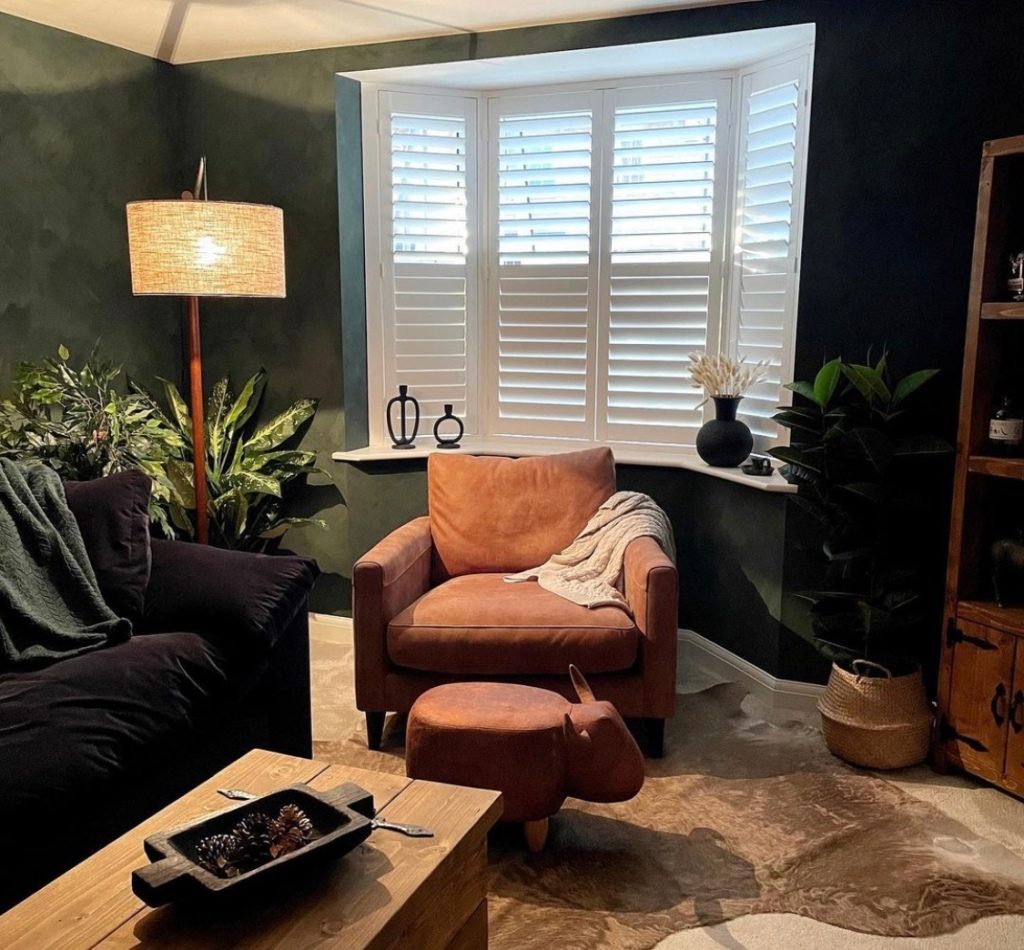 Paint colours used: Pure and Original Fresco Limewash paint (colour is Dark Hills)
Create a cozy space with dark navy and blue colour scheme for an elegant living room design. The great thing about decorating a lounge with dark colours is the way the light bounces off the walls and furnishings. Choose lamp lighting with yellow tinted vaults for a cozy look in the evening.
Make your living room super cozy with these techniques
Black walls idea for a living room
8 out of 9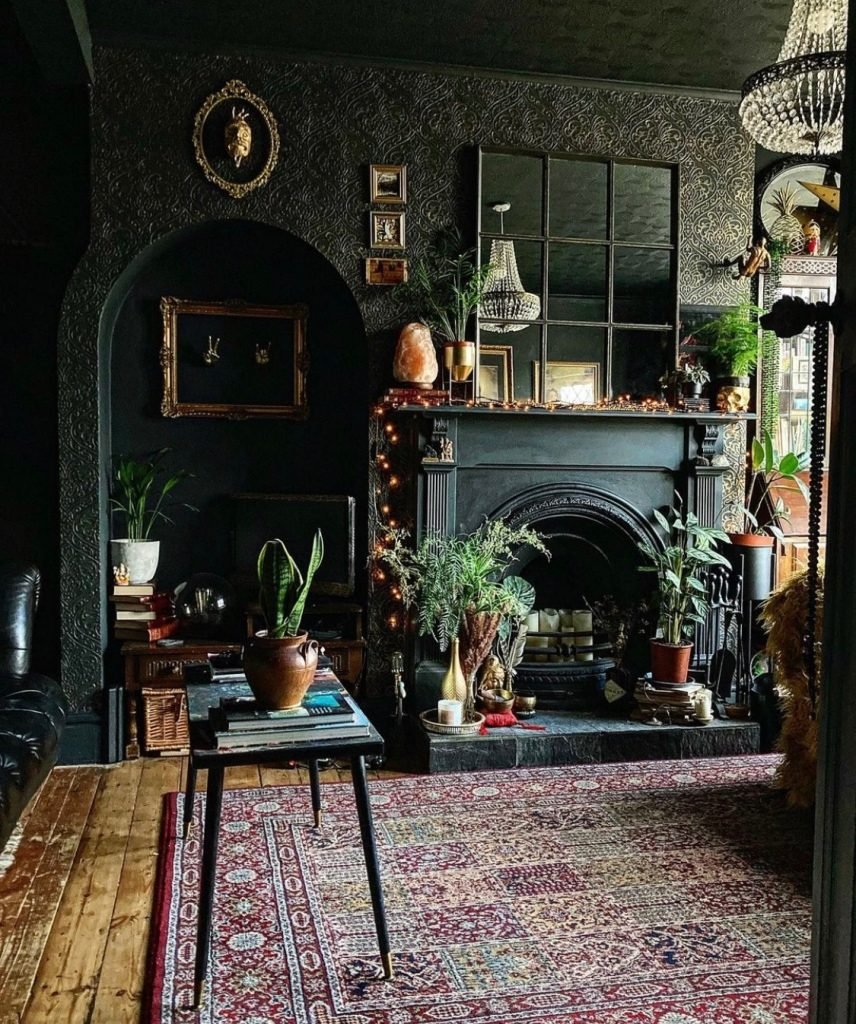 Go maximalist with dark interiors in your living room to create a unique and full-of-character space to enjoy. When decorating walls a dark colour, opt for textured wallpaper which will add depth and warmth to your space without it looking flat and dull. We love how even the walls have texture to give the space more life and depth!
Be inspired by these beautiful black living room ideas
Dark green living room idea
9 out of 9
Paint colour used: Dark Flint by Wickes
Get in touch with nature by giving your walls a lick of paint in a dark green shade to feel tropical as well as snug and elegant. This will set the tone of your living space to invite complimentary colours such as pink, yellow and wood tones that give off an earthy feel when combined together.