We discuss whether wallpaper is still on trend and how to use it in your home to express your personality…
Is wallpaper still trendy?
Yes, in fact, it's a popular interior design trend that is used throughout the home alongside other trends such panelling, as well as being popular in Victorian and eclectic decor styles. It offers a wide range of patterns, colors, and textures that can transform a room and add depth and character to the space. 

Wallpaper is also a versatile and affordable option when you're looking to update your decor without making major renovations. Additionally, with advancements in wallpaper technology, modern wallpaper is now easier to install and remove than ever before, making it a convenient choice for those who want to switch up their decor frequently.

1. Choose patterned wallpaper for tall hallways to break up vertical space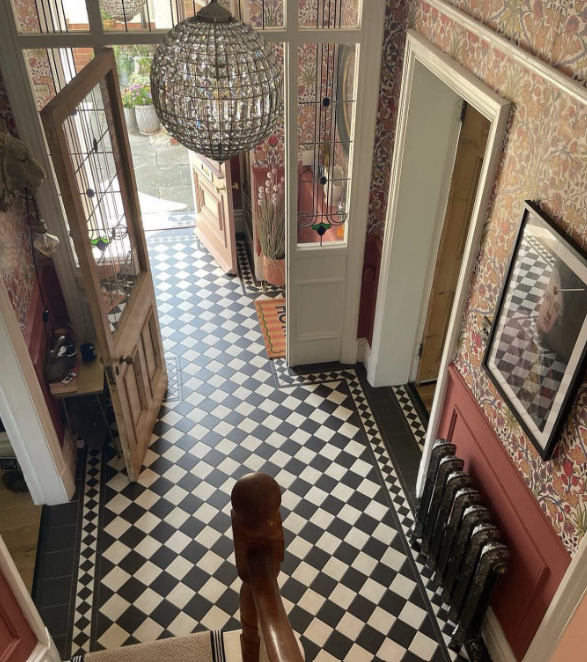 Image by @casaoldcorn uses a gorgeous floral printed wallpaper with colours matching the panelling to make the space feel warm and homely. Furthermore, we love how the wallpaper reaches the ceiling for a dramatic look that really shows the length of the walls.
Patterned wallpaper can be a great choice for tall hallways as it can help to visually break up the vertical space and create a more intimate feel. The pattern can draw the eye upwards and add interest to what might otherwise be a plain and unremarkable space. Additionally, a patterned wallpaper can be used to create a sense of cohesion and flow throughout the hallway, tying together different areas and elements of the space. With the right pattern and color scheme, a patterned wallpaper can transform a tall hallway into a stunning and inviting passageway.
2. Add a pop of colour with wallpaper that goes with your panelling for a bold look
Image by @hilaryscolourfulhome uses bright green and pink floral wallpaper against green panelling and a pink wall for an energetic and fun bedroom style that uses an awkward room layout to an advantage.
Wallpaper can be an excellent choice for bedrooms with panelling as it can add a pop of color or pattern to the walls without covering up the beautiful architectural details of the panelling. The texture and pattern of the wallpaper can complement the wood grain and add depth to the space, while still allowing the panelling to be a prominent feature. Additionally, using wallpaper in a bedroom with panelling can create a cozy and intimate feel, making the room feel like a warm retreat.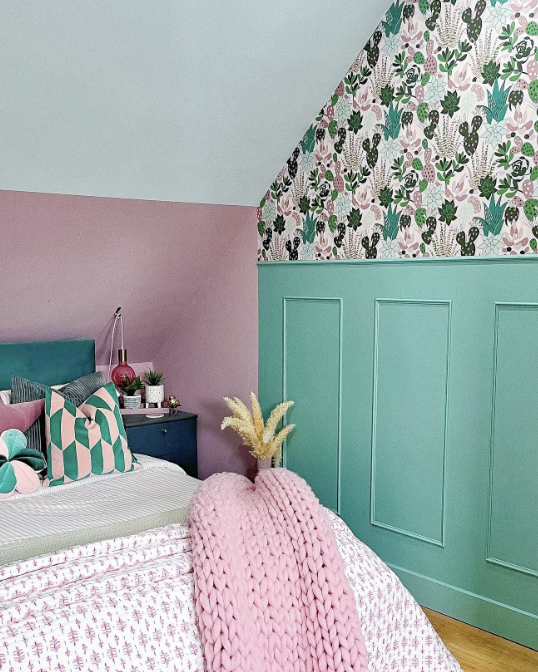 3. Use dark wallpaper to create a cozy and warm living room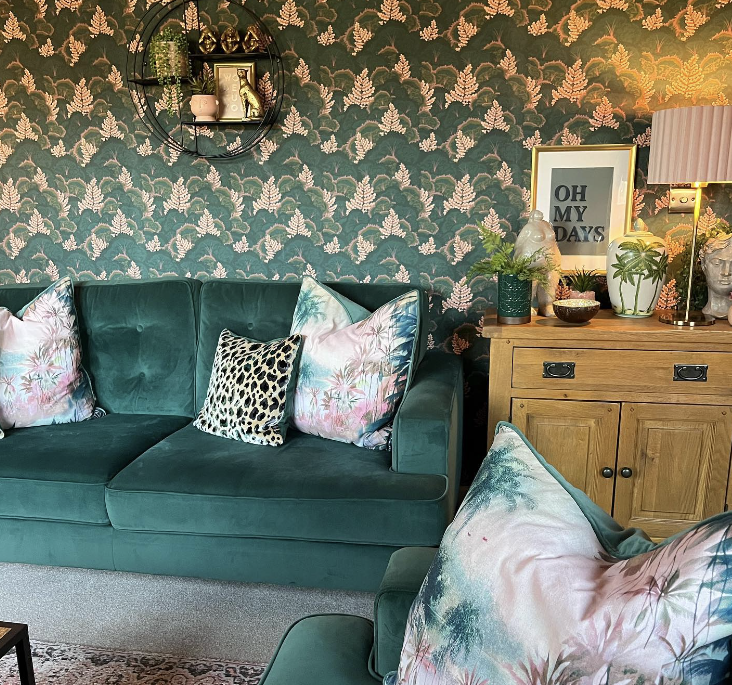 Dark patterned wallpaper can be an excellent choice for a living room as it can add depth, drama, and sophistication to the space. The dark background can create a sense of coziness and warmth, while the pattern adds interest and texture to the walls.
Additionally, dark wallpaper can be a perfect backdrop for artwork or other decorative elements in the room, allowing them to stand out and make a statement. With the proper lighting, furniture, and accessories, a living room with dark patterned wallpaper can be transformed into a stunning and inviting space that is both comfortable and chic.
4. Illustrative wallpaper is great for expressing creativity
Image by @melaniejadedesigns uses an illustrative wallpaper with bright colours to add a fun and playful element to the space, making it feel youthful and energetic. It also creates a focal point in the room, drawing the eye and adding interest to the walls. Visit https://www.melaniejadedesign.com/ to see more interior ideas by Melanie Jade Designs.
Illustrative wallpaper can be an excellent choice for a teen bedroom as it allows for personal expression and creativity. There are many different illustrative wallpaper designs available, from bold graphic patterns to whimsical illustrations, that can reflect a teen's individual interests and personality.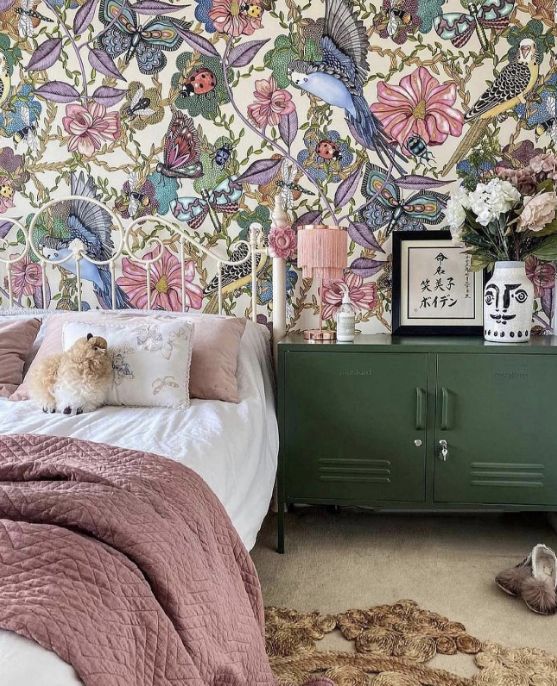 5. Combine neutral and floral wallpaper to create a serene bedroom space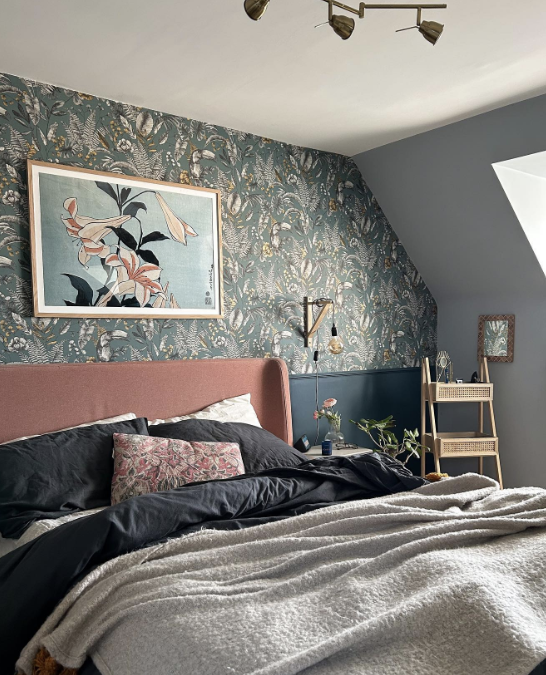 Image by @thehousewiththepinkbed fills the bedroom with different tones of green to create a serene and natural space in a way that brings in lots of character and depth. By adding the floral accent wall using wallpaper, the space has transformed into a fun oasis, with lots of colour that still feels in touch with nature. See what this bedroom looked like before on Instagram.
Floral print wallpaper is an excellent choice for an accent wall in a bedroom because it adds a touch of natural beauty and a sense of serenity to the space. The soft and delicate pattern can create a calming atmosphere and give the room a cozy and inviting feel. Additionally, floral prints are versatile and can complement a wide range of bedroom decor styles, from vintage to modern. Overall, floral print wallpaper can transform a plain wall into a statement piece and enhance the overall aesthetic of the bedroom.
6. Retro wallpaper in the kitchen to add charm
Image by @violetmayhome uses a glam retro wallpaper to fill the kitchen with colours and creates a jazzy and dark ambiance. We love how the black cupboards and dark accessories add to the style and mood of the kitchen that creates a charming and full-of-personality finish to the space.
Retro wallpaper can be an excellent choice for a kitchen because it adds a unique and nostalgic touch to the space. The bold and vibrant colors and patterns of retro wallpaper can create a fun and playful atmosphere and make the kitchen feel more lively and energetic. Additionally, retro wallpaper can be a great way to bring a sense of personality and character to the space and help it stand out from other rooms in the house.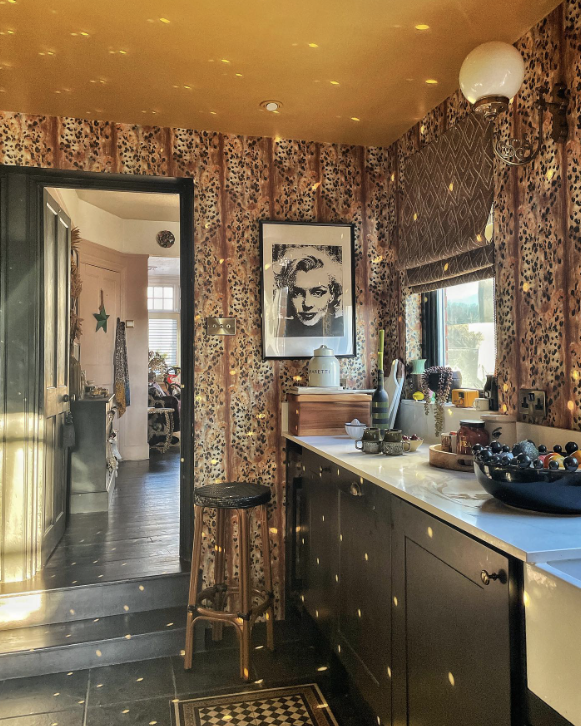 We hope our ideas have helped with your next DIY project, choosing the right wallpaper for your home is an important decision that can have a significant impact on the overall look and feel of your living space.
Consider factors such as color, pattern, texture, and room size when selecting wallpaper to ensure that it complements your existing decor and creates the desired ambiance.
Don't be afraid to experiment with different styles and patterns, and always remember to choose high-quality wallpaper that is durable and easy to maintain. By taking the time to choose the right wallpaper, you can transform any room into a beautiful and inviting space that reflects your unique sense of style and personality.