Modern ways to give your bedroom a makeover…
Are you ready to transform your sleeping space into a chic, stylish, and functional haven? Whether you're starting fresh or revamping your current bedroom, the possibilities for modern design are endless. From furnishing to colour scheme ideas, we've got you covered. In this article, we'll explore the latest and greatest in modern bedroom decor. Get ready to take notes and find inspiration for your own makeover!
1. Use cozy and colourful decor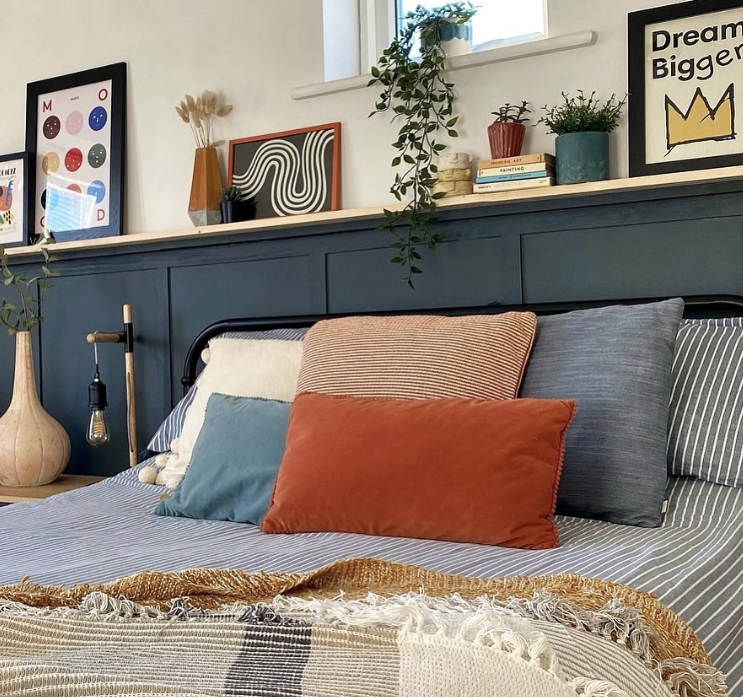 Combining dark, bold colours in your bedroom can be a great way to modernise your space. For instance, a bold colour such as dark blue can look warm by combining orange or dark yellow to make the space come together and feel bright and cozy. You can add elements of colour through artwork, bedding, rugs and curtains to complete the look.
2. Furnish your bedroom with modern mid-century decor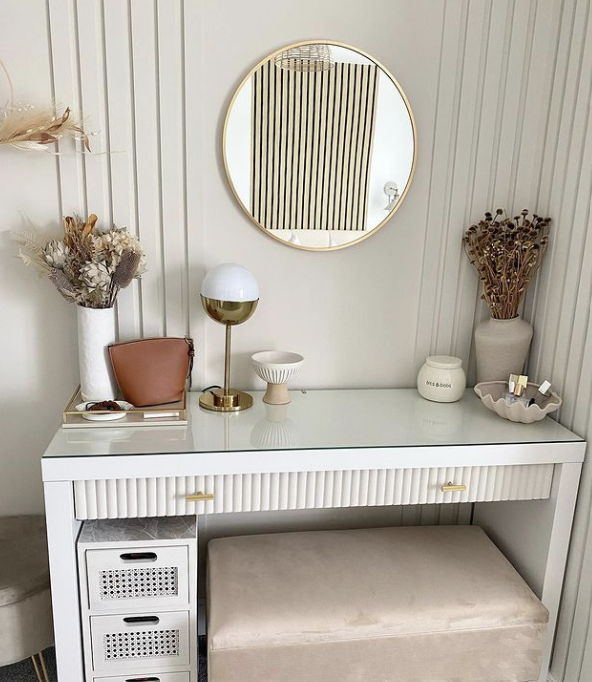 Styled by home_bye_ellie on Instagram: Create a stylish and functional space in your bedroom, just like this gorgeous dressing table that looks sleek as well as being functional for a modern bedroom look.
Characterized by clean lines, minimalism, and a focus on functionality, mid-century furnishing is a great addition to your bedroom. For a fresh and modern take, pick our furniture that is sleek with clean lines and simple in design with good storage and is useful to your space.
Budget-friendly tip: You don't have to purchase an authentic piece of mid-century furniture to get the same look, you can also consider buying reproductions that are made with the same style and aesthetic in mind.
3. Introduce industrial style decor to your room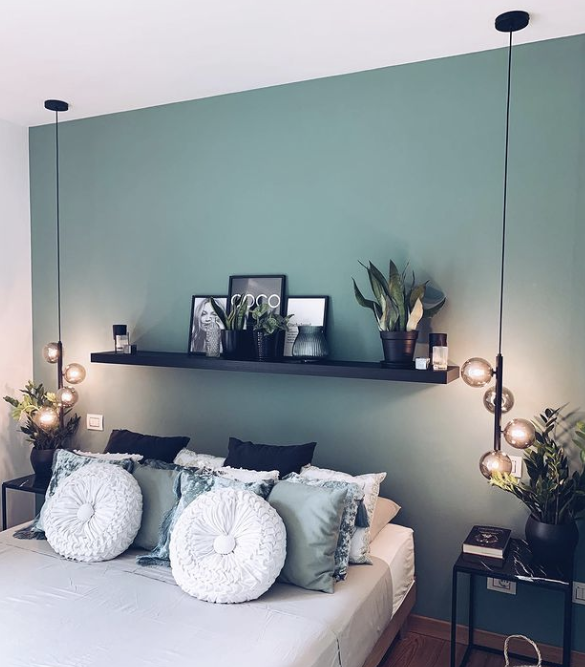 Add industrial elements to your bedroom such as hanging lighting, like this warm and edgy bedroom design by _hollyandherworld_ via Instagram.
Infusing elements of industrial interiors, which are typically inspired by raw and exposed materials is a great way to give your bedroom an edgy look. Industrial style is versatile and can be tailored to suit any taste, from minimalist to more ornate looks. Examples of industrial decor include reclaimed wood, hanging bare bulb lighting and metal framed bed.
4. Keep it neutral for modern elegance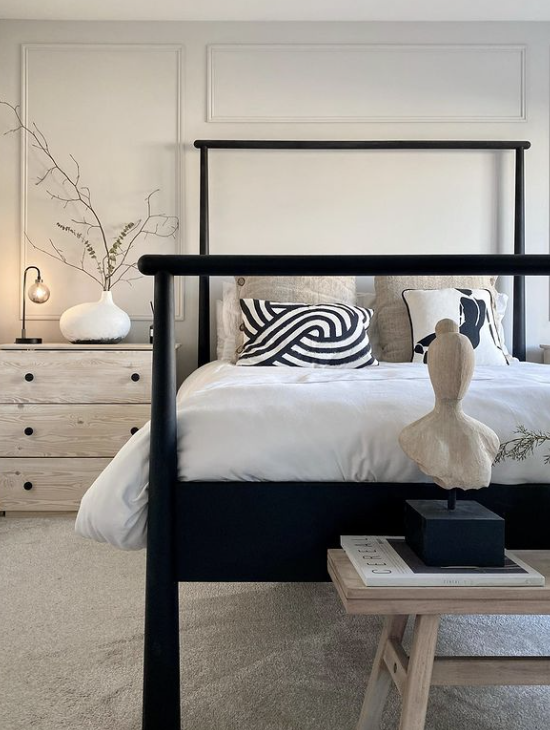 Cream is a wonderful neutral colour which can be paired with bold black elements to shape the room, just like this cozy and modern bedroom design by home_with_candy_sky via Instagram.
There are many reasons why you should consider using a neutral colour palette, which primarily consists of white, beige, gray, and black. Neutral colors tend to have a calming effect, making them a good choice for spaces such as bedrooms. Additionally, neutral colours reflect light, making a room feel brighter and more open even in low light conditions.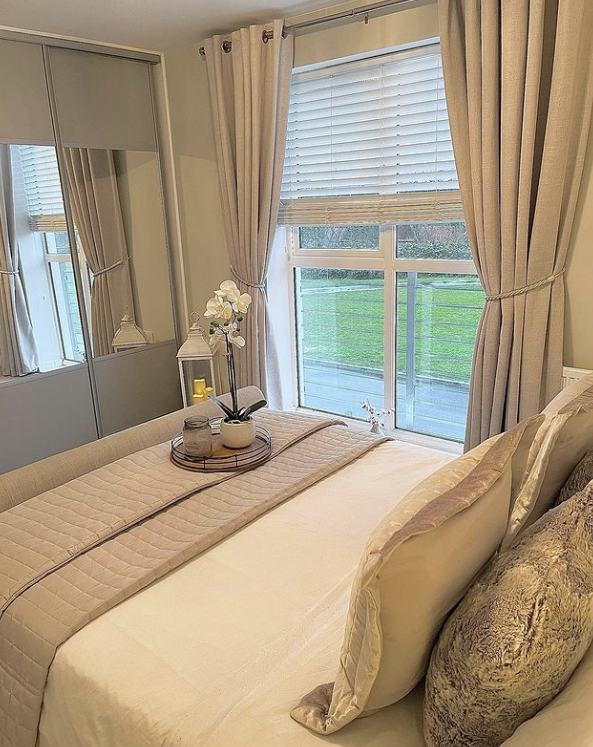 Calming cream colour palette for a small bedroom, styled by Becks_hewlett via Instagram.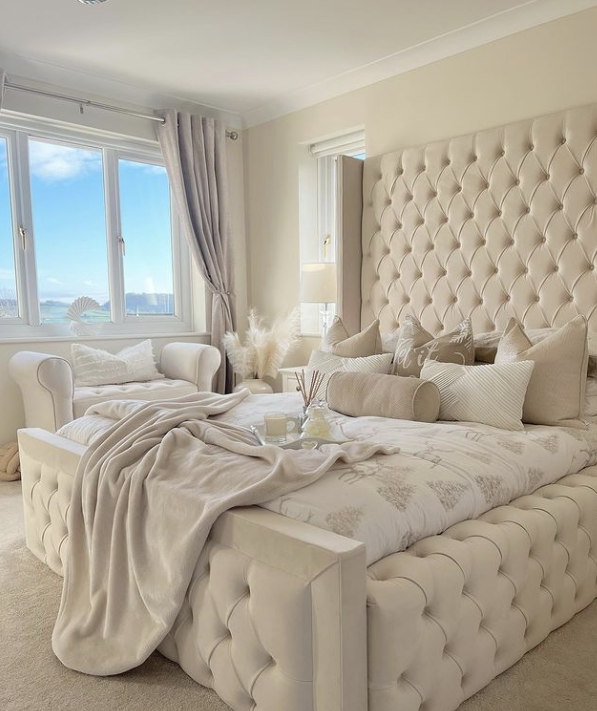 Image by @thewisteria.home uses a statement bed with a large headboard to give the bedroom a cozy look using one tone of cream to create a snug look.
Beige is a warm and neutral color that can be incorporated into your bedroom to create a soothing and calming atmosphere. This can help promote relaxation and restful sleep by decorating your bedroom with a light various tones of beige.
5. Style your bedroom with a classic colour scheme for coziness
The bedroom is typically a room that you'll want to keep timeless to avoid constantly redecorating. A great way to make your bedroom stay in style is to use a classic colour scheme such as black, grey and cream. These colours will not only be classic when combined, but they'll look and feel super cozy too!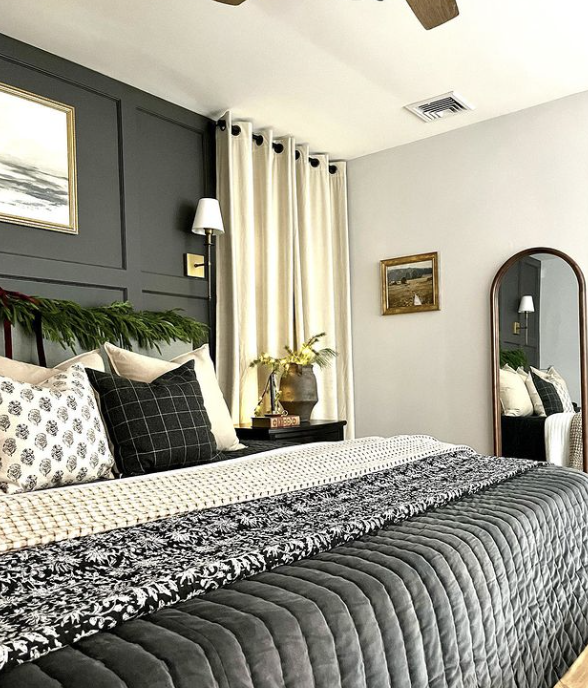 Elisa, from theedgewoodhome via Instagram shares with us her tips on how to create this beautiful bedroom look:
To create a cozy primary bedroom retreat, consider incorporating the following elements:
Comfortable bedding with soft sheets and a cozy comforter, duvet, or quilt
Mood lighting, such as table lamps or wall sconces
A reading nook with a comfortable chair
Natural elements, such as plants or a piece of nature-inspired art
Personal touches, such as photographs or sentimental items
A clean and organized space
Calming colors and textures, such as neutrals, or natural woods and wools.
How to layer blankets and throws on your bed:
1. I lay my main blanket/duvet/comforter. Here I am using a velvet quilt from Target.
2. Then I folded another quilt in half and put it towards the pillows.
3. Next, I added my Kantha towards the foot of the bed but still overlapping the white quilt.
4. Lastly, I added the waffle blanket (my favorite) to top.
Follow Elisa from theedgewoodhome on Instagram for more DIY tips!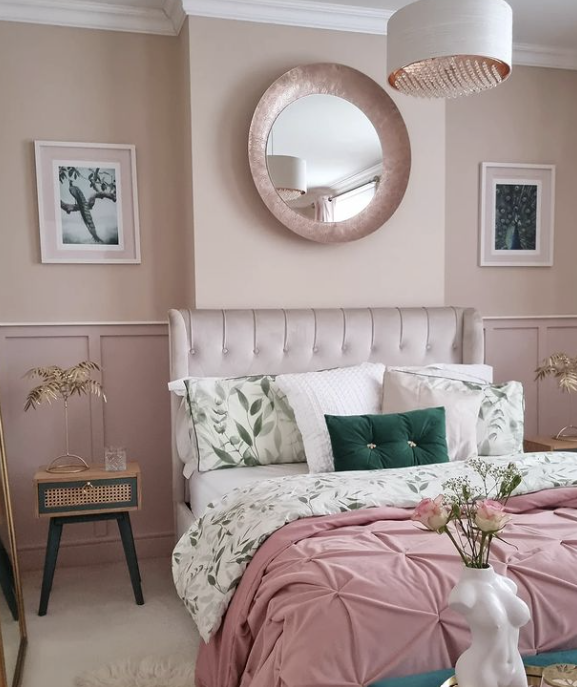 Create a calming bedroom space using a soft pink palette just like this beautiful design by ourwoodfield3storey on Instagram, using pink layering fora soft interior look.
Pink is a calming and cozy color, perfect for creating a warm and welcoming atmosphere in a bedroom and can be used in a neutralway for a modern space. It's known for its soothing properties, making it a great choice for a relaxing space. Pink also adds a touch of sophistication and femininity to any room, making it a perfect choice for those who want to create a peaceful and stylish retreat. Whether you choose a soft, blush pink or a bold, fuchsia shade, a pink bedroom is sure to become your new favorite place to unwind and recharge.
6. Eclectic style with a mix of different design elements and colors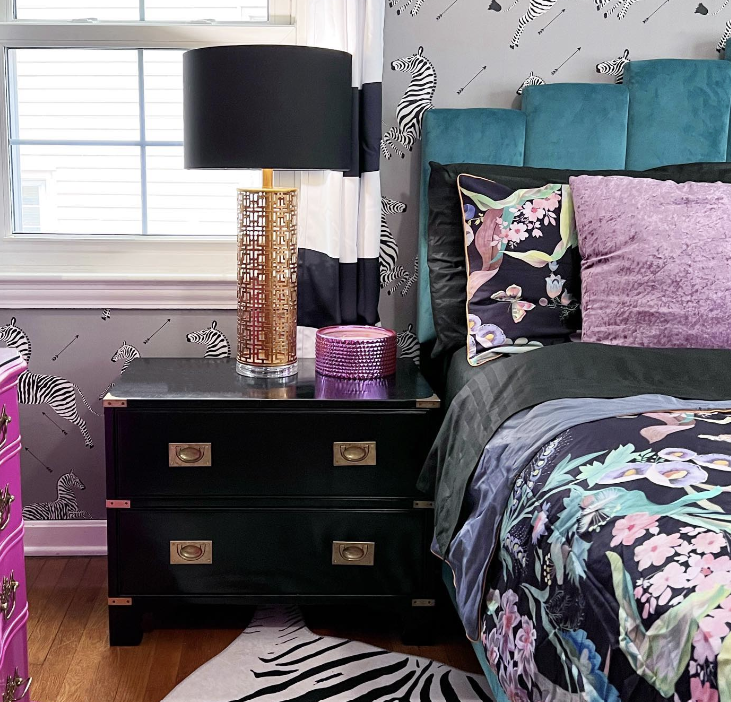 Mix and match your decor styles like this fun bedroom design by stephaniemichelle_athome via instagram. Allow for black decor in a colourful room to break up colours, like this fun purple and pink bedroom design.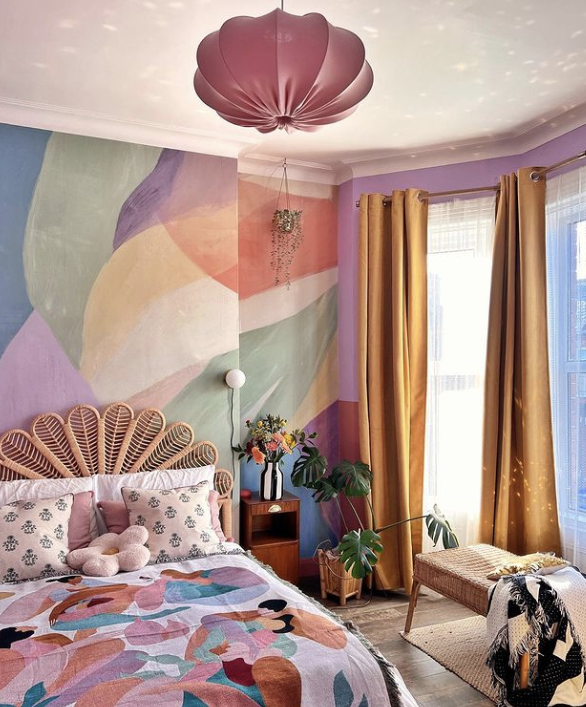 Image by @letsby.avenue uses bright hues of pink with orange, green, and blue to create a serene bedroom space that is full of colour and character for a modern look.
Eclectic decor involves combining various styles and elements to create a unique and personalised space. To use eclectic decor in a bedroom, start by choosing a color palette that ties together different elements. Mix and match patterns, textures, and materials such as rugs, curtains, and furniture pieces. Add personal touches such as photographs, art, and vintage finds to give your room character. Don't be afraid to mix and match styles, as long as they complement each other and create a complete look.
7. Coastal or beach decor to modernise and brighten up a bedroom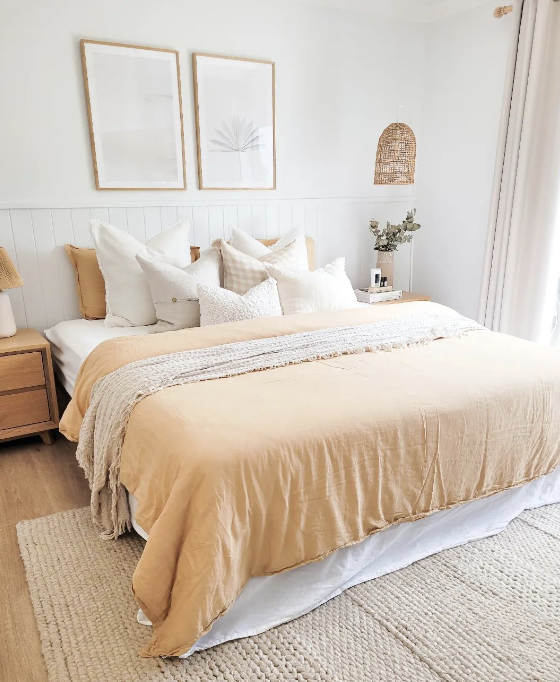 For a modern take on a coastal theme for your bedroom, take note from this bright and airy bedroom design by the_calm_coastal on Instagram. Introduce peachy colours and wicker style decor peices like lamp shades to tie the look together.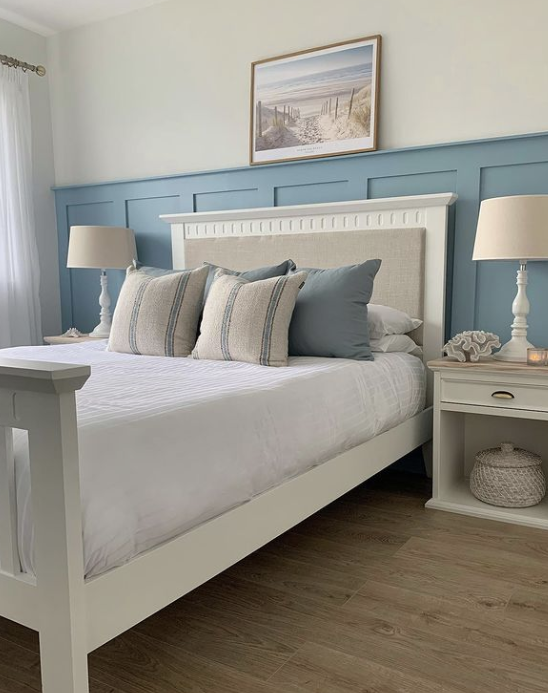 If you love blue, why not consider using a cream and light blue colour scheme to bring the essence of the beach into your bedroom. We love this look designed by dreah.home via Instagram with elegant blue panelling and soft cream walls and decor for a calming bedroom space.
Coastal and beach decor brings the peaceful, relaxed feel of the ocean into your bedroom. To create this vibe, choose colors inspired by the beach like light blue, sandy beige, and crisp white. Incorporate natural materials like wicker, jute, and driftwood into your furniture choices. Hang airy curtains to let in natural light and add texture.
8. Grey and white for a clean and calming space
White and grey are both popular choices for a modern bedroom style as they create a clean and calming atmosphere. The neutral tones also provide a versatile backdrop for other design elements such as bedding, decor, and furniture. Additionally, the use of white and grey can make a smaller space appear larger and more spacious.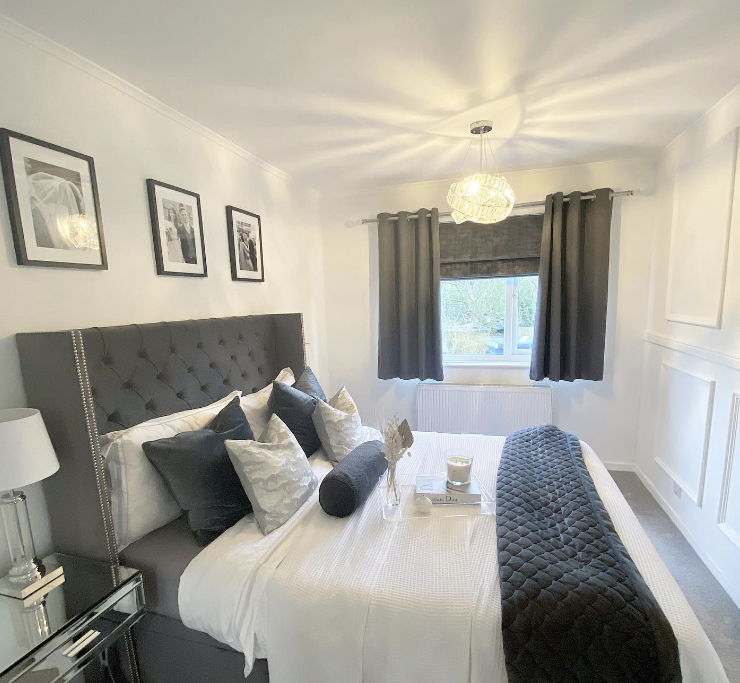 Image by @becomingthemasons uses white and grey to create a serene bedroom look with modern styles and textures such as panelling, artwork, and a luxurious bedroom to make the room feel opulent. Furthermore, adding reflective decor like the mirrored bedside table makes the space appear bigger.
Share your home style with us on Instagram for a chance to be featured on our grid and on our website!