Decorating your little girl's room can be an utterly fun thing to do for your child. If you're undecided on what theme to use or where to even begin, then you've come to the right place. We've gathered the best ideas from real homeowners that have decorated their girls bedroom and transformed it into a magical oasis that they'll enjoy for some time.
Continue reading to see the best girls' bedroom ideas below.
Add a touch of pink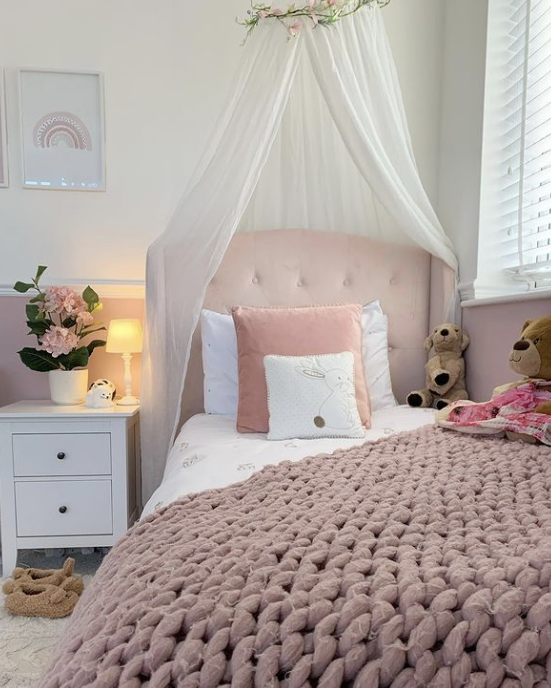 We love this timeless dusty pink colour used in a girls room for a classic and sopisticated look for a young girl that wants a grown up styled bedroom. This beautiful room was designed by _all.ingoodtime on Instagram.
Pink is a classic color for a girl's bedroom and can add a playful and feminine touch to the space. You can add pink accents through bedding, curtains, or even paint an accent wall. For a more modern and sophisticated look, consider pairing pink with other neutral shades such as white, gray or black.
Create a dedicated space to relax and play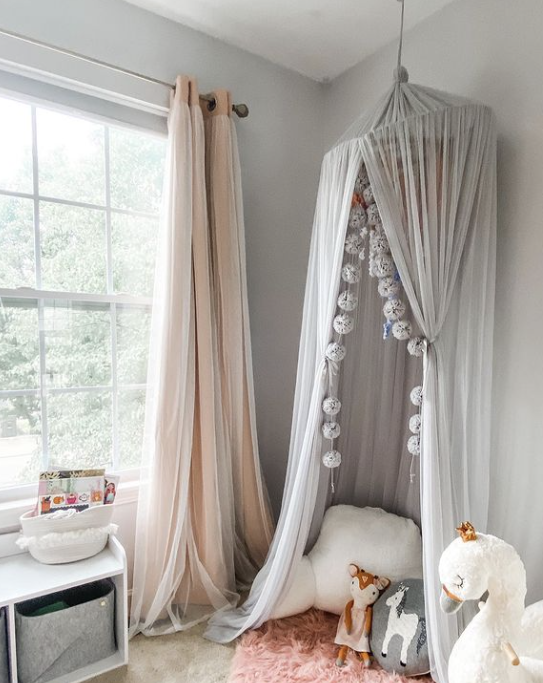 Be playful when it comes to creating a 'zen' space for your little girl's room. This beautiful bedroom design by homestead.interiors on Intsagram, uses a draped teepee to create a snuggle corner with pillows and plush toys.
Use the corner of your girl's room to be expressive and fill with her favourite things so that she can have them all in once space and they're easily accessible.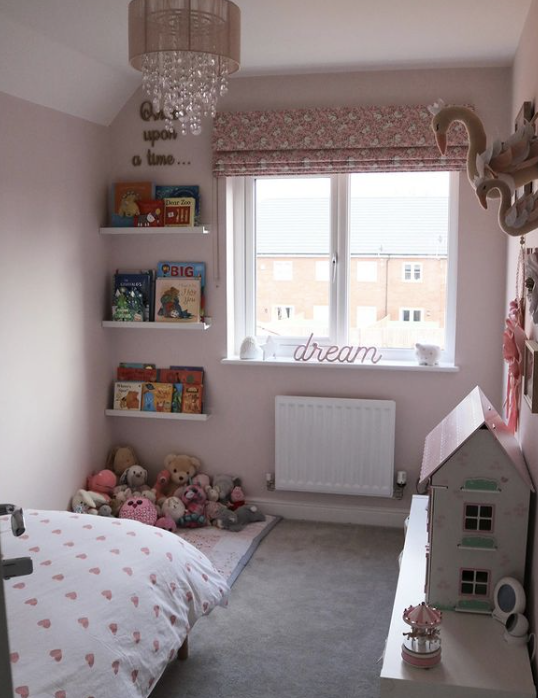 Bedroom by Our_redrow_warwick
Give your little girl a grown up space to explore like this gorgeous pink bedroom that has easy access to toys, yet has grown up decor elements such as chandelier lighting and a full size bed to make the room feel mature.
Layer patterns for texture in a girls bedroom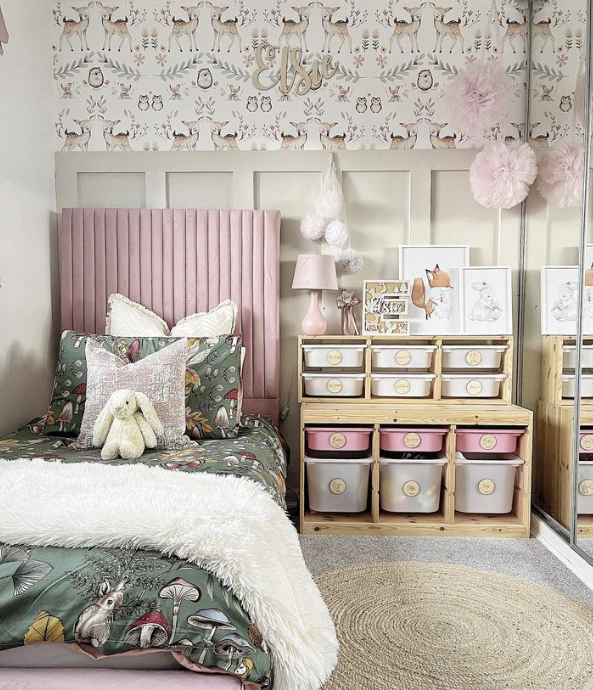 Use patterned wallpaper to bring out personality as well as mixing up prints with duvets to layer colours like this bedroom design by hannahs.home.styling. Break up patterns with panelling, which adds a sophisticated and grown up look to a girls bedroom.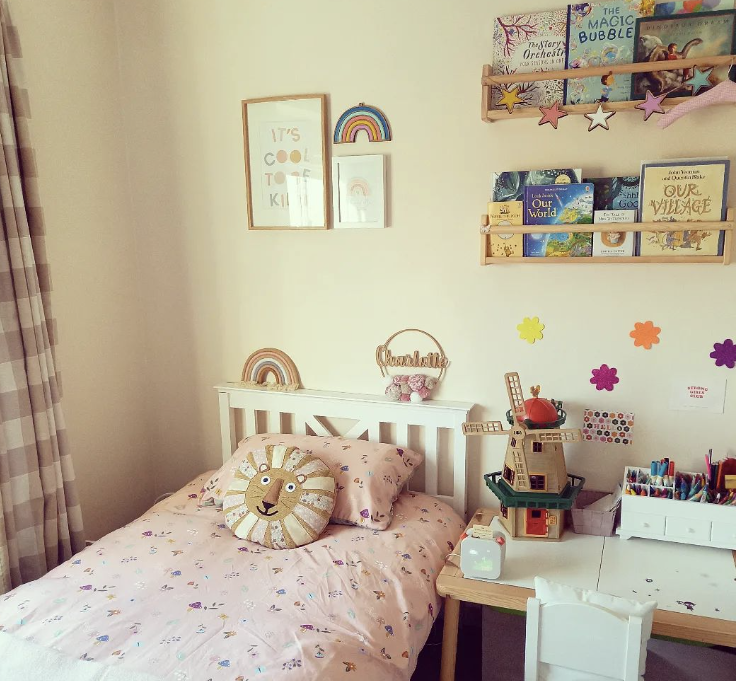 There are many ways to add patterns to a girls bedroom. This fun bedroom design by my_imperfectly_perfect_home on Instagram introduces pattern through bedsheets, curtains and wall art for a pretty and pink bedroom theme.
Patterns can add visual interest and personality to a girl's bedroom. You can add patterned bedding, curtains, or even a patterned rug to the space. Mix and match different patterns for a fun and eclectic look, or choose a single pattern and repeat it throughout the room for a cohesive look.
Combined style and storage together with a built-in bed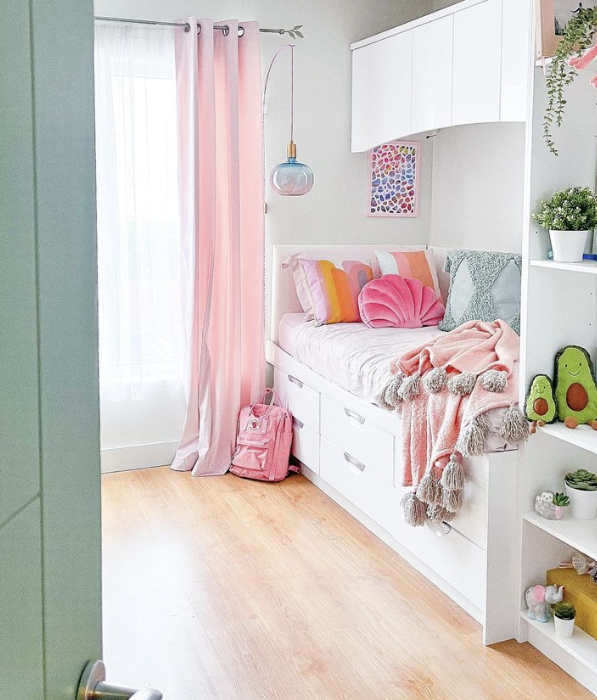 Gorgeous girls bedroom by hilaryscolourfulhome with built-in bed storage and open shelving for expressing personality through accessories, toys and decor.
A girl's bedroom is a space to express individuality, and to have space to do this is important. That's why is a good idea to decorate their room in a way that reflects their personalities whilst also offering ample places to store things.
Include fun artwork to bring our their personality
Add adorable framed artwork to your girl's bedroom to a cozy corner to create a space of relaxation for them to enjoy, just like this elegant design by athomewith_carrie on Instagram.
A gallery wall is a great way to personalize a girl's bedroom and add a touch of her own style. You can include photos, artwork, or even mementos from her travels or special events. Create a gallery wall that is personal and fun to make the room stand out.
Theme ideas for a girls room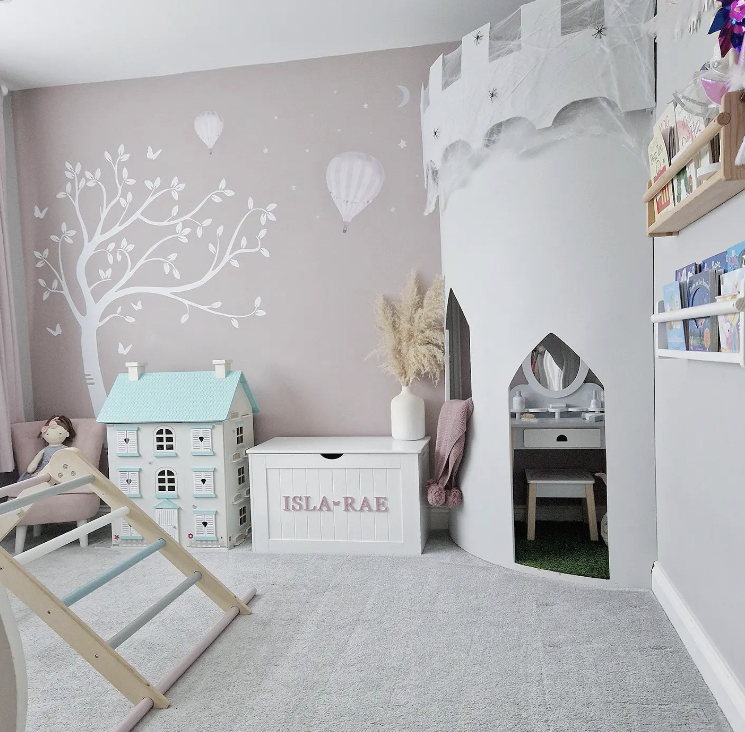 Create a magical space foryour daughter with a themed bedroom like this fairytale castle themed bedroom by inside_number_48 on Instagram.
Incorporate a theme: Incorporating a theme in a girl's bedroom can make it feel more special and personal. You can choose a theme that she loves, such as unicorn, mermaid, or even a favorite TV show or movie. For a more subtle approach, try incorporating elements of the theme throughout the room rather than making it the central focus.
Best theme ideas for a girls room include:
Disney
Woodland
Floral
Harry Potter
Bears
Mermaid
Unicorn