Are you looking for some tips to give a fresh look to your son's room? Don't worry; there are many ways to make a boys bedroom feel cozy and attractive.
Continue reading to learn how to make a boys bedroom feel fun, fresh and fabulous!
Skip to sections of this article:
Choose a bright colour palette to bring in the fun!
A great way to make a boys bedroom look fabulous is by choosing the right colours. Pick bold and bright colors, to make the room sensory and engaging. You can experiment with different shades of green, red, yellow and even purple; these are great choices for creating a fun atmosphere.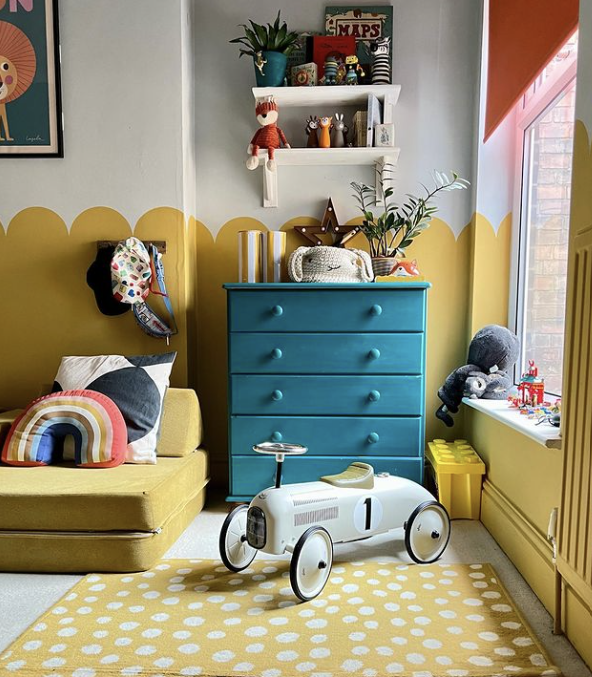 Give your boys room a pop of colour just like this gorgeous design by aflickofpaint on Instagram that uses yellow and blue to create a bold bedroom look for her son!
Use furniture that is comfortable and durable
Start by choosing a bed that's big enough for him to sleep comfortably; this will also give you more space when decorating his room. You should also consider buying a desk and chair set since most children are used to working in school; this will help them feel more at home while studying.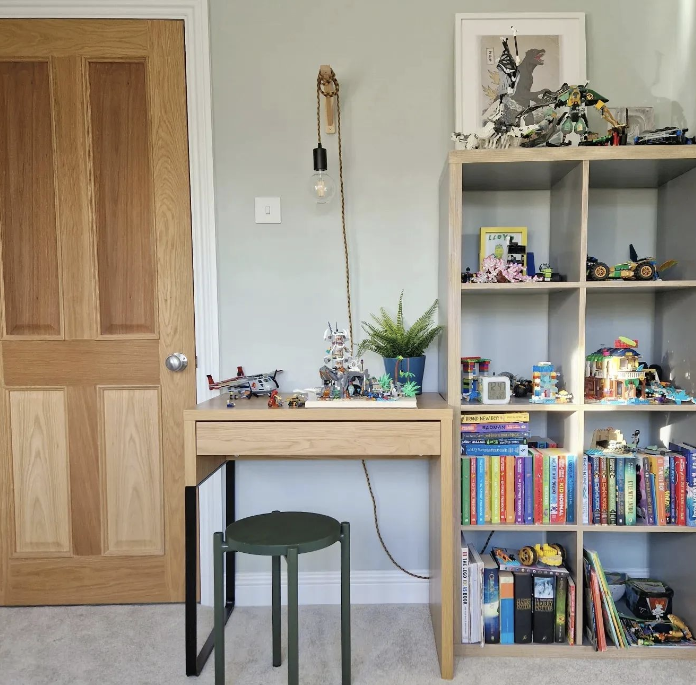 Create a functional space in your boys bedroom by including a desk and storage shelving to keep all his things in one place. Bedroom design by jade.lisa.interiors on Instagram.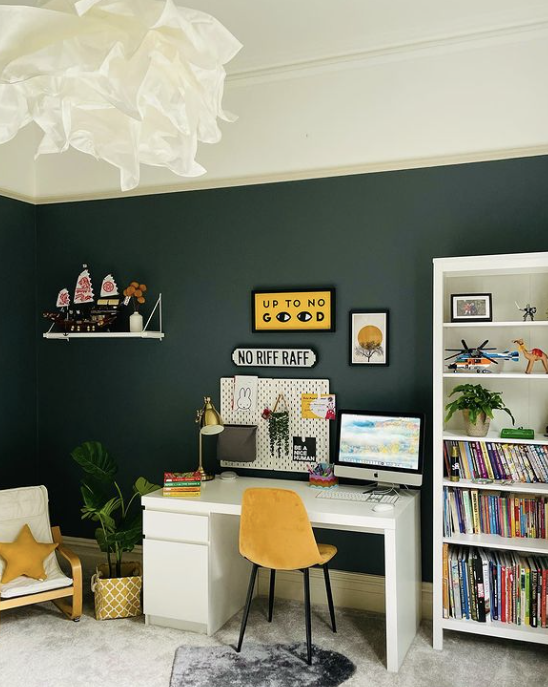 Fun desk and lounge space to bring in personality through colour. Bedroom design by 21holmfield on Instagram.
Adding bold colours to your son's media area is a great way to make the space feel fun and engaging rather than keeping to plain white walls. Furthermore, adding quirky artwork and signage is a lovely way to bring in his personality.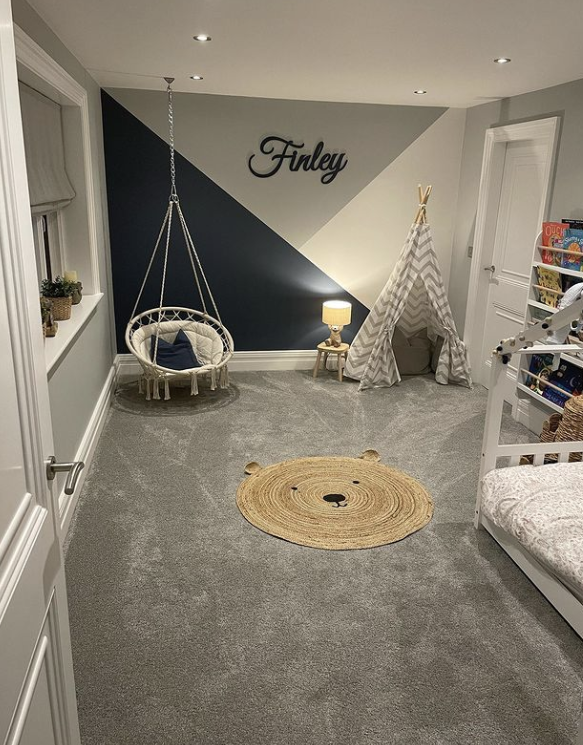 Bedroom by new_build_walden uses grey and blue to create a neutral bedroom space that is relaxing. Furthermore, the chill-out spaces such as the swinging chair and teepee add social and relaxation spots to the bedroom for reading and relaxing.
Storage is key to keeping things organised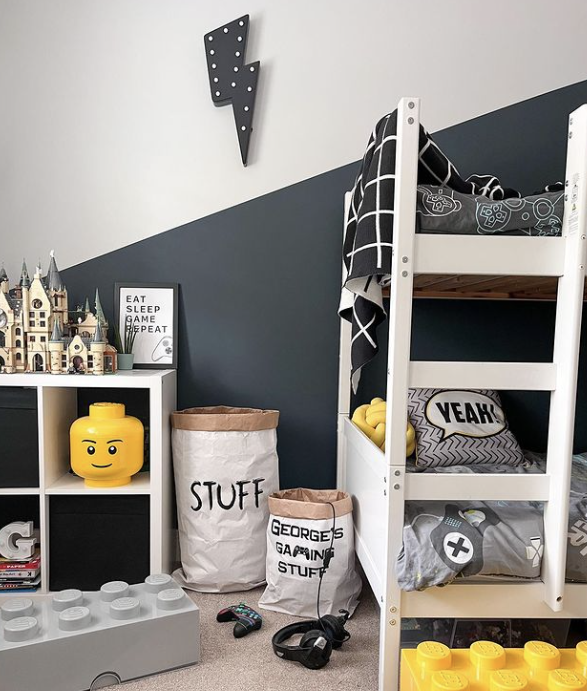 Fill your son's room with fun storage solutions, such as 'stuff' bags like this fun bedroom design by no1_on_the_grove on Instagram.
Decorating a bedroom for boys can be a challenge. Kids tend to be messy, so you might want to get them a big toy box to keep their stuff organised and make cleaning easier. Use a contrasting color for your bedding – usually black, white, or grey. Mix up the prints on the bed so it's unique and personal – add some neons or graphics to really jazz it up. When choosing toys, think outside the box – there are expandable and collapsible storage cubes that help keep everything neat and tidy.
Add a play area into your boys bedroom for them to explore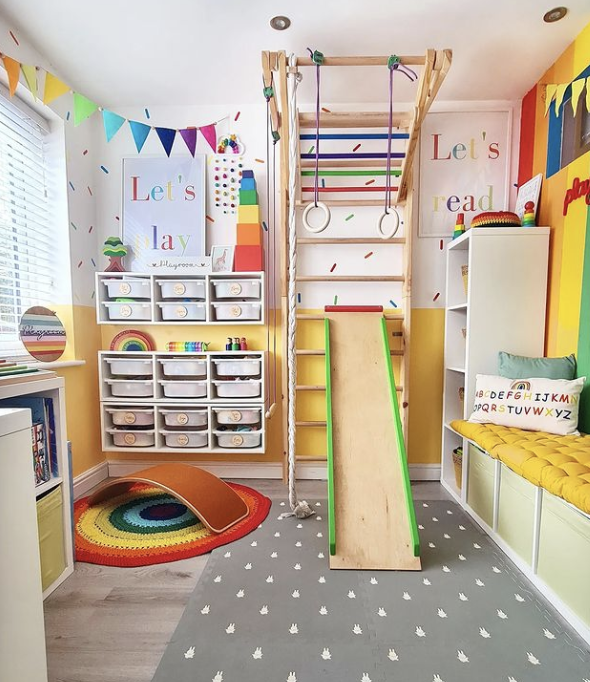 Fun boys room bedroom design by my_persimmon_home on Instagram uses plush cusions, rugs, and comfy textiles to make a boys bedroom comfy, fun and bright!
Add a fun play area into your boy's bedroom to keep them entertained and to give them a place to play freely. Incorporating storage units and colourful decor is a great way to give your son's room a playful touch.
Including a play area in a boy's bedroom is a great idea for many reasons. Not only will it give them a dedicated space to let their imagination run wild, but it can also help to keep the rest of the room more organized and tidy. Plus, it's a fun and creative way to add some personality to their room. Whether you choose to install a play tent, a built-in fort, or a custom playhouse, the options are endless and sure to make your little one's space extra special.
Use a theme for your boy's bedroom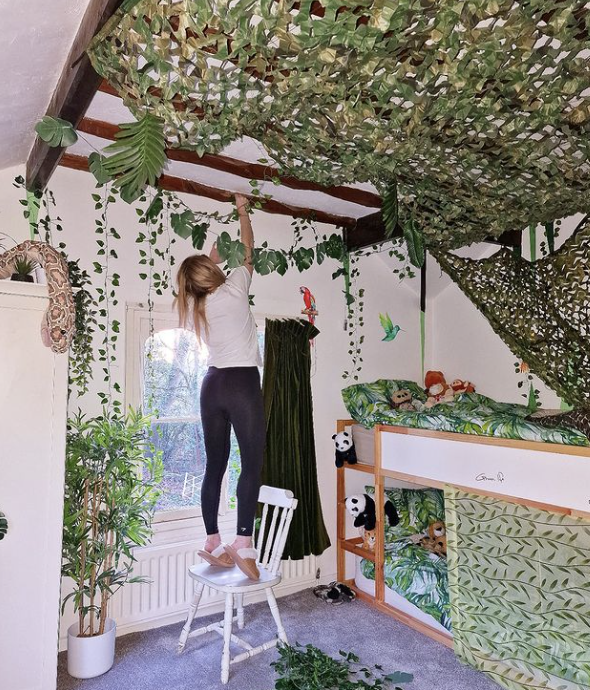 Gorgeous jungle theme bedroom with lots of green to brighten up a white room. Bedroom design by house_to_home_by_nc on Instagram.
A jungle theme for a boy's bedroom is an excellent idea for many reasons. First of all, it's a fun and adventurous theme that can spark their imagination and creativity. Plus, it's a great way to add some personality and color to their room. Jungle-themed decor can include anything from safari animals, lush greenery, and natural elements like bamboo or wood accents.
Additionally, it's also a versatile theme that can grow with your child, from a baby room to a teenager's room. Plus, it's a great way to incorporate some nature into their space, which can be beneficial for their mental and emotional well-being. So, if you're looking for a fun and unique theme for your little one's room, a jungle theme is definitely worth considering.
Top 5 themes for a boy's bedroom
Space: A space-themed bedroom is perfect for boys fascinated by the cosmos. You can decorate the room with planets, stars, and galaxies, as well as include elements like rocket ship beds or astronaut decorations.
Adventure: An adventure-themed bedroom can include elements such as maps, compasses, and outdoor gear. This theme is perfect for boys who love to explore and have a sense of adventure.
Transportation: Boys who love cars, trains, and planes will love a transportation-themed bedroom. This theme can include elements such as model cars, airplanes, and trains, as well as murals of roads and tracks.
Sports: Boys who love sports will love a sports-themed bedroom. You can decorate the room with their favorite team's colors and logos, as well as include elements such as sports equipment, pennants, and posters of their favorite players.
Superheroes: Boys who love superheroes will love a superhero-themed bedroom. You can decorate the room with posters, action figures and other memorabilia of their favorite superhero characters, as well as include elements such as superhero-themed bedding and curtains.