We've got plenty of pinkspiration for your next lounge renovation. From 'go-all-in-pink' to 'let's just add a splash' – our ideas have been plucked from our favourite Instagram homeowners to give you an idea of how to decorate a pink and grey lounge in many ways. 
Keep reading for our best pink living room ideas you wish you knew sooner!
Create a cozy corner in your living room with a blush pink velvet chair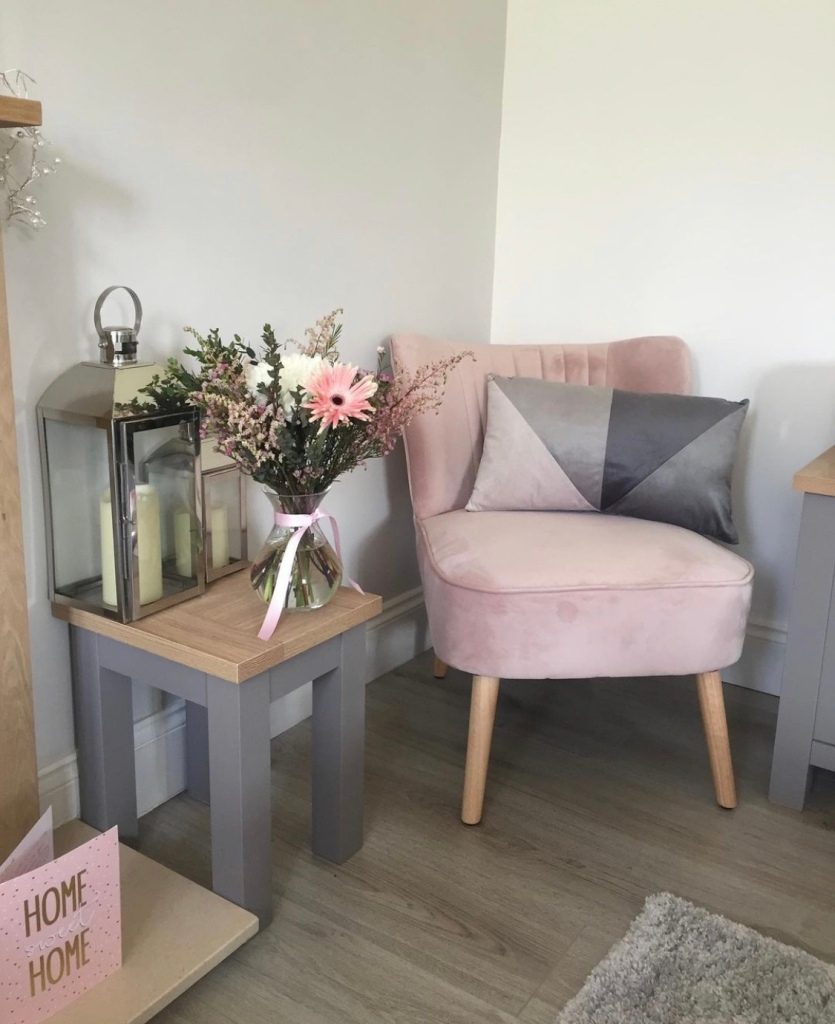 Image source @our_first_palace
Brighten up your living room with a cute and cozy nook for reading and relaxing, like this design by @our_first_palace. This is an easy way to trial out a splash of pink in your living room
If you don't want to make the full transition, and incorporating soft shades of grey and oak will make the space feel calming.
Glam grey living room with pink decor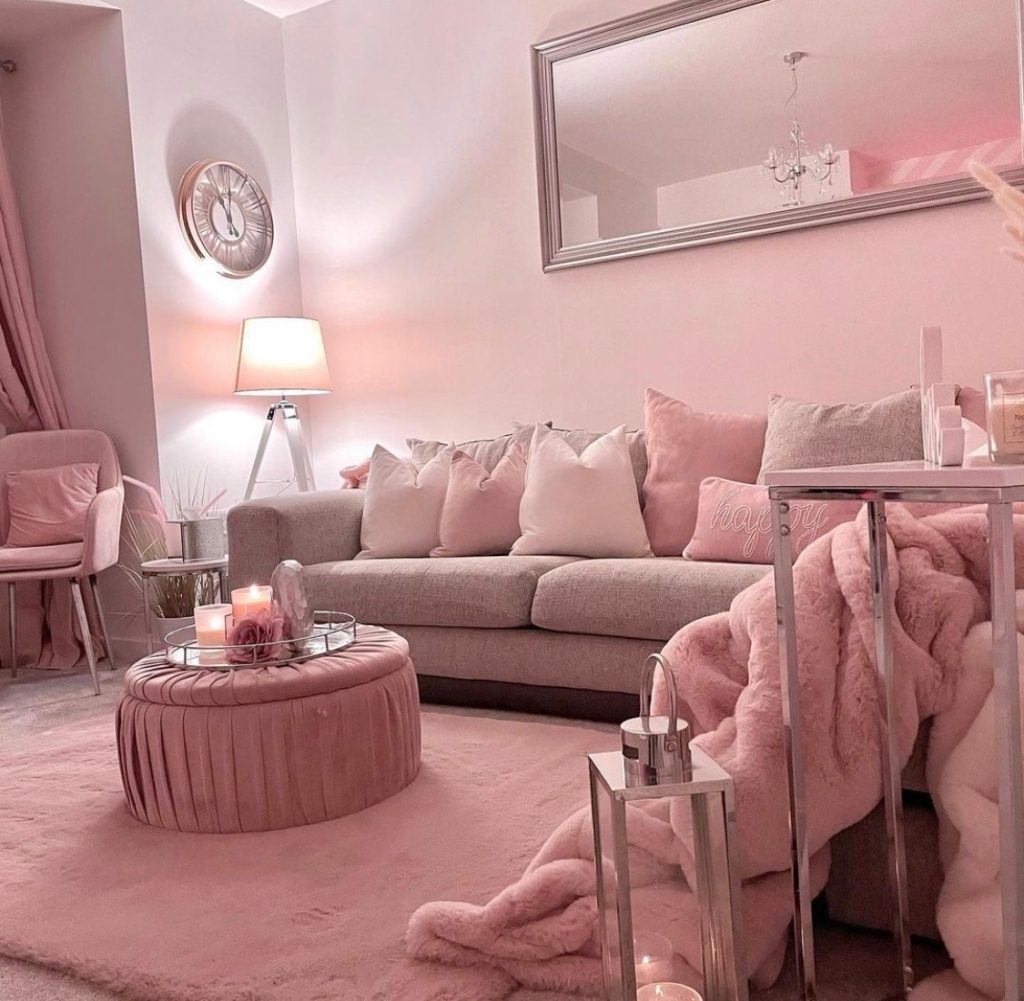 Image source @perfectpinkhouse
If you're wondering "what colours match my grey sofa" then look no further than this adorable pink and grey bedroom idea. It has all the features of a cozy living space; from the plush pillows and throws to the velvet coffee table and soft rug. The play on textures and the mood lighting in this living room transforms this space into a super relaxing den in the evenings.
Subtle pink decor in a grey and white living room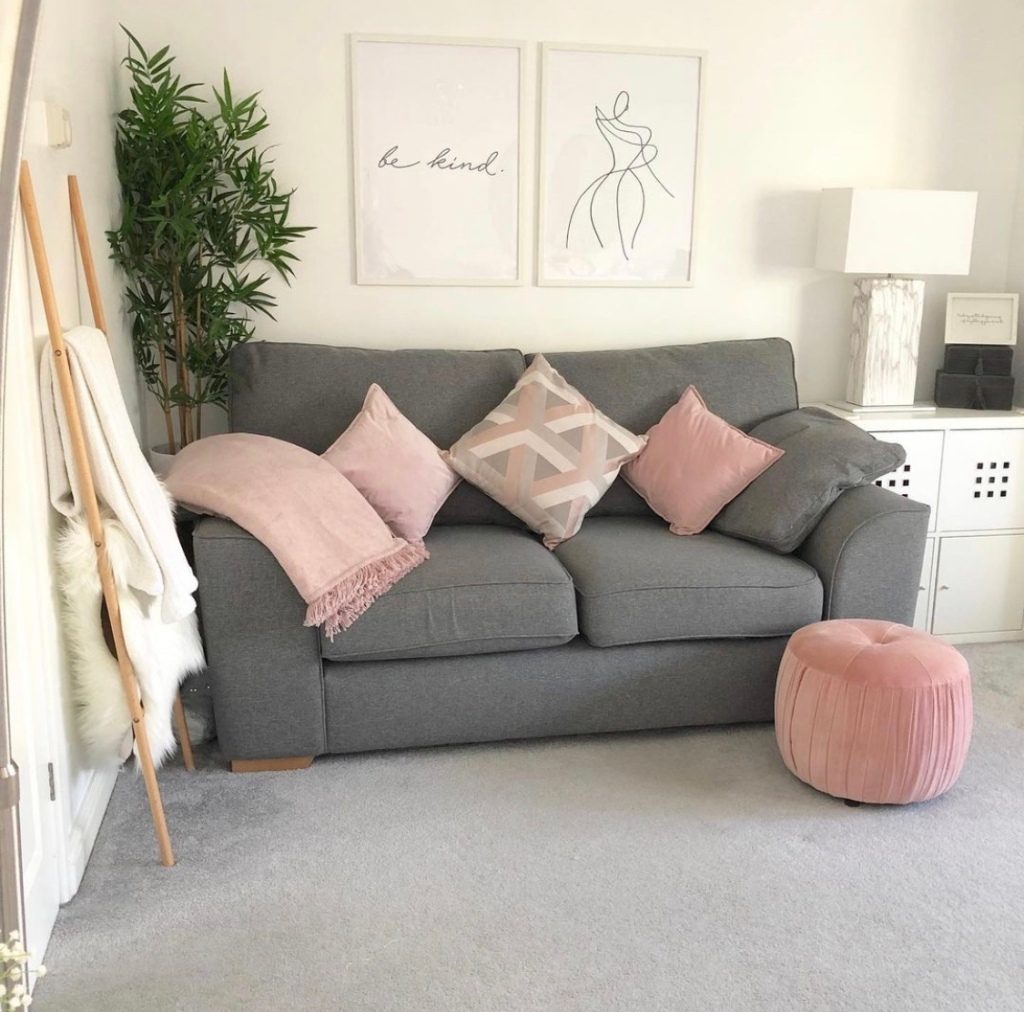 Image source @marblewhiteallthingsnice
Apartments and homes with small living spaces can often be hard to style, especially if you're looking to add a pop of pink into your interiors, as you don't want to overdo it.
This design by @marblewhiteallthingsnice challenges this by adding subtle decor that brings to life a modern white and grey living space with a wave of colour, which is perfect for homes looking for a splash of pink, rather than a complete transformation.
Pastel pink walls for a boho chic living room idea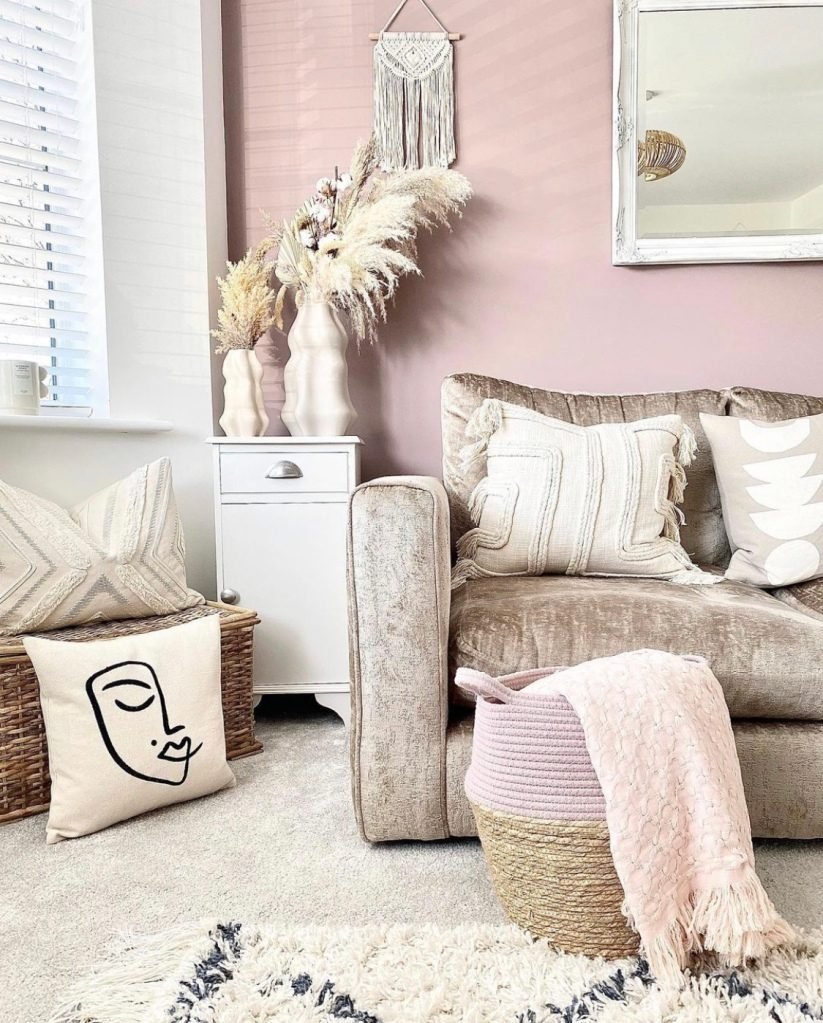 Image source @gabysbohohome
We love brave and bold interior choices on Style Your Sanctuary and this design is exactly that! The beautiful play on pastels in this gorgeous grey and pink living space is pretty, comfy, cozy and made up of all our boho dreams!
With an eye for detail, @gabysbohohome has created a magnificent space full of interior must-haves (erm, hello pampas grass) whilst still feeling minimal and clean. The use of textures, colours and furnishings makes this pink and grey living room modern and mature for all members of the family to enjoy.
Minimalist living room idea with pink curtains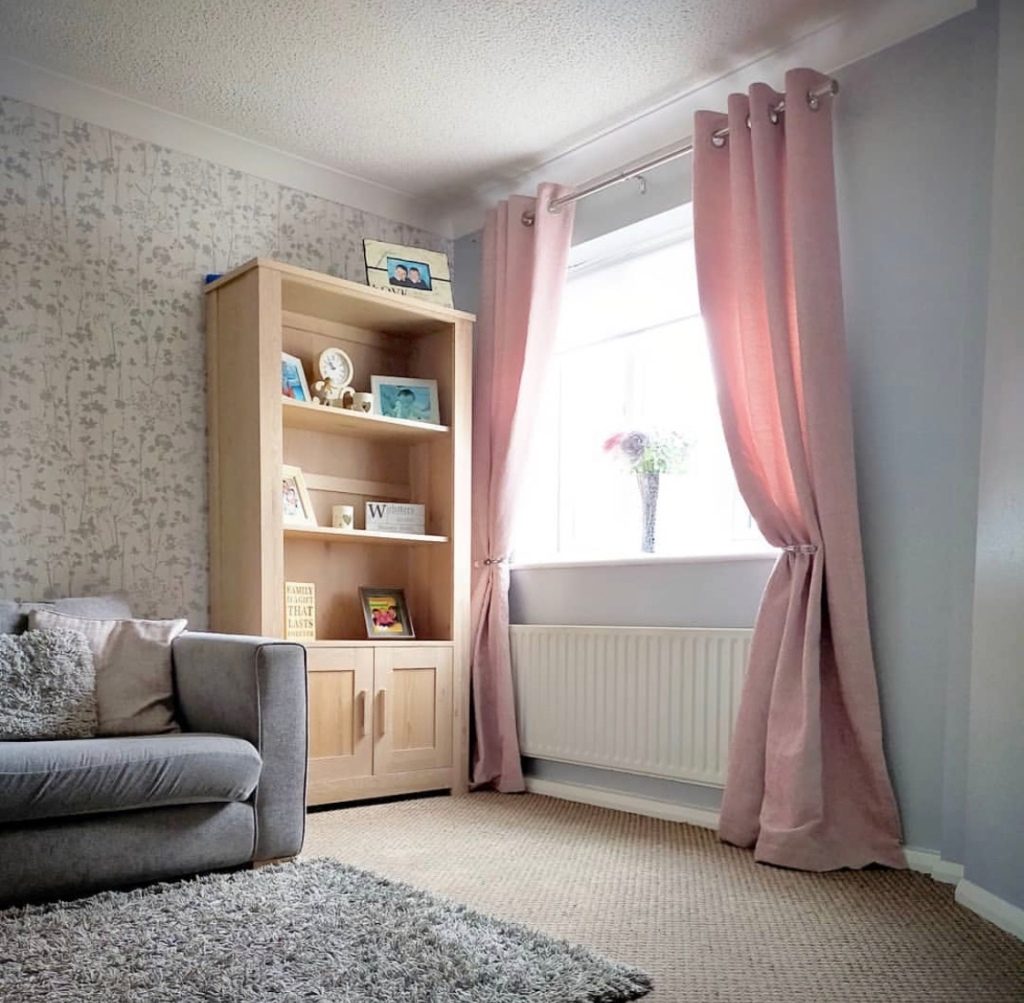 Image source @thehomethatbethmade
Adding pink decor into your living room can be as subtle as switching up the colour of your curtains. We love this grey living room by @thehomethatbethmade as it's stylish and functional. The pop of pink from the curtains is an ideal amount of colour to add if you're looking to spruce up the grey. Not only do curtains draw attention to your windows, but they add a sense of comfort to your living room the most simplest of ways.
Quirky living room idea with pink sofa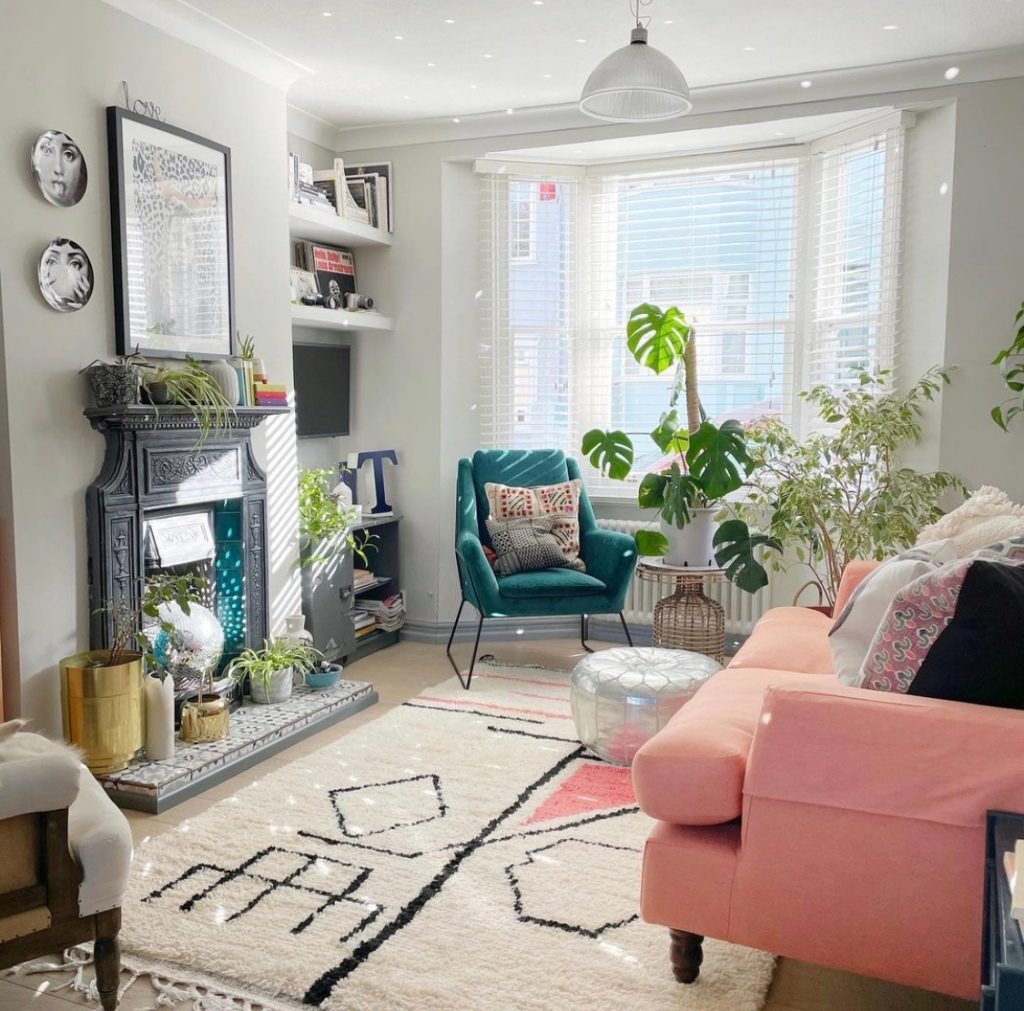 Image source @maxinebradystyling
Thinking of getting a statement sofa? This gorgeous pink sofa is the ultimate living room goal for that splash of colour and chic look.
This elegant and quirky grey and pink living room by @maxinebradystyling is the perfect abode for creativity. Where natural colours come together to create a space that is fun and bold whilst looking airy and bright.
This design cleverly uses pink decor in a clean way that doesn't over power the room and allows for soft furnishings and textures to create a space of coziness.
You can find more interior inspiration at maxinebrady.com
Pink accent wall for your fireplace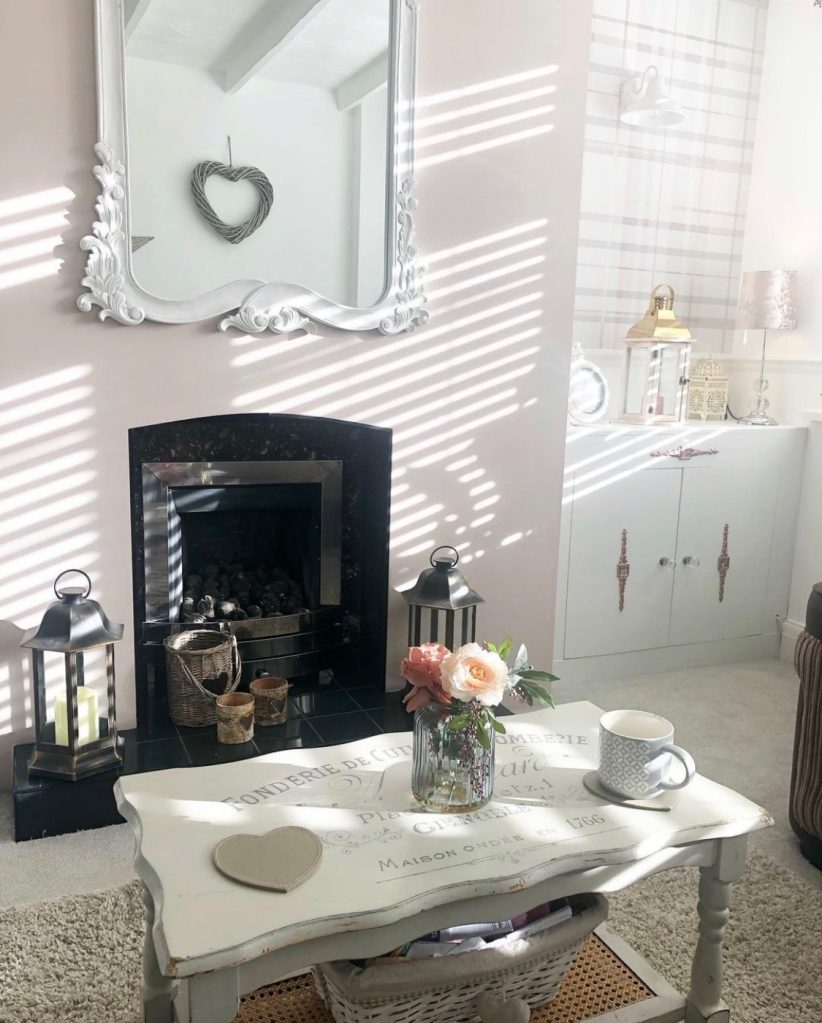 Image source @home_sweet_morris_home
Some say that accent walls are going out of style, but we bust that rumour all the time at Style Your sanctuary. This gorgeous grey and pink living room by @home_sweet_morris_home is the perfect example of how to decorate a fireplace with a dash of pink.
We love this pastel wall that pops against the bold black fire for a girly and glamorous look. Matched with white and grey furnishings, this living room has all the touches of an elegant lounge for putting your feet up and enjoying a chick flick.
Grey living room with pink round top footstool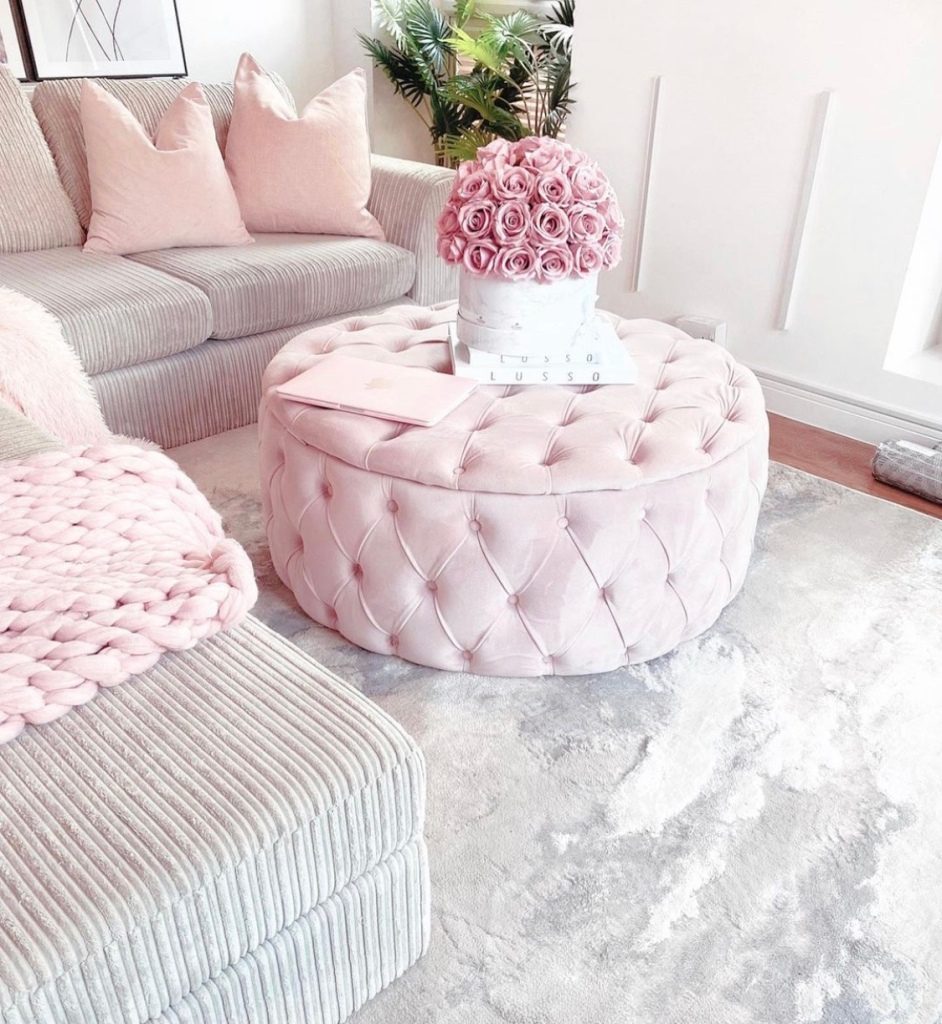 Image source @homeofcc
If you love the idea of having a soft and cozy living room, why not spruce up your light grey lounge with a touch of soft pink elements?
We love this design by @homeofcc that plays with texture to create a snug space. From the soft grey rug and matching sofa, to the subtle pink footstool and cushions, which contrast effortlessly against the grey for a gorgeous and glam living room design.
How would you Style Your Sanctuary? See more ideas below!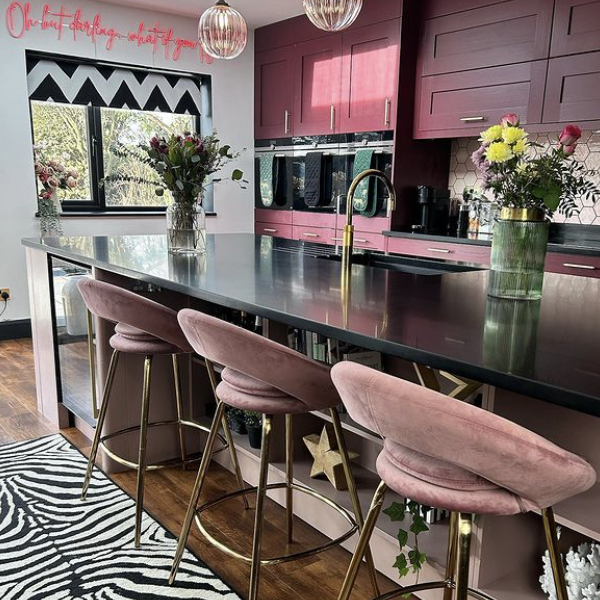 Advice Bathroom Bedroom Decor Inspo DIY and renovation Garden Interior Trends Kitchen Living Room Uncategorized