Are you looking to add a big impact to your bedroom style? An accent wall can elevate your space with lots of character. From colourful walls to decorating decals – this article will inspire your next project to help you design your accent wall in your bedroom.
Wallpaper bedroom accent wall ideas
Wallpapering one wall in your bedroom is a super quick and transitional way to add instant character to your space. These days, it's really simple to mix it up from time to time using stick-and-peel wallpaper. Also, with so many different designs and styles on the market, you're spoilt for choice.
Here are some of our favourite wallpaper bedroom accent wall ideas:
Wallpaper against beams for a country bedroom look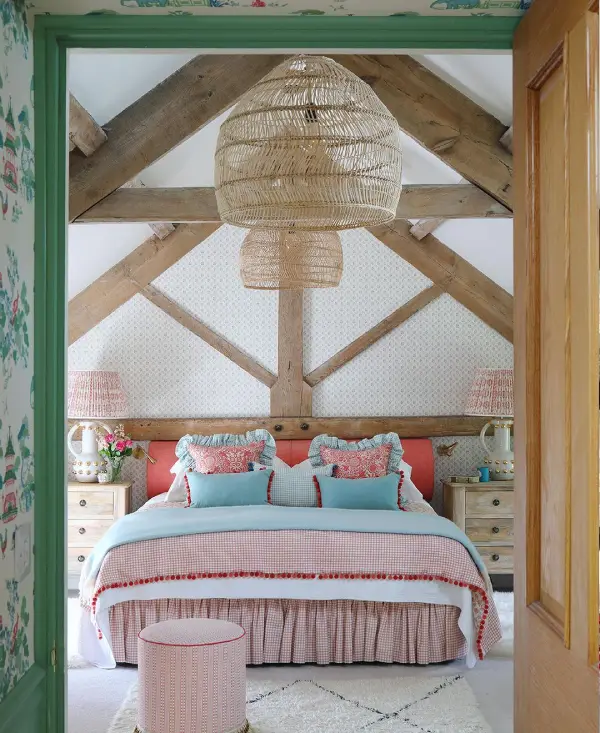 Image by @charlottegaisford on Instagram
If you have a cottage or country home with beams on the walls and ceilings, why not compliment your space with wallpaper? By using a subtle colour scheme and a repeated pattern that is relaxing on the eye, you can create a really lovely accent wall in your bedroom that brings out the traditional features of your home. We love what Charlotte has done in the photo above, you can see that the country aesthetic is enhanced with a subtle white and black wallpaper that adds texture without being overpowering.
Wallpaper and tall headboard accent wall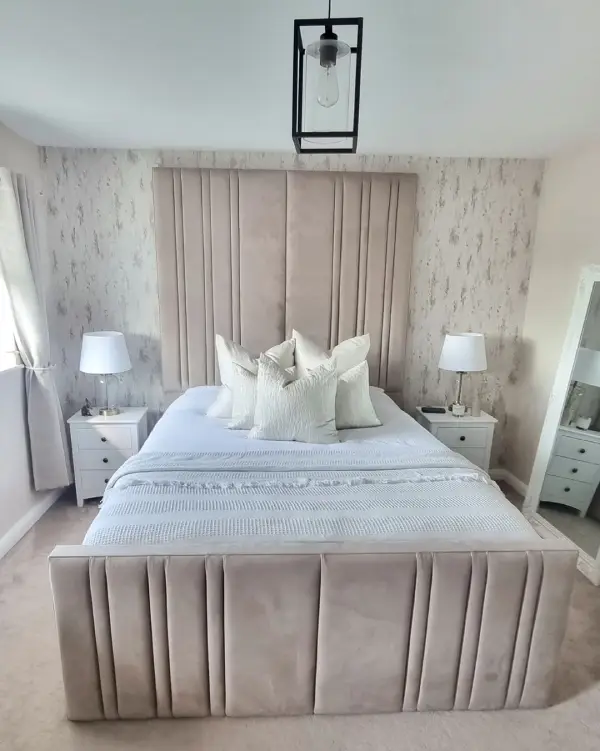 Image by @lifeatnumber_.10 on Instagram
A large headboard can function beautifully as an accent wall, its size commands attention, instantly becoming the focal point of the room. This draws the eye and creates a sense of balance and symmetry within the space, adding a touch of drama and elegance. Moreover, a substantial headboard offers an excellent opportunity to introduce color, texture, and pattern to the bedroom's design. Whether it's upholstered in a rich fabric, it can also break up the wall to add visual interest.
Combining wallpaper against a large headboard can work wonders in layering patterns and textures to create a stunning bedroom accent wall. Take notes of the bedroom design above, where the monochrome wallpaper offsets the dusty pink bed for a lovely neutral bedroom look.
Panelling bedroom accent wall ideas
Wall panelling is a popular accent wall trend that takes on many different styles. From traditional Victorian panelling to modern shaker panelling to slated panelling that is contemporary and versatile. If you're thinking about adding panelling as an accent wall in your bedroom, why not check out our wall panelling ideas by room page?
Slat panelling can add height to your accent wall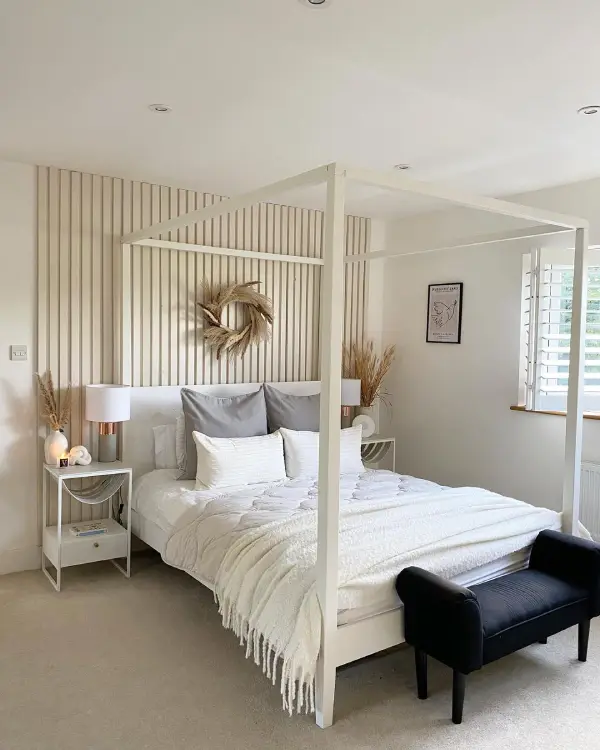 Image by @the_robinsonfamily_abode on Instagram
Slat panelling is a great accent wall feature in the bedroom as it can make your room appear taller, which makes it feel more open and spacious. If you love the neutral decor look, keep your slat panels natural for a calming look. We love this design above, which shows how a simple slat accent wall can add visual interest and harmony to the space. It also works well with the bedframe to prevent the space from looking closed in.
Painted bedroom accent wall ideas
Painting an accent wall in your bedroom can be done in many ways. Whether it's a bold colour to make your space pop, or a darker colour to add mood into the room. There are other ways that you can add character to your accent wall with paint too, such as painting your own mural or painting shapes to add pattern on your walls.
Pink bedroom accent wall idea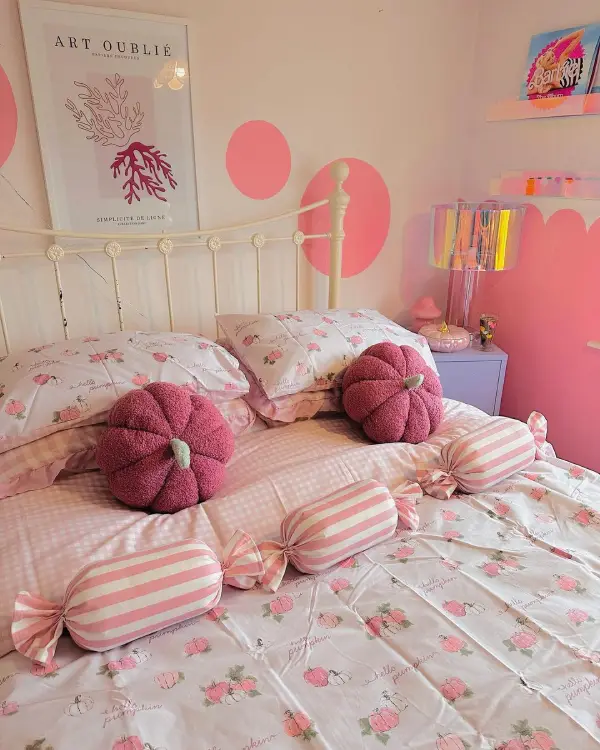 Image by @home_n_tidy_with_heidi_ on Instagram
Add a splash of colour to your bedroom with pink painted shapes on your wall. This technique is fantastic in adding character and unique style to your space. Whether it's circles, waves, lines clouds, organic shapes, or painted shapes can really add a sense of fun and adventure into your space. We love what Heidi has done with this fantastic pink bedroom. By using shales, that play off of the decor in the room, the look comes together to create a fun atmosphere that makes you look at every detail.
Gallery accent wall for bedrooms
Adding artwork above your bed is a great way to add character to your bedroom. Personalise your space with artwork, travel photos or your own creations to add visual interest, colour and depth to your bedroom accent wall.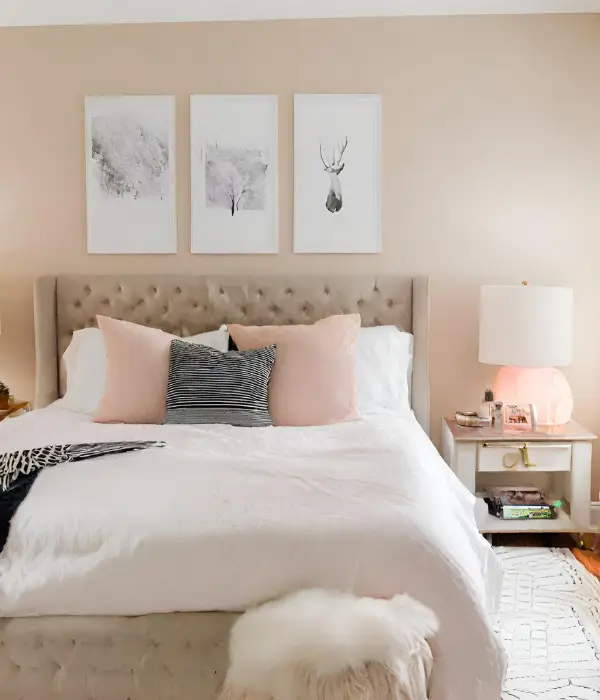 If you have a colourful bedroom, consider adding black and white artwork on your accent wall to break up the colour in the room and add harmony.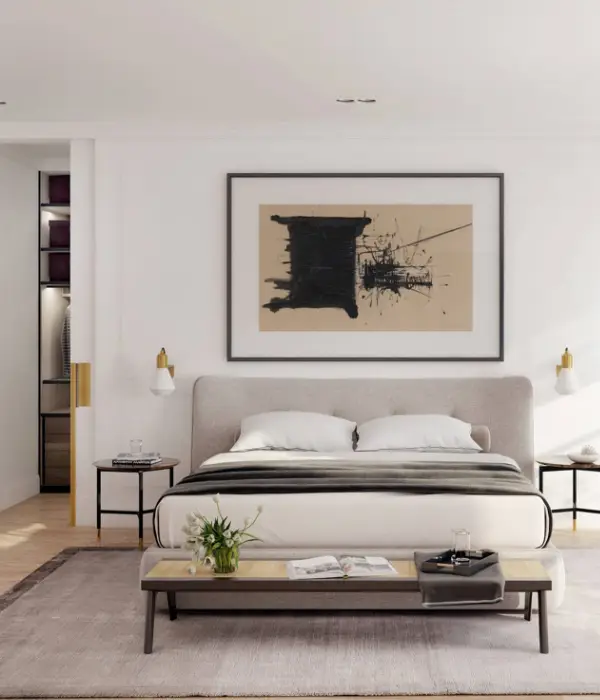 For a neutral bedroom, add modern and abstract artwork that reflects the decor of the room. Like the example above, where a large centrepiece artwork reflects the colours and shapes of the furnishings.
Bedroom mirror accent wall idea
Mirrors are fab in bedrooms for so many reasons. They are great for making small rooms feel bigger, and brighter and are perfect for getting ready! If you love lots of mirrors in your space, consider using decorative mirrors as an accent wall. Think of large vintage and ornate framed mirrors that span the length of your wall for a dramatic effect. Alternatively, you could mix and match framed mirrors and artwork for a maximalist aesthetic.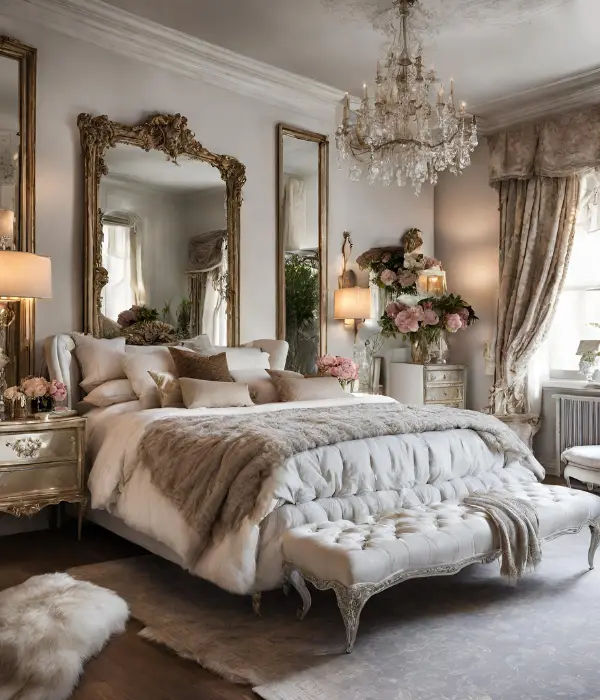 If you love a modern and neutral bedroom look, choose a simple mirror to go above your bed that has simple detailing, but can still over plenty of style for your space.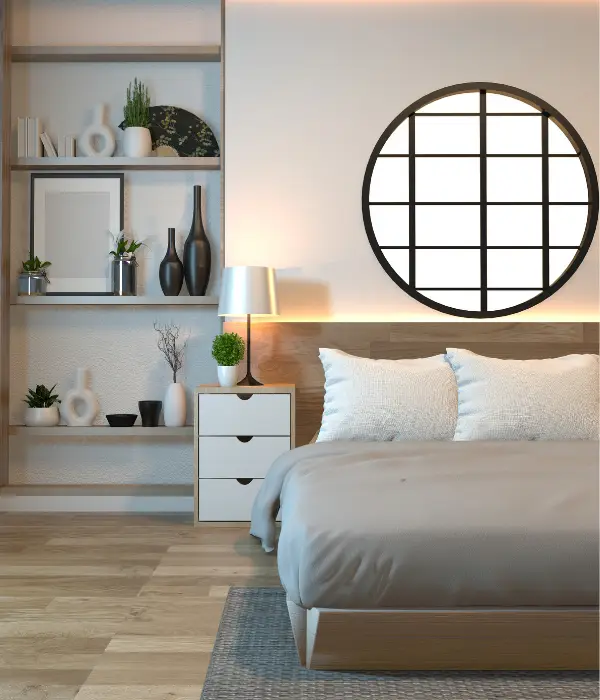 Boho bedroom accent wall idea
Covering your wall with tapestry is a fun way to add texture to a boho bedroom. With many styles on the market in various colours, you can find many designs that suit your room's colour and vibe. If you've got a neutral space that you're looking to add boho flare to, adding tapestry is an instant way to incorporate pattern, and to create a fun bedroom accent wall.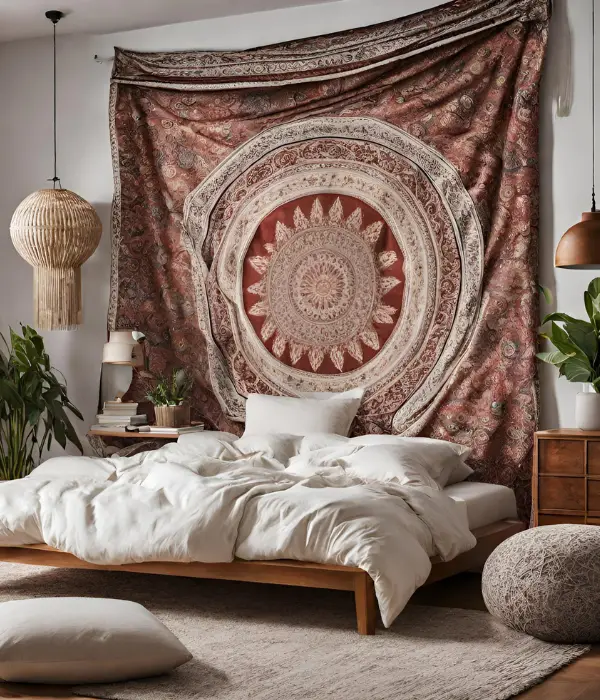 Another great accent wall feature for a boho bedroom is open shelving. Choose rustic wooden floating shelves and dress them with draped plants, artworks, books and candles for an aesthetically pleasing accent wall.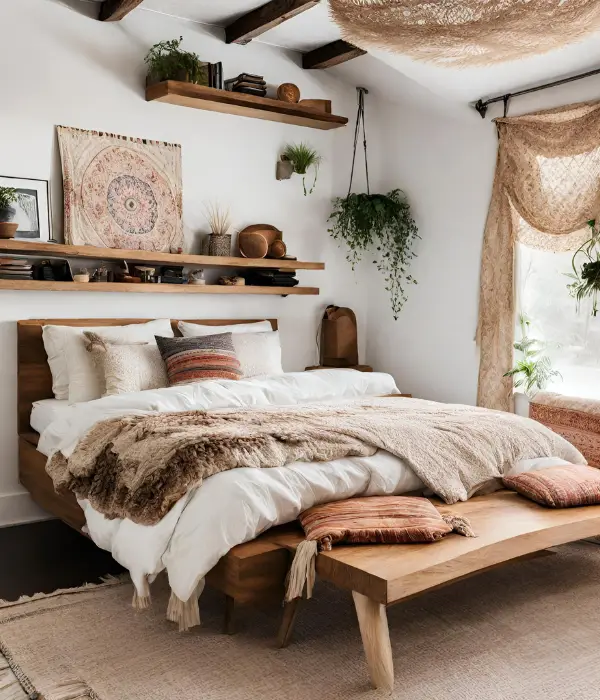 Rustic brick accent wall for bedrooms
Bring in the rustic charm with a brick accent wall to your bedroom. A brick wall works with many styles, such as a country or cottage home, industrial and modern style home. Depending on your preference, compliment a brick accent wall with furnishings and decor to match the aesthetic you are looking to achieve. Below is an example of a modern industrial bedroom with a brick accent wall, which infuses lots of materials, from marble to metallics for a modern look.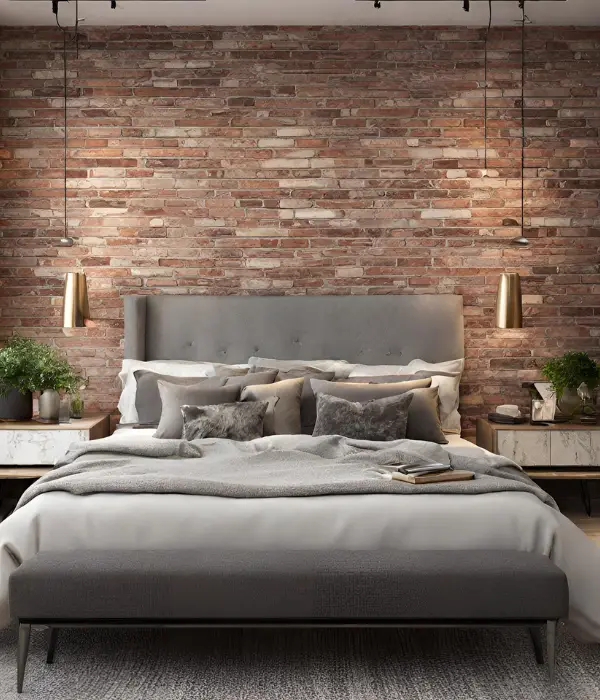 Did you enjoy this article? Follow us on Instagram or Facebook to stay up-to-date with ideas and tips around the home!