Dark bathrooms are fabulous for creating the perfect setting for a moody, romantic and calming space. Whether you've got a small bathroom, shower cubicle or a big space to work with, we share these best dark colour ideas for a dark tiled bathroom below.
Dark metro tiled bathroom
Tiles: Claybrook, Metro Deco Bryant Park
Metro tiles are fab when it comes to styling a dark bathroom. Whether you position them horizontally or diagonally, they can be a fun way to add city chic design into the space, especially when using grout to add contrast to the walls. Furthermore, matching dark metro tiles with patterned wallpaper gives the look a completed feel and brings a moody tropical vibe from the dark palm print.
Black subway shower tiles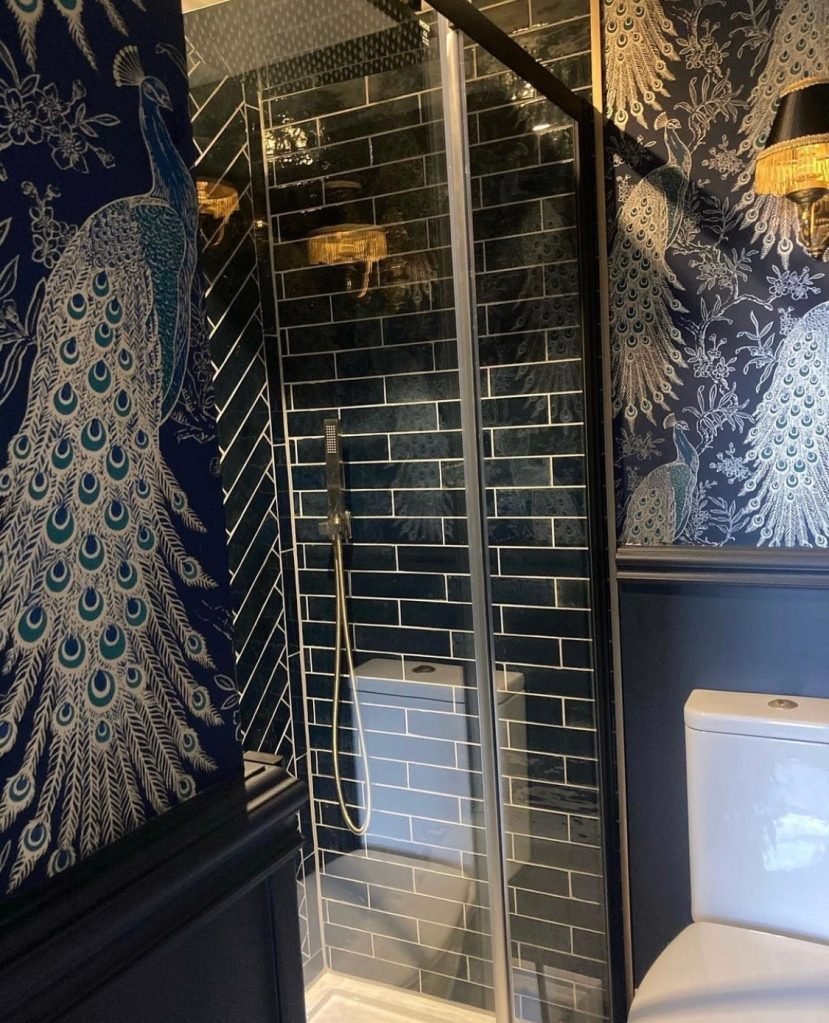 Tiles: Topp Tiles
Shower cubicles can be one of those spaces that are mundane to spruce up but can also be super easy. All you need is a good tile that flows into the rest of your bathroom, just like this gorgeous black subway tile from Topp Tiles. We love how this bathroom has white grout to make the tiles pop and contrasts beautifully against the illustrative wallpaper to match.
Glossy dark green bathroom tiles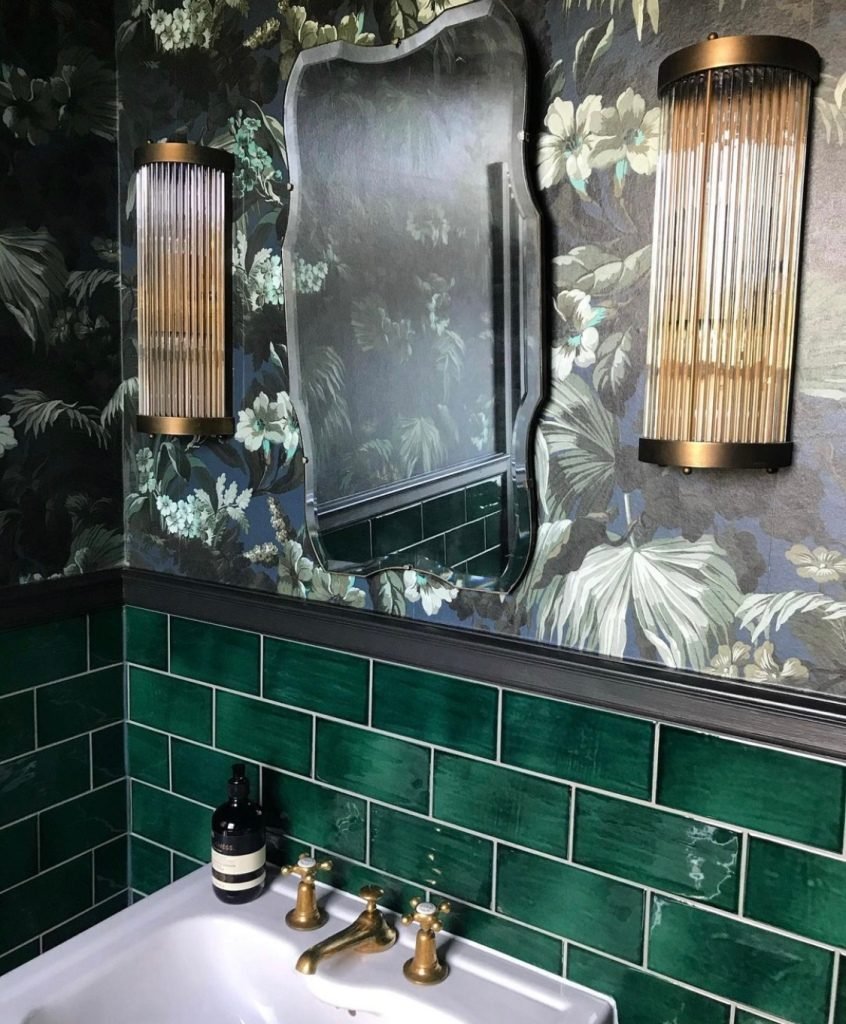 Wallpaper: House of Hackney
Dark green is a fabulous bathroom colour that can be paired with black and gold to look sleek and sophisticated. We love this glamorous dark bathroom that oozes of luxurious touches, from the gold taps to the printed wallpaper for a glam finish.
Interior tip: use mirrors in a dark bathroom to give the illusion or more space and it'll brighten up the room too!
Dark grey tiles with mood lighting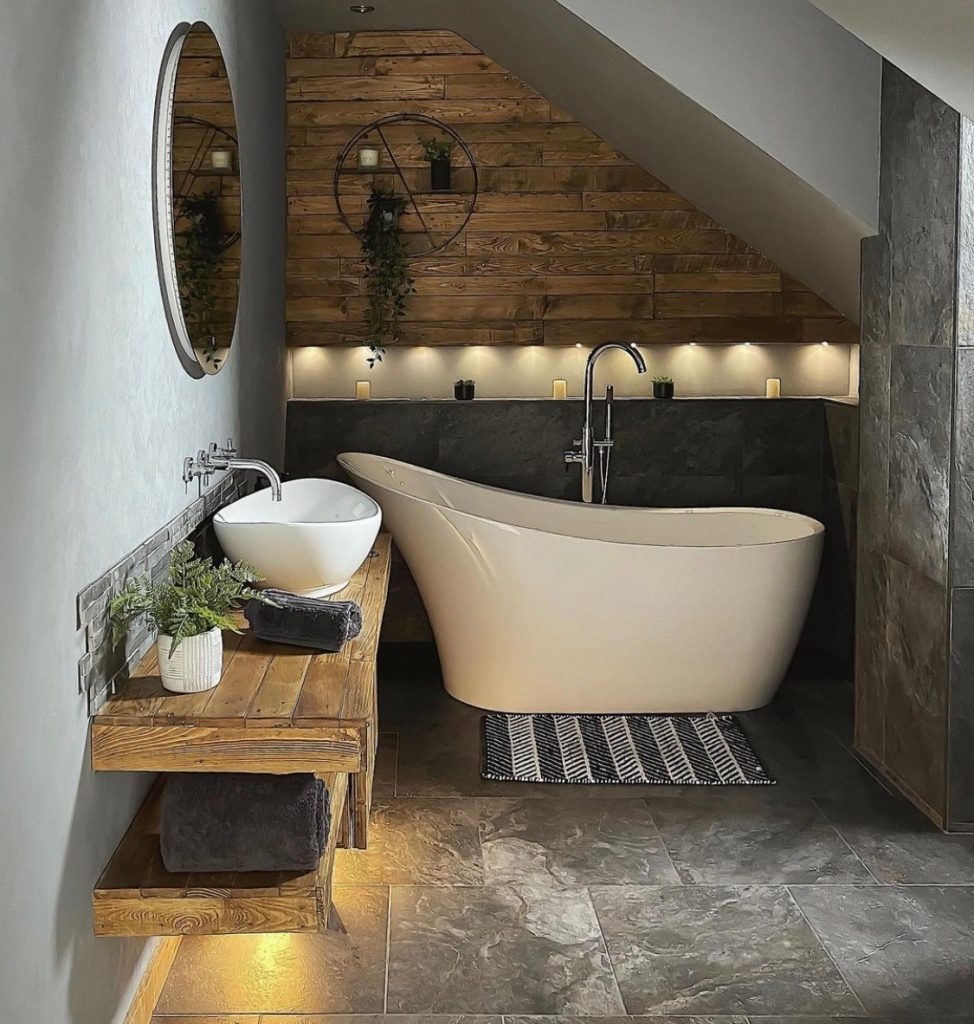 Tiles: Mirage range by Porcelanosa
Dark and neutral colour schemes can easily work in bathrooms. By choosing the right materials to bring the look together you can create a moody and ambient setting just like this gorgeous loft style bathroom that uses a cold stone grey tile matched with warm wood panels and soft grey painted walls for a cozy look that still feels neutral and calm.
Dark maximalist bathroom idea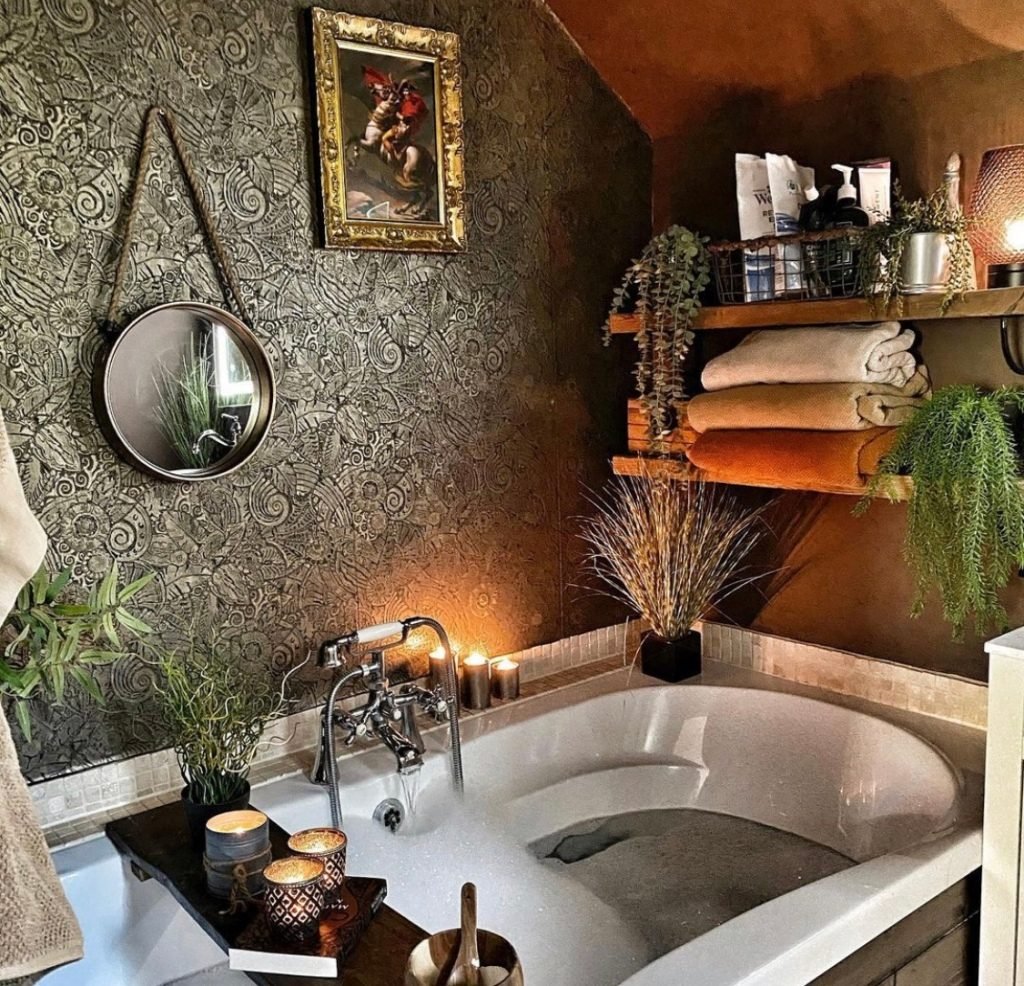 Love busy decor and clashes of patterns and colours? Achieving a dark bathroom is simple when combing a mixture of interiors styles into one room. We love this vintage, periodic, and full of character bathroom that oozes of glam and warmth for a dark and cozy bathroom look.
Interior tip: layer wallpaper with hanging decor and fill shelves with textures and accessories to complete your look.
Black and green bathroom with dark tropical accents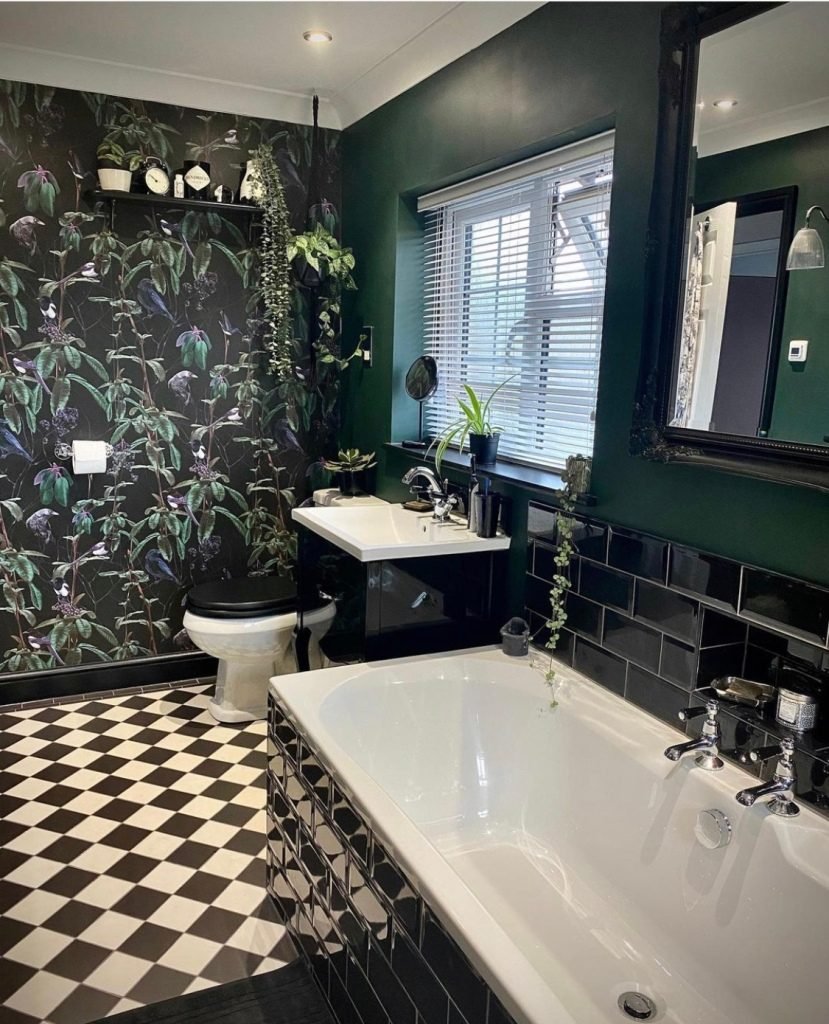 Floor and wall tiles: Elstow tiles in Bedford
Wallpaper from: Mind the Gap wallpaper from Rockett St George
Dark Green and black go well together for a sophisticated interior style that looks moody and luxurious. For an opulent interior style, match printed wallpaper and glossy tiles to complete the look for a glamorous bathroom style.
Dark grey bathroom with bold black lines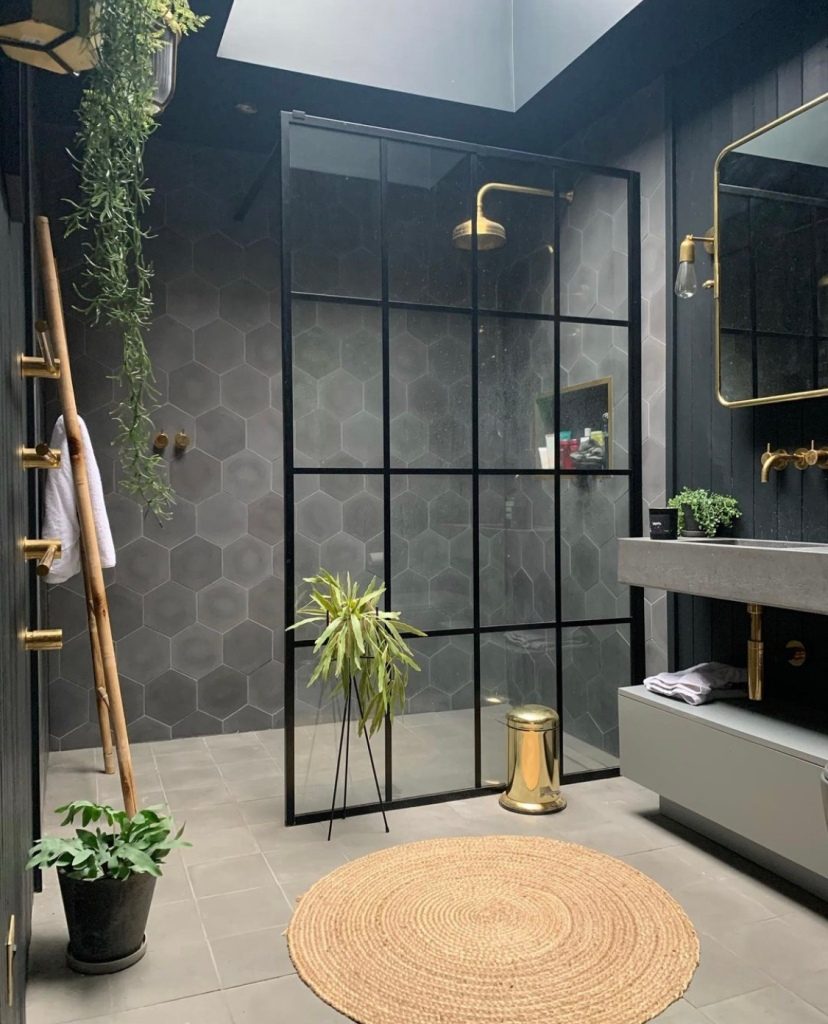 Tiles: Bert and May
For a modern bathroom with dark features, opt for a neutral grey canvas and layer darker tones through interior features such as dark grey panelling and black accents to make the dark features come together.
Black bathroom with monochrome tiles for a bold look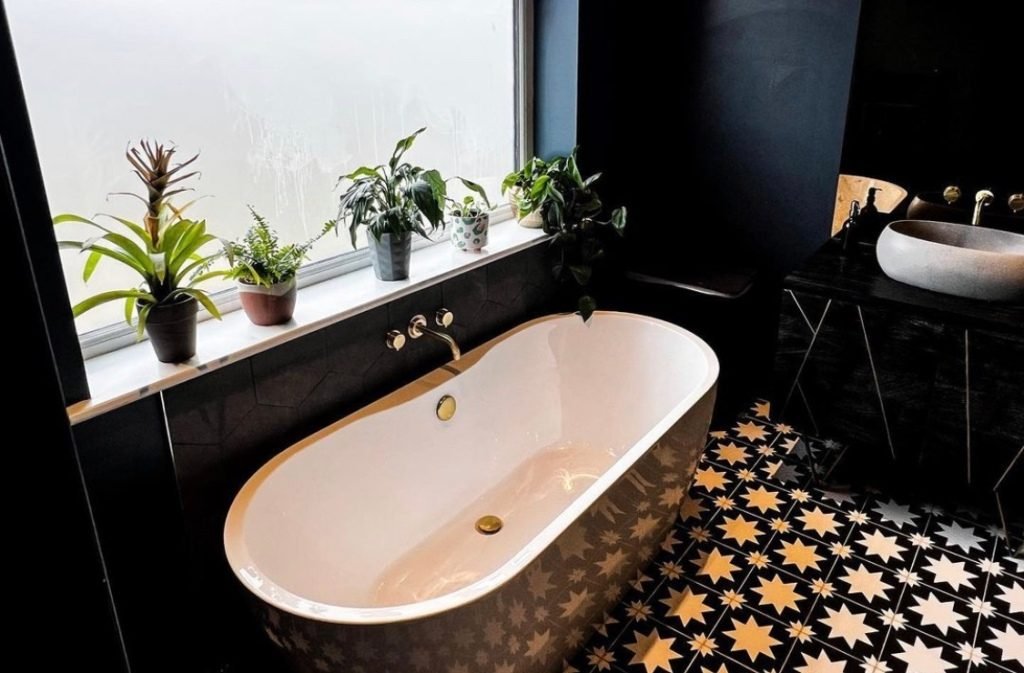 Black interiors are perfect for a moody ambience in the bathroom, where lighting plays a big part in setting the tone of the space. For a bold look, keep your walls minimal and let the floors do the talking with bold black and white pattern tiles for a striking contrast against your walls.