Are you planning renovation? Whether big or small, every kitchen needs some gorgeous cabinets. After all, they serve as function and style in your kitchen and are very much a focal point in the room.
If you're not sure where to start, our list below of beautiful white kitchen cabinets for a modern home will inspire your next purchase.
White farmhouse style kitchen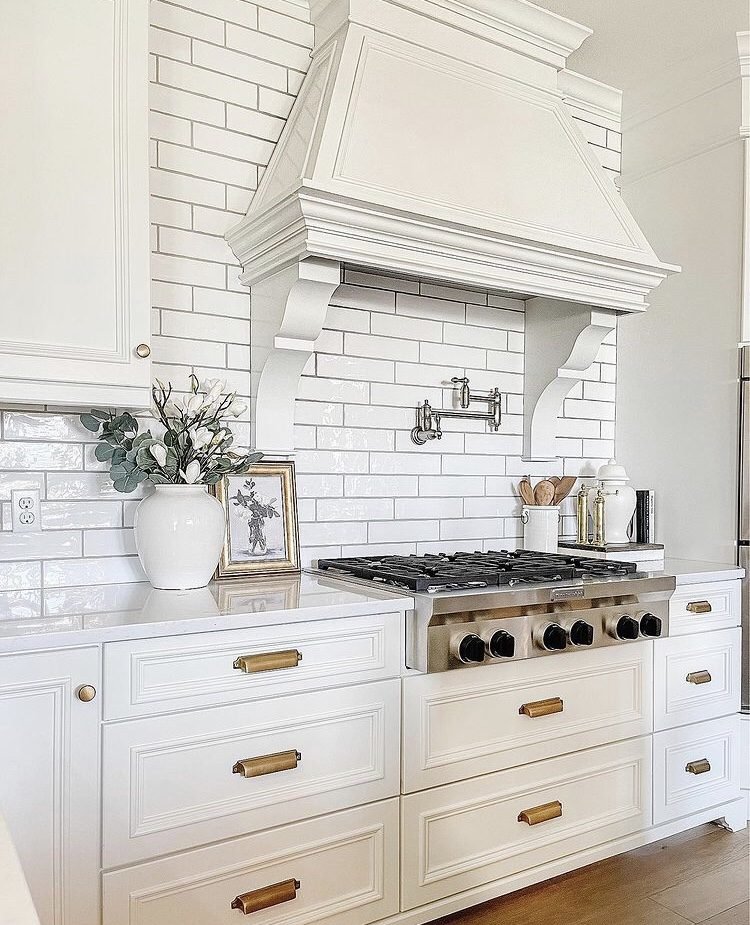 Image source @trishapearsdesign
We love a country farmhouse edit any day of the week on this blog, which is why we have included this gorgeous luxury farmhouse style kitchen in our top list of beautiful white kitchens. The simplicity of this look, combined with pattern and texture makes the entire space ooze with clever design. The gorgeous white cabinets are finished off with brass handles for subtle style and we adore the white brick tiling that creates the perfect amount of depth and contrast for a farmhouse setting.
White and wood kitchen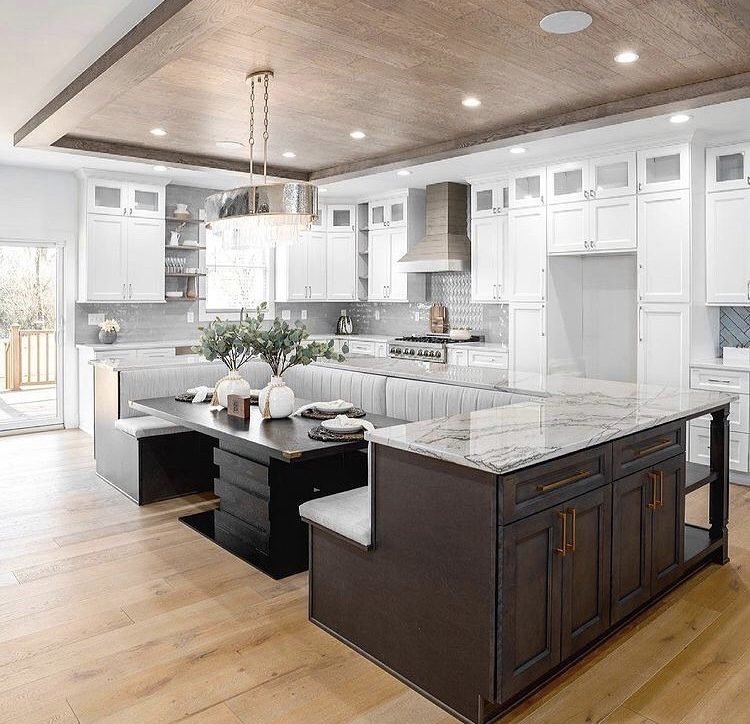 Image source @tracarloedesigns
White kitchen cabinets can be styled in so many different ways, and contrasting is just one of those styles that we love seeing in the kitchen. If you've got simple white kitchen cabinets and you're looking to refresh your space, incorporating darker tones at the bottom half of your kitchen will make your space appear much bigger and taller as the eye is drawn up to the cupboards.
White tall kitchen cabinets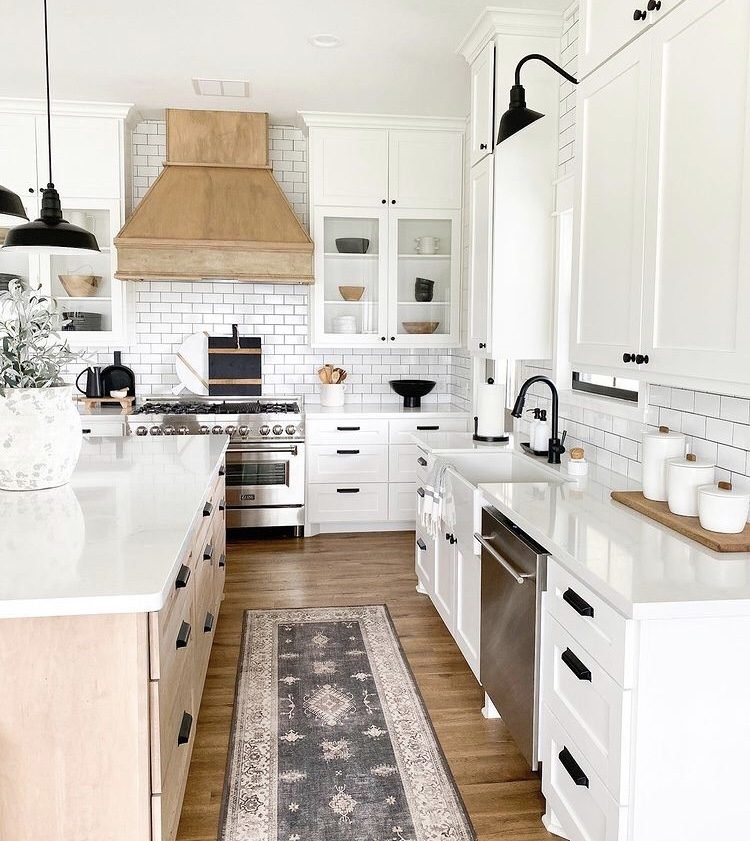 Image source @thecozyfarmhouse
Kitchen cabinets that reach all the way to the ceiling offer a stunning design feature as well as you being able to maximise on your storage. We love this kitchen design on Instagram that utilises this design feature. We particularly love the mini double cabinets at the top to add more space that also breaks up the area nicely.
Over the stove kitchen cabinets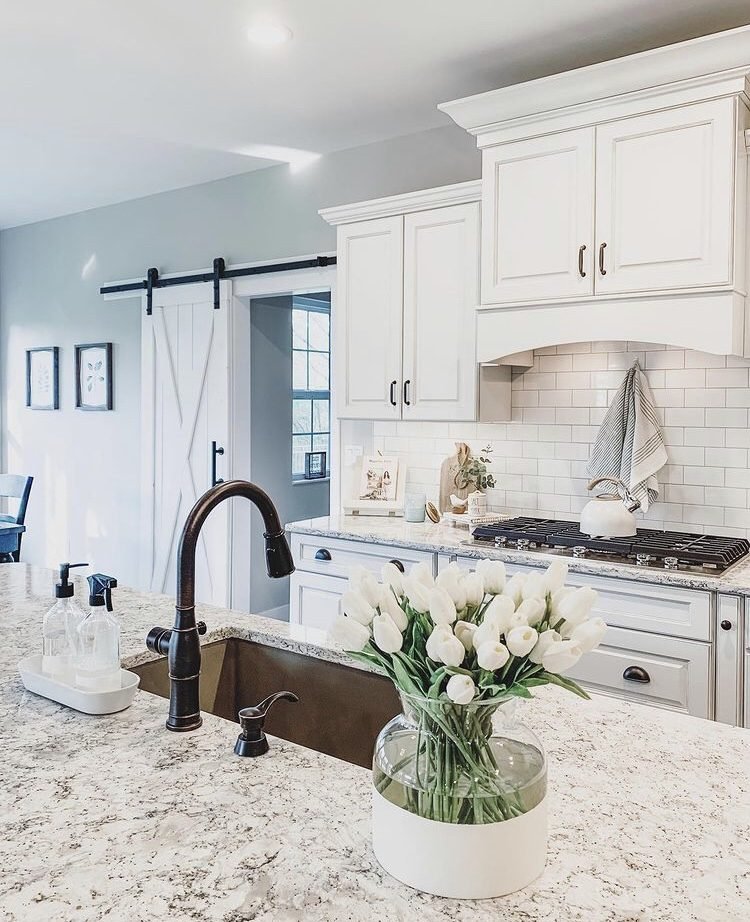 Image source @myillinoishome
Don't waste any space in your kitchen, even above your stove can be a great use of space. This beautiful white kitchen design on Instagram is the perfect example. We love this classic yet modern arch cabinet over the stove that makes the area more of a focal point, especially how it is positioned higher to give the cabinet more dominance.
White window cabinets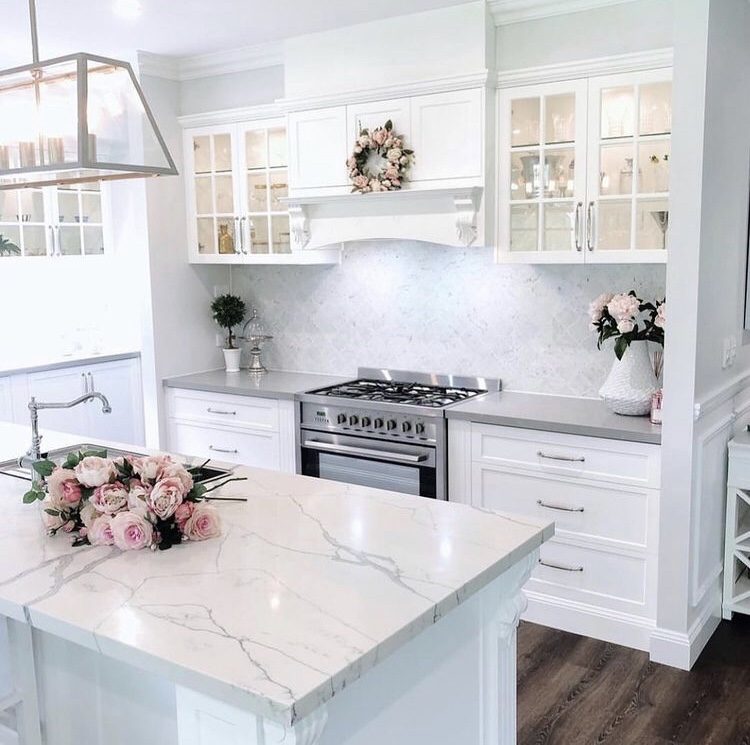 Image source @hamptonluxuryhome
A great way to break up white cabinets in your kitchen is by adding window frame cabinets on the walls. This will break up the white and allows you to showcase your favourite dishware and glasses. Furthermore, reflective interior design like glass is a great way for light to bounce off which in turn adds lightens up your kitchen and makes it appear bigger.
Full length cabinets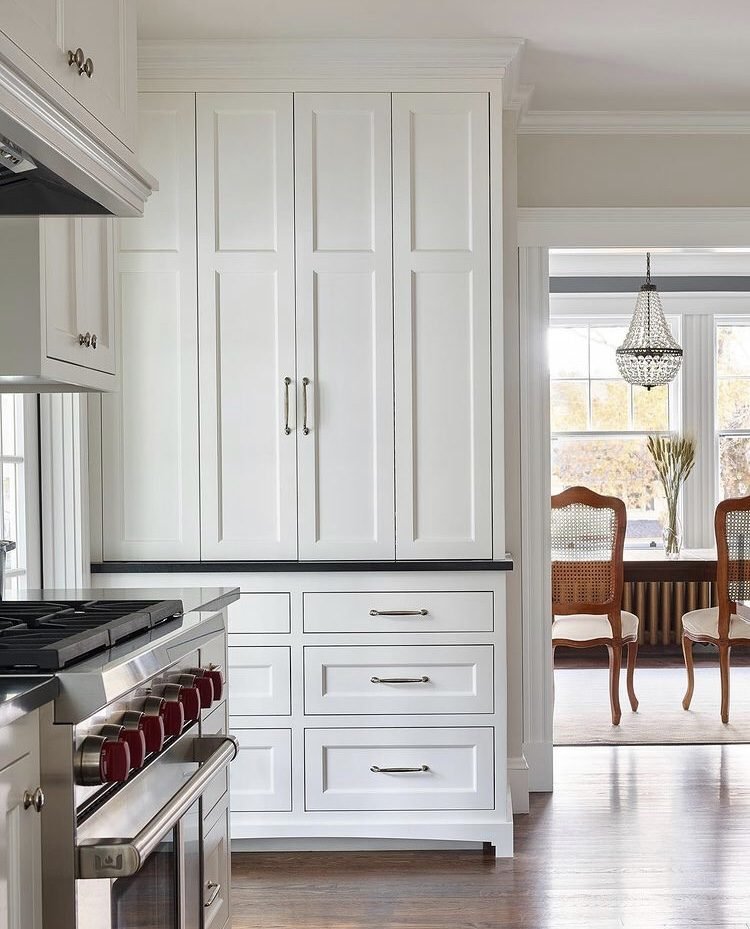 Image source @blockbrothersscc
For a luxurious kitchen style, opt for tall cabinets to style your space. Whether it's an additional pantry or as part of your main kitchen design, tall cabinets fill empty spaces in a sophisticated way. We love this design on Instagram that makes use of an unused wall, with the gorgeous dining room peeking behind.