Our list of the best kitchen colour schemes will help you decide on the next shade to freshen up your kitchen. Whether you're looking for a quick DIY tiling feature or a full cupboard replacement, our kitchen colour schemes and ideas will inspire your cooking space with colours that are modern and popular right now. 
Jump to sections in this blog article:
Grey kitchen colour schemes
1. Dove grey shaker kitchen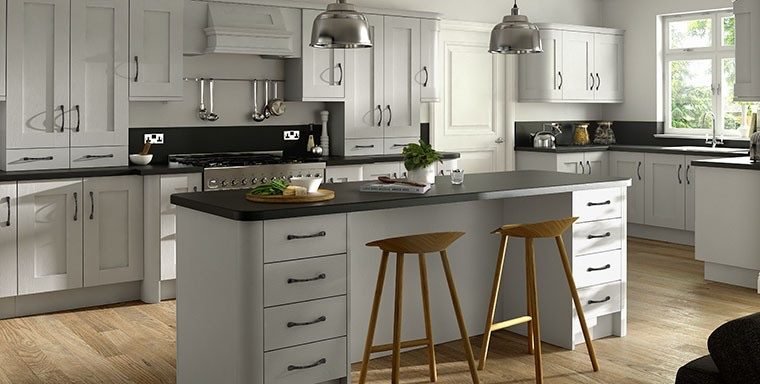 Dove grey is a soft and delicate shade for your kitchen that allows you to work with other colours and textures such as black and dark wood for a relaxed and cozy feel to your cooking space. This dove grey shaker kitchen is both timeless and modern for family and entertaining.
2. Dark grey kitchen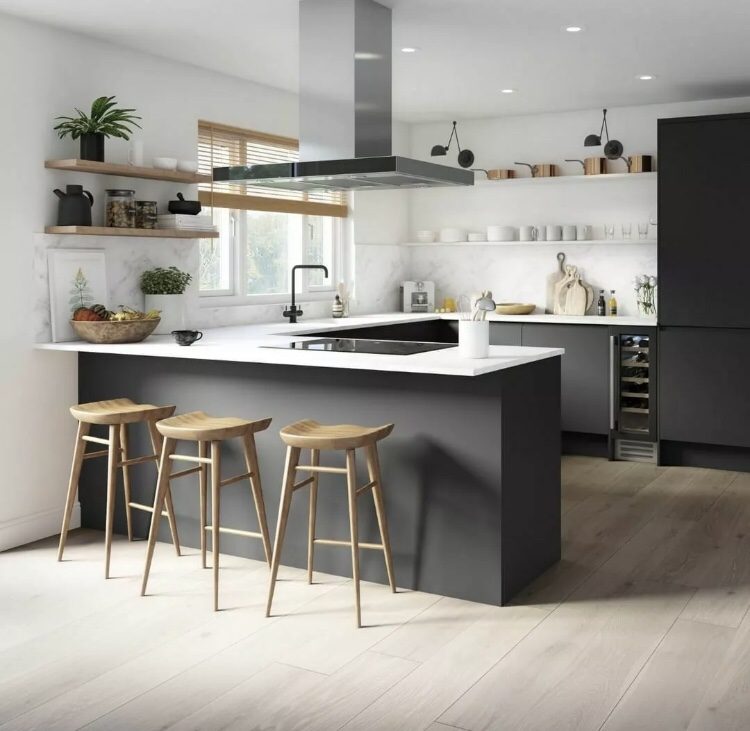 Dark grey and white kitchen spaces create a great contrasting look for bright and airy entertaining spaces. Combining dark grey cupboards with white countertops and walls will instantly add volume and a feeling of spaciousness. This is a great kitchen colour scheme if you've got a small area to work with. Shop the Magnet Lunar Kitchen Unit.
Black kitchen colour schemes
3. Graphite effect kitchen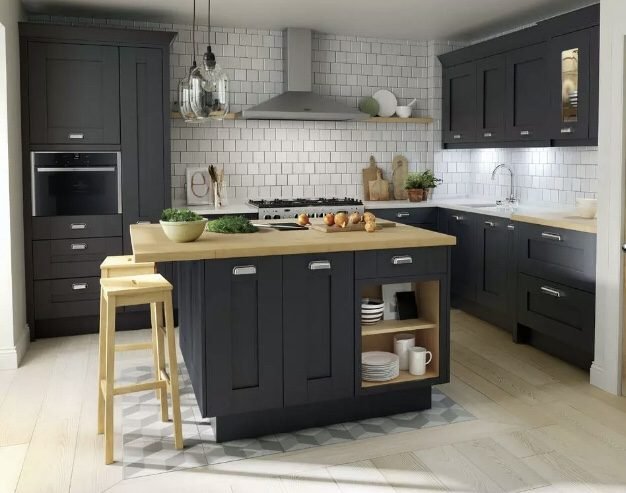 Go bold with black kitchen paint that looks luxurious and warming. Match with wood countertops and furnishings to bring in an element of charming country house style with a modern twist. Shop the Graphite grained effect shaker kitchen on eBay.
4. Matt black kitchen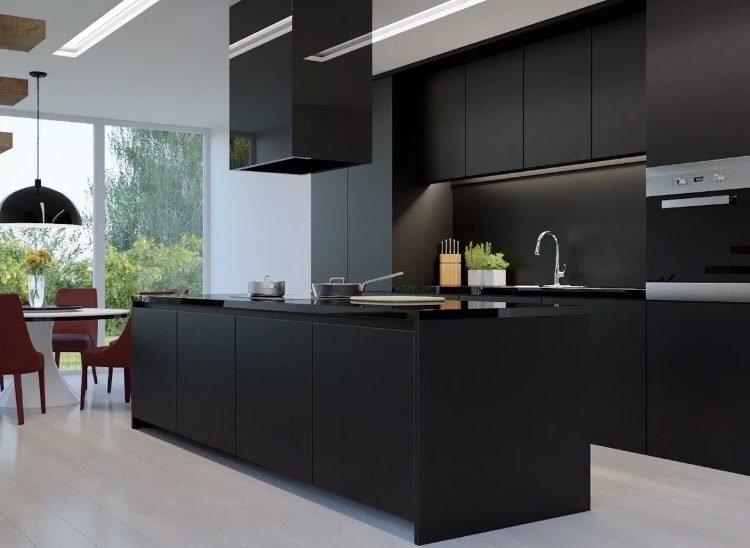 Bring the sexiness to your kitchen with a full Matt black kitchen suite that oozes with modern touches and slim lines. This handleless kitchen is sleek and minimal. The matt black cupboards do all the talking to bring effortless style into your kitchen. Shop black kitchen panels on eBay.
Blue kitchen colour schemes
5. Calming blue kitchen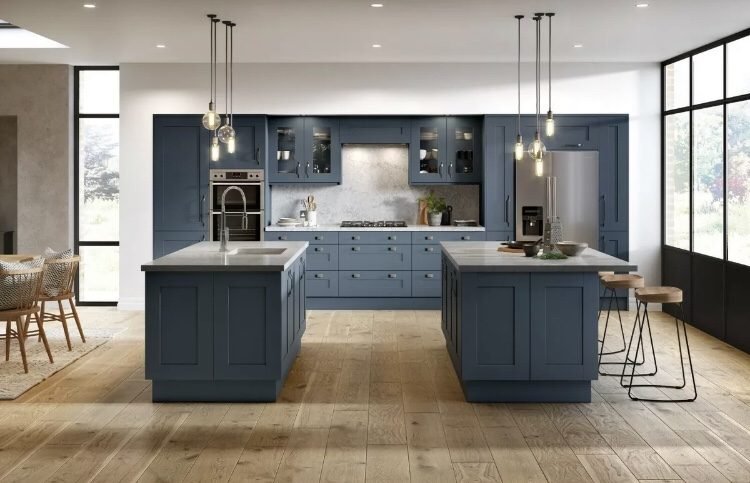 Blue is a tranquil colour that takes us back to nature, and what better way to evoke this feeling than in the kitchen. Cook homemade meals in a calm atmosphere with this gorgeous blue kitchen with panel cupboards and exterior for a modern look. Furthermore, blue goes with almost any base colour like black, white, cream and brown so that you're spoilt for choice when deciding on the countertops and decor. Shop blue shaker kitchen units and cabinets on eBay.
6. Dark blue kitchen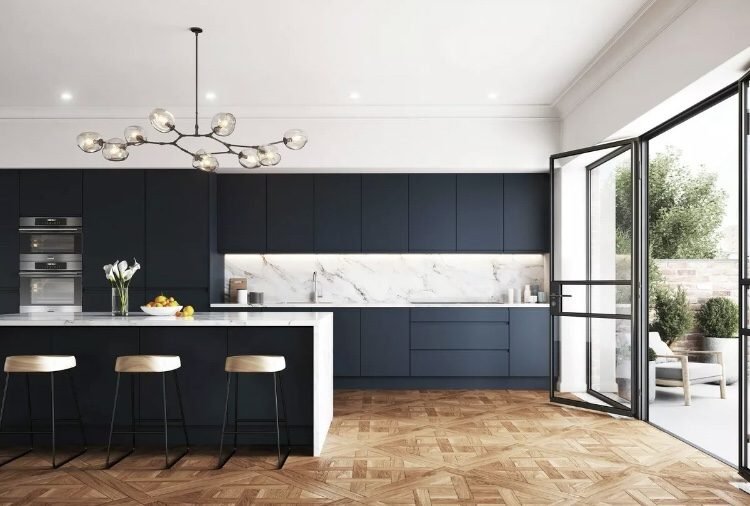 On the flip side, opt for a moody kitchen style like this inky design from eBay. It's sexy, sleek, modern and will hold a timeless style. Subtle contrasting elements like the white Island countertop and the marble effect backsplash add a glamorous look against the inky cabinets. Shop inky blue kitchens on eBay.
Cream kitchen colour schemes
7. Modern cream kitchen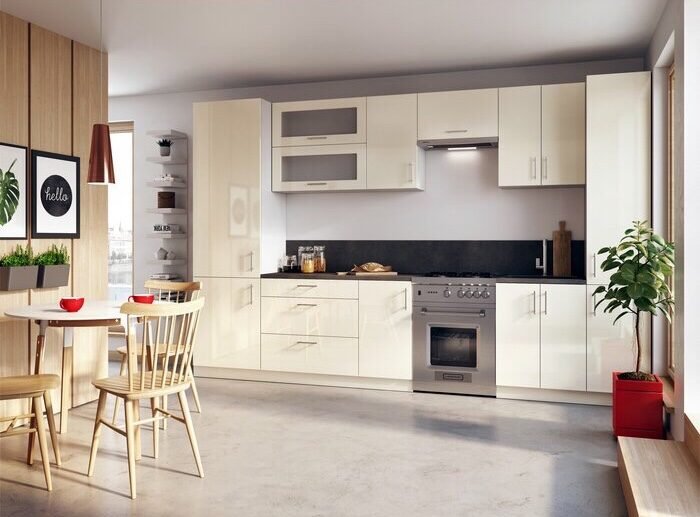 Cream kitchens are sometimes overlooked as being the colour scheme for a country or farmhouse style kitchen, but we think that even the most modern and contemporary kitchens can look wonderful with cream cupboards and units. This kitchen pantry from Wayfair is a great example of this. The modern kitchen cabinets with a glossy cream finish create a contemporary cooking space without looking like a cottage kitchen.
8. Country cream kitchen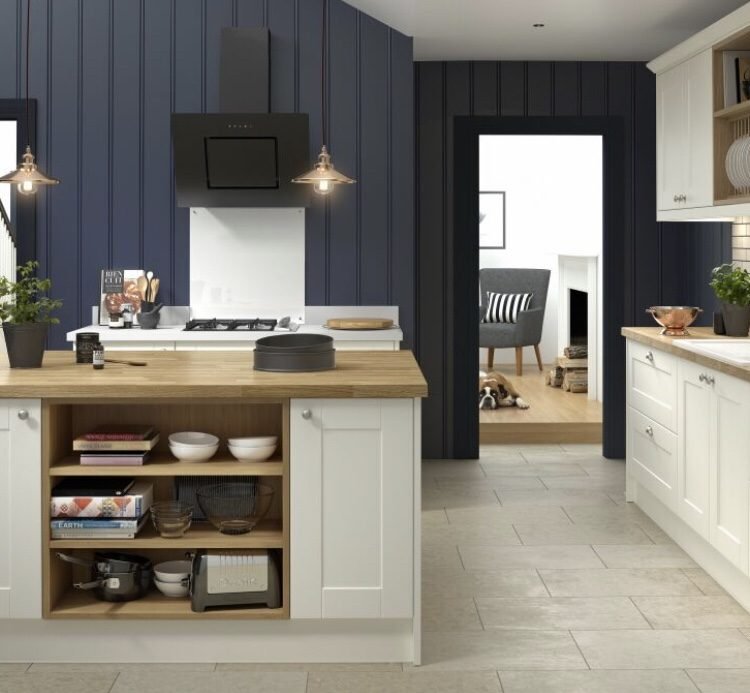 If you love the typical country theme kitchen style in your home, this cream shaker kitchen by Wren Kitchens is the perfect fit. With a simple design with a clean frame. Furthermore, the cream cupboards and units can be modernised and styled in so many ways to make your kitchen unique to you. We love the styling of inky blue walls against this kitchen design to bring in a modern look that freshens up the cream so that it isn't lost against dull walls.
Love cottage style decor? Read: Cottage Bedroom Ideas For Country Living
Green kitchen colour schemes
9. Gentle green kitchen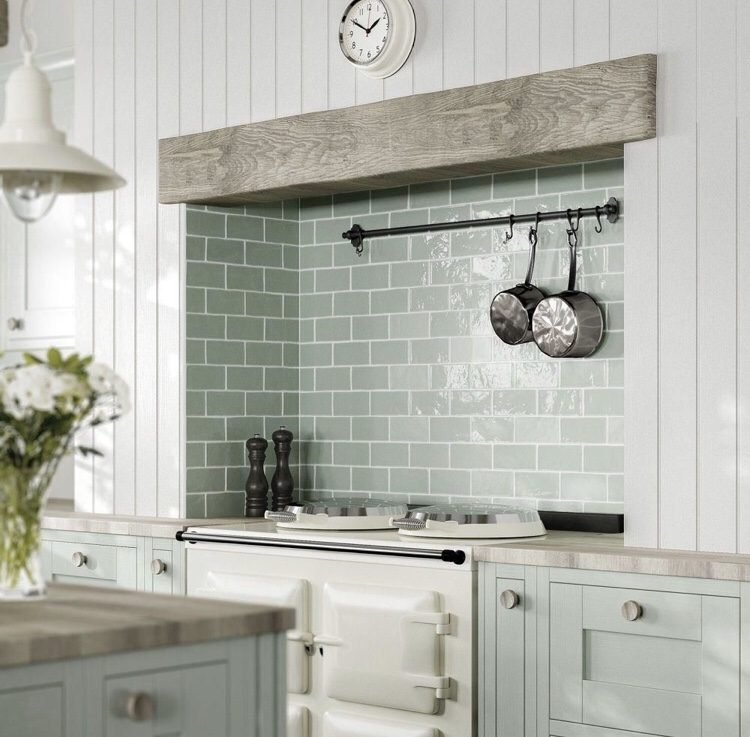 Pastel greens is a great colour to incorporate colour into your kitchen without it feeling loud and too quirky. We love these Somerset green tiles from Tile Giant, which gives the kitchen a vintage effect, especially when used as a focal point like an indented splashback and cooking station. Pastel shades like this green can be used in so many ways, from light and airy with creams and whites and browns, to moody styles with black and greys.
10. Sage green kitchen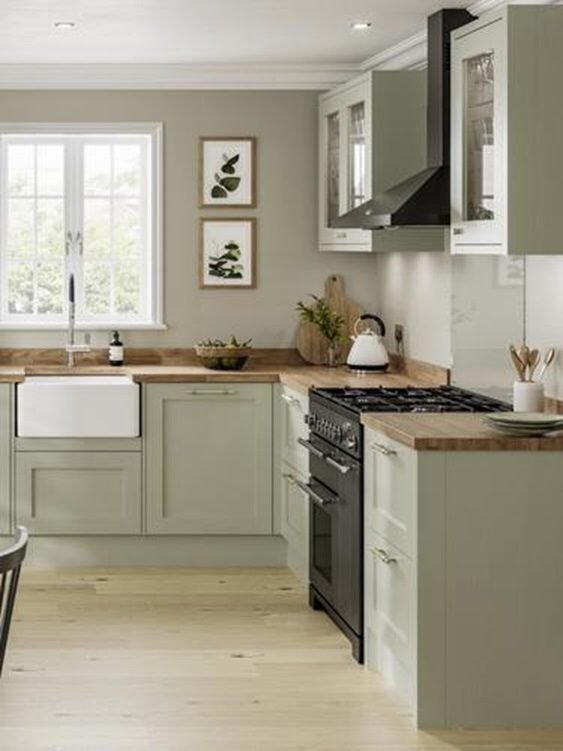 Bring the elements of nature to your kitchen with a full safe green unit set. This pale green shade is perfect as a blank canvas to work with around your kitchen. What's more, you can fill your kitchen space with this shade and it won't look overbearing on the space as it will brighten up your entire kitchen. For a contemporary farmhouse look, go for wood countertops and white features to bring the style together effortlessly. Shop green kitchens at Howdens.