We know that the dining room is more than just a space to share meals; it's a gathering spot and an entertaining hub. Transforming your dining room into an inviting and stylish space can enhance your overall dining and entertaining experience. Whether you're looking to revamp your current setup or starting from scratch, we've curated a collection of the best dining room decorating ideas to help you create a space that reflects your personality. From furniture choices to lighting techniques, let's dive into the world of dining room design.
1. Use a cohesive colour scheme for a relaxing dining room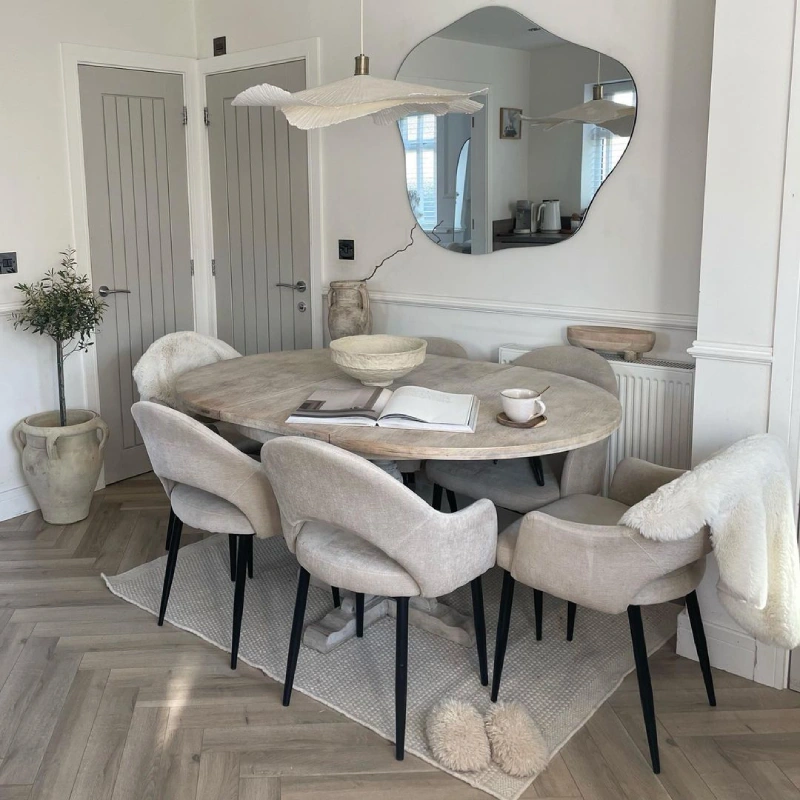 Image by @Joannes_home2 on Instagram is a great example of a cohesive dining table. With a clear colour scheme, Joanne has styled her dining room with light wood, and cream and grey decor for a warm and cozy look. We also love the use of shapes in this dining room, from the oval table to the curved mirror that brings in a soft finish.
To achieve a cohesive and visually appealing dining room, choose the right furniture pieces. Opt for a dining table that suits your space and accommodates your needs. Consider the shape, size, and material to complement your interior style. Pair it with comfortable and stylish dining chairs, ensuring they blend well with the overall aesthetic. Mix and match different chair designs to add an eclectic touch or go for a uniform set for a more traditional look.
2. Don't forget dining room lighting!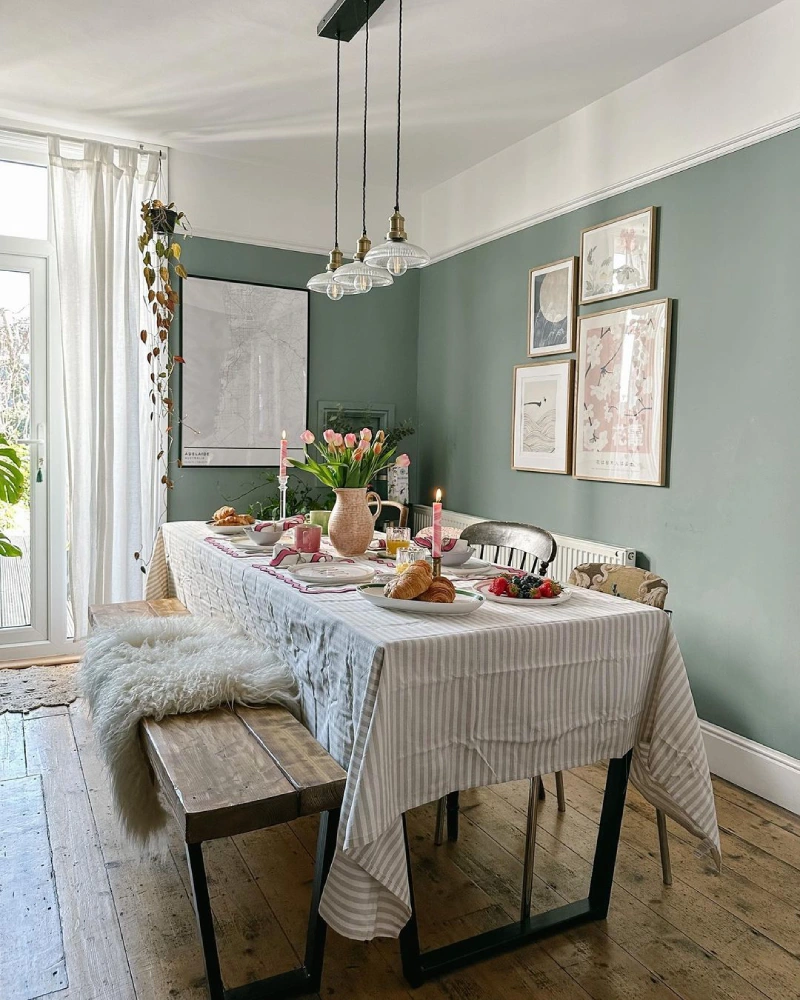 Image by @megbrackpool on Instagram uses hanging pendant lighting as ambient lighting for the space. We love how the lighting is positioned in a way that shows is purposely added for the dining table for a statement look.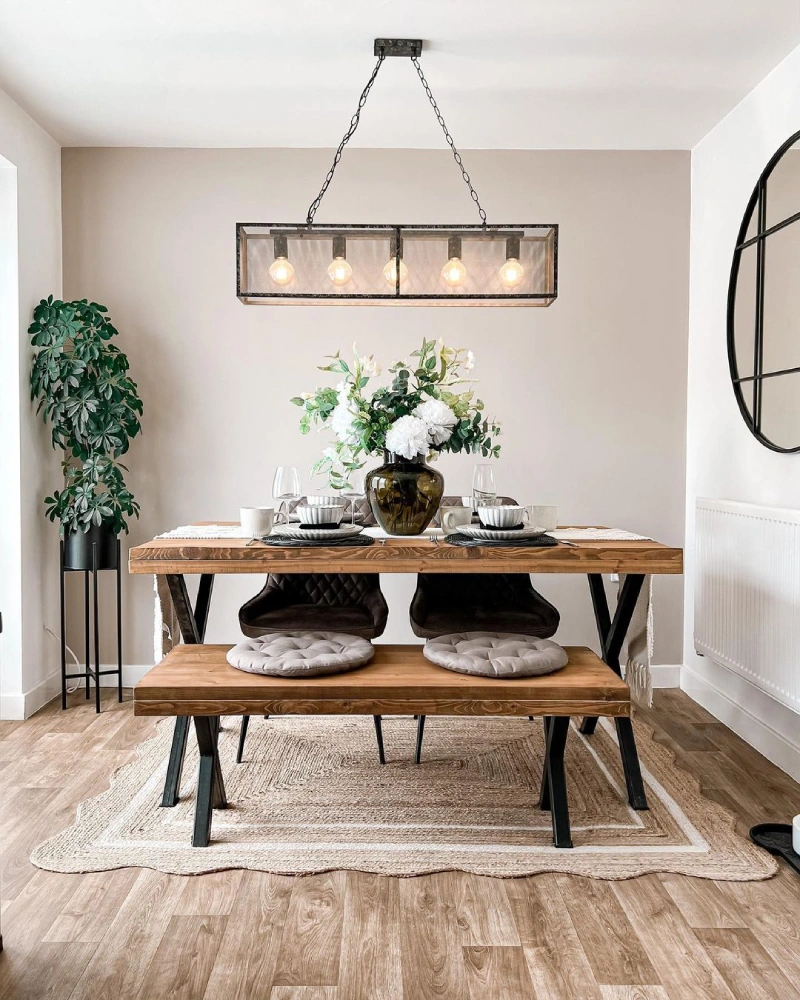 Image by @our_hanbury_hideaway on Instagram styles an industrial dining room space with a statement lighting feature to elevate the space. We love this statement of ambient light that warms up cold metals and industrial elements in the space.
Lighting plays a crucial role in setting the mood for your dining experience. A combination of natural and artificial lighting can work wonders in creating a warm and inviting atmosphere. You want your dining room to have ambient lighting, such as a chandelier or pendant light above the dining table to serve as a focal point. Incorporate dimmer switches to adjust the lighting intensity, allowing for intimate dinners or lively gatherings. Adding sconces or wall lights can enhance the overall ambiance and create a well-lit space.
3. Use decor to style a dining room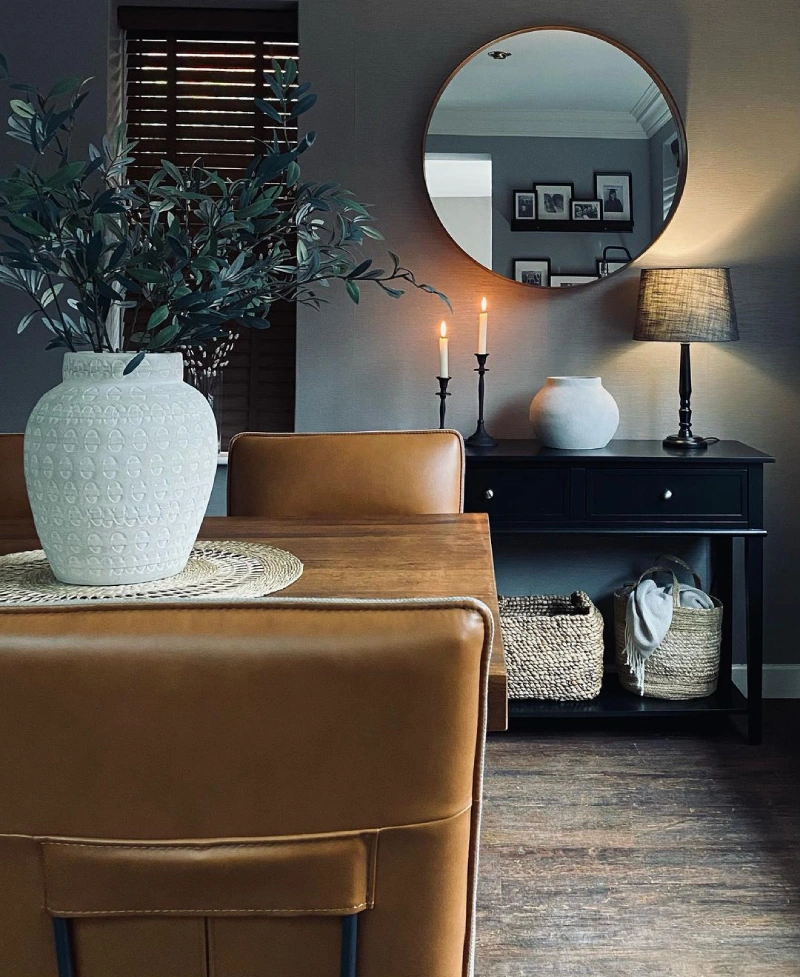 Image by @our_durham_home uses a statement vase to give the dining table a bold focal point. It also enhances the other curvacious elements (mirror and pot) in the room, adding softness to the space.
Inject personality into your dining room through carefully selected accents and decorations. Hang artwork that resonates with your taste and complements the room's colour scheme. Consider incorporating a mirror to create an illusion of space and reflect light. Use decorative vases, candle holders, or a statement centerpiece to add a touch of elegance to your table. Additionally, open shelving or a sideboard can showcase your favorite dishes, glassware, and collectibles, adding both functionality and visual appeal.
4. Use patterns and colours wisely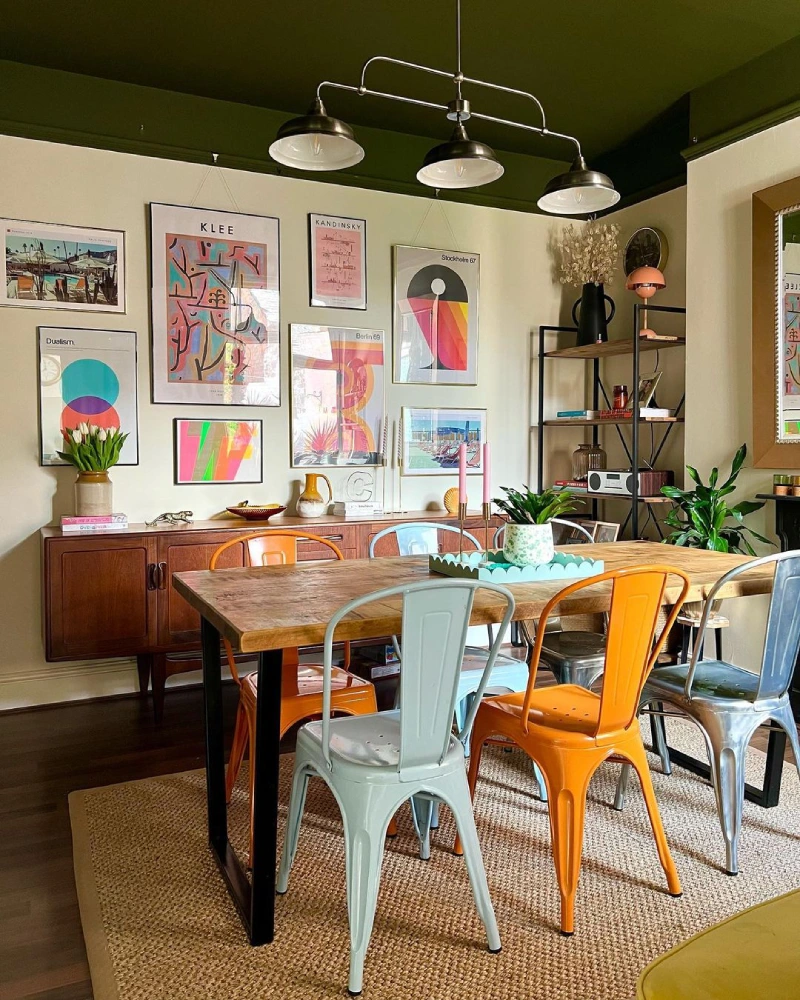 Image by @aflickofpaint has styled an eclectic dining room using colourful artwork with a clear vision of pink, blue, orange, and purple. These bright colours are cheerful and have carried through to other parts of the space, such as the mix-and-match chairs and bookcase decor for a cohesive look.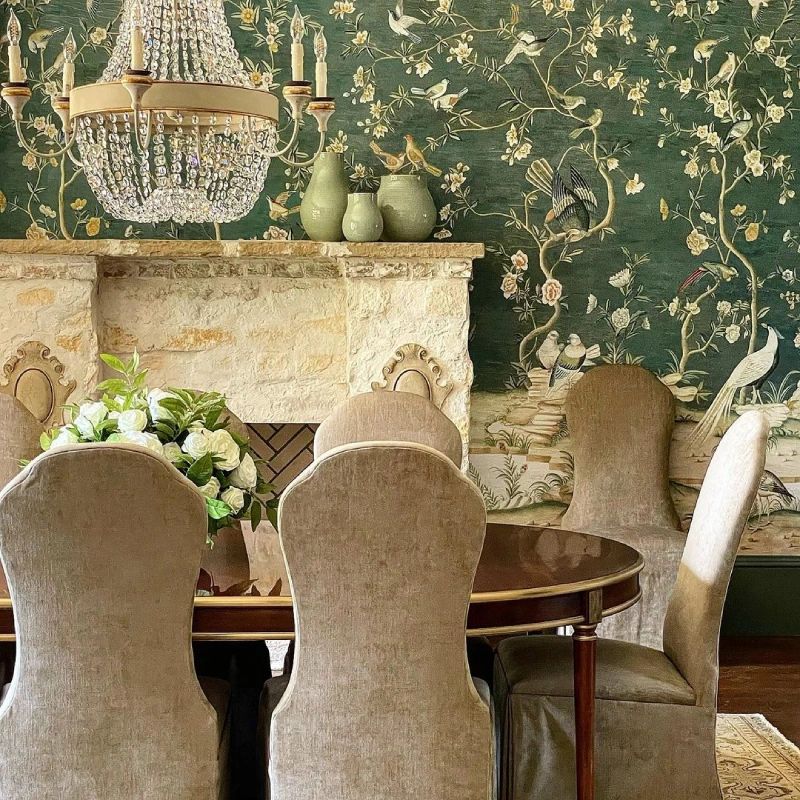 Image by @ninamarienash on Instagram uses texture through wallpaper and furnishings for a bold and beautiful dining room aesthetic. If you're looking to add pattern to your dining room space, opt for a printed wallpaper and then incorporate those colours into other parts of your space, such as the table, chairs and accessories.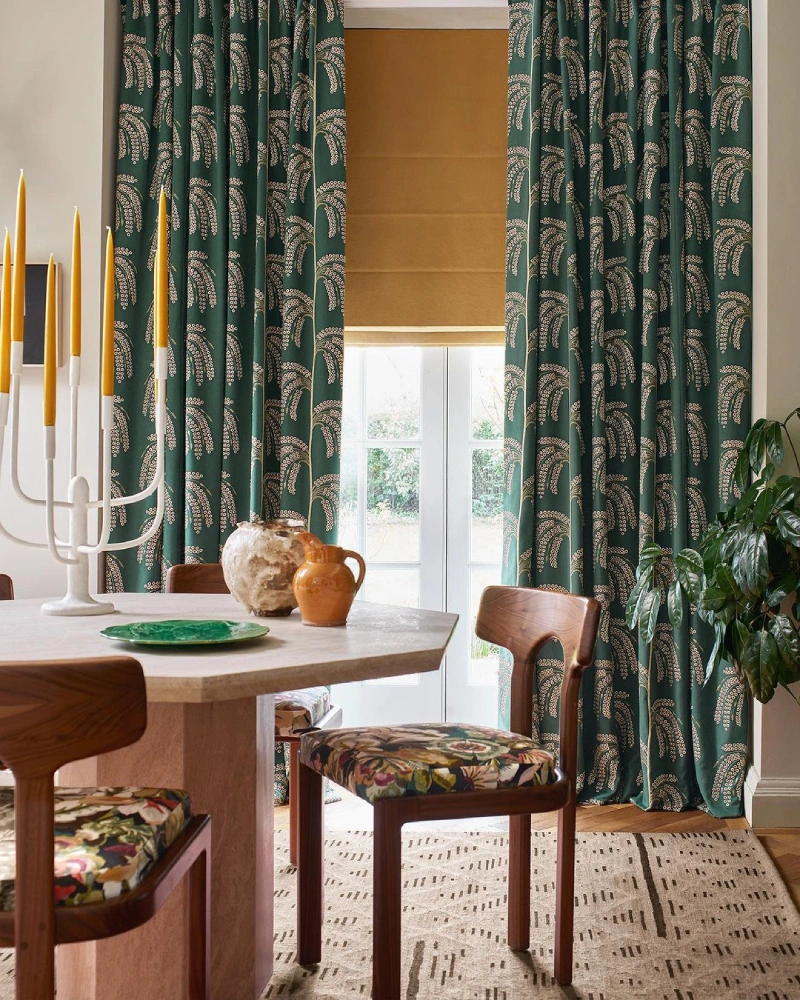 Image by @fionamcdonaldlondon on Instagram uses pattern through upholstered chairs (using Jane Churchill fabrics) to give the wooden chairs a revamp. We also love the patterns seen in the curtains and rugs too. This is a fab way to style your home with texture and colour if you want to keep your walls simple or live in a rented place where you can't decorate
Choosing the right color palette and textures can significantly impact the dining room's overall ambiance. Opt for colours that evoke the desired mood you want to achieve. Warm tones like deep reds or oranges create a cozy and intimate atmosphere, while cool blues or greens lend a sense of tranquility. Experiment with different textures through upholstery, curtains, and rugs to add depth and visual interest. Consider incorporating natural materials like wood, stone, or wicker to bring a touch of nature into your dining space.
5. Add wall panelling for sophistication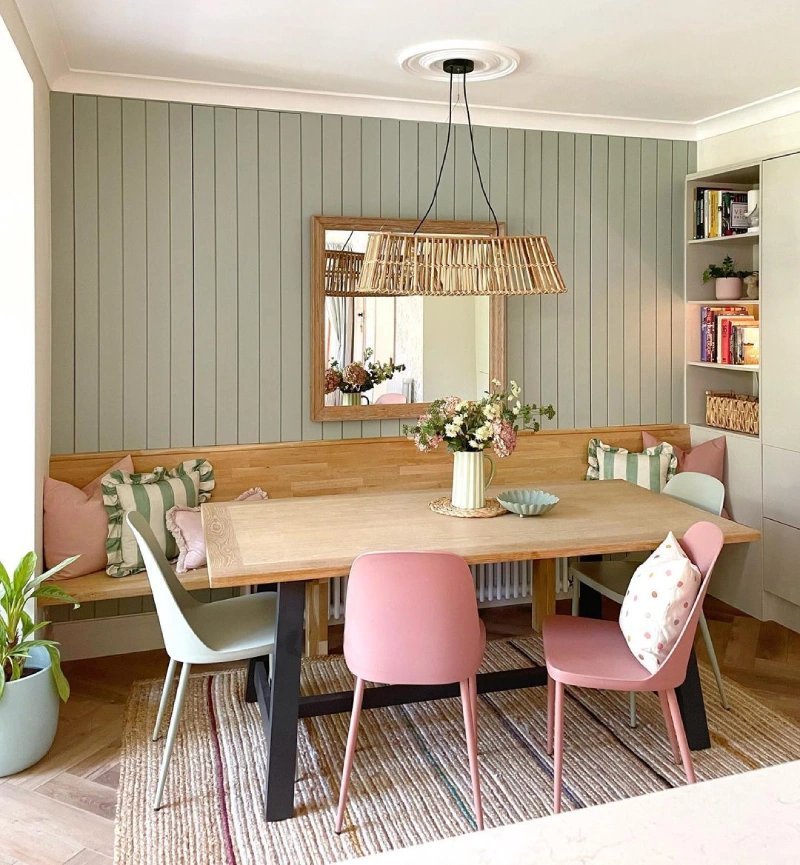 Image by @bobbins.at.home on Instagram uses light blue wall panelling to create a bright and open dining space. The pastel colours used in this space make it appear bigger and brighter, as well as being a fun and playful space through colour.
Wall panelling is a classic design element that can elevate the sophistication of your dining room. It adds depth, texture, and a sense of architectural detail to the space. Whether you opt for traditional wood paneling or contemporary options like shiplap or beadboard, wall panelling can create a striking backdrop for your dining area.
Consider installing wall panels on one accent wall to create a focal point, or go all-in and cover all the walls for a dramatic effect. Wood panels in rich tones such as oak or mahogany can infuse warmth and a touch of luxury, while lighter-colored panels like white or pastel shades can make the room feel brighter and more spacious.
How will you style your dining room?
By implementing these best dining room decorating ideas, you can transform your dining space into a haven of style, comfort, and culinary delight. From carefully chosen furniture to creative lighting and thoughtful accents, each element plays a vital role in curating an inviting and enjoyable dining experience. Let your personal style shine through and create a space where memorable moments and delectable meals are shared with loved ones. Cheers to elevated dining!
Get personalised style advice from us with our mood board package here.
[caf_filter id='10630′]