What is alcove shelving?
Alcove shelving is a type of shelving that is custom-built to fit into the recessed area of a wall, also known as an alcove. It's a practical and stylish storage solution that maximizes space in a room and provides a great way to display items like books, pictures, and ornaments. 
Alcove shelving can be designed to fit any size or shape of alcove and can be made from a variety of materials such as wood, glass, or metal. Whether you're looking to create a cozy reading nook or add some extra storage space to your living room, alcove shelving is a great option that can add both function and style to your home. Find out how to make bespoke DIY alcove shelving.
Modern Alcove Shelving with TV
Alcove shelving is a great option to include in your living room to make space for your TV. Rather than having a bulky TV stand that takes up more space, insert your TV into your alcove to maximise on space.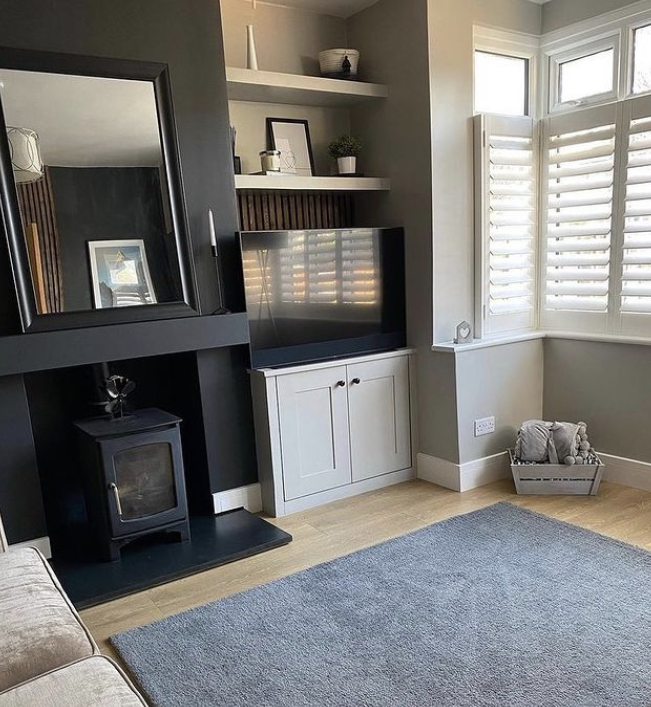 Image by @our_forever_renovation uses modern alcove shelving to separate the fireplace design with contrast cream walls for a statement look with neutral colours for a calming living room space.
Fireplace between alcove shelving
Alcove shelving is a good layout between a fireplace because it maximizes the use of available space while providing ample storage for books, decorative items, and other belongings. Additionally, the built-in shelving can create a cohesive and stylish look, complementing the fireplace as a focal point in the room.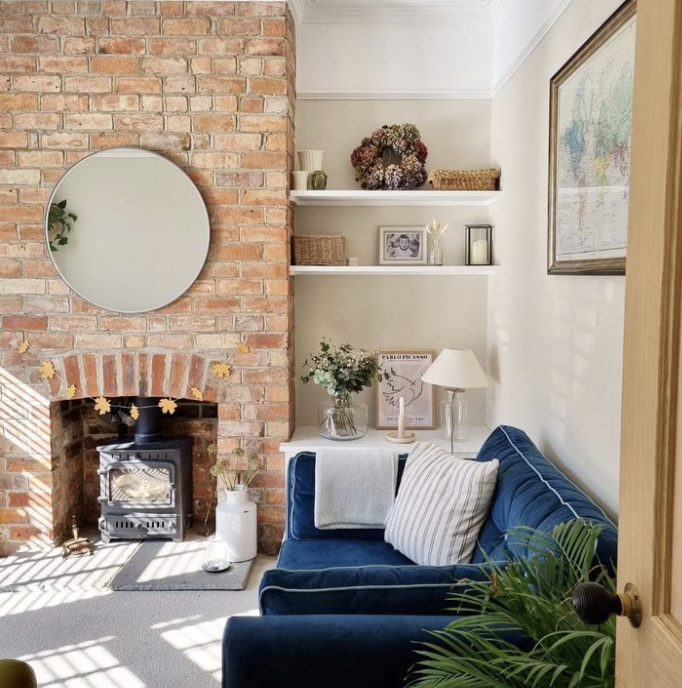 Image by @ourvictorianhome_66 styles a brick fireplace with minimalistic alcove shelving for an elegant look in the living room. Keeping with a simple and fresh look, Amy has styled the alcove shelving with decor and accessories that bring out the natural colours of the brick walls for a cohesive look.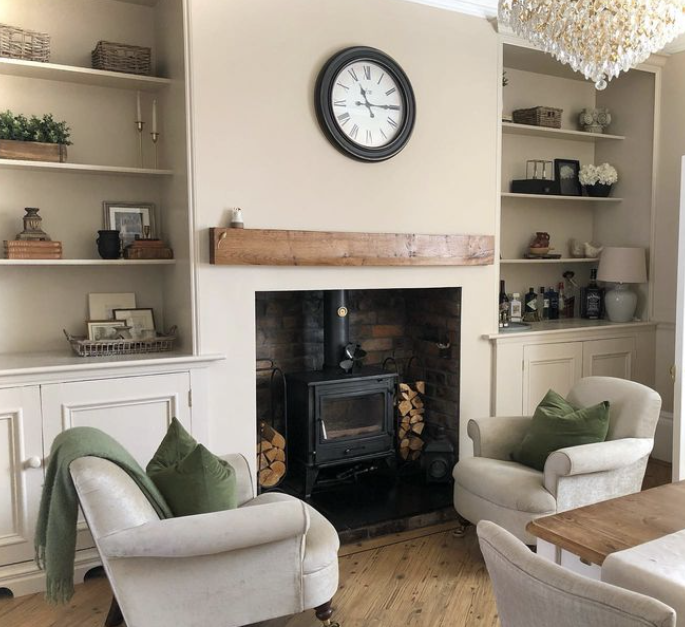 Image by @our1884homex completely transforms an outdated fireplace with a statement log burner and alcove shelving on either side. We love the styling of this space, where the fireplace takes the focal point and the alcove shelving adds character through mix-and-match decor and accessories.
See the full transformation here.
Alcove bookcases in a Victorian home
Alcove bookshelves are a great addition to a Victorian home due to their ability to complement the period features such as high ceilings and intricate mouldings. They can also provide a practical and aesthetically pleasing storage solution for books and decorative items.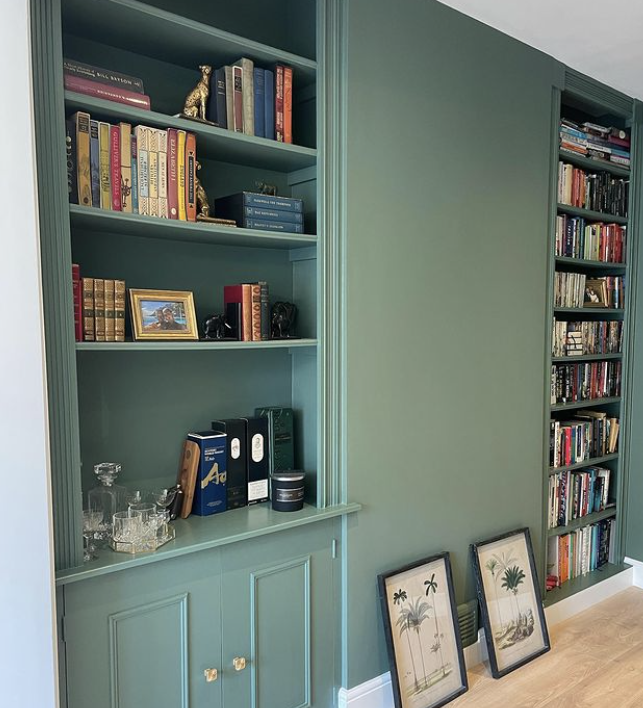 Image by @no10_notdowningst creates a beautiful library with alcove shelving to store the book in the wall for a functional open space. Furthermore, the beautiful green colour makes the book ends stand out and become part of the room's charm.
Green and White Alcove Shelving Idea
White alcove shelving against a light green wall is a great option for several reasons. First, the contrast between the white shelves and the green wall creates a visually appealing and fresh look. Second, the white shelves provide a neutral backdrop for displaying items, allowing them to stand out and be the focal point of the room.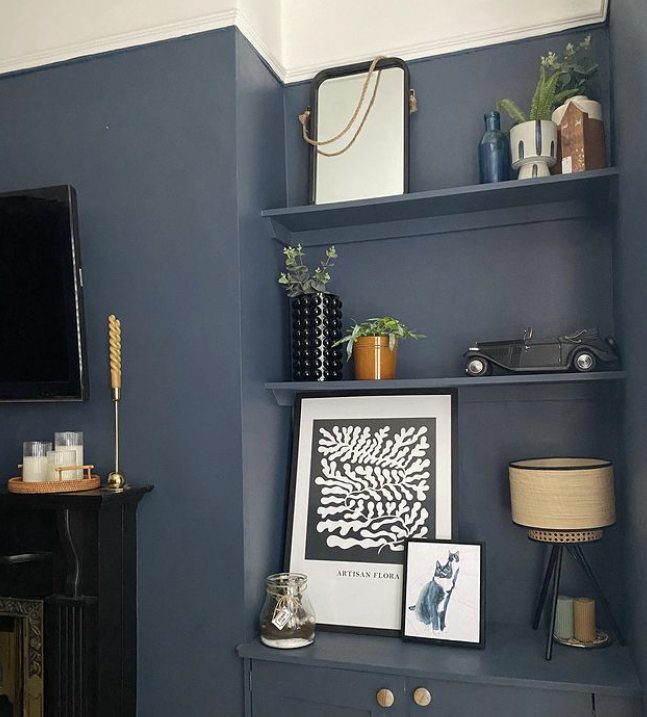 Image by @numberonevictorianterrace uses dark blue to paint the alcove shelving for a classic look that is timeless and elegant. Furthermore, dark blue can be matched with any colour of decor and accessories, so changing up the items on your shelving throughout the year will keep the space looking fresh in different seasons.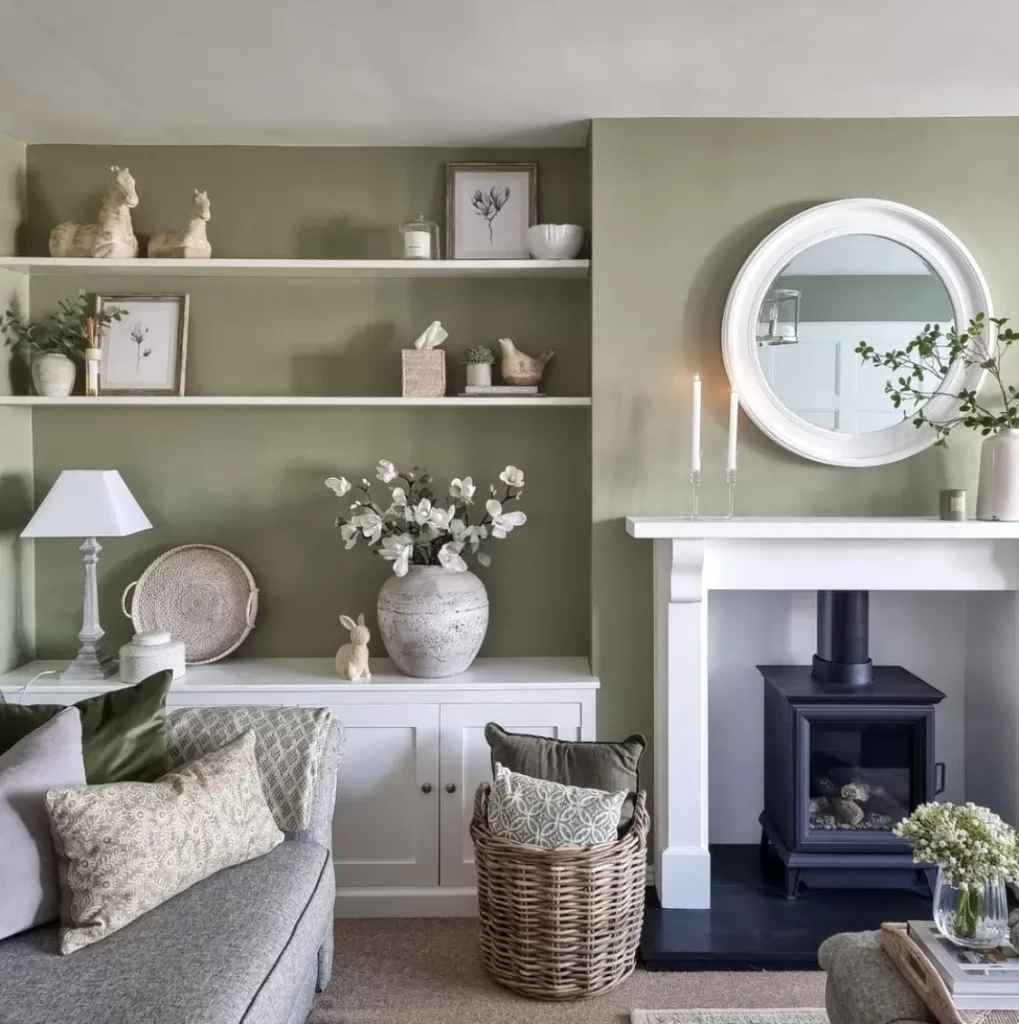 Image by @journeyat_number30 uses a soft green paint shade 'Lichen' by Farrow & Ball to create a calming look in the living room. The white shelving sets the tone for the decor items on display and allows the space to have some contrast for a beautiful shelving area in the room.
Dark Alcove Shelving Idea
Dark alcove shelving is an excellent option for a living room for several reasons. Not only does it create a striking contrast against light-colored walls, but it also adds depth and dimension to the room. The dark hue provides a bold backdrop for displaying decorative items, highlighting their beauty and making them stand out even more. Additionally, dark-colored shelves are less likely to show wear and tear over time, making them a practical choice for high-traffic areas like a living room.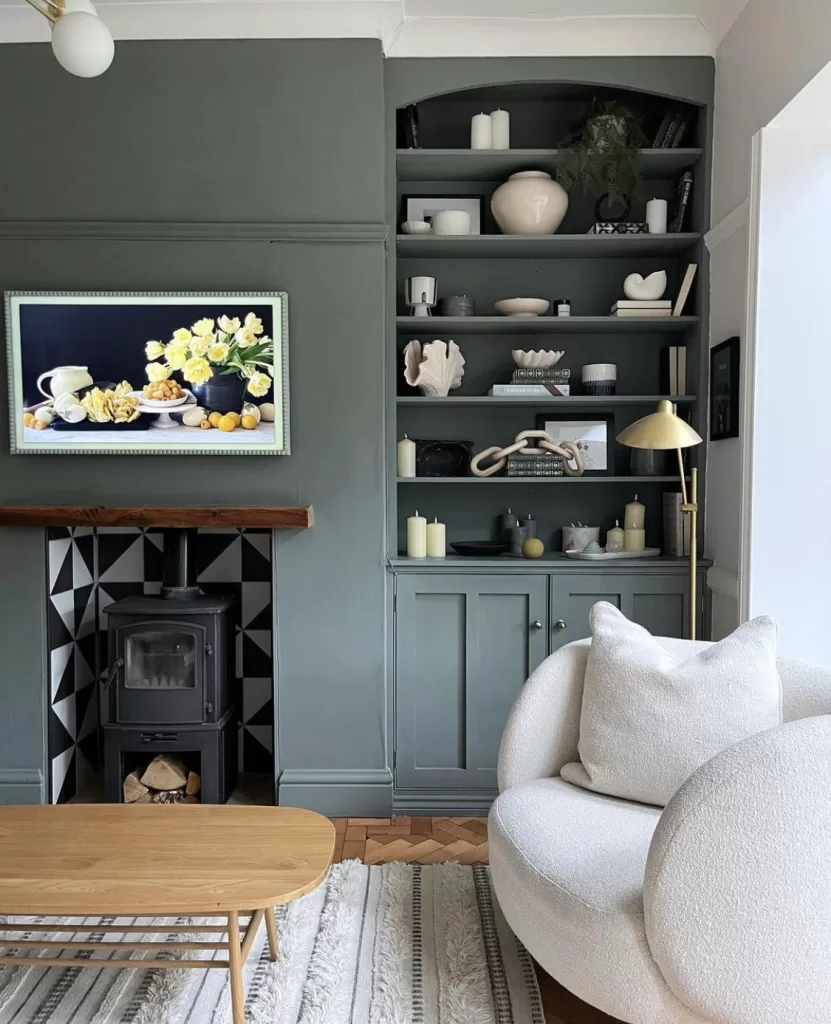 Image by @crack_the_shutters uses dark alcove shelving in the living room to create a bold statement look as well that adds warmth and depth to the space. The rich, warm tones of the dark shelving lend a feeling of comfort and coziness to the space, making it an inviting and welcoming area to relax and spend time in.
Alcove shelving idea in a victorian style home
Alcove shelving is an excellent option for a Victorian-style living room, it can help to emphasize the traditional architectural features of the room, such as high ceilings and ornate detailing. Additionally, it provides a practical and stylish way to display decorative items and add a touch of elegance to the space, without detracting from its period charm.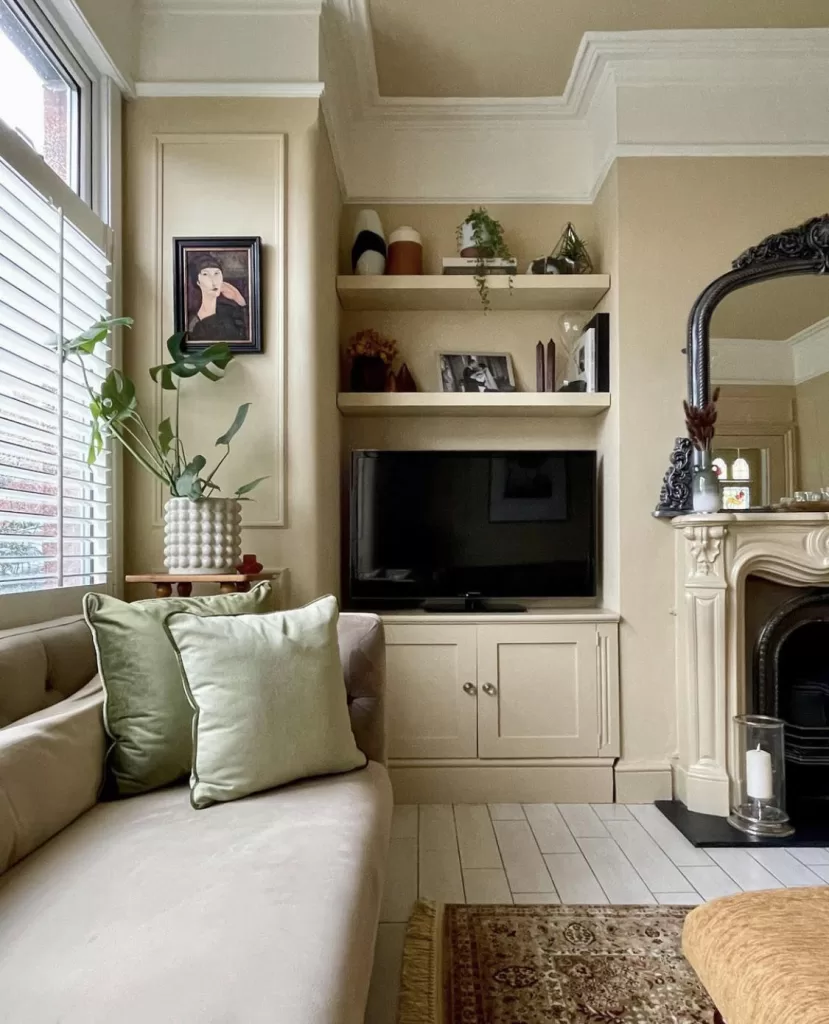 Image by @welcome_to_no.1 uses alcove shelving as a media unit and storage in a period-style living room. We love the cream walls that show off the character of the room, from the panelling to the shelving and the fireplace that all come together for an elegant look.
White floating alcove shelving idea
Floating alcove shelving is a great option in a white living room as it provides a streamlined and modern look that complements the clean aesthetic of a white room. The floating design creates an illusion of more space and airiness, making it an ideal choice for smaller living rooms or spaces that are in need of a little more breathing room.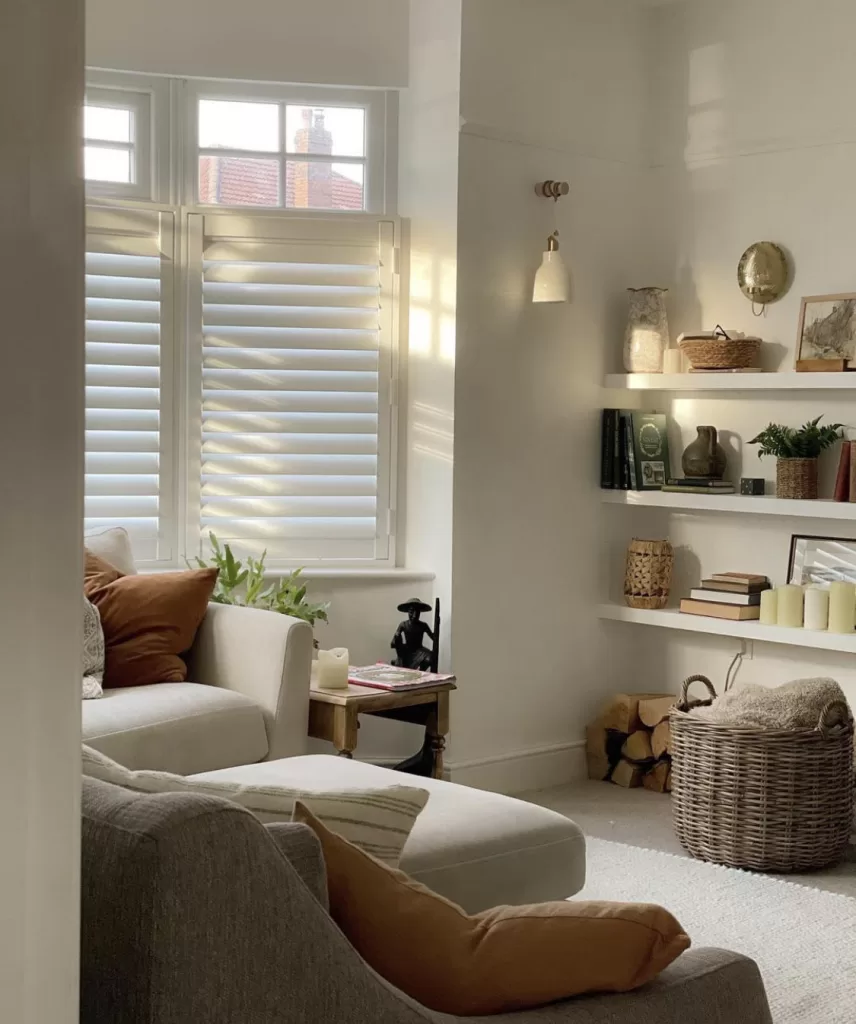 Image by @my_best_laid_plans utilizes floating shelving in a small living room space to add character to a white room. Furthermore, the floating shelving allows the room more space to store living room accessories and decor to give the room personality and character such as books, plants, candles and ornaments.
Statement alcove shelving ideas
White alcove shelving against a dark green wall is a stunning combination that can bring a touch of sophistication to a living room. The contrast between the crisp white shelves and rich green backdrop a bold and dramatic effect, making it a perfect choice for showcasing artwork or displaying books and collectibles. Additionally, adding pops of gold accents, leafy plants or rustic baskets to the shelving can help to balance the color scheme and create a warm and inviting ambiance in the space.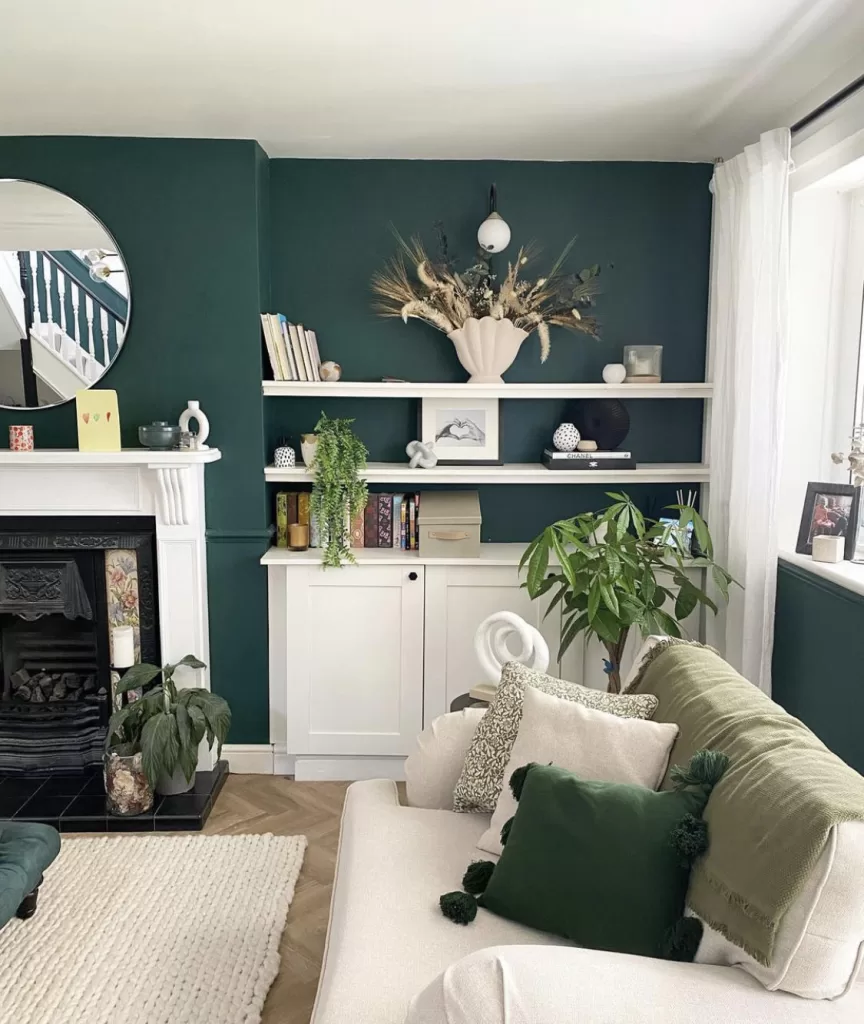 Image by @the.halgarth.home creates a statement alcove shelving unit by using white floating shelves against a dark green wall to make the space pop. Styled with statement decor, plants and books, this alcove shelving idea gives the space lots of texture and colour to complement the rest of the room.
Have you been inspired by these alcove shelving ideas? See more ideas below!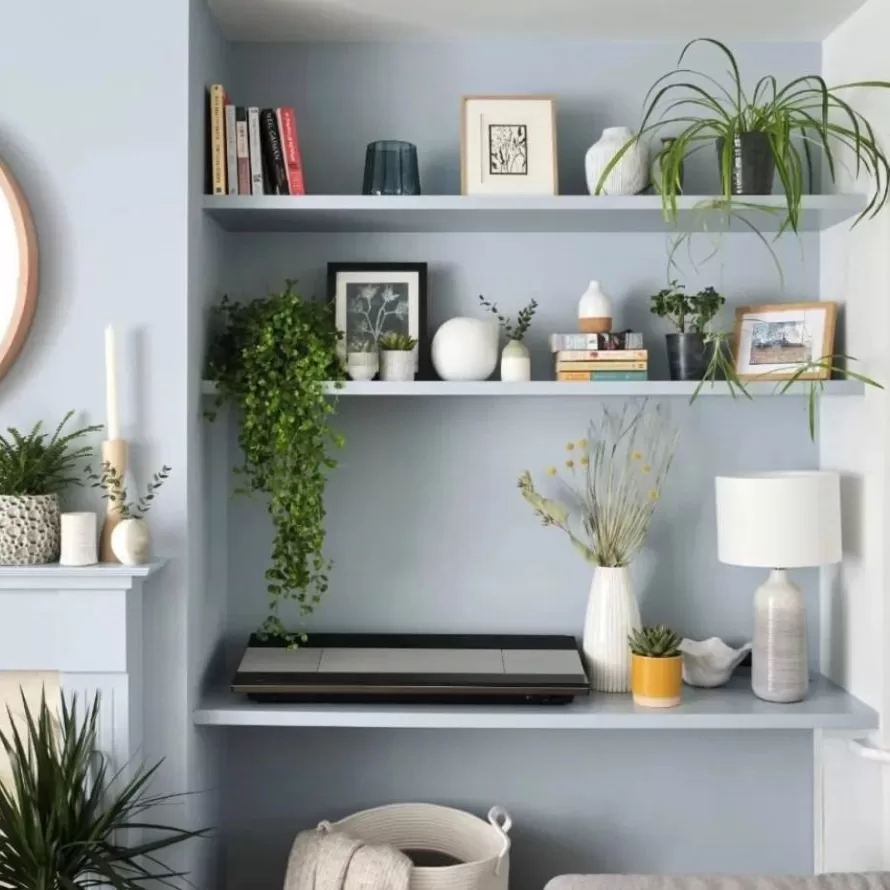 Bedroom Colour trends Home Decor Ideas Home Improvements Interior Trends Living Room modern living room Organisation & Storage panelling Wellbeing