Are you thinking of how to style your white sofa so it looks warm and cozy in your living room? We were just thinking the same thing!
Styling your white sofa with light green cushions can add a refreshing touch to your living space. The combination of a pristine white base with pops of serene green can create a harmonious and inviting atmosphere. So let's dive into some ideas on how to style your white sofa using those delightful light green cushions!
What to expect in this article:
How to style your sofa using green cushions
Before and after styling video
How to style your coffee table to match your sofa
Using green to make your white sofa cozy
Picture this: you've got your lovely white sofa, a blank canvas just waiting to be adorned with the perfect accents. And here come the light green cushions, ready to make a statement. First things first, you want to consider the shade of green that complements your sofa the best. Is it a minty fresh hue or a more vibrant lime green? Once you've chosen the right shade, it's time to play!
We chose a light shade of green with cream stripe cushions from B&M to match the sofa. Then added a reversible green and cream velvet pillow to go in the middle of the sofa to add another layer of texture, as well as the option to mix up the colours.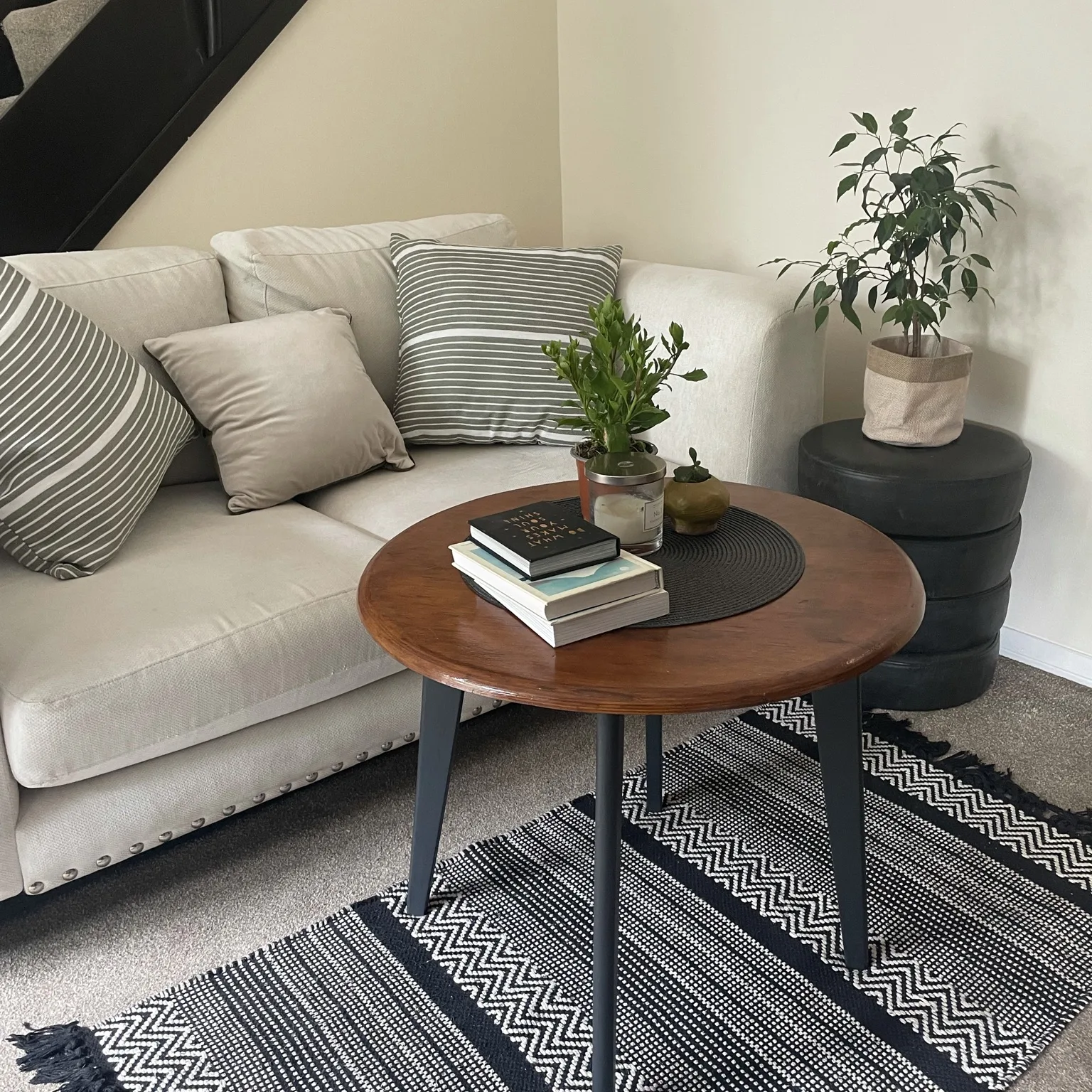 Watch the transformation video to see before and after!
How to arrange cushions on your sofa
Start by scattering the light green cushions strategically. A great technique is to mix and match different sizes and textures. You can opt for a few large cushions at the back, leaning against the armrests, and sprinkle smaller ones towards the front. This layering effect adds depth and visual interest to your sofa.
Now, let's talk about placement. Gently arrange the cushions in a way that feels relaxed and inviting. Pile them up casually, allowing them to lean against each other or lay them out symmetrically for a neater look. Don't be afraid to experiment with different arrangements until you find the one that speaks to you.
If you're feeling adventurous, you can introduce additional patterns and textures. Consider adding a few cushions with subtle prints or intricate details to break up the solid colors. Florals, geometrics, or even a touch of animal print can inject personality and bring your white sofa to life.
Complete the look with a styled coffee table
To complete the look, incorporate other elements that harmonize with the light green cushions. We chose to style our sofa with a rug and table that were darker to give the space bold contrast. We used a monochrome rug and a round coffee table with black legs. Finally, we style our coffee table with books, candles and plants to bring all the colours in the lounge together.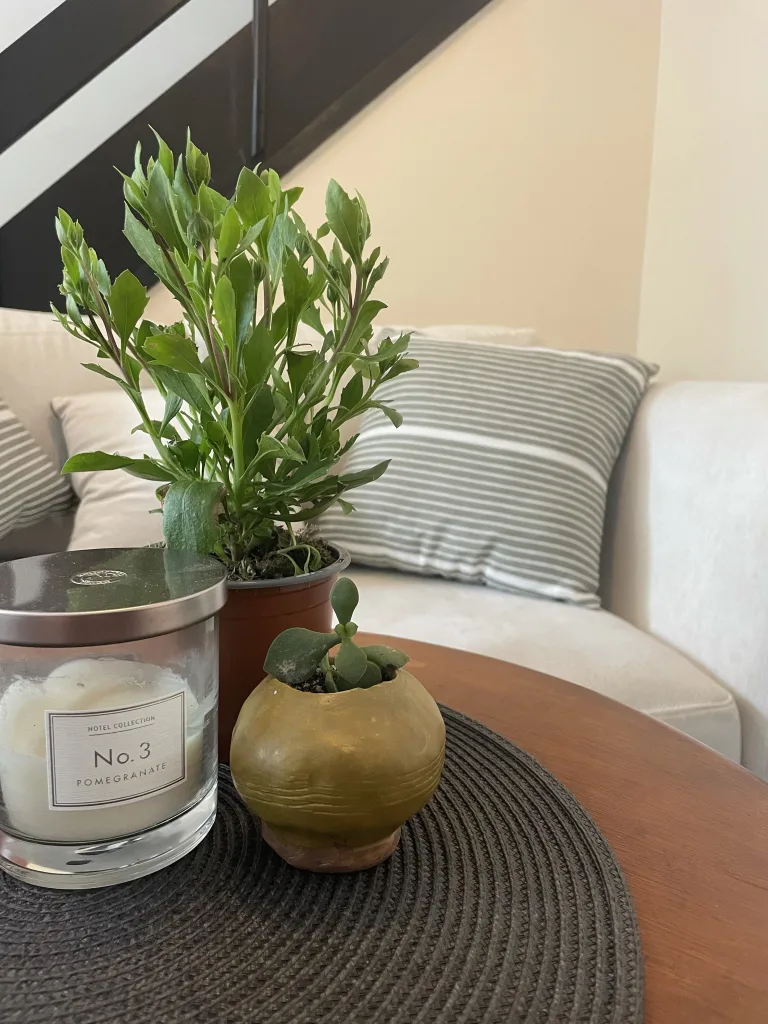 How will you Style Your Sanctuary? Find more transformation ideas below!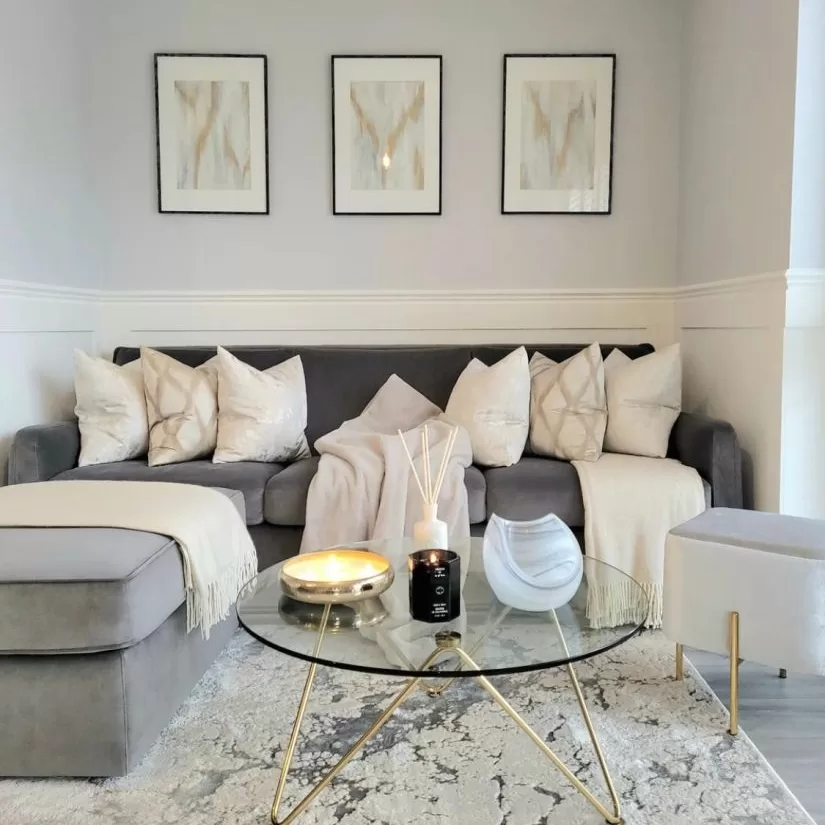 Advice Bathroom Bedroom Decor Inspo DIY and renovation Garden Interior Trends Kitchen Living Room Uncategorized