Our article on grey living room ideas is designed to inspire your home with the colour of relaxation and tranquility that can create a space in your living room to enjoy each and every day. Whether it's choosing the right shade of grey for your space, or deciding what other colours match best with your grey colour scheme.
See below for our best grey living room ideas to make your space feel cozy
All-grey living room idea
Light grey is a wonderful shade when getting ideas about a grey colour scheme for your living room. It offers a sense of spacious and airy living that makes a room look relaxing and tranquil. Light grey walls work exceptionally well, especially if you want to combine different shades of grey furnishings as it will create a canvas-like space mix and match contrasting greys. Combine minimalist decor with an all grey living room just like this setup below.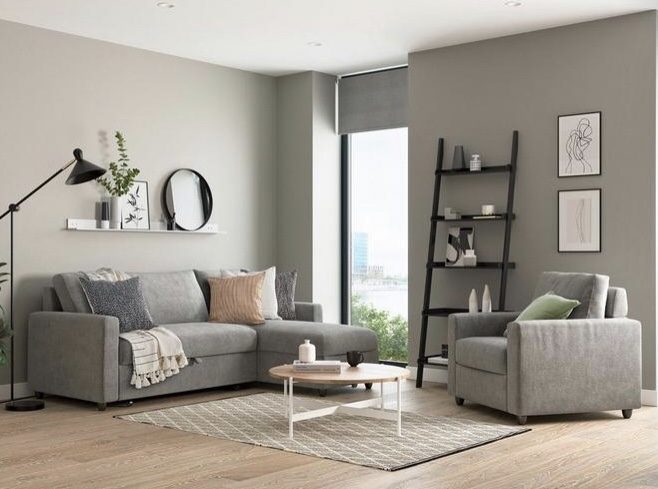 Shop this 3 seater sofa bed from Dreams at £899
Grey living room idea that uses lots of texture
An all grey living room can look sophisticated and cosy when done right. The best way to get this combination is to use different textures in your living room. A few grey living room ideas include wall panelling and fabric curtains to contrast the space.
Related article: Wall Panelling Ideas Around The Home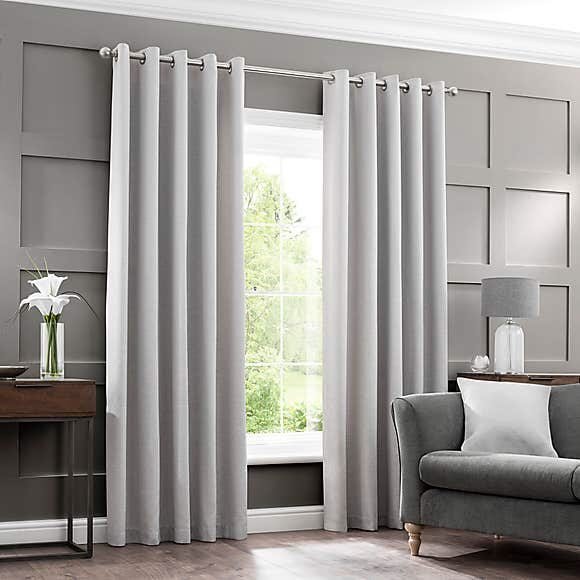 Shop these dove grey textures curtains from Dunelm at £45
Grey living room furniture idea
Not only is it great to feature grey sofas, walls and curtains, but playing around with other grey furnishings such as tables, sideboards, lamps and rugs will come together nicely. We adore this grey living room idea below, which incorporates a contrast of shades for a cosy look.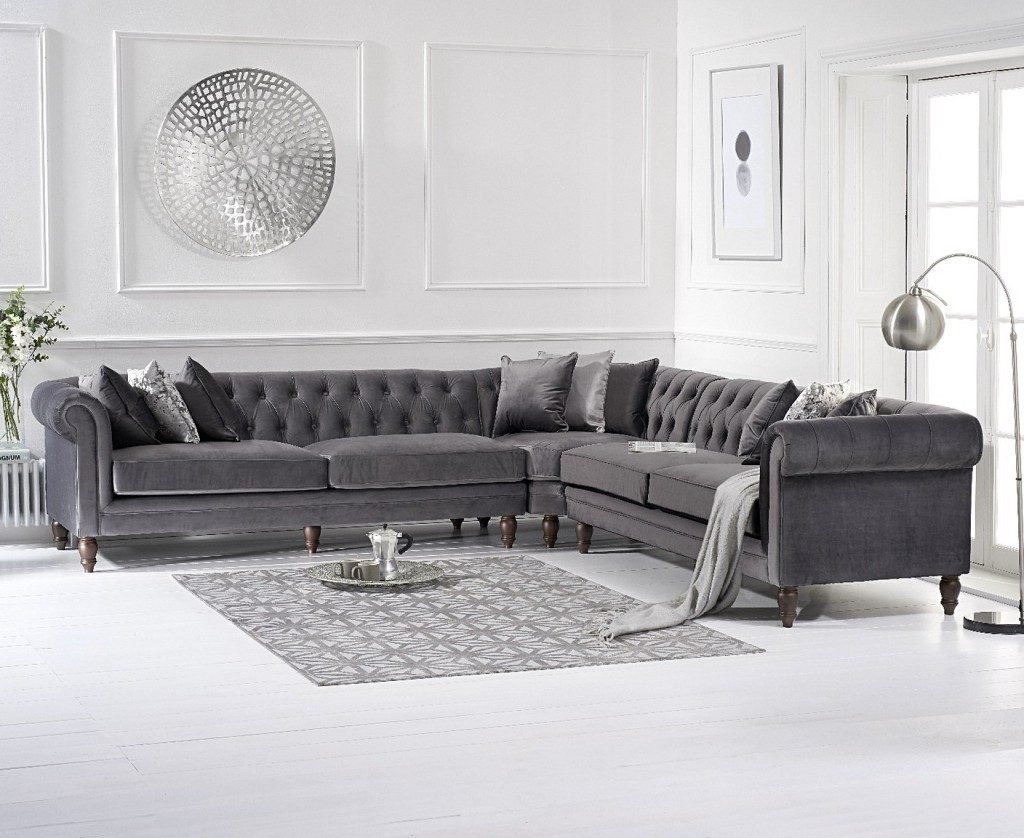 Image source: Oak Furniture Superstore
Grey living room wallpaper idea
Create texture and style into your living room design with a stunning wallpaper that will transform your space. Whether you're looking to makeover all your walls in your living room, or to create an accent wall, opt for a textured grey wallpaper just like this Trellis design from I Love Wallpaper. The beautiful detailing will capture the light and look beautiful and sophisticated in your living room.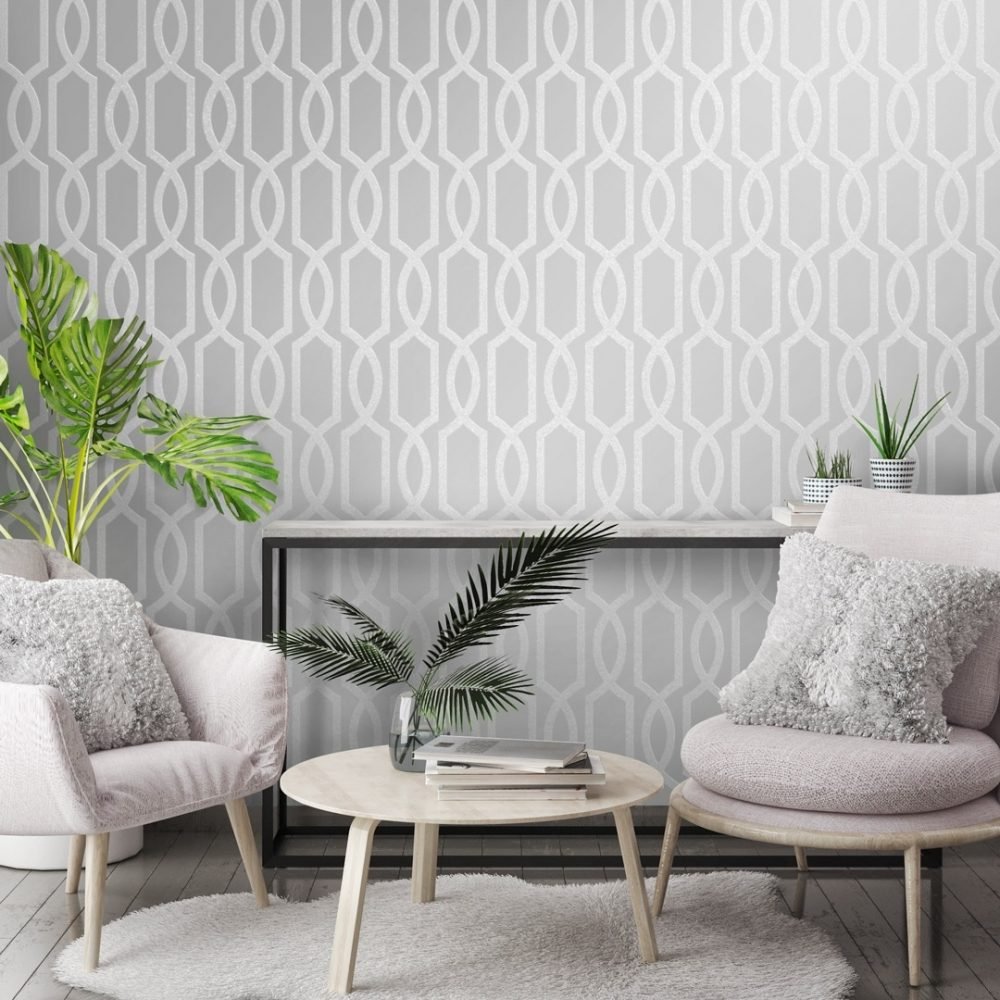 Image source: I Love Wallpaper
Grey and white living room idea
For a minimalist and tranquil living room style, combine grey and white for the ultimate colour scheme that brings in cosy and clean design. If you've got white walls, opt for grey furnishings so that you have contrast.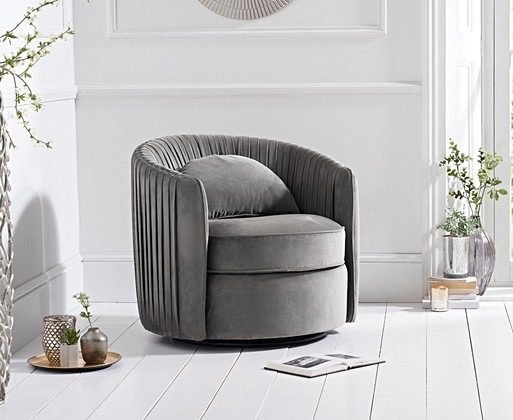 Shop this swivel velvet grey chair from Oak Furniture at £799
Alternatively if you've got grey walls and grey furniture, incorporate white elements such as throws, curtains, lamps, artwork and pillows to create a subtle contrast in your grey living room.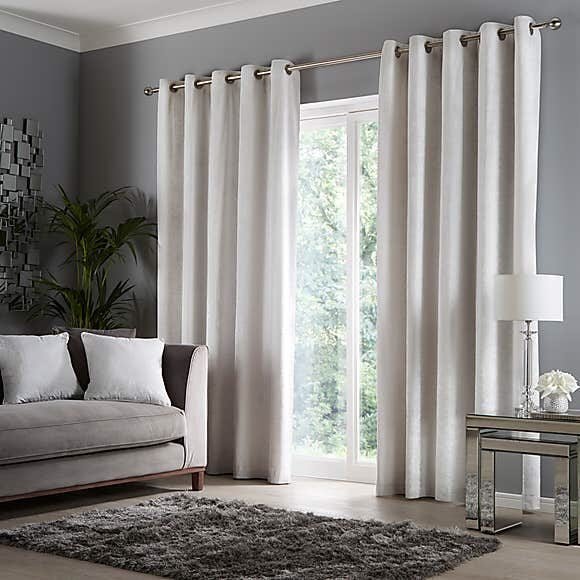 Shop white crushed velour curtains from Dunelm at £60
Dark grey living room idea
Have you always wanted to have a dark and cosy living room? While black is best avoided in the living room, grey is an alternative shade to paint your walls to mooden a room. When painting your living room dark grey, it's best to do it with caution as it can carry a dull look if it's not done right. Combine with bright colours including white accents to contrast a dark grey room.
This can be done in many ways including bright sofas to liven up your space as well as vibrant artwork and lamps. If you've got a beautiful fireplace in your living room, make sure it's done in a way that lightens up your space to avoid being lost as your living room's focal point.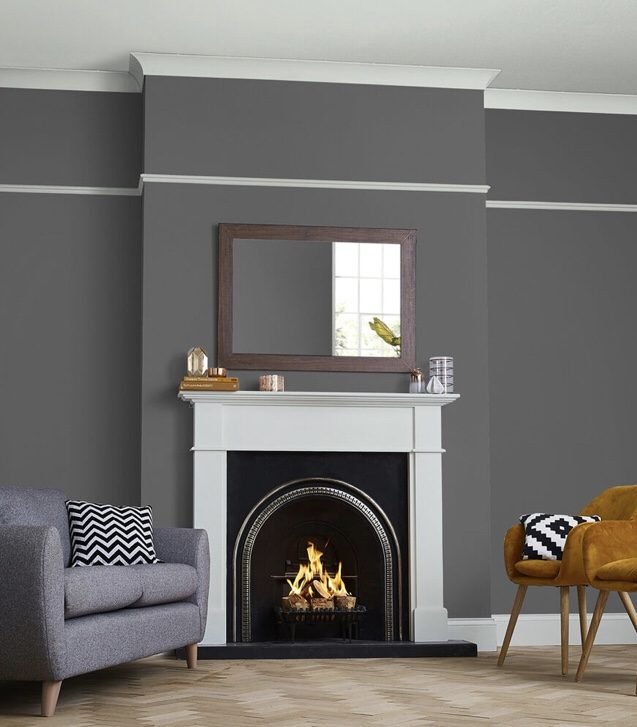 Shop Coal Dust paint from Graham Brown at £38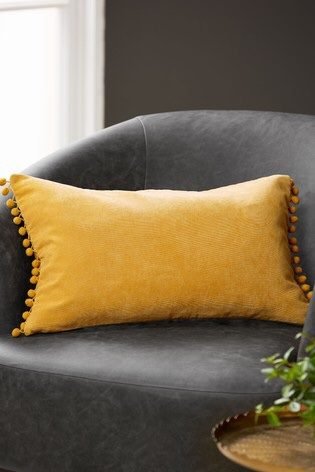 Image source: Next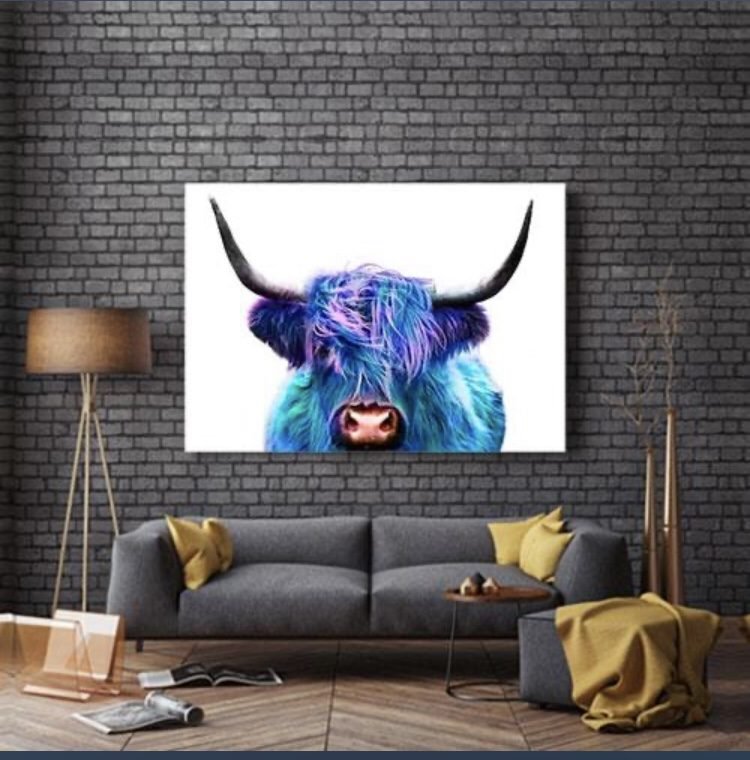 Shop highland cow canvas print from Art Prints Shop at £59.99
Grey and black living room ideas
Grey and black living room decor can look utterly cosy and sophisticated, just like this beautiful living room setup by Very. The use of throws and accessories such as minimal lighting features, cushions and accessories like vases, candles and ornaments set the tone for a glam romantic living look.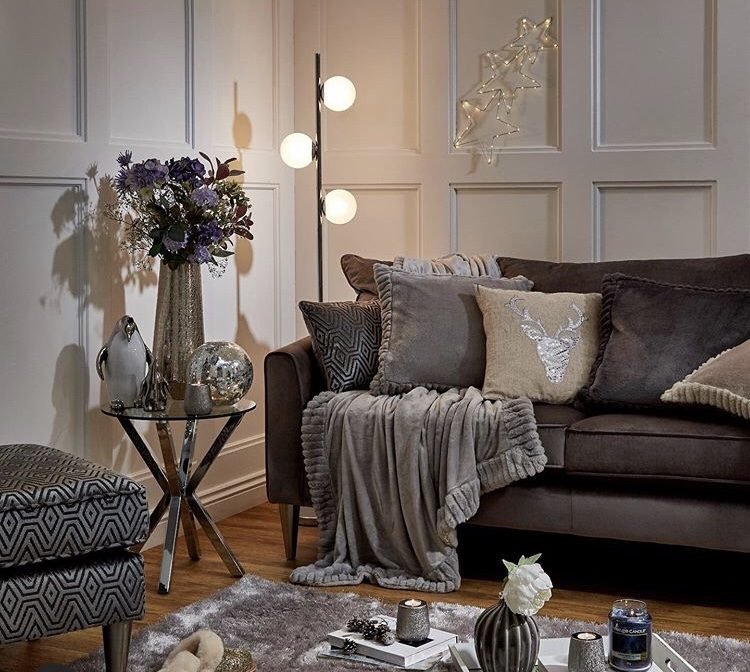 Shop the look:
Shooting star Christmas decoration – £12.99
Love these warm and cozy grey giving room ideas? Get more inspiration with our ideas below!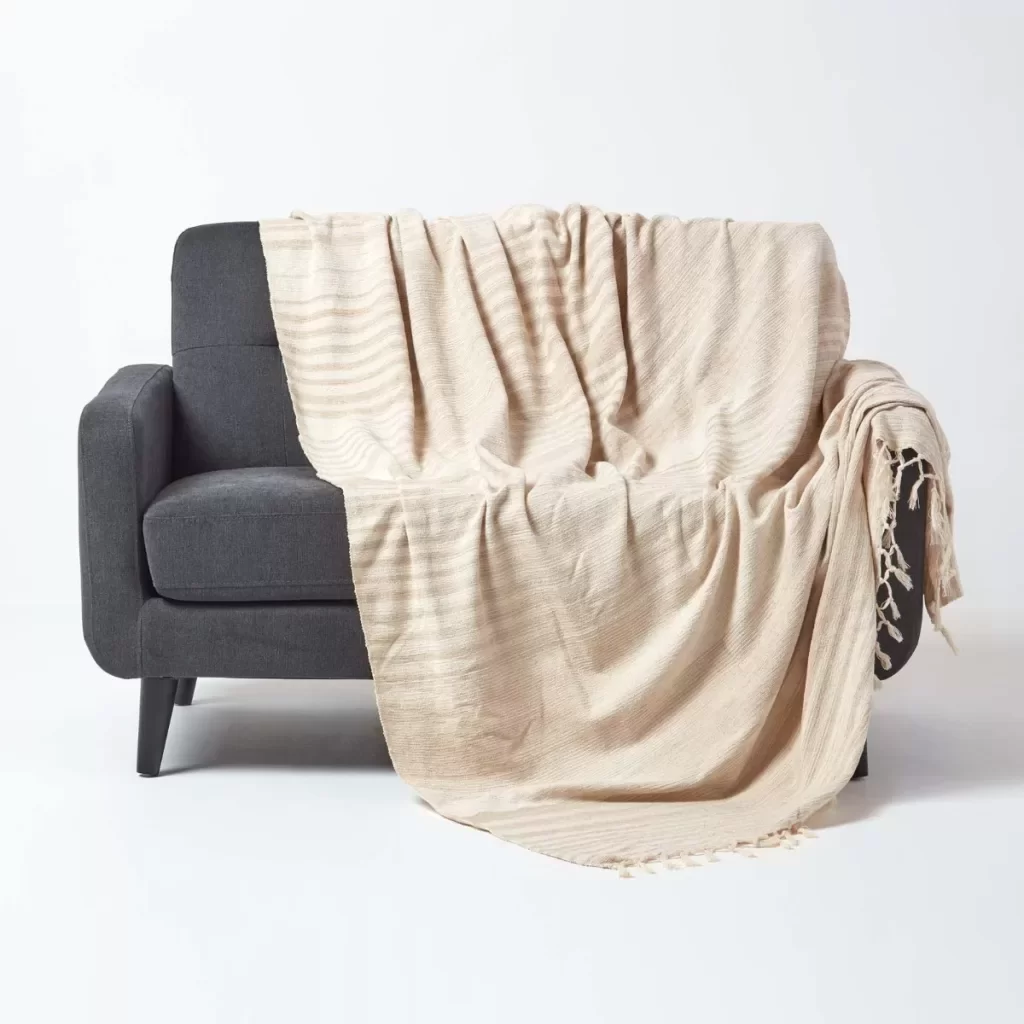 Bathroom Bedroom Decor Inspo DIY and renovation Garden Hallway Interior Trends Kitchen Living Room Uncategorized