In this article, we share colour ideas that will go well with your green room. From olive green to sage green, we cover all shades to give you the best ideas to make that all-important decorating decision!
If you would like a personalised interior design mood board, see our packages here. 
Is green a good colour for your bedroom?
Green is an excellent colour choice for a bedroom as it brings a sense of tranquility, balance, and a touch of nature into the space. It creates a soothing and relaxing ambiance, perfect for unwinding and promoting a peaceful atmosphere.
What colours go well in a green bedroom?
When incorporating green into your bedroom, consider the shade that best suits your taste and desired mood. Soft, pastel greens will give your room a gentle and serene vibe, while darker greens can add a cozy and intimate feel. Remember, each shade of green evokes a different mood, so choose the one that resonates with you.
Colour ideas that go well in a green bedroom
To ensure a harmonious look, take into account the overall colour scheme and lighting in your bedroom. Consider combining green with complementary colours, such as neutral tones like cream or beige, or even with natural wood elements. This will create a balanced and visually pleasing space.
Below, we share some of our favourite green bedroom ideas to inspire your next project to make your bedroom your sanctuary.
Mix sage green with cream and French decor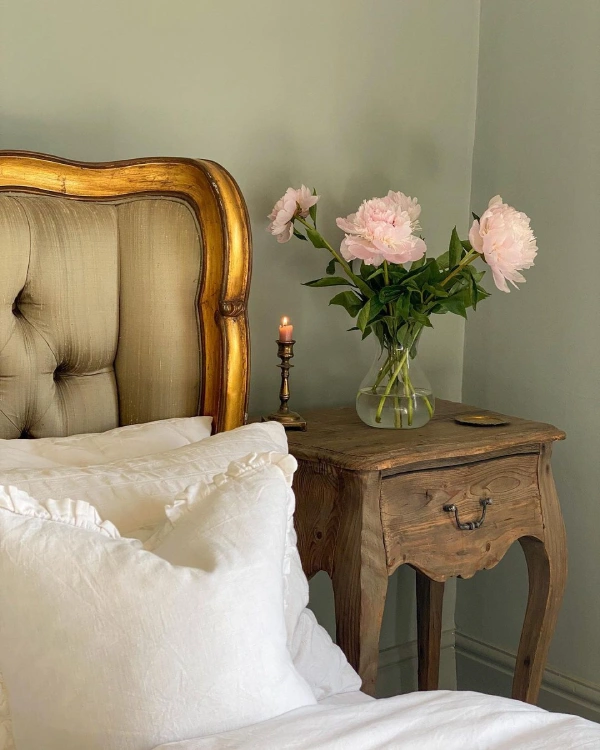 Image by @regent_lodge_georgian_home on Instagram
Using sage green in conjunction with vintage French decor creates a delightful combination that exudes elegance and charm, just like the design above. The soft, muted tones of sage green beautifully complement the ornate detailing and antique elements commonly found in French-inspired interiors. This colour choice adds a touch of serenity and natural beauty, enhancing the timeless appeal of vintage French decor while maintaining a soothing and inviting atmosphere.
Mid green and dusty pink for a Victorian bedroom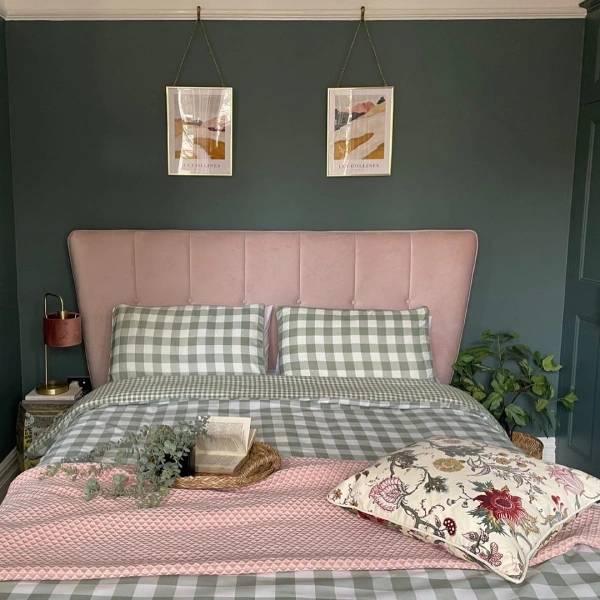 Image by @ty_victorianhouse on Instagram
Using a mid-green shade and dusty pink in a Victorian-style bedroom creates a captivating and harmonious atmosphere. As you can see in the design above, the rich green complements the soft pink and adds a touch of femininity. This colour combination brings a romantic and enchanting vibe to the room, capturing the essence of Victorian elegance in a modern setting. We absolutely love the textures on the bedding which combines pink and green together for a statement look for the room. 
Mid-green and orange for a bold look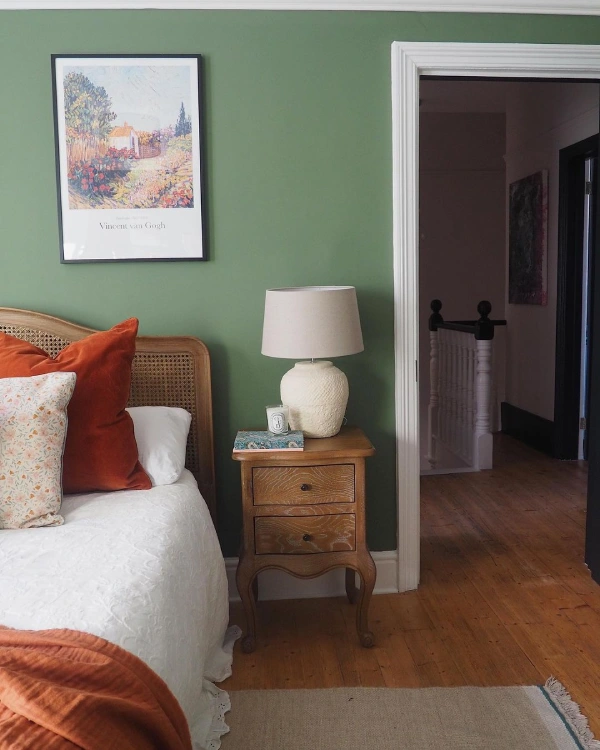 Image by @the_house_at_no15 on Instagram
Adding burnt orange decor to a mid-green bedroom creates a bold and lively look. The warm tones of burnt orange contrast with the mid-green, making the room feel cozy and inviting. As you can see from the design above, orange is infused through the bedding, and within the artwork. Also, the hardwood flooring and bedside table lean into the orange tints for a cohesive look. This combination brings a natural and energetic feel to the space, resulting in a unique and eye-catching bedroom design.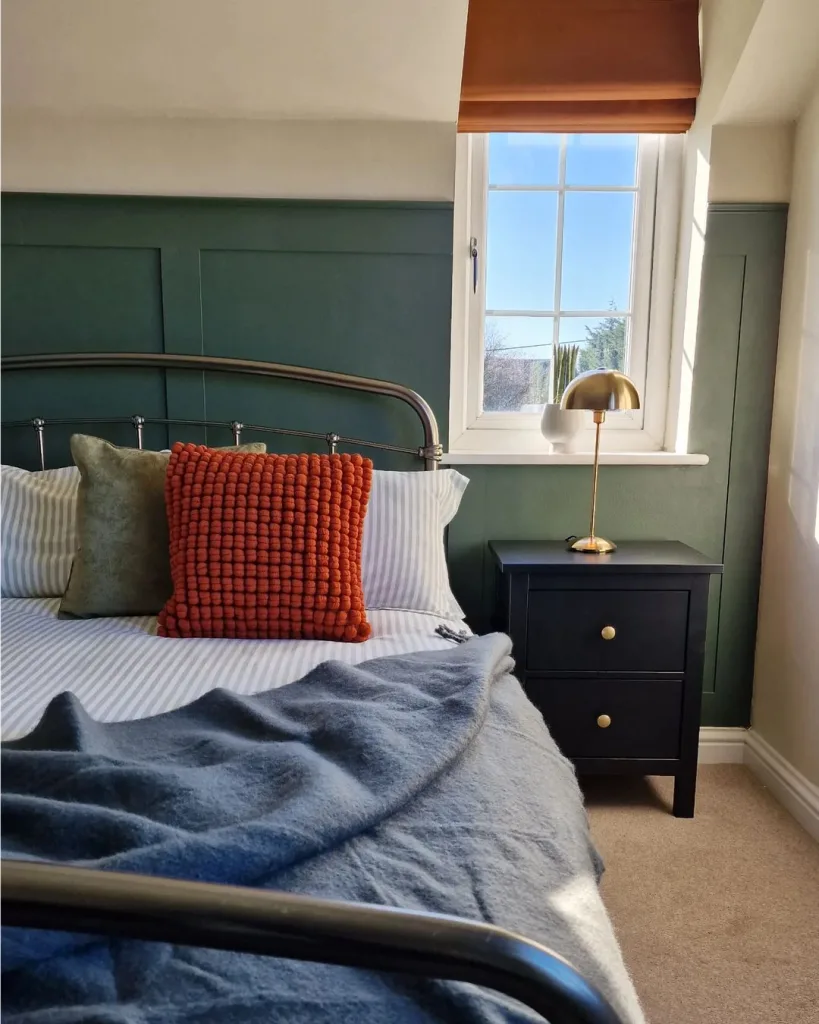 Image by @kateandherhome on Instagram (using Farrow & Ball Beverly)
Kate has created a gorgeous green sanctuary with the use if panelling, which adds depth and texture. Pairing the white ceiling and the bedding brings the look together so beautifully too. We love the orange and gold elements in this bedroom which you can use to warm up a green bedroom.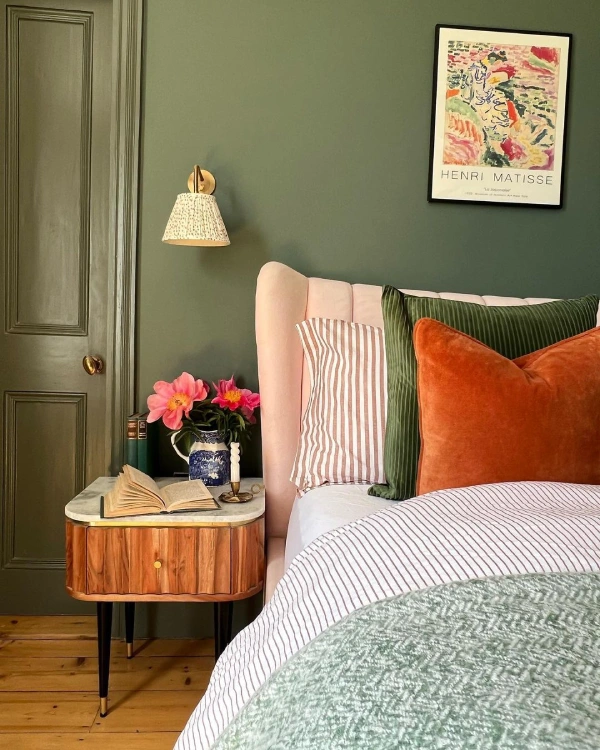 Image by @edwardian_house_interiors on instagram
Becky has subtly used hints of orange and gold in her bedroom with accents of pink to introduce a third colour palette to combine with green. We love the softness of the pink and wood features, that bring a warmness to the mid-green walls for a soothing bedroom space. 
Bright green for a child's jungle-theme bedroom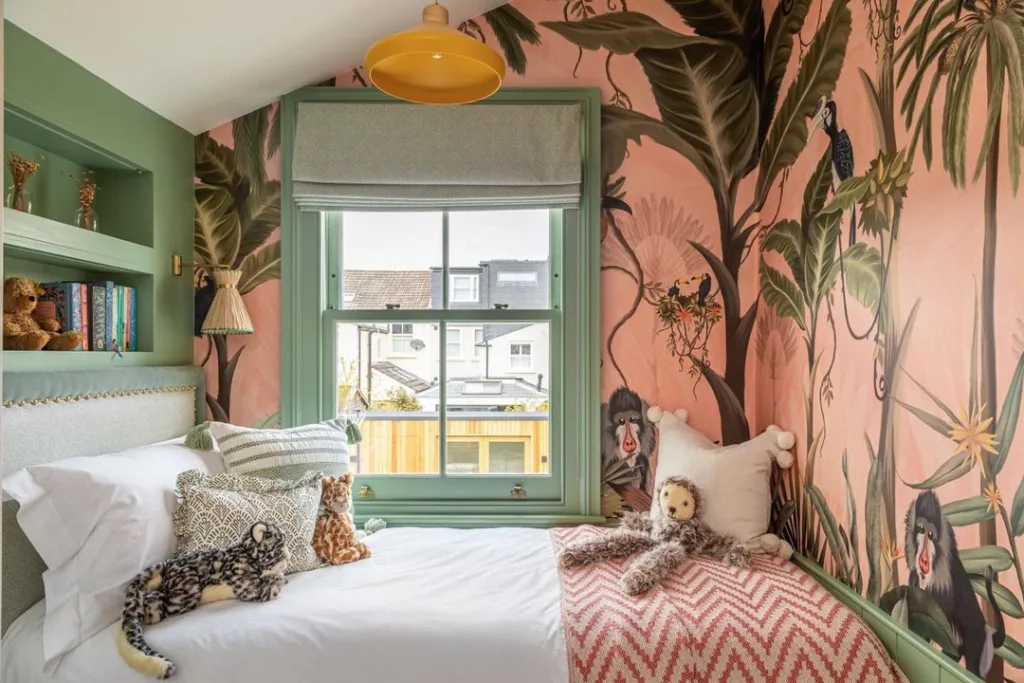 Bedroom by @laraclarke_interiors on Instagram / Photo by @jonathanbondphotography on Instagram
Using a cheerful green is ideal for a child's bedroom as it brings positivity and a connection with nature. We absolutely love this fun jungle theme design by Lara Clarke Interiors, which incorporates a fun pink and green jungle wallpaper that adds playfulness and charm, stimulating imagination and creating a joyful ambiance for learning and play.
Olive green with cream and white for a soothing bedroom look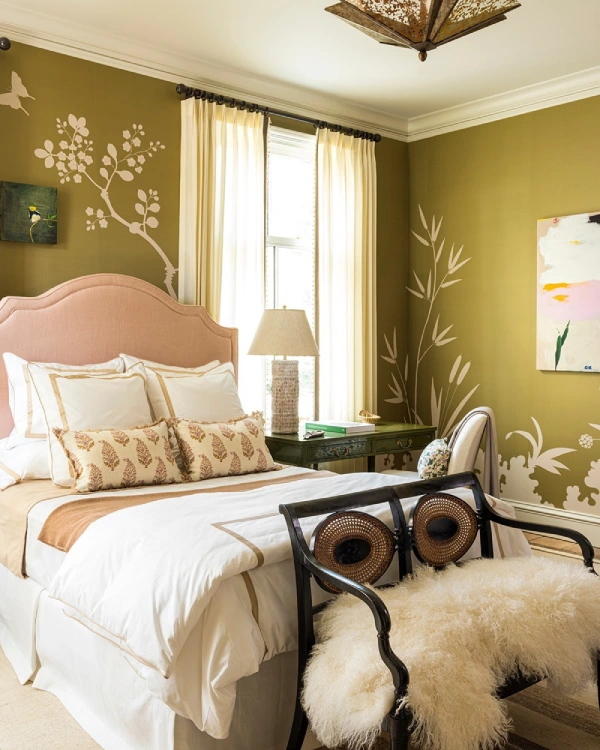 Image by @fromentaldesign on Instagram / Design House @tammyconnor
Inspired by a secret garden, this whimsical bedroom brings in the playfulness of youth through a gorgeous bespoke mural that flows throughout the room and gives depth and contrast to the gorgeous olive-green walls. If you're looking to incorporate olive green into your bedroom, use creams and whites to give it a soft finish.
Olive green with white for a bold bedroom look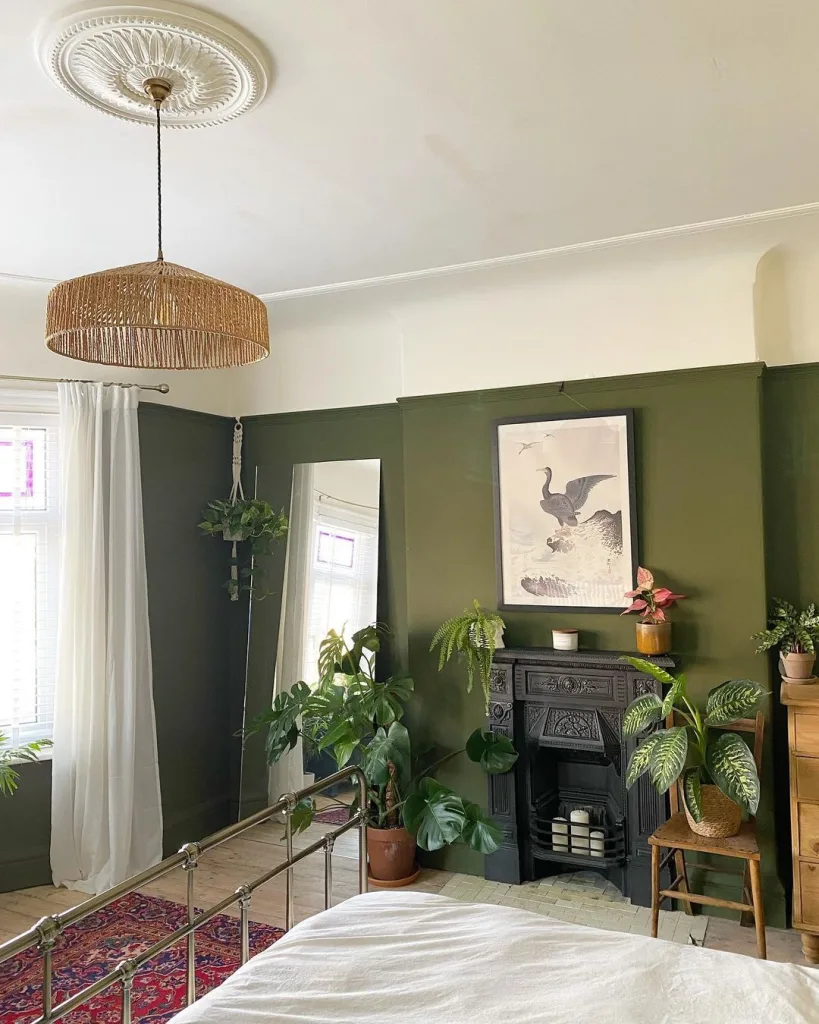 Image by @our_newbrighton_project on Instagram (uses Green 05 by Lick)
Olive green is the perfect shade of green if you love the uplifting effects of green, but you're looking for something on the darker side. Additionally, this darker shade is great for Victorian-style homes, as you can see in the design above. The gorgeous green adds to the characteristics of the room, which is finished with a crisp white ceiling and accessories for a bold contrast.
Dark green-grey for a moody and relaxing bedroom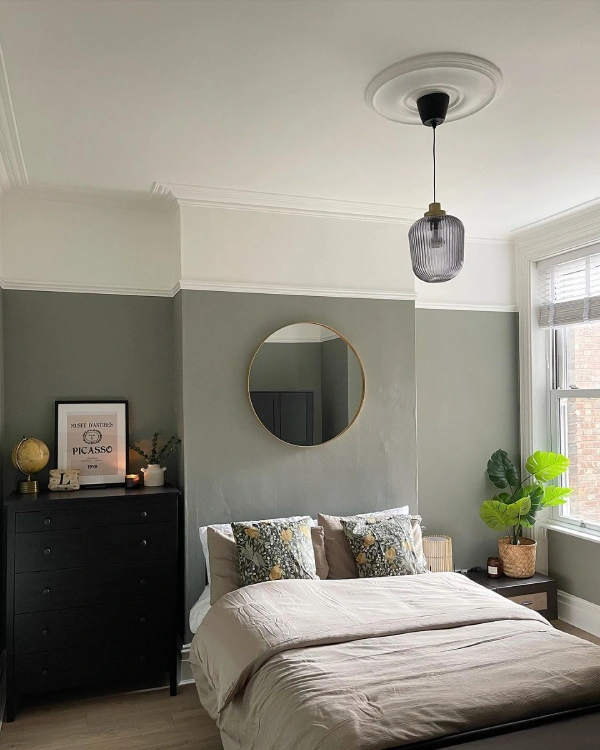 Image by @theglasgownest on Instagram
If a calm and moody setting is a style you would like in your bedroom, take notes from the design above. This bedroom uses Farrow & Ball Pigeon which is a greenish-blue colour and is used to create a natural feeling for the room. Paired with dark furnishings, then completed with the finishing touches like gold decor to warm up the space is a great way to style this cool shade of green.
Dark green for an industrial-style bedroom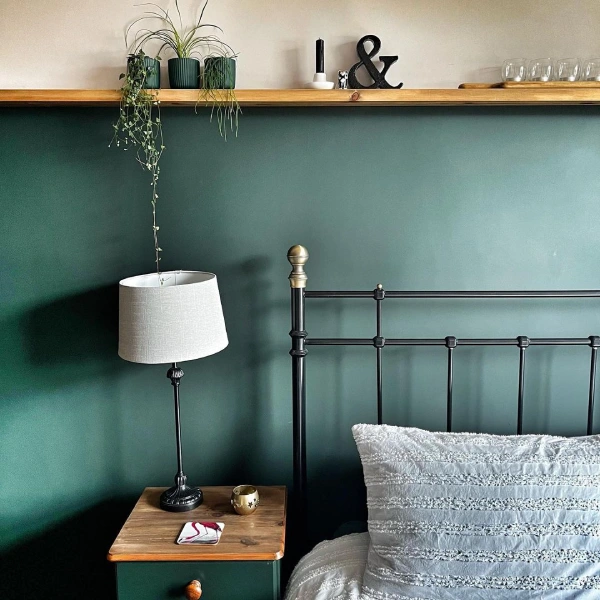 Image by @renovating_cartrefle on Instagram (using Lick Green 06)
For an industrial-looking bedroom, pair dark green with wood and metal finishes to really bring out the rustic charm. You can do this by using metal bedframes and floating shelves, just like Sharon has done in the image above. We really love the shelf styling in this green bedroom, which brings in nature through plants but also infuses industrial charm through accessories. 
Green and purple for a luxurious bedroom style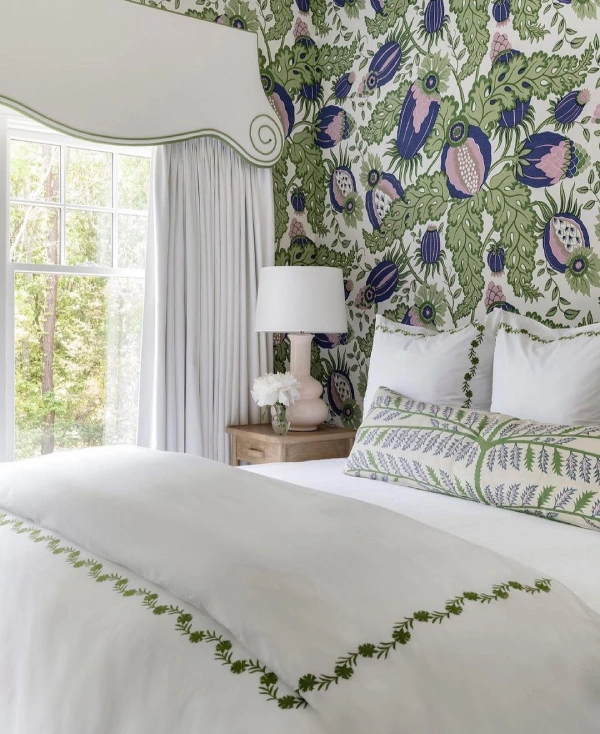 Image by @oodlesofwallpaper on Instagram
Green and purple make a fantastic duo for a bedroom as they are complementary colours on the colour wheel. The freshness of green pairs beautifully with the richness and depth of purple, resulting in a visually captivating and sophisticated atmosphere. As you can see from the bedroom idea above, using bold green and purple wallpaper adds depth and richness to the space. This is flowing through the bedroom too, with similar patterns and colours used throughout the room on fabrics and furnishings. Use white to break up the patterns to give them a harmonious and contrasting look. 
Inspired by these green bedrooms? Find more inspiration below!
[caf_filter id='10852′]