Blue is a classic and calming colour for a bathroom. With so many different shades and options on the market, deciding what to go for can be challenging. But don't worry, we are here to give you some inspiration and styling advice to make your decision much more straightforward.
In this article, you will find blue bathroom colour ideas, tile options, fixtures and flooring ideas. Let's dive in…
Dark Blue Tiles with Gold and White Decor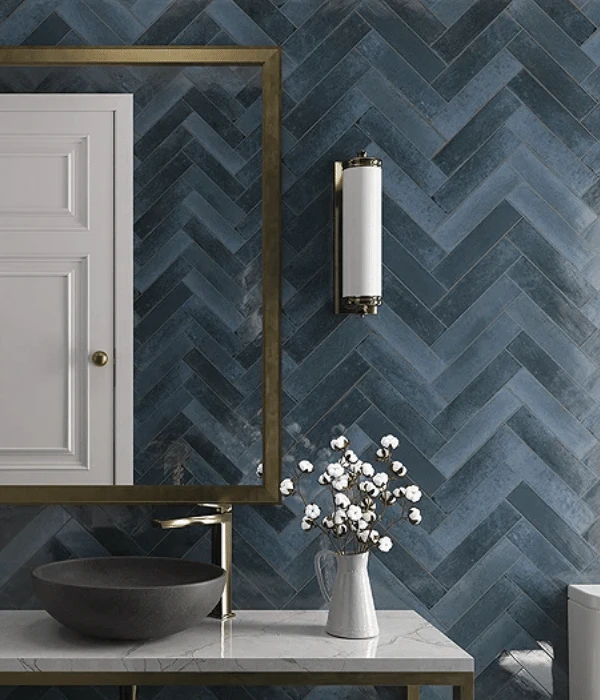 Image by Victoria Plumbing
Choosing dark blue for your bathroom is a classic colour choice. This shade goes really well with gold and white for a sophisticated and luxurious look. If you have a small bathroom, consider using dark blue tiles on half of your bathroom, such as the bath/shower and by the toilet and sink. Use white or a matching blue paint to cover the rest of your space so that it doesn't feel too dark and one-toned.
How to style a dark blue bathroom: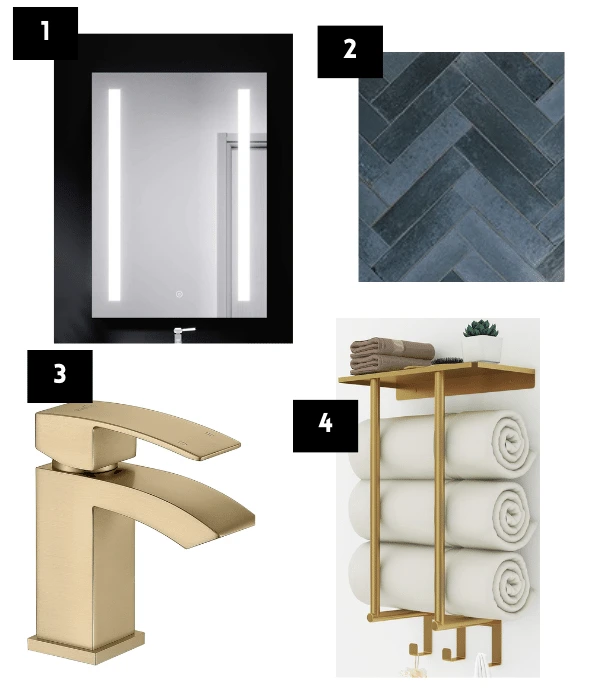 We've chosen gold fixtures to style the dark Victoria Plumbing tiles, the waterfall tap adds a luxurious touch to a white or black sink. The gold wall storage adds visual contrast against the dark blue tiles.
Light blue bathroom with rustic farmhouse charm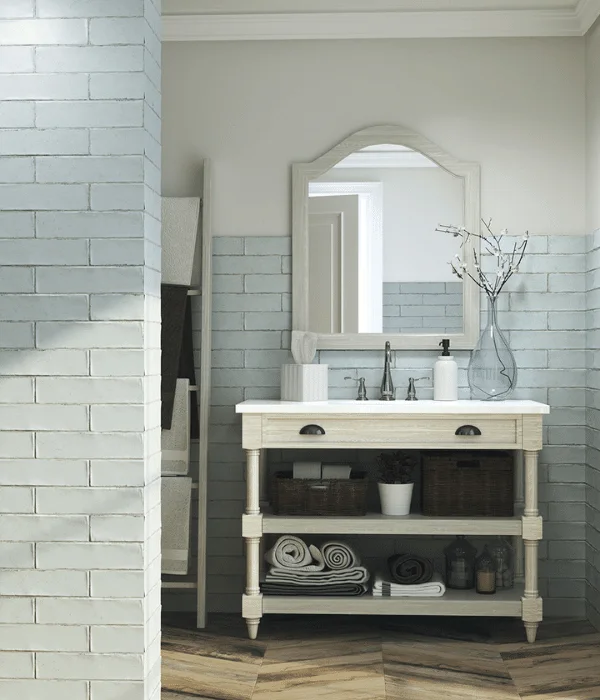 Image by Stone Superstore
On the other hand, if you love farmhouse interior styles, choosing a light blue colour scheme for your bathroom can work really well. Mixing light blue and white together creates a soothing contrast and plays into the shabby chic aesthetic. If you have a small bathroom, bringing reflective tiles into your bathroom can brighten it up too!
How to style a light blue bathroom: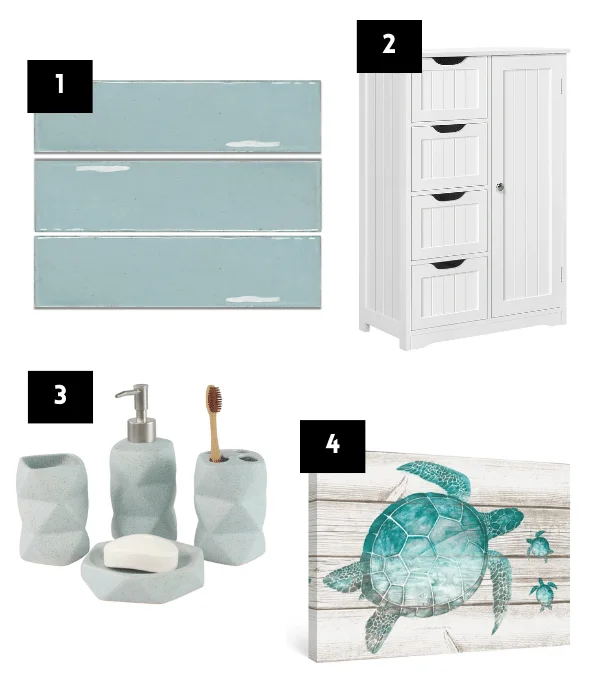 To create a farmhouse bathroom look, we've included a storage unit with panel slats to bring in the country charm. We've also included a fun turtle canvas picture against a wooden backdrop for that rustic farmhouse element. Additionally, we've mixed it up with geometric shapes in the toiletries holder set to modernise the design.
Mid-blue bathroom with panelling for a Victorian style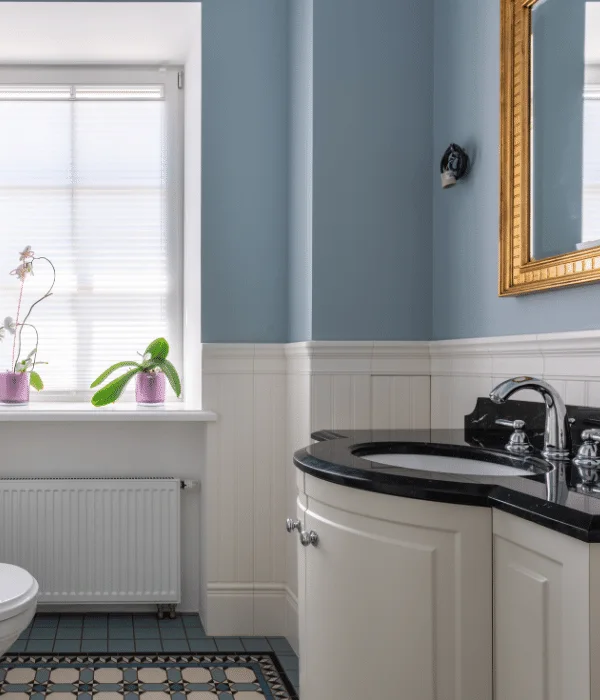 Victorian interiors are an ever-growing trend in the interior design world, which can add a touch of elegance to any room. Including your bathroom – you can add characterful decor pieces like frames or play around with half panelling for a timeless look.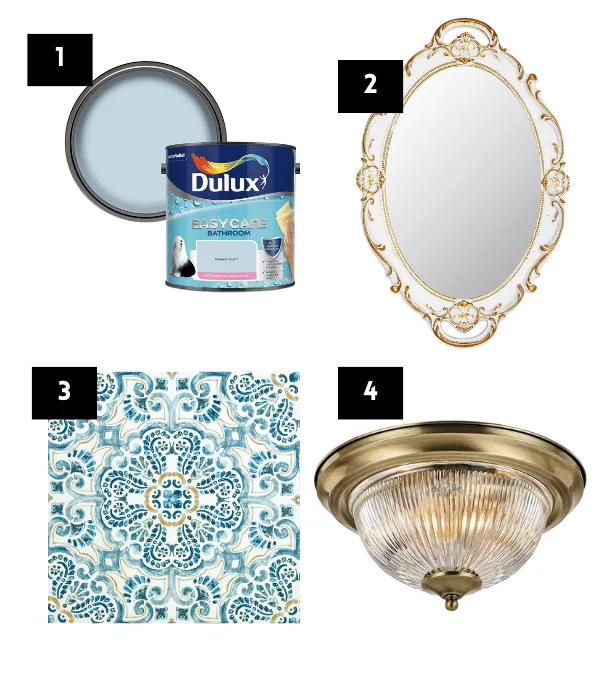 Create a charming Victorian bathroom style yourself with various design elements, such as this beautiful oval decorative framed mirror which is a statement piece for above your vanity. Take the decorative look into your flooring with quirky repeat pattern tiles, then complete the look with a glam gold flush light for those added details that complete the look.
Blue marble effect bathroom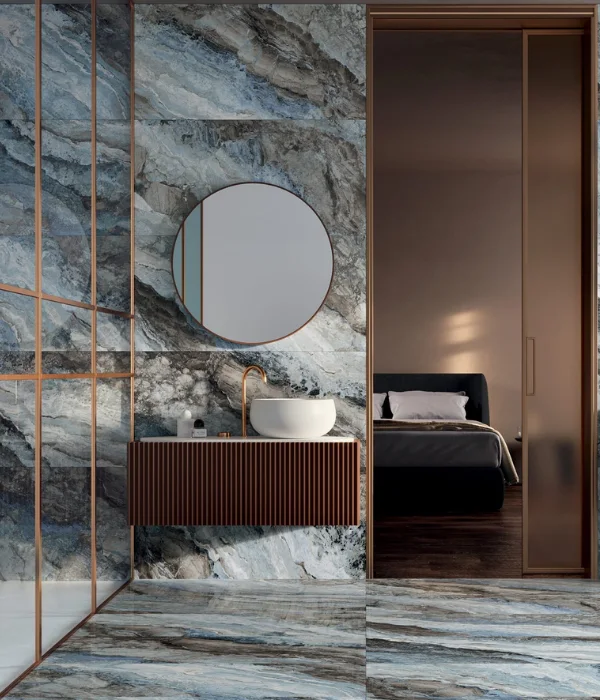 Image by Boutique Stone
Opting for blue marble in your bathroom can be a classy and luxurious design choice. These Boutique Stone marble tiles infuse creamy blues and greys, which can be paired with a range of colours and finishes. If you're looking to style blue marble in your bathroom, see below for our top picks that pair nicely with this tile.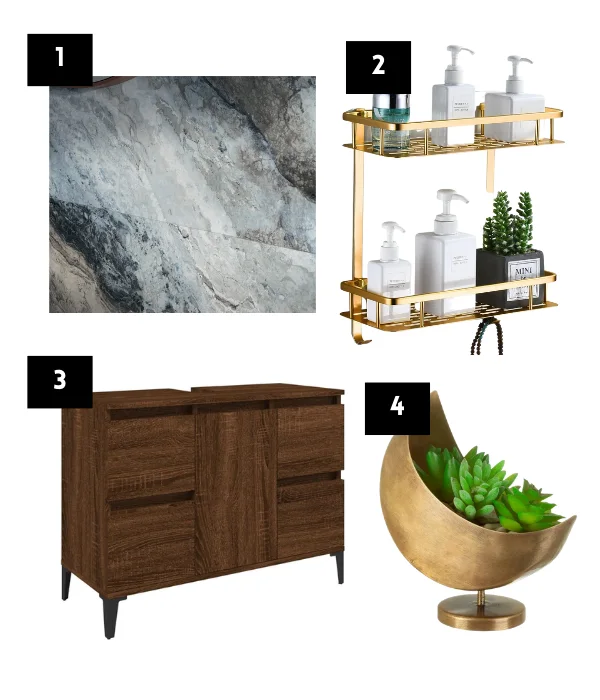 We've kept the colour palette simple when pairing it with the blue marble bathroom tiles so that the design is cohesive and feels sophisticated. Mixing brown and gold can create warmth in the space against the blue-grey marble, which is why we have chosen a dark wood vanity with gold finish accessories to complete the look.
Blue bathroom with patterned tiles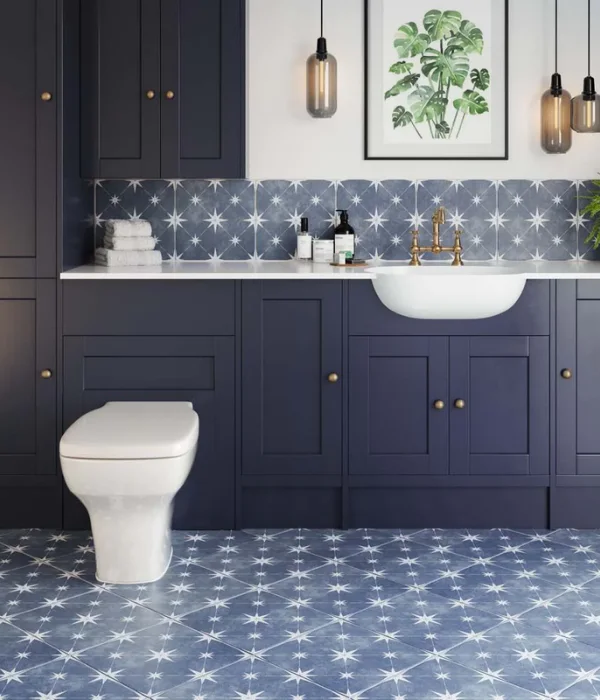 Image by Tiles Ahead
With blue being a versatile colour for the bathroom, mixing it up and playing with pattern is very achievable. With so many tiles on the market, choosing which one you will love can be difficult. We love these star print tiles that can be paired so easily with different shades of blue and white and are easy on the eye. This is why putting a mood board together is a great way to turn your vision into reality!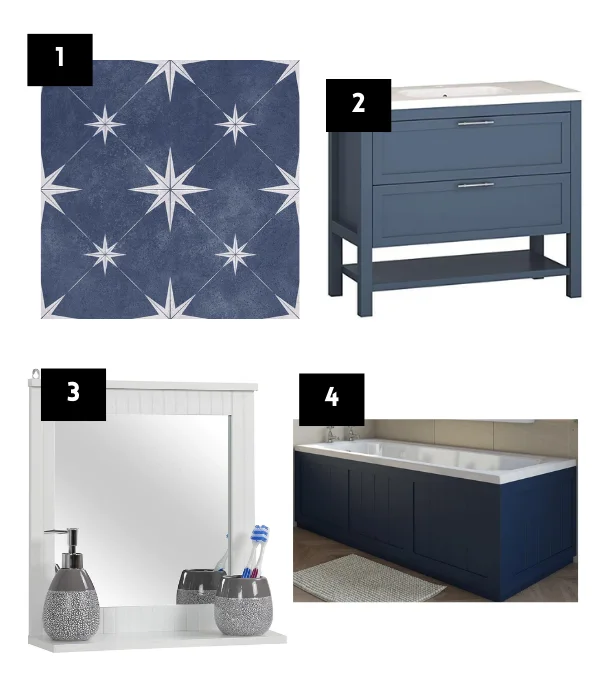 We've matched the pattern bathroom tiles with contemporary furnishings for a look that is both timeless and modern. From the verticle slat wall mirror to the shaker bath panel and vanity, which all have simple line forms, that unify the look perfectly.
Conclusion
We hope this article has helped you in the design process for your bathroom. We shared that blue is a versatile colour, which can be used in many shades and in different patterns to create a desired bathroom look. From elegant and modern, to quirky and Victorian, there really is a blue bathroom style for everyone!
Why not check out our Instagram to see more fabulous ideas around the home, or subscribe to our emails here!