Design your living room to the max with these full-of-character interior design ideas
Do you want to know what the best part of embracing the maximalist decor trend is? The fact that you can do what you want, with as many colors, textures, accessories and materials as you like! There are no rules when it comes to decorating your living room with maximalist decor. More is more, and if you like something, keep it in the design!
So, if you've come here to find new ways to make the most out of maximalist interior styles, you have certainly come to the right place. Keep reading to learn and discover new ways to incorporate more into your living room below!
Artwork is your friend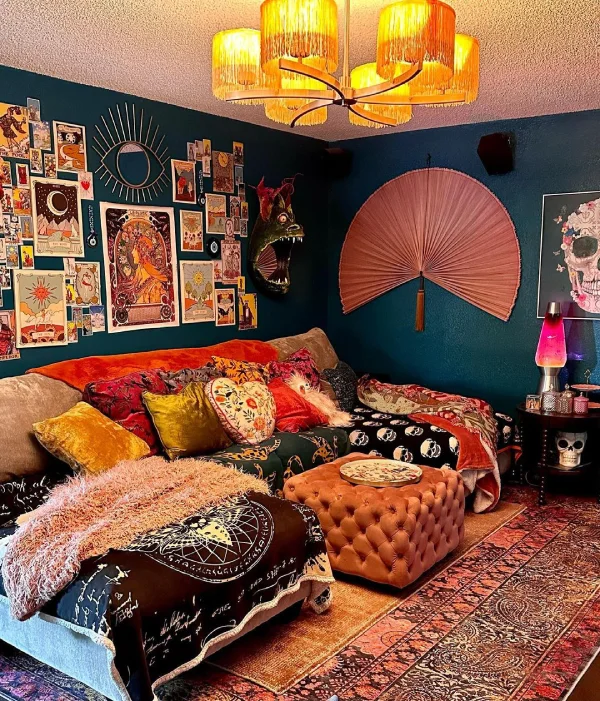 Living room by @nuttall.brani on Instagram
When it comes to maxing out your decor, a great place to start is to think about your walls. Your wall color will dictate the rest of the colors in the room, so when you know what paint you will choose this will help you figure out the rest of the scheme.
Luckily, maximalist interiors allow for multiple colors in one room. Take this living room idea above where the main wall color is deep blue and the artwork is made up of various tones of reds to make the dark blue contrast against the other colors. The choice of artwork is also something to consider. In this design, there is a mix of art nouveau, moons and stars and illustrative pieces that follow through on the sofa throws, pillows and rugs. This can help you figure out what ornaments and accessories you can style your living room with.
Fill your space with plants and florals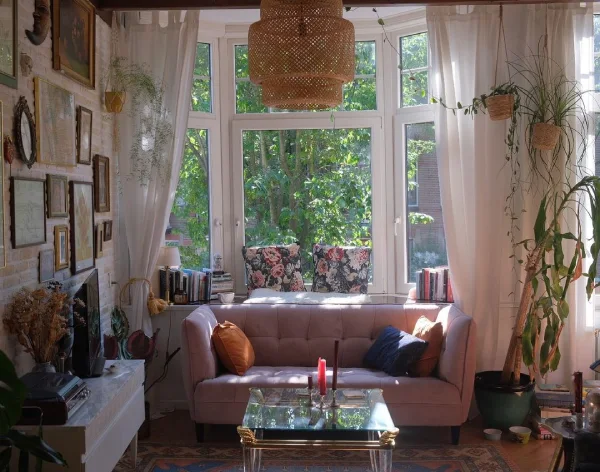 Living room by @quirinebrouwer on Instagram
Using plants and florals in your living room can enhance the maximalist style in a way that brings calmness and serenity to the space. Whether it's incorporating actually plants or prints, there's no limit to what you can do with plants in your living room. The neutral maximalist living room above uses a variety of plants. From hanging baskets to tall planted trees and decorative plants in vases. This creates visual interest in the space, especially when paired with printed florals which is a play on real and visual textures in such a fun way.
Add more than one statement item to your living room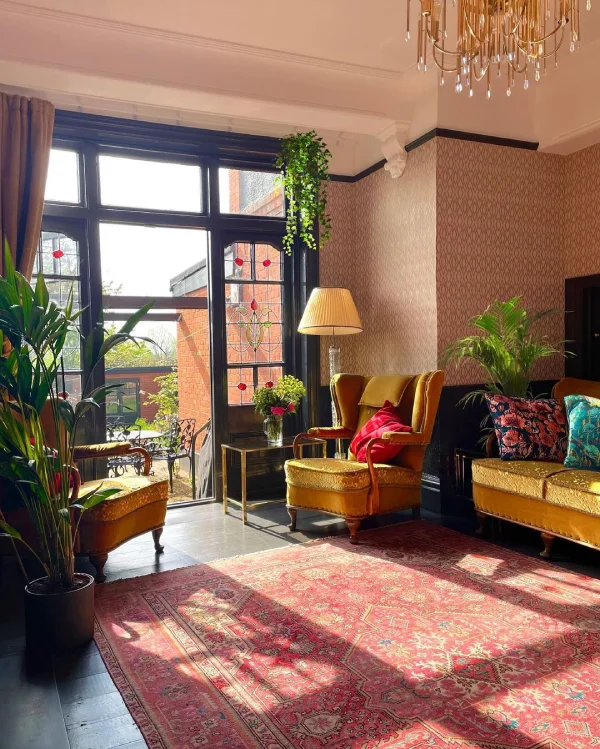 Living room by @artdecojewel on Instagram
With maximalist decor, you can (and are encouraged to) have multiple statement items in one space. Remember that more is more! By featuring a variety of statement pieces, you can add lots of character to the room without needing to overcrowd it. If you prefer less 'stuff' in your space but still want to make an impact, this is your golden nugget! To do this, be selective about the statement pieces you want.
For example, in the above living room design, the main furnishings such as the patterned rug, velvet sofa and chair, wallpaper and chandelier are all opulent, colorful and full of character in their design. With just these few elements, you can create a maximalist living room with a selection of beautifully chosen decor.
You may like: Elegant Victorian decor ideas to makeover your bedroom
Mix-and-match patterns for a maximalist living room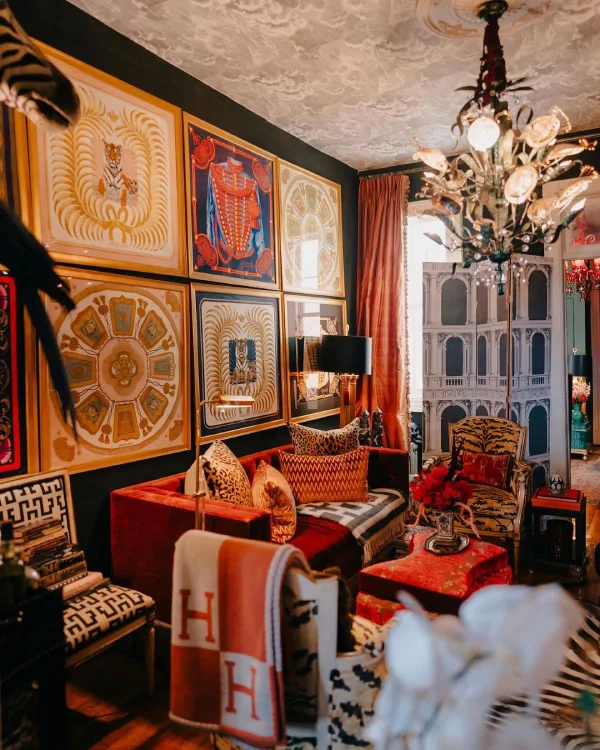 Living room by @thepretentioushome on Instagram
Using patterns in your living room is one of the best ways to add as much color, character and depth as you can in one room. With so many surfaces and furnishings to choose from, incorporating patterns into your space can be a fun design process. The living room above is a great example of using lots of patterns. From the textured ceiling, right through to the gallery wall and furnishings. Don't be afraid to clash patterns and colors either, as this is the beauty of maximalist decor!
If in doubt, pick a theme and max it out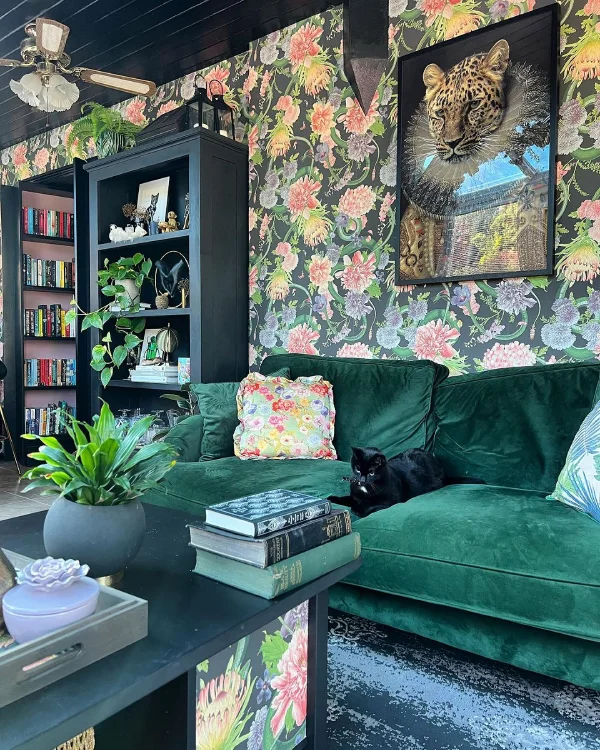 Living room by @theinterioreditor on Instagram
Having a clear theme for your living room can help you to design a maximalist living room that has a clear vision, colour scheme and pattern. We love this jungle/floral green maximalist living room that you can see above. It has a clear theme and the same colours are used throughout to keep the theme cohesive. This allows the space to have plenty of character and visual interest while being clutter-free, by choosing decor that fits within the theme but also has impact. You can see this in the wallpaper that is carried through onto the coffee table and pillows, and the bold artwork where the animal theme continues on the bookshelf.
Be as bold as you like with your decor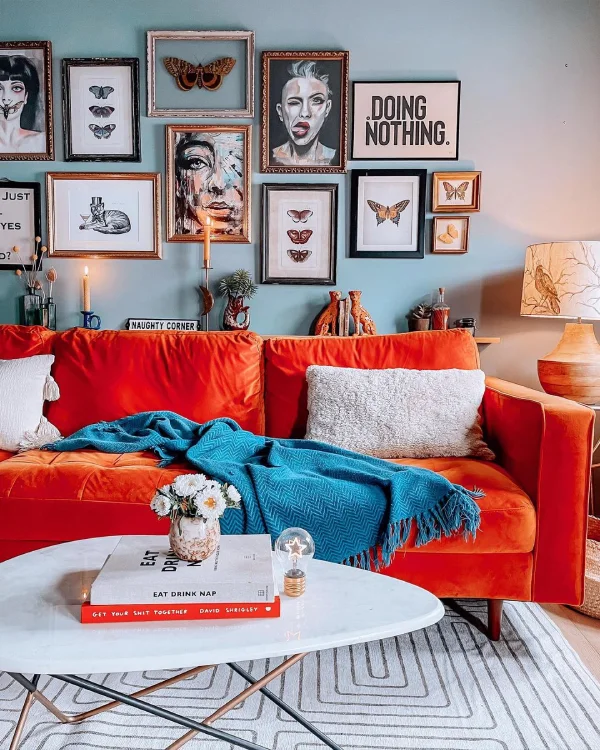 Living room by @my.interior.tales on Instagram
Styling your home with maximalist interior design means that you can be as bold as you like with your decor. We love this quirky living room that shows how you can style a bold orange couch with other bright elements, from the blue wall to the graphic artwork. This cozy, maximalist living room is a great example of using a complementary color scheme in a bold way that is expressive and fun!
As you can see, this living room uses blue and orange (which are complementary colors on the wheel). These two combinations are used on all surfaces and areas of the space to give that maximalist impact while still look balanced and harmonized.
You may also like: Gallery Wall Ideas for Your Home
Clash colors, prints and styles for maximum style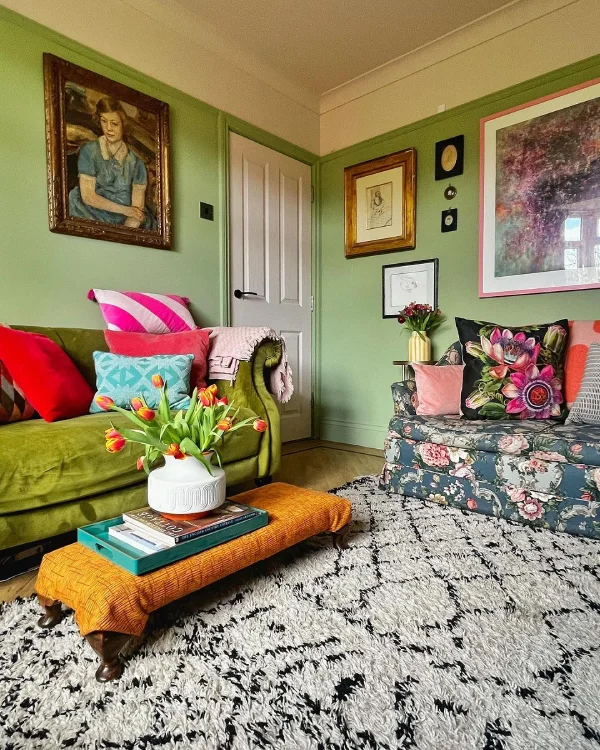 Living room by @hexagonalhouse on Instagram
If you love different interior styles, time periods, colours and patterns, don't be afraid to embrace all of that. After all, making over your living room with a maximalist style is all about bringing your personality into the space. We love this fill-of-color living room above, which is a great example of how you can introduce lots of different colors into the space. As well as modern and traditional furnishings, framed artwork, accessories and patterns in the space. We also adore the mix-and-match sofas that make this room even more maximalist!
Use the color of the rainbow to fill your living room with love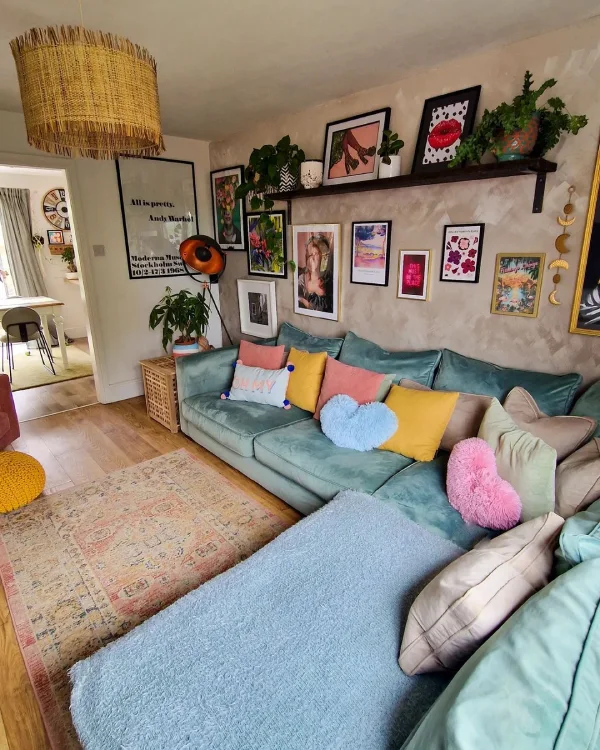 Living room by @_theflamingo_lounge on Instagram
Explore the colors of the rainbow when designing your maximalist living room. The rules of color are out and the endless possibilities are in! If you're not sure where to start with colour, pick a base colour first (your walls and sofa), then slowly incorporate more colours. Add a second color through decor in your space, then layer with a third color, and so on. The more you layer your furnishings and decor the easier it will become. The living room above shows how lots of color in a space can look beautiful and harmonized, through the mix of a pastel palette with bold accents that add lots of character to the living room through artwork, cushions and rugs.
Add lots of decor and accessories until your heart is content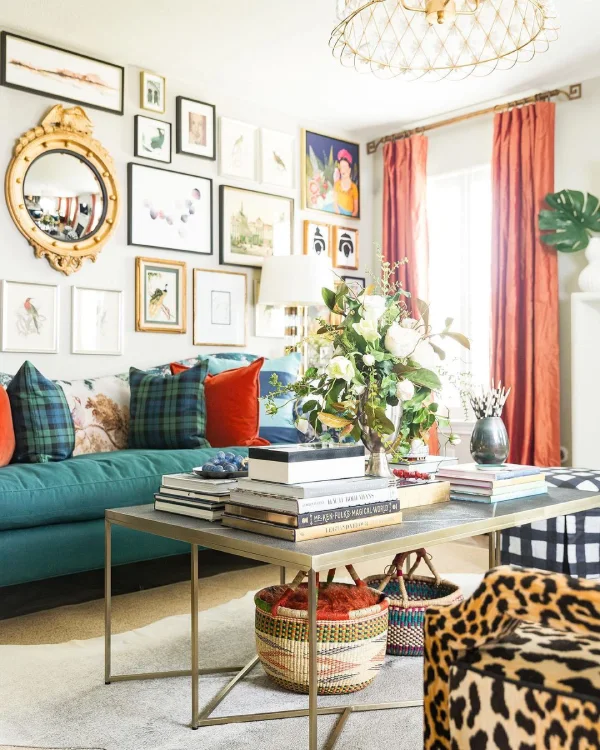 Living room by @casavilora on Instagram / Photographer Colleen Scott
Maximalist interiors are perfect for those who love lots of things. If you love to keep hold of things from your past or travels, then embracing maximalist interiors is for you. That's not to say that you can't be specific and mindful of what you include in your space, but it's a chance for you to really personalize your living room to you. Take the living room design above as an example, it has lots of character in a mindful way. Keeping the walls white and introducing color through artwork, curtains, surfaces and plants makes the living room feel open and airy while being completely unique and personal to the people using it. Books and ornaments and your favourite prints are great elements to consider when bringing in your personal touches to your living room
Conclusion
There you have it, our top ideas and tips on how to makeover your living room using the maximalist decor trend. From being playful with colors throughout the room to picking statement pieces that bring character into the space, we hope these tips will help and guide you to make your own maximalist sanctuary!
If you would like some personal interior design advice, why not check out our free style advice page?