Painting your kitchen walls can have a transformative effect on your kitchen, but where do you start?
In this article, we show examples of popular kitchen colours in 2023 and wall colour ideas to match, to give you an idea on how you can spruce up your existing kitchen. Alternatively, if you are on the search for a new kitchen, these ideas will hopefully help you in deciding how you can style and create a space that you can call your sanctuary. 
*All the ideas below are subjective and the colours used can vary on each device.
Wall colours that go well with a green kitchen (and infuses pink)
Green is a popular kitchen colour as it reminds us of nature and feels fresh in the kitchen. If you've got a green kitchen and you're unsure what colour walls you can paint it, consider light shades such as cream and pink in their lightest hues for a bright and airy look.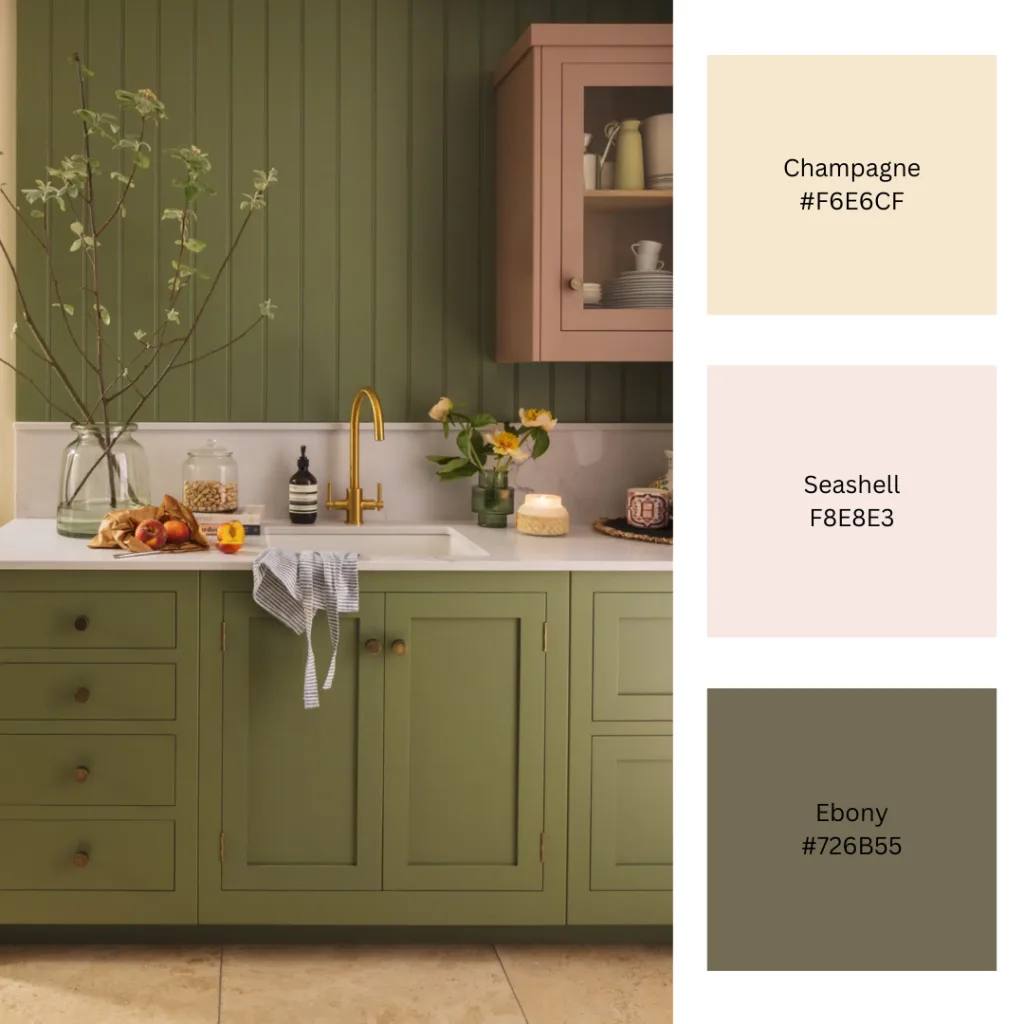 Kitchen by Harvey Jones
Pink and green are becoming a huge interior look in almost every room of the home; from the bedroom to the hallway and even in the bathroom, which is why we can see this colour scheme becoming popular in the kitchen too.
If darker colours attract you more, create a moody kitchen with dark ebony against your green kitchen for an 'invisible kitchen look'
Kitchen wall colours that go well with deep red kitchens
Deep red kitchens are a wonderful choice to bring colour into your space while looking sophisticated and luxurious. Whether you've got a dark red fitted kitchen, or an island, the beauty of this colour is you can style it many ways. In terms of what wall colour goes best with dark red cabinets, it really depends on what style you want.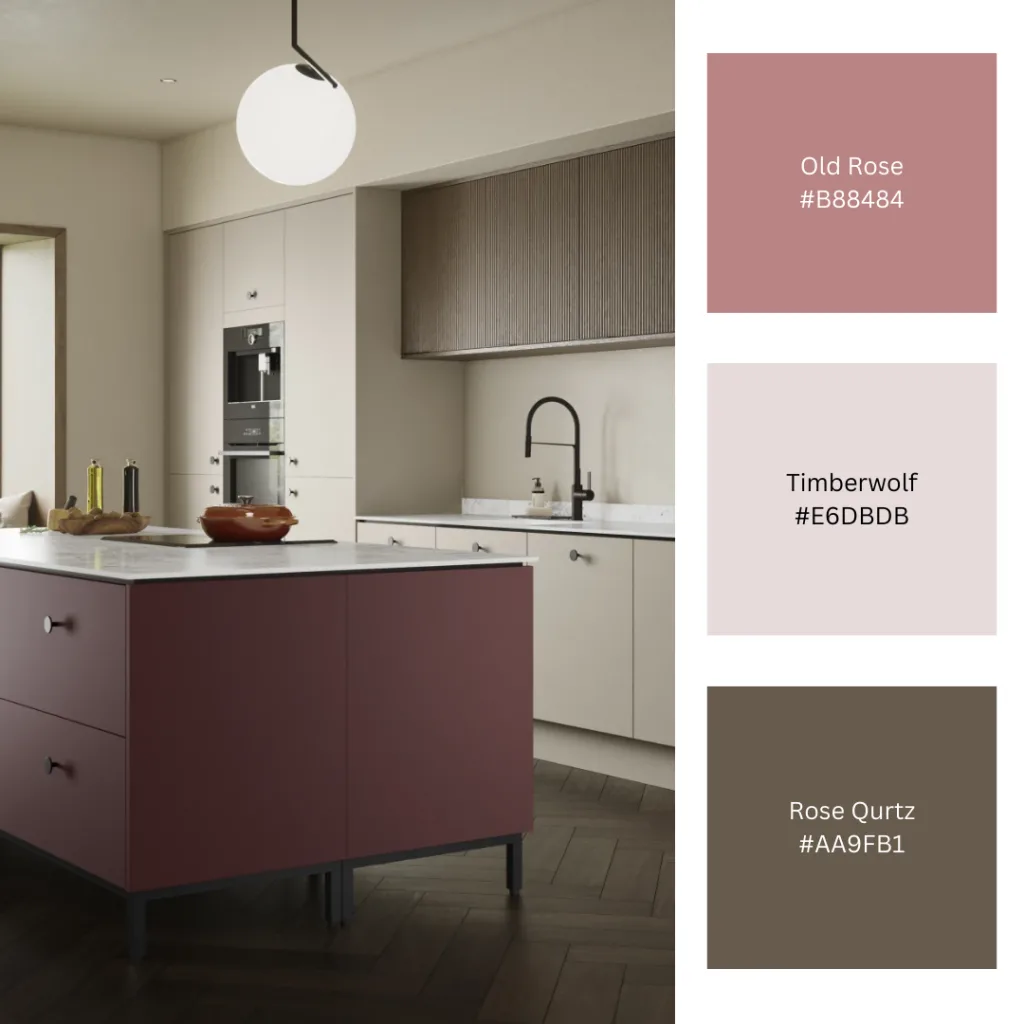 Kitchen by Magnet
For a complimentary and colourful scheme, match with a few shades lighter than your red cabinets.
If you love contrast in your kitchen, why not try a light pink that is subtly matching whilst being neutral and bright.
Dark grey can be a lovely wall colour against red cabinets or worktops to create a relaxing ambience where lighting can play a big part of setting the mood
Kitchen wall colours that go well with black kitchens
Black kitchen cabinets allow you to play around with as much colour as you like. Whether you're looking for a neutral scheme or pops of colour into the space, the choice is absolutely yours!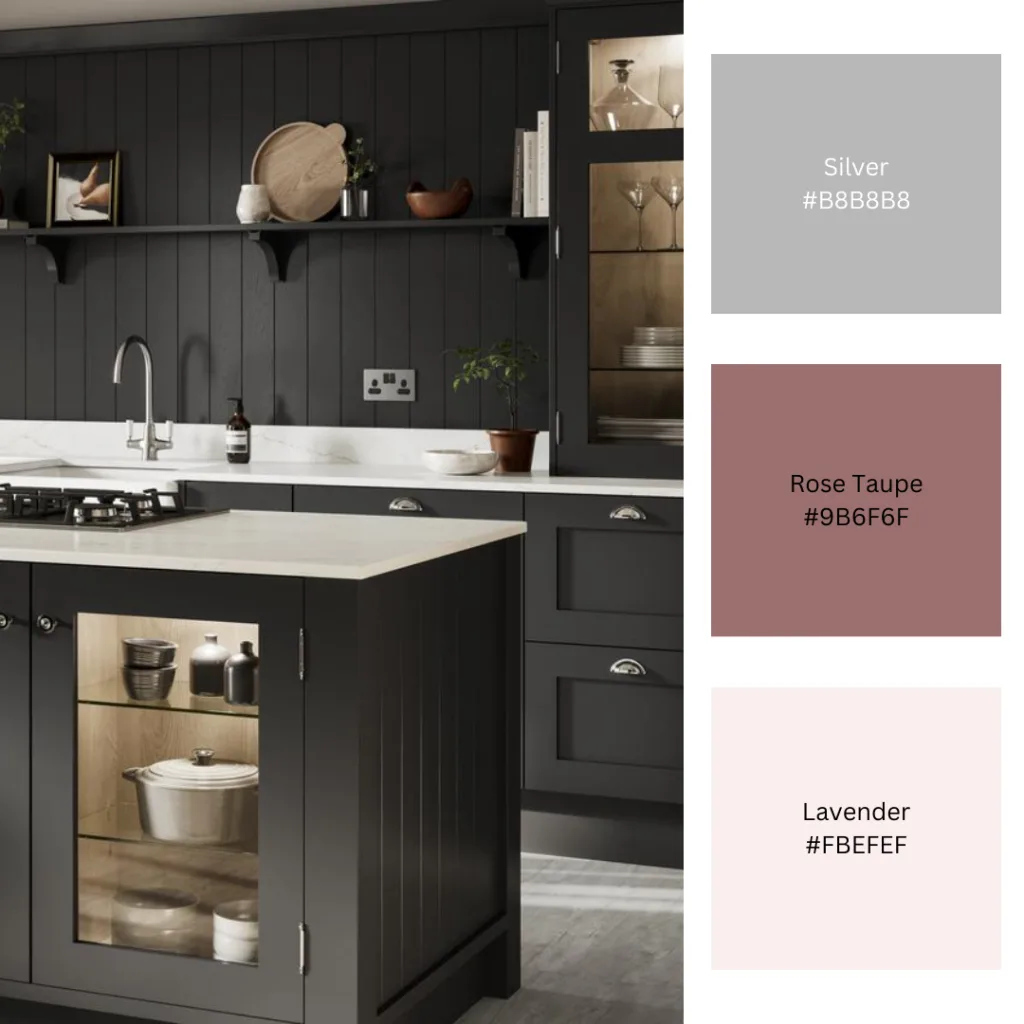 Kitchen by Howdens
Grey – paint your walls a soft grey, or use glossy grey splashback
Brown and taupe – add a touch of nature to complement your black kitchen cupboards with dark wood accents such as countertops, or consider painting your walls brown. Using brown against your black kitchen can make it feel relaxing and contemporary
Creamy pink – for a neutral look against a black kitchen, opt for a cream colour to brighten up the space without being too crisp.
Kitchen wall colours that go well in a blue kitchen
Mid to dark blue kitchen cabinets are a classic colour that can keep your home looking timeless. If you're deciding to opt for a blue kitted kitchen, or you already have one and are looking to update the features around it, why not consider some of the below colour choices which can be used on your walls, splashback, fittings and decor.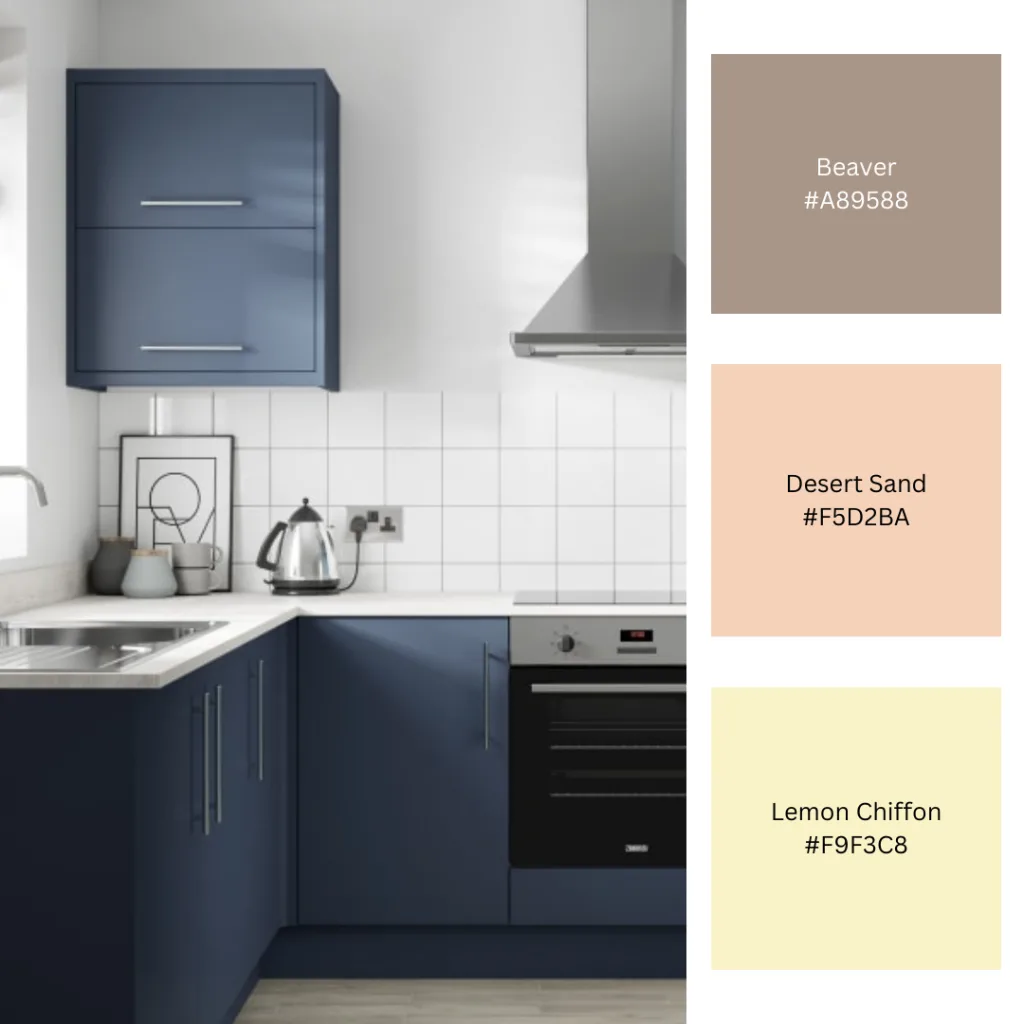 Kitchen by Wickes
Light brown – when brown and blue come together they are the ultimate classic colour combination in the kitchen. Think brown countertops or splashback all tiling. If you love panelling, why not incorporate stained wood slat panelling for a modern look?
Sand peach – do you love the colours of the beach? Why not infuse this into your blue kitchen style with light sandy wall paint against your dark blue cupboards for a beautiful and subtle contrast that transports you to vacation mode!
Pastel yellow – create a contrasting look in your blue kitchen by incorporating very pale yellow onto your walls serving as the backdrop. It will evoke feelings of summertime and pairs well with yellow or colourful kitchen accessories if you are looking for a bold look.
Kitchen wall colours that match well with a grey kitchen
Grey kitchens are perfect for those that want a neutral and relaxing space. Chances are, with a grey kitchen, you won't have to do much work on it in years to come as it will keep it's style and you can always mix and match any interior design trends with your kitchen colour as you please. Here are some lovely colour choices for the walls if you've got a grey kitchen: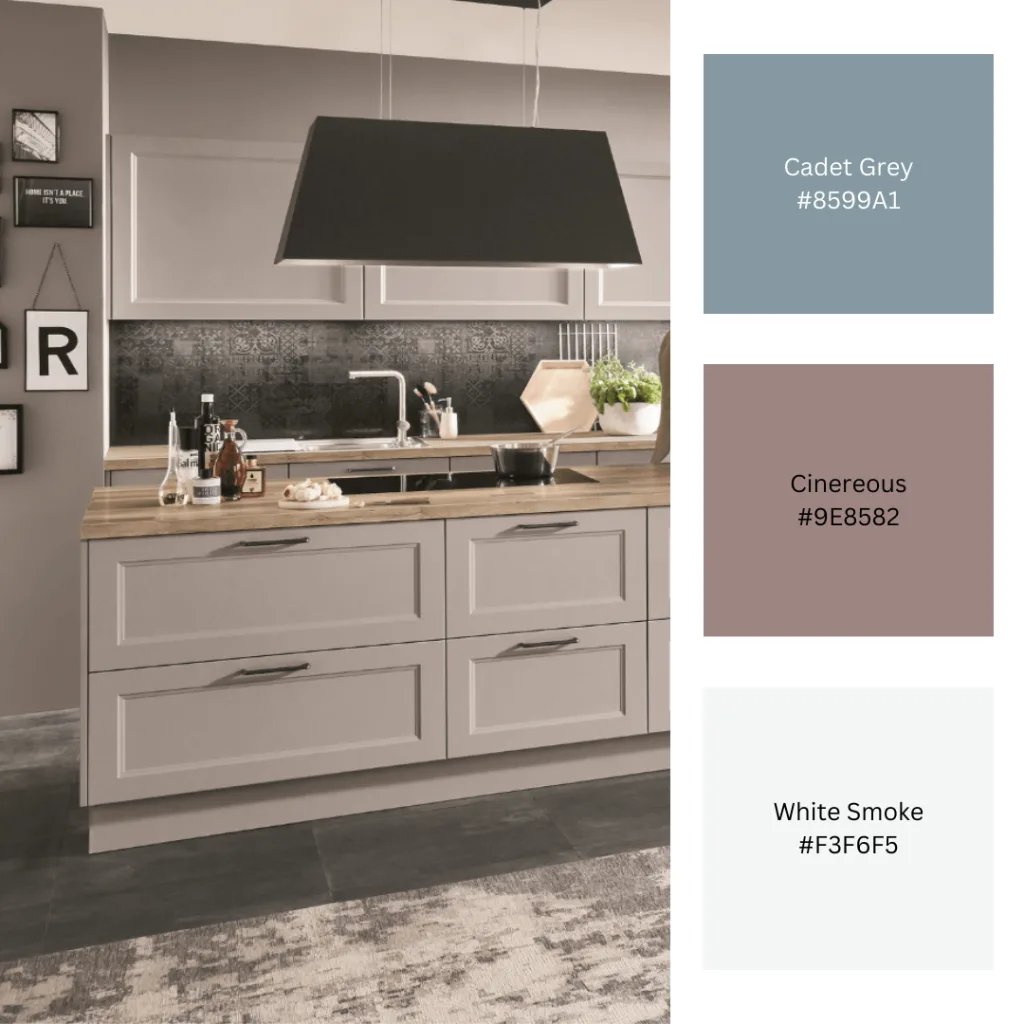 Kitchen by Homebase
Mid to dark grey – light grey kitchens go well with dark and light colours. If you want to keep your space monochromatic, opt for a dark grey to create a relaxing mood against your cabinets
Cinereous – This ash-grey-brown with hints of copper compliments a grey kitchen and it is a traditional scheme to go for. This shade can be used as countertops or can be used to paint the space between your cabinets and workspace for a soft, muted look
Off white – on the flip side of using dark grey to create a mood in your kitchen, if you're wanting an open and airy feel, why not consider an off white wall colour? This will give a subtle contrast to your light grey kitchen without it looking too bold. You can dress up your kitchen with white and and dark grey towels, toaster, kettle, taps etc
Kitchen wall colours that go with a cream kitchen
Cream or stone coloured kitchens are a great canvas for a relaxing kitchen space where you can play around with soft colours. Cream kitchens can be matched with a lot of different styles of homes too. Whether you're looking for a country farmhouse aesthetic or a contemporary design; the colour is classic and can be paired with a range of colours and fittings to suit your taste. Here are just some kitchen wall paint colours that go well with cream: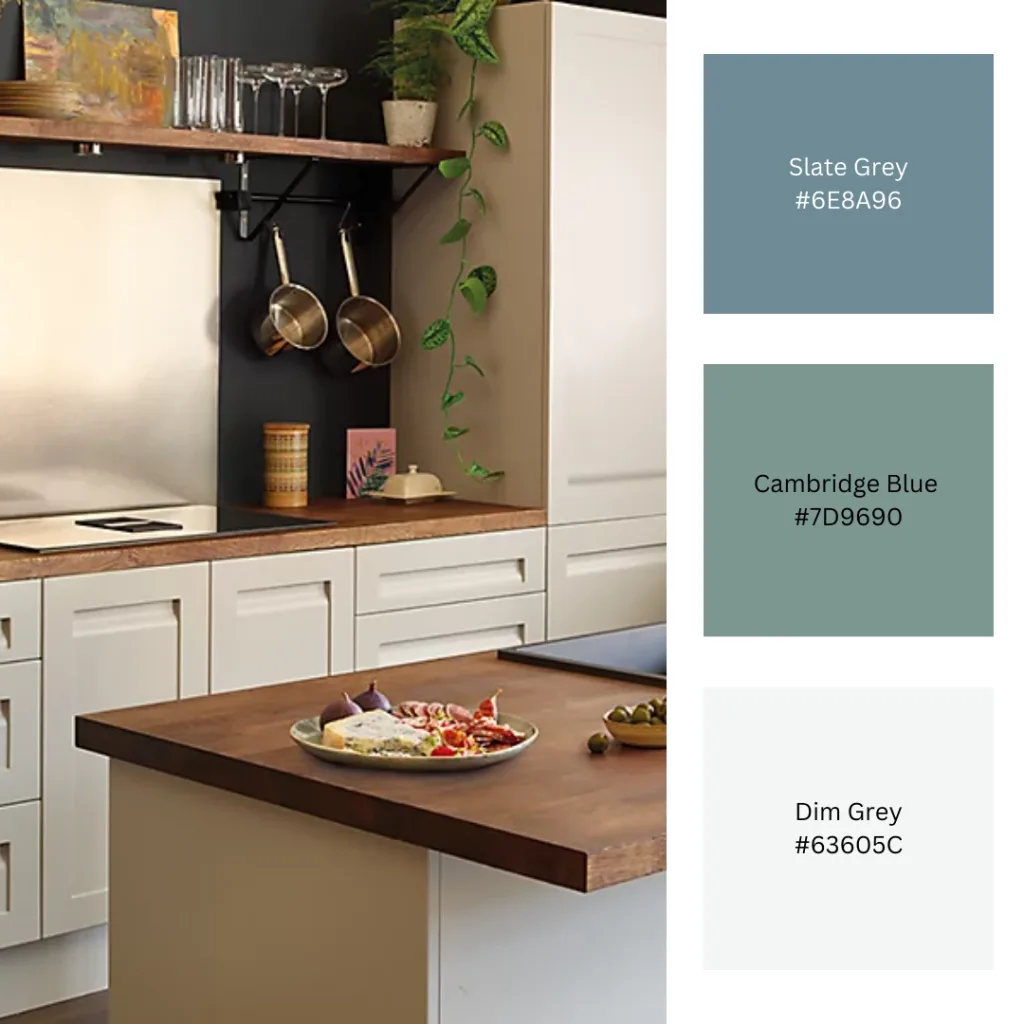 Kitchen by B&Q
Slate grey – match this dark hue with cream for a natural looking kitchen that has a contemporary feel. You can paint in between your cabinets and countertops for a bold matt look, or go clossy with slate coloured metro tiles.
Blue – cream and blue can go really well together in a kitchen. Whether you contrat yur cabinets with upper cream cabinets and lower blue cabinets, or make the cream stand out with blue walls for a statement look – this colour combination can work beautifully together
Light grey – for muted and subtle tastes, match your cream kitchen with a light grey colour either on your walls through paint or as a splashback feature. This colour combo works well together and would look lovely in a country farmhouse kitchen
Kitchen wall colours that go well with a monochrome kitchen scheme
If you love minimalist style kitchens that last a lifetime, a monochrome kitchen is definitely for you! What's great about a monochrome kitchen scheme is you can play around with various positions of black and white. Whether it's contrasting the two colours with top cabinets white and bottom cabinets black, vice versa, or an all black kitchen with white island and vice versa too!
If you are considering adding a hint of colour to your monochrome kitchen, here are some options you could consider: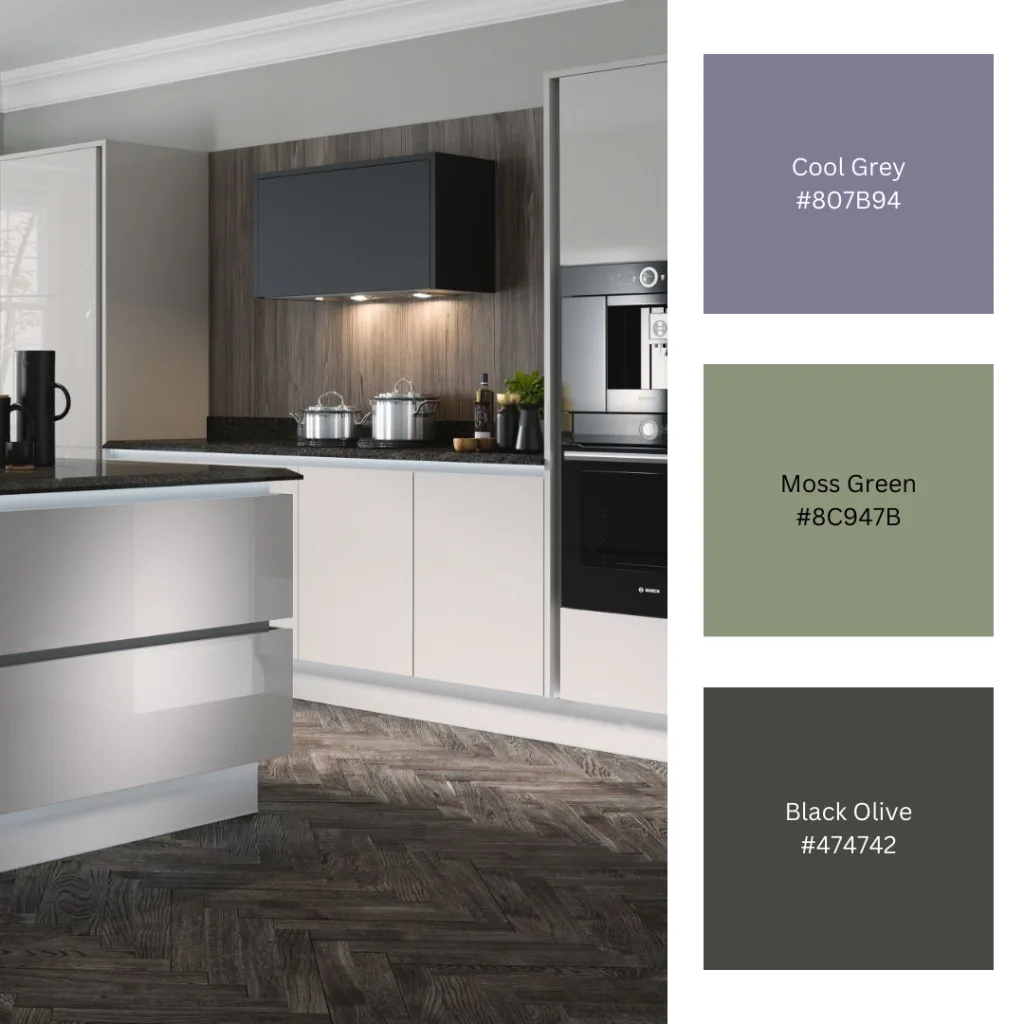 Cool grey with a hint of purple – a greyish purple can bring a touch of luxury into your monochrome kitchen when used in small doses. Think deep purple grey glossy tiles or even a cool grey countertop to give black cabinets a subtle hue
Moss green – greeny-grey is also another lovely choice in a monochrome kitchen, especially against black cabinets and features. It brings a sense of nature in a sophisticated and moody way
Charcoal black – Black against black can look really opulent and creates an illusion of hidden lines and invisibility so that your kitchen looks expensive and classy. If using against white, use in subtle ways, such as on fixtures and fittings for a cohesive look.
Conclusion
Painting your kitchen walls is a great way to instantly transform your home. When it comes to picking your colour, think about the accessories that you will have on display and your fixtures and fittings. Classic kitchen styles include dark blue grey and cream colours. For a minimal kitchen style, opt for a monochrome fitted kitchen and incorporate subtle colours into the space for a luxurious feel.
We would love to see what colour walls you've used in your kitchen! Tag us on Instagram or send us a message to be featured on our grid or on our blog!
[caf_filter id='10500′]