Incorporate the calm and neutral tonesof grey into your kitchen decor that will make your home look and feel timeless in many years to come. Adding grey kitchen decor can be done in many ways, the most effective and transformative way is to paint or replace your kitchen cabinets to give your kitchen a refreshing look.
What colour goes well with a grey kitchen?
The benefits of a grey kitchen means you can combine bright colours easilyfor a stylish look that can flow through your room.Some popular colour options include pairing grey with white for a clean and modern aesthetic, or with black for a sleek and contemporary look. Other colours that complement grey include warm wood tones, such as maple or oak, as well as pops of colour like yellow, blue, or green.
How do you add warmth to a grey kitchen?
There are several ways to add warmth to a grey kitchen.  A great option is to incorporate natural wood elements, such as cabinetry, flooring, or a wooden island. Adding warm-toned lighting, like brass or gold, can also help to create a cozy atmosphere. Incorporating different textures like a woolen rug, woven baskets or a brick backsplash can also add warmth and depth to a grey kitchen.
How to add colour to a grey kitchen?
There are many ways to add colour to a grey kitchen. One popular method is to incorporate colourful accents through decor, such as a vase of flowers, a colorful backsplash, or a brightly coloured kitchen island. Another option is to use colorful appliances or cookware to add a pop of colour. Additionally, using a different color for the kitchen island or for the lower cabinets can be a great way to add a pop of color while keeping the overall look cohesive. You can also add color through patterned curtains or kitchen towels.
Continue reading to find out how to make your grey kitchen feel warm and homely.
Grey kitchen with tile splash back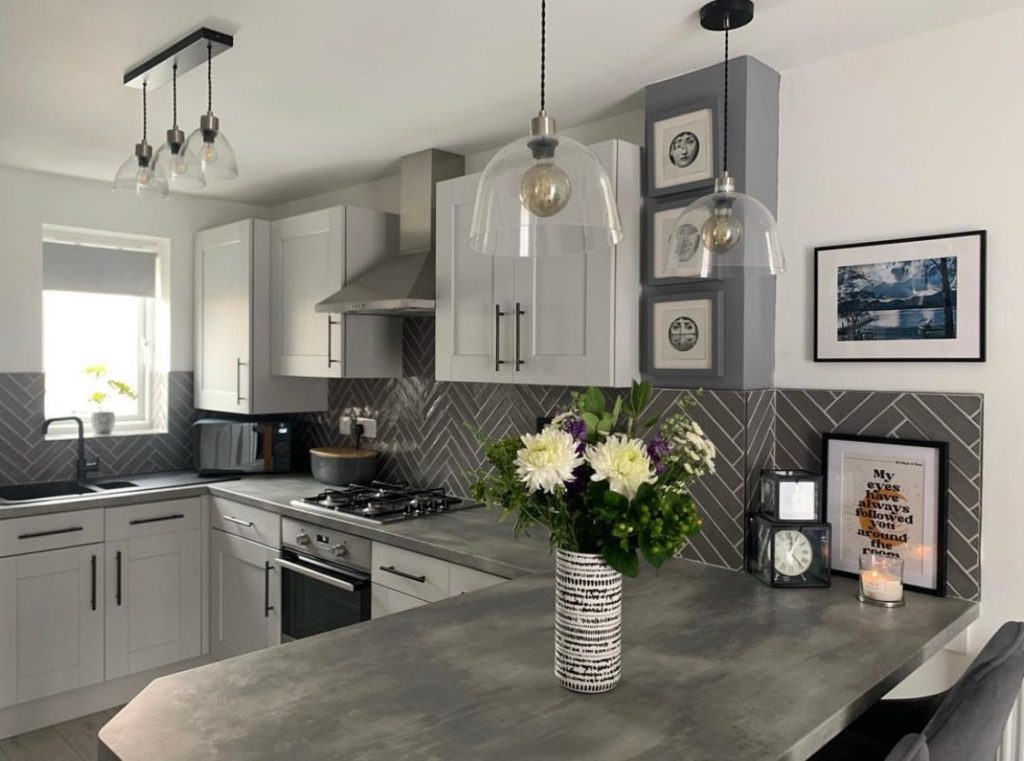 Kitchen colour: Dove Grey
Complete a grey kitchen with statement tiles that will add color and depth to your kitchen space. We love this grey kitchen with white decor that gives a slight contrast in a subtle way so that the gray tones comes through as the focal color for a warm and cozy feel.
Warm up a grey kitchen with wood countertops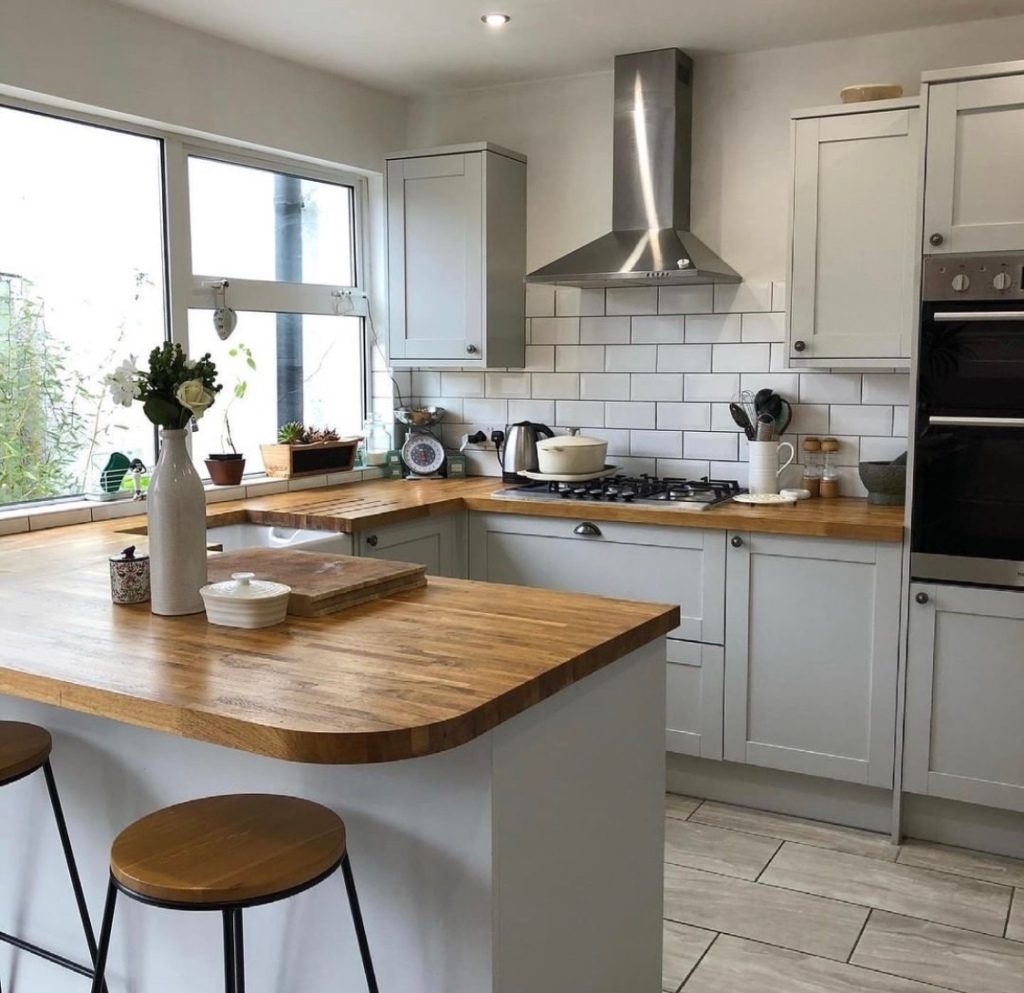 Kitchen by Howdens
Give your grey kitchen cabinets a warm look with wood countertops that will bring in the elements of nature to your kitchen to feel homely. What's more, choose a dark wood finish for a contrasting look as well as adding depth and warmth to a neutral scheme.
Use white and grey as a way to give your kitchen a bold contrast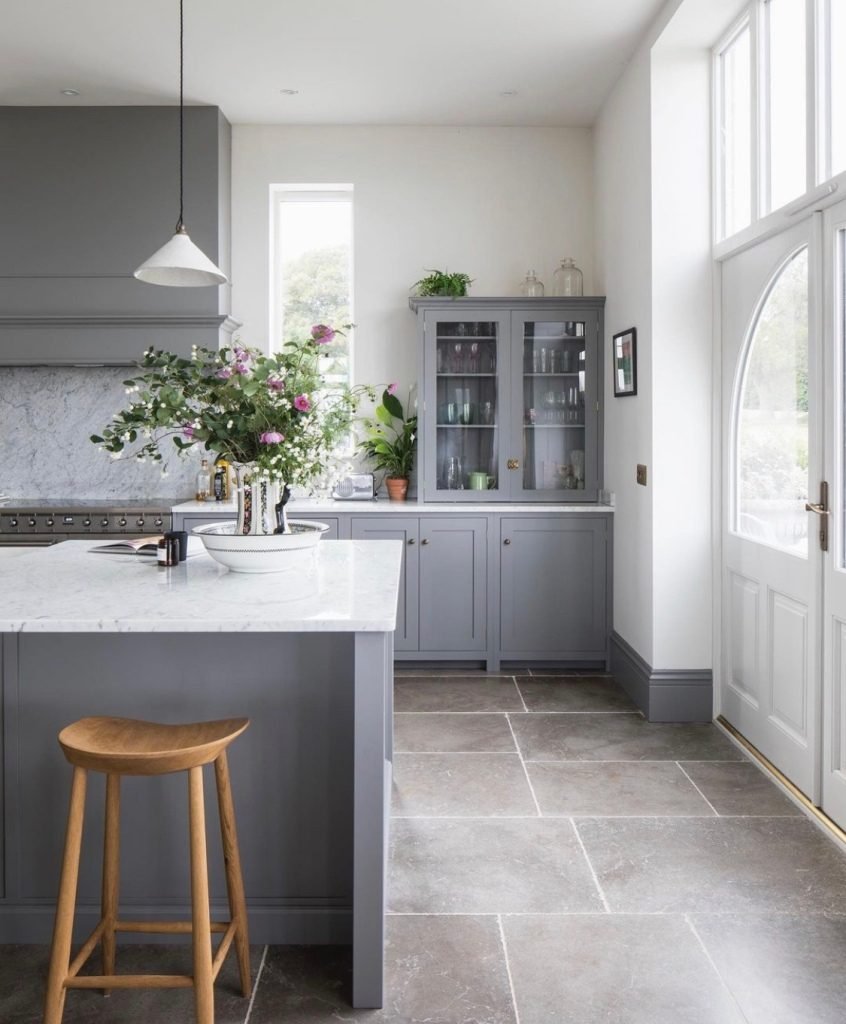 Cabinet colour: Lead by Devol Kitchens
Grey and white kitchens are very popular and offer that timeless and effortless look you want in a kitchen, as well as looking clean and minimal. This gorgeous Lead grey paint color by Devol Kitchens is a medium grey that can look light or dark depending how you style it. We love this bright and airy gray kitchen that uses white countertops, backsplash and walls to create a bold contrast.
Country inspired grey kitchen idea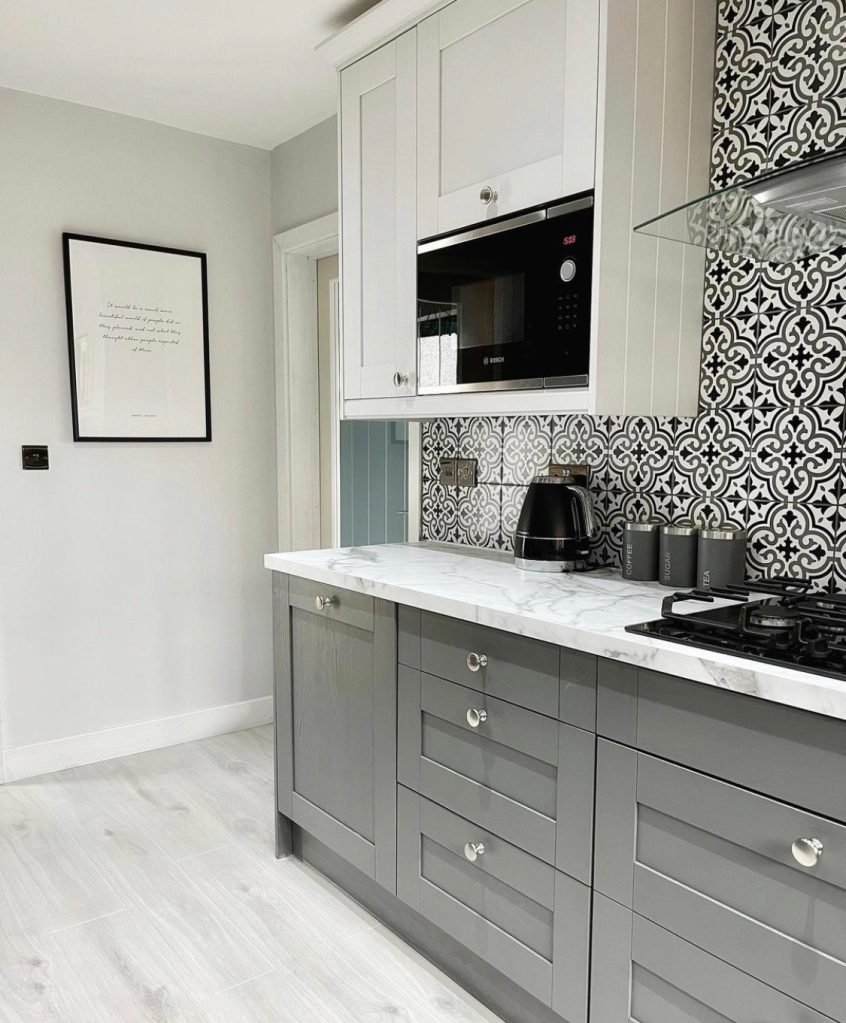 Lava grey kitchen by Wren Kitchens
Tiles from Wickes
Combine bold grey cabinets with patterned tiles and textured flooring for a modern country style kitchen that is inviting, warm and sophisticated. Keeping your gray colour theme flowing through your kitchen is key to creating a timeless look, whether it's matching your hobs, kitchen decor or adding in sleep black and white design elements like countertops and appliances to complete the look.
Add glossy grey cabinets to bring in more light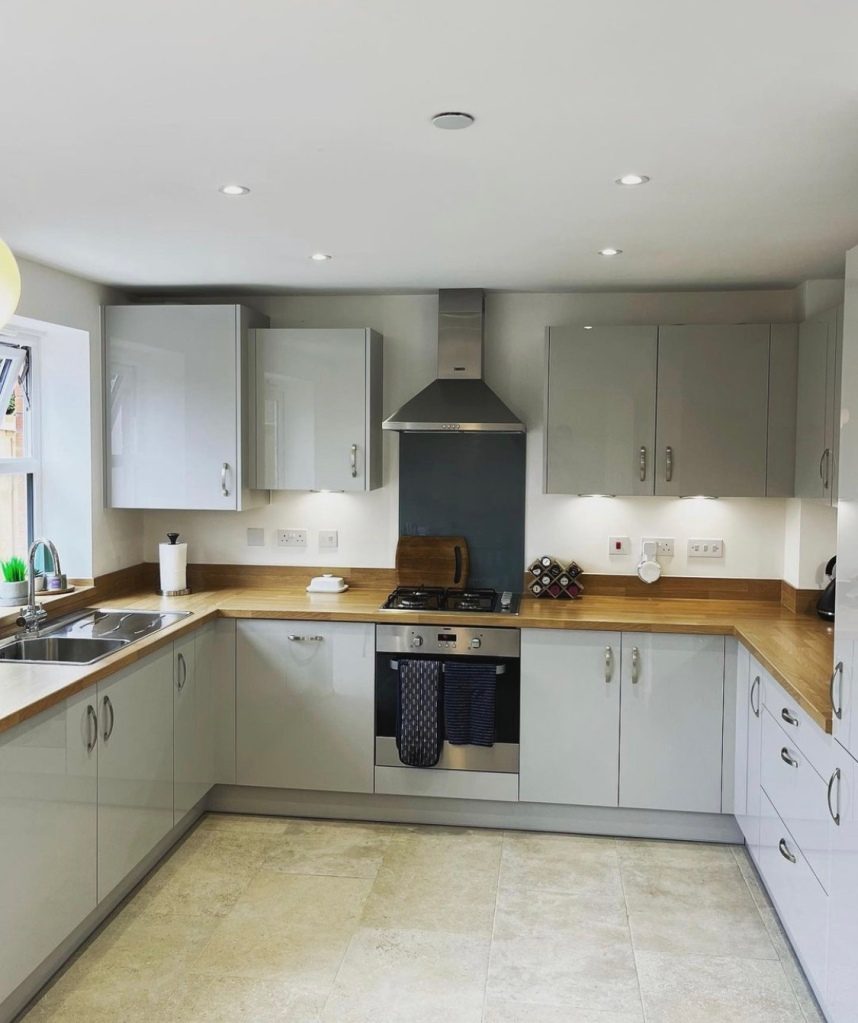 Glossy grey cabinets can add light and space to your kitchen with its reflective texture. For a bright and neutral look, opt for a light grey tone that you can use as a base color. This allows you to add color through other decor elements like the countertops, flooring, splashback and appliances.
Choose a medium grey for a calming kitchen design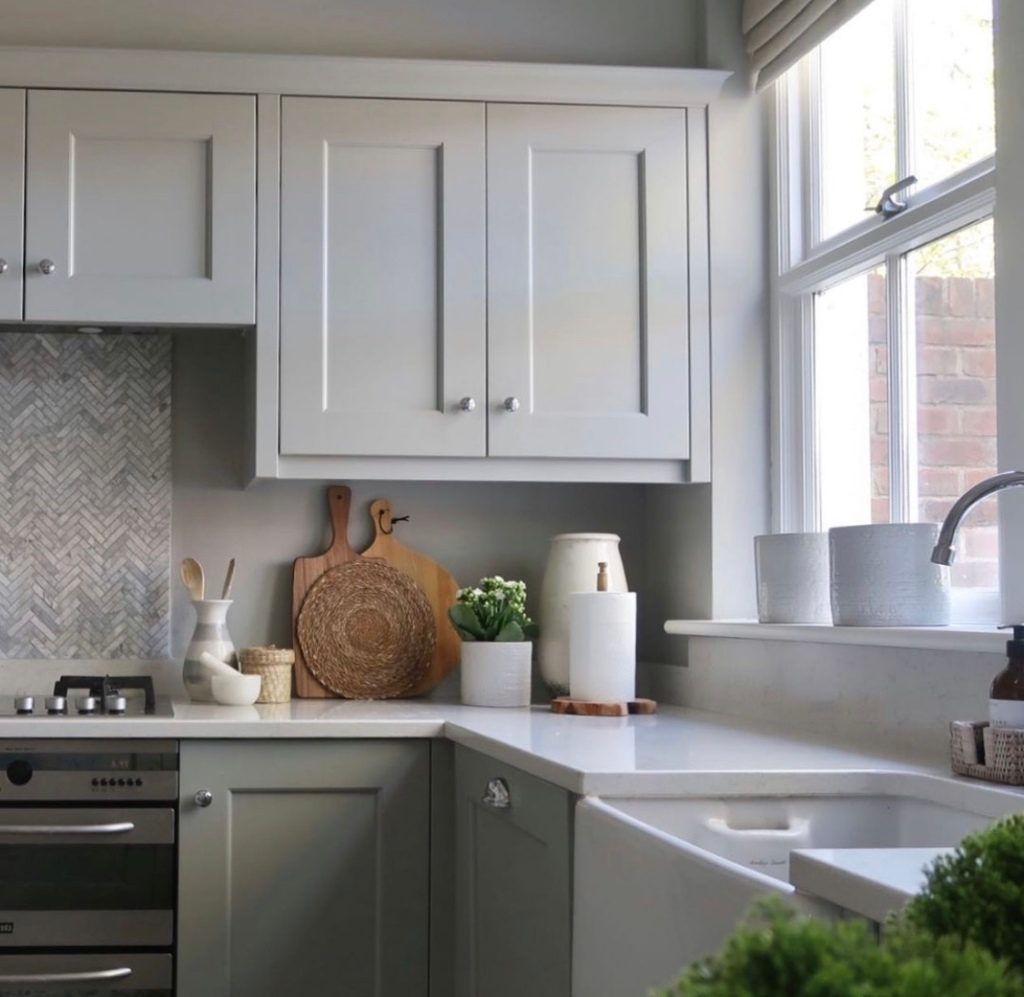 Kitchen paint colour: Neptune Mist Grey
For a calm and sophisticated kitchen, choose a medium smoky grey colour for your cabinets and walls. Mist Grey by Neptune paint is perfect for kitchens that have marble or stone elements as it adds a warmth against those natural materials to feel homely and inviting, just like this gorgeous kitchen design by Lisa that combines natural elements against the mid-grey cabinets and walls.
Light grey kitchen cabinets with white marble countertops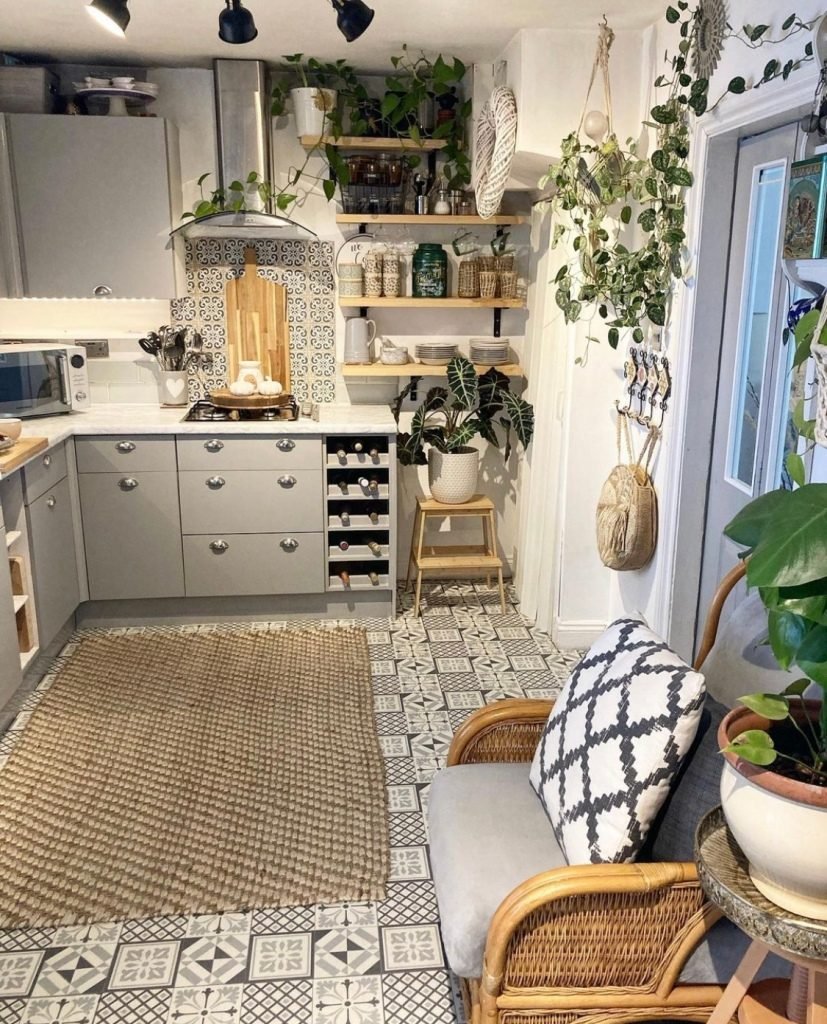 Paint color used: B&Q pale matte grey
Give a light grey kitchen a bold contrast by incorporating white marble countertops to break up your top and bottom cabinets. Light grey is calming and easy on the eye and looks great against wood, patterned tiling and leafy plants for a boho kitchen style, just like this calming kitchen design.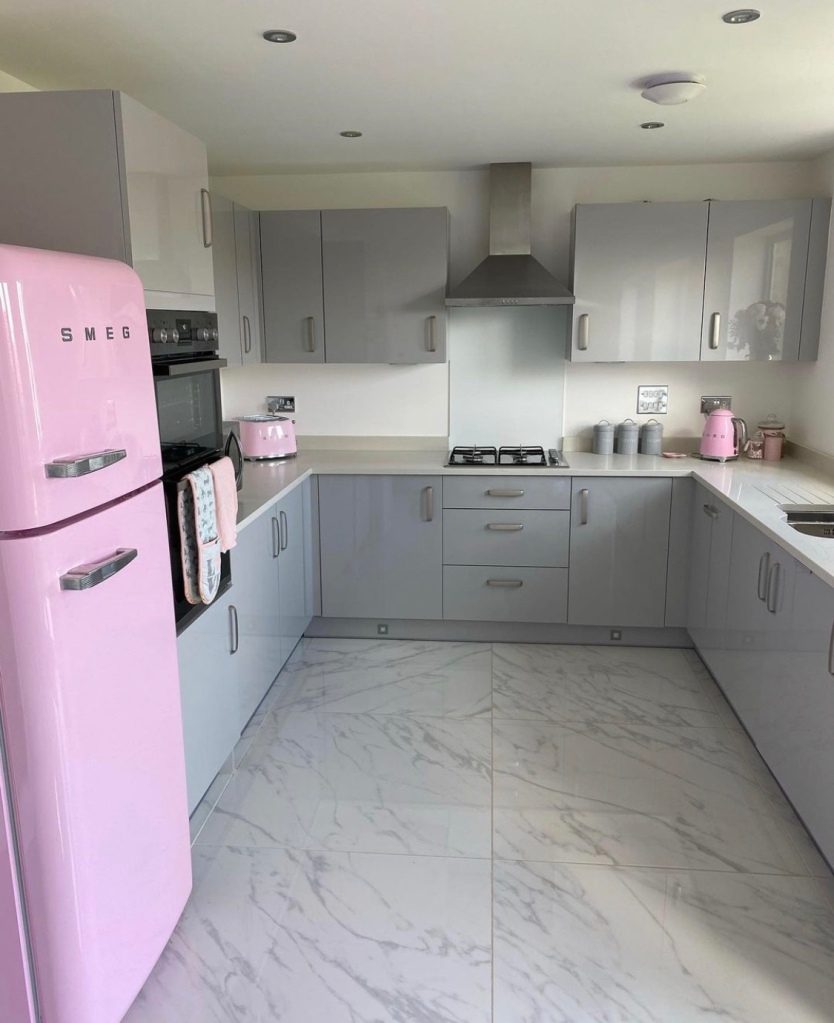 For a luxurious grey kitchen, choose light gloss cabinets and marble flooring and countertops for a sophisticated kitchen design. The beauty of a grey kitchen is that it works as a canvas to incorporate other colors if you want to, just like this grey kitchen design that has pink accessories to add a pop of color in such an effortless way.