Do you want a farmhouse kitchen in your home?
From rustic to modern, our farmhouse kitchen ideas will give you plenty of inspiration and a starting point to create your dream kitchen concept and turn it into a reality.
In this article, you will find the best farmhouse kitchen ideas and ways to implement this in your home. If you would like a personalised interior design style board, we offer this service in our Interior Design section.
Now, let's get into the best bit… the ideas:
Farmhouse Kitchen Sink Idea With Curtain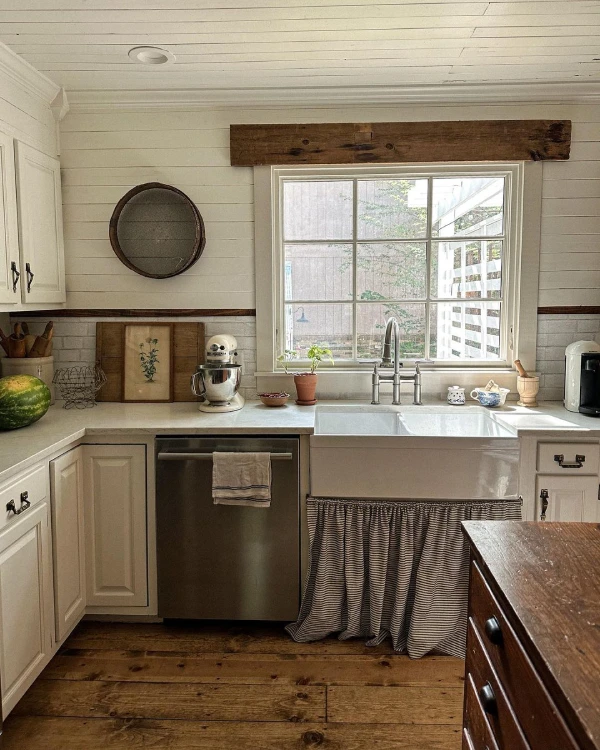 Farmhouse kitchen with sink curtain by @candlewoodcottage on Instagram
A farmhouse kitchen wouldn't be complete without a big basin as a statement feature, would it? We absolutely love this rustic farmhouse country kitchen by Danielle, which uses the sink area as a focal point by adding a patterned curtain underneath for that rustic country vibe. The beauty about having a farmhouse sink curtain is that it is interchangeable so you can switch it up now and then to add new charm to your space!
Rustic Farmhouse Kitchen Island Idea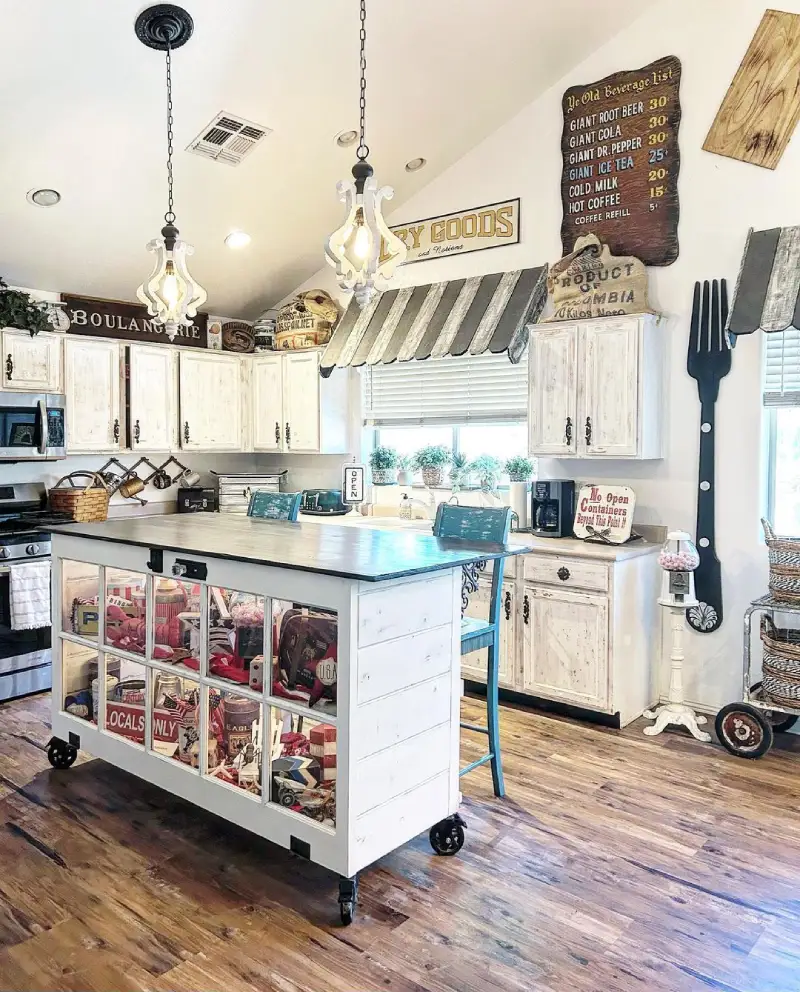 Farmhouse kitchen by @vintageaddictionaz on Instagram
Are you looking to infuse some rustic farmhouse charm into your kitchen? To infuse a little farmhouse aesthetic, consider having a roll-away kitchen island, just like the one above. It's great for storage with the glass window and side doors. This gorgeous kitchen has all the ingredients for creating a shabby chic farmhouse from the rustic cabinets to the vintage signage that gives a homely touch.
Modern Farmhouse Kitchen Cabinet Ideas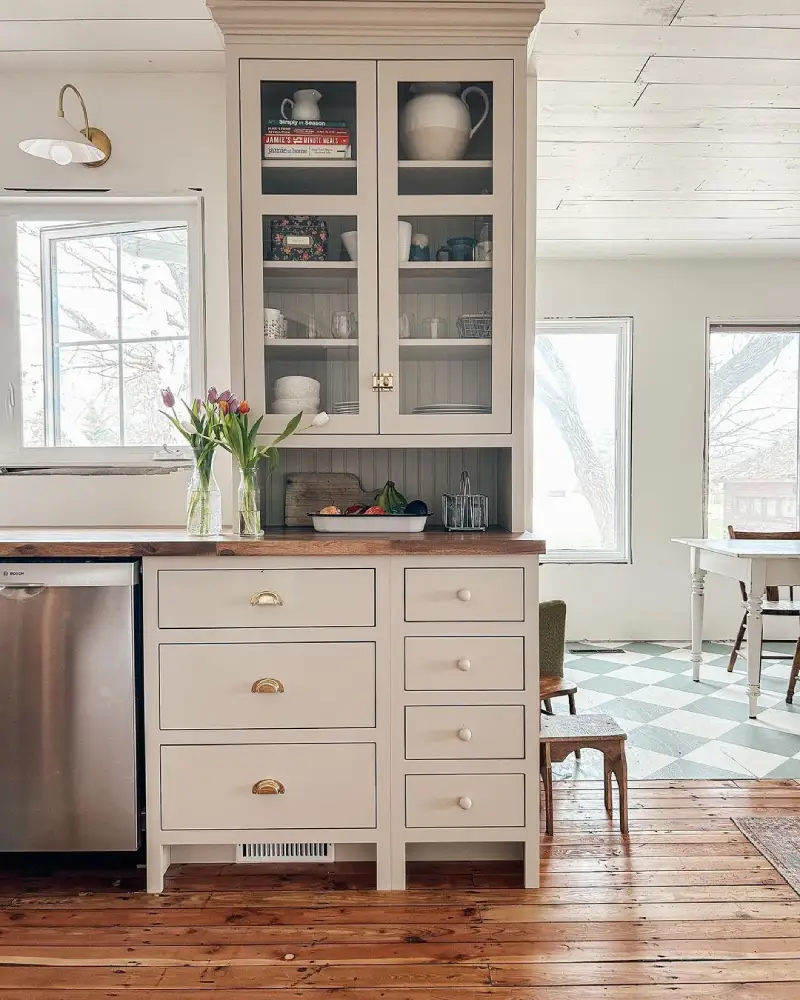 Farmhouse kitchen by @richellebergen on Instagram
Blend the timeless charm of farmhouse style with contemporary design elements in your farmhouse kitchen, just like the image above. Farmhouse kitchen cabinets often feature clean lines, shaker-style doors, and natural wood finishes, bringing a rustic touch to a modern kitchen. Opting for these type of cabinets allow you to combine functionality with aesthetics, with open shelving, glass-fronted doors, and a mix of colors to choose from.
Rustic Farmhouse Kitchen With Open Shelving and Sink Cabinets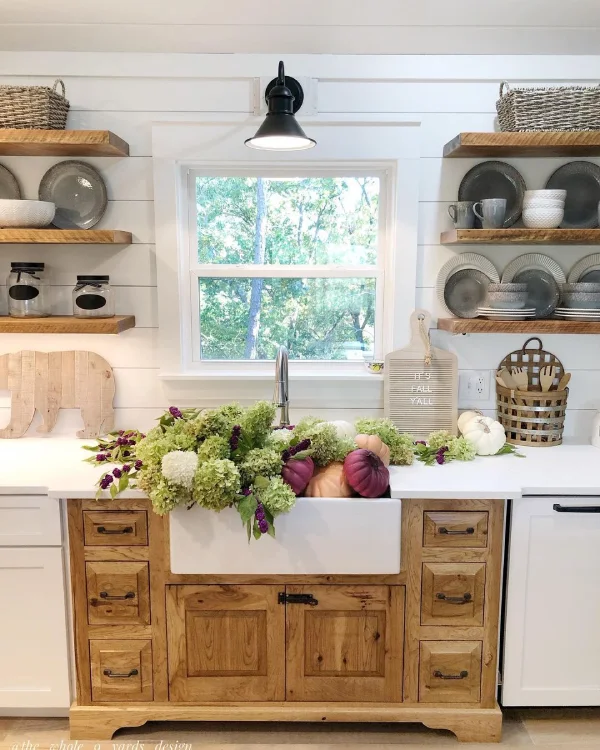 Farmhouse kitchen with open shelving by @the_whole_9_yards_design on Instagram
This gorgeous rustic, yet modern farmhouse kitchen infuses natural wood features into the space to give the kitchen a country charm feel. The chunky wood shelving is a great wall feature and storage solution, while the statement sink is framed by wooden cabinets that have a rustic and handmade look that just makes the white kitchen pop with character.
Modern Farmhouse Kitchen Island Ideas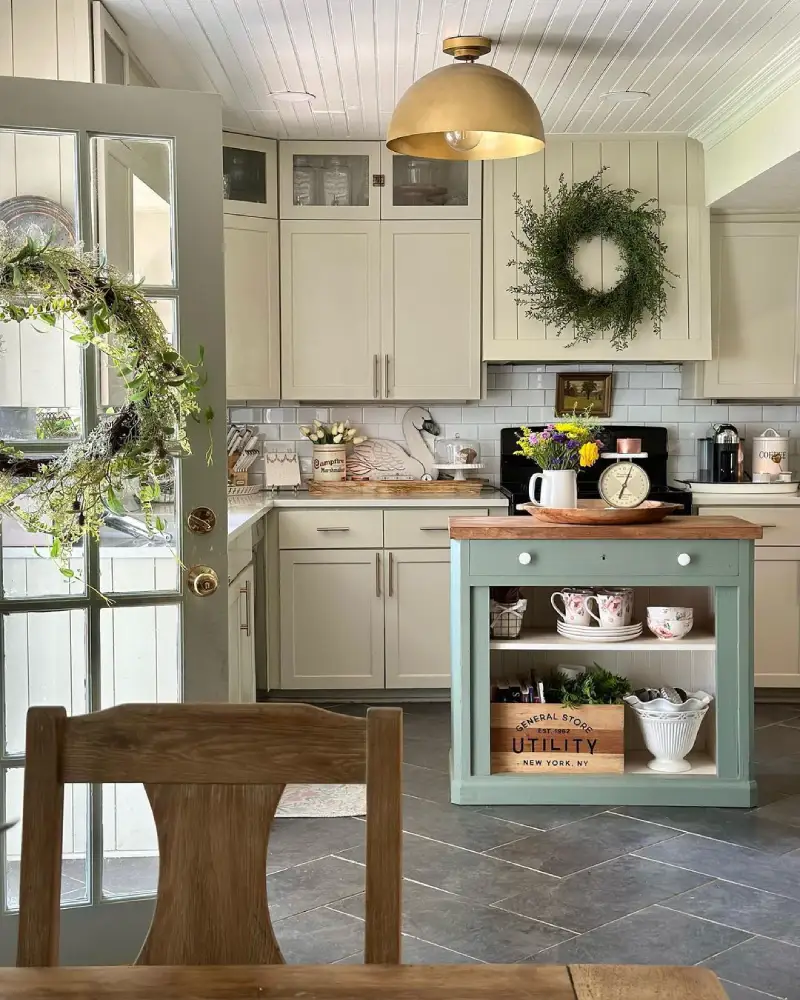 Farmhouse kitchen with sage green island by @cozycrazing on Instagram
This beautiful farmhouse kitchen with a sage green island and cream cabinets exudes a refreshing and timeless ambiance. We love how the sage green island serves as a focal point, adding a touch of tranquility and natural charm to the kitchen, while the cream cabinets create an airy and inviting atmosphere. The combination of these soothing hues complements the farmhouse style perfectly, creating a warm and cozy environment that is also modern and functional.
Vintage Farmhouse Kitchen Ideas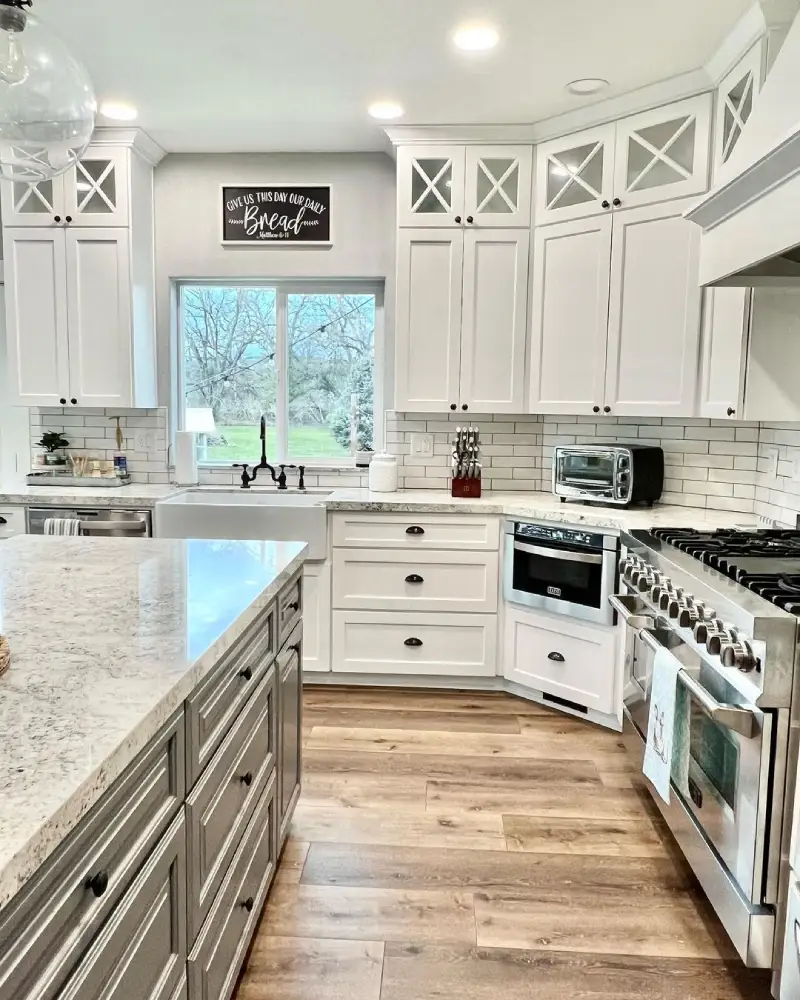 Vintage farmhouse kitchen by @bartlett.farmhouse on Instagram
This farmhouse kitchen oozes with luxury, from the marble top counters to the white metro tile splashback with black grout. This combination is elegant, with a touch of vintage charm. Using marble counters adds a sophisticated and timeless look to the kitchen. Additionally, the white metro tiles with black grout create a striking contrast and add a hint of rustic character.
Farmhouse Kitchen with White Cabinet Ideas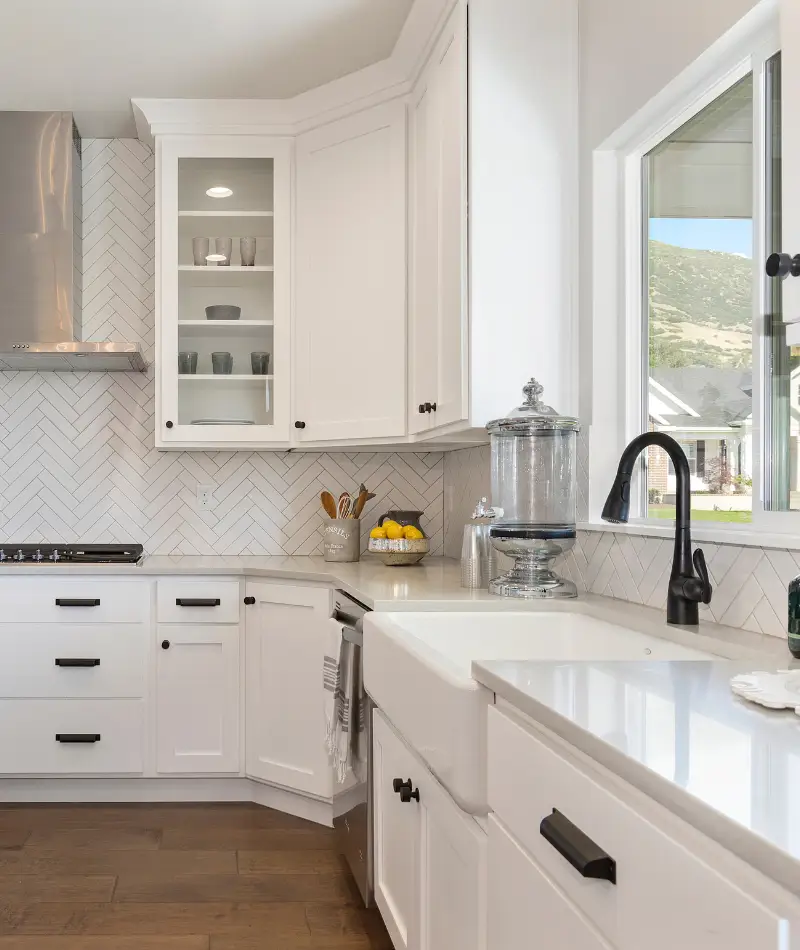 A farmhouse kitchen with white cabinets is a classic choice. White cabinets create a bright and airy ambiance, making the space feel open and welcoming. This timeless design choice allows for versatility in decor, which means that you can incorporate rustic elements, colorful accents, or natural textures to complement the farmhouse aesthetic with your own take on it. With its clean and elegant appeal, a white-cabinet farmhouse kitchen stands as a canvas for personalized touches, transforming it into a warm and cozy gathering place for family and friends.
Farmhouse Kitchen Sink Ideas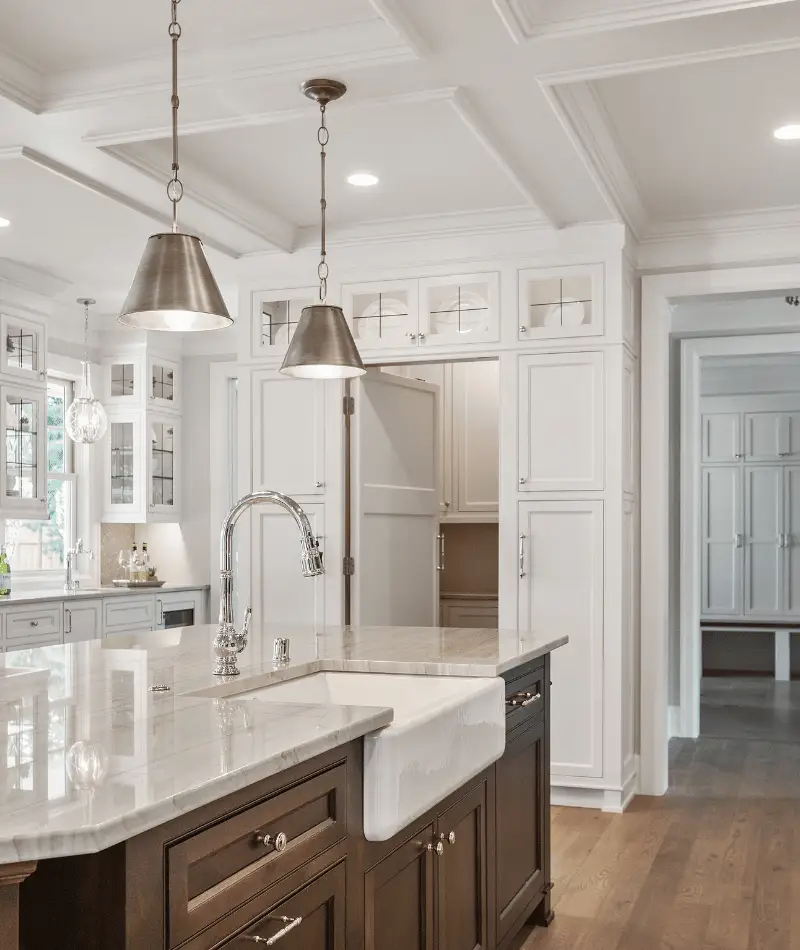 A farmhouse kitchen sink, also known as an apron-front sink, is a distinctive and iconic fixture that characterizes the farmhouse kitchen style. Unlike traditional sinks that are installed beneath the countertop, the farmhouse sink features a large, deep basin that juts out slightly from the cabinets, with its front visible and exposed. This design allows for easier access and provides ample space for washing and cleaning large pots, pans, and dishes. The farmhouse kitchen sink is often made of materials like fireclay, porcelain, or stainless steel, and its rustic and charming appearance adds a touch of nostalgia and functionality to the heart of the farmhouse kitchen.
Farmhouse Kitchen Idea with Dark Cabinets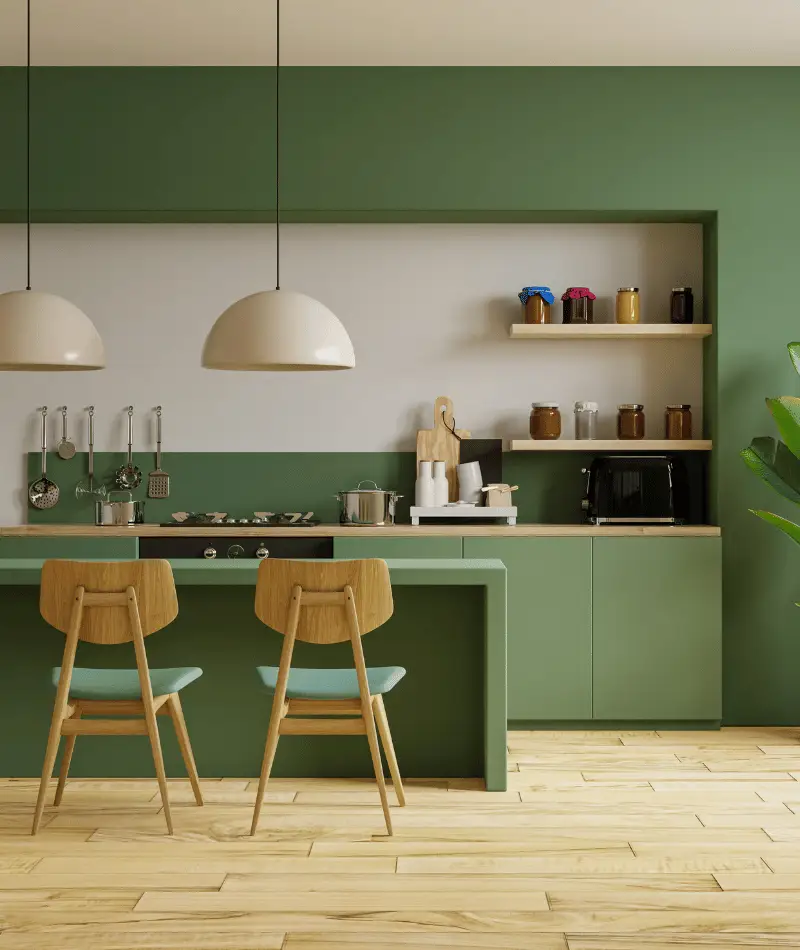 Dark farmhouse kitchen styles blend the rustic charm of farmhouse design with the elegance of dark color palettes. These kitchens often feature deep-toned cabinetry, such as rich espresso, leafy green or charcoal hues, creating a dramatic and cozy atmosphere. To balance the darkness, designers may incorporate light-colored countertops, farmhouse sinks, and open shelving, adding a touch of contrast and brightness to the space. The combination of dark finishes with farmhouse elements gives rise to a sophisticated and inviting kitchen that exudes both modern and vintage appeal.
Farmhouse Kitchen Ideas FAQs
What is a farmhouse kitchen?
A farmhouse kitchen is a style of kitchen design that draws inspiration from traditional, rustic, and rural farmhouse aesthetics. It is characterized by a warm and inviting ambiance, combining elements of vintage charm with modern functionality. Farmhouse kitchens often feature natural materials like wood, stone, and metals, as well as neutral color palettes that evoke a sense of simplicity and timelessness. Key elements of a farmhouse kitchen may include farmhouse sinks, open shelving, shaker-style cabinets, exposed beams, reclaimed wood accents, and vintage-inspired lighting fixtures. The goal of a farmhouse kitchen is to create a cozy and comfortable space that fosters a sense of togetherness and nostalgia, making it a popular choice for many homeowners seeking a welcoming and classic design for their kitchen.
How can I start designing a farmhouse kitchen?
If you are in the early stages of thinking about a farmhouse kitchen style, why not take advantage of our affordable Interior Design package? We work with you to design mood boards and shopping lists for your kitchen to create a completely unique kitchen mood board for you to work from.
[caf_filter id='10630′]