Is pink a good colour for a bedroom?
Pink is a wonderful colour for the bedroom and with so many variants of shades, there's so much choice on how to style a pink bedroom. From hot pink for a bold look to neutral pink for a warm look and light pink to make the space feel bigger.
Decor is also a great way to add colour to the room also, as well as introducing accent walls and furnishings to bring in the pink theme.
Cotton candy pink bedroom colour
1 of 8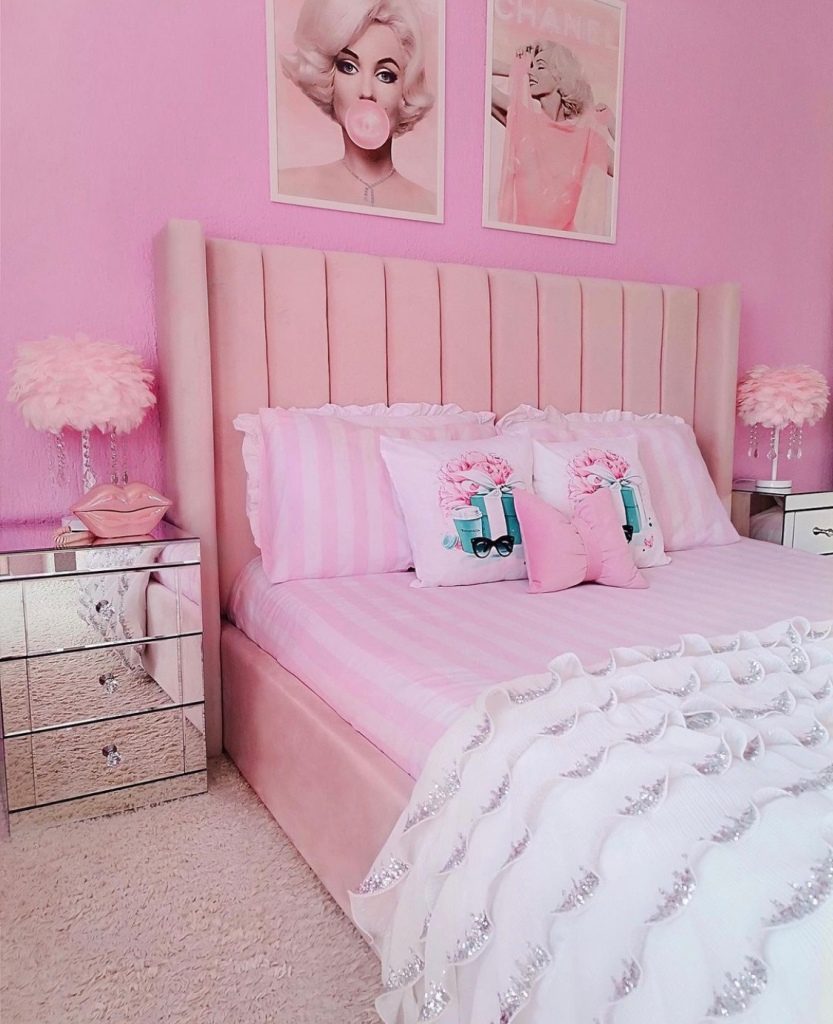 Paint colour: Cotton Candy Pink
For a vibrant and cheerful room, paint your bedroom walls with a soft cotton candy pink with a rose pink undertone to make your space pop with playfulness. We love this full pink bedroom that carries the pink theme throughout in a sophisticated yet super fun and sleek way. Furthermore, the glass furnishings are great to break the space up whilst also making the room feel more spacious and light.
Light pink bedroom furnishings to colour the room
2 of 8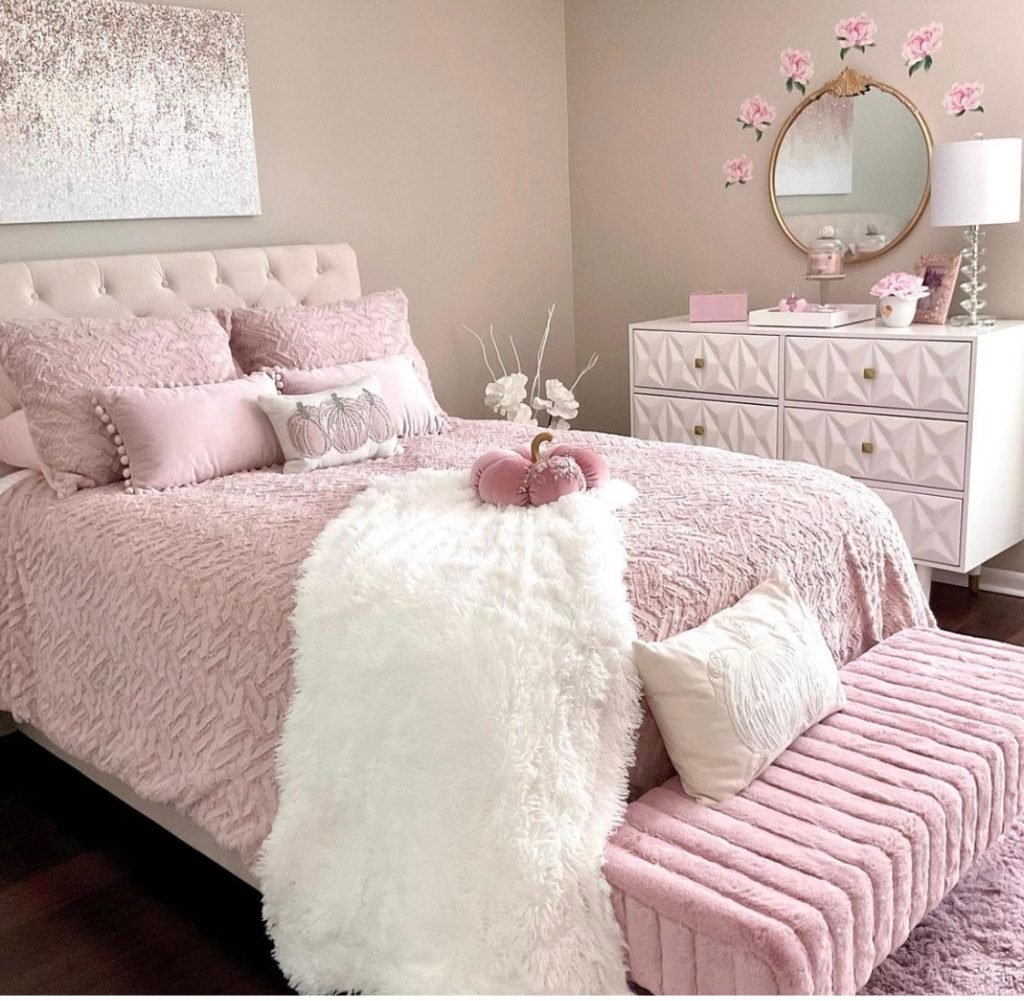 Paint colour: Sherwin Williams Kilim Beige
Dress a beige bedroom with light pink furnishings to add pink into your space without painting your walls. Just like this neutral bedroom idea with soft beige walls that give the space a nude look, incorporating soft pink decor such as bed benches, fluffy rugs, accessories and wall art will infuse the space with colour in a subtle way whilst still being vibrant and fun.
Pressed petal pink bedroom colour
3 of 8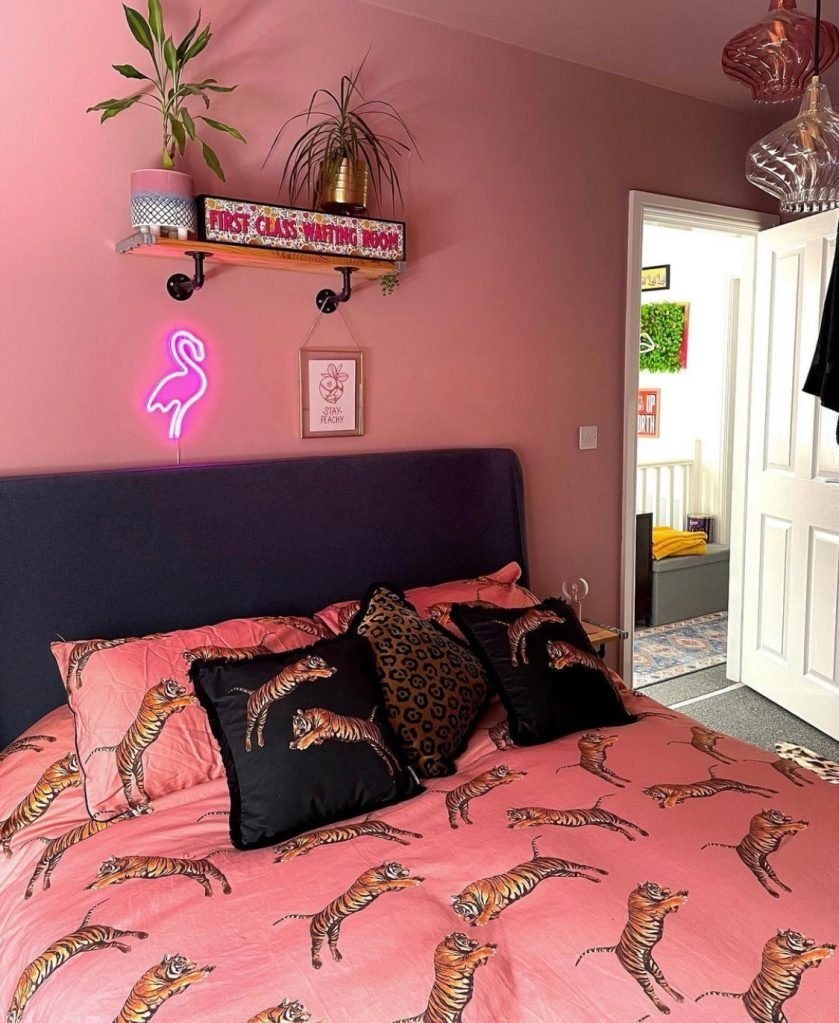 Paint colour: Dulux Pressed Petal
Bedroom decor: flamingo from Lightely, bedding from Hausnous
For a neutral and calming pink bedroom, try Dulux Pressed Petal which is a warm and bright colour that easily transitions in the evening by becoming more earthy and neutral against soft lighting for a toned down look. We love how this pink bedroom is styled with a fun duvet to reflect the unique and tropical bedroom decor.
4 of 8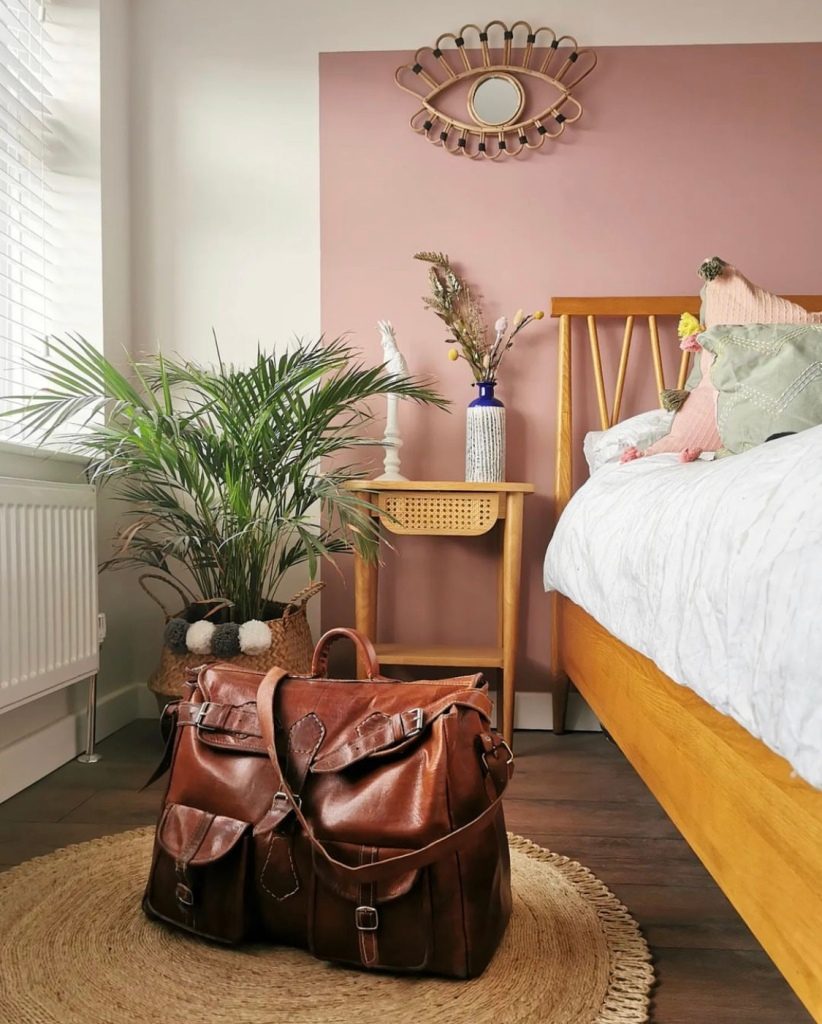 Paint colour: Dulux Pressed Petal and Dulux Nutmeg White
For a natural looking bedroom with a pink colour theme, opt for a pink and brown colour theme, with a white contrast to the style bold. We love the use of wood in this room which gives the pink walls a warm feeling for an overall calming bedroom design.
Pink accent wall in the bedroom
5 of 8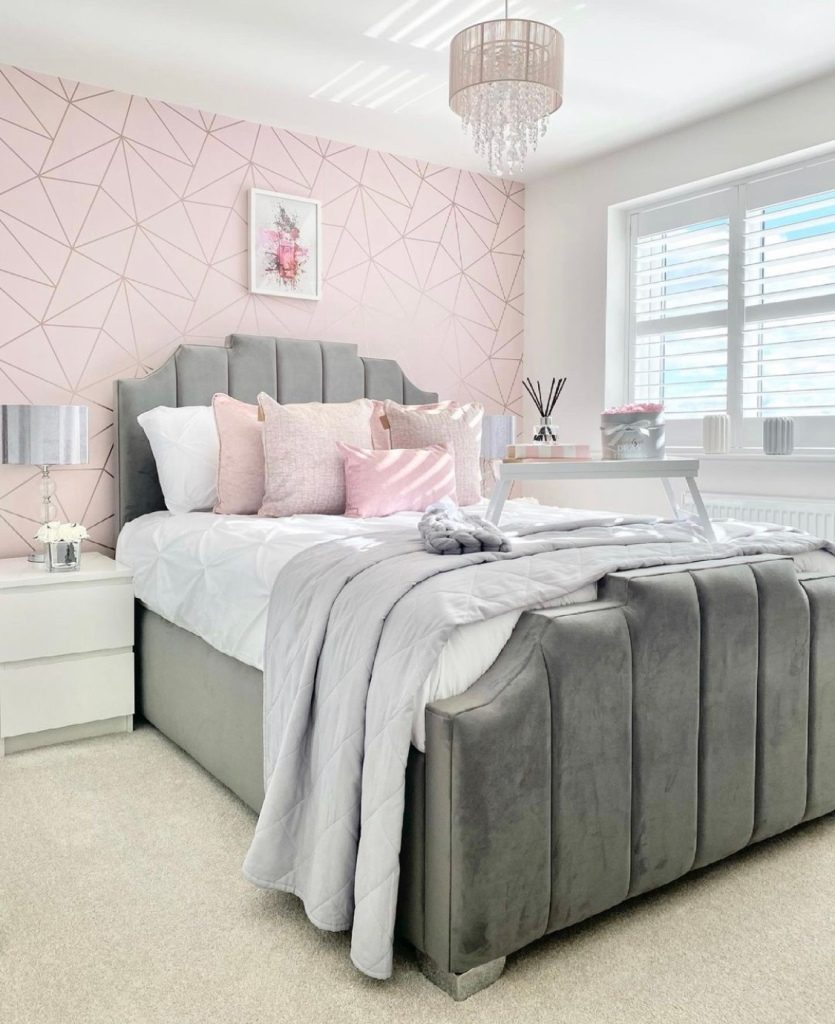 Wallpaper: geometric wallpaper from I Love Wallpaper
Paint colour: Dulux Brilliant White
Accent walls are great for adding colour and texture into the room as well as giving small spaces a focal point to set the tone of the room. We love this gorgeous pink and good geometric wallpaper that gives the bedroom a soft pop of colour and sophistication, with match pillows and reflective chandelier lighting for a touch of glam.
Dusty pink bedroom decor
6 of 8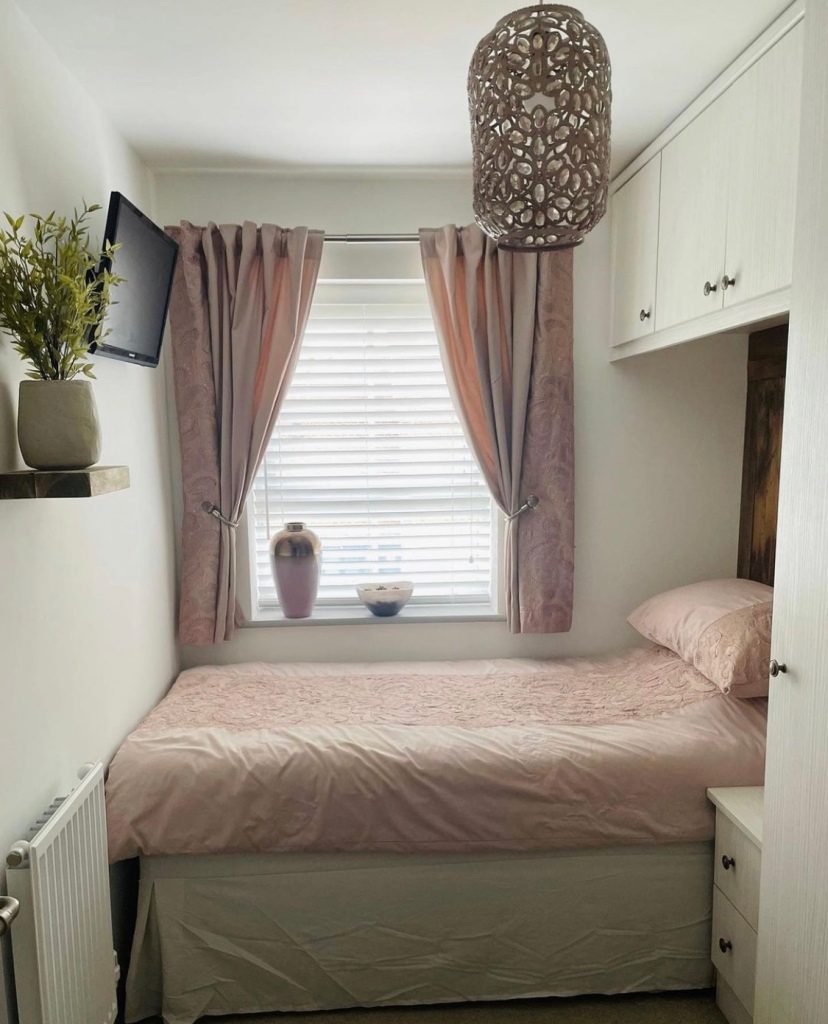 Use decor and bedding to bring in the pink theme into your bedroom. Dusty pink is a great choice to introduce to your bedroom as it's soft and warm and is a great choice for breaking up white walls and furnishings. When incorporating decor into your room be clever by utilizing space by adding colour through curtains, duvets, pillows, rugs and accessories to maximise your space.
Rosebud pink bedroom
7 of 8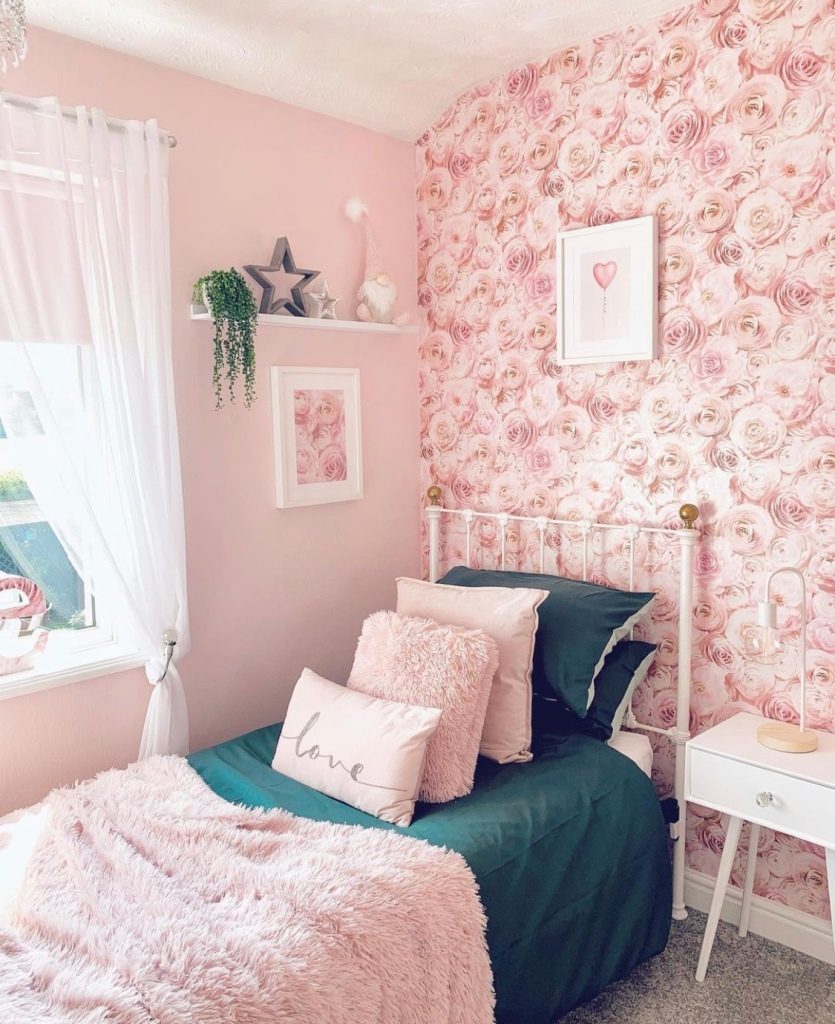 Paint colour: Rosebud by Johnstone
For a soft yet full of character bedroom, opt for a rosebud paint colour which is a very light shade of pink. Match light pink with rich colours like royal green or blue for a bold look that adds sophistication to compliment to pink walls.
Floral pink accent wall in your bedroom
8 of 8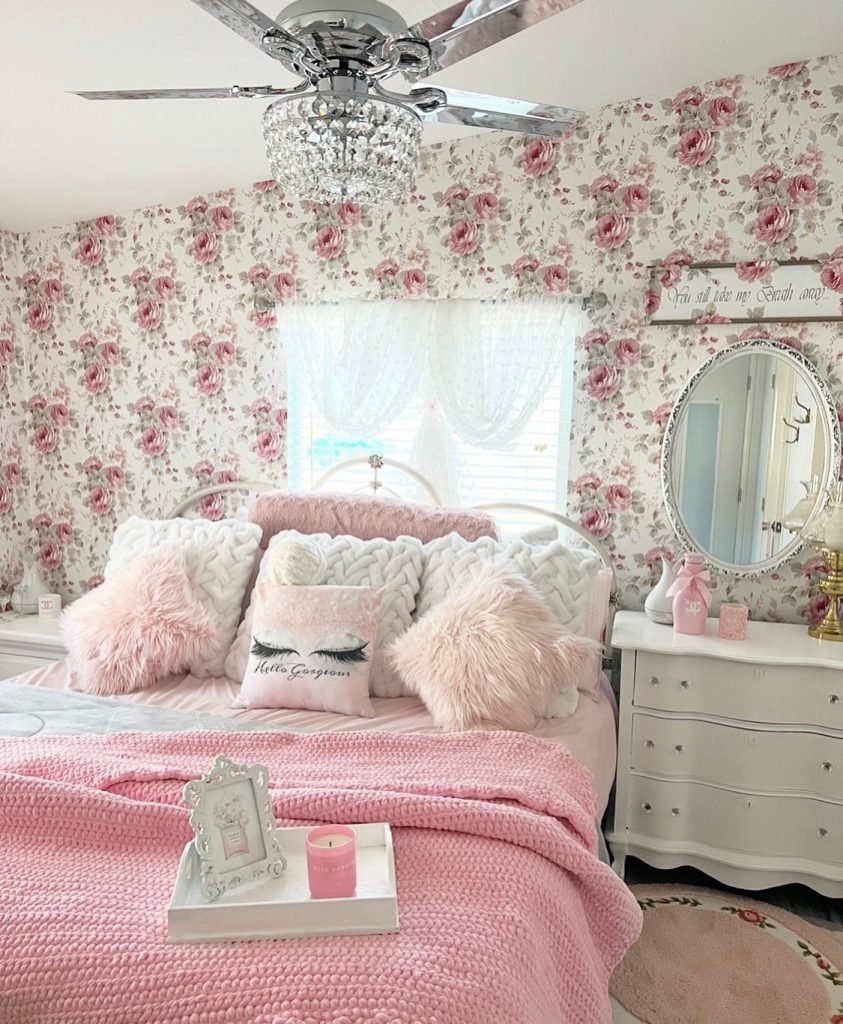 Walllpaper: Home Depot
Add an accent wall using floral pink wallpaper to give your walls a pop of colour. For a cottage aesthetic, use vintage style florals, french style furniture and lots of textiles such as rugs and pillows for a cozy look.