Are you dreaming of creating the coziest living room? We've got you covered with these beautiful fireplace wall ideas…
Your living room is where you unwind, connect, and make cherished memories with loved ones. When you start to think about how you want your living room to look and feel, the design of the fireplace and TV should be where you start as these elements are focal points of your room. If you need some help in deciding how to style your space, don't worry. We are here to help.
Get ready to be inspired by these 20 irresistible ideas that will transform your living room into a stylish and inviting haven.
Ps. If you need a little more help with styling your home, we offer a styling service here.
1. Cozy alcove fireplace wall idea with TV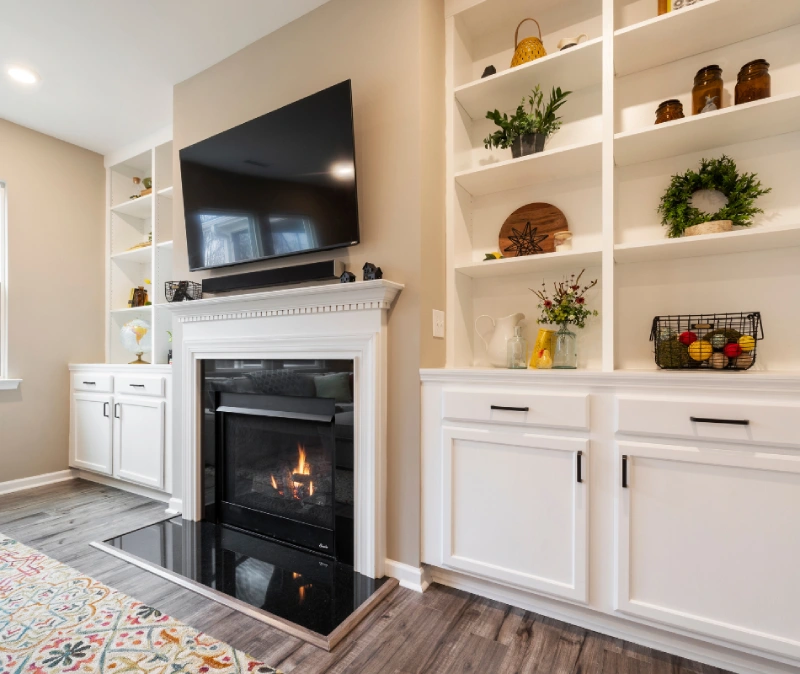 Create a charming alcove for your fireplace and TV, flanked by built-in shelving or cabinets. This intimate setup turns your living room into a cozy retreat. Furthermore, alcove shelving is a great way to maximise your storage as well as keeping your necessities close. You can have lots of fun placing accessories, books, candles, and items around your shelving to bring your personality into the room.
2. Stone fireplace wall idea with shelf and space for TV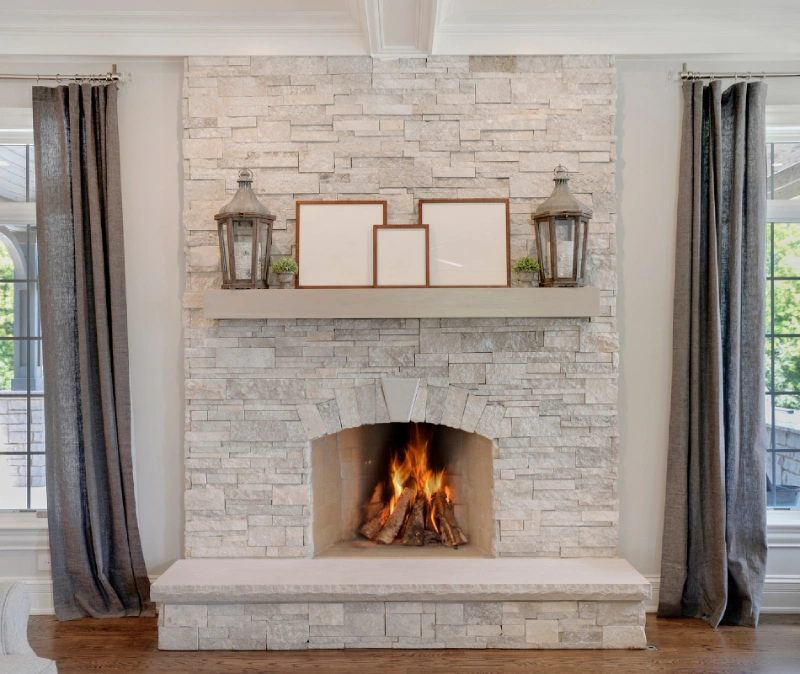 Stone chimney breasts are wonderful for keeping the rustic charm in your living room as well as being a classical choice. Keep your fireplace wall simple when it comes to styling, as you want the wall to do all the talking. The image above is a great example of how to style your space. You could swap the shelving for a TV if that's how you would like to utilize the space.
3. Minimalist fireplace wall with mounted TV and unit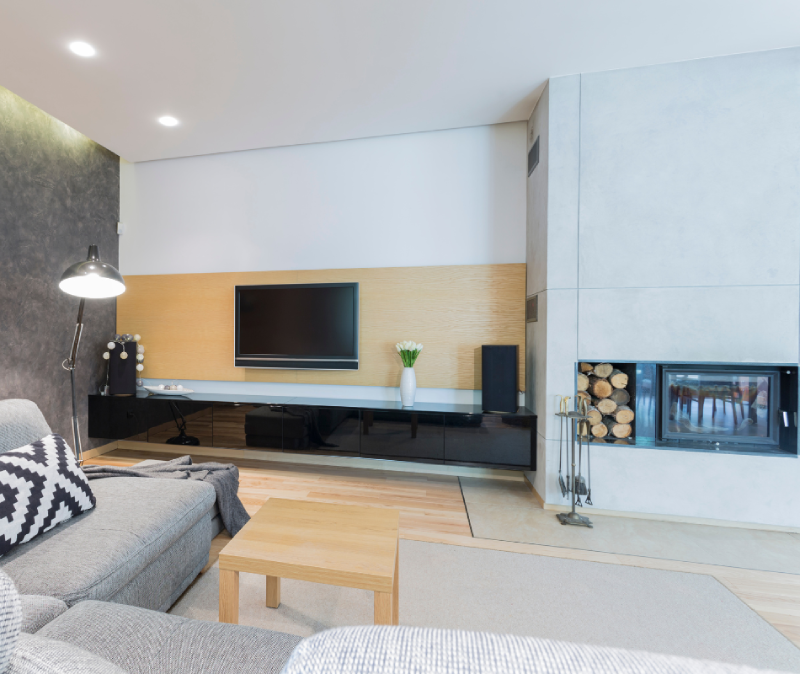 Keep it sleek and modern with a minimalist fireplace wall, where a linear gas fireplace is beautifully complemented by a wall-mounted TV.
4. Shiplap fireplace wall with TV idea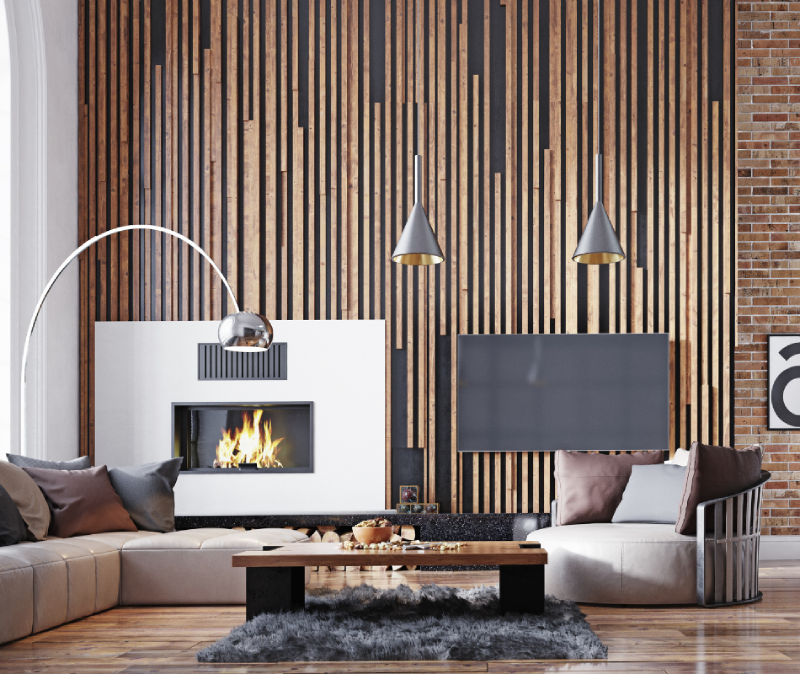 Embrace the farmhouse chic trend with shiplap cladding for your fireplace wall. Add a touch of rustic charm by mounting the TV on a wooden beam. To modernize the look, keep the shiplap natural wood and pair it with a wall insert fireplace and modern furniture.
5. Use artwork to style your fireplace wall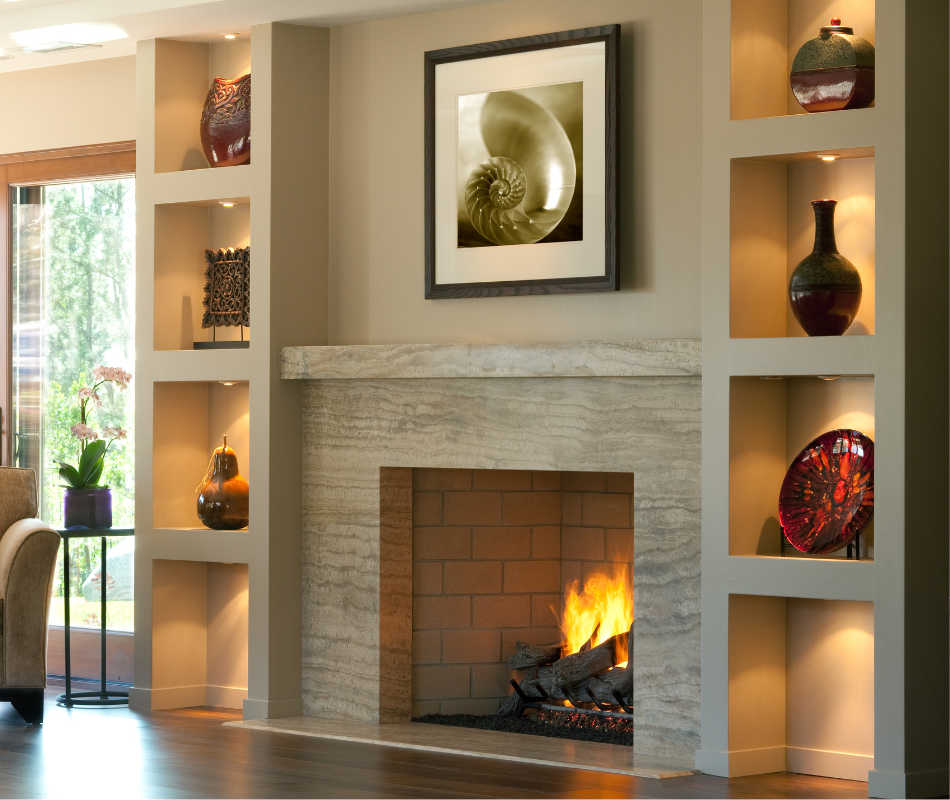 Your fireplace is your room's focal point and making it stand out in a creative way is great for adding character. To do this, surround your fireplace and TV with an art gallery wall. Display an eclectic mix of artwork, family photos, and decorative pieces to express your personality.
6. Add more space to your living room with a mirror on your fireplace wall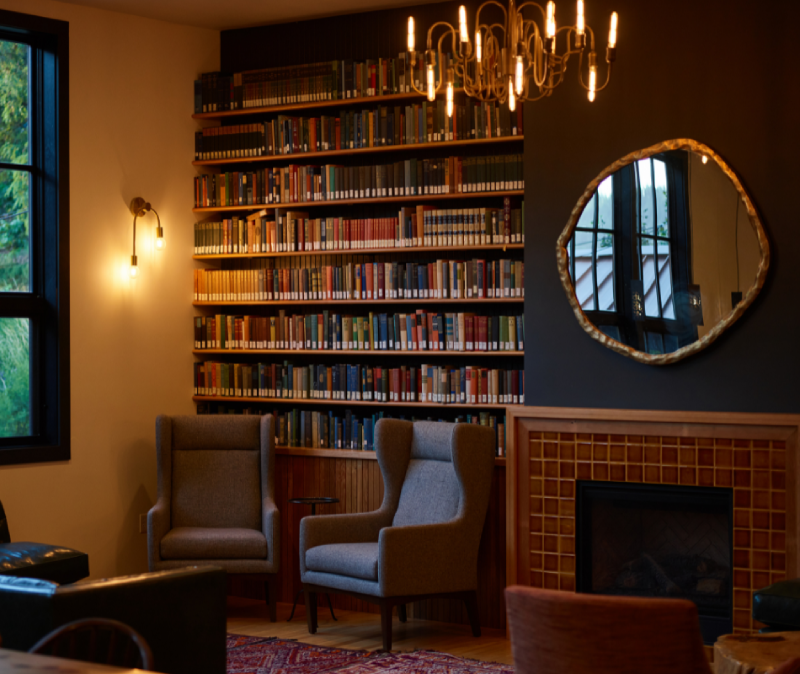 Incorporate mirrored panels into your fireplace wall design. They reflect light and create an illusion of a larger space, making your living room feel more open and bright. As well as this, it can make your living room feel cozy when using mood lighting too!
7. Modern industrial fireplace idea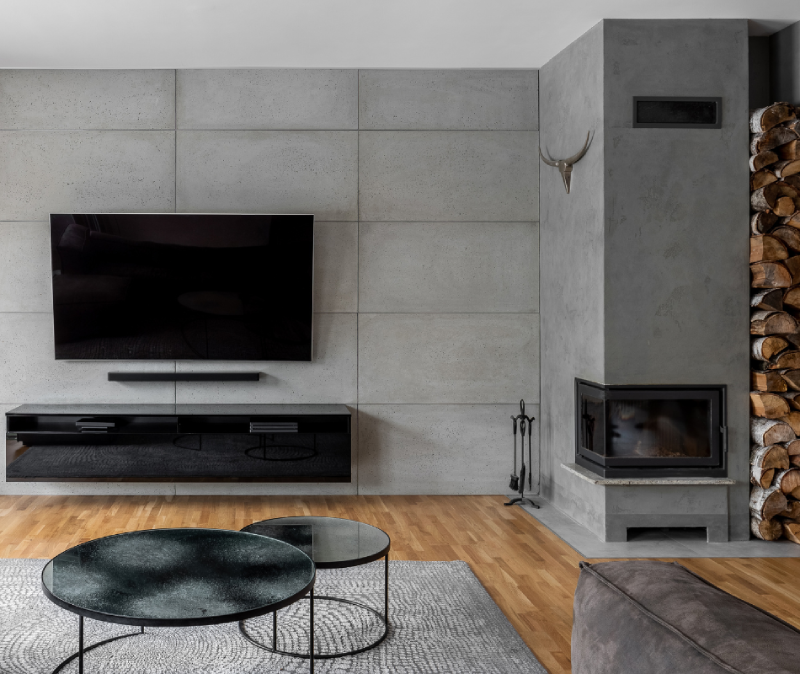 Combine the beauty of warm wood with sleek metal accents for an industrial-inspired fireplace wall. Keeping the space minimal with colour and decor is a great trick to make the space feel bigger. Furthermore, wood accents will give a warmth to the space and this can be done th
8. Integrated entertainment wall and fireplace idea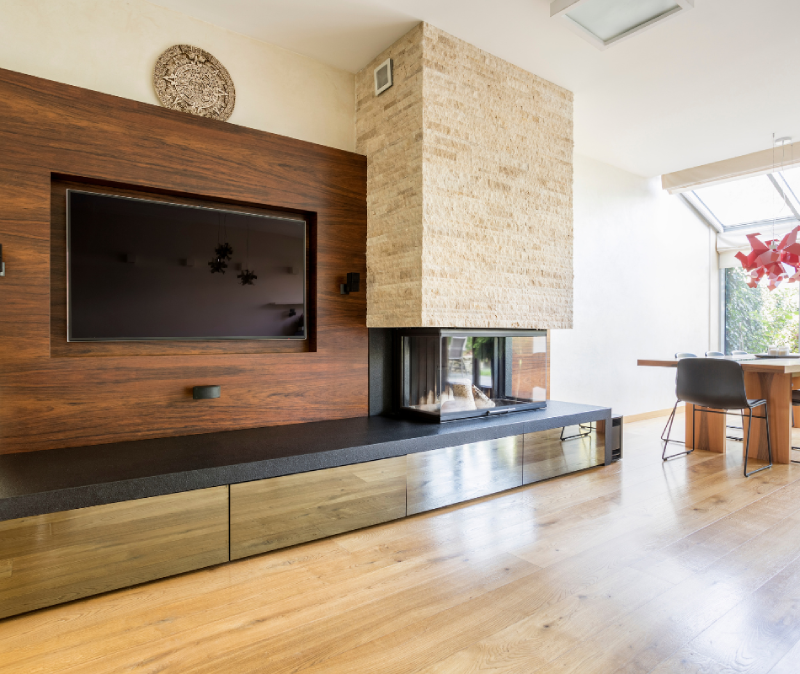 Incorporate your TV seamlessly into a custom-built media console that surrounds the fireplace. This cohesive design maximizes storage and functionality.
9. Add lighting to your fireplace wall for ambience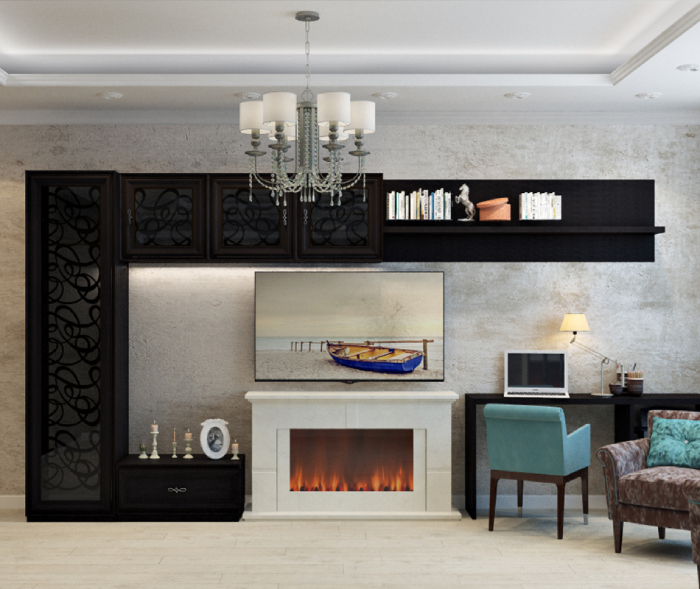 Install LED lighting behind your TV and fireplace to add a subtle glow to your living room. It creates a captivating ambiance during cozy evenings. If you have a media unit, using lighting behind or under it can also add to the design as it will give your space a warm glow and cinematic experience.
10. Symmetrical fireplace wall idea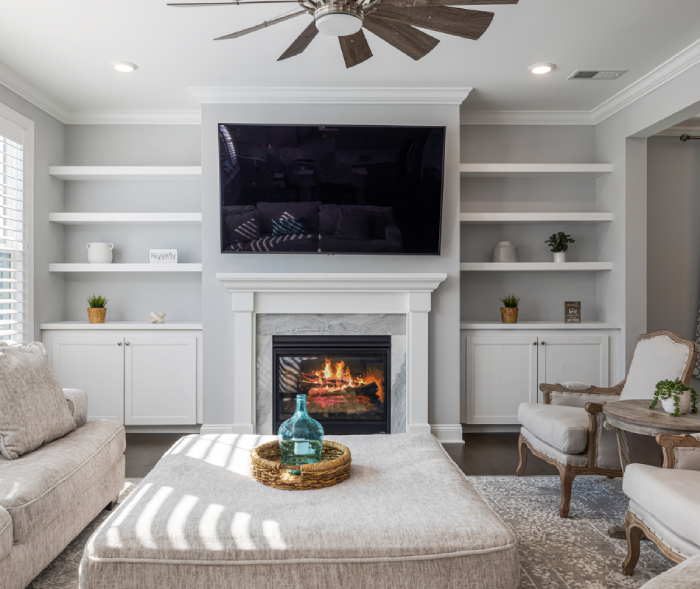 Achieve a sense of balance and sophistication with symmetrical built-in shelves or cabinets surrounding the fireplace and TV which will emphasize the focal point of your room.
11. Add plants to your fireplace to make it green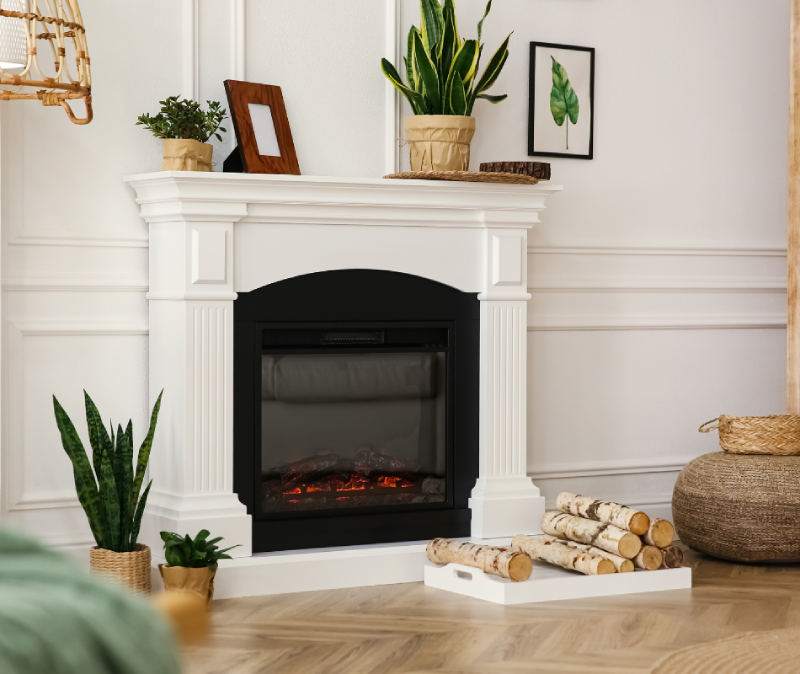 Blend nature into your living room by adding plants around your fireplace and TV. This will bring a touch of nature into your living room as well as colour. Dress them on your mantel or arrange them besides your fireplace and TV for a boho vibe.
12. Classic Brick Charm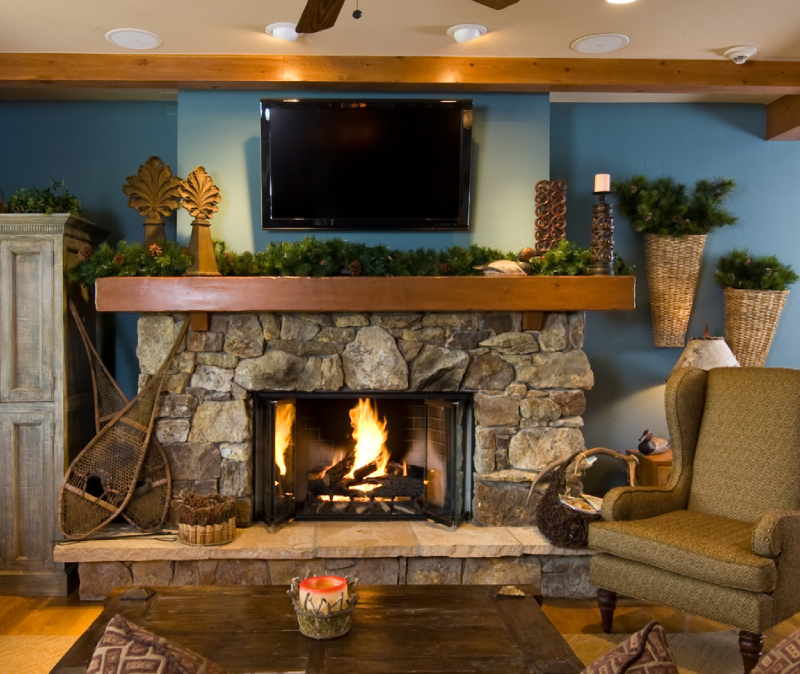 Love the rustic country cottage look? Go for a classic brick fireplace wall and add a modern twist by mounting the TV on a sleek bracket. Your fireplace will look cozy against the brick display and country furnishings to bring it all together.
13. Fireplace and TV with recessed wall idea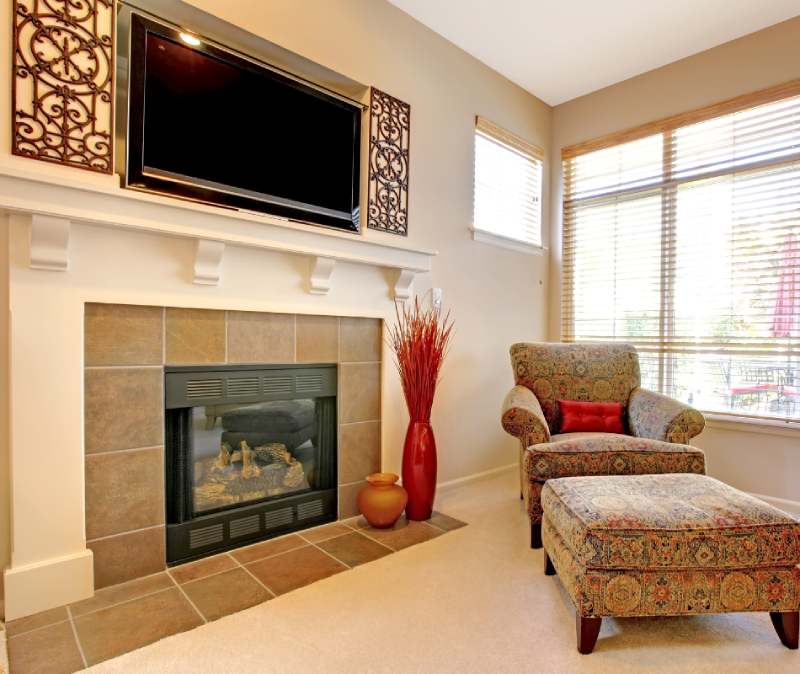 Recess your TV and fireplace into the wall for a streamlined and polished look. Add decorative molding to enhance the design for an elegant finish. This look is great to make the space feel part of the wall design.
14. Double-sided fireplace wall idea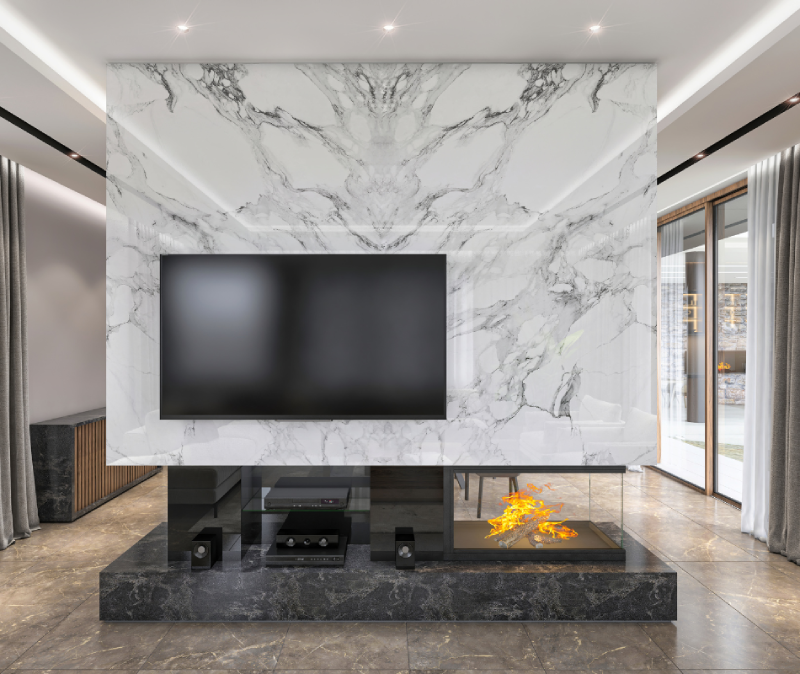 If your living room layout allows, install a double-sided fireplace that serves as a divider between two spaces, like this elegant marble wall with see-through fireplace that divides the living and dining spaces.
15. Floating shelves and media unit idea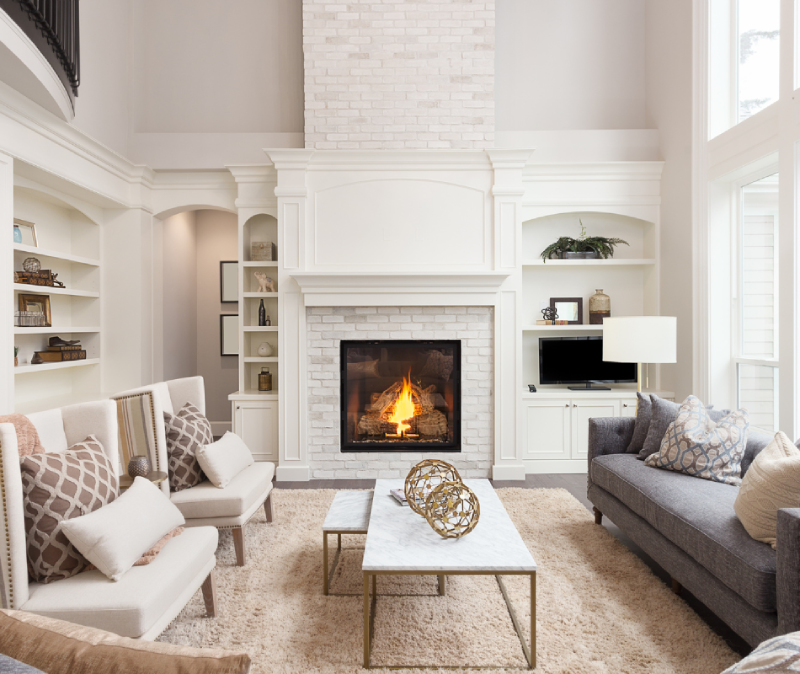 Opt for floating shelves and a media unit that seamlessly integrates your TV with the fireplace, creating a contemporary and organized display.
16. Dramatic wallpaper fireplace idea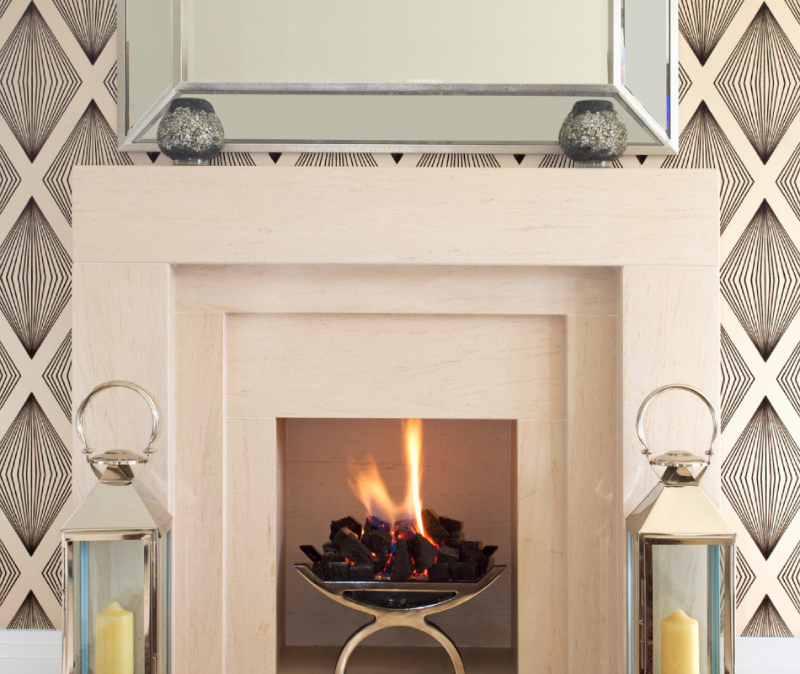 Select a bold and eye-catching wallpaper to make your fireplace and TV stand out as a work of art against the backdrop. For light fireplaces, don't be afraid to go bold. Even if you're sticking with a neutral look. Take note of this gorgeous geometric monochrome wallpaper that adds lots of depth against the fireplace for a dramatic look.
17. Fireplace wall with inset TV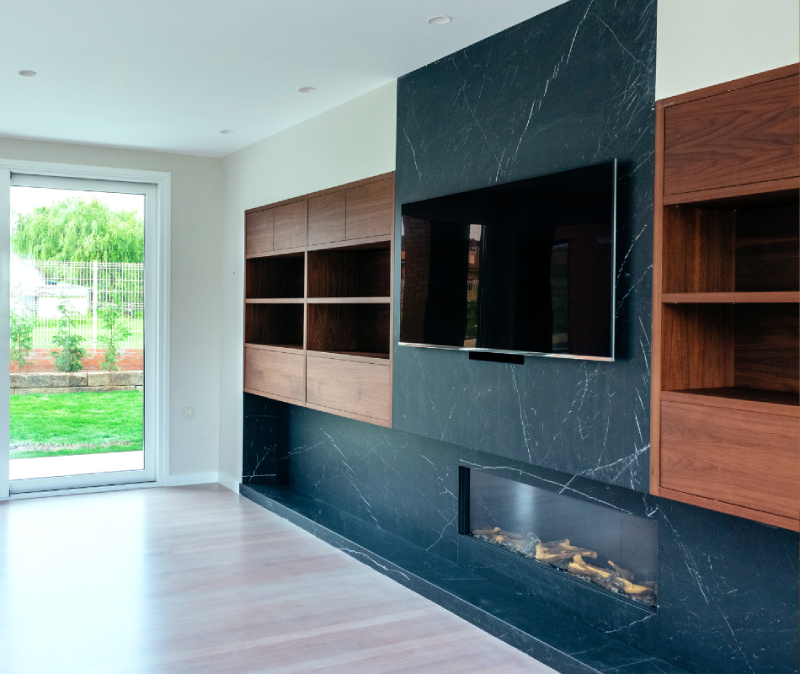 Create a niche above your fireplace to house the TV, giving it a framed and polished appearance. For a cohesive look, choose the same colour and material for your fireplace and TV area to make the focal point prominent.
18. Modern mosaic fireplace wall with TV idea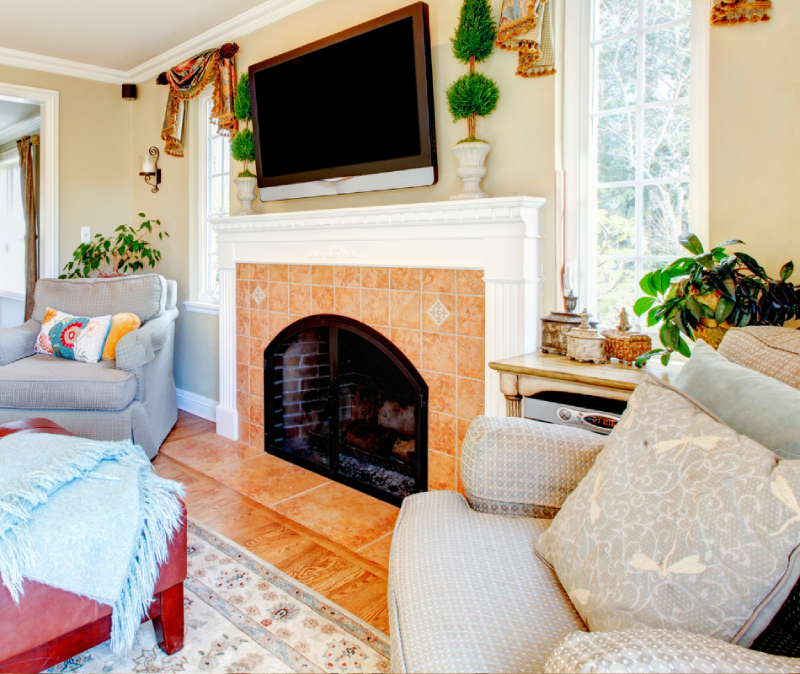 Craft a captivating mosaic tile design around the fireplace and extend it to the TV console area, adding a pop of color and texture to your living room.
19. Coastal theme fireplace wall idea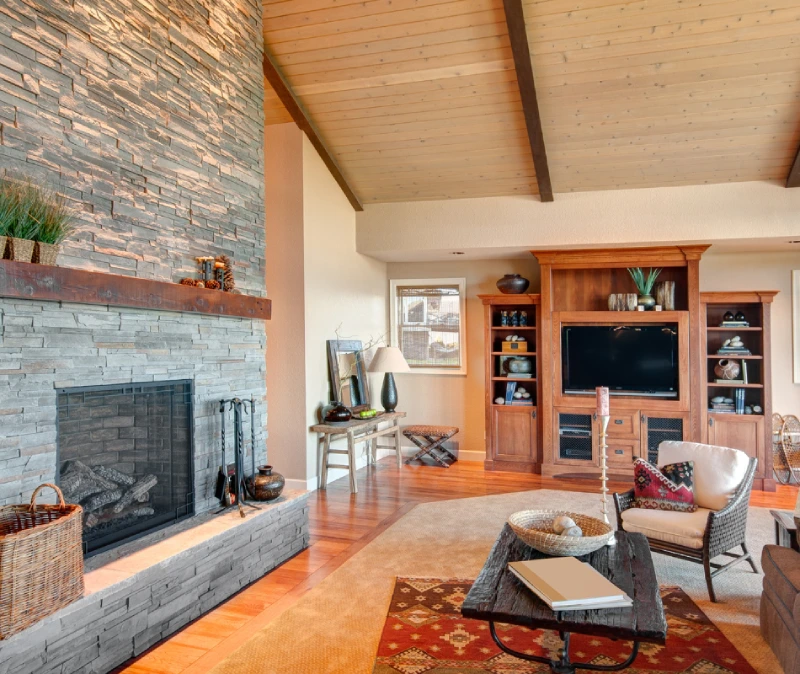 Give your fireplace wall a beachy vibe with light-colored brick or stone and a weathered wood media unit to house the TV.
20. Electric fireplace wall with TV idea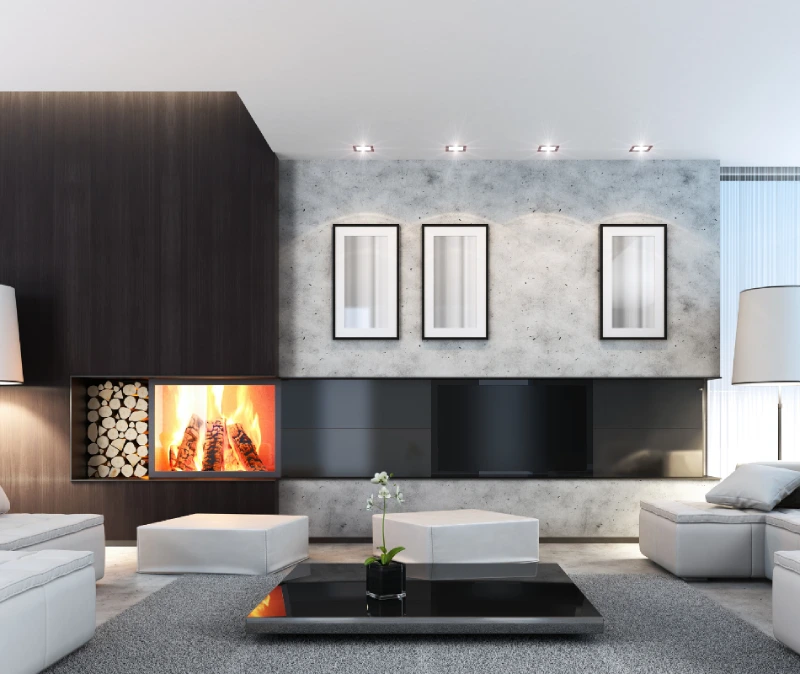 Install an electric fireplace with LED lighting for a mesmerizing combination of warmth and coolness. Mount your TV above for the ultimate modern appeal.
Now that you've got these 20 irresistible fireplace wall ideas with a TV in the living room, it's time to let your creativity run wild. Choose a design that speaks to your style and turn your living room into a space that exudes comfort, elegance, and entertainment. Get ready to enjoy countless cozy evenings and movie marathons in your stunningly revamped living room!
[caf_filter id='10950′]