Want to take the plunge and paint your room green? Don't dip your brush in the paint just yet, we've got some of the best green paint colour trends to share with you!
The below green paint colour trends have been handpicked by us based on trend forecasting and analysis of our own data and knowledge.
1. Soft mid-green for a relaxing interior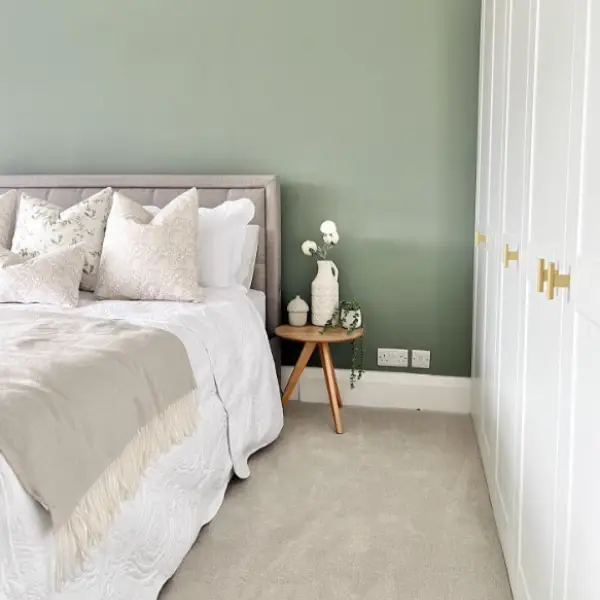 Soft green bedroom design using Green 02 by Lick / Image by @livingwith_sienna
Combined grey and green together for an ultra-relaxing bedroom space. Mid-green, such as Green 02 by Lick is a delicate tone to evoke feelings of positivity and reflection. This shade will be massive in 2023 as we see more and more bedrooms using sage green hues to add a pop of colour into a neutral bedroom without being overpowering, and also keeping in touch with nature.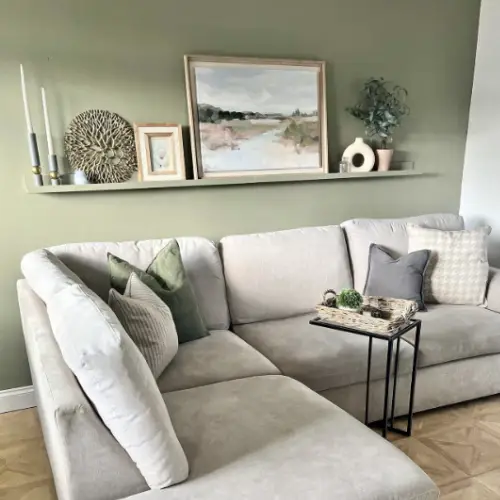 Mid-to-dark green statement wall to add warmth behind a grey sofa and wooden flooring using Treron by Farrow & Ball / Image by @little_house_life on Instagram
Another beautiful mid-green shade to use in your home this year is Farrow & Ball Treron, which is designed to be used in spaces that use natural colours and materials such as wood flooring and accents. The beautiful mid-tone green warms up the natural materials used in the room, especially when paired with light grey. 
2. Dark green will be popular for eclectic spaces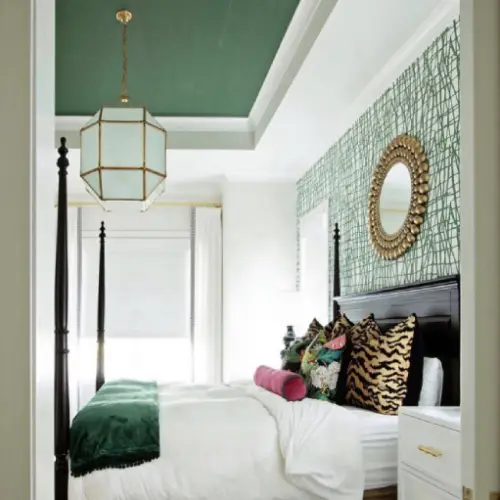 Use dark green patterned wallpaper to add a striking statement wall in your bedroom / Image by @mldesignskc on Instagram
Oh, let me tell you why dark tropical green is such a fabulous colour choice for 2023! Picture this: you walk into a room adorned with this deep, lush shade, and instantly, you're transported to a serene tropical paradise. It's like bringing a piece of nature indoors, creating a refreshing atmosphere. And can we talk about the sheer elegance it brings? Dark tropical green adds a touch of sophistication and class to any space, making it feel effortlessly stylish. The best part is, this colour works like magic with all kinds of design styles, in particular with eclectic styling. 
Dark green can serve as your base colour where you can invite other textiles, patterns and hues into the room to give a pop of contrast against the rich shade of dark tropical green.
3. Dark green for Victorian-style homes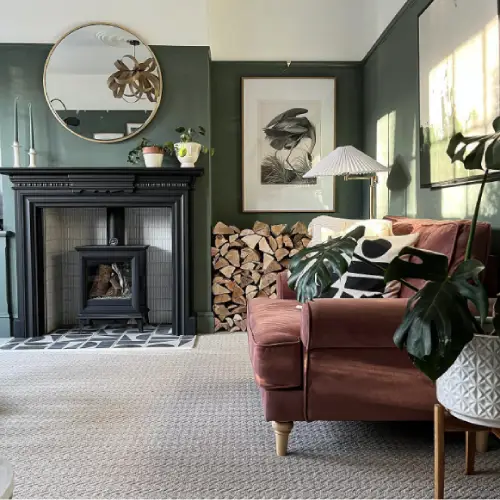 Vikki uses Green Smoke by Farrow & Ball to create a moody living room with rich interiors and fabrics that ooze with luxury and relaxation / Image by @little_savage_life on Instagram
Smokey green paint is an excellent choice for a Victorian-style home, and let me tell you why. This particular shade perfectly complements the rich and ornate architectural details typically found in Victorian houses. The combination of blue and green evoke a sense of tradition and opulence. Furthermore, dark green adds depth and character to the space, enhancing the intricate moldings, decorative wallpapers, and elaborate woodwork commonly seen in Victorian interiors. It creates a harmonious balance between the historical charm of the home and a contemporary touch, making it an ideal choice for those seeking to infuse their Victorian-style home with a touch of modern elegance.
4. Pastel Green will be popular matched with pink for bright spaces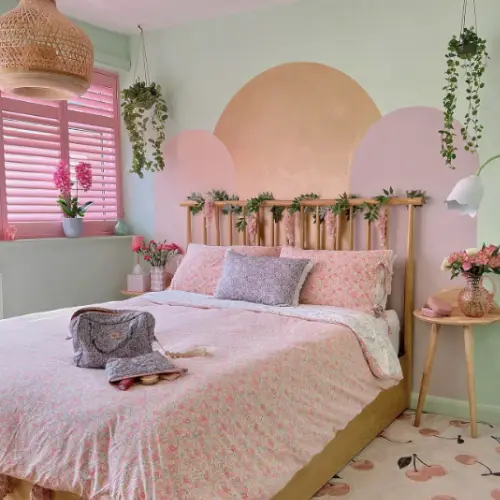 Refreshing pastel green and pink bedroom mural using Sheer Elegance by Valspar / Image by @homewithhelenandco on Instagram
Painting your bedroom walls in pastel green is an absolutely lovely choice, it's like a breath of fresh air, instantly creating a soothing and serene atmosphere that's perfect for unwinding and getting a good night's sleep. Pastel green has a calming effect on the mind and body, making it an ideal colour for a peaceful sleep haven. But if you're looking to infuse a touch of pink into this delightful colour scheme, here's a pro tip: opt for soft, blush pink accents. These can come in the form of decorative pillows, a cozy throw blanket, or even a fluffy rug. By adding these subtle hints of pink, you'll bring a delicate and romantic touch to the pastel green backdrop, creating a dreamy and enchanting ambience in your bedroom. 
5. Olive Green will be popular to remind us of summer getaways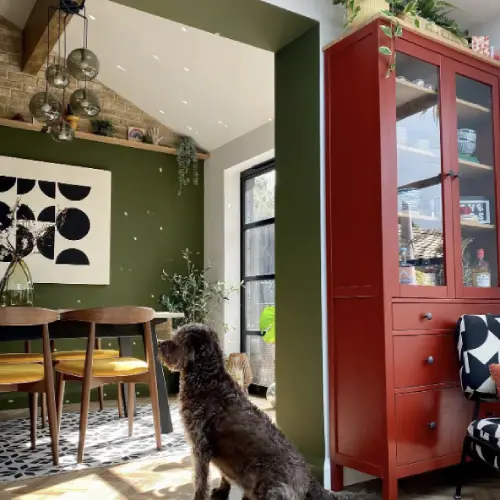 Steph uses Green 05 by Lick Paints to create a statement wall in her dining room / Image by @houseonthecorner_16 on Instagram
Olive green is a great paint colour choice for 2023 as we look to become more in tune with nature and look for ways to incorporate this into our homes. The olive shade leans towards the darker tone of green. With dark and moody interiors being a popular trend in recent years, it's the perfect shade to add modern contrast to the home. Furthermore, olive green works beautifully against natural materials such as brick walls, large glass windows, and wood accents, making this a fantastic choice for modern country and farmhouse interiors.
6. Pale green will be the gorgeous shade for bedrooms in 2023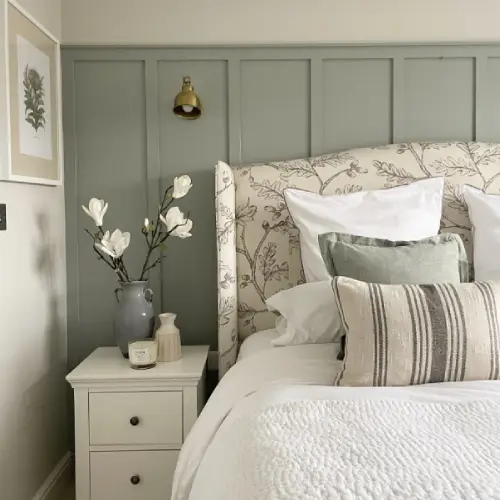 Soft pale green panelling brings to life a cream bedroom scheme to evoke calmness and express nature / Image @home_on_cranberrymeadows on Instagram (paint colour used: Moss by Neptune and Lily by Neptune)
Pale and sage green hues have been a huge interior trend in 2022 and will continue to be popular in bedrooms for 2023 and beyond. This subtle shade of green is often used on panelling behind the bed and matched with cream and soft white furnishings. With a fresh and cool colour, pale green is the perfect bedroom palette to make you feel calm and relaxed from day to night. It also works well in small doses as well as a statement colour in the bedroom. 
Will you be using any of these green colour trends in your home? Why not discover more interior trends below!
[caf_filter id='10500′]