A well-designed space can profoundly impact our well-being. One area often overlooked in design discussions is how the layout and interior design choices of a bedroom can significantly improve sleep quality. In this article, we will share valuable advice on creating a sleep-friendly environment, with a focus on the benefits of oil diffusers and sleep mist in promoting relaxation and preparing for a restful night's sleep. Further down in this article, you will also find a handy sleep checklist to design and prepare for a good night's sleep.
Searching for a dedicated plan to help improve your sleep?
Continue reading to learn about the positive effects interior design can play to improve your sleep.
Design a relaxing space and keep it clutter-free
When designing a bedroom, prioritize creating a serene and clutter-free space, that encourages relaxation. Opt for a minimalist approach to furniture arrangement, allowing for easy movement and flow within the room. Choose a calm colour palette with soft, muted tones that promote a sense of tranquility. Additionally, select bedding materials that are not only visually appealing but also feel soothing against the skin. By creating a clutter-free and aesthetically pleasing space, you can set the stage for restful slumber.
Best room colours to enhance your sleep:
Blue – relieves stress
Green – keeps you in touch with nature
Grey – keeps the room feeling neutral and calming
Purple – may help with easing anxiety
Pink – is soothing
Best bedding material to enhance your sleep:
Egyptian cotton – luxurious feel
Bamboo & Wool – temperature regulating
Silk – reduces friction
Linen – perfect for hot sleepers (highly absorbent)
Microfiber & Organic Cotton – hypoallergenic
Flannel – great for winter
Design your bedroom with scents in mind to improve your sleep
Fill your home with NEOM's 100% natural and mood-boosting scents by diffusing them through the much-loved Wellbeing Pods. Designed to work at the touch of a button.
Aromatherapy (the use of essential oils for well-being) has long been recognized for its ability to aid relaxation and promote better sleep. These days there are many beautiful oil diffusers out there to help create a sanctuary in your bedroom. Many with various light and sound settings to enhance your bedtime routine.
Essential oils such as lavender, chamomile, and ylang-ylang have proven calming benefits. These scents can be used as part of your nightly wind-down to help you feel calm before hitting your head on the pillow. Between 1-2 hours before bed, consider using an oil diffuser in your room to relax. Additionally, oil diffusers with light settings can enhance the experience by creating mood lighting to indicate to your brain that it's time to wind down, which may help.
About the wellbeing pod:

Features

Scents your home
Boosts your wellbeing
Worth £183, Save £38
Upgraded iconic Wellbeing Pod works at the touch of a button to scent your day from morning to night

Guided breathing mode
Touch sensitive display and 4-hour mist setting

Includes:
Scent To Sleep Perfect Night's Sleep
Scent To De-Stress Real Luxury
Scent to Calm & Relax Complete Bliss Sensuous Essential Oil Blends. Delivers the perfect amount of scent for over 7 hours
Crafted with a sustainable Heavea wooden base.

Use sleep mist as part of your pre-sleep routine to enhance your sleep
A pre-sleep routine is essential for signaling to your body that it's time to unwind and prepare for rest. Introducing sleep mists into your nighttime ritual can be a valuable addition to your bedroom design. These specially formulated sprays, often infused with essential oils and soothing ingredients, contribute to a calm atmosphere.
What's in the Perfect Night's Sleep Pillow Mist
Why buy it?
A really special complex blend in a sleep mist using only 100% natural fragrances with 14 of the purest possible dreamy essential oils including:

English lavender
Chamomile
Patchouli, plus little touches of other perfectly chosen natural essential oils


One of the top 5 iconic hero products from NEOM

Lasts up to 3 months

100% natural ingredients

Expertly blended to help you relax and prepare for sleep.
The scent of the sleep mist can help create a sensory association with sleep, signaling to your brain that it's time to unwind and prepare for rest. The calming fragrance can help reduce stress and anxiety, creating a more peaceful atmosphere in your bedroom. Spraying the mist onto your pillow and bedding allows the scent to surround you as you settle down to sleep, enhancing the overall sleep experience.
Features
Why buy it?

An antioxidant packed blend of naturally-good oils like nourishing almond oil, olive oil (which gives your skin a shield of moisture), vitamin-rich shea butter and sunflower oil with vitamin E and omega-6.

100% natural fragrance with soothing lavender and chamomile essential oils, blended to help you prepare for sleep


Promotes sleepy vibes

A little supercharged pot of wonder for skin, lips & bits
Additionally, the act of using a sleep mist can become part of a bedtime routine, providing a psychological cue that it's time to wind down and prepare for sleep. The ritual of spraying the mist can have a calming effect in itself, helping you transition from the activities of the day to a more relaxed state.
It's important to note that the effectiveness of sleep mist pillow sprays can vary from person to person.
Lighting choices play an important part in a restful sleep
Lighting plays a crucial role in setting the mood and regulating our circadian rhythm. At Style Your Sanctuary, we suggest opting for soft, warm lighting instead of harsh overhead lights. If possible, go for dimmable lights so that you can adjust the amount of light your room gets throughout the evening to enhance your sleep.
Consider incorporating dimmable lamps or bedside sconces that emit a gentle glow, creating a cozy and relaxing ambiance in the bedroom. For those who struggle with external light sources, such as streetlights or early morning sunrises, blackout curtains or blinds are best to create a darkened sanctuary.
Your free sleep guide to save for later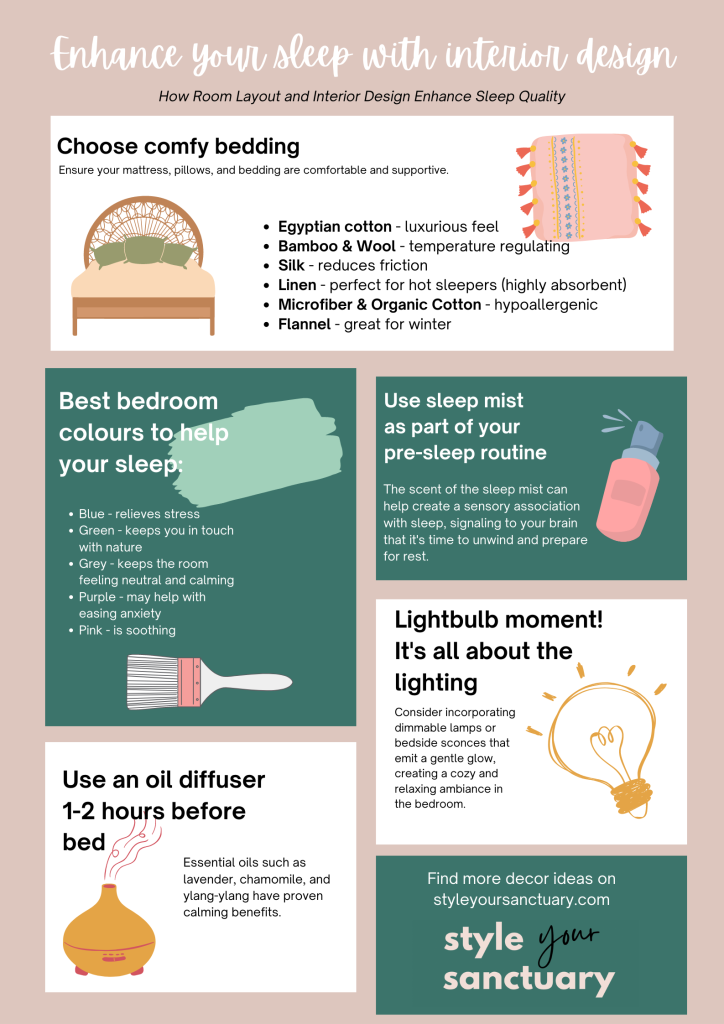 Conclusion
As interior design enthusiasts, it is our mission to create spaces that nurture well-being. When it comes to bedrooms, the layout and interior design choices play a vital role to enhance your sleep. By designing a clutter-free and serene environment, incorporating the benefits of aromatherapy through oil diffusers and sleep mists, and carefully selecting lighting options, you can transform a bedroom into a sanctuary that promotes restful slumber.
How do you Style Your Sanctuary?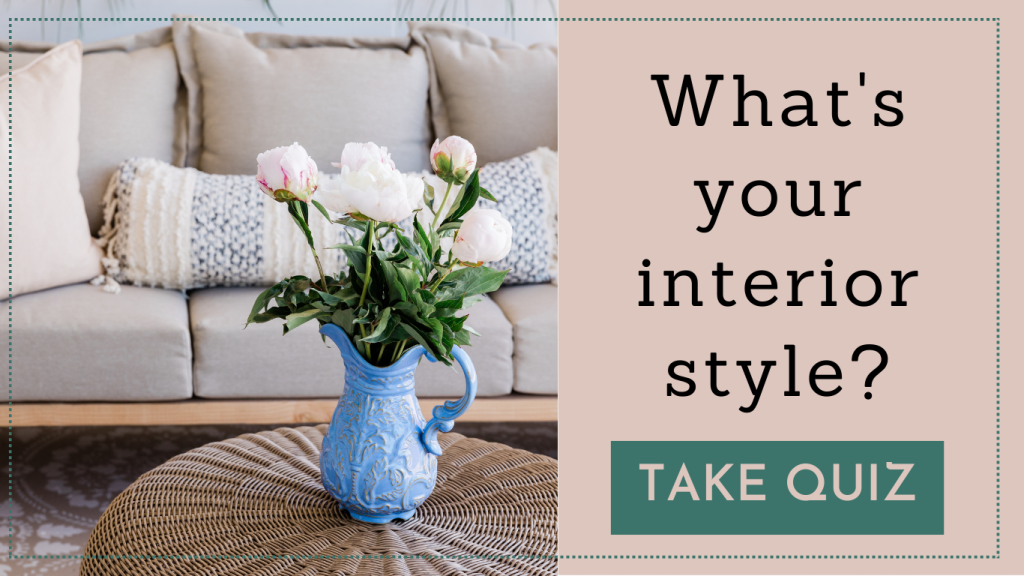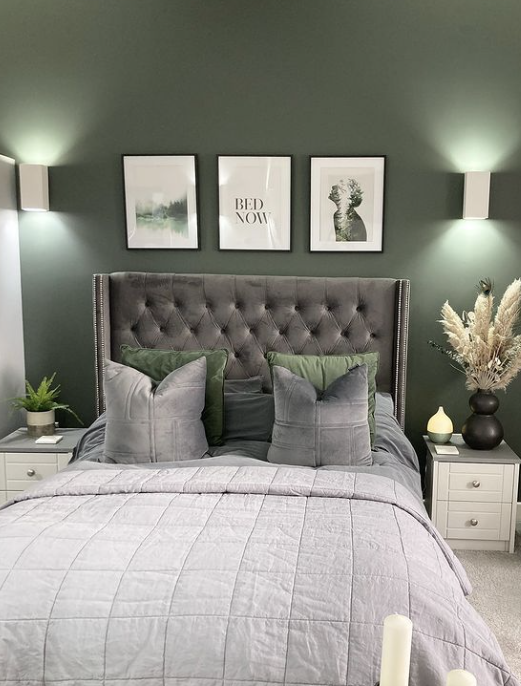 Bedroom Colour trends Home Decor Ideas Home Improvements Interior Trends Living Room Organisation & Storage panelling Small Spaces Wellbeing