Green can be an excellent colour for a hallway, it's versatile and calming and is a great way to add a touch of nature and freshness to your home. In our article, we discuss which colours go well with green to give you an idea of how to create a beautiful hallway and stairs look in your home.
Continue reading to find out how to style a green hallway and stairs…
What colour goes well with a green hallway?
When it comes to decorating your hallway, choosing the right colors to complement green can really make a difference in creating a cohesive and inviting space. Luckily, there are many colors that pair well with green and can enhance the natural and refreshing atmosphere it brings to your hallway.

Colours that go well with a green hallway include:
White – Balance out your green hallway with white for a fresh look. It will also break up the green when used on the ceilings and trims to give your hallway and stairs a bold contrast. 

Grey – Use grey in a green hallway to add a sense of spaciousness to your hallway or stairs. If you're looking to create a cozy and warm look, choose dark grey to combine with a green hallway for a sophisticated finish. 

Yellow – Looking for a bold colour choice to add to a green hallway? Consider using yellow which will instantly add brightness to your hallway as well as bring optimism and summer vibes to your entrance (which is a great way to be welcomed into the home!).

Blue – For a serene colour combination, consider green and blue for your hallway. If you're considering using dark green as your primary colour, then use dark blue decor and colour around your hallway and stairs. Alternatively, light green hallways can use a mix of light and dark blue decor elements to create a serene contrast. Just be careful not to overdo it with the blue and keep green as the primary colour scheme. 
Light green gives your hallway an open and airy feel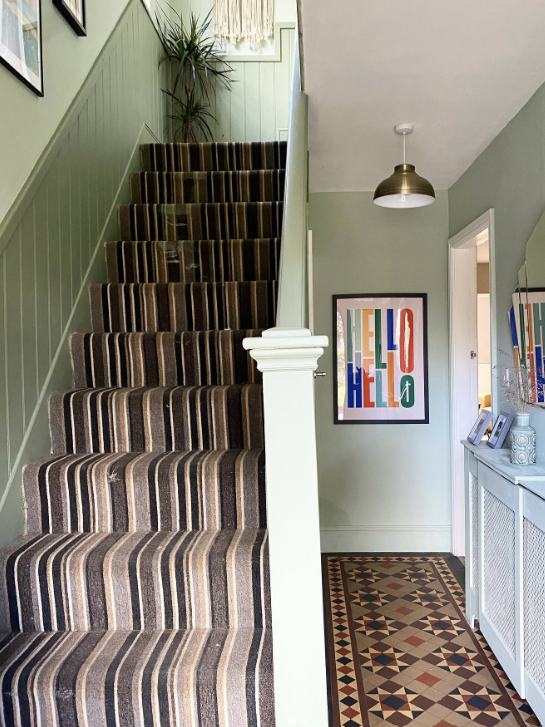 Image by Bilfordbrickshome uses Homebase Fresh Herb (light green) and Homebase Chinese Evergreen (darker green) walls to create an open and airy look for the hallway and stairs. Combining patterned flooring and carpeting on the stairs adds add extra colour and texture to the space for a warm ambiance.
There are many shades of green to choose from, ranging from soft pastels to vibrant emeralds. So, if you want a relaxing and soothing atmosphere in your hallway, consider a light green hue like mint or sage. These colors can make your hallway feel more spacious and airy, which is especially helpful if you have a narrow or small space.
Dark green hallway for a cozy hallway and stairs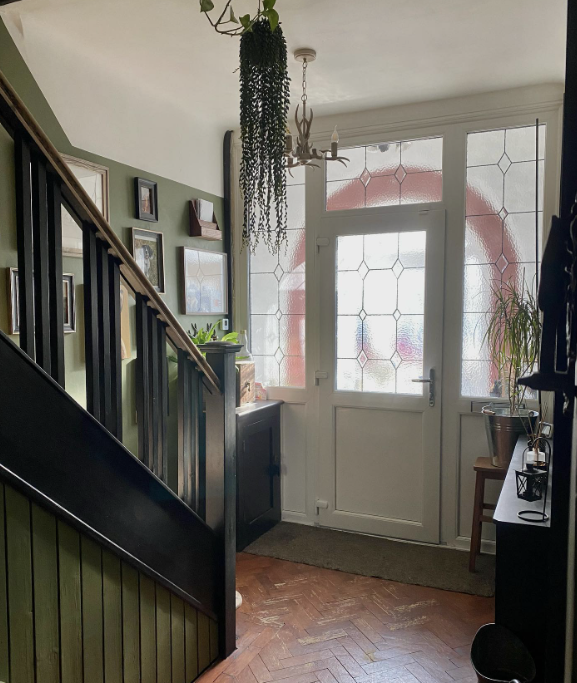 On the other hand, if you want a more dramatic and bold look for your hallway, you can go for a darker green like forest or olive. These colours can add depth and richness to your space, creating a more cozy and intimate atmosphere.
Olive green hallway to match with wood accents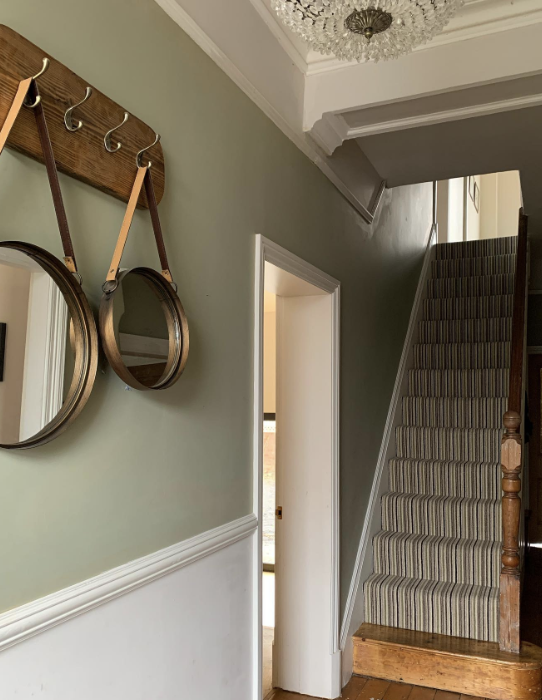 Image by Heaton_mess uses Dulux Overtly Olive combined with white and wood accents to create a relaxing hallway look.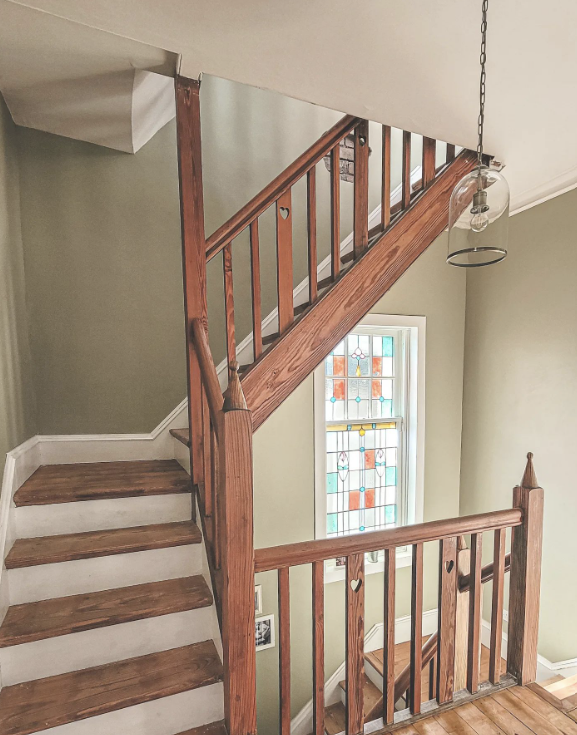 Image by My.scottish.home uses Dulux Overtly Olive to add a pop of colour to the wooden staircase, as well as serving as a beautiful colour to bring out the stain glass window feature.
Moreover, green can complement other colors in your home decor to compliment the other rooms that your hallway and stairs lead to. For instance, if you have wooden furniture or brown carpets, a green hue can harmonize well with these warm tones. Green also pairs nicely with white, beige, and grey, popular for walls and ceilings.
Overall, choosing green for your hallway is a great choice, as it's a versatile, calming, and refreshing color. Just remember to choose the shade that best fits your personal style and the overall aesthetic of your home.