If you are constructing a new home, the kitchen is the area where you have to concentrate more. You have to think beforehand whether you want a big, small, open, or closed kitchen that looks well with the rest of your home.
Depending on the width and height of your kitchen area, you have to think of the layouts and discuss the same with your architect about their feasibility. Some people want the kitchen to be a separate area where cooking and dining are planned. While others want the kitchen to be a part of the home from where there is high visibility.
If you are looking for kitchen layouts that have a seamless look with your living room, then you have to first work with the colour palette and the structure of the kitchen. We will discuss some of the layouts that have the same idea as that in your mind. Hopefully, you will find the one that you're looking for:
When working with kitchen layout, you have to think about how much space you save for navigating freely in the kitchen. The one-wall kitchen layout is an idea where you can save maximum space. Usually, it's considered for studio or loft space, however, it can work in homes as well if you plan carefully.
The cooking stove, cabinetry, open shelves, etc., are attached only to a single wall. The remaining space is kept for navigation. And if you want a seamless look, colour the one-wall with the dominating colour of your home.
If you want an open kitchen, then plan for a one-wall kitchen so that you can have maximum visibility. This design also works great with small kitchen areas, so you don't have a problem with space.
Gallery or parallel layout
When you have a large kitchen area, then you can plan a gallery or parallel layout. It works well with both open-kitchen and closed-kitchen plans. It has two platforms attached to the wall with the navigation space in the middle. You can plan shelves, cabinetry, and open platforms on either of the parallel platforms. Read here the tips for choosing the best kitchen cabinets for your home that look well with the rest of the house. Also, as mentioned earlier, you can either have the same colour palette or else you can have wooden colour as it works super with the gallery kitchen layout.
L-shaped kitchen is not only the common layout but also the popular one. It is suitable for both open and closed kitchens, irrespective of the kitchen size. All the elements like cabinetry, cooking stove, and open shelves are adjusted in the L-shaped wall. You can also plan a kitchen island if the space permits. You can easily achieve a seamless design with L-shaped open kitchens. With a closed layout, you may have to work a little bit with your architect to achieve the look.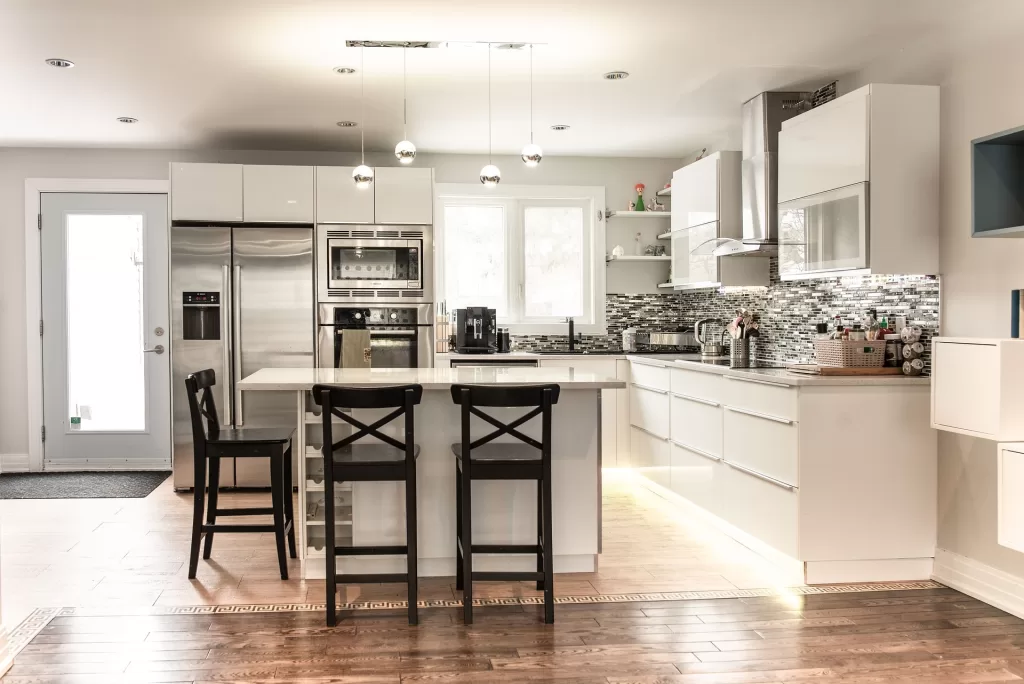 It's the layout that you can also consider if you're planning a kitchen renovation. Usually, renovations are considered more tedious than constructing a new one. Learn here the things that nobody tells you while renovating the kitchen.
However, in the horseshoe layout, you can include everything that you thought of having in the renovated or newly constructed kitchen. It has a platform on all three sides with an island in the middle. It's suitable for large families or for those who have more utensils to store. It can have a seamless look with a closed-kitchen layout than with an open one. Discuss with your architect how you can achieve it.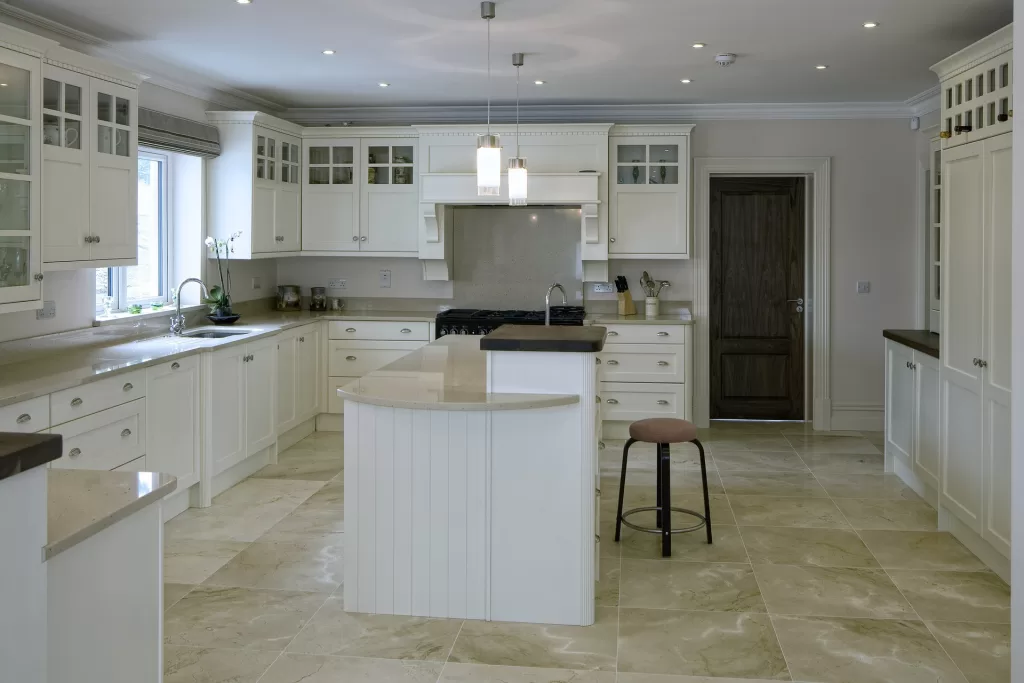 If you need an additional surface for cooking and prepping or to store kitchen items and miscellaneous items, then the island layout is the best. It consists of an individual platform surface located in the middle of the kitchen in any kind of layout.
However, having an island can occupy most of the space in the kitchen. Therefore, think about its need and install one if you really need one. You can achieve a seamless look once you work carefully with colours and storage shelves that are in sync with the rest of the home.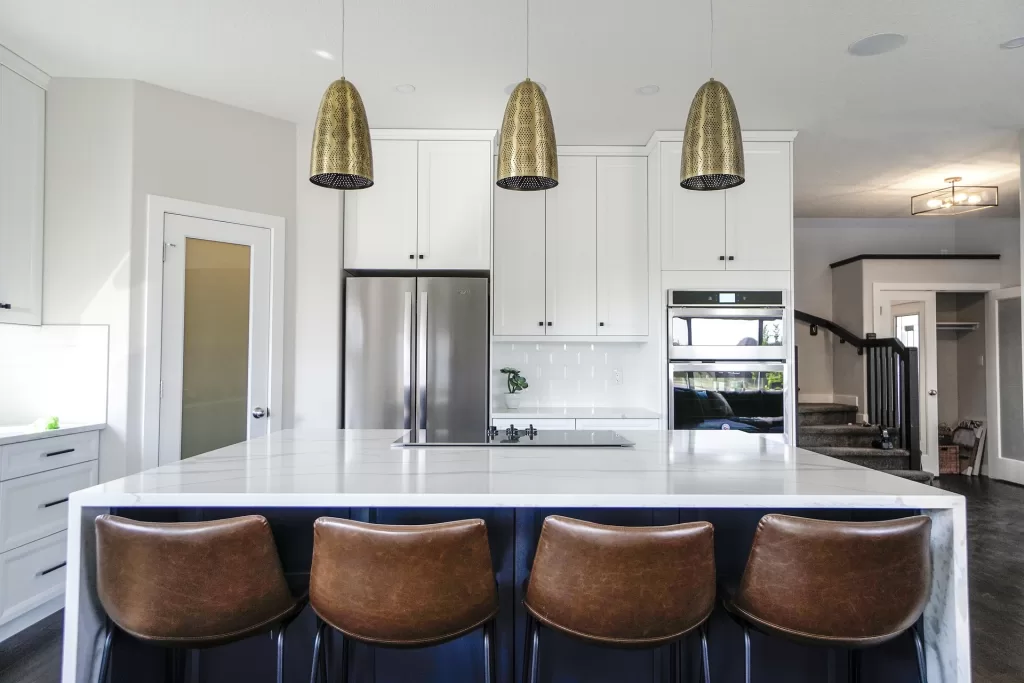 Like its name, the peninsula layout has the platform on all three sides with one side open to the rest of the home. If you remove the island in the middle of the horseshoe layout, then you will get this layout. It is suitable to have more clearance in the cooking area. Again, it works well with a closed-kitchen layout than with an open one. If you want a seamless look with an open kitchen, then you can have an attached island with the top open that serves as both a dining and prepping area. It is one of the clever ideas when you want to give the kitchen a makeover on a budget.
Have Your Dream Kitchen with Suitable Layout
After reading all the kitchen layouts, you should get an idea of the one that looks seamless with your home. Discuss your ideas and choices with your architect to know how you can execute them without imperfections. You are sure to get the dream kitchen you want within your budget.
About the Author
Hi, I am Olivia Robinson, a writer, and blogger by profession. As I'm a wanderer, I share my experiences through my write-ups in a way that it's understandable and appealing to people. I aim to achieve a difference through my writing, which allows my readers to make informed and valuable choices. You can follow me on Facebook, Twitter and LinkedIn.