When it comes to interior design, finding the right colour schemes and complementary elements can truly elevate a space. Farrow & Ball's Pigeon paint, with its enchanting blend of soft greyish-blue and deep green-grey, provides a world of possibilities for creating stylish and harmonious interiors. Let's explore some captivating colour schemes and design elements that go hand-in-hand with this captivating hue.
But firstly, what colour is Farrow & Ball Pigeon?
Oh, Farrow & Ball's "Pigeon" paint is absolutely stunning! It's such a versatile colour that adds a touch of elegance to any space. Picture a soft greyish-blue with hints of deep green-grey—it's like a breath of fresh air. Depending on the lighting and the surrounding elements, it can take on different dimensions and moods. Overall, it's a sophisticated and complex hue that falls within the beautiful blue-green spectrum. Trust me, if you're looking to create a stylish and refined atmosphere, Farrow & Ball's Pigeon paint is definitely worth considering!
Using Farrow & Ball Pigeon on panelling in a hallway
Combine panelling and Farrow & Ball Pigeon for a modern and relaxing hallway look. This colour is a fab choice if you have a plain hallway that needs some love. This colour also leans into green which allows your hallway to feel in touch with nature.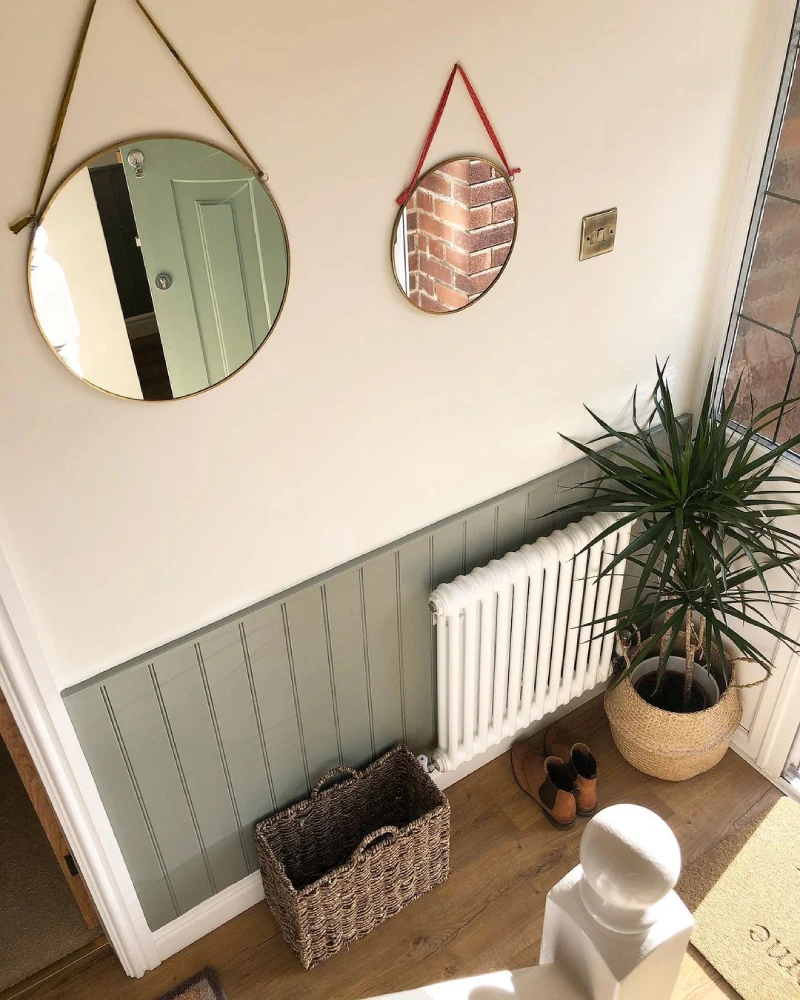 This beautiful hallway by @greenbank_interiors uses Farrow & Ball Pigeon on panelling to add character to the entranceway. Matched with wood accents, this completes the look for a rustic hallway style.
Using Farrow & Ball Pigeon with serene neutrals
To accentuate the beauty of F&Bs Pigeon, consider pairing it with serene neutrals like crisp whites, warm ivories, or soft greiges. These subtle tones create a soothing backdrop, allowing the paint colour to become the room's focal point. Picture creamy white linens, cozy off-white rugs, and textured curtains in light taupe to bring out the elegance of the space.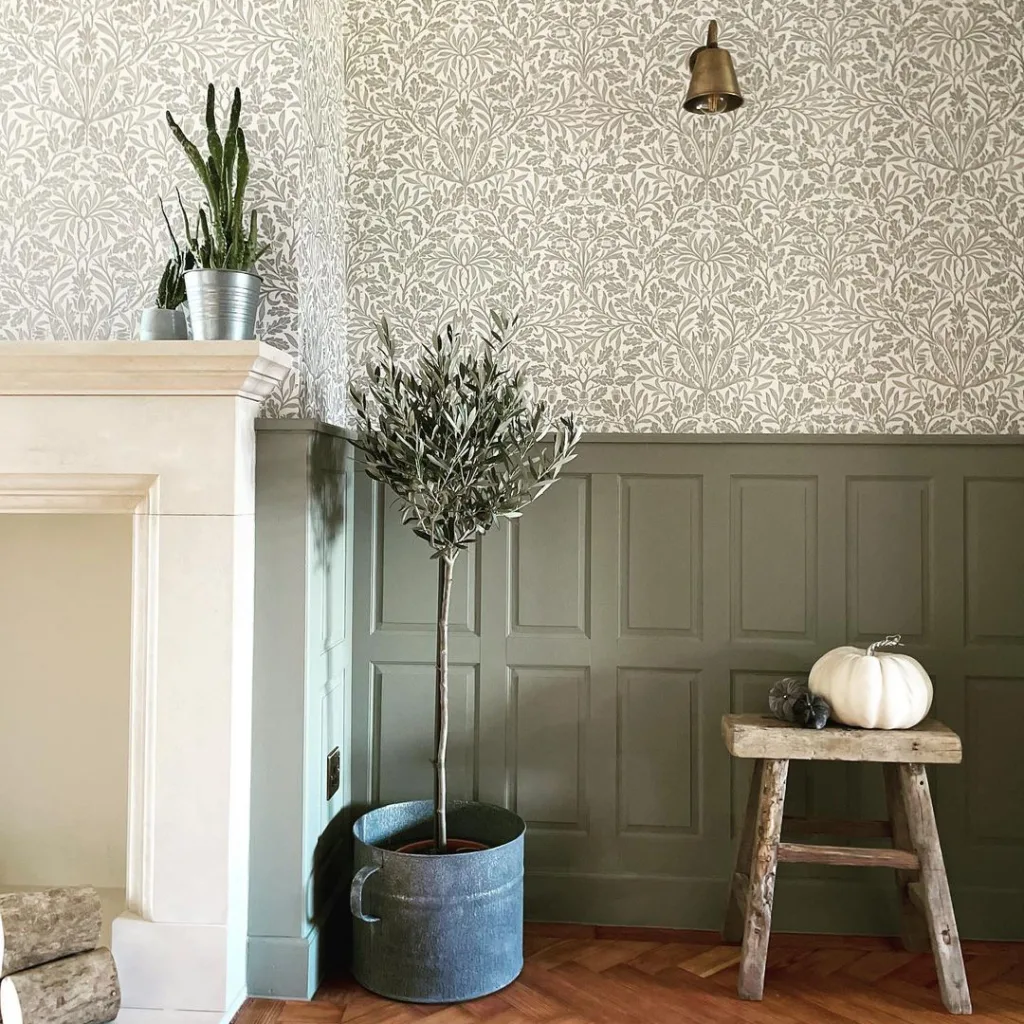 Play with texture using panelling and wallpaper to compliment the cool and nature-inspired shade of Farrow & Ball Pigeon just like this gorgeous wall space in this design above / Image by @the.old.workhouse on Instagram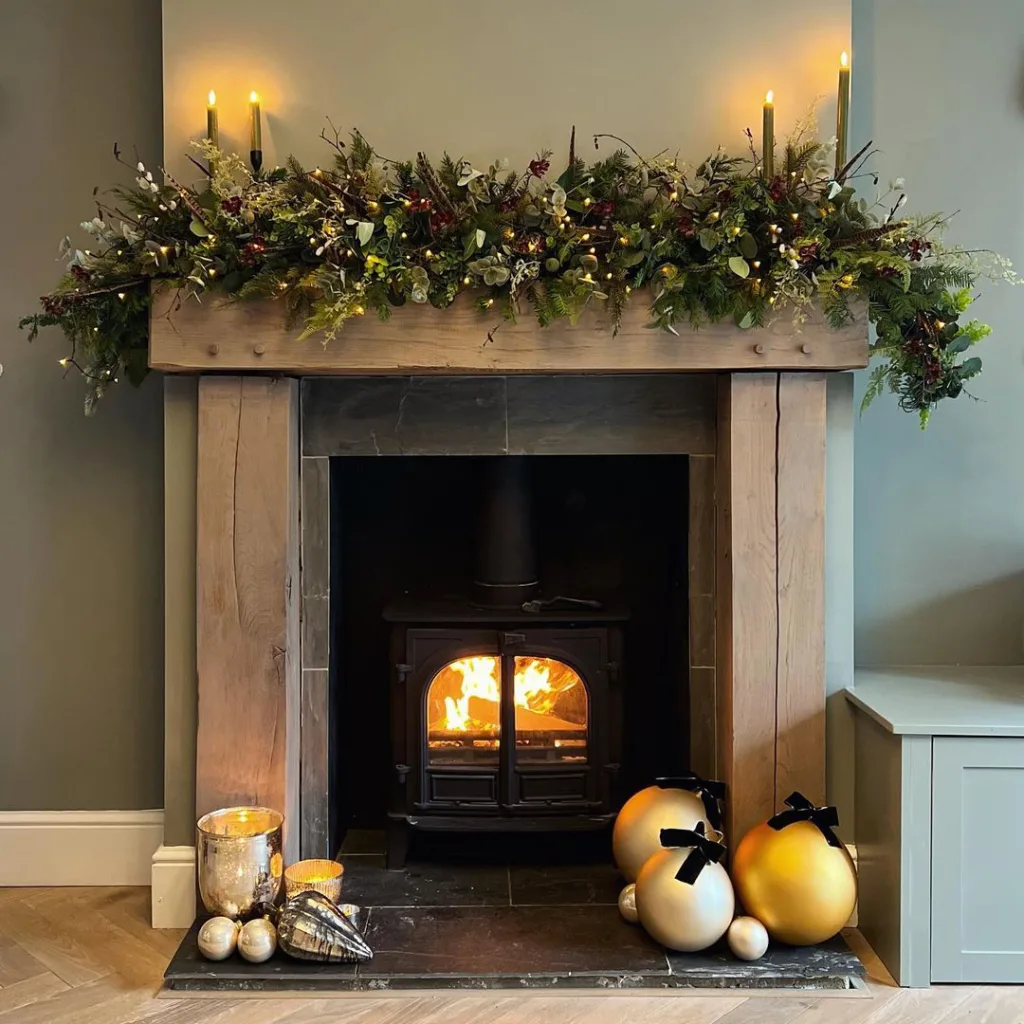 Create a cozy fireplace using Farrow & Ball Pigeon and a wooden fireplace mantel. Complete the look with a black marble surround and hearth to bring the dark and neutral look together for coziness / Image by @house.littlewood on Instagram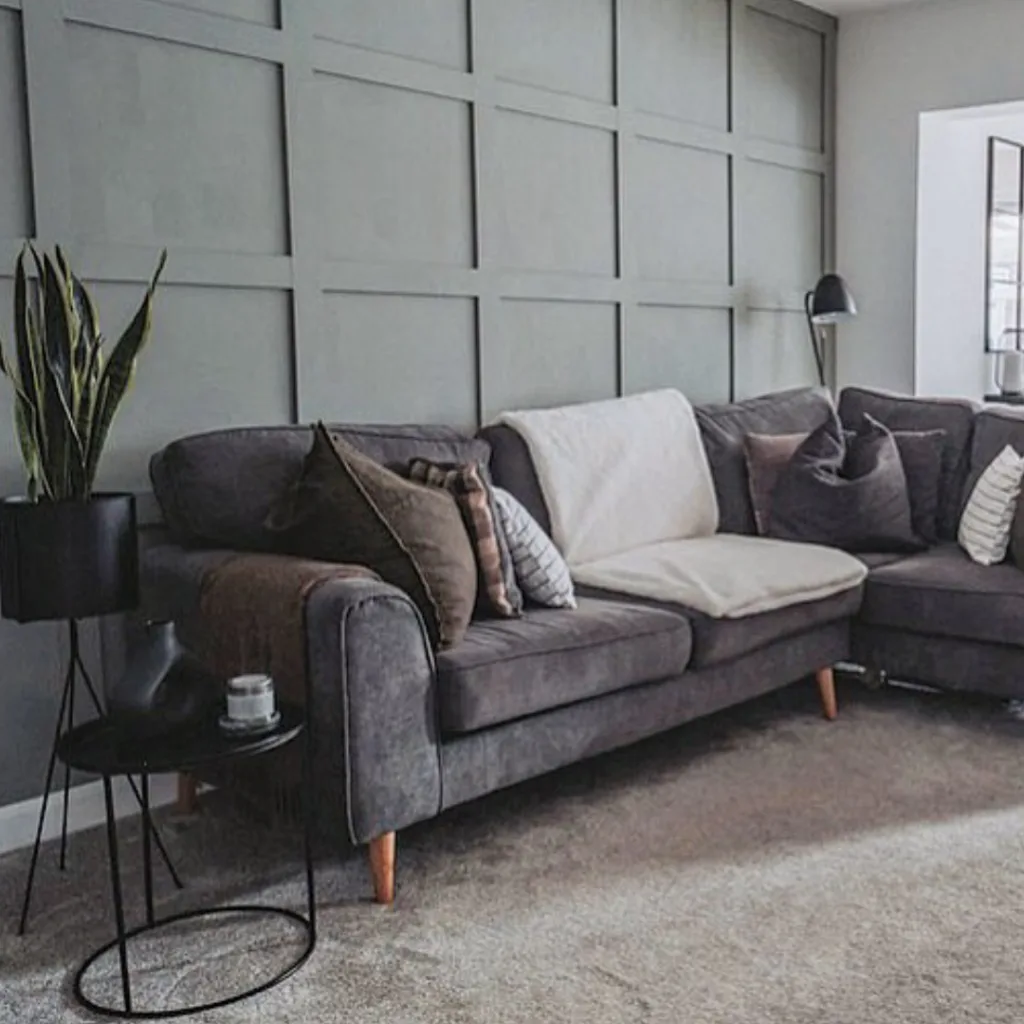 For a cozy living room, match Farrow & Ball Pigeon with a dark grey sofa and scatter cushions in warm shades of brown and cream to offset the cool blue-grey. Additionally, the use of panelling in this design allows the paint colour to feel warmer in the space compared with plain walls / Image by @projectprincecharles on Instagram
Using Farrow & Ball Pigeon for nature's touch
Farrow & Balls' Pigeon paint has an inherent connection to nature making it an ideal choice for incorporating organic elements into your design. Consider adding touches of warm wood, such as oak or walnut, through furniture pieces or flooring. Enhance the color scheme with leafy green houseplants, botanical prints, or a statement wall covered in delicate floral wallpaper. This natural pairing brings a sense of calm and rejuvenation to any room.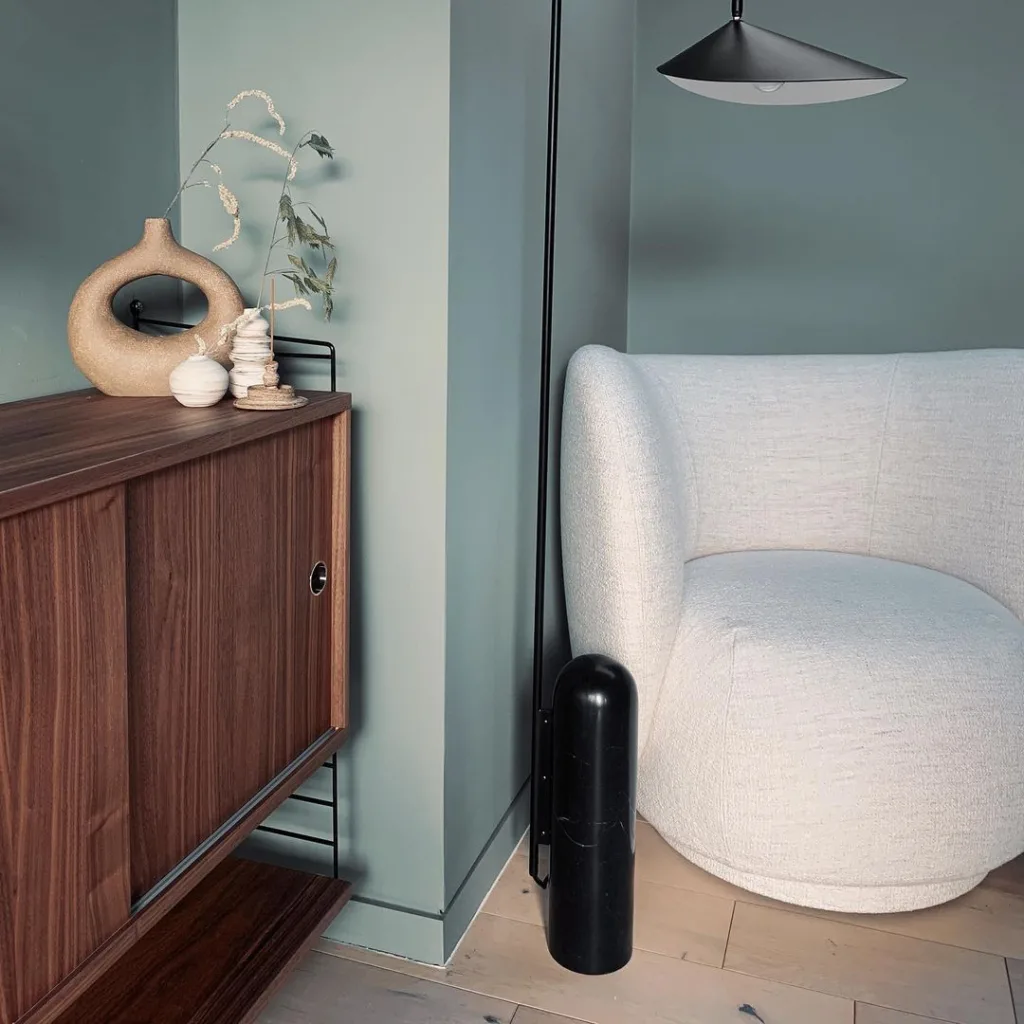 Combine mid-century furnishings like a wood console with Farrow & Ball Pigeon for a calming look that takes you straight into the great outdoors. Mix with curved decor like a chair to give your room a blend of shapes to feel warm and inviting / Image by @susandoherty_ on Instagram
Using Farrow & Ball Pigeon for a romantic ambience
For those seeking a touch of romance in their interior design, Farrow & Ball's Pigeon paint is a perfect choice. This alluring colour possesses a subtle, dreamy quality that sets the stage for a romantic atmosphere. To enhance the romantic ambiance, consider pairing Pigeon with soft and ethereal hues like blush pink, lavender, or champagne.
These delicate colours can be incorporated through textiles, such as plush velvet curtains, silky bedding, or decorative pillows. To amplify the enchantment, opt for soft lighting with warm, golden tones and adorn the space with vintage-inspired accents, such as ornate mirrors, candle holders, or delicate floral arrangements. With Pigeon as your backdrop, you'll create a space that exudes romance and captures the essence of timeless love.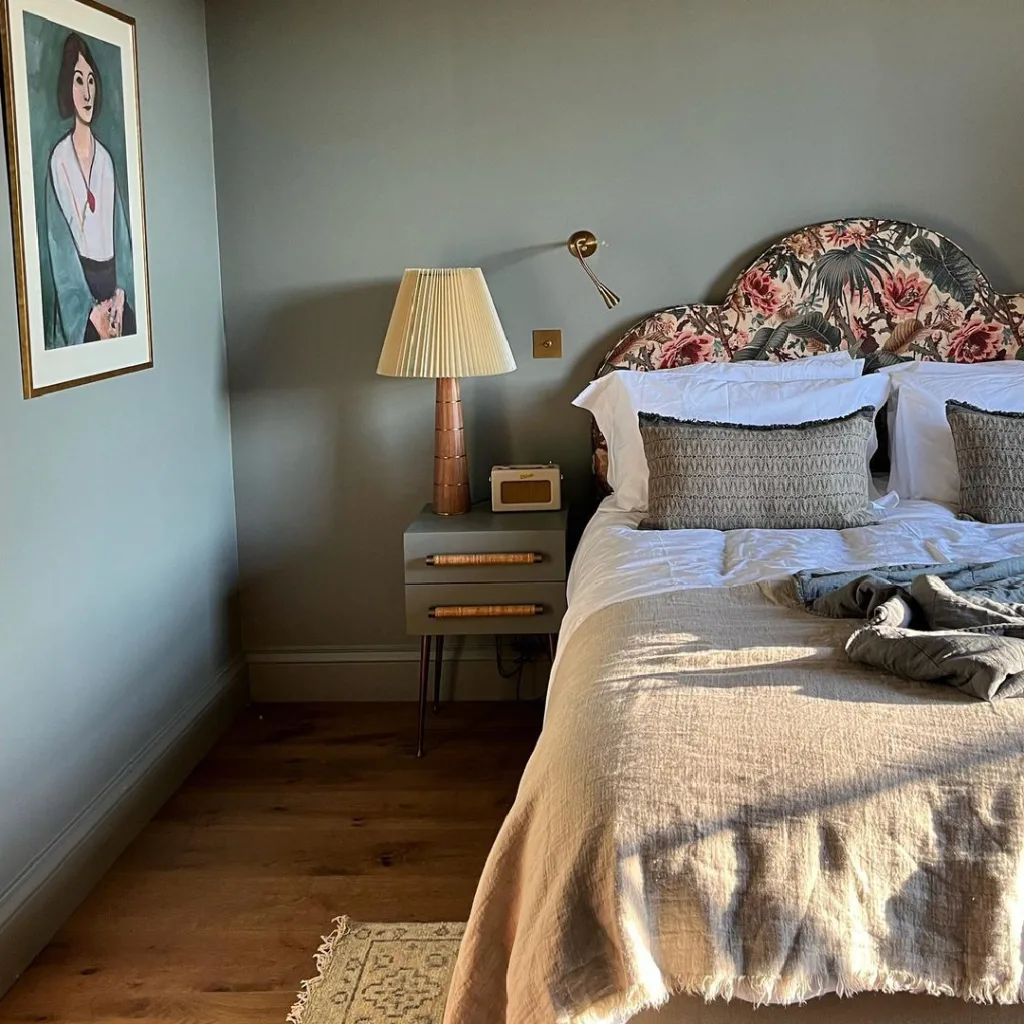 For a romantic bedroom look, use warm shades of brown and reds to compliment the blue-grey shade of Farrow and Ball's Pigeon paint, just like this gorgeous bedroom design above / Image by @studiofantoush on Instagram / Photographer @susielowestudio on Instagram
Using Farrow & Ball Pigeon with elegant accents
For a touch of sophistication, introduce metallic accents that complement this colour's rich undertones. Think brushed brass or aged copper finishes on light fixtures, drawer handles, or decorative accessories. These subtle metallic elements add a touch of luxury and create a harmonious balance between coolness of Farrow & Ball Pigeon, and the warm metals.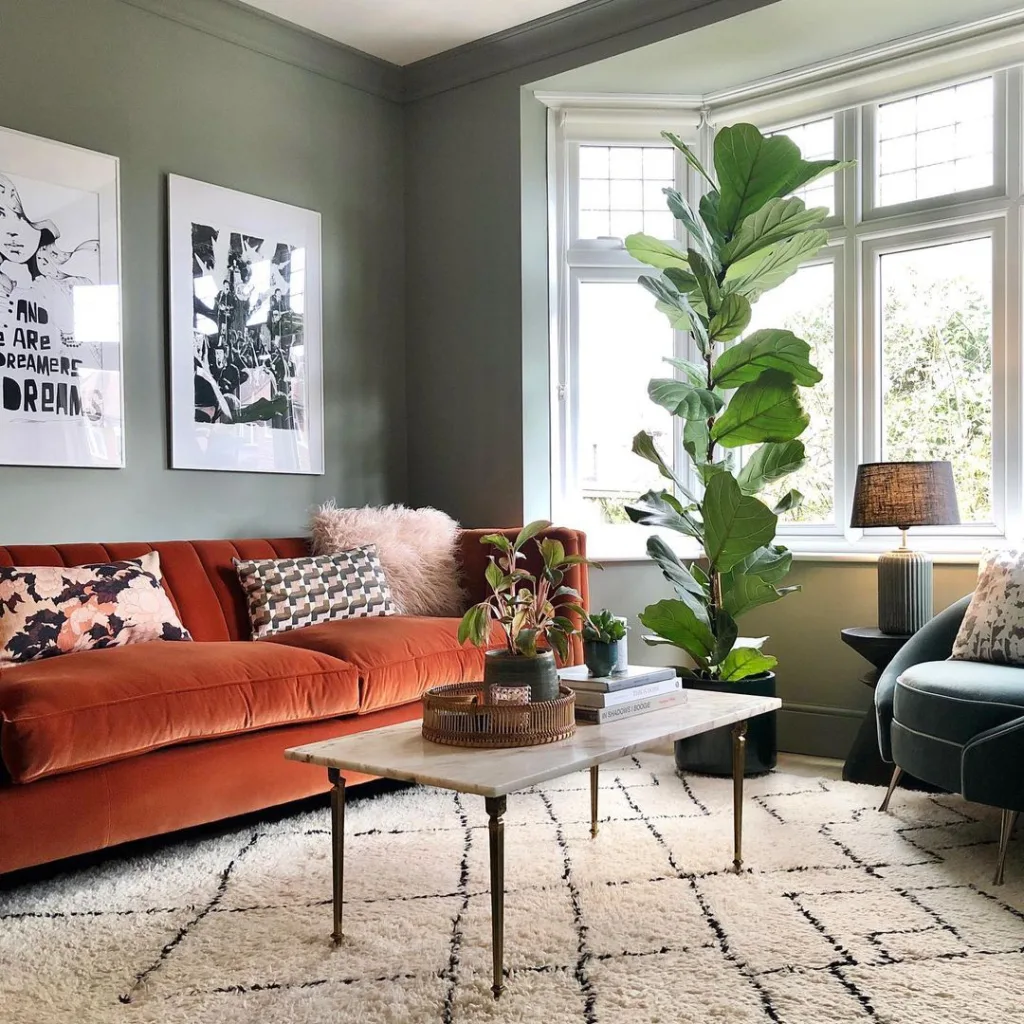 Use orange to add a pop of colour against the blue-grey walls to bring your space to life, like this gorgeous modern Victorian living room look, with statement velvet, rich orange sofa that exudes with luxury / Image by @firstsenseinteriors on Instagram
Use Farrow & Ball Pigeon for timeless pairings
Farrow & Ball Pigeon has a versatile nature that allows it to seamlessly blend with a range of classic colour combinations. For a timeless look, consider teaming it with shades of muted blush, soft lavender, or dusty rose. These delicate hues create an understated elegance, evoking a sense of tranquility and charm.
Don't underestimate the enchanting power of Farrow & Ball's Pigeon in the bathroom! Compete the look with gleaming fixtures and natural materials like marble or porcelain for an added touch of luxury. With Farrow & Ball Pigeon as your foundation, your bathroom will exude timeless beauty that will continue to captivate for years to come.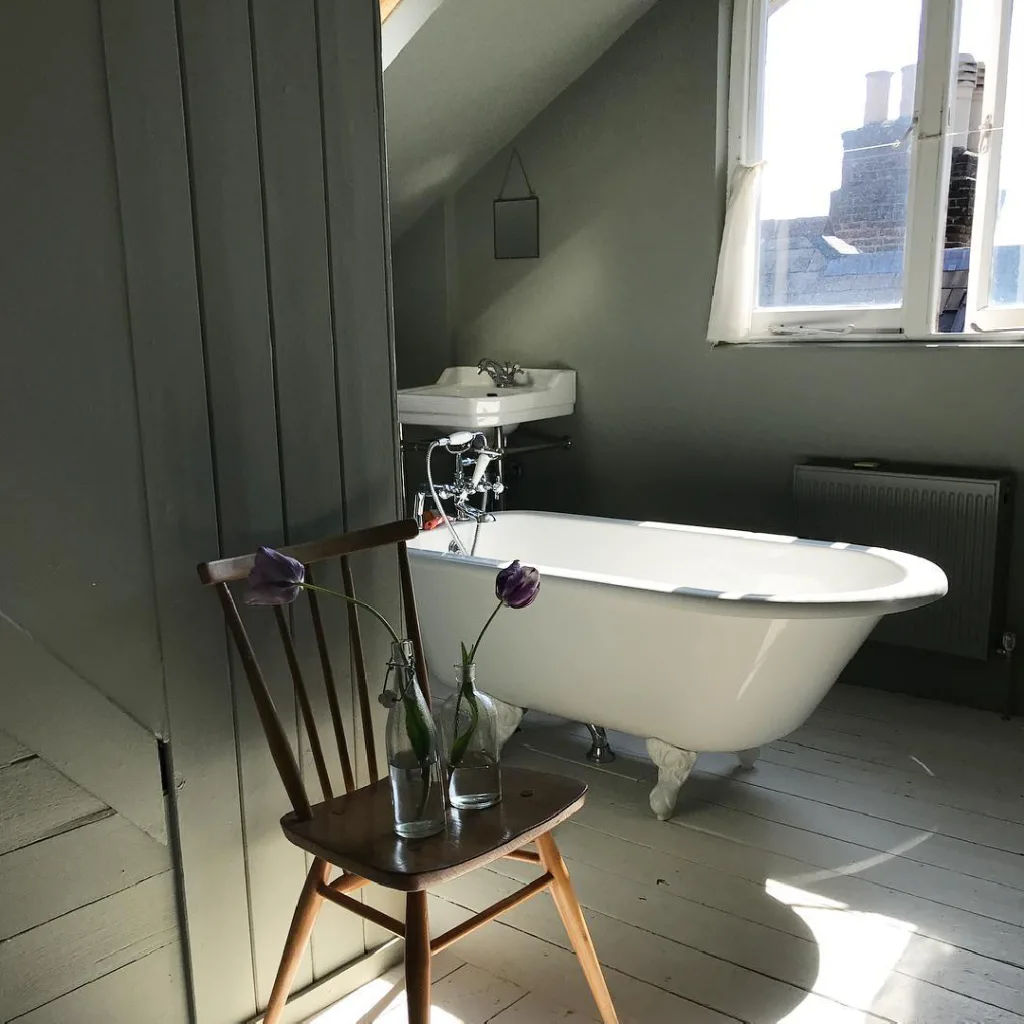 Pair Farrow & Ball Pigeon against your statement bathtub for a luxurious and moody spa oasis that looks timeless all year round / Image by @janecumberbatch on Instagram
Using Farrow & Ball Pigeon to create airy and bright spaces
If you're looking to create an airy and bright space, Farrow & Ball's Pigeon paint can be your secret weapon. While this shade is often associated with deeper tones, it can also work wonders in achieving a light and airy atmosphere. The soft greyish-blue undertones lend themselves beautifully to creating a sense of freshness and openness. To maximize the effect, pair with crisp whites, pale grays, or light creams. Use these lighter colours on trim, ceilings, and furnishings to create a seamless transition and enhance the overall brightness of the room. Incorporate natural light through sheer curtains or blinds, allowing the sunlight to dance with the soft hues.
Additionally, consider adding mirrors strategically to reflect light and create the illusion of a larger space. With Farrow & Ball Pigeon as your base, you'll achieve an inviting and breezy environment that breathes new life into your home.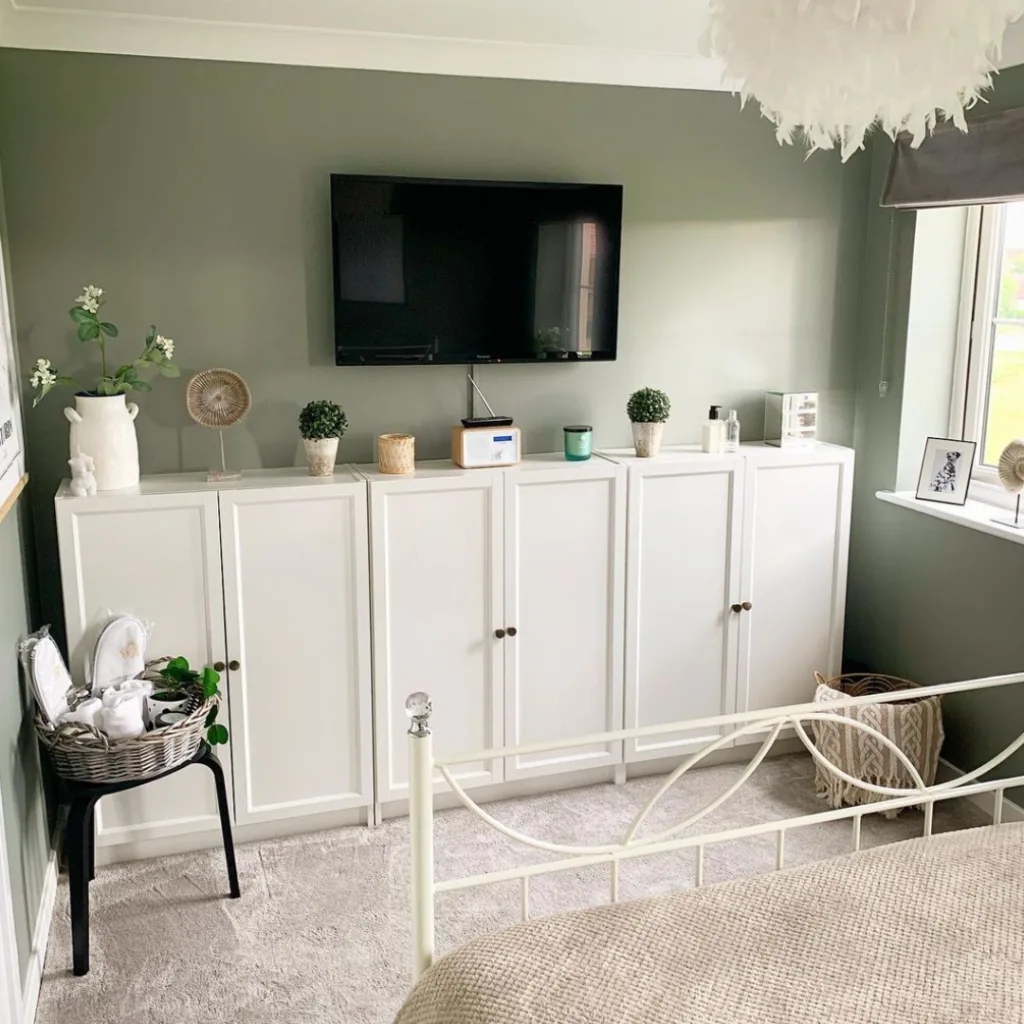 Break up the walls with crisp white furnishings like this gorgeous sideboard that adds a pop of contrast against the blue-grey walls / Image by @thesilvahome on Instagram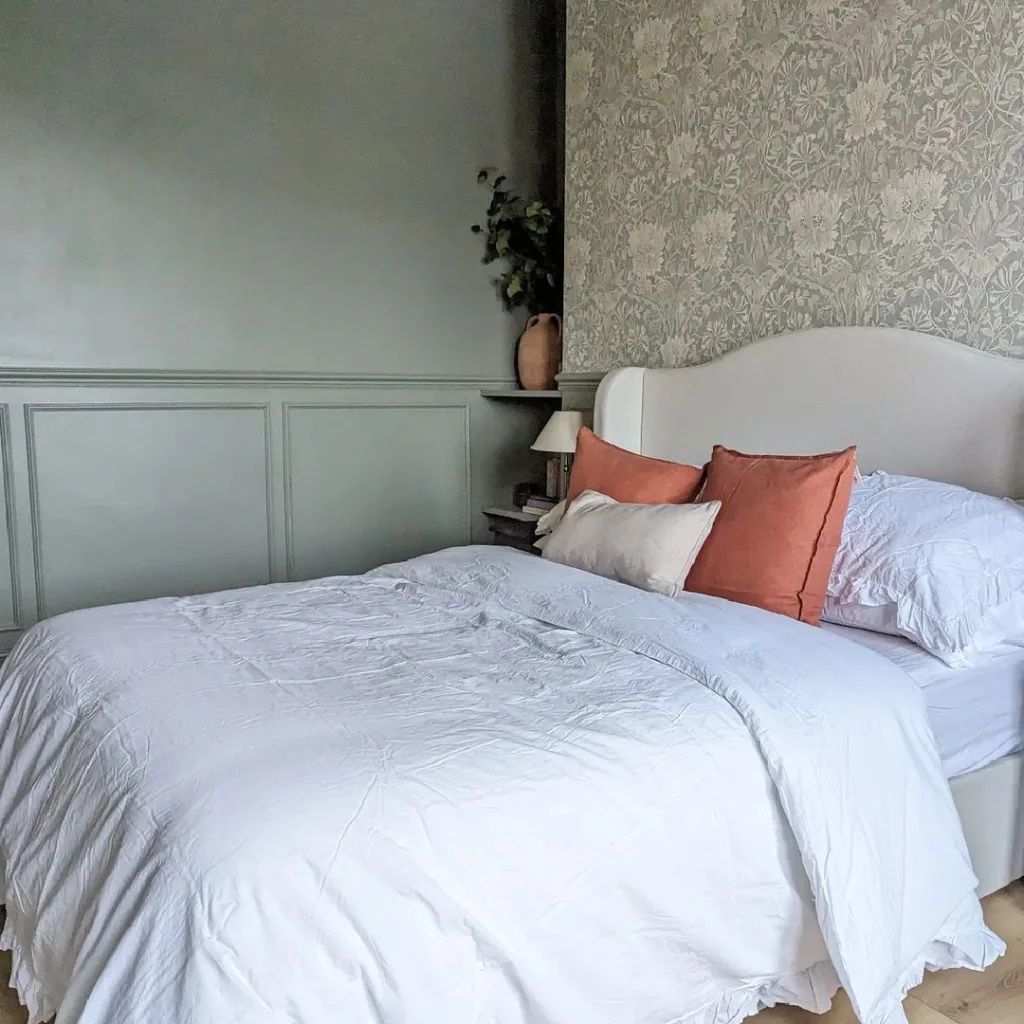 Alternatively, break up Farrow & Ball Pigeon using patterned wallpaper as a statement wall and let the soft blue-grey walls become complementary to the other elements of the room. We love how the white bedding adds brightness to the space in such a simple way / Image by @zoeoliviaev on Instagram
Remember, when working with Farrow & Ball's Pigeon, it's essential to consider the overall mood you want to achieve. Whether you're aiming for a serene and contemporary retreat or a traditional and inviting space, this captivating colour can adapt to your vision. Embrace its beauty and let your creativity soar as you design a space that truly reflects your personal style.
How will you Style Your Sanctuary?
[caf_filter id='10500′]