Wall panelling is an exquisite addition to any home, providing a unique charm and character. The type of panelling you choose can significantly impact the aesthetics and ambience of each room. Let's delve into the various wall panelling options suitable for different areas in your home.
Best wall panelling choices for your living room
Wood Panelling:
Wood panelling offers a timeless elegance, perfect for creating a warm and inviting living room ambience. It adds natural texture and can come in various finishes, from rustic to contemporary, making it a versatile choice. Opt for reclaimed wood for a rustic appeal or sleek, stained wood for a modern look.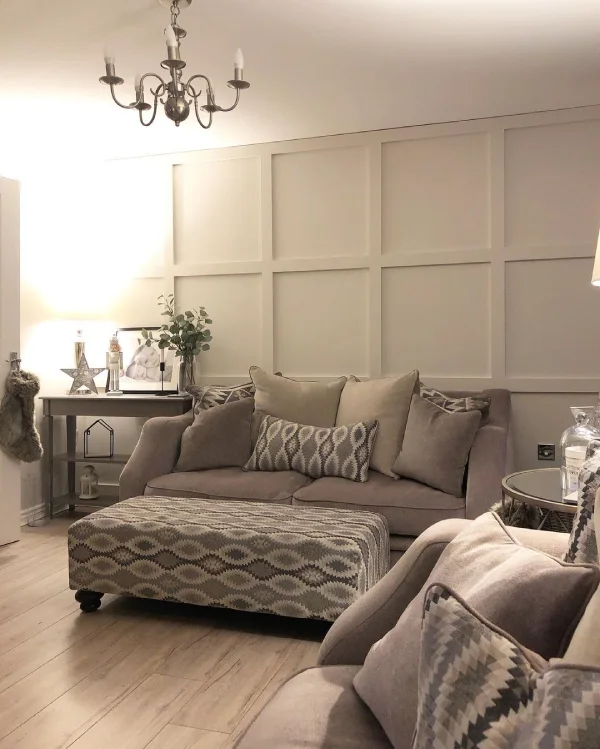 Image by @our_second_house on Instagram – Square wood panelling can add lots of character to your living room, especially if you have tall ceilings and low furniture.
Moulding Panelling:
Moulding or wainscoting panelling adds sophistication to your space. This type of panelling is ideal for creating a traditional and formal atmosphere in your living room. The panels can be painted in neutral or bold colours to complement your decor style. We love this white and grey living space above by Sarah that shows a contemporary and elegant look using this style of panelling.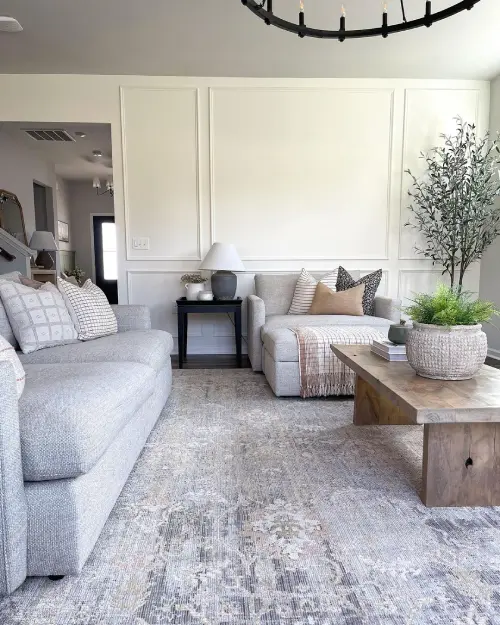 Sophisticated living room wall moulding by Sarah at @smc.living on Instagram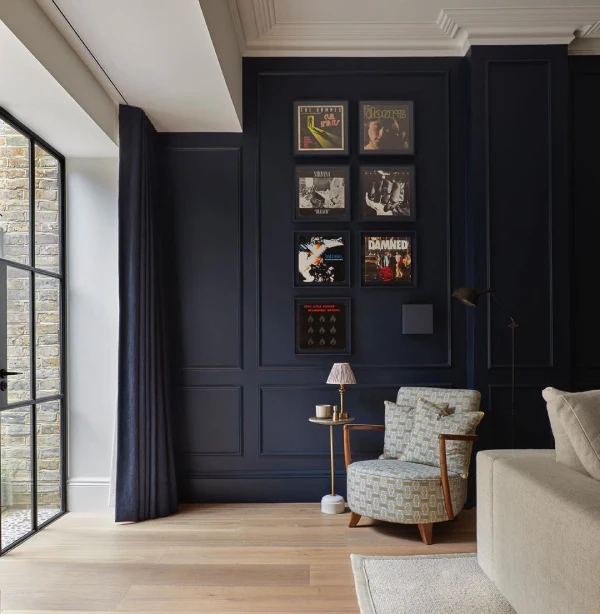 Image by @hemptonhouse on Instagram – Love a dark neutral home? Paint your wall moulding in a rich blue for a classic and timeless look that adds a cozy colour to your living room.
Paint colour used: Night Fishing by Sanderson
Best wall panelling choices for your kitchen
Beadboard Panelling:
Beadboard panelling is an excellent choice for the kitchen, especially if you aim for a cozy, cottage-style vibe. It's often used for backsplashes or on the lower half of the walls, offering a charming and easy-to-clean solution.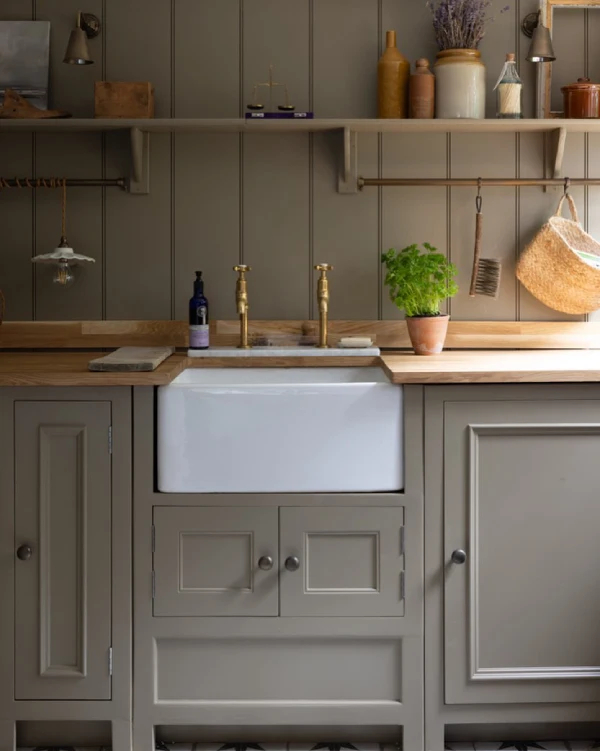 Image by @our.oastbarnfarm on Instagram – match your beadboard panelling with your cupboard colours for a seamless look that makes it feel part of the cabinetry design for cohesiveness.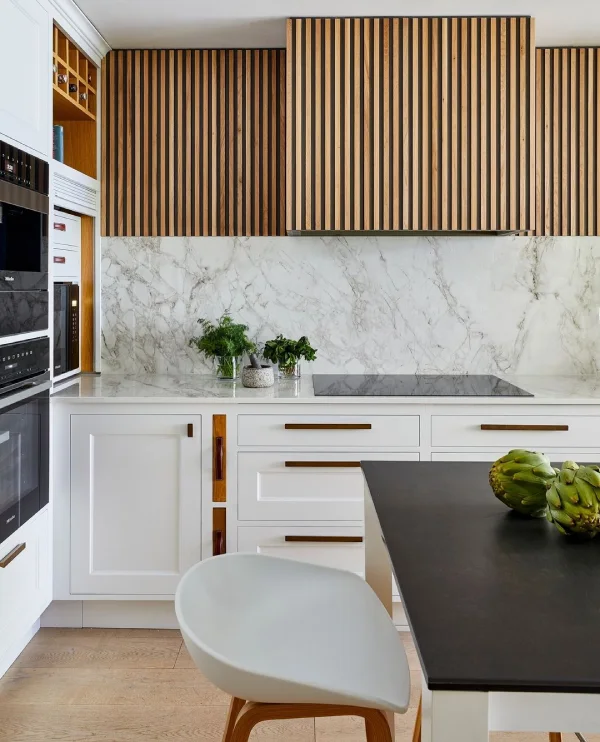 Image by @solakitchens on Instagram / https://www.solakitchens.com/ – Add a touch of Scandinavian charm to your kitchen with wood slat panel cabinets to bring a sense of nature into your kitchen.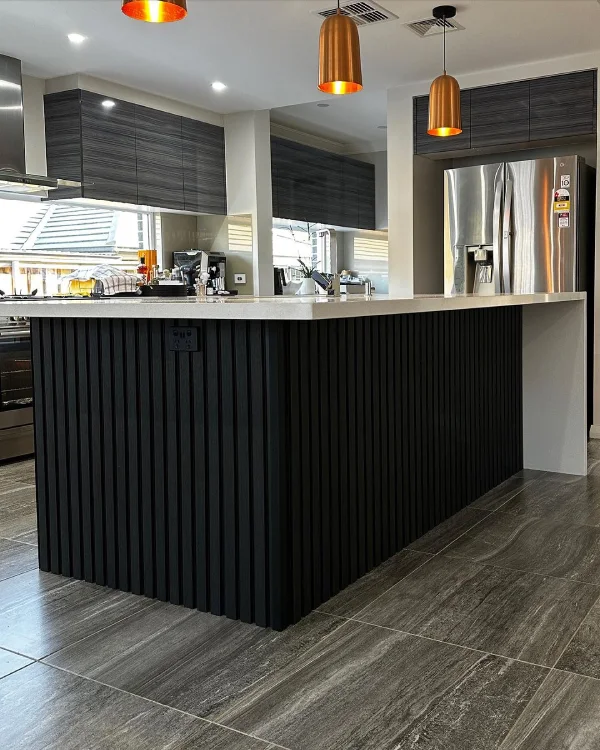 Image by @panelsonthego on Instagram – Make your kitchen island a feature with slat panelling, which gives your kitchen island a cozy look, especially when painted a dark colour like this sophisticated black panelled island with a white countertop.
Tile Panelling:
Tile panelling, commonly found in kitchens, offers durability and a wide array of design options. It's perfect for areas that might encounter splashes or moisture. Choose from ceramic, subway, or mosaic tiles for a personalized touch.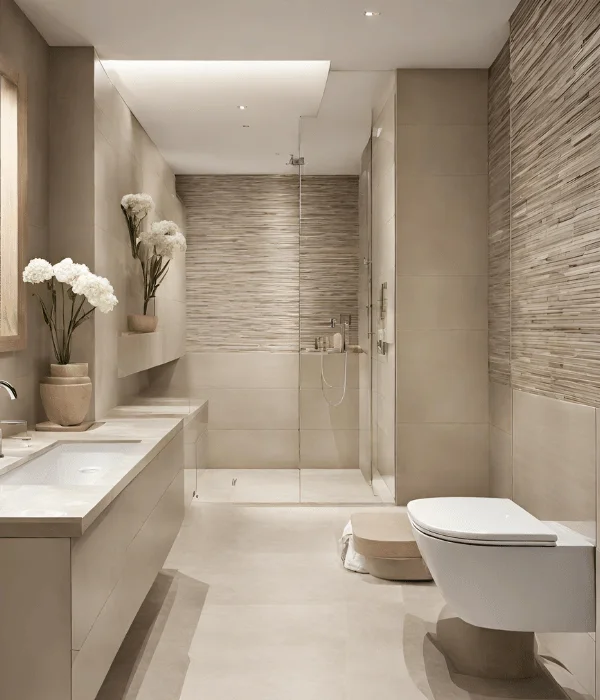 For a panelled look, opt for two different tiles in your bathroom. Use a smooth tile choice for the bottom half of your walls and textured tiles for the top half to mimic panelling styles found in other parts of the home.
Best wall panelling choices for your hallway
Painted Panel Mouldings:
Hallways benefit from painted panel mouldings, offering a touch of elegance and visual interest without overwhelming the space. It creates depth and style while keeping the hallway feeling open and airy.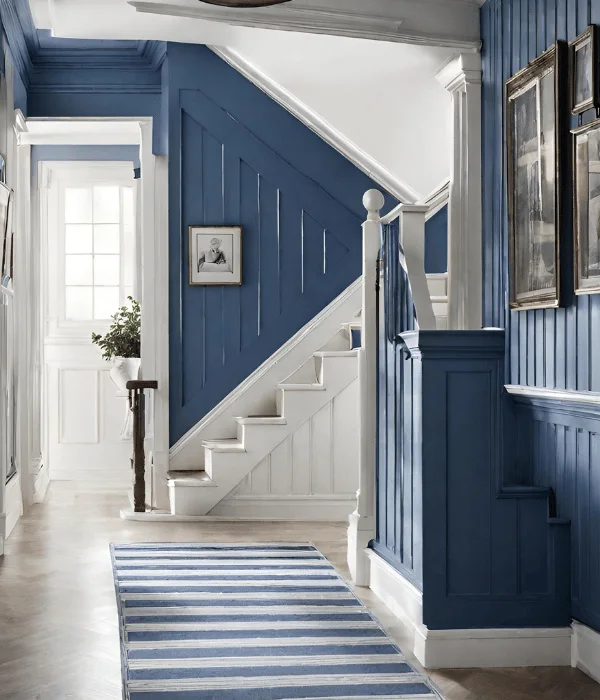 Textured Wall Panels:
For a more contemporary feel, textured wall panels can transform a hallway. They come in various materials like PVC, MDF, or even bamboo, offering an artistic and modern look.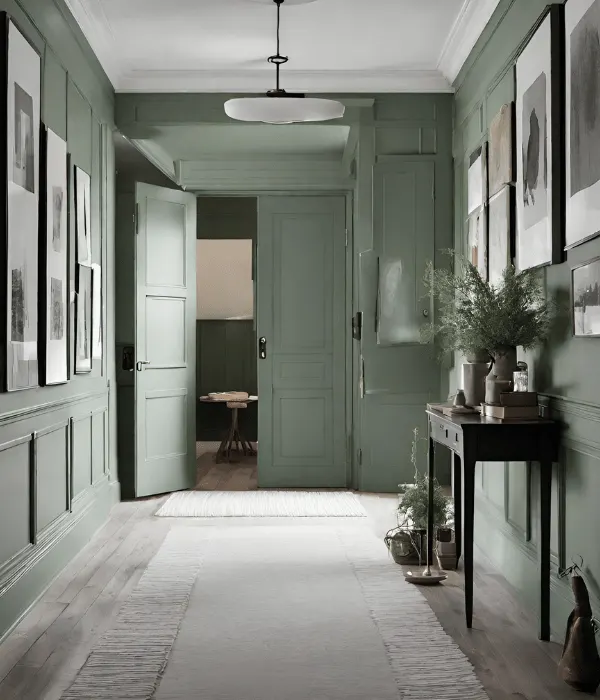 Best wall panelling choices for your bathroom
Beadboard or Shiplap:
Beadboard and shiplap panelling are excellent bathroom features, providing a cottage or coastal aesthetic. They are durable, easy to clean, and can withstand humidity, making them perfect for moisture-prone areas.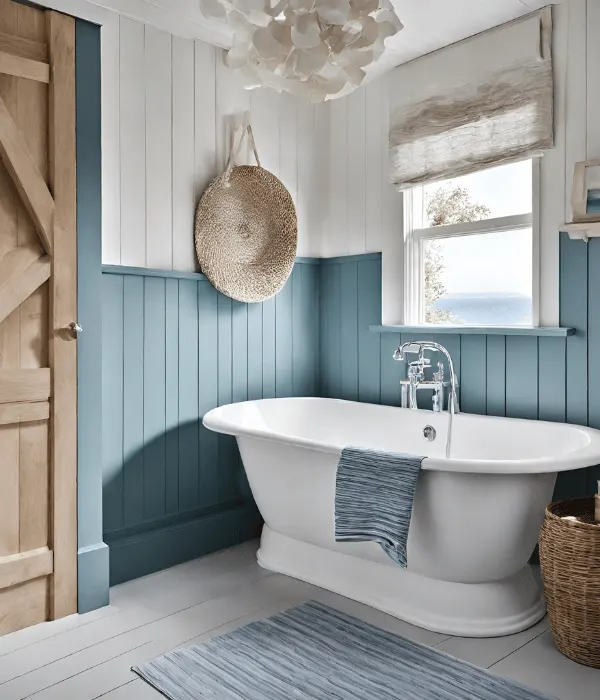 Waterproof PVC Panels:
For a sleek, modern look and enhanced moisture resistance, PVC panels are an excellent choice. They are easy to maintain and come in various finishes, mimicking materials like marble or stone.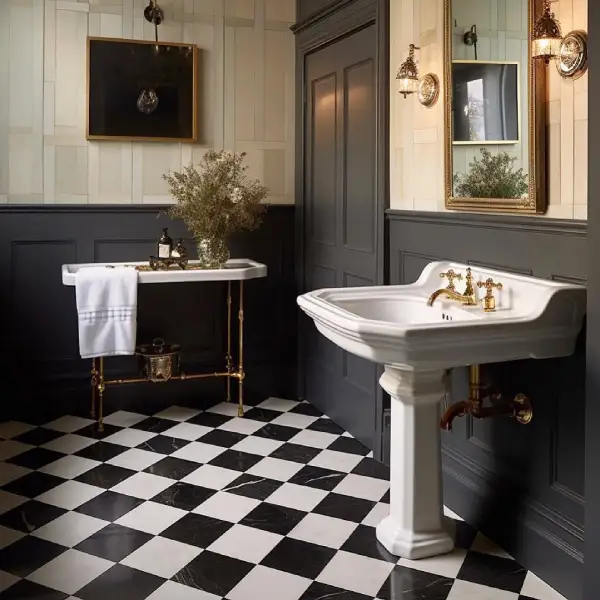 Image by @starel_stones on Instagram of a beautiful Victorian-style bathroom with black wall panels to add character to the space and break up patterns on the floor and walls.
Best wall panelling choices for your bedroom
Fabric Wall Panels:
In bedrooms, fabric-covered panels add a luxurious and cozy feel. They provide sound insulation and come in various fabric options, allowing you to customize the room according to your style and preference. You could use your bed's headboard as a way to add the influence of panelling into your space like Melissa has done above.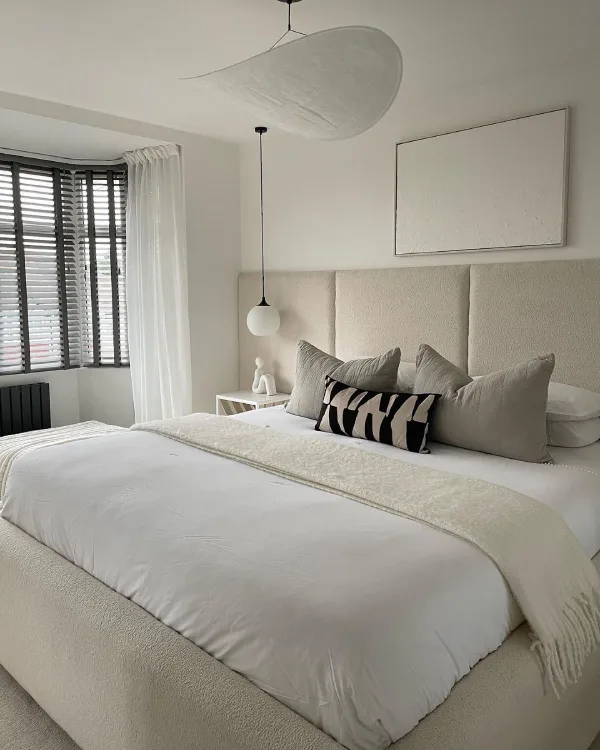 Use fabric panelling for a luxurious take on wall panelling in your bedroom – Bedroom by Melissa from @inside_142 on Instagram
MDF half-wall panelling:
Half-wall panelling is a lovely bedroom feature and typically goes behind your bed. This look gives lots of character and visual interest to your main wall and adds a border for your bed too. Keep the bed lower than the panelling to give the illusion of a taller wall, as Helena has shown in her design above.
MDF panelling is also an affordable way to panel your walls, you can cut the costs down by doing the yourself.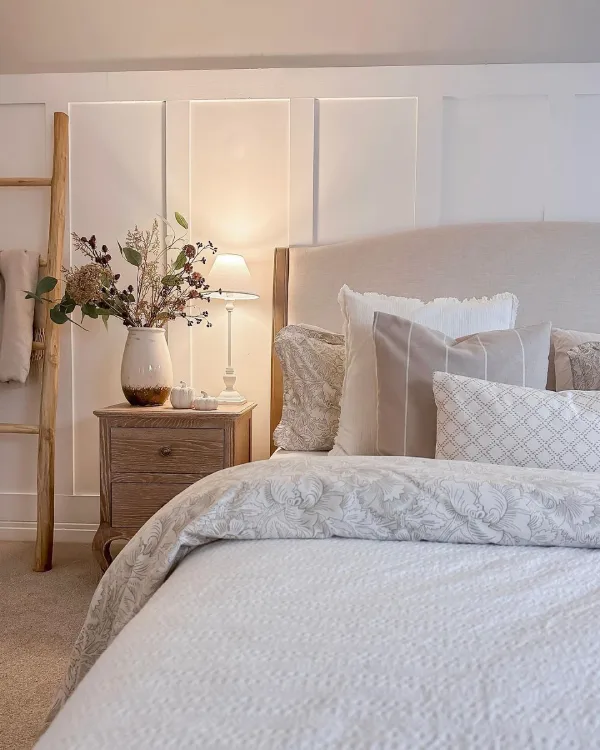 Beautiful white and cream bedroom with half-wall panelling by Helena at @theblossomshome on Instagram
Conclusion
When selecting wall panelling for different rooms in your home, consider the room's function, the ambience you wish to create, and the level of maintenance required. Each type of panelling brings its own unique charm and practical advantages, contributing to the overall aesthetic and functionality of your home.
Ultimately, the perfect wall panelling choice is one that not only complements the room but also reflects your style and enhances the overall atmosphere of your living space.
Did you enjoy this article? Follow us on Instagram or Facebook to stay up-to-date with ideas and tips around the home!