Add instant character to your living room with these ideas…
Dreaming of a complete living room makeover? Don't demolish your walls just yet! We've got some inspiration that'll turn even the dullest of rooms into the ultimate lounge oasis.
Whether you're looking to add panelled walls from floor to ceiling or just half-way up your walls, our ideas, handpicked from some of the most inspiring Instagram accounts will make you want to start planning your next renovation instantly.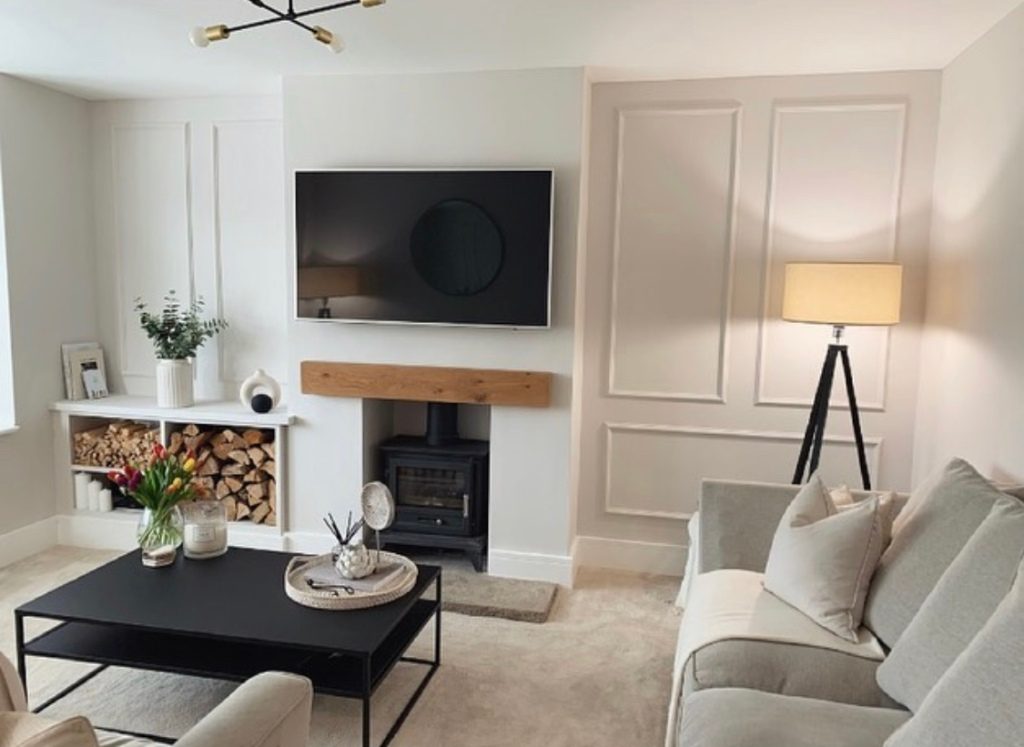 Image by @ourrenovationjourney
Is wall panelling modern for living rooms?
Yes, it's used a lot in new builds and Victorian home styling! Wall panelling is inspired by period panelling interior styles and has become a modern design element around the home including in living rooms. Adding panelling to your living room can modernise your space by adding depth and character when styled with contemporary furnishings and decor. Half-wall panelling and square panelling have become popular in updating the home.
1. Wall panels for cottage living rooms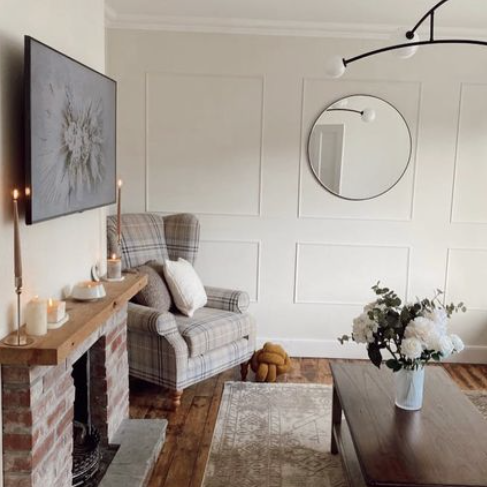 Image by @dakotacottage uses a white accent wall with 2-level panelling to create contrast and depth in a bright living space. The split panelling is a great way to add shape to the space and give it more dimension. It is also a great way to break up the walls to add height and a point of reference for furnishings to be incorporated into the room.
Wall panelling is a great addition to cottage-style living rooms as it adds texture and depth to the walls, creating a warm and inviting atmosphere. It also complements the natural materials and rustic aesthetic often found in cottage interiors, enhancing the overall charm and character of the space.
2. Wall panels for white living rooms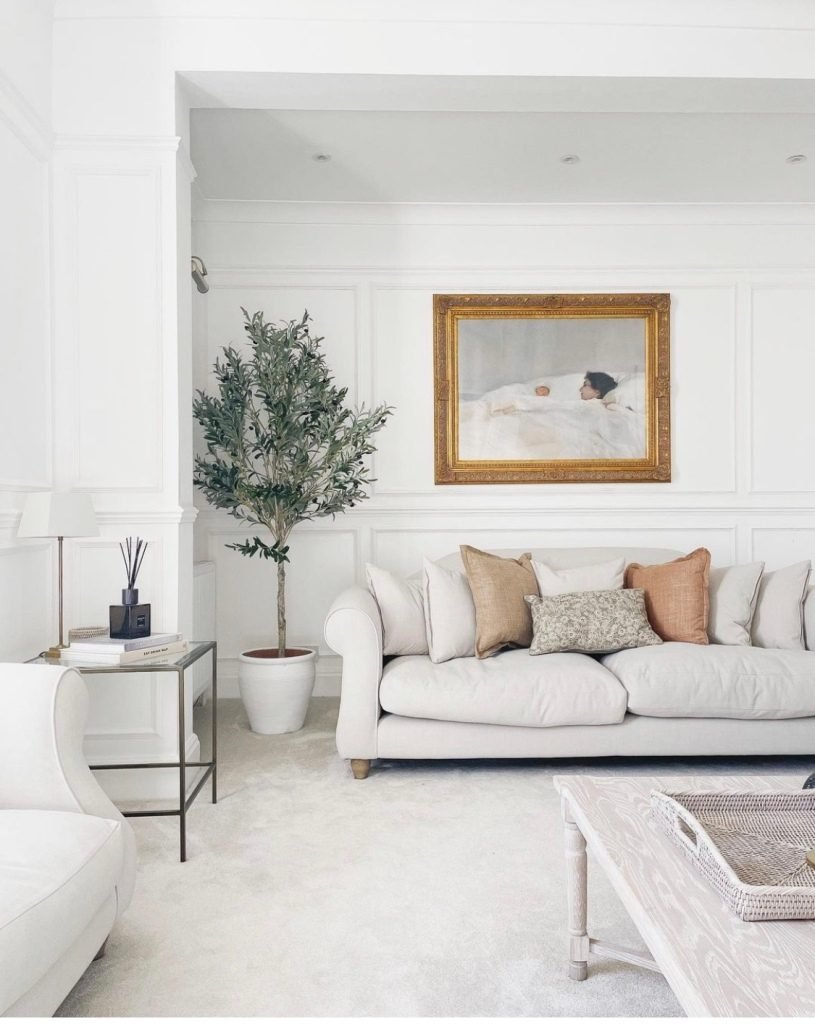 Elegant white living room with panelled walls to add character. Image by Aubynandgrayinteriors on Instagram
Create depth in a white living room by adding panelling which will give your walls texture as well as a point of reference for your furnishings. We love this white living room that uses panelling as a way to frame the room, it also allows the furnishings to show the scale of height and size to proportion the room's layout.
3. Wall panels for small living rooms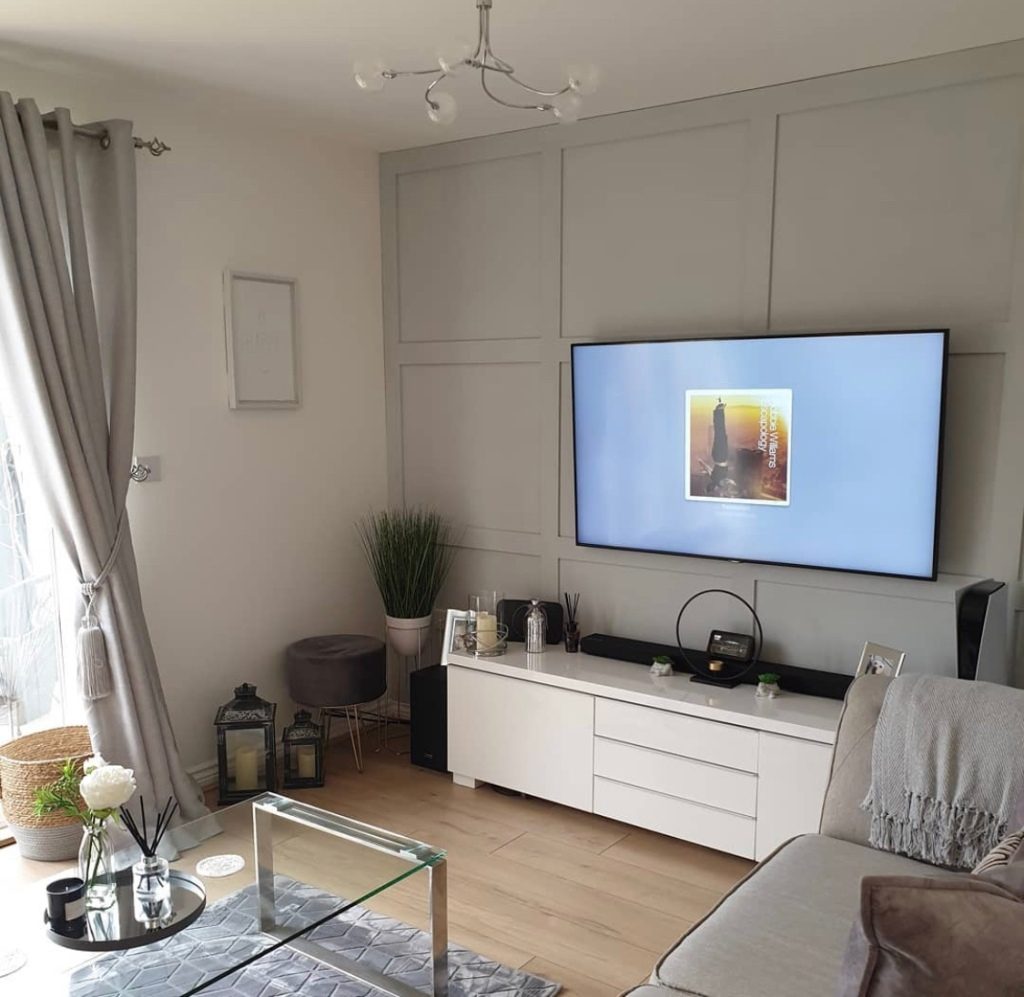 Modern accent wall using panelling to add depth to a small living room. Image by Dugmore_home2020 on Instagram
Squared wall panels are ultra-modern and versatile in the living room. Whether you're looking for an accent wall or half-panelled walls, square panelling is a great way to create a modern statement look. This squared panel accent wall is the perfect example of how to spruce up a small living room for a clean and fresh look to make the space feel bigger and prominent through the panelling.
4. Wall panel ideas for a living room in a barn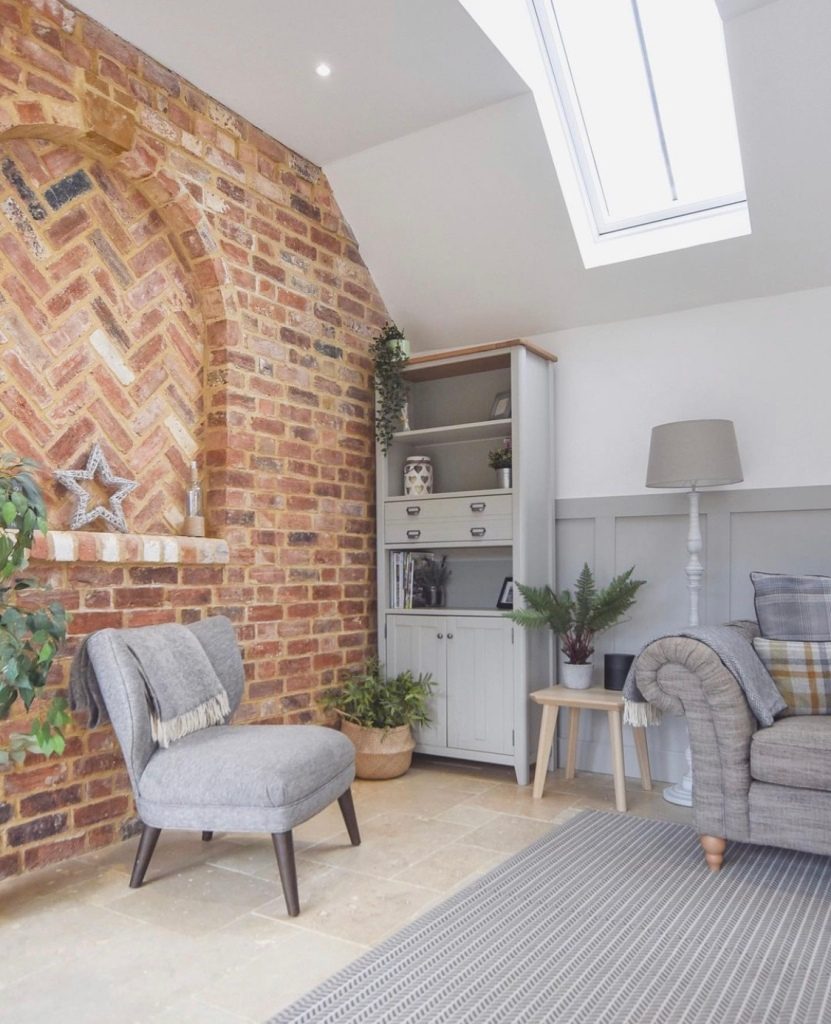 Panelling behind the sofa for a cozy living room style by Barn_number_six on Instagram
Grey is a calming colour for the living room, and a great way to enhance this is through panelling to add depth and texture to your walls. Combining grey and white makes for a cozy living room look, along with using panelling to add contrast to your walls is a simple way to achieve a modern and snug look. We love this cozy cottage interior where the grey panelling and white walls warm up the exposed brick wall and stone effect flooring.
5. Wall panel idea for a modern neutral living room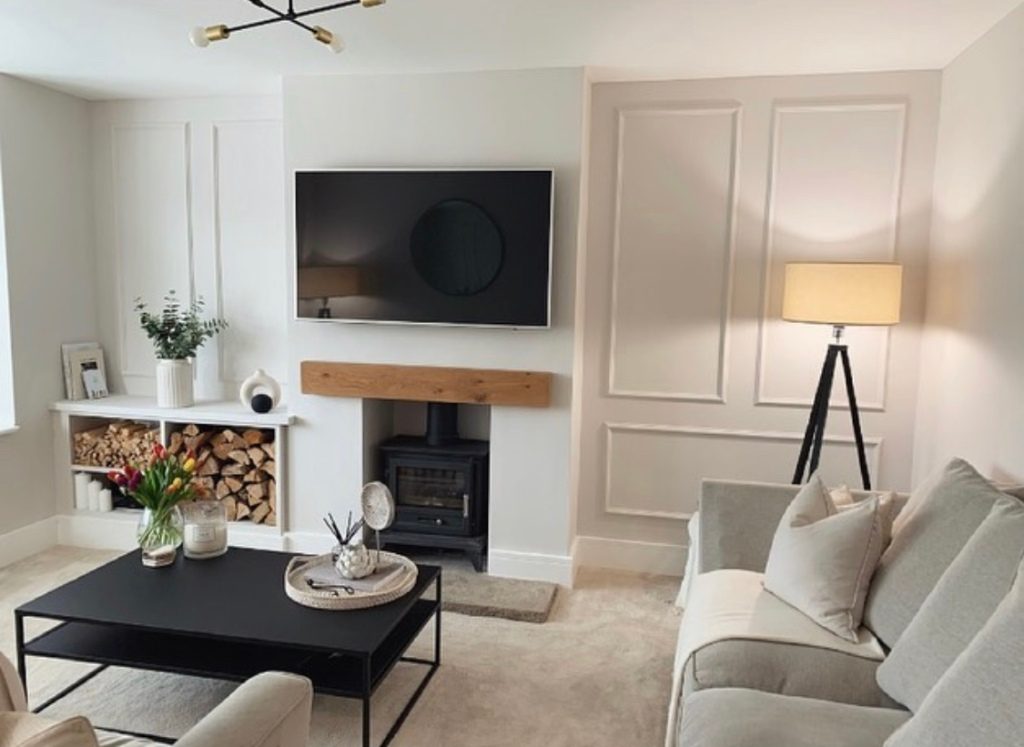 Image source @ourrenovationjourney
Break up a cream living room with feature panelling like this design by @ourrenovationjourney. We love this subtle panelling that adds texture to the space while being soft and delicate.
If you're planning on decorating your living room with a beige colour palette, opting for panelling can break up the walls so they become a statement feature that draws the eyes.

6. Wall panel idea for a living room with built-in fireplace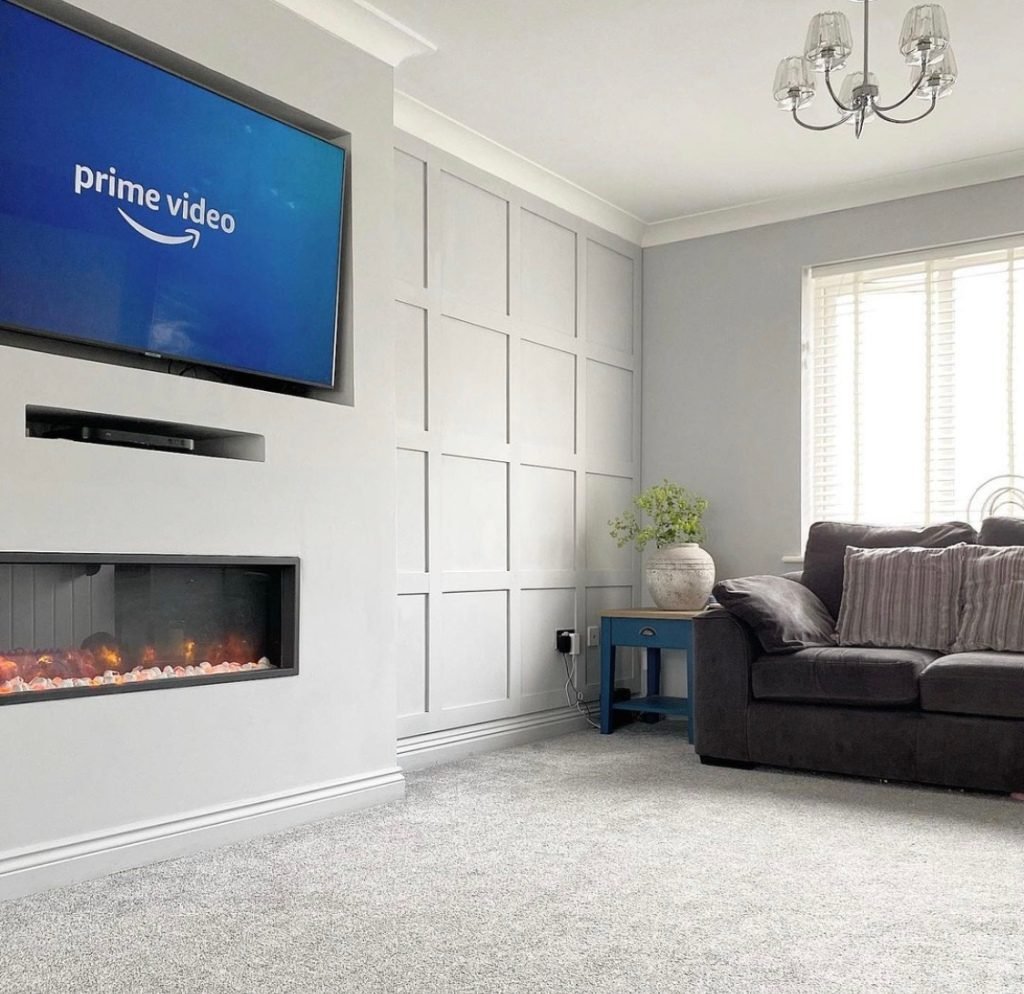 Gorgeous media wall with squared wall panelling by Our_bergamot_home via Instagram
Show off a media wall with fireplace by adding panelling on either side of your tv wall to add a modern feel to your home. Square panelling can work well when styling a media wall to add character to the space around it to draw the eye to the TV and fireplace. Furthermore, square panelling is great for dressing up bare walls so they feel more purposeful and homely.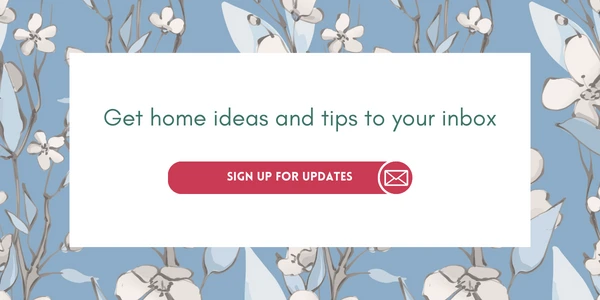 7. Wall panel idea for a living room with high ceilings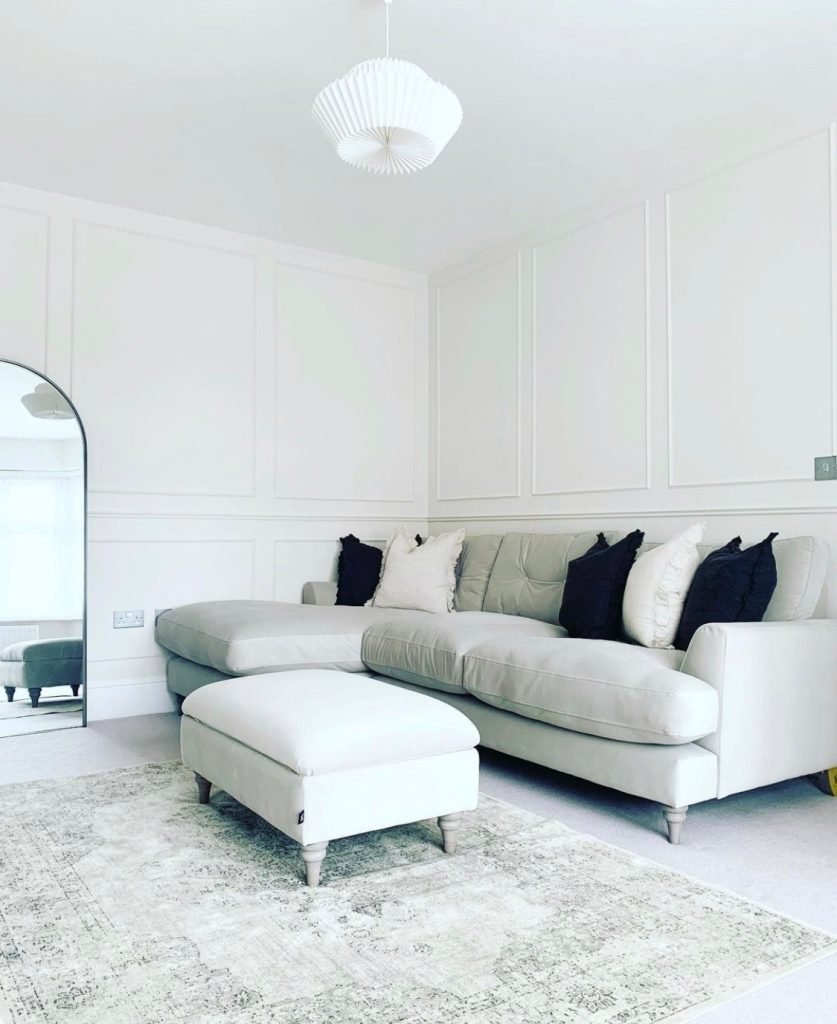 Image source @alexandria_hall_
Add character to a bright living room by splitting your panelling in half, like this sophisticated living design by @from_the_ground_up. We love this look as it's simple, stylish and elegant.
What's more, when splitting panelling for your living room, make sure to make your design top-heavy (where the panelling is longer up the wall). This will give the illusion that your walls are longer than they are.
8. Wall panel idea in a white small living room using half-panelling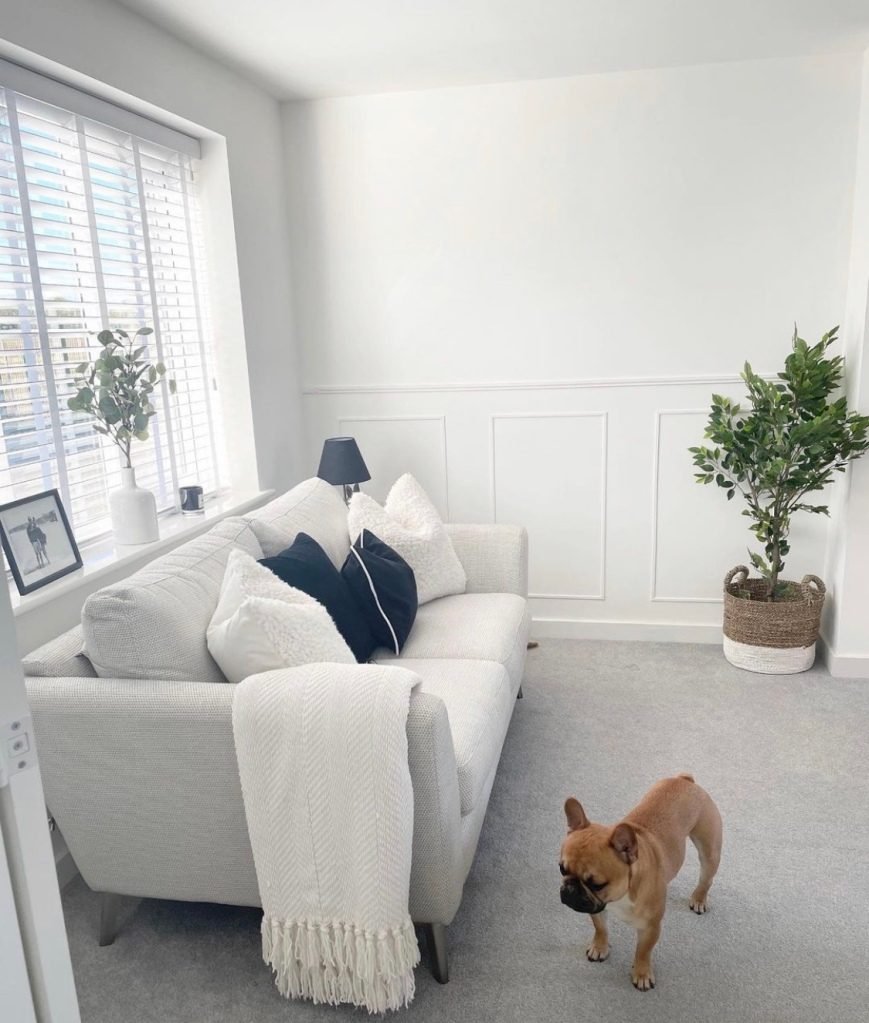 Image source @ourfirsthome_theclayton
Like half your walls with panelling to break up the bare walls like this design by @ourfirsthome_theclayton that effortlessly shows us how it's done!
Half wall panelling in the living room is a great way to add style if you love minimalist design. Always panel the bottom half of your walls rather than the top, as your eye will be drawn from the panelling to your ceiling (which will make your space appear bigger).
9. Wall panel idea for an Edwardian living room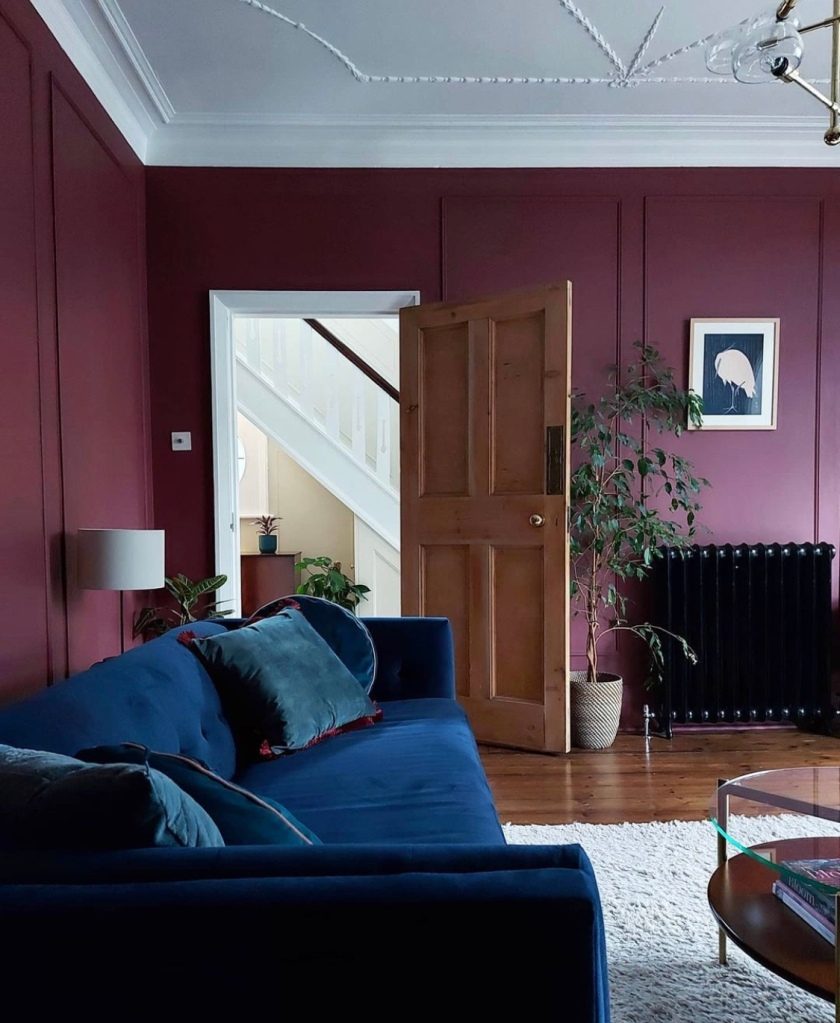 Image source @ahomeinthetropics
For an elegant English-style home, opt for dark tones when painting your panelled walls. This will give the feel of traditional Edwardian style, especially when you incorporate plain furnishing with a rich and bold colour scheme.
We love this living room design by @ahomeinthetropics that mixes comfort and class together to create a dramatic living room space to entertain. What we especially love is the white ceiling and splashes of grey tones around the room that contrast with the dark interiors to brighten the space beautifully.
10. Grey half wall panelling idea for your living room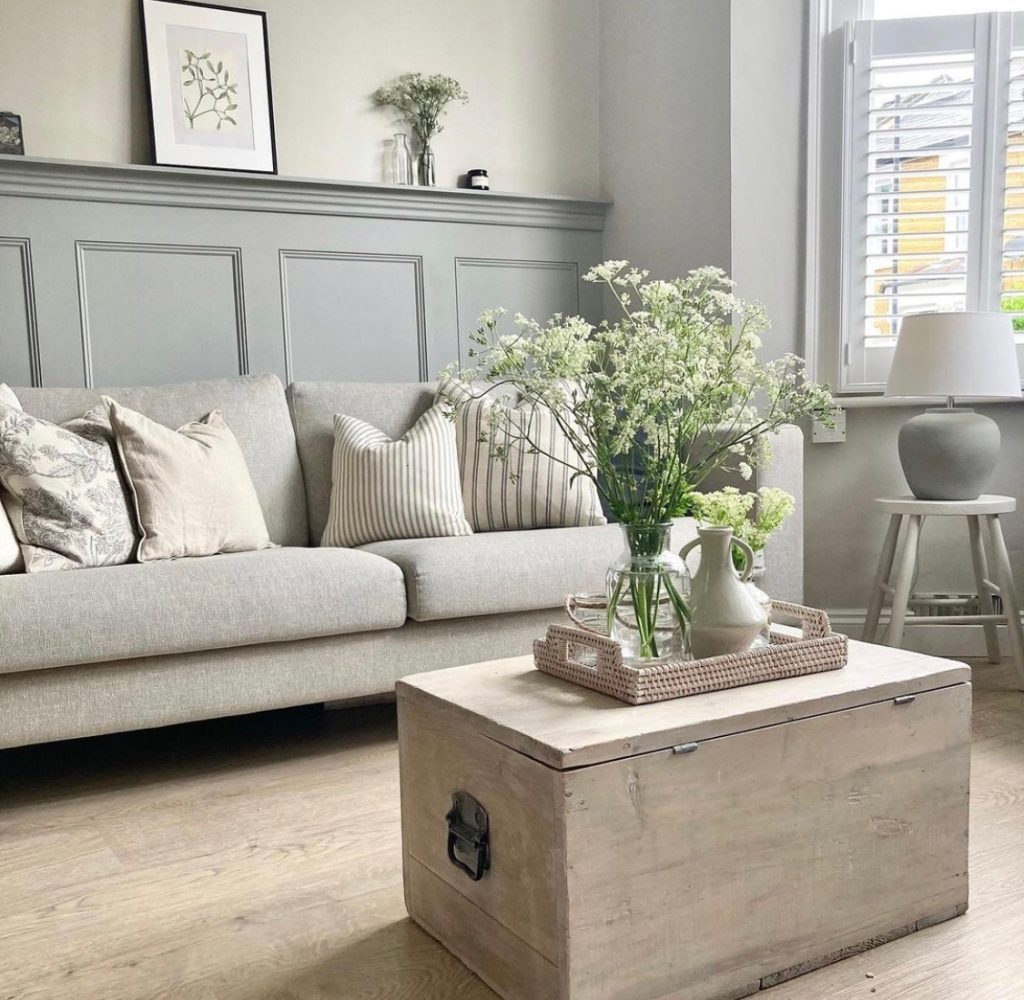 Image source @oursoutheastlondonhome
Add detail to your living room walls with half-panelled walls as a stylish backdrop to your sofa area. This idea by @oursoutheastlondonhome inspires us how to add texture to a grey living space while looking cozy and minimal.
Doubling up a half-wall panel will give you extra shelving for artwork and accessories to add even more character to your home.

11. Wall panel idea for a living room with floor-to-ceiling shaker panels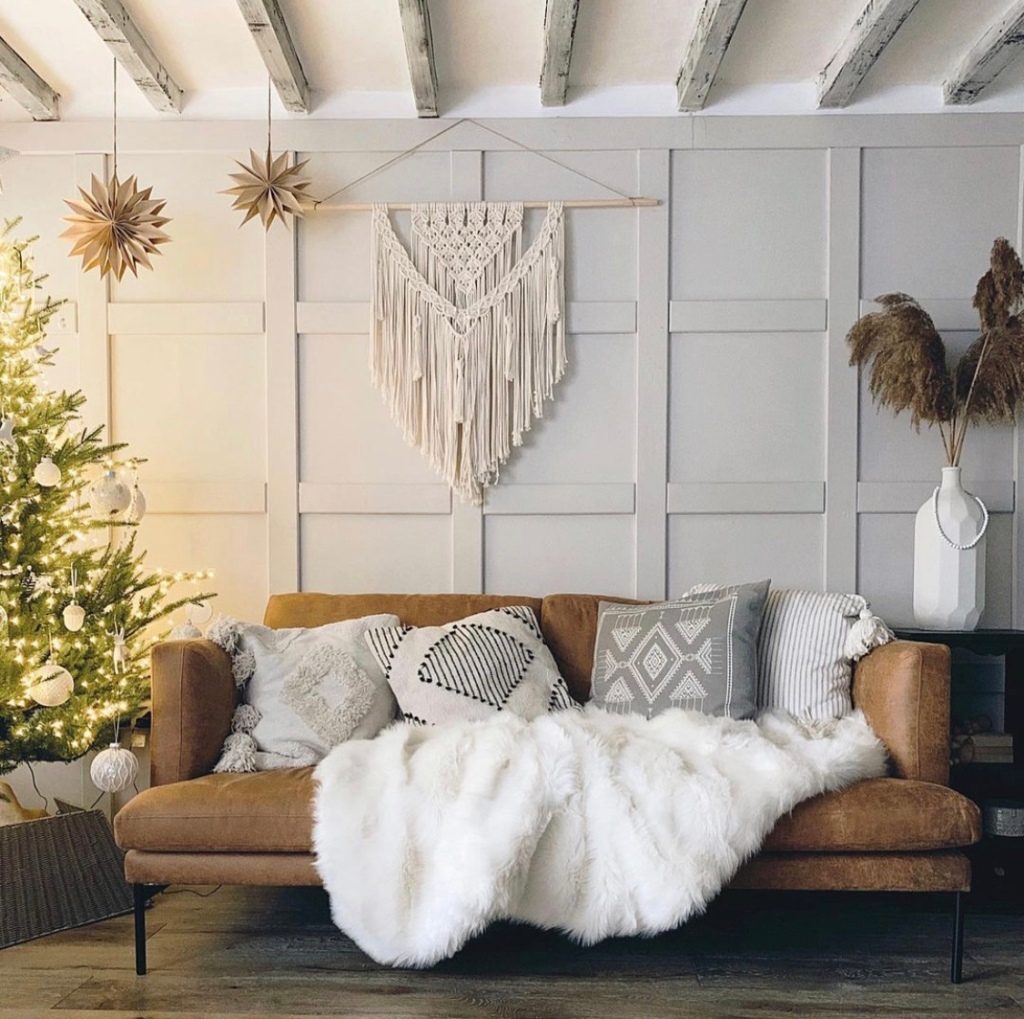 Image source @story_behind_the_stone
Mixing modern and the old is a great way to add unique character to a space. This wonderful transformation by @story_behind_the_stone has been beautifully styled with soft colours that expose old cottage charm; from the beams to the wood flooring.
Furthermore, the periodic panelling has been given a modern twist with chunky square design. Combine the look with a contemporary sofa dressed with pillows and a throw for a snug look.
Related reads: decorate your hallway with these panelling ideas
12. Half wall panelling idea around the fireplace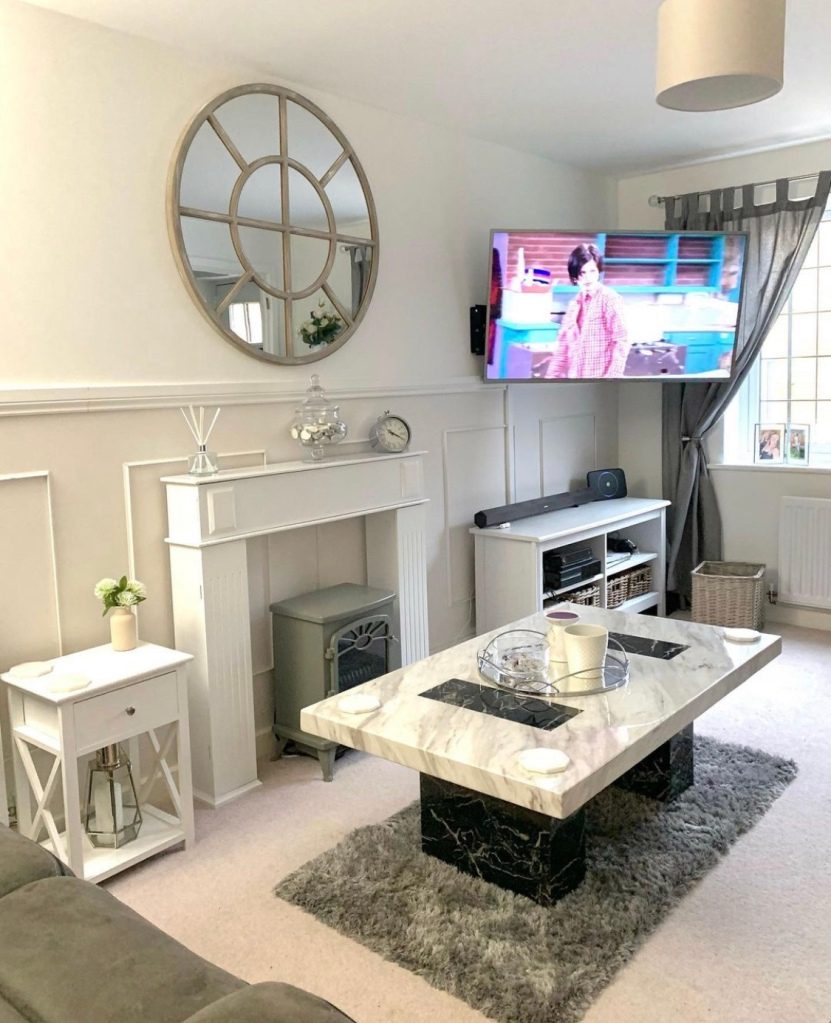 Image source @welcometo_number16
An elegant fireplace is the perfect focal point in the living room that shapes where your furnishings fit into place, as well as the layout of your space. To break this up, why not add half panelling to your walls to add the finishing detail to your lounge, just like this sophisticated design by @welcometo_number16.
We love the effortless look and the mix of textures and the layers of creams and greys that make the space cozy yet sophisticated.
13. Wall panel idea for a living room with alcoves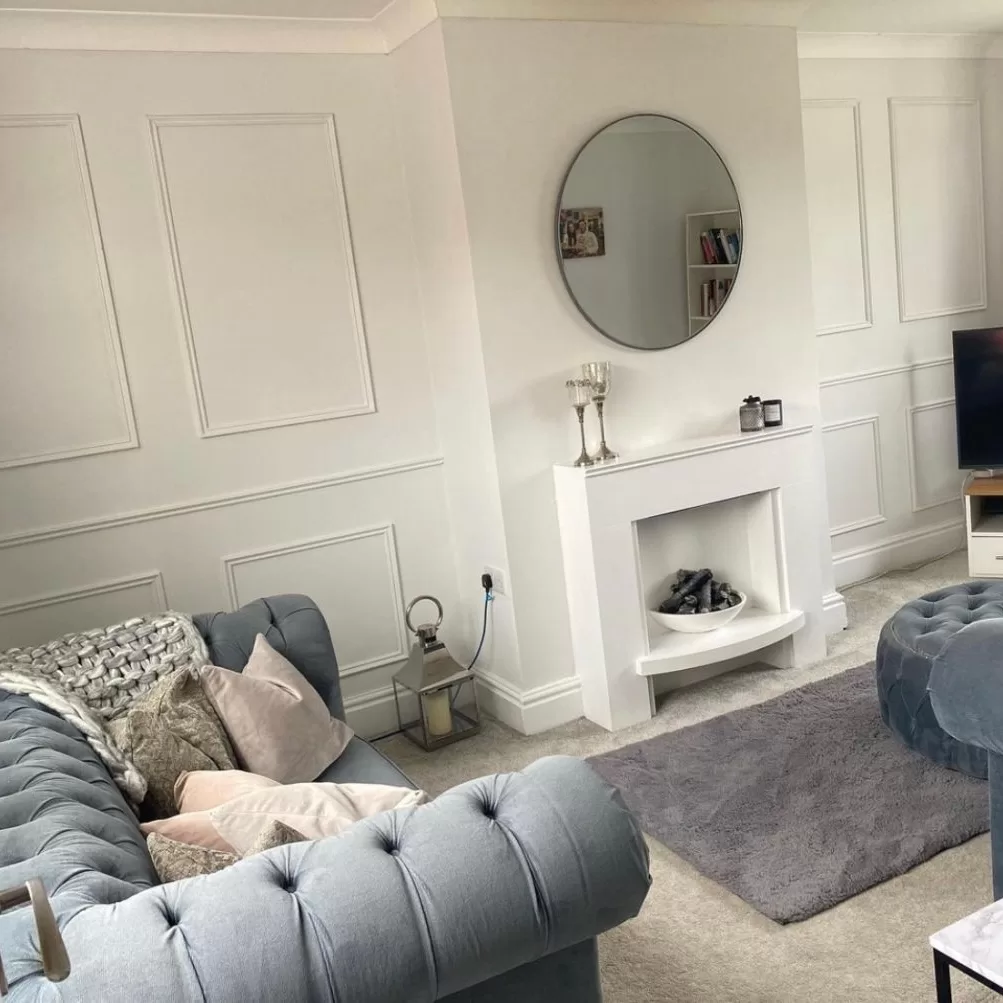 Image source @kllowyreno
Plain walls can dull down a space, especially in the living room where character and style should come into play. Spruce up sad walls with little details such as periodic panelling to give your home a touch of English elegance.
This living room panelling idea by @kllowyreno shows us how it's done. With split panelling across one side of the wall to match with the fireplace so beautifully. We love how the walls and the fireplace blend into each other as an entire feature wall.
14. Half wall panelling idea for a beige living room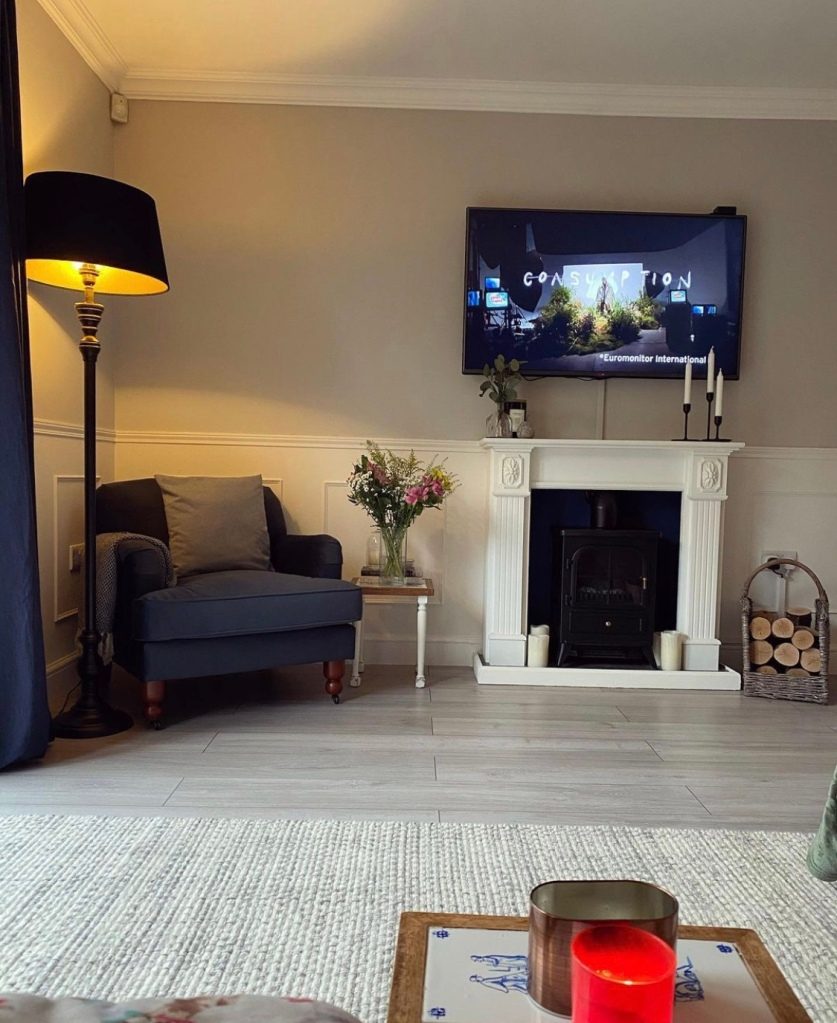 Image source @olivetreecottage2
Two-toned walls are a living room delight! It's a great way to break up a colour scheme without being risky, just like this gorgeous living room by @olivetreecottage2 that subtly uses creams in a contrasting way.
If you have a fireplace that needs something extra, panelling is a great way to add texture and depth in a modern way. Furthermore, adding a cornice to your ceiling to match your panelling will complete the look and bring out the style more.
15. Elevate Your Living Space with Shaker Panelling Behind the Sofa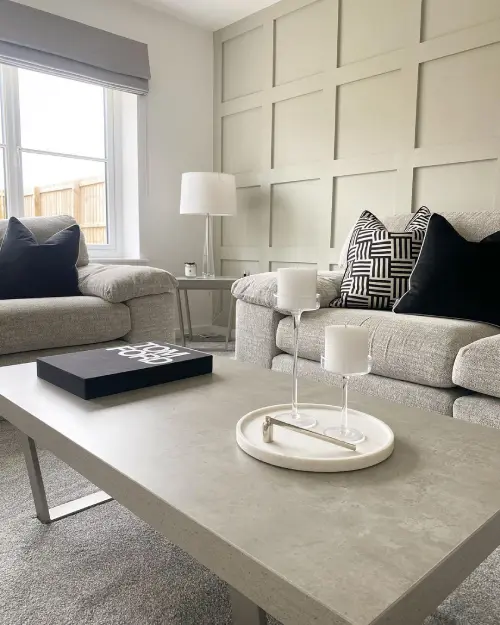 Living room design by @51stinthemanor on Instagram
Shaker panelling proves to be a versatile and timeless choice for enhancing your living room. With its clean lines and minimalist design, it brings a touch of sophistication that complements various interior styles. Beyond aesthetics, the panelling adds textural depth, concealing wall imperfections while providing a durable and practical solution for high-traffic areas. Its customization options ensure a seamless fit into your existing decor, making shaker panelling a stylish and functional investment that elevates the overall ambience of your home.
Wall panel ideas for a living room FAQs
What are the benefits of installing wall panelling in a living room?
Wall panelling is a great way to add character, texture, and visual interest to your living room. It can also help to protect the walls from scratches, dents, and other forms of wear and tear. In addition, wall panelling can provide insulation, which can help regulate the temperature of your home and potentially lower your energy bills.
What materials are commonly used for living room wall panelling?
Several materials are commonly used for living room wall panelling, including wood, MDF (medium-density fiberboard), PVC, and gypsum. Each material has its unique benefits and drawbacks, so it's important to choose the right one based on your preferences and needs.
Can wall panelling be painted or stained to match the living room's decor?
Yes, wall panelling can be painted or stained to match the decor of your living room. This is a great way to personalize your space and make it feel more cohesive. Just make sure to choose a paint or stain that is compatible with the material of your wall panelling.
How do I choose the right type of wall panelling for my living room?
When choosing the right type of wall panelling for your living room, consider factors such as the style of your home, the existing decor, and your personal preferences. Wood panelling is a classic choice that works well with a variety of design styles, while PVC panelling is a more affordable and low-maintenance option. MDF and gypsum panelling offer a sleek and modern look but may be more difficult to install.
What are some creative designs or patterns for living room wall panelling?
There are endless possibilities when it comes to creative designs and patterns for living room wall panelling. Some popular options include classic beadboard panelling, modern geometric patterns, and textured 3D wall panels. You can also experiment with different colours, finishes, and materials to create a truly unique look that reflects your style.
---
Did you enjoy this article? Follow us on Instagram or Facebook to stay up-to-date with ideas and tips around the home!