Add instant character to your living room with these ideas…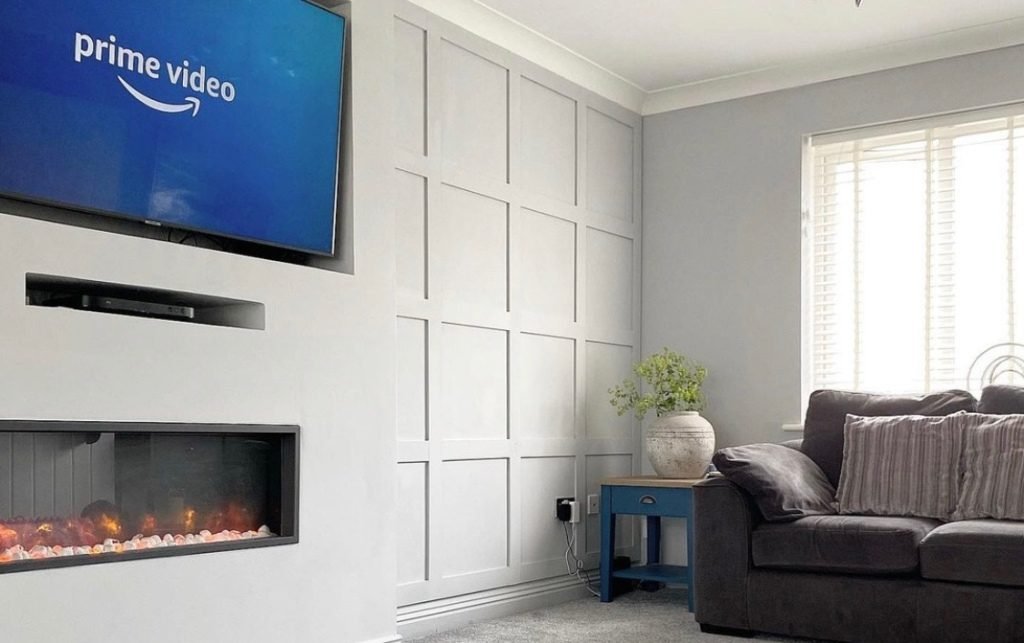 Dreaming of a complete living room makeover? Don't demolish your walls just yet! We've got some inspiration that'll turn even the dullest of rooms into the ultimate lounge oasis.
Whether you're looking to add panelled walls from floor to ceiling or just half way up your walls, our ideas, handpicked from some of the most inspiring Instagram accounts will make you want to start planning your next renovation instantly.
Read on to reveal the best living room panelling ideas.
Is wall panelling modern for living rooms?
Yes, it's used a lot in new builds and Victorian home styling! Wall panelling is inspired by period panelling interior styles and has become a modern design element around the home including in living rooms. Adding panelling to your living room can modernise your space by adding depth and character when styled with contemporary furnishings and decor. Half wall panelling and square panelling has become a popular way to update the home.
Try white panelling in the living room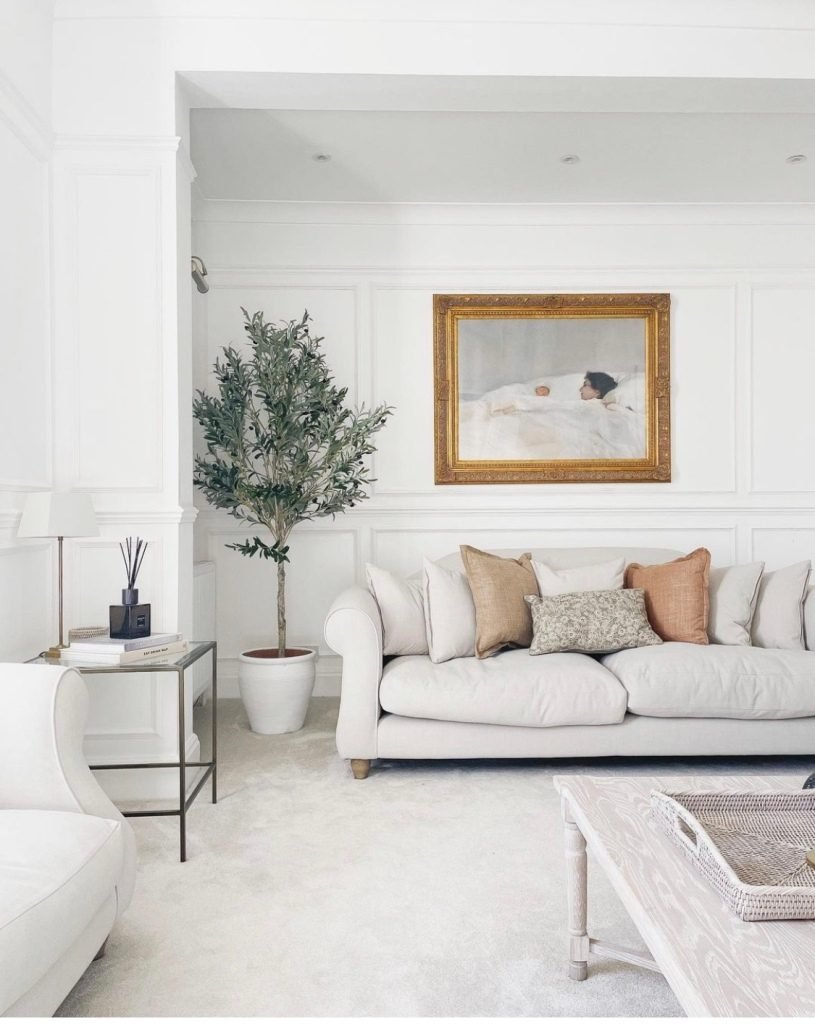 Create depth in a white living room by adding panelling which will give your walls texture as well as a pint of reference for your furnishings. We love this white living room that uses panelling as a way to frame the room, it also allows the furnishings to show scale of height and size to proportion the rooms layout.
Modern wall panelling in a small living room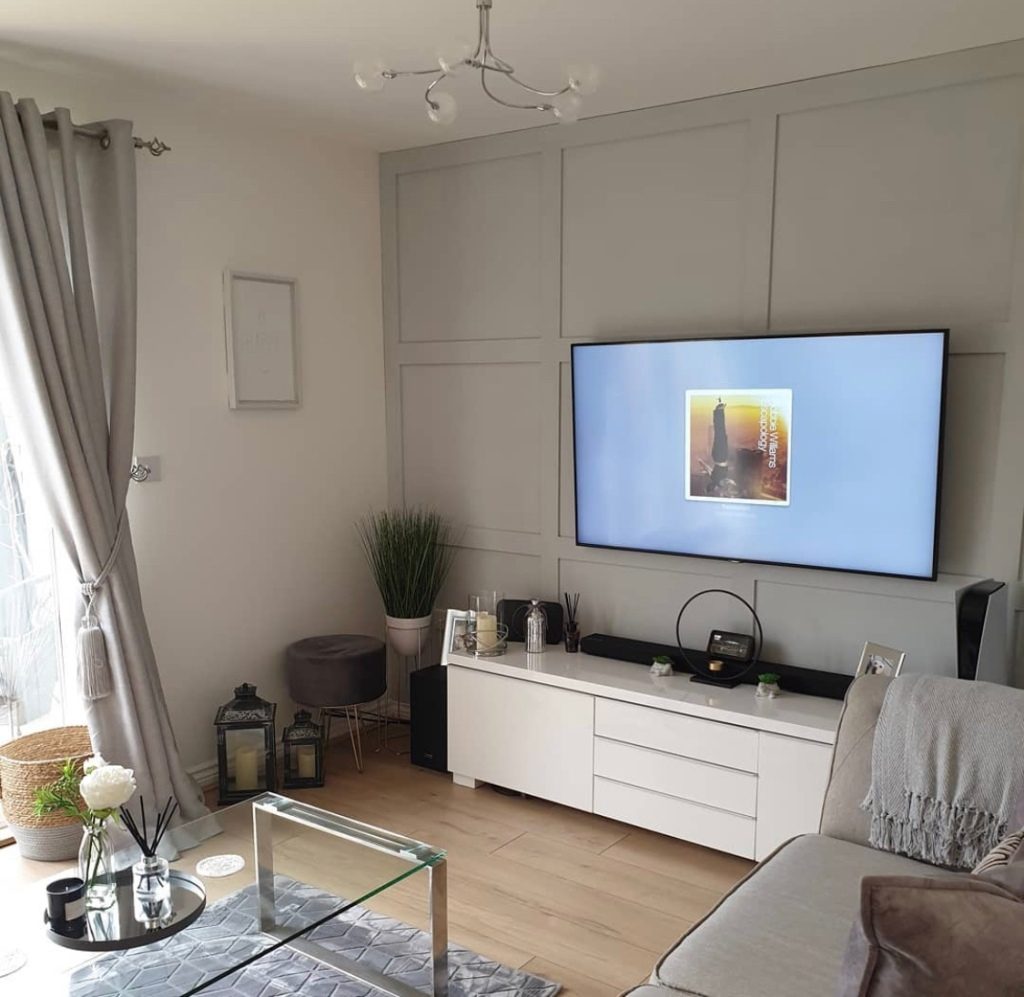 Squared wall panels are ultra modern and versatile in the living room. Whether you're looking for an accent wall or half panelled walls, square panelling is a great way to create a modern statement look. This squared panel accent wall is the perfect example of how to spruce up a small living room for a clean and fresh look to make the space feel bigger and prominent through panelling.
Grey panelling in the living room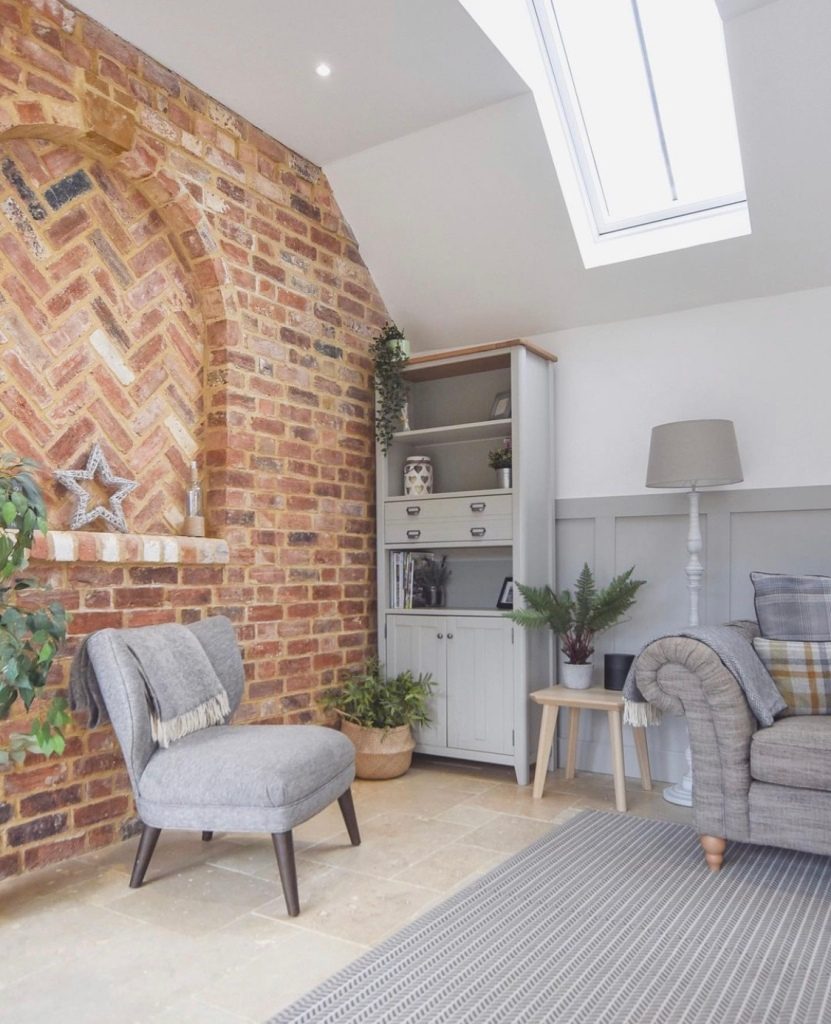 Grey is a calming colour for the living room, and a great way to enhance this is through panelling to add depth and texture to your walls. Combining grey and white makes for a cozy living room look, along with using panelling to add contrast to your walls is a simple way to achieve a modern and snug look. We love this cozy cottage interior where the grey panelling and white walls warm up the exposed brick wall and stone effect flooring.
Add wall panelling to show off your fireplace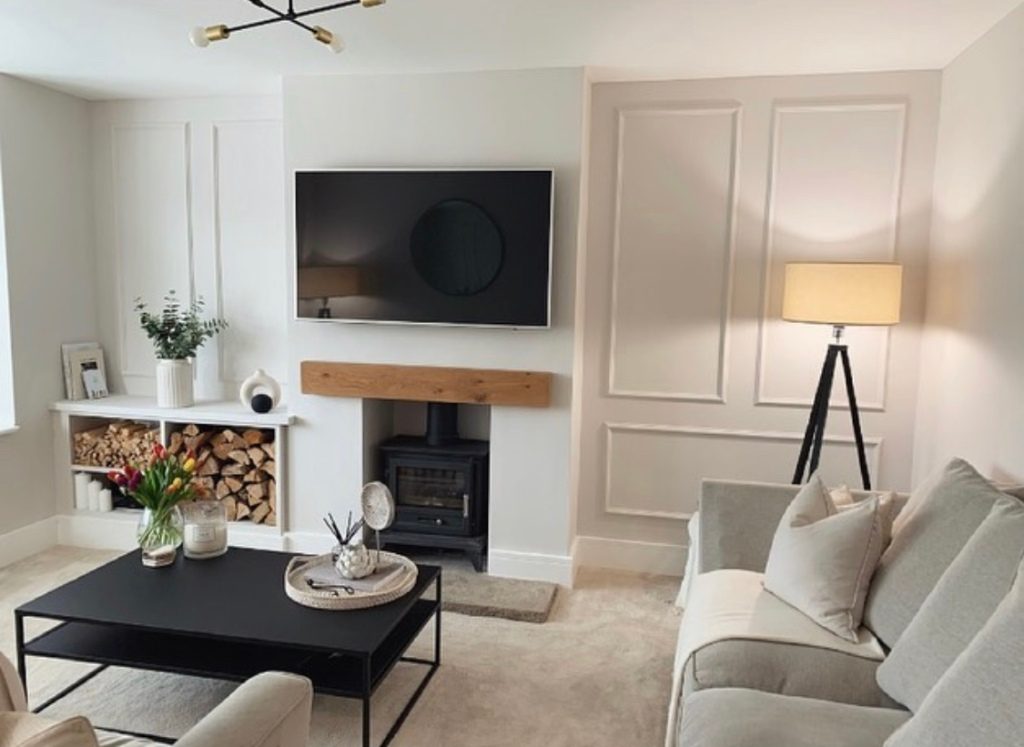 Image source @ourrenovationjourney
Break up a cream living room with feature panelling like this design by @ourrenovationjourney. We love this subtle panelling that adds texture to the space while being soft and delicate.
If you're planning on decorating your living room with a beige colour palette, opting for panelling can break up the walls so they become a statement feature that draws the eyes.
Fireplace panelling idea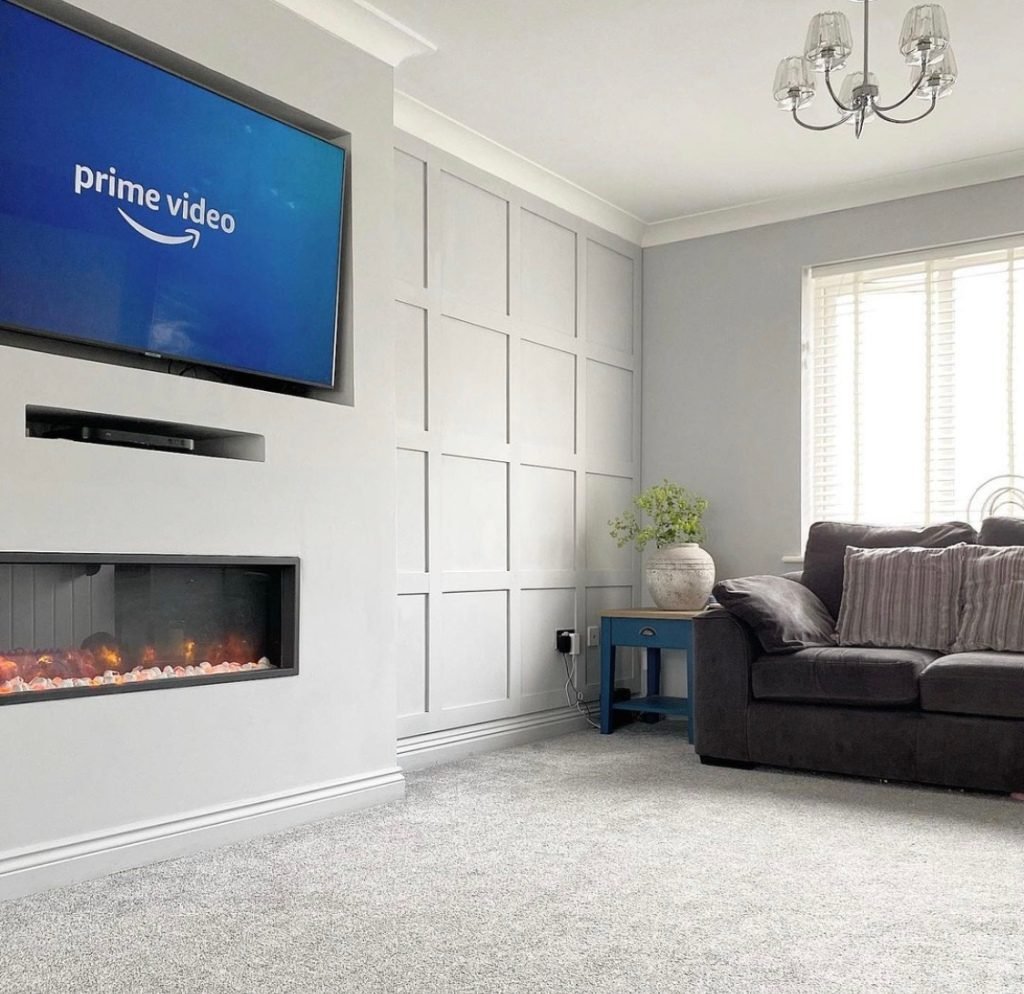 Show off a media wall with fireplace by adding panelling on either side of your tv wall to add a modern feel to your home. Square panelling can work well when styling a media wall to add character to the space around it to draw the eye to the tv and fireplace. Furthermore, square panelling is great for dressing up bare walls so they feel more purposeful and homely.
Double up your panelling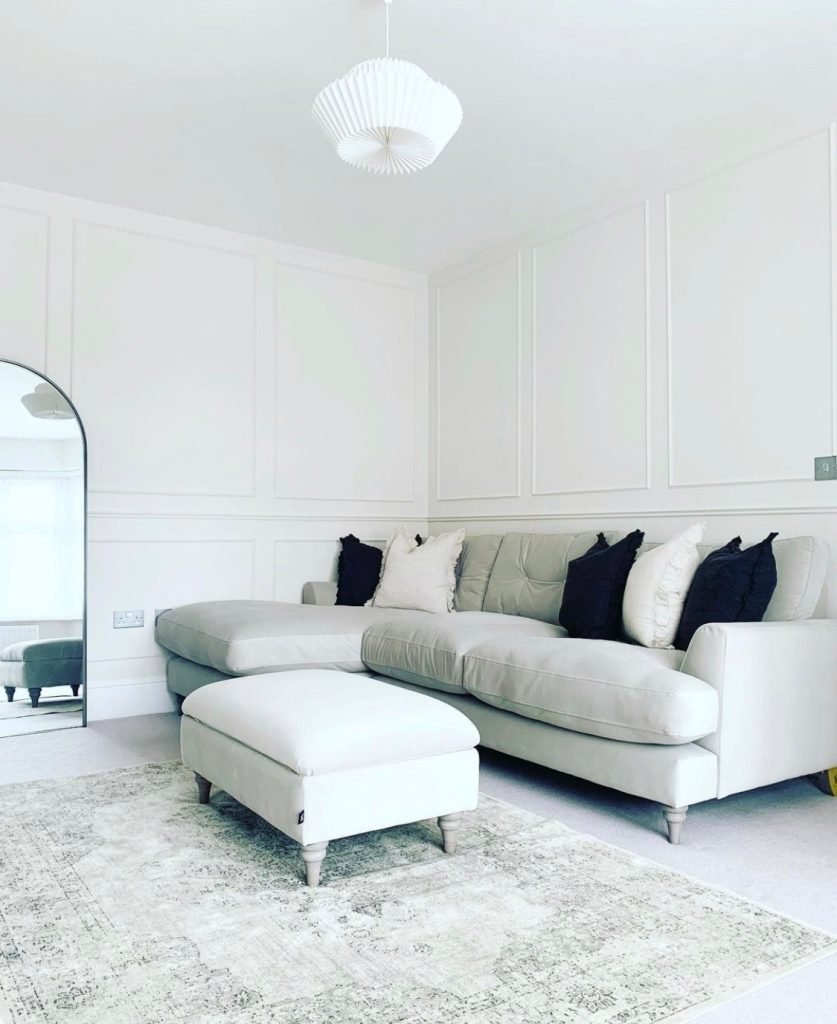 Image source @from_the_ground_up
Add character to a bright living room by splitting your panelling in half, like this sophisticated living design by @from_the_ground_up. We love this look as it's simple, stylish and elegant.
What's more, when splitting panelling for your living room, make sure to make your design top heavy (where the panelling is longer up the wall). This will give the illusion that your walls are longer than they are.
Half wall panelling to break up the living space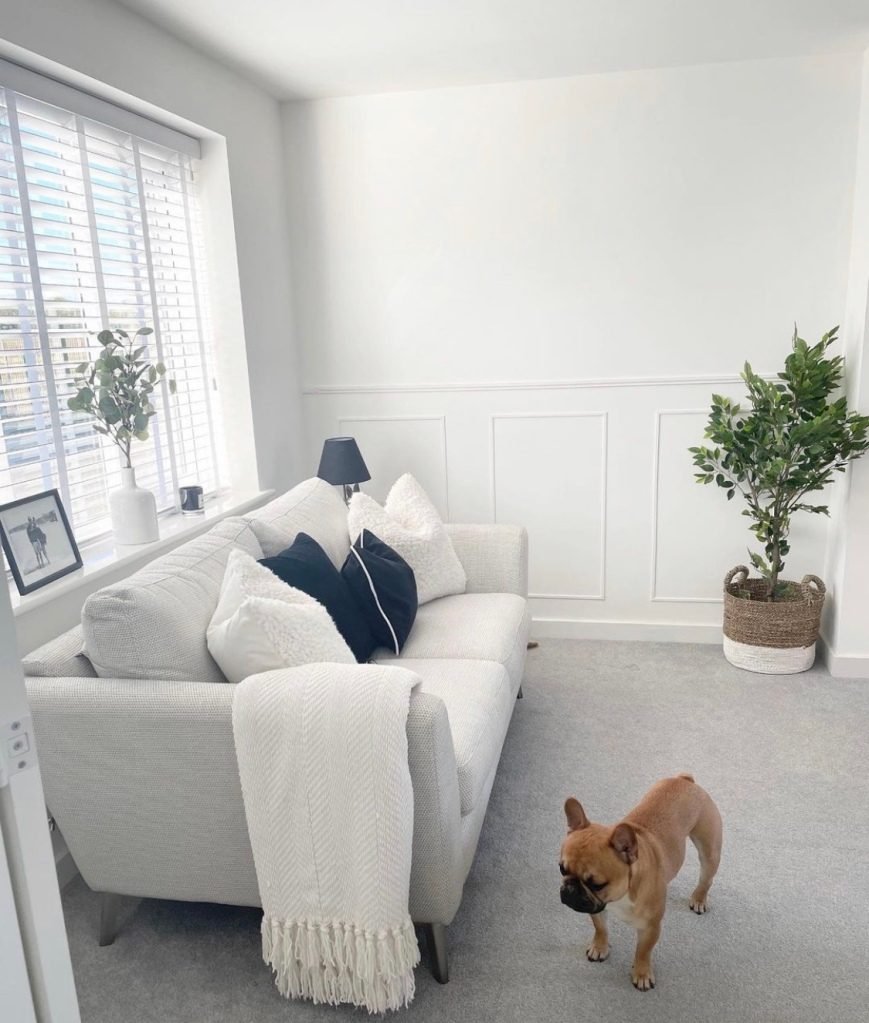 Image source @ourfirsthome_theclayton
Like half your walls with panelling to break up the bare walls like this design by @ourfirsthome_theclayton that effortlessly shows us how it's done!
Half wall panelling in the living room is a great way to add style if you love minimalist design. Always panel the bottom half of your walls rather than the top, as your eye will be drawn from the panelling to your ceiling (which will make your space appear bigger).
Dark wall panelling for an Edwardian living room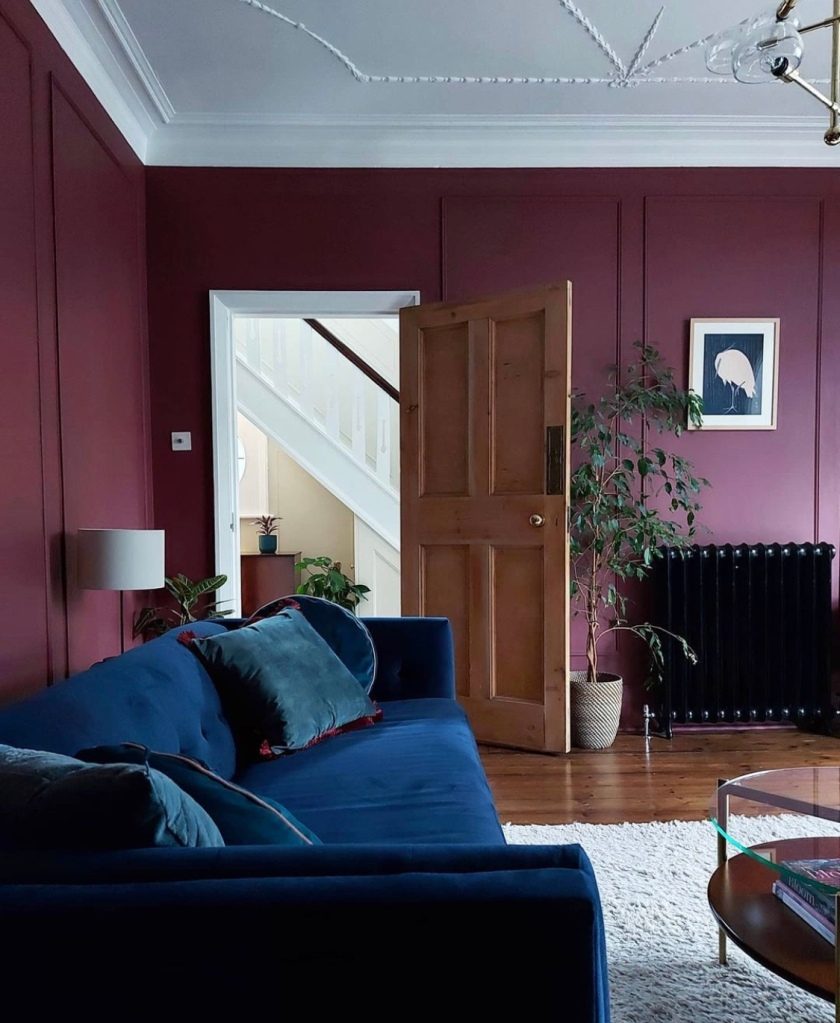 Image source @ahomeinthetropics
For an elegant English style home, opt for dark tones when painting your panelled walls. This will give the feel of traditional Edwardian style, especially when you incorporate plain furnishing with a rich and bold colour scheme.
We love this living room design by @ahomeinthetropics that mixes comfort and class together to create a dramatic living room space to entertain. What we especially love is the white ceiling and splashes of grey tones around the room that contrast with the dark interiors to brighten the space beautifully.
Grey living room wall panelling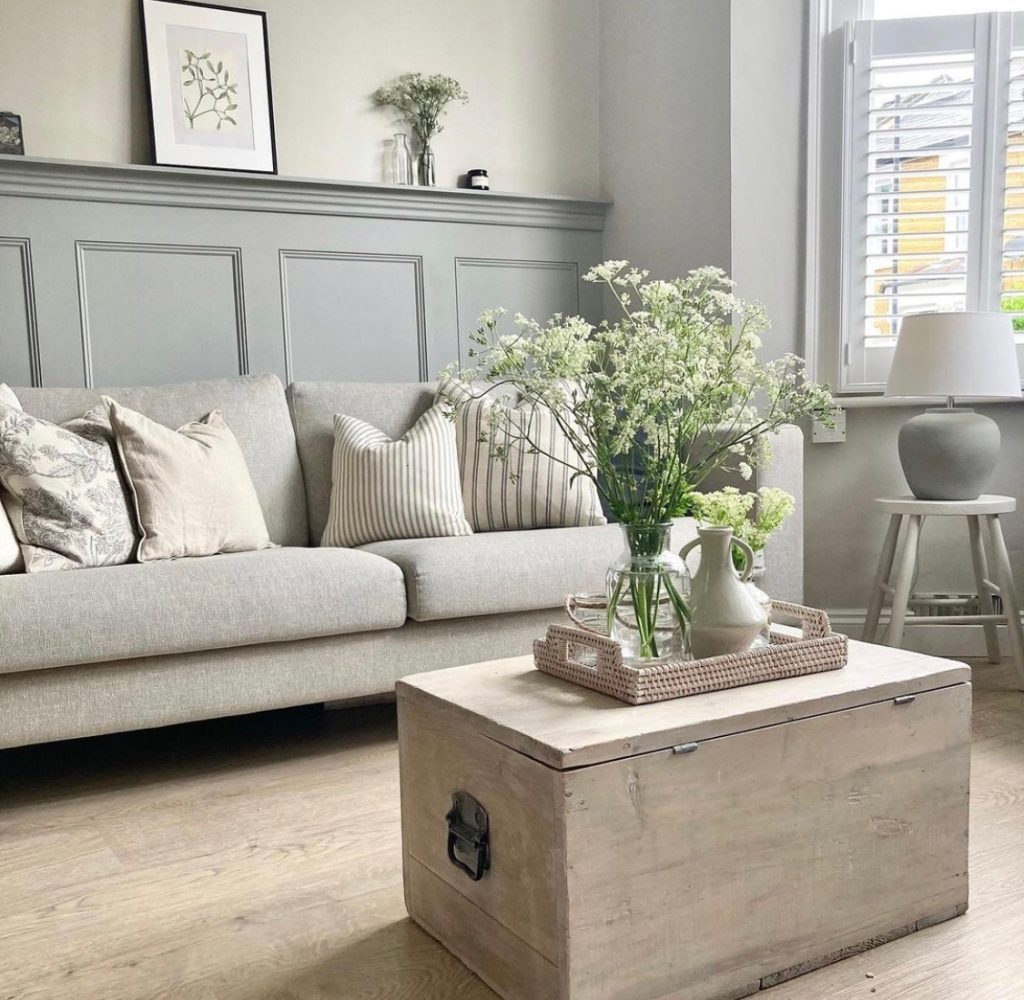 Image source @oursoutheastlondonhome
Add detail to your living room walls with half panelled walls as a stylish backdrop to your sofa area. This idea by @oursoutheastlondonhome inspires us on how to add texture to a grey living space while looking cozy and minimal.
What's more, doubling up a half wall panel will give you extra shelving for artwork and accessories to add even more character to your home.
Wall panelled living room in a cottage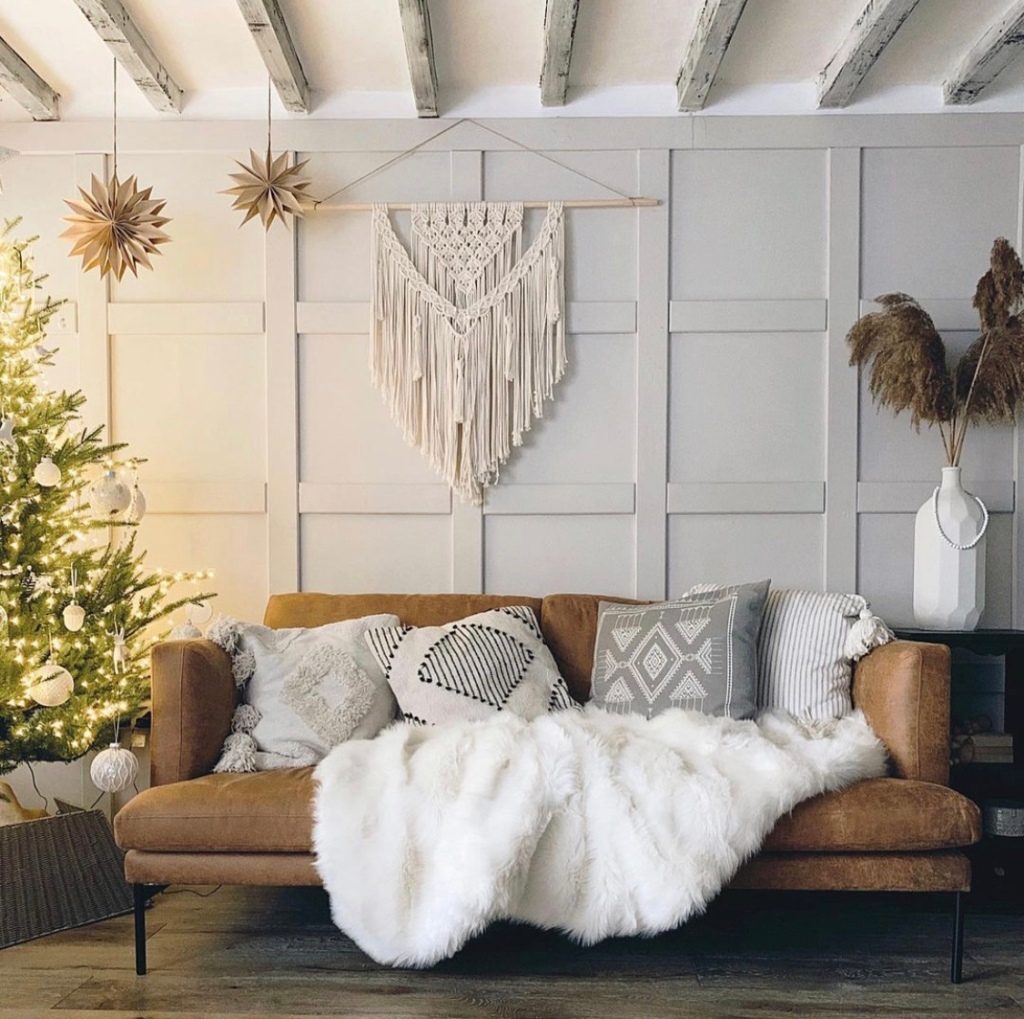 Image source @story_behind_the_stone
Mixing modern and the old is a great way to add unique character to a space. This wonderful transformation by @story_behind_the_stone has been beautifully styled with soft colours that expose old cottage charm; from the beams to the wood flooring.
Furthermore, the periodic panelling has been given a modern twist with chunky square design. Combine the look with a contemporary sofa dressed with pillows and a throw for a snug look.
Related reads: decorate your hallway with these panelling ideas
Add panelling behind the fireplace for extra character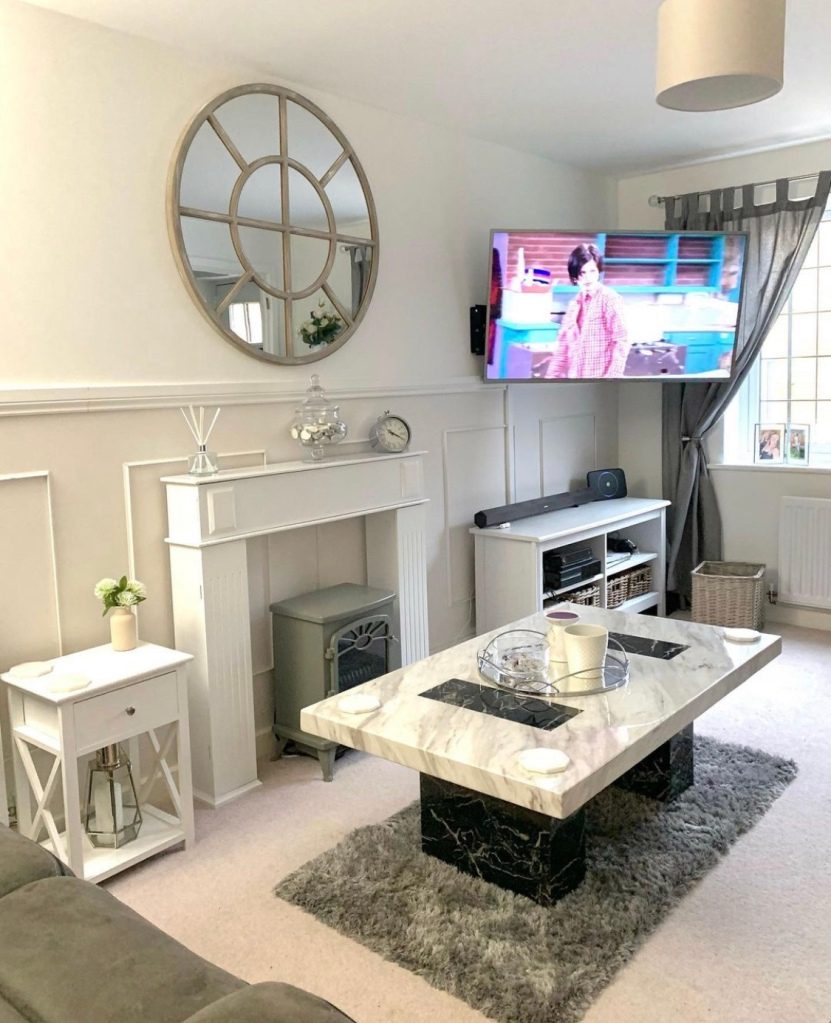 Image source @welcometo_number16
An elegant fireplace is the perfect focal point in the living room that shapes where your furnishings fit into place, as well as the layout of your space. To break this up, why not add half panelling to your walls to add the finishing detail to your lounge, just like this sophisticated design by @welcometo_number16.
We love the effortless look and the mix of textures and the layers of creams and greys that make the space cozy yet sophisticated.
Use wall panelling to add detail to plain walls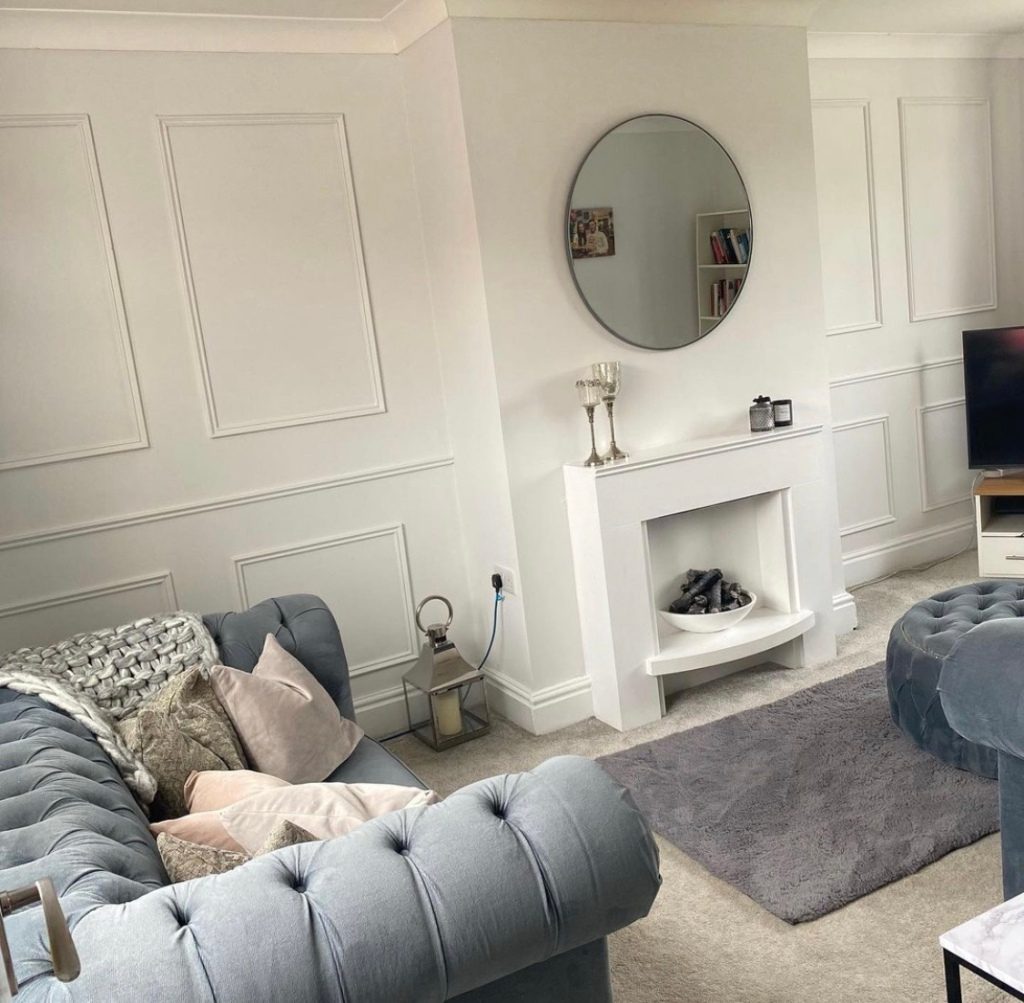 Image source @kllowyreno
Plain walls can really dull down a space, especially in the living room where your character and style should come into play. Spruce up sad walls with little details such as periodic panelling to give your home a touch of English elegance.
This living room panelling idea by @kllowyreno shows us how it's done. With split panelling across one side of the wall to match with the fireplace so beautifully. We really love how the walls and the fireplace blend into each other as an entire feature wall.
Break up beige walls with panelling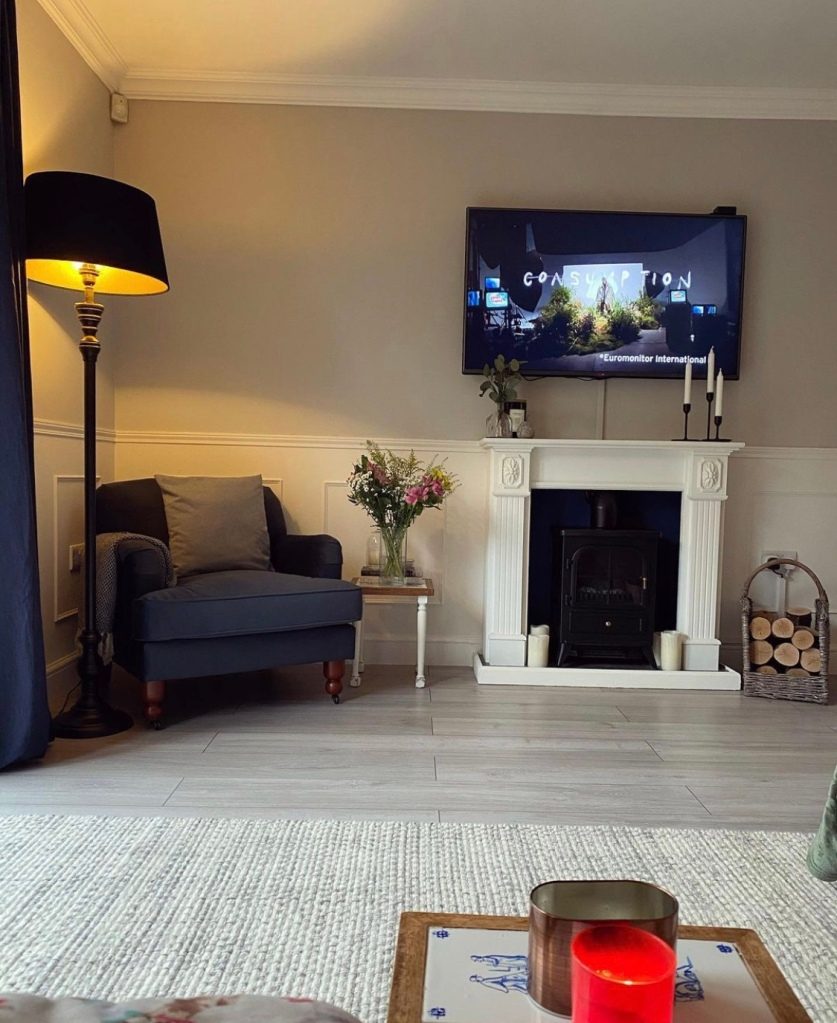 Image source @olivetreecottage2
Two toned walls are a living room delight! It's a great way to break up a colour scheme without being risky, just like this gorgeous living room by @olivetreecottage2 that subtly uses creams in a contrasting way.
If you've got a fireplace that needs something extra, panelling is a great way to add texture and depth in a modern way. Furthermore, adding cornice to your ceiling to match your panelling will complete the look and bring out the style more.