Are you planning on styling a white living room? Our interior trends and decor ideas for your space will help bring to life subtle palette ideas for an elegant and chic living room design.
See below to discover our tips on how to style a white living room with images and shoppable links.
1. White and cream living room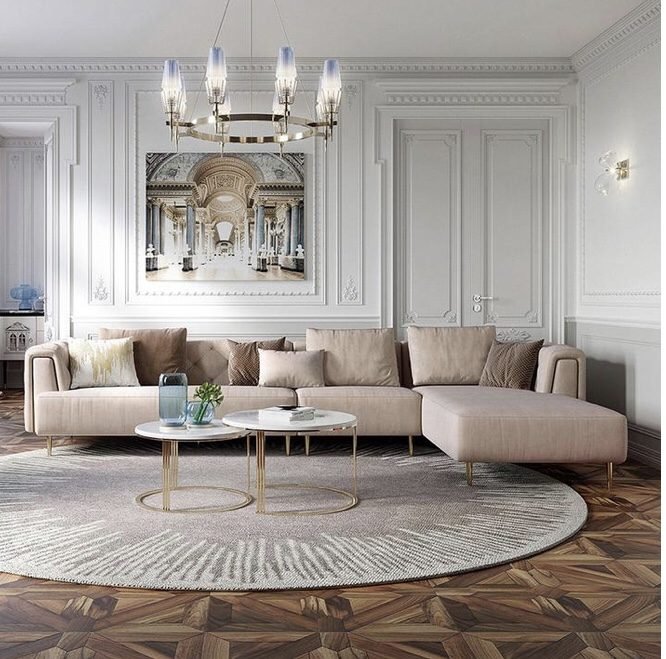 Combine soft screams and beige furnishings in a while painted living room just like this design by Rubeza. You want to make your sofa the focal point in your living room and this L shaped sofa is the perfect design and texture to match with white interiors.
2. All white living room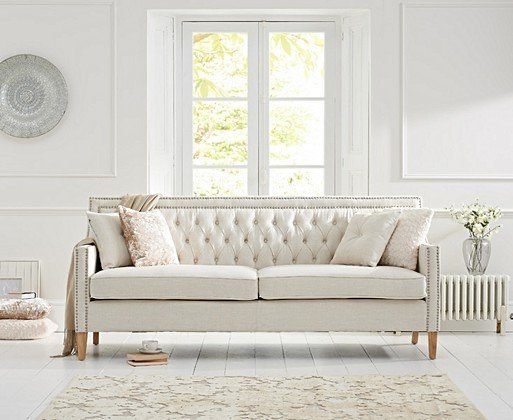 Easy flowing living rooms create a space of relaxation and calmness on the eye. This plush Chatsworth ivory sofa is the perfect match against white walls, carpets and curtains if you're looking to style a white living room using one colour scheme.
3. White cottage style living room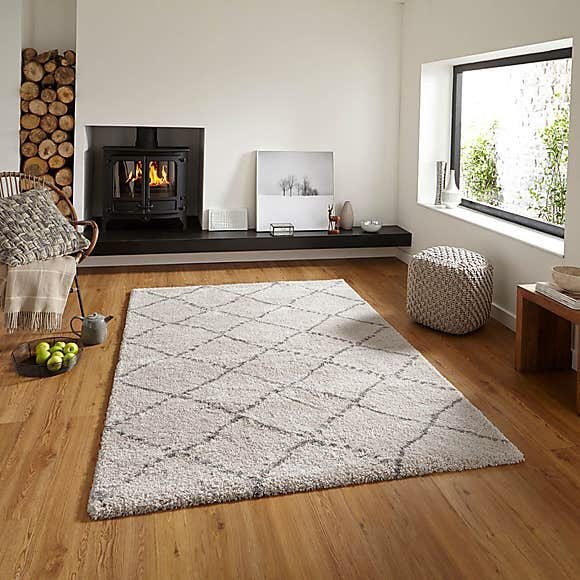 Having a mix of different textures in your living room will make your space ultra snug and comforting. This small lounge design by Dunelm is inspired by Scandinavian living, with minimal white walls matched with a textured rug. The beautiful wood detailing from the floor to the stacked logs and furnishings bring the cozy Scandi design together in a white living room space.
4. Glossy white living room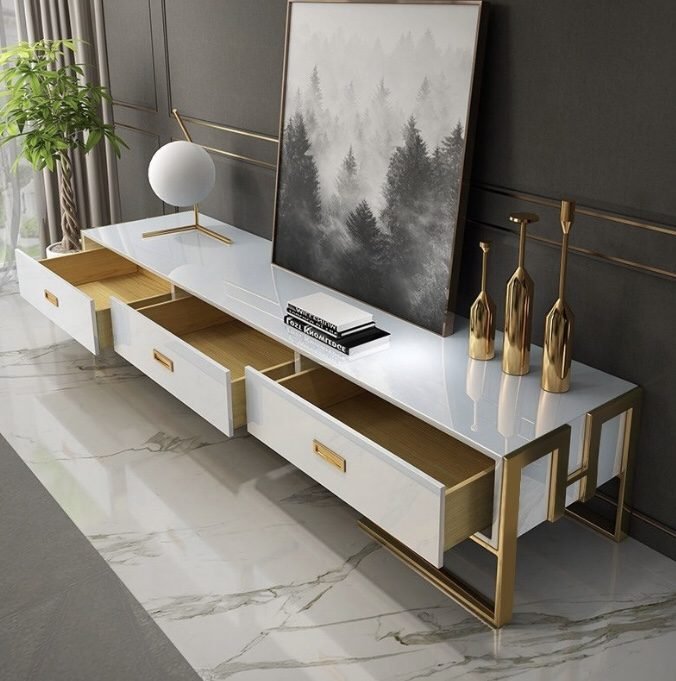 Style your interiors with luxurious touches that to create an elegant and classy white living space. This glossy white and gold media stand from Homray has a Art Deco glam with a sleek modern design to style your living room with glamour.
5. White and green living room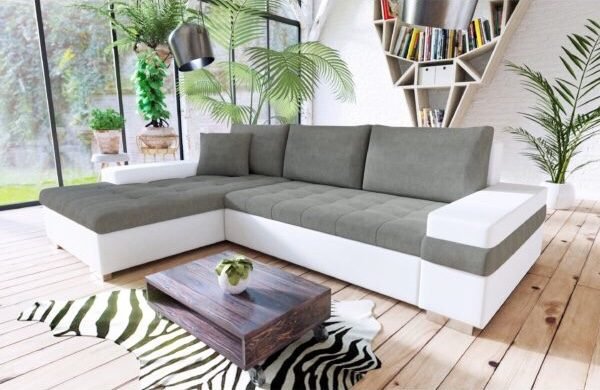 White and grey work together really well for a calm and relaxing space to spend your evening, weekends and time entertaining. Choose a plush multi colour sofa like this design by Honey Pot Furniture that combines a white base with grey cushions for a contrasting look to style your white living room.
6. White country house living room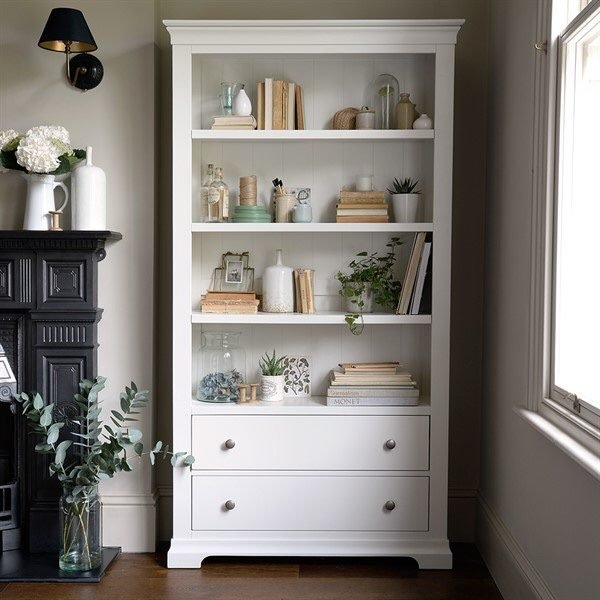 White is a great foundation for a country side living room. Thr use of bookcases allows you to display your colourful reads as decor to bring in elements of your personality into your space of relaxation. This classic style bookcase from Cotswold Co. is a statement piece that styles a white living room easily.
7. Chic white coffee table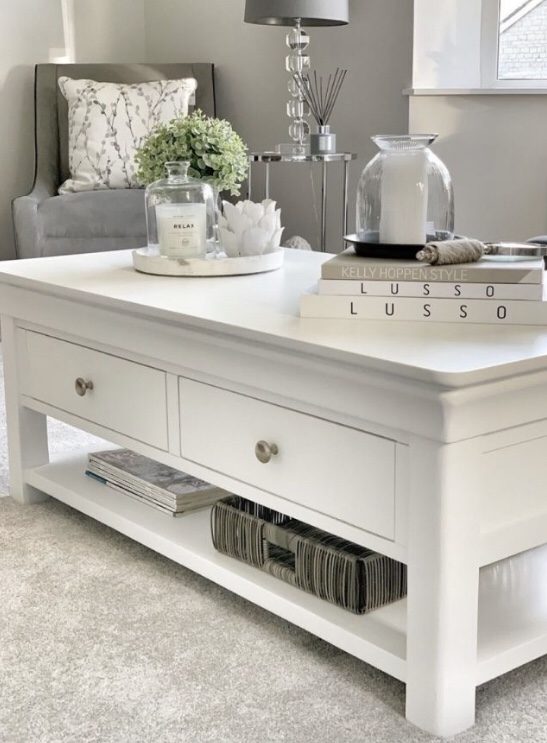 White living rooms can take on a character all of their own depending on how you style it. This elegant coffee table by Top Furniture is an ultra stylish decor that brings a fashionable statement to your space. The chunky wood style coffee table has ample space for your reading material and is inspired by country decor.
8. White living room with fireplace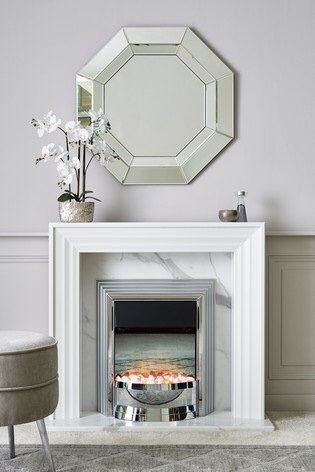 Draw the attention to your space by using a gorgeous fireplace design to set the scene in your lounge. This elegant fireplace by Next Home is contemporary to add the look of a fireplace in a simple way to effortlessly style your white living room to look warm and cozy.
9. Soft pendant lighting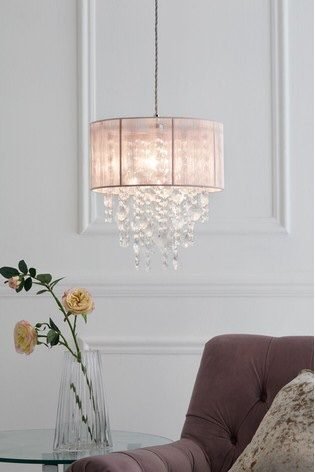 Choosing the right lighting for your living room style can be one of the elements people get wrong around the home. Especially in rooms that are bright an airy as it is sometimes overlooked as a design element and left as a quick functional feature. It's important to style your ceiling with lighting decor that matches with your space. This elegant Palazzo light shade from Next Home in a soft pink effortlessly complements the surrounding decor and brings in a feminine glow to a white living room style.