Christmas is just around the corner, and we've got the perfect dose of festive decoration ideas to inspire your home in 2021.
From those that dream of a white Christmas, to those ready to sparkle everything in glitter and gold… read on for some of our favourite festive interiors to sprinkle your home with joy.
Glamorous Christmas decoration ideas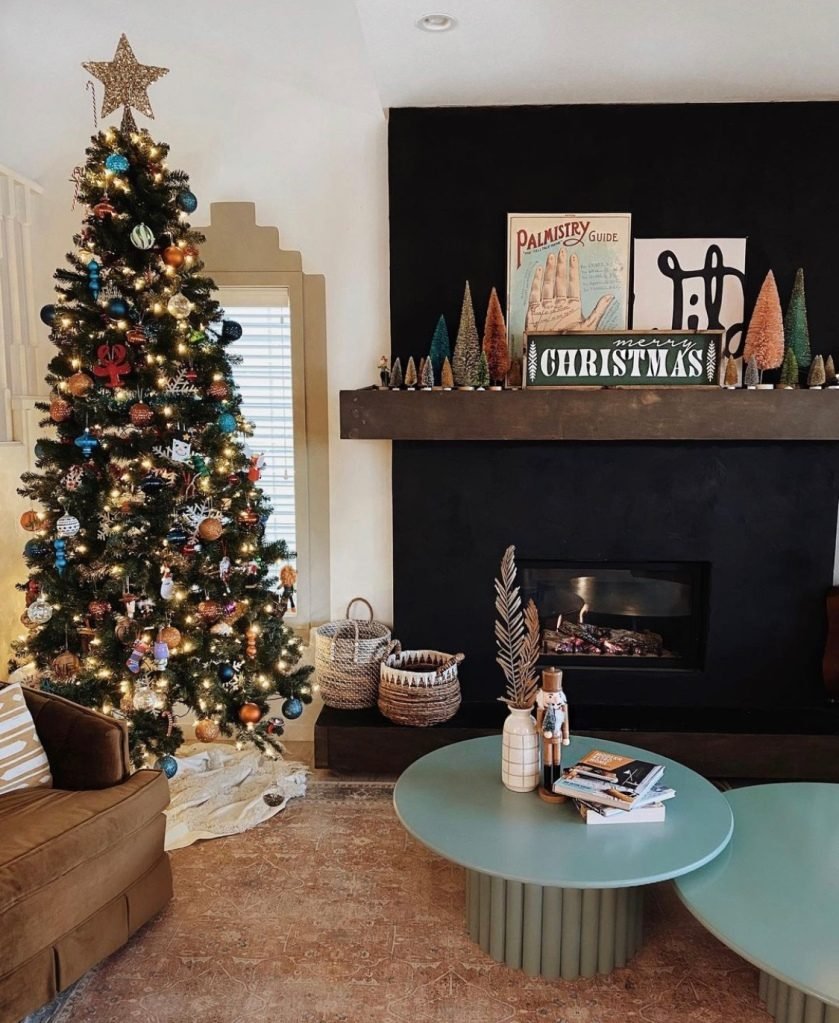 Image source @northwoodsupply
The festive season gives us an excuse to bring out shiny and sparkly decor. This colourful living room by @northwoodsupply showcases a perfectly decorated tree with shiny accessories that play off the gorgeous art decor interiors so beautifully. We also love how the tree blends into the surroundings effortlessly.
Festive Farmhouse dining room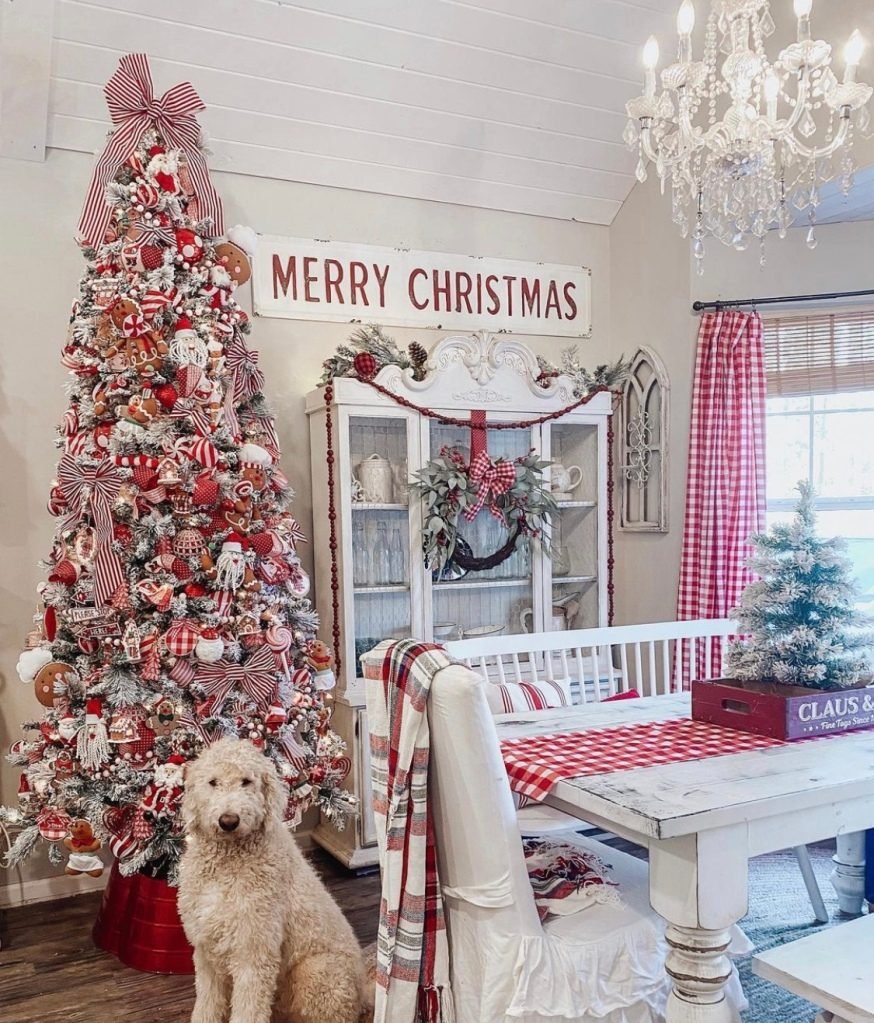 Image source @cottageonwynn
Sprinkle festive joy in authentic farmhouse style with this idea by @cottageonwynn. We are inspired by the striking white and red colour scheme that reminds us of white Christmas and mulled wine. The joyous bunting, plaid tree ornaments and snow effect trees all work In harmony in this country style home.
A great tip when decorating your dining area at Christmas is to match your current colour scheme. This will give your space a natural look and flow while also playing off on the characteristics of your interiors.
Rustic Christmas decorations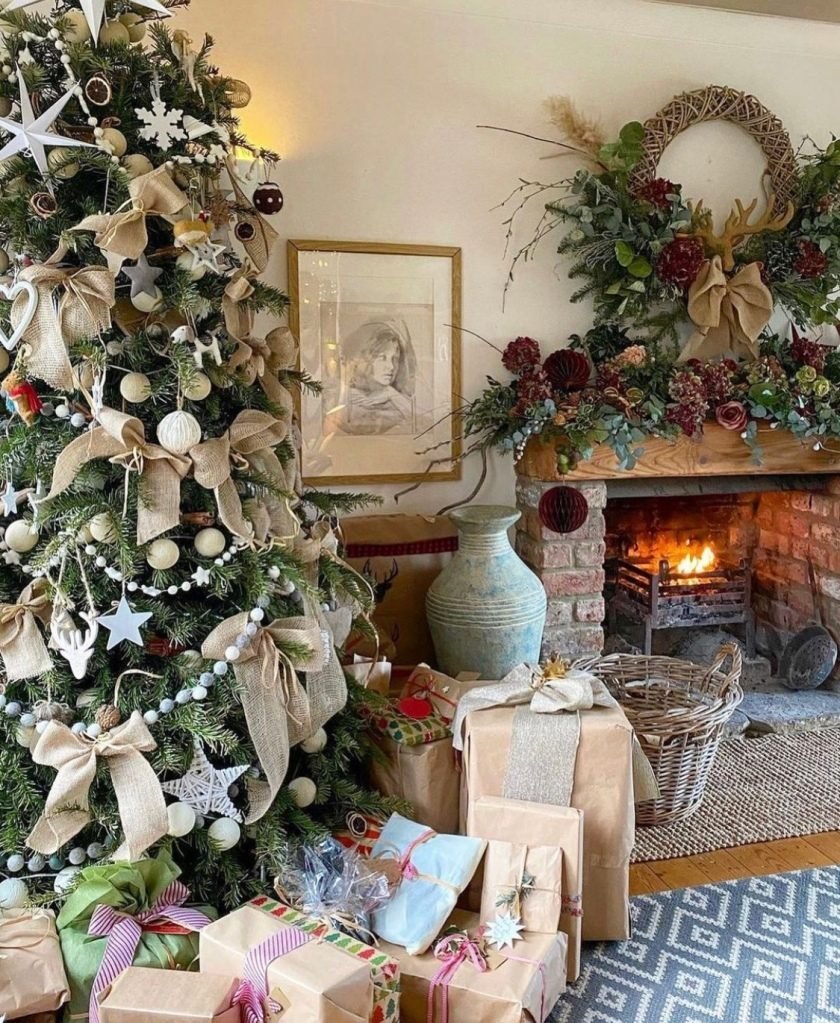 Image source @pandora.maxton
For a cozy Christmas, decorate your living room with traditional garlands draped over the fireplace and muted accessories on the tree for a rustic look. This Christmas in the countryside idea from @pandora.maxton makes us want to watch The Holiday on repeat (like we need an excuse).
Choose fabric decor pieces, pastel baubles and wild-looking wreaths to bring the outdoors into your hole for a cozy Christmas retreat out in the sticks.
Fireplace garland idea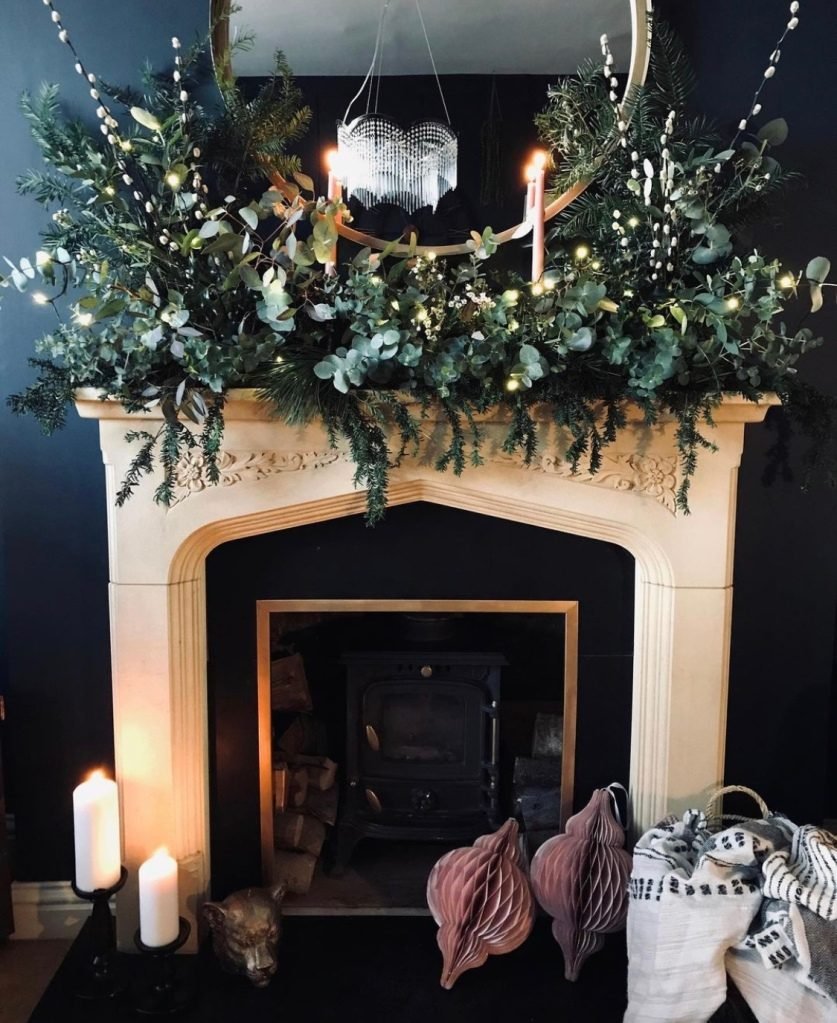 Image source @nickster1970
Create your very own show-stopping fireplace display this Christmas by collating all your favourite leaves to place on the mantel. We've got serious fireplace envy from @nickster1970 that has made their very own garland to dress a traditional fireplace so effortlessly. We love the choice of sprawling greens and hints of creams that pop with the contrast of the walls and match with the fireplace.
When making your own garland, choose bulky greens to create a thick width that will give it volume. Then add in your favourite festive colours to incorporate your own style.
Cozy Christmas decorating ideas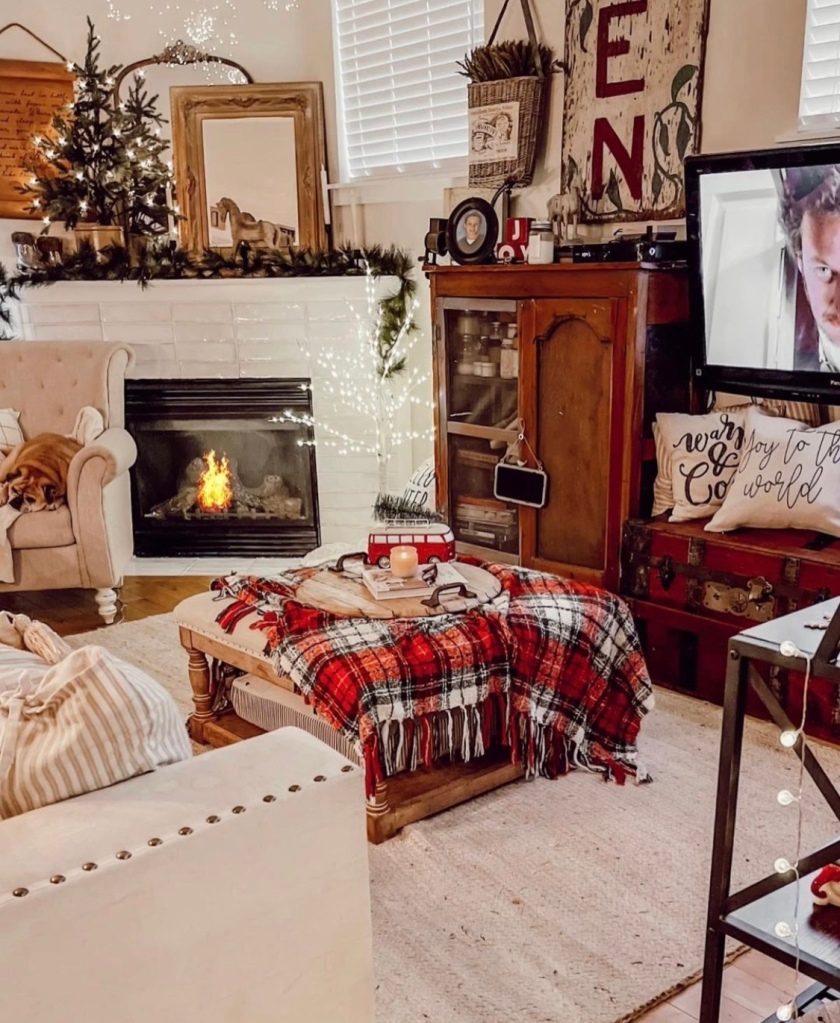 Image source @sassy_pickins
Transform your living space into an autumnal sanctuary this Christmas with inspiration from @sassy_pickins. If you're working with a small lounge, there's plenty of ways to add festive joy without overclittering your space. Our top tip is to work with shades of a few colours to keep your space easy flowing.
We turn to @sassy_pickins for some ideas; from mini Christmas trees with lights, textured throws, joyous cushions and wall decorations. We love how this living room brings the coziness of fall with a sprinkle of Christmas by using dark wood contrasted by soft fabrics for a 'retreat in a cabin' feel – not to mention the super snug fireplace.
Christmas dining set idea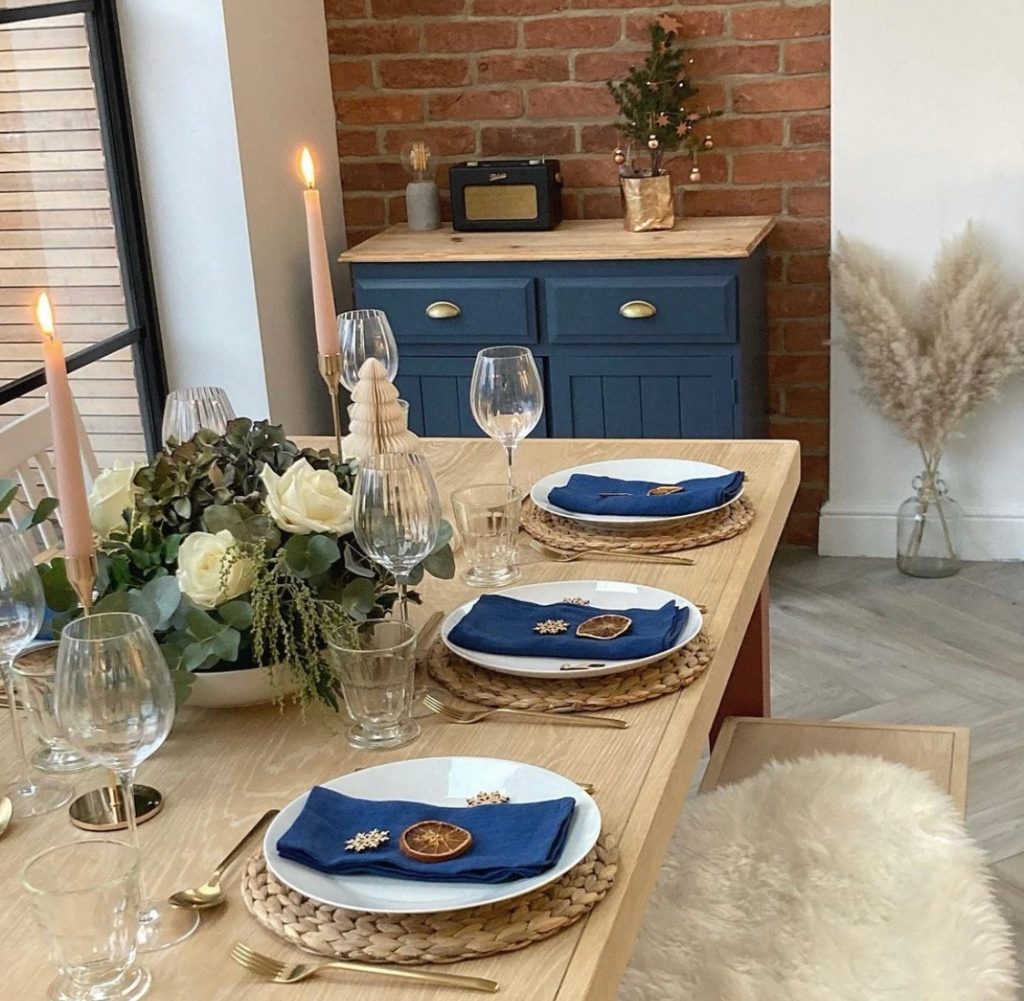 Image source @sw20_nest
Give your dining space a makeover this Christmas with festive blue and creams for a sophisticated feast. We love this subtle dining look that takes elements of Christmas to a new level of intimate interiors and delicate decor.
We love the effortless details in this dining room by @sw20_nest such as the dried fruit and napkin arrangement that looks chic and elegant. Furthermore, the small details make the dining set up look mature and fresh with paper Christmas trees, metallic cutlery and fluffy bench throw.
Gold Christmas decor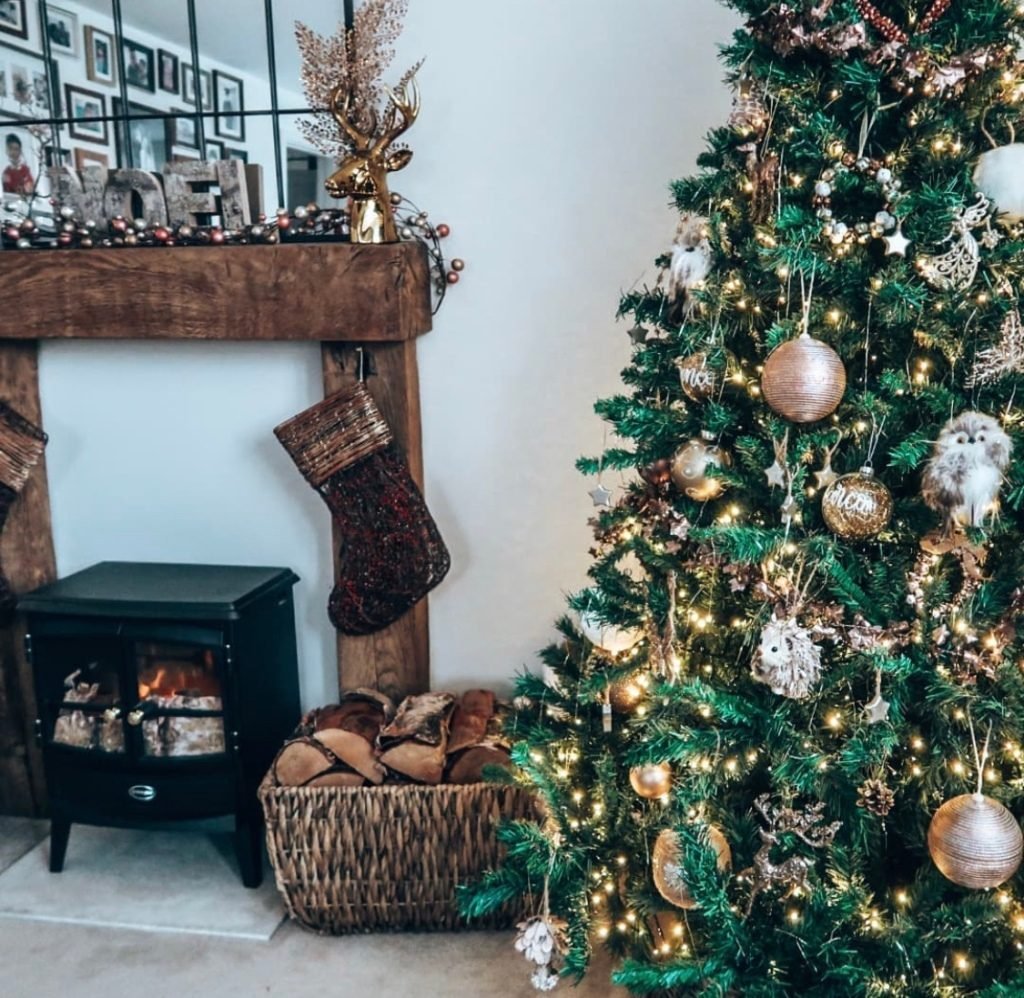 Image source @jodie.izzo
Adorn your tree with glitter and gold for traditional Christmas interiors. We are inspired by @jodie.izzo who has decorated her fluffy green tree with shiny gold decor for a glamorous Christmas in style. The matching good and shiny decor throughout the living space also adds to the charm.
We can't help but fall in love with the country style fireplace either, which adds to the cozy Christmas vibes (oh hello bauble wreath).
White Christmas decorations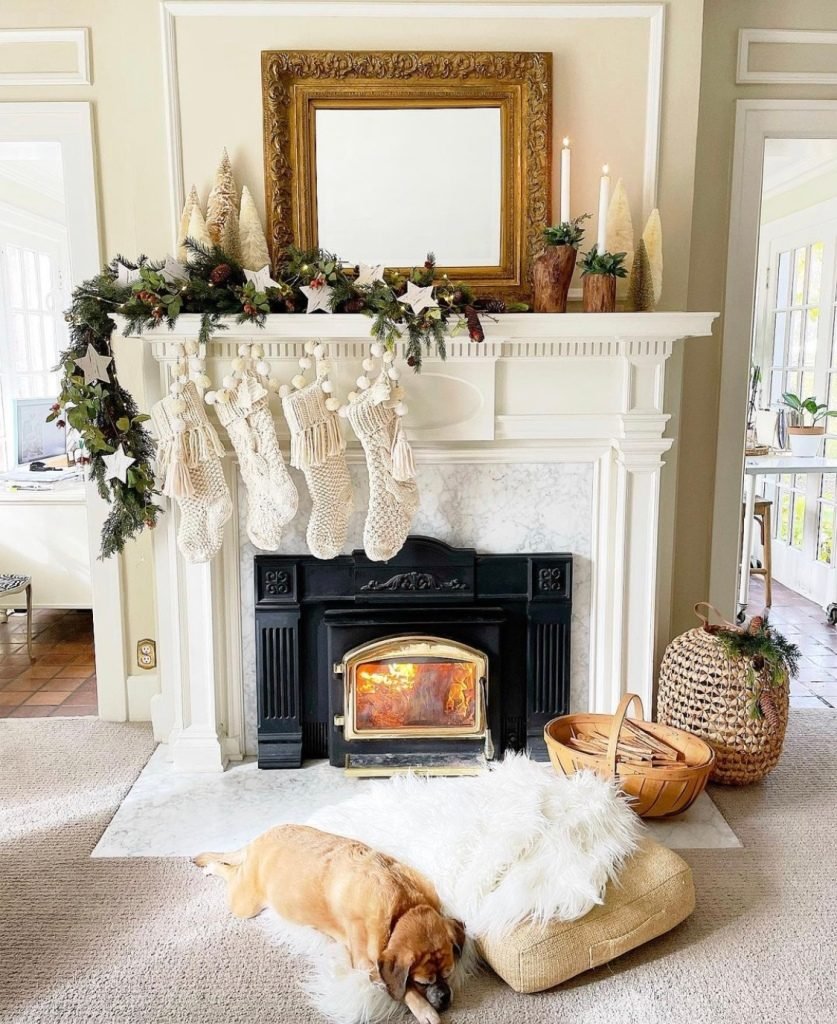 Image source @giggleliving
Are you dreaming of a white Christmas? @giggleliving brings this dream to reality through gorgeous white Christmas decor. We love how the soft and neutral palette of the living room follows through on the festive decorations.
Create a show stopping mantel for Christmas with chunky stockings, snowy tree ornaments, rustic candle holders and a statement wreath.
Snowy Christmas feast in the countryside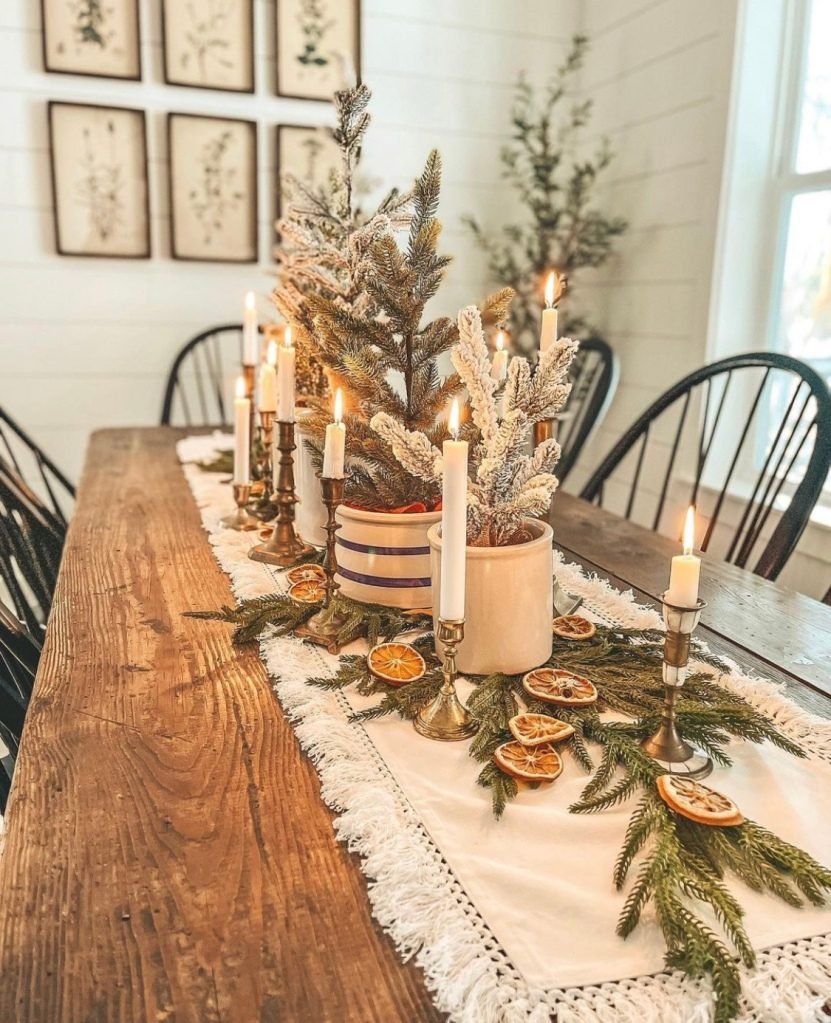 Image source @lakefrontfarmhouse
Another way to bring in the charm of a white Christmas is to express this through your dinnerware. We adore this country kitchen aesthetic by @lakefrontfarmhouse that showcases all things snowy and cozy.
For the perfect dining table set up at Christmas, choose a textured table runner and scatter festive accessories such as trees, candles, pine ones and dried fruit which will also add the scent of Christmas to your space.
If you like this article you may also like What's Your Christmas Decor Style?