We've picked the best pigments for your bedroom…
Colour choosing is super important when designing the look and feel of your bedroom. With so many shades and tones available to buy, deciding on a colour can feel like a big decision (spoiler alert, it is!).
How do you go about creating the right ambience for your bedroom?
Keep scrolling as we share our best colour ideas to paint and accessorise your bedroom to create the look and feel you want to achieve.
Calming cream bedroom colour idea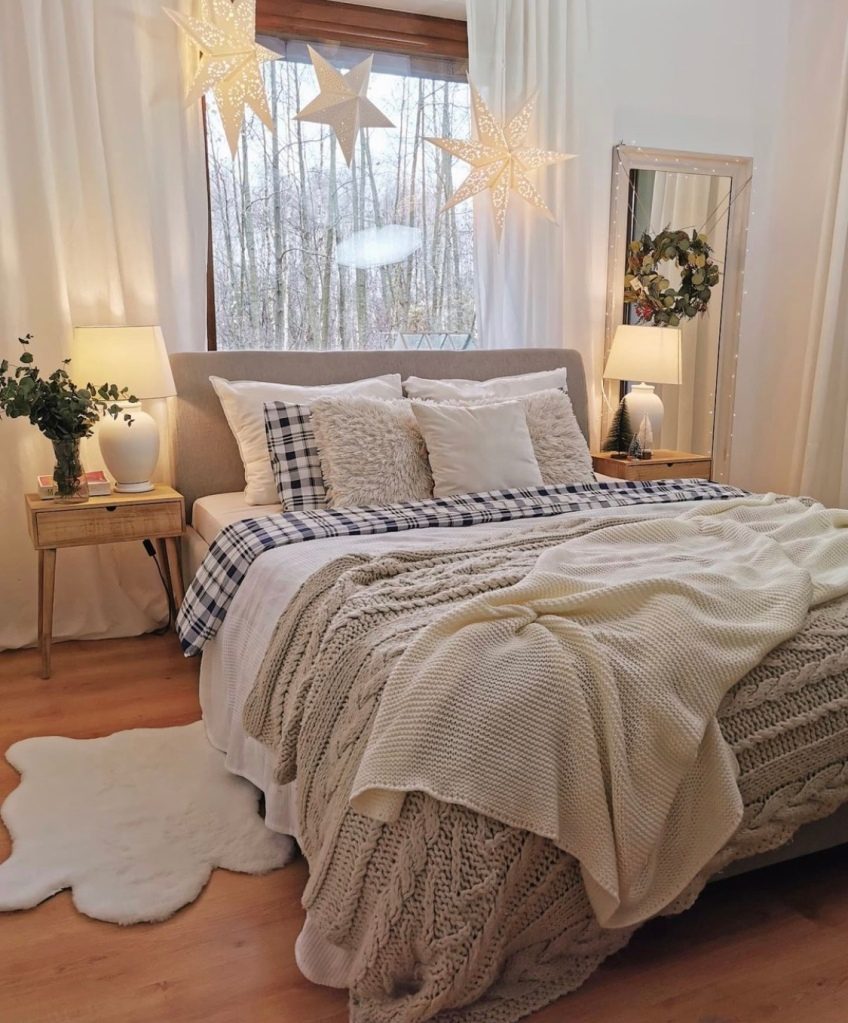 Create a relaxing ambience in your bedroom with delicate creams that work well for minimalist interior styles. Mixing up your creams like this idea by @between_my_walls gives your bedroom a snug layer of coziness that feels and looks relaxing.
For cream bedrooms, opt for ample lighting that produces a soft white glow to add ambience for tranquility.
Dark grey bedroom colour idea
The last colour you may think of when creating a relaxing bedroom space is dark grey – but hear us out. @home_by_two shows us how a bold colour like charcoal grey to create a space of tranquility when mixed with neutral elements like wood, beige and soft grey textures.
We love how this bedroom is styled to give the space warmth. From the texture and pattern rug that dominates the floor, to the plush bedding and throws. Furthermore, we love how the charcoal wall is styled as a feature wall that plays well with the soft white curtains and off-white walls.
Read: How to accessorise a grey bedroom >>
Grey/blue bedroom colour idea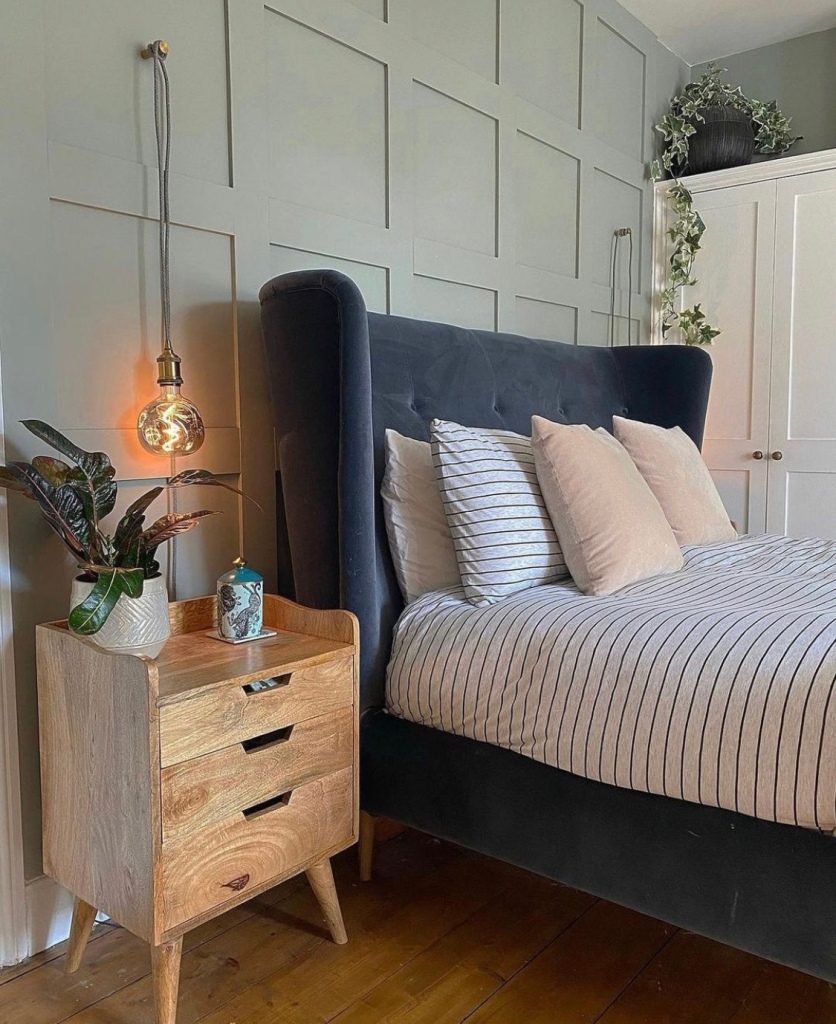 Panelled bedrooms are a huge trend in 2021 and will continue to be popular in 2022. If you're thinking about renovating your bedroom to include panelling, it's also important to think about the colour scheme of your room as well. Best colours to use are dark and neutral tones to create depth and style in your bedroom.
We love this panelled bedroom by @end_of_the_row that uses an effortless grey/blue paint to create a statement look on the walls. Introducing texture furnishings like wooden bed stands, glow lighting and velvet fabrics adds to the warmth of the room to create that relaxing look and feel.
Soft pink bedroom colour idea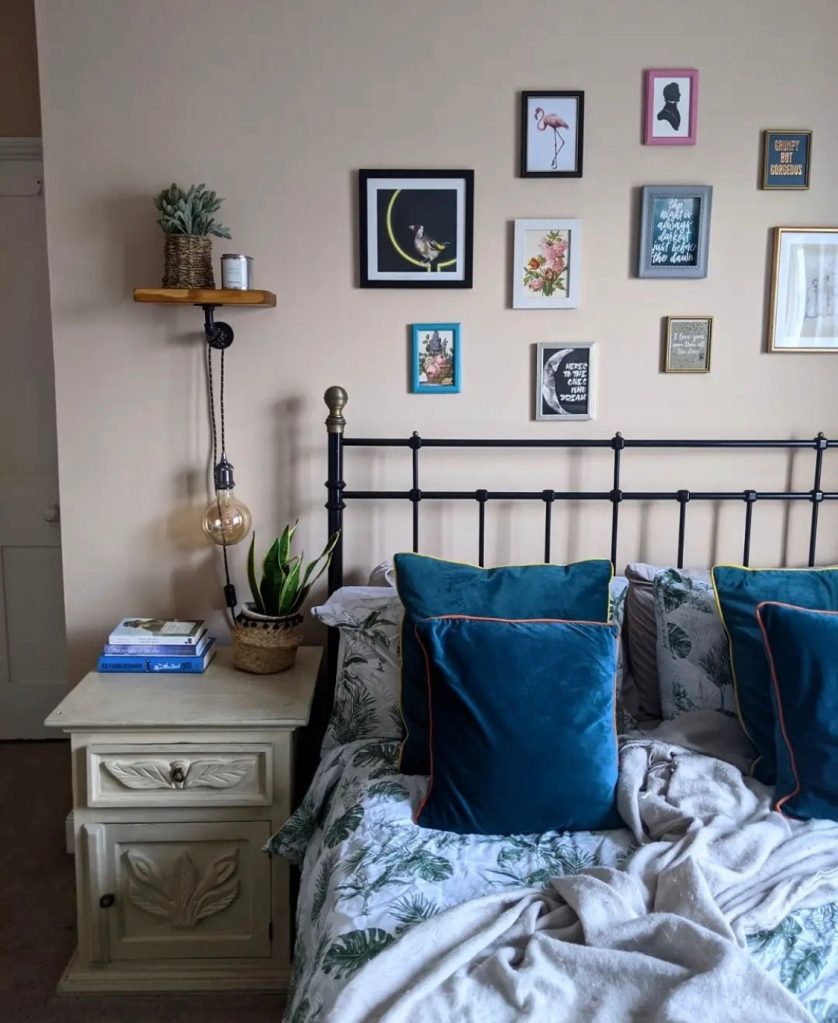 Painting your bedroom walls in soft pink is a great way to give your room a neutral canvas. This bedroom by
@riponhouse1887 shows us how soft pink can be used to create a zen bedroom space. We love the gallery wall that adds a personal touch to the room, as well as the carefully selected accessories that bring the look together.
Pink is associated with calmness and femininity and can transform your bedroom to reflect these emotions and express your personality. By choosing soft pink colours, your space can be layered with darker colours to introduce even more warmth and depth.
Beige and blue bedroom colour idea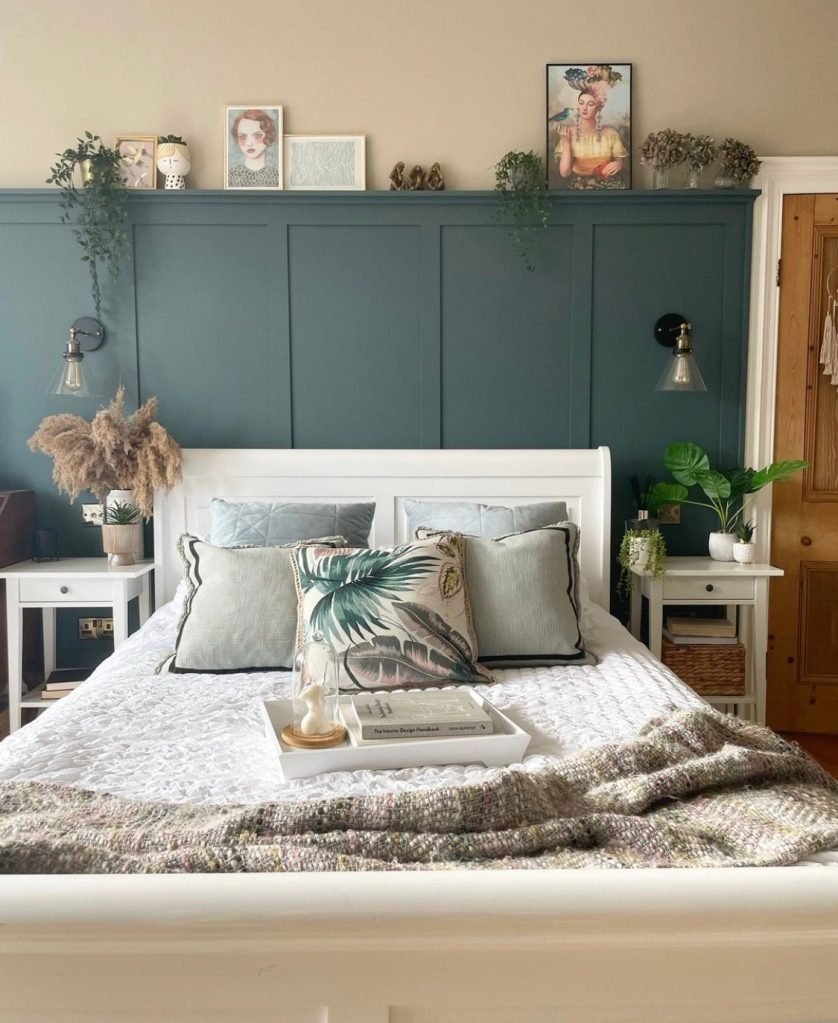 Earthy colours are great for creating a relaxing ambience in the bedroom. Opt for colours that match well together in nature, like this beige and blue bedroom idea that uses a soft sand colour on the walls and blue/grey sky colour for the panelling.
Both colours work well together and contrast effortlessly for a bold look. We love how the furnishings and accessories play well, like the patterned pillows, white furniture and plants that bring in the nature element.
Charcoal bedroom colour idea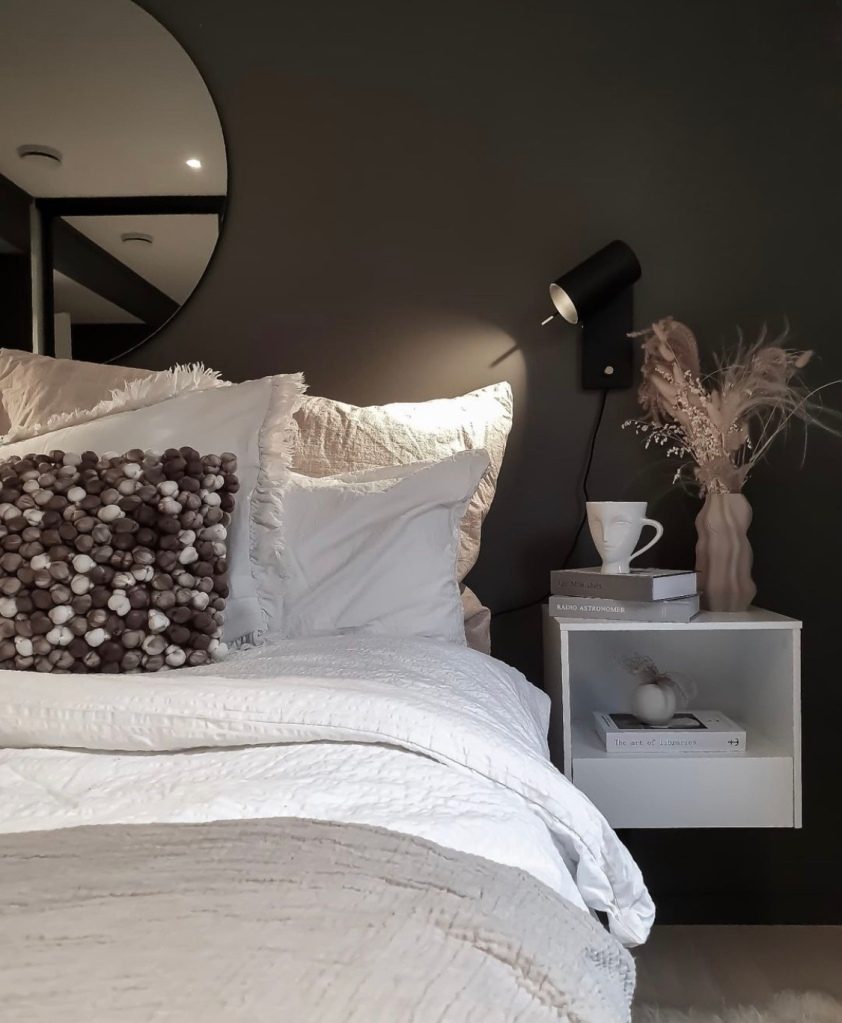 When done properly, black and grey can add elegance and sophistication to the bedroom. This charcoal and grey bedroom idea by @tonjebjerknes shows us how it's done with bold walls and crisp bedding.
If you're painting your walls dark like charcoal or black, always dress your space with mirrors and use bright lighting to make your space feel open and airy. Breaking up your space with white and cream furnishings will add contrast and depth to your space.
Coral bedroom colour idea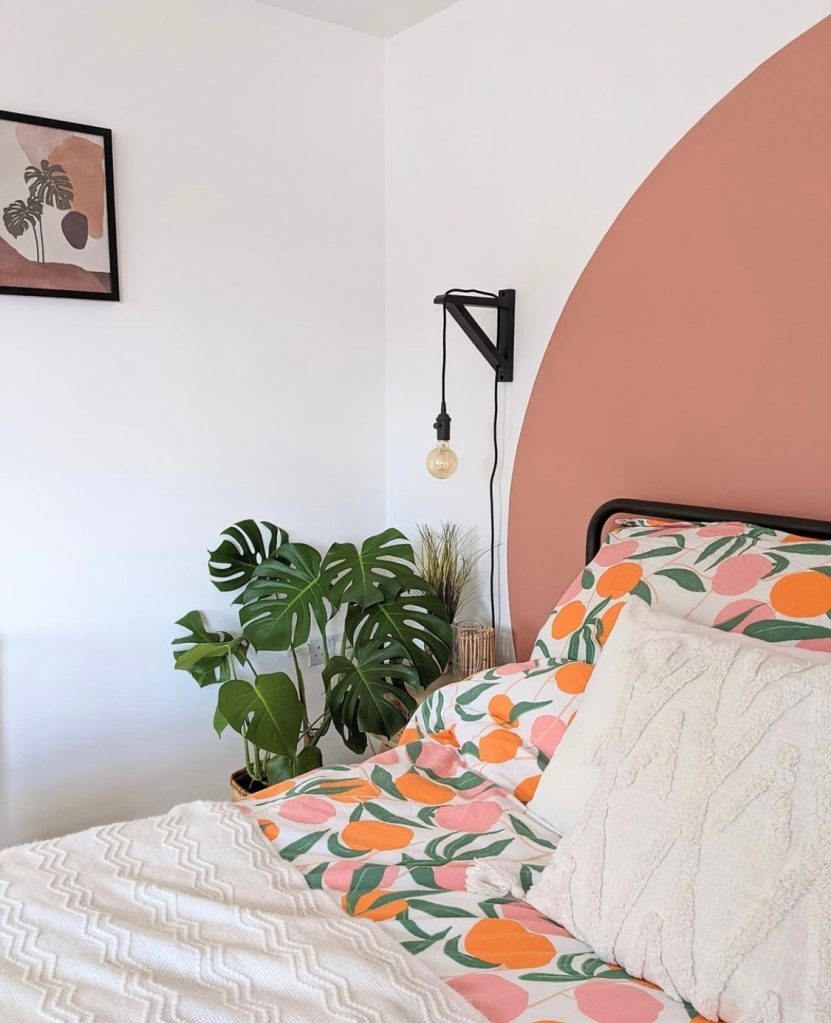 Create a warm and zen bedroom by using coral colours, which expresses optimism and femininity (similar to orange). The brightness of coral will instantly make your bedroom pop, just like this bedroom idea by @montyroadabode that reminds us of a summer oasis. We love how the blank white walls have been transformed with coral paint to create an accent wall. Furthermore, the colours are followed through on the bedding to create a statement look to complete the room.
Dark blue bedroom colour idea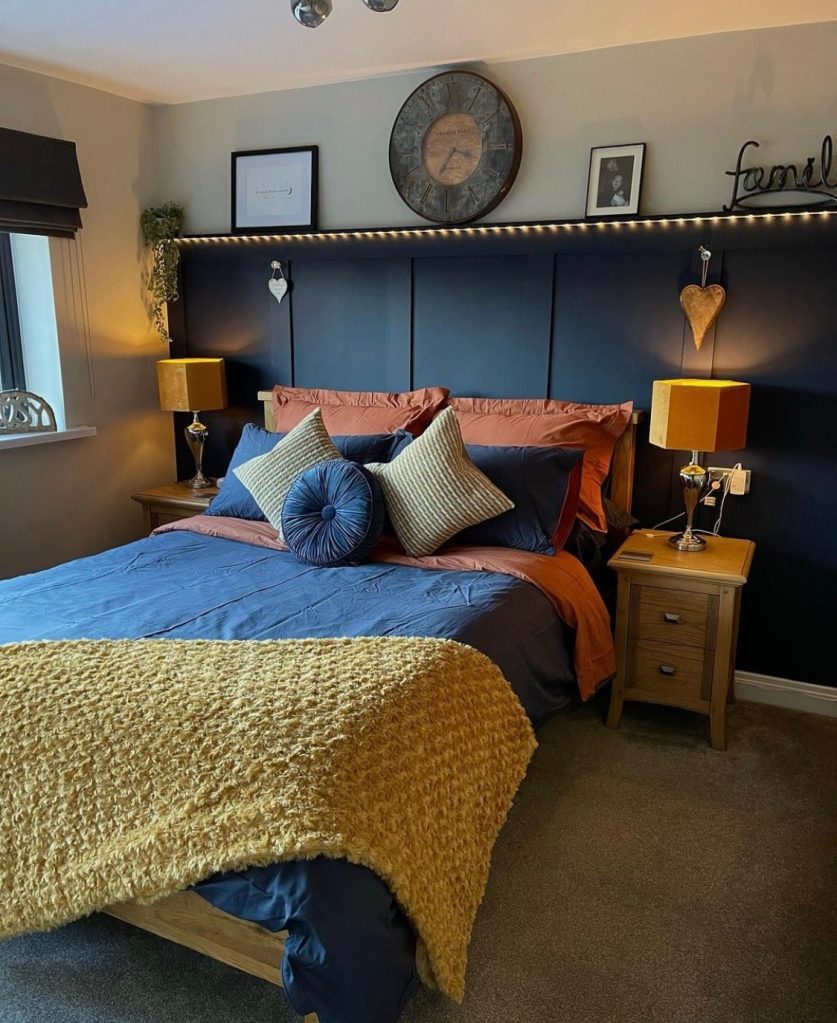 Dark blue is a fantastic colour to use if you're looking to add depth in your bedroom. When adding bright colours and ambient lighting, a dark blue bedroom can look cozy and warm.
We love this dark blue and yellow bedroom idea by @gazjsmithy that creates a snug bedroom look. The gorgeous wall panelling and plush bedding creates a statement focal point.
Beige bedroom colour idea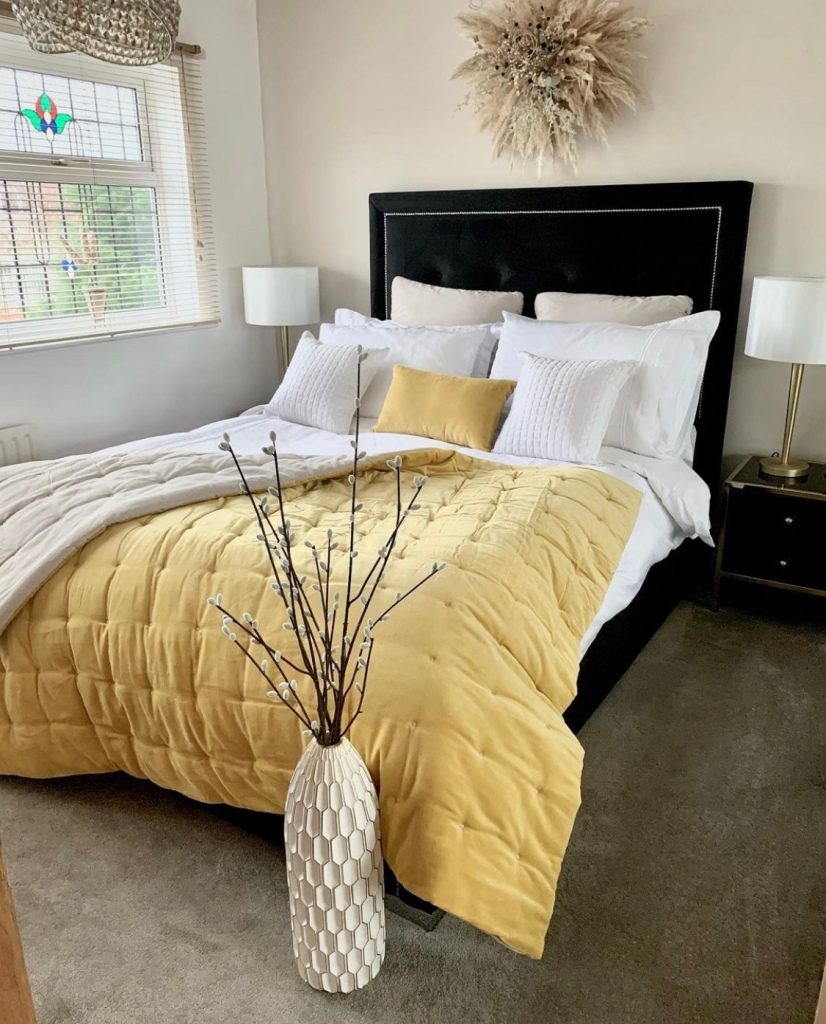 Keeping your bedroom interiors neutral will make your space feel relaxing and calming. Stick to beige hues and don't go too dark when designing a neutral bedroom space.
@thesharpehouse shows us how to later neutral beiges with soft yellow bedding, fluffy pampas grass and white accessories. Furthermore, if you want to add a bold statement into a neutral bedroom, follow what @thesharpehouse has done and include a dark headboard for a touch of glam.
Medium blue bedroom colour idea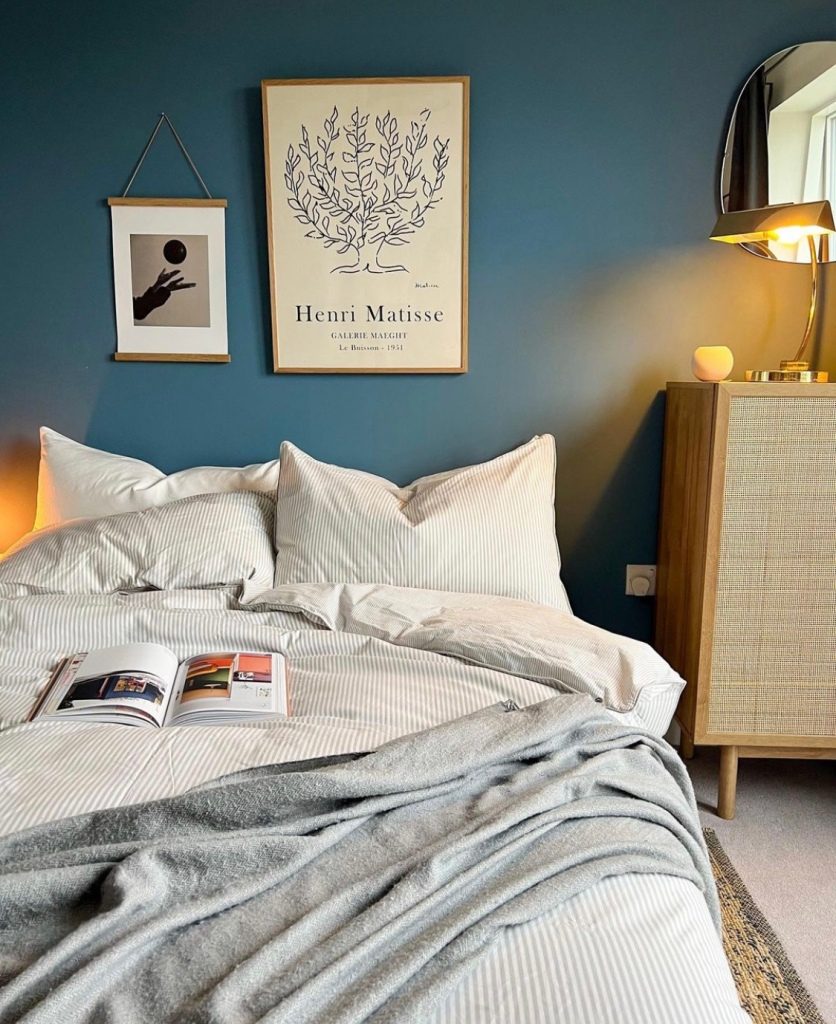 If you can't decide on dark or light blue for your bedroom, why not meet in the middle and choose a neutral blue that still offers bright pigmentation? We are gushing over this bedroom design by @newflatproject that uses a gorgeous blue to bring the bedroom to life.
The wood accents and soft lighting really draws in the earthy and neutral tones of the bedroom to look peaceful and relaxing.