As interior design enthusiasts, we are always looking for ways to add personality and charm to a kitchen. One option that often gets overlooked is wall paneling. Wall paneling can be a game-changer when it comes to transforming your kitchen's appearance. It not only adds texture and visual interest but also brings an elegant touch to the space.
Firstly, let's explore some exciting kitchen wall panelling options. Then we will dive into some real home ideas.
Wood panelling in your kitchen
If you're aiming for a warm and rustic look, wood panelling is a fantastic choice. Imagine the beauty of reclaimed wood, beadboard, shiplap, or tongue-and-groove panels gracing your kitchen walls. You can leave the wood paneling in its natural state for a more organic feel or paint it in a colour that complements your kitchen's overall design.
PVC Panellling in your kitchen
If you're on a budget and looking for a low-maintenance option, PVC panelling is worth considering. This versatile material comes in various designs, including textured patterns that can mimic the appearance of wood or tile. PVC panels are moisture-resistant, making them a suitable choice for kitchens where spills and splatters are common. Plus, they're easy to install, so you can quickly transform your kitchen without much hassle.
Kitchen wall panelling ideas to consider
Before diving into wall paneling, take a moment to consider a few factors. Assess your kitchen's existing design and choose a panelling style that complements it. Think about the ambiance you want to create—whether it's cozy, modern, or eclectic. Don't forget about maintenance requirements and budget constraints. It's essential to choose a paneling material that can withstand the demands of a kitchen environment.
Now, let's dive into the fun part… real kitchen wall panelling ideas to inspire you!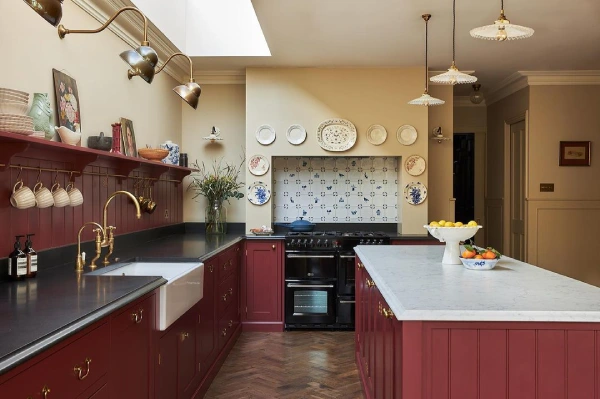 Image by @uns.hobbs on Instagram
If you're searching for a traditional kitchen, panelling is a wonderful design feature that you can use. Whether it's along your countertops instead of tiling, or for a more subtle approach, you can use panelling on a kitchen island to give it a textured feel. We love this deep red panelling by above, which looks luxurious and moody.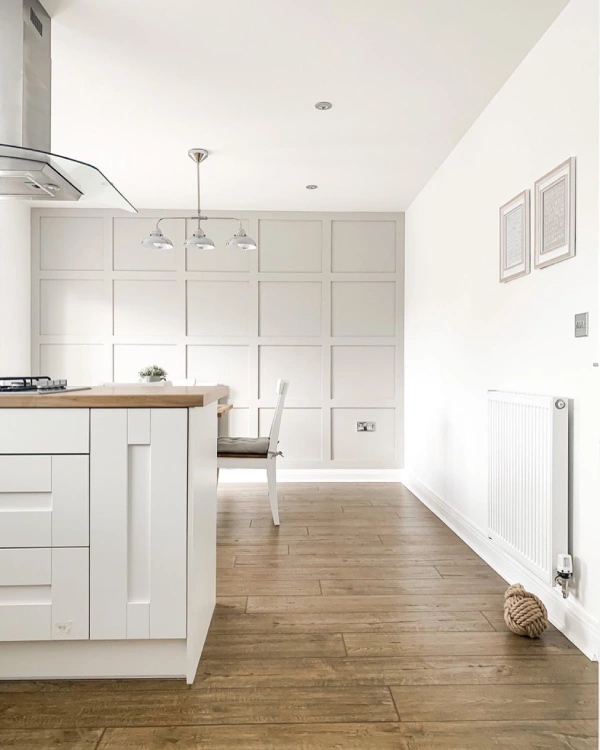 Image by @emilieanderskine on Instagram
This kitchen wall panelling idea is a great way to add depth and style to a kitchen diner in a neutral home, just like this beautiful home by Emilie above. By using the wall opposite the kitchen as a statement wall, you can draw the eyes to the spacious area and give the dining area warmth.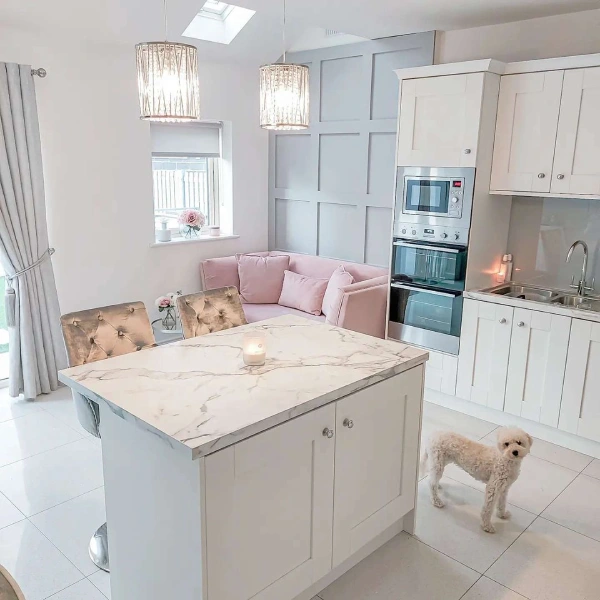 Image by @shynesdesign_ on Instagram
This is another example of how to use shaker wall panelling to make a neutral kitchen look warm and full of character. We love the open plan layout of this kitchen and living room, and luxurious finishes – the chandelier to the marble countertops that work wonderfully with the the panelled wall.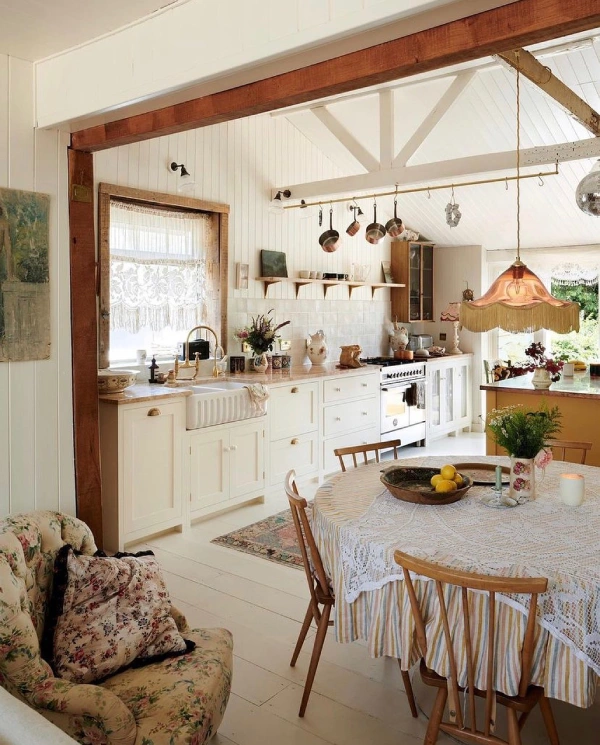 Image by @pearllowe on Instagram
Using wall panelling in your kitchen can be a great way to incorporate rustic charm into the space. Take this country kitchen as an example. The vertical panelled boards and ceiling effortlessly blend into the existing kitchen and house design.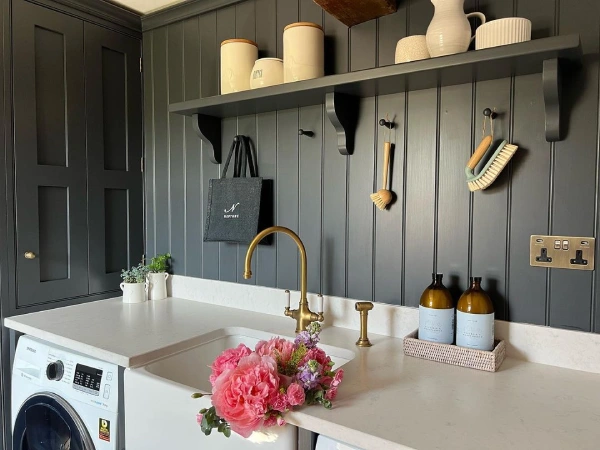 Image by @thecourtyardhayloft on Instagram
Using wall panelling is all about adding in the details and this beautiful classic blue kitchen by Ria does just that. We love the functional shelving on the wall and the countertop. The white accents in the space pop against the dark blue panelled wall for a modern and contrasting look.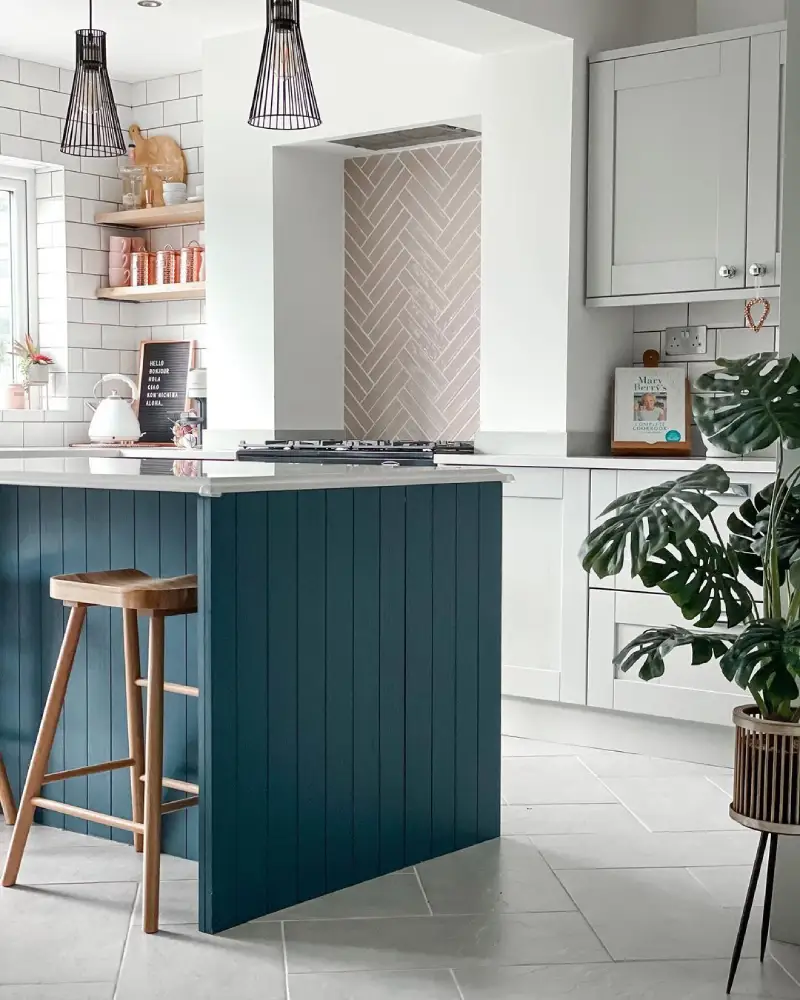 Image by @insidenumber.3 on Instagram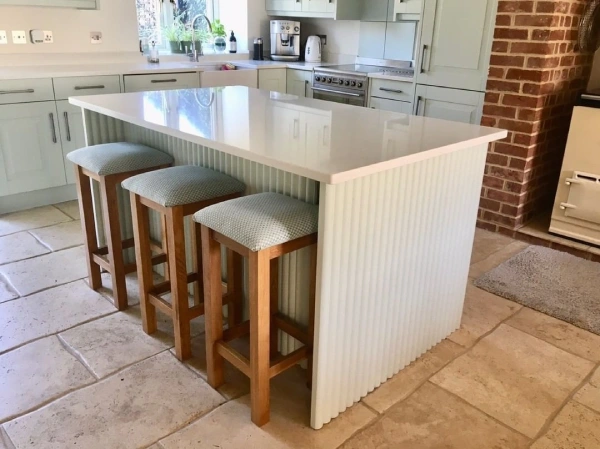 Image by @cnc_creationsuk on Instagram
Another way to 'add in the details' in your kitchen is by using wall panelling in your kitchen island design. This will give it an extra touch of character and sophistication. This beautiful kitchen island uses ribbed wall panels.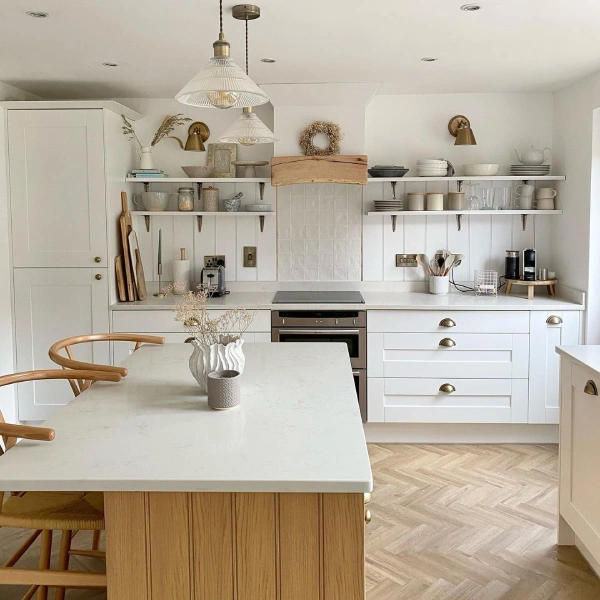 Image by @badel.home on Instagram
Sona brings nature into a white kitchen design by incorporating slat panelling as the kitchen island feature, which warms up the room. We love the subtle wood accents dotted around the kitchen too, which bring a rustic charm to the kitchen.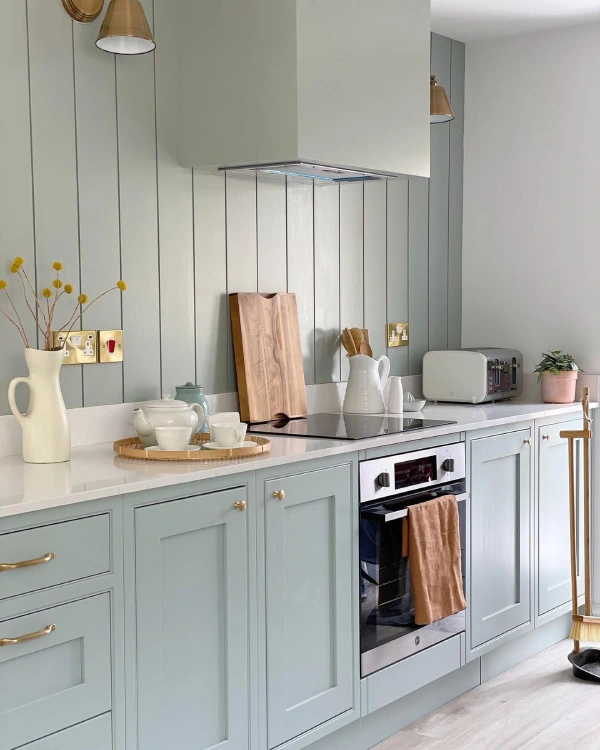 Image by @my_best_laid_plans on Instagram
If you're looking to make a statement look in your kitchen, why not consider countertop-to-ceiling shiplap? This can work really well with shaker-style kitchens as it looks cohesive. For a calming kitchen aesthetic, take notes from the image above, which uses Alphine by Neptune to create a serene blue kitchen (that reminds us of the beach!).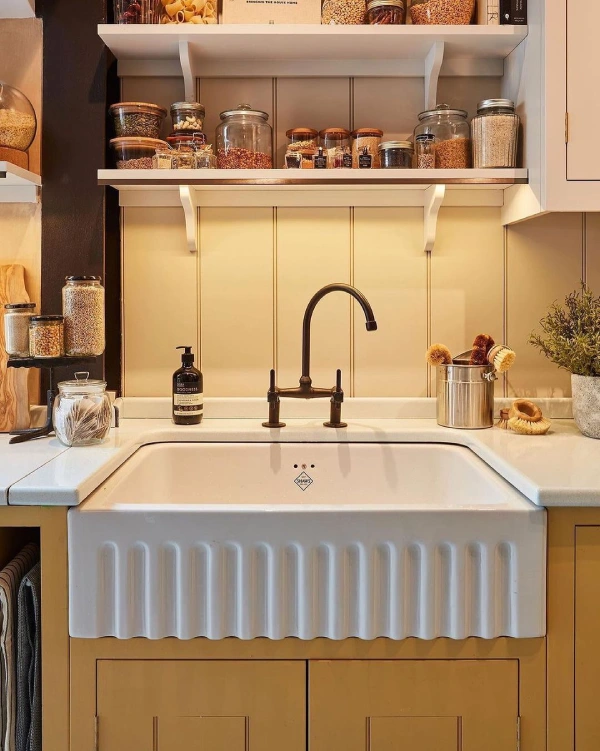 Image by @theenglishpanellingcompany on Instagram
Spice up your storage space in your kitchen with slat panelling for a modern and detailed look. We love the panelling behind the sink shown above, which gives the space more depth and contrasts beautifully against the statement sink and yellow cupboards.
Conclusion
Wall panelling can work wonders in transforming your kitchen's appearance. Whether you opt for the warmth of wood, the versatility of tiles, the affordability of PVC, or the modernity of stainless steel, adding wall paneling is a fantastic way to inject charm and character into your kitchen. So, why not embark on this exciting journey and give your kitchen a fresh and stylish makeover?
Remember, the choice is yours, and with the right wall panelling, your kitchen will become a space that not only delights your eyes but also brings joy to your daily culinary adventures!
Love these ideas? Find more below!
[caf_filter id='10630′]