Whether you're giving your kitchen a facelift or starting from scratch, choosing the right worktop is a crucial decision. It not only influences the aesthetics but also plays a functional role in your daily kitchen tasks. Let's delve into some fantastic kitchen worktop ideas that cater to various budgets and styles.
1. Budget-Friendly option: Laminate Kitchen Worktops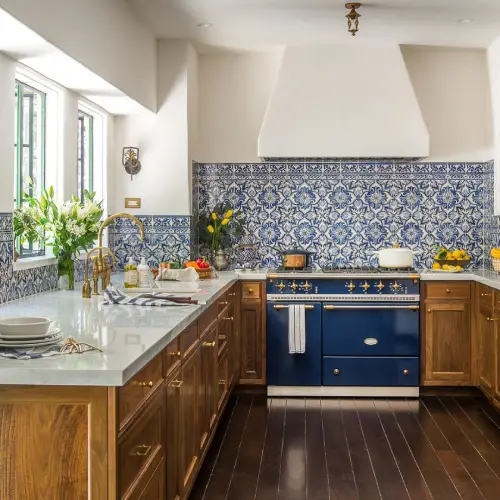 Kitchen design by @home_front_build on Instagram
Laminate worktops are a cost-effective choice without compromising on style. They come in a variety of patterns, mimicking the look of natural materials like wood and stone
Advantages of laminate kitchen worktops:
Affordable
Easy to clean
Diverse design options
Style Tip:
Pair a wood-effect laminate worktop with light-coloured cabinets for a cozy, rustic vibe on a budget.
2. Timeless Elegance with Granite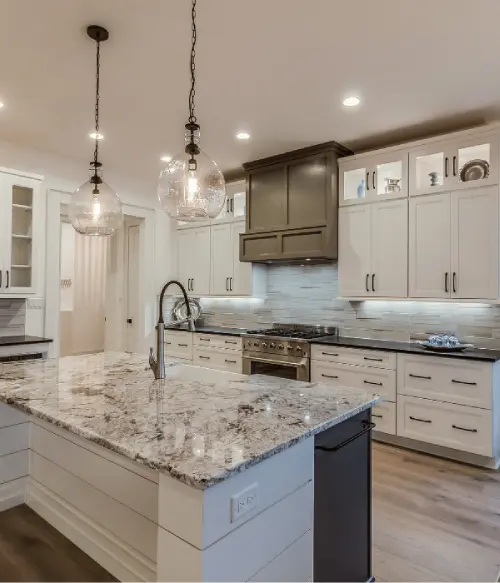 Granite worktops are a classic choice that adds sophistication to any kitchen. While it's considered a higher-end option, its durability and aesthetic appeal make it a worthwhile investment.
Advantages of granite kitchen worktops:
Exceptional durability
Unique natural patterns
Heat-resistant
Style Tip:
Combine a black granite worktop with sleek white cabinets for a modern and luxurious kitchen atmosphere.
3. Chic and Affordable Quartz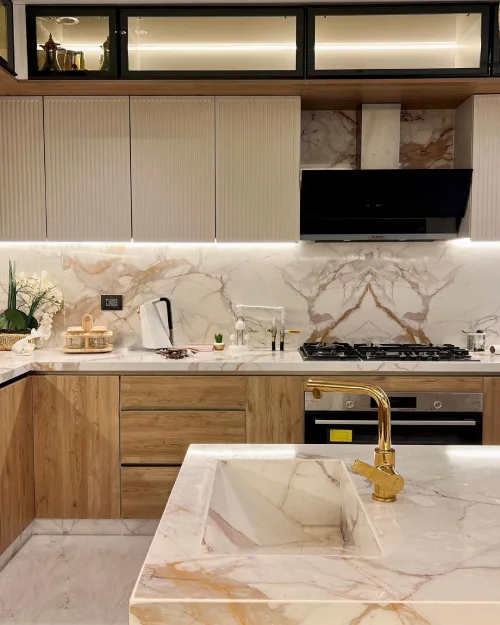 Kitchen design by @marob_furniture on Instagram
Quartz worktops strike a balance between style and practicality. They are engineered to be non-porous, making them resistant to stains and bacteria.
Waterfall edge quartz kitchen worktop: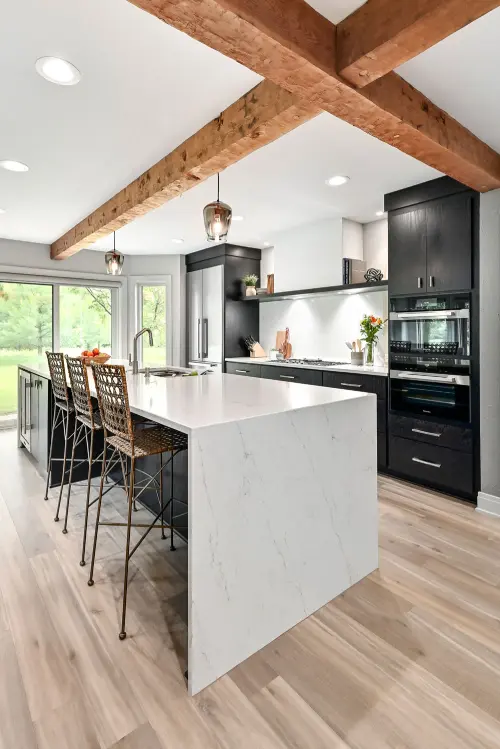 Quartz waterfall kitchen worktop design by @kowalskekitchenandbath | Kyleen DzPloch Photography: @kyleendzplochphoto_homes
Advantages of quartz kitchen worktops:
Low maintenance
Wide range of colors
Scratch-resistant
Style Tip:
Create a contemporary look by pairing a white quartz worktop with bold-colored cabinets for a striking contrast.
4. Sustainable Beauty of Butcher Block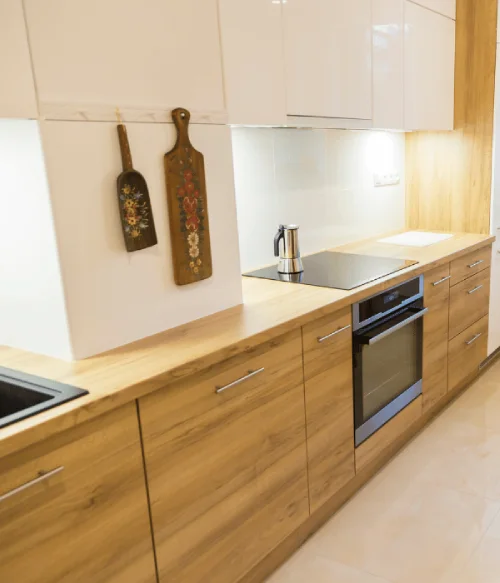 Butcher block worktops bring warmth and a touch of nature into your kitchen. They are eco-friendly, made from renewable resources like bamboo or reclaimed wood.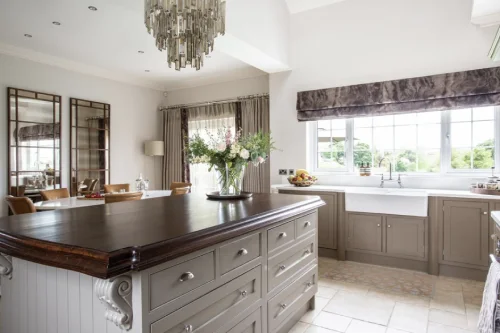 Kitchen design by Heather Interior Design | @heatherinteriordesign_ on Instagram
Advantages of wooden kitchen worktops:
Natural and warm appearance
Eco-friendly
Can be sanded and refinished
Style Tip:
Enhance a farmhouse kitchen aesthetic by combining a butcher block worktop with open shelving and vintage-inspired accessories.
5. Timeless Luxury: Marble Elegance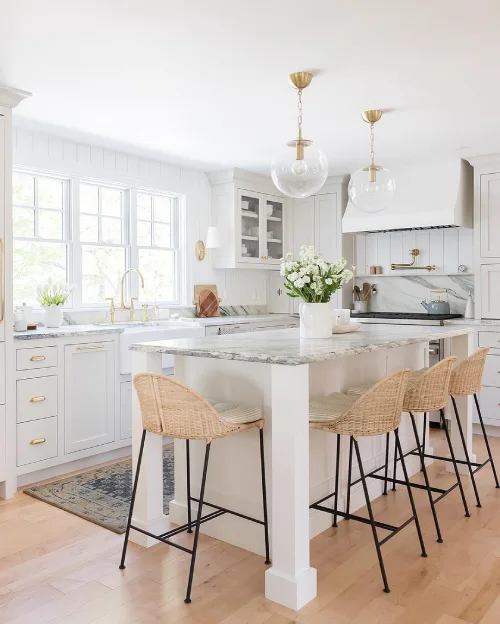 Kitchen design by @pennyandpearldesign on Instagram
Marble worktops are the epitome of timeless luxury, adding a touch of sophistication to any kitchen. While it's considered a higher-end option, the exquisite beauty and classic appeal make it a coveted choice for those seeking a statement piece
Advantages:
Timeless beauty
Unique veining patterns
Heat-resistant
Conclusion:
Choosing the right kitchen worktop involves balancing your budget with your design preferences. Each material brings its unique charm and functionality, ensuring that there's a perfect fit for every style and financial plan. Happy designing!
Remember, your kitchen worktop is not just a surface; it's the foundation of your culinary haven. Make a choice that not only suits your pocket but also resonates with your personal style.
Did you enjoy this article? Follow us on Instagram or Facebook to stay up-to-date with ideas and tips around the home!