Adding eclectic style to your home is a great way to showcase your unique personality and creativity. It's an interior trend that allows you to mix and match different patterns, colours, and textures to create a look that's both bold and inviting. Whether you're a fan of vintage, bohemian, or modern design, adding eclectic decor to your home can be fun and make your home unique. In this article, we'll share some tips and advice on how to add eclectic style to your home.
Mix and match different patterns
One of the defining characteristics of eclectic design is the use of different patterns. Mixing and matching patterns can be a bit tricky, but the key is to find patterns that share similar colours or themes. For example, some themes include animal prints, floral patterns, and geometric shapes that add colour to your home. When mixing patterns, it's important to balance bold patterns with more subtle ones to avoid overwhelming the space.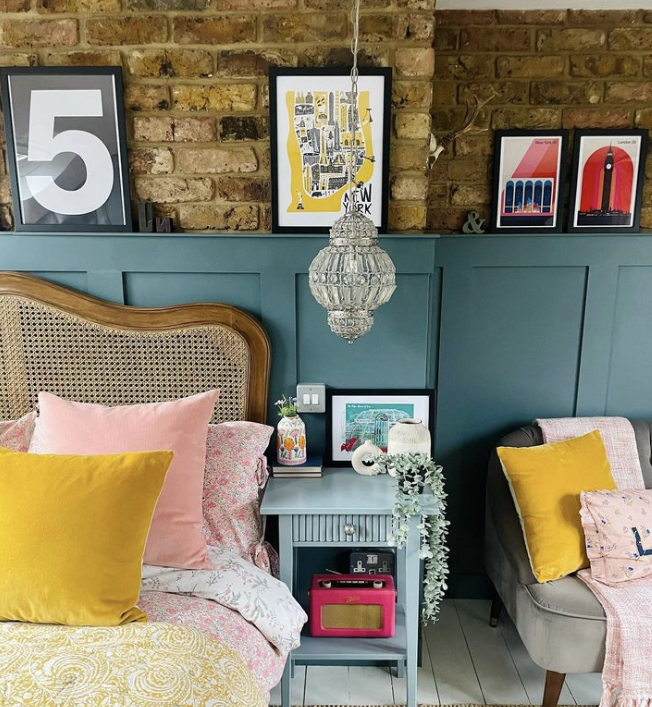 Image by @painted_goose uses lots of texture to create a fun and eclectic bedroom style. The exposed brick wall against the blue panelling creates a fun clash of modern and new interior styles that work so well together. We love how the use of colour and texture through artwork, bedding and textiles gives the room a theme that can easily be interchangeable throughout the seasons. 
Play with colours
Eclectic design is all about playing with colour. You can use bright and bold colors to add energy and vibrancy to a room or use more muted tones to create a cozy and calming atmosphere. It's important to consider the overall colour scheme of the room. You can use a colour wheel to help you find complementary colors or try out a monochromatic color scheme to create a cohesive look. Creating a moodboard is also a great way to visualise how colours and patterns match together.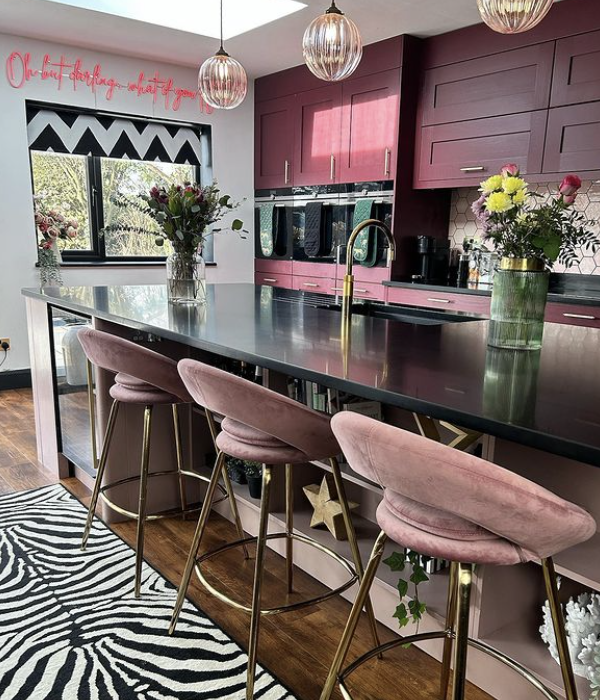 Image by @lisaweaverhome adds a splash of colour to the kitchen by completely transforming the cupboards, island and splashback with different shades of pink that give the space depth. We love the big details of the kitchen that gives it an eclectic style, such as the monochrome rug and blinds that come together to make the pink pop. See more angles of this kitchen here.
Incorporate vintage and antique pieces
Vintage and antique pieces add character and charm to any space. They can be used as statement pieces or blended with modern pieces to create a unique look. When shopping for vintage or antique pieces, it's important to look for pieces that are in good condition and fit with the overall style of the room. Websites such as eBay and Facebook Marketplace are great for finding unique decor at a great price range.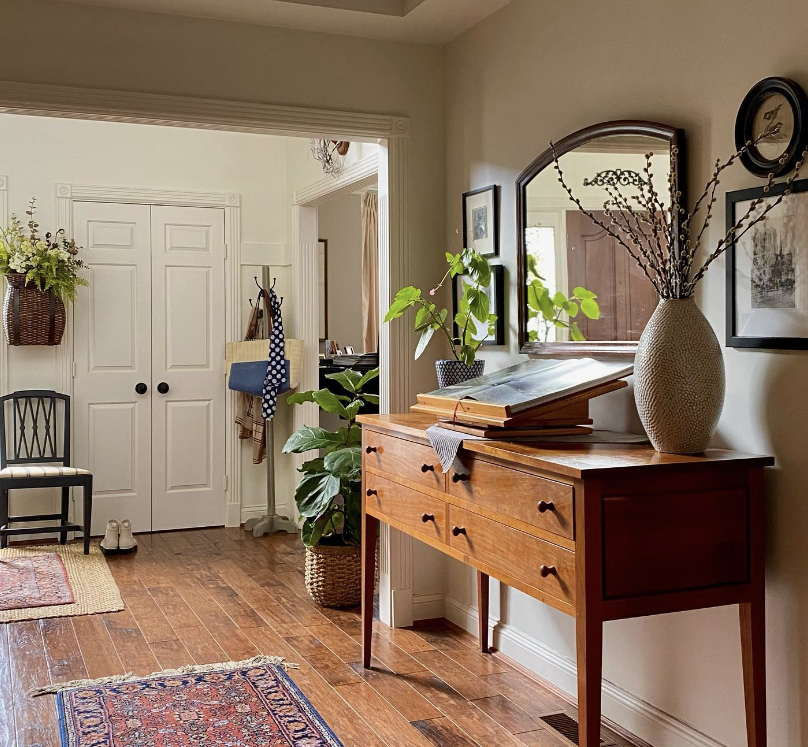 Image by @ahousewren creates a subtle but full-of-character entranceway through patterned rugs, textures vases and plants dotted around the space. The handpicked furnishings are what make this space so special, from the contemporary style chair and coat rack to the mid-century console that steals the space as the centerpiece that gives it a homely feel. 
Add texture with textiles
Textiles such as curtains, rugs, and throw pillows can add texture and dimension to a room. Mixing different velvet, linen, and wool textures can create a cozy and inviting atmosphere. When working with textiles, try to consider the colour and pattern of your decor to ensure that it complements the overall design of the room.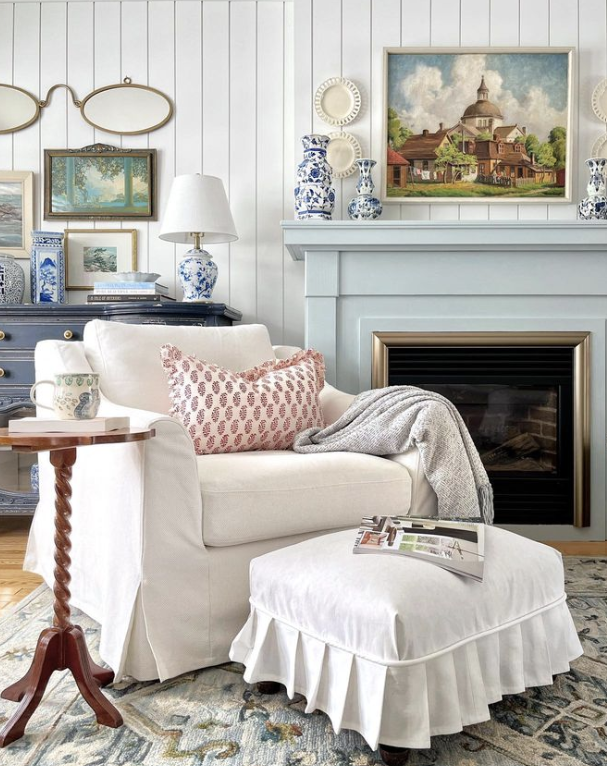 Image by @jogalbraithathome combines the charming English countryside with vintage flair through textiles, colour, and decor. We love the mix and match of styles used throughout this living room design; from the vertical panelled wall and the ultra-modern fireplace to the various decor items from different periods. See how Jo transformed the old footstool here. 
Use artwork and decor to add personality
Artwork and decor are great ways to add personality to a room. You can use pieces that reflect your interests and passions to create a space that feels uniquely yours. When selecting artwork and decor, it's important to consider the scale and proportion of the pieces to ensure that they fit with the overall design of the room.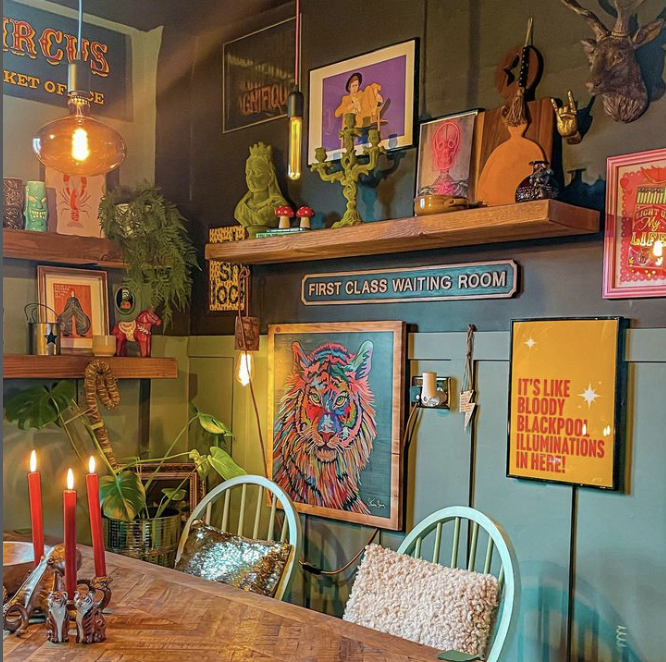 Image by @colourmadetheroom adds colourful artwork onto a colourful blue wall to give the space lots of character and personal touch for a funky dining space. We love the mix of colours used in the space that gives it maximum flare, from the bright yellows to the striking reds that clash beautifully with the blue panelled wall.
Will you be adding eclectic style to your home?
In conclusion, adding an eclectic style to your home is all about mixing and matching different styles, patterns, and textures to create a space that reflects your unique personality. By incorporating vintage pieces, playing with colour, and adding texture with textiles, you can create a space that's both inviting and visually interesting. With a little creativity and experimentation, you can add an eclectic touch to any room in your home.
Be inspired by more home ideas below!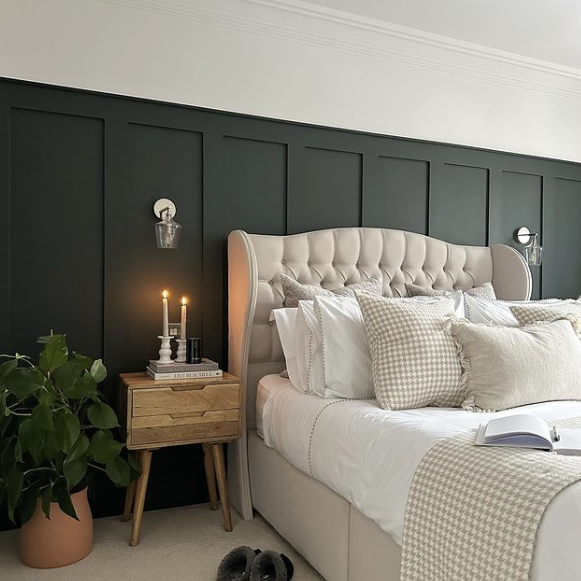 Bathroom Bedroom Decor Inspo DIY and renovation How To Interior Trends Kitchen Living Room Uncategorized