It's that time of the year again where the leaves are turning golden yellow and brown and pumpkin spice lattes are being sold in coffee shops! Yes, Halloween is coming! Although this year, Halloween will be a lot different than what we are use to, decorating your home can be a way to make things feel fun, especially if you have children or are thinking of having a few friends round for a catch up.
See below for our halloween decoration ideas to give your home a bit of sugar, spice and everything nice…
Halloween Wreath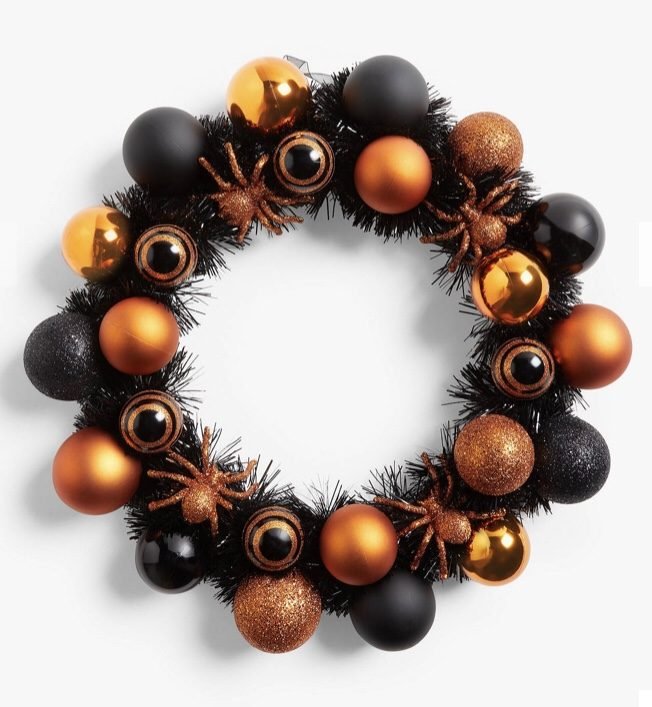 Add a bit of Halloween sparkle with outdoor decorations such as this orange and black wreath from John Lewis with tinsel, spiders and eyeballs! Buy it here.
Pumpkin Light Decorations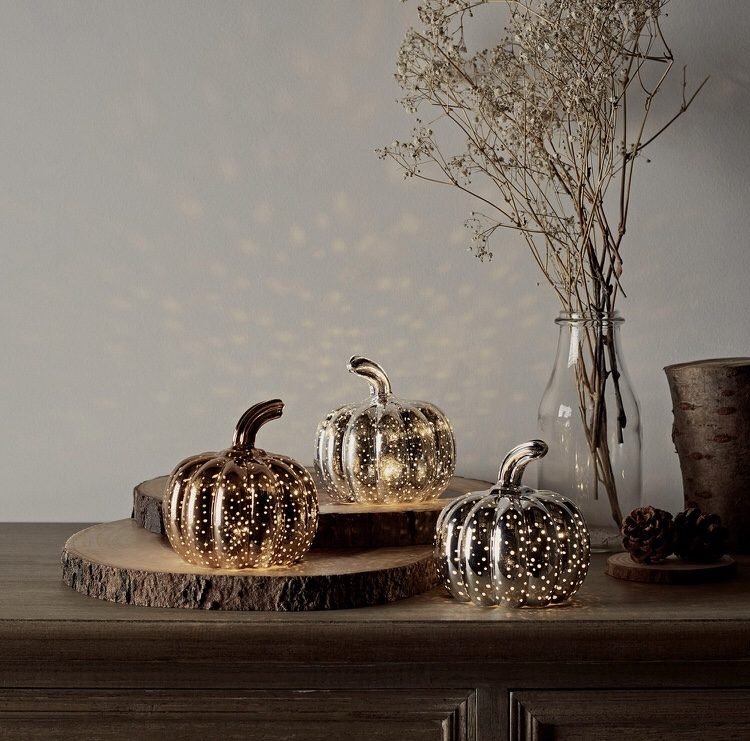 Decorate your dining table or fireplace with these charming pumpkin lights. Whether you're having a halloween party or just want to get into the spirit, we think these sophisticated pumpkin decorations will add a touch of Halloween ambience. Buy it here.
Halloween Pillows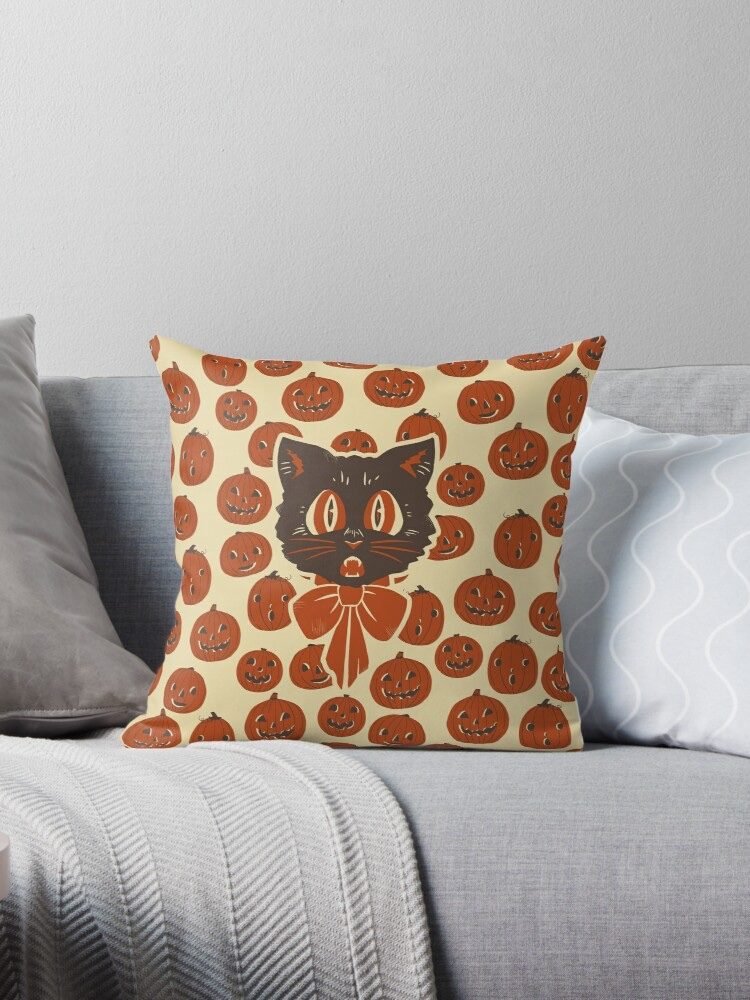 Crazy about cats and even more excited about Halloween? Style up your sofa for the spooky month of September with these pillow cases for subtle Halloween decoration ideas. What's more, you can bring them out every year, so you've always got Halloween decorations on the go. Buy it here.
Personalised Halloween Decorations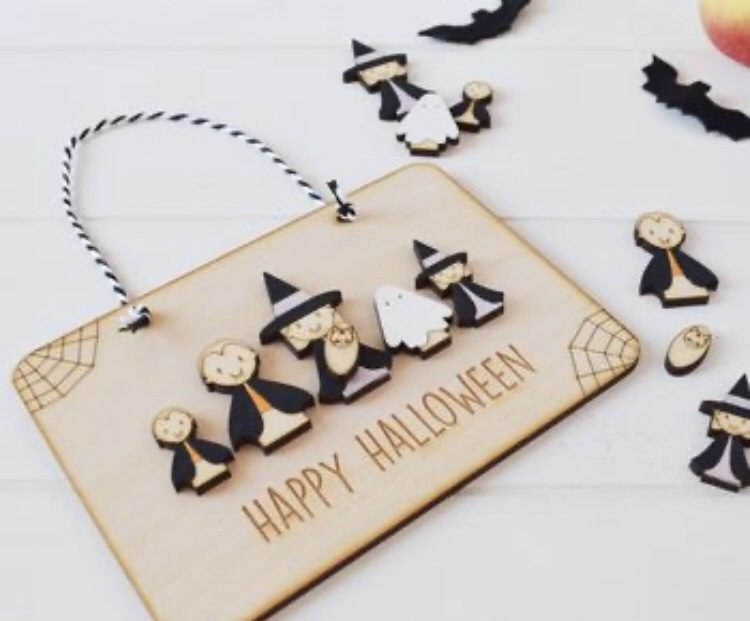 Decorate your home for Halloween with a personalised plaque that celebrates your family. Add your family members to the Happy Halloween plaque with vampire with and ghost pieces. You can even add your family name onto the plaque too – how adorable is that? Buy it here.
Pumpkin Candle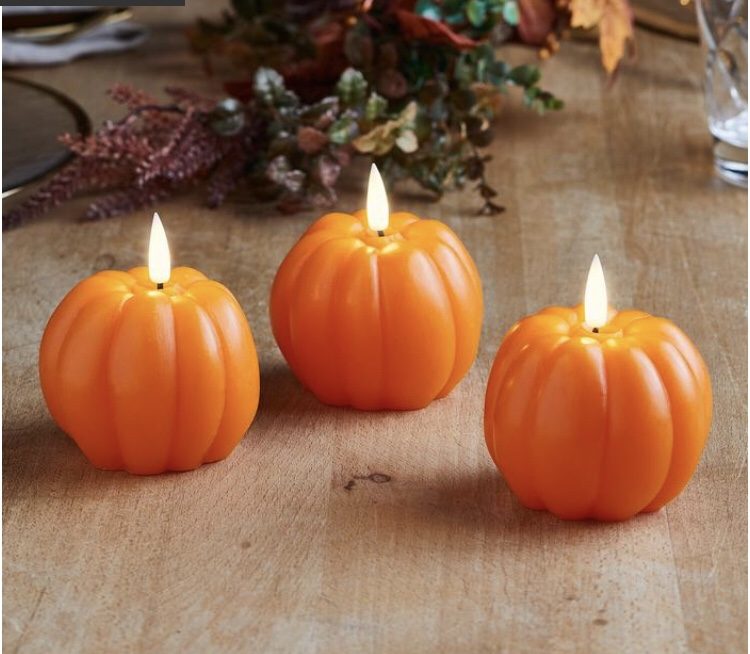 Set the spooky mood in your home this Halloween with these LED pumpkin lights that flicker like a real flame. Add them to your dining table for a spooky centerpiece or place on your windowsill for Halloween ambience. Buy them here.
Infuse The Smell Of Halloween In Your Home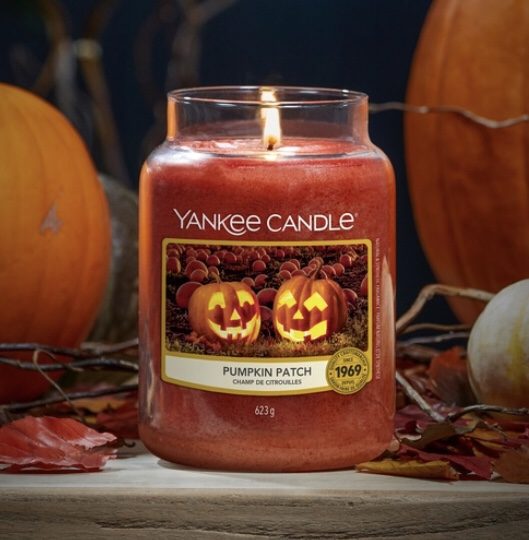 The smell of Halloween is pumpkin spice, nutmeg, hazelnut, ginger, carrot and cinnamon, which are all the fragrance notes in the Pumpkin Patch Yankee candle. Providing 110-150 hours of fragrance, this gorgeous Halloween candle can be burned all month to keep the smell of Halloween in your home. (Image source: Yankee Candle)
Halloween Drinking Glasses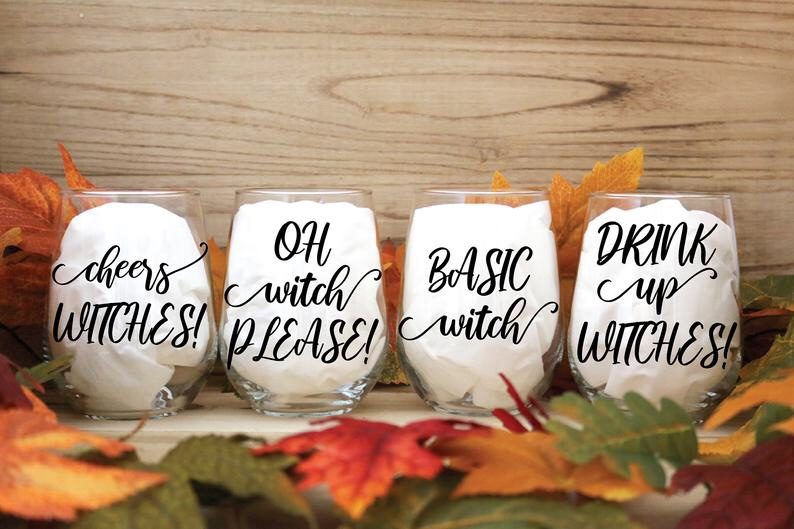 Whether it's wine, gin or something non-alcoholic, these fun witch pun wine glasses set from Etsy are great for your Halloween party for the adults. Buy them here.
Halloween Garland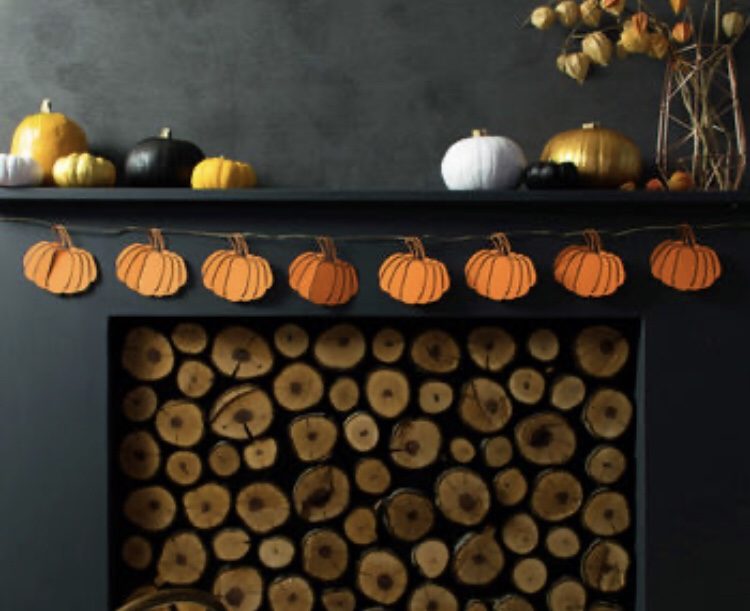 Adorn your home with Halloween decorations to celebrate the 31st of October including this pretty pumpkin garland that you can use to decorate your fireplace, table and windosill to spread a bit of pumpkin joy this year! Buy it here.
Halloween Coffee Stencil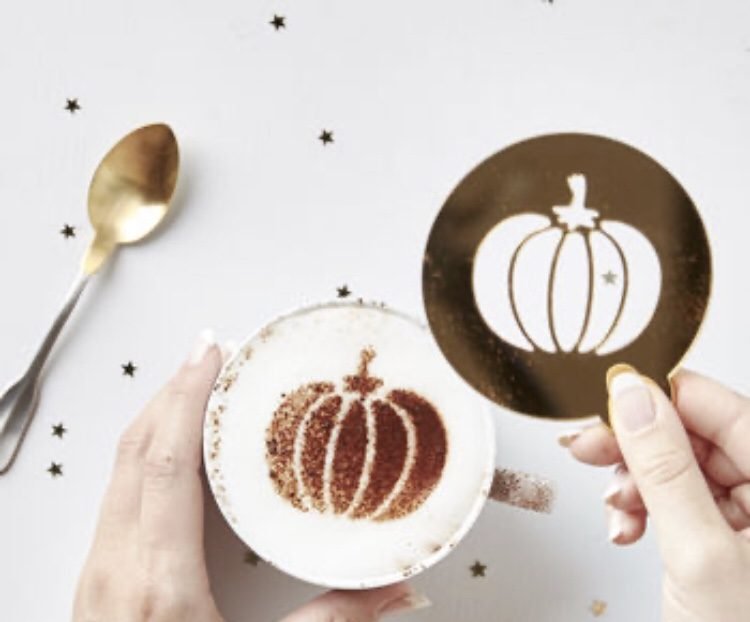 Wake up to your favourite pumpkin spice latte and add a bit of Halloween joy with this little pumpkin coffee stencil that will make your morning coffee a piece of art (and will certainly impress your party guests). Buy it here.
Style Up Your Fireplace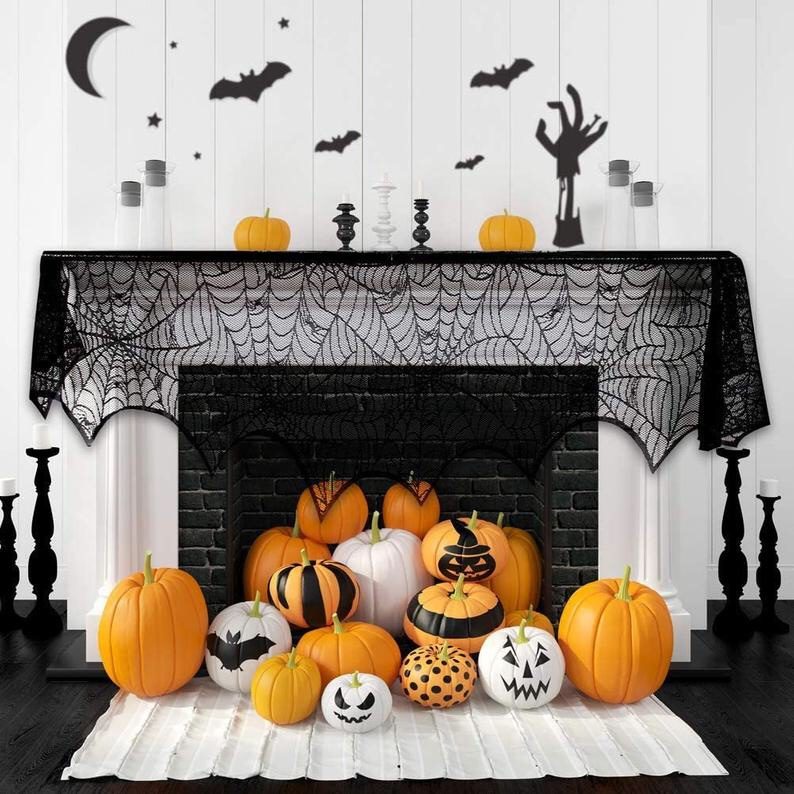 Your fireplace isn't just reserved for when Santa comes. Make your fireplace spooky this Halloween with Pumpkins, candle holders and spooky cobweb covers to create a fun and spectacular display!
Halloween Bouquet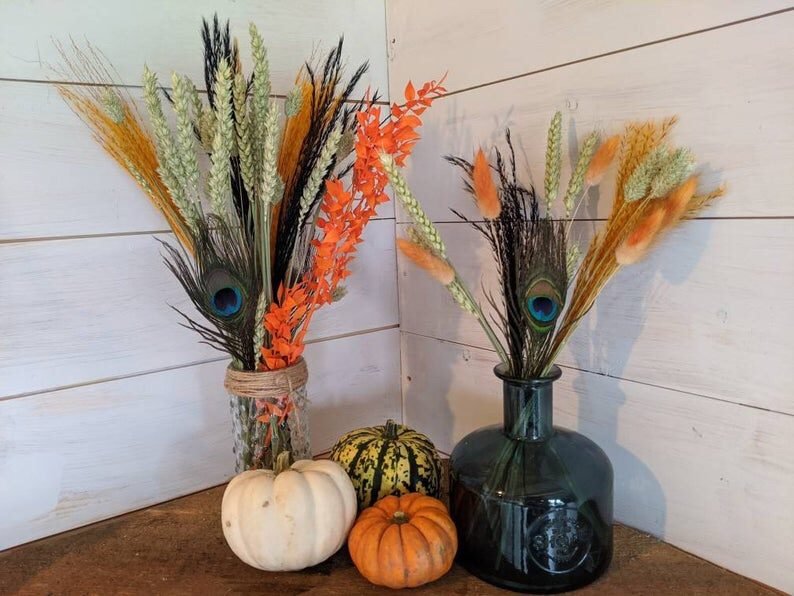 Halloween home decorations can be anything from novelty spooky skulls to sophisticated flower arrangements. If you're looking to incorporate a sprinkle of Halloween and autumnal colours into your home this month, we love these bouquets of dried flowers that can be posted straight through your letterbox!