Does grey and blue match in a bedroom?
Grey and blue are both soothing colours and easily go together to create a space that is relaxing. Furthermore, these two colours compliment each other so that your interiors are bursting with colour without being imposing.
Depending on the tones you use, you can create a contrasting or blending look to your bedeoom. Use navy blue against a light shade of grey to make your bedroom look sophisticated. Or flip it around and combine the two colours with dark tones for elegant interiors.
Here's our list of the best grey and blue bedroom designs to show you how well blue and grey go together in a bedroom.
Cozy loft blue bedroom idea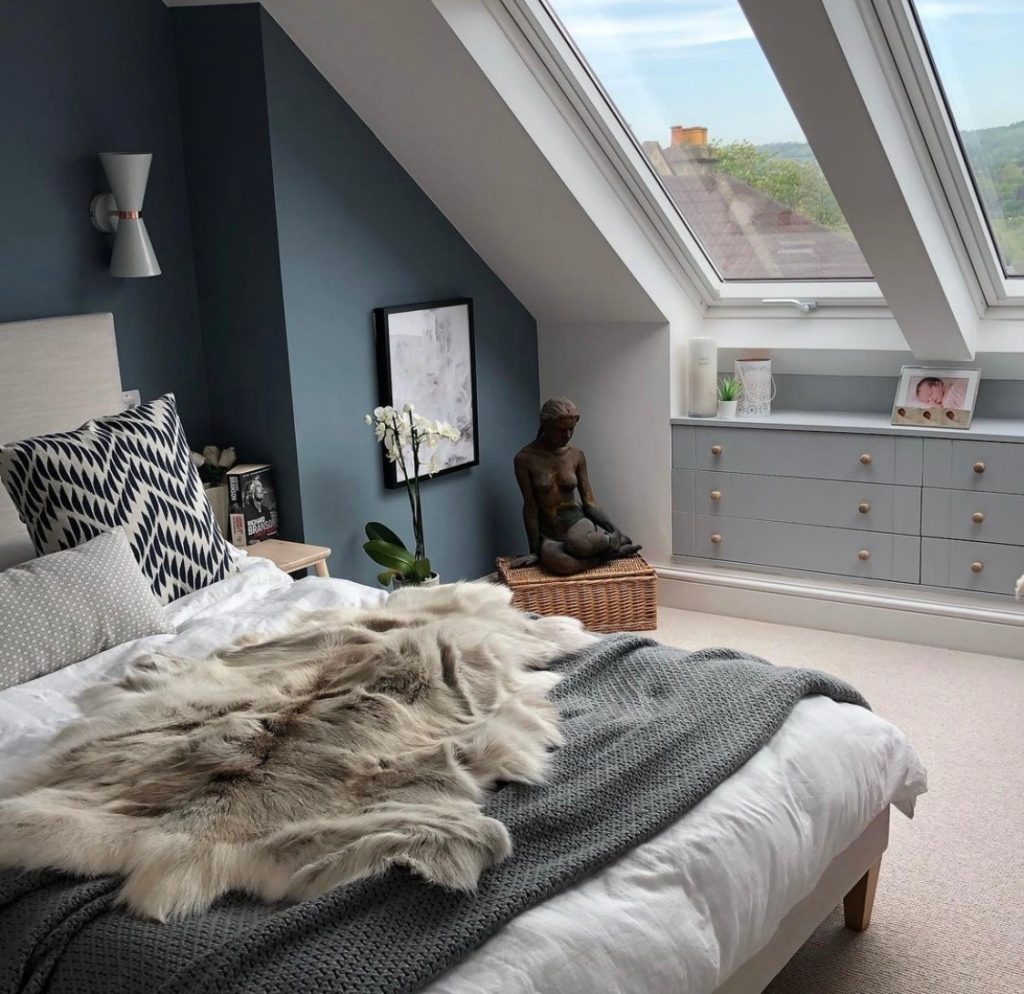 Image source: @abodewithme
Styling a bedroom in the loft can be quite a challenge, as getting the colours and the furnishings on point can take a lot of guesswork. We love this simple yet stunning bedroom by @abodewithme where dark blue walls and grey furnishings come together to create a calming space to relax. The clever chest of drawers under the windows is an element we love as it's practical and pretty!
Luxurious blue interiors for a regal bedroom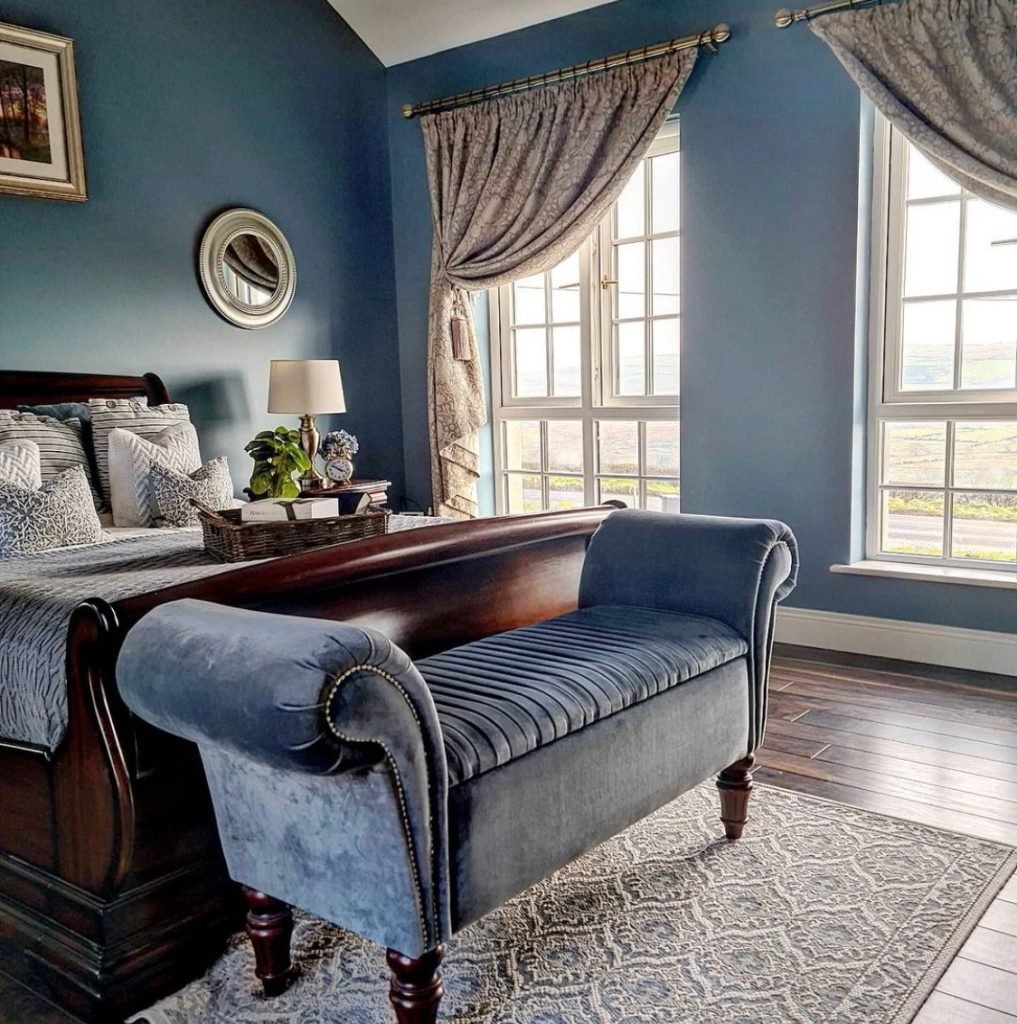 Image source: @laura_makingahome
We love a splash of sophistication when coming up with interior ideas and this design by @laura_makingahome takes it to an entirely new level. With a base colour of soft blue on the walls, this bedroom gets transformed into a space fit for royalty. From the varnish-finish sleigh bed, to the plush velvet end of bed seat – and not forgetting the draped curtains for a dramatic look!
The tiny details make this space feel at home, like the textured rug and duvet set that adds a hint of grey to the space.
Small grey and blue bedroom idea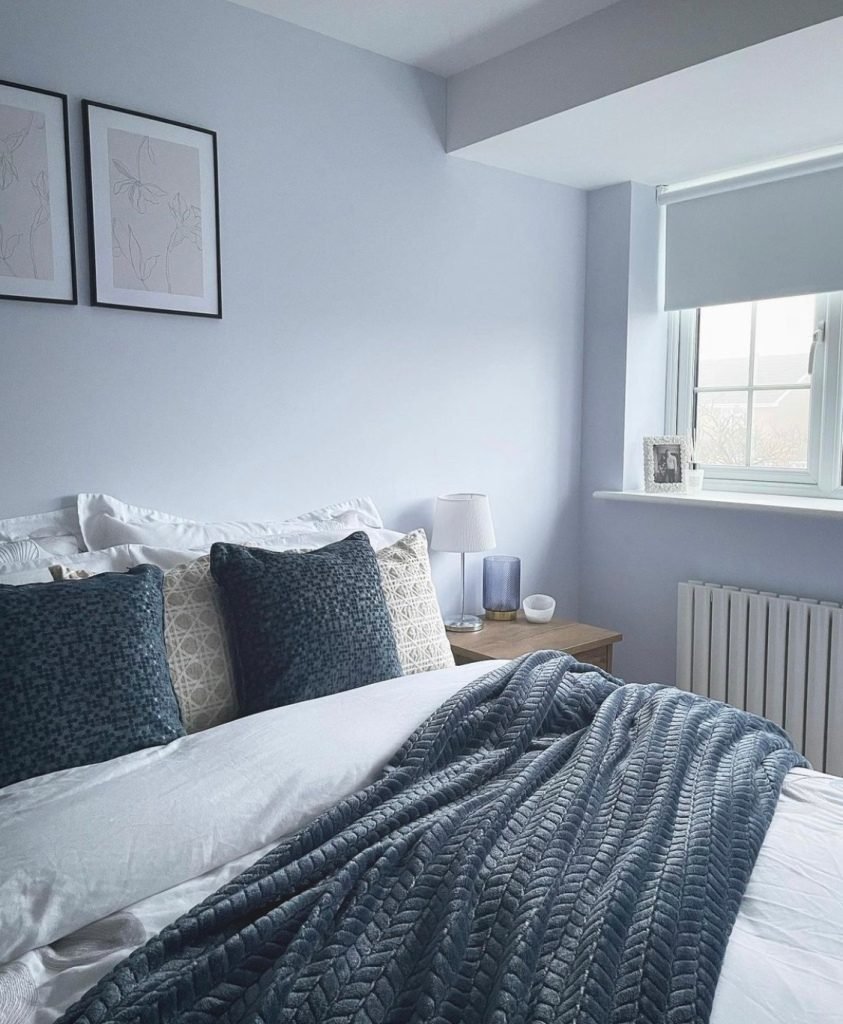 Image source: @makingahomeat101
Choosing a grey and blue colour palette is ideal for a small bedroom, as it still gives you colour in your room whilst being subtle and adding the illusion of more space. If you still want to keep your room light then opt for a pale shade of grey for your walls. Then, dress up your room with layered duvet sets and cushions to bring in the darker shades, just like this gorgeous idea by @makingahomeat101.
Calming blue and grey bedroom idea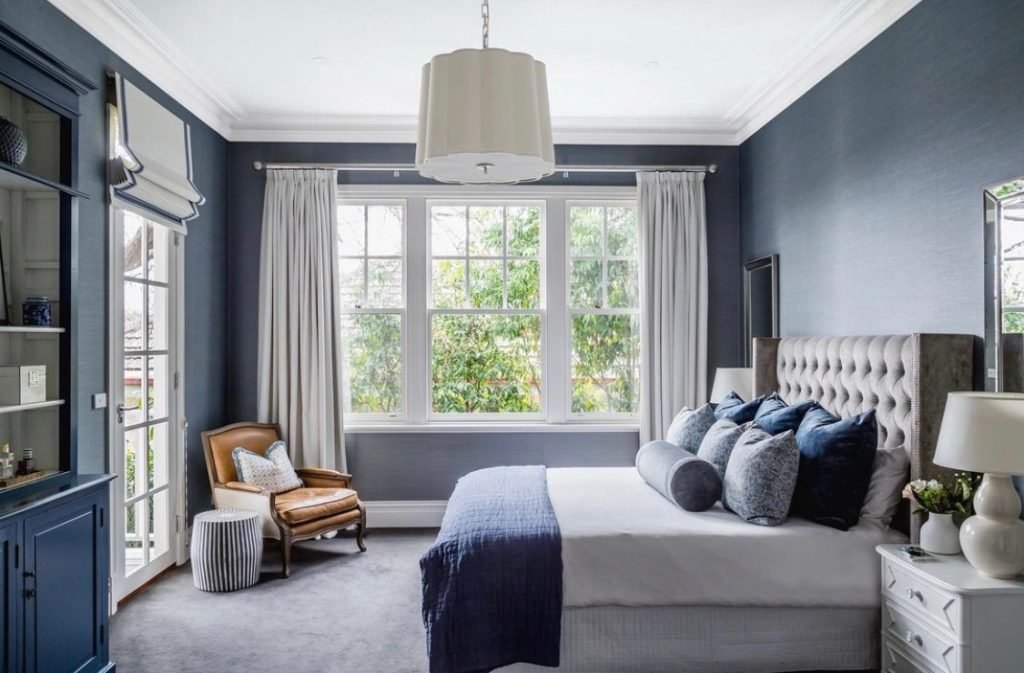 Image source: @galleriebinteriors
If we had to pick one word for what we must have in a bedroom, it would definitely be a relaxing and calming environment – and that's brought to life in this design by @galleriebinteriors.
We love how the blues, greys and earthy tones all have their place. The blue walls are dark and soft, but this design and furniture placement has refrained from making the room look moody, in fact, it looks bright and airy!
Grey wall panelling in a blue bedroom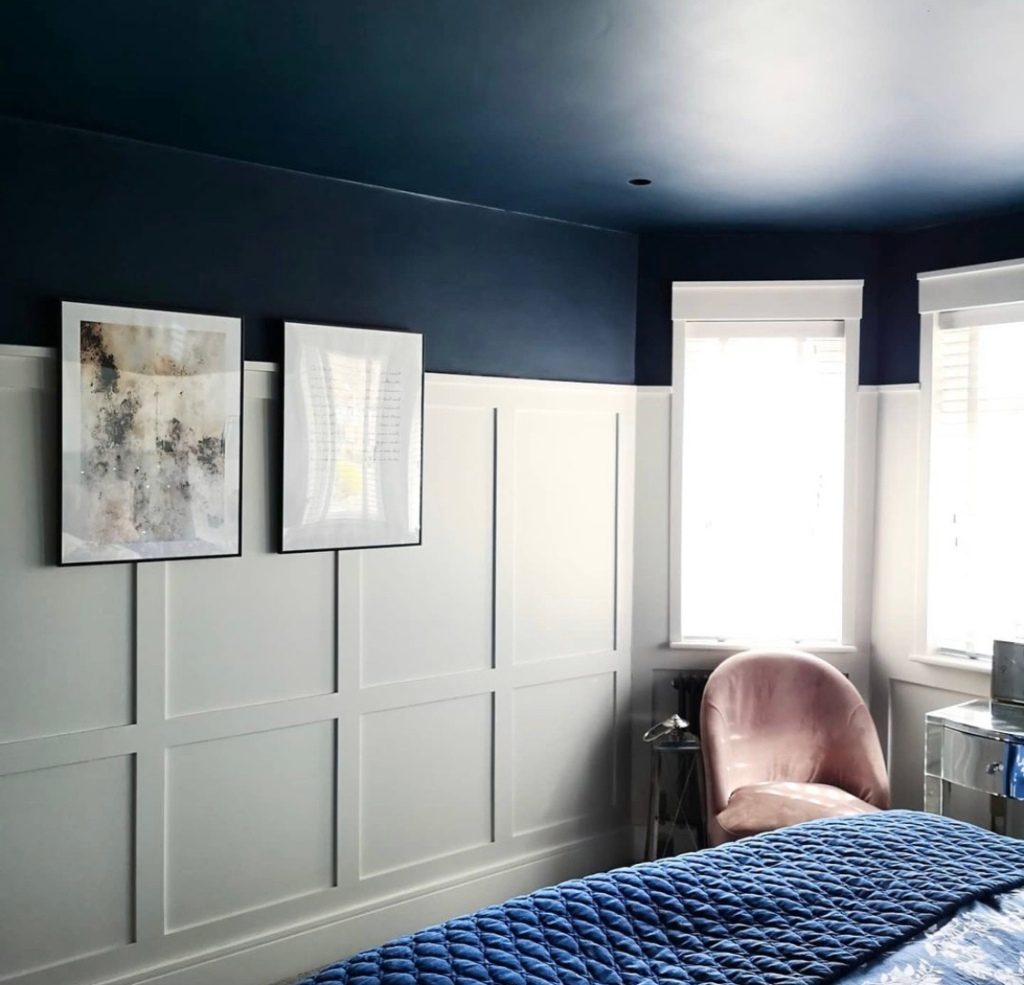 Image source: @dear_marvis_home
Create a contrasting look in your bedroom with painted wall panels, which adds depth and texture to your space. This blue and grey bedroom idea by @dear_marvis_home switches things up with interiors by opting for grey panelling and a blue ceiling to create a bold look. The grey walls brighten up the room and the soft blue bedding compliments the space perfectly.
Sky blue bedroom idea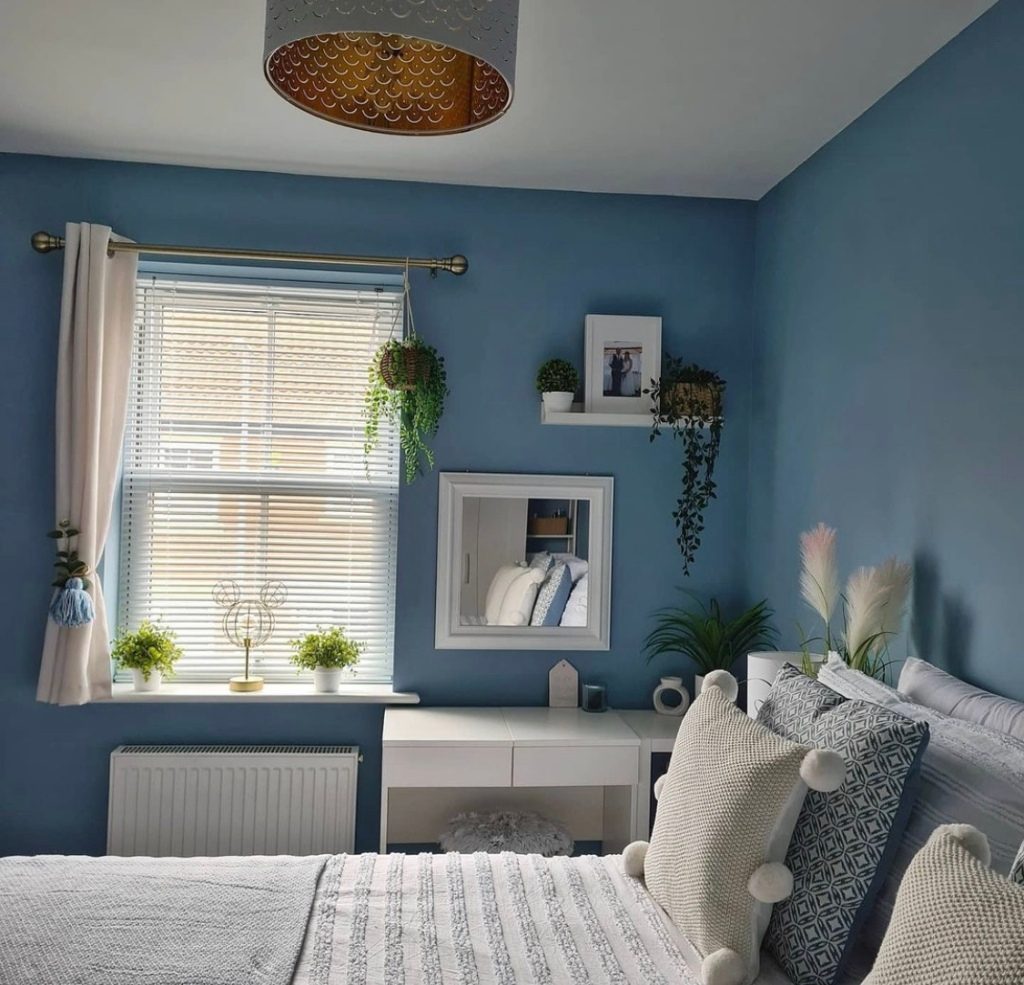 Image source: @swans.at.number6
Blue is a calming colour, and painting your walls in a beautiful bright sky blue is a great way to make your bedroom feel relaxing. However, it can be tricky to style blue painted walls so that the room still feels cozy. We've handpicked this lovely design on Instagram by @swans.at.number6 that has transformed the bedroom into an inviting oasis.
Match your vibrant walls with soft neutral furnishings like this idea from @swans.at.number6 with grey and white bedding, shelving with hanging plants and a bold framed mirror to draw in the eye.
Mix and match blues and greys for a fun bedroom idea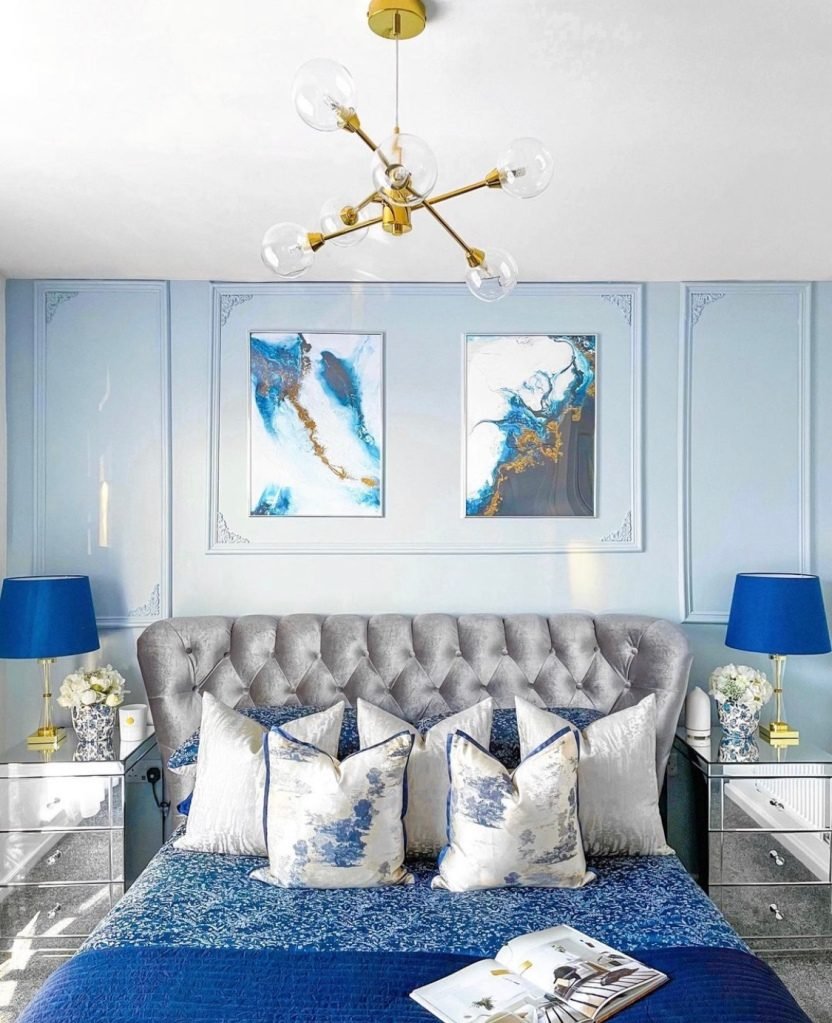 Image source: @rg_livingcolour
If you're not shy about your interior choices and you love bold colours and rich fabrics, take ideas from this gorgeous and quirky bedroom by @rg_livingcolour.
The statement walls in this bedroom are to die for, with intricate Victorian panelling finished with a soft blue shade that creates the canvas for the furniture.
Now let's talk about the furniture… from the abstract artwork to the bedding and lampshades, we just love how the royal blues creep their way into the space. This is calmed down by the soft grey headboard and mirrored bedside table to give the illusion of more space. We just love everything about this fun bedroom interior!
Blue bedroom and nursery combination idea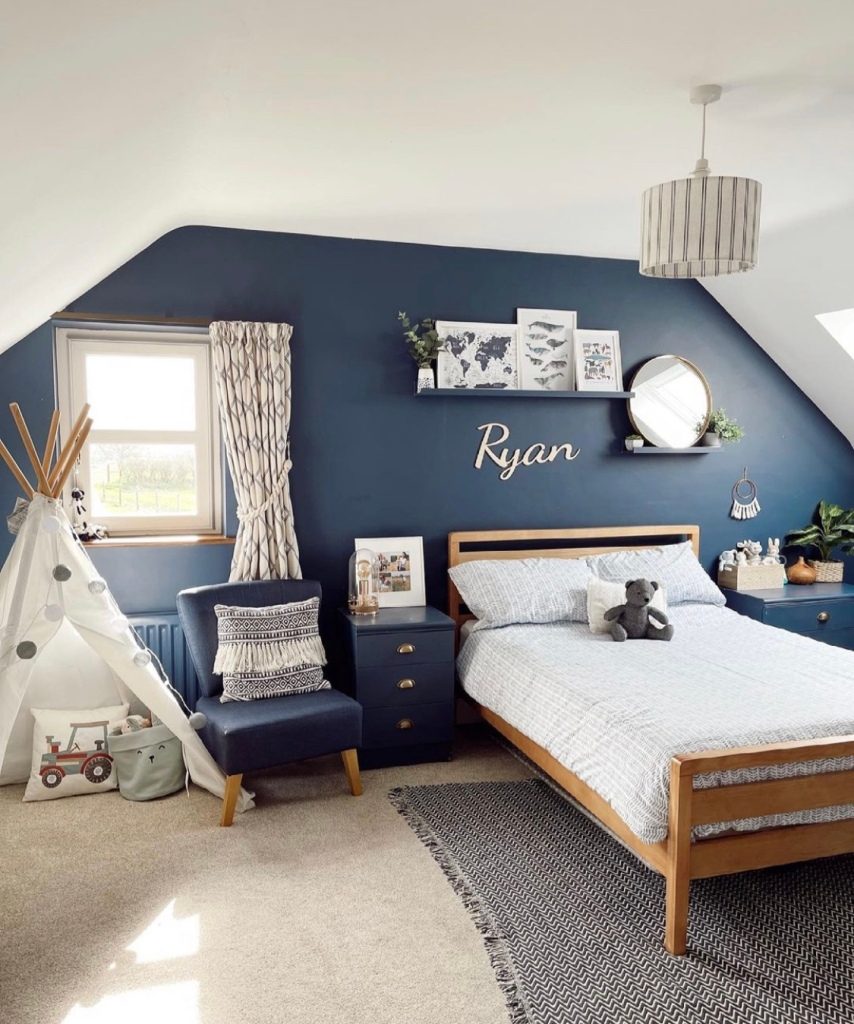 Image source: @sistors_and_sons
When designing ideas for a bedroom with a nursery the first thing to think of is "how quickly will they grow out of it" – and that's exactly why we are believers in semi-mature bedrooms with nurseries so that the transition from cot to bed won't mean a complete renovation.
This gorgeous dark blue bedroom idea by @sistors_and_sons is the perfect example of how to balance mature and dreamy for your child's bedroom. We love the royal blue painted walls against the soft grey and white furnishings to create a really thought-out and tranquil space to play and sleep.