These ideas put the WOW in windows…
Should you use blinds on your living room windows?
Blinds are a great addition to your living room as they offer extra privacy in the day, compared with curtains. Shutters are also a great alternative to blinds that will give privacy and sunlight to your lounge. Choose a light colour blind to make your living space feel bright and open and avoid dark blinds as they might give the appearance of darkening your room.
What's the difference between curtains and blinds for your living room?
The difference between using curtains and blinds for your windows is mostly down to how much privacy you need. Some homes offer lots of privacy (such as a large front garden) and therefore, will not need blinds for that purpose. Whereas some lounges in cities for example, will benefit from the privacy that blinds give whilst also allowing light into the room.
Curtains are great for insulating your living room and with many designs on the market, you will have various ways to effortlessly dress your window.
Bay window living room ideas
Browse our favourite bay windows below, that cleverly use extra space by pointing outward in a stylish fashion and are often seen in many Victorian inspired homes.
Bay window with sofa and no curtains or blinds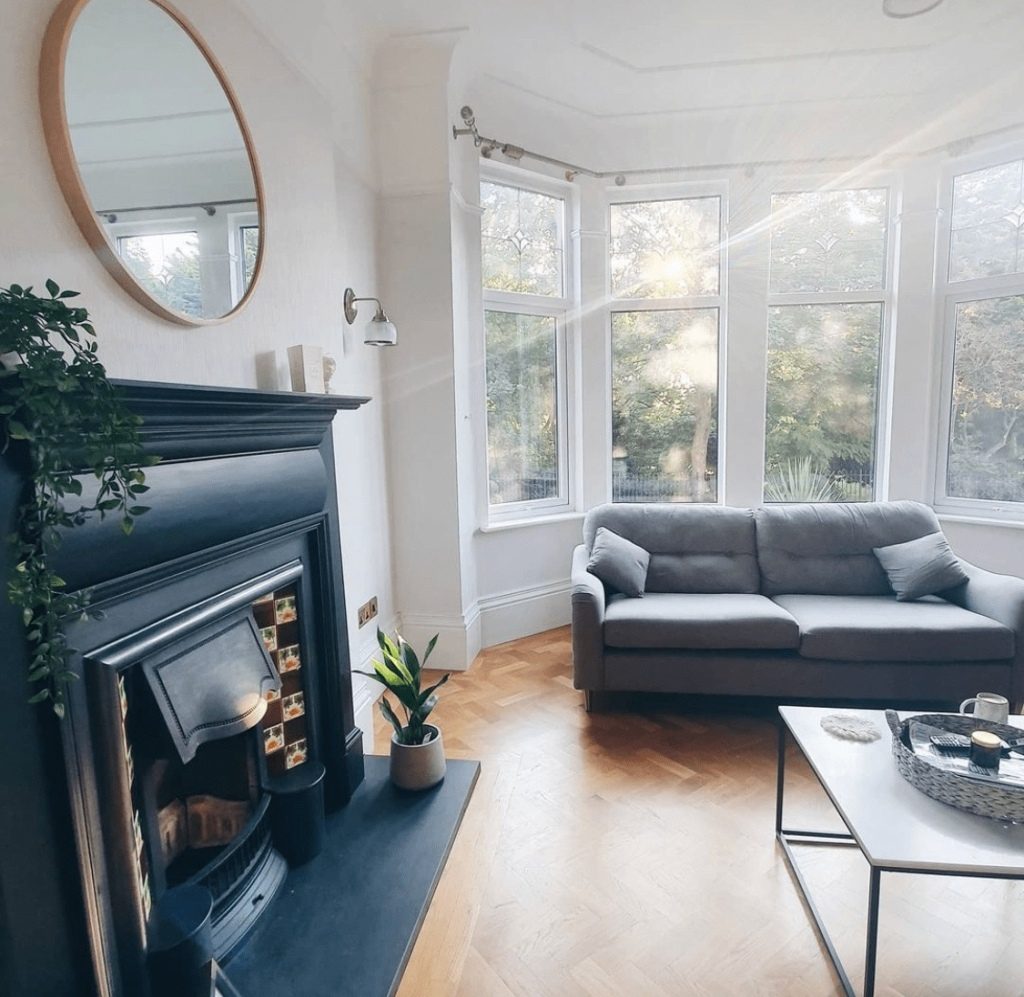 Image source @harriets_house_
We love the simplicity of this bay window in the living room of @harriets_house_ where the sun covers the space.
If you're unsure whether or not to style your living room windows with blinds or curtains, firstly consider the amount of light you get in your lounge. Bay windows typically offer open areas in the living room and this invites the opportunity for you to allow light into that space.
This design is perfect and minimal for a relaxing living room with simple touches; from the period fireplace to the clear line furniture choices.
Top tip: add a mirror over your fireplace to make your space appear bigger as the light from the windows will bounce off reflective surfaces!
Bay window dining area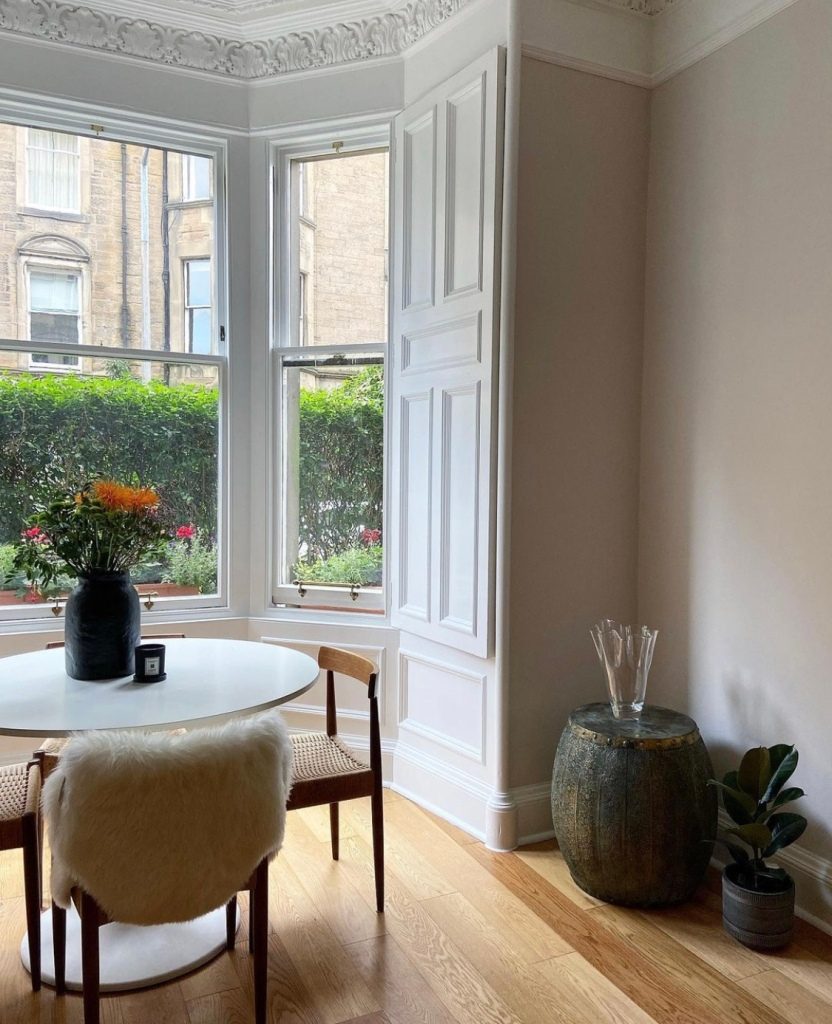 Image source @tillystewart.interiors
Transform your bay window in your living room
Into a dining space for entertaining just like this elegant idea by @tillystewart.interiors. We love this bay window idea that is styled with Victorian charm. From the wall panelling to the curved dining table that effortlessly contrasts the sharp edges of the window frames.
We love that this bay window and dining area doesn't have any blinds or curtains, as the space would become too clustered and dull with no sunlight.
Bay window with shutters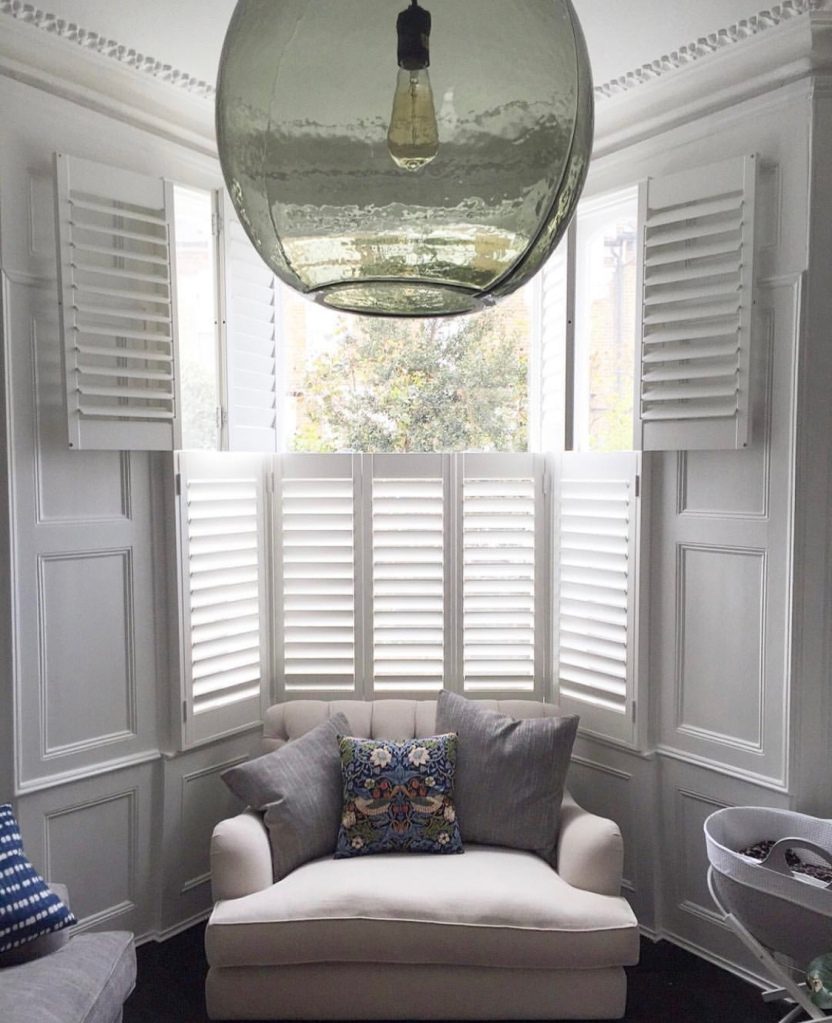 Image source @syscouk
Control the light in your living room with these tier on tier shutters for bay windows that look chic and offer plenty of privacy.
The beauty of these shutters is you can choose which windows you want open and which you don't and the shutters will still allow light to flood your space.
We love the grey and white colour scheme of this room, which makes the shutters pop and become a statement look for the space.
Bay window with privacy windows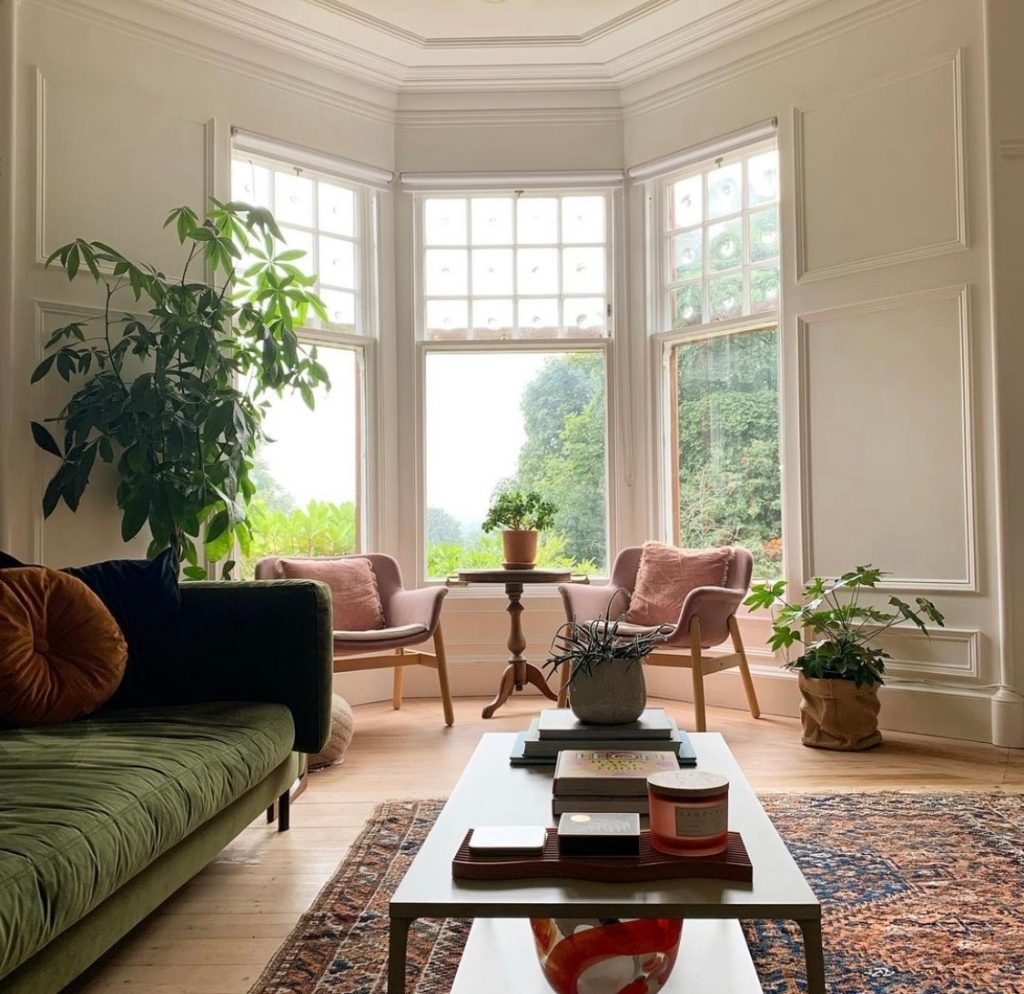 Image source @houseofsnook
If you're unsure whether to leave our curtains or blinds for your bay window, you can decide on an alternative option, which is to install privacy film over your windows. This will allow you to still have light come through, but also allow you to have privacy.
This bay window idea by @houseofsnook uses privacy windows in a clever way by covering the top section of the windows. We love this design as it adds style while being functional and breaks up the windows in a beautiful way to match the surroundings.
Private bay window with opaque blinds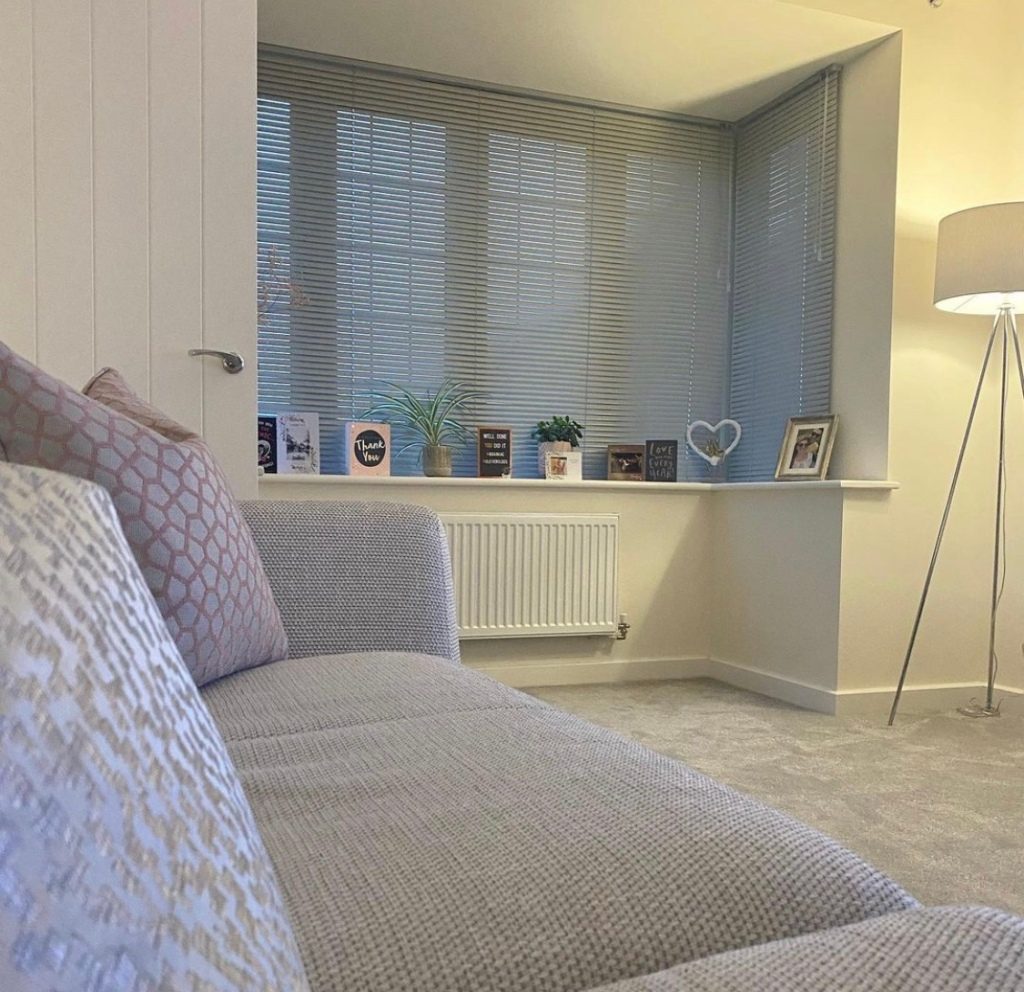 Image source @ourhouseatnumber_9
Furnish your bay windows with semi opaque blinds so that there's no need for curtains and your living space still feels open with the added privacy.
We love spacious living room ideas by @ourhouseatnumber_9 that shows us just how to decorate a bay window with minimalist flair. Grey and white is the perfect colour scheme for an enclosed living space like this, so that it still looks and feels airy, even on the evenings.
Standard living room picture windows with blinds and curtains
Regular picture windows in living rooms can become just as part of your interior design as any other element in your space. See below on how to dress your windows with curtains or blinds that will make you think twice on how to wow with your windows.
Half shutter windows for your living room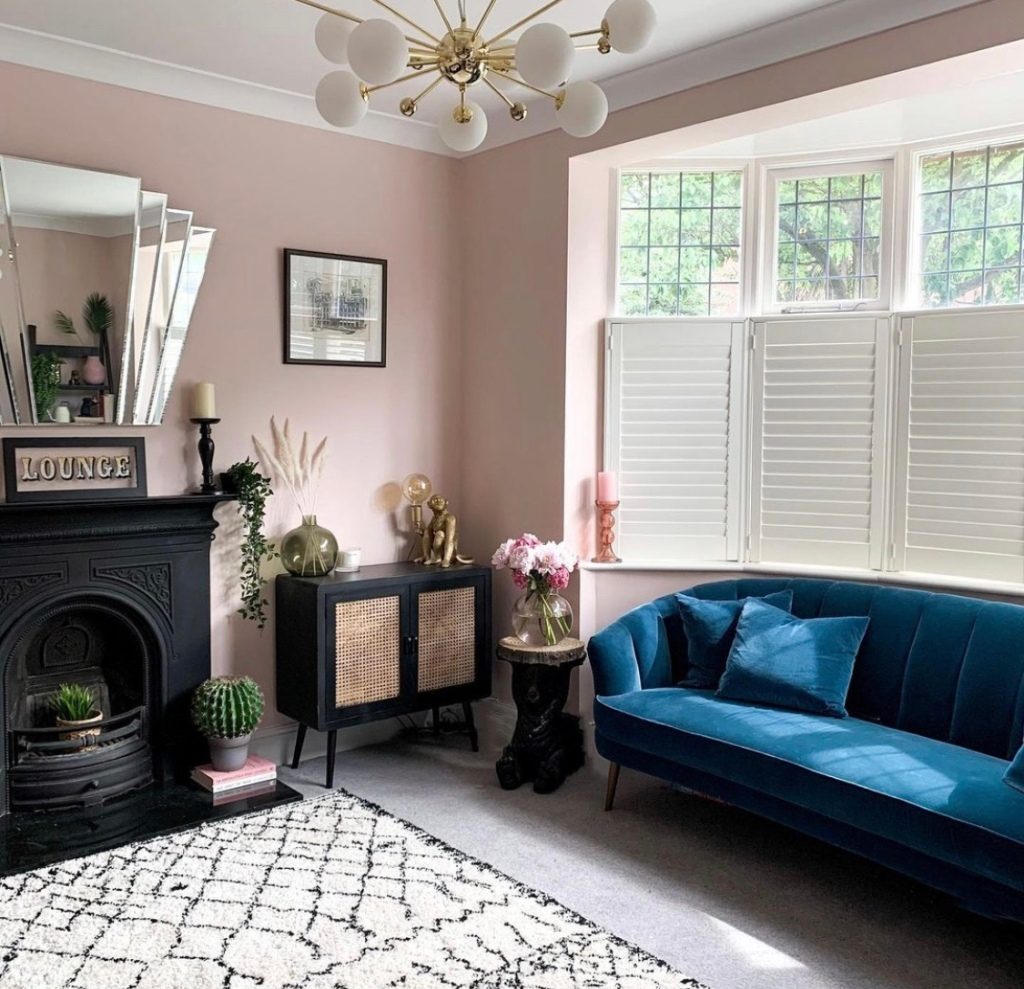 Image source @housekidscats
Decorate your windows in your living room with half shutters that allow you to scrap having curtains altogether. We love this living room design by @housekidscats that shows us just how it's done!
By matching the shutters to the ceiling, this living room makes it look effortless to ditch the curtains.
The beauty of this space is the choice of colours; the bold fireplace matched with the velvet blue sofa adds a pop of Victorian charm. While the calming pink walls and Art Deco inspired mirror adds the feeling of more space with reflective light that bounces across the room.
Sheer curtains with blinds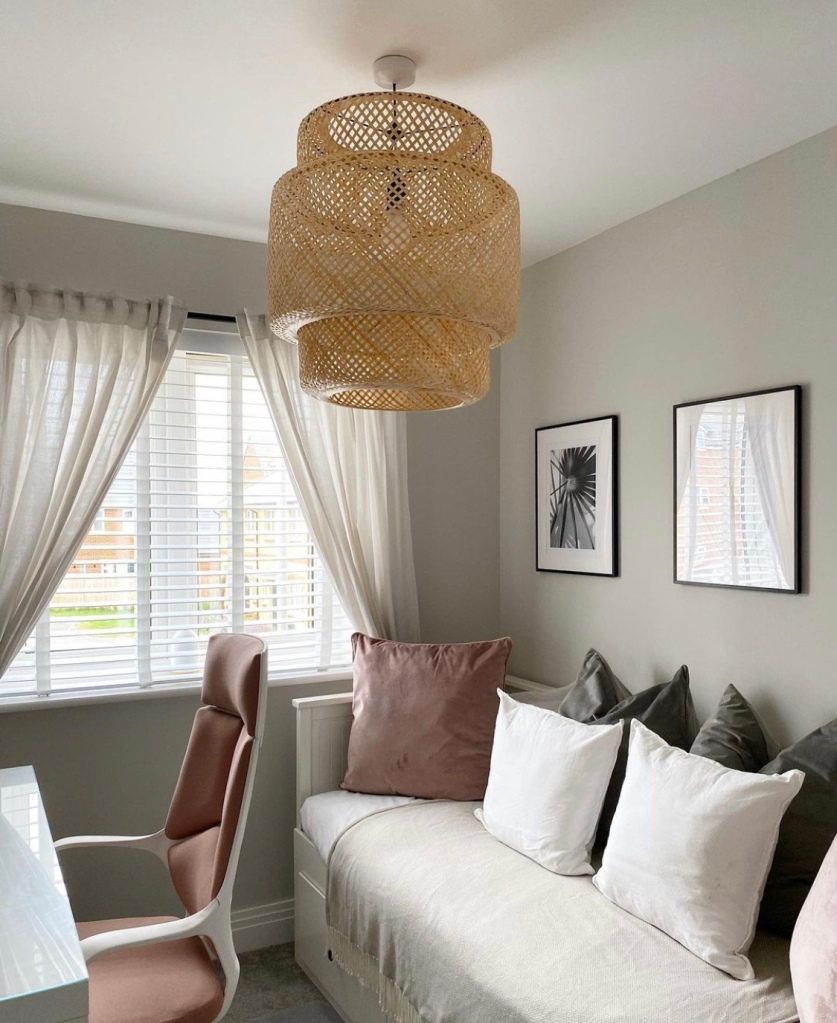 Image source @the_lambert_home
Layering curtains and blinds offers a sense of coziness to your space, just like this design by @the_lambert_home that matches shutter blinds with sheer curtains to create a delicate look.
By having blinds and curtains, you allow yourself privacy and even though you may think that you get less light, this idea shows us that you can do it in a way that doesn't compromise on letting in the daylight.
Full shutter windows with no curtains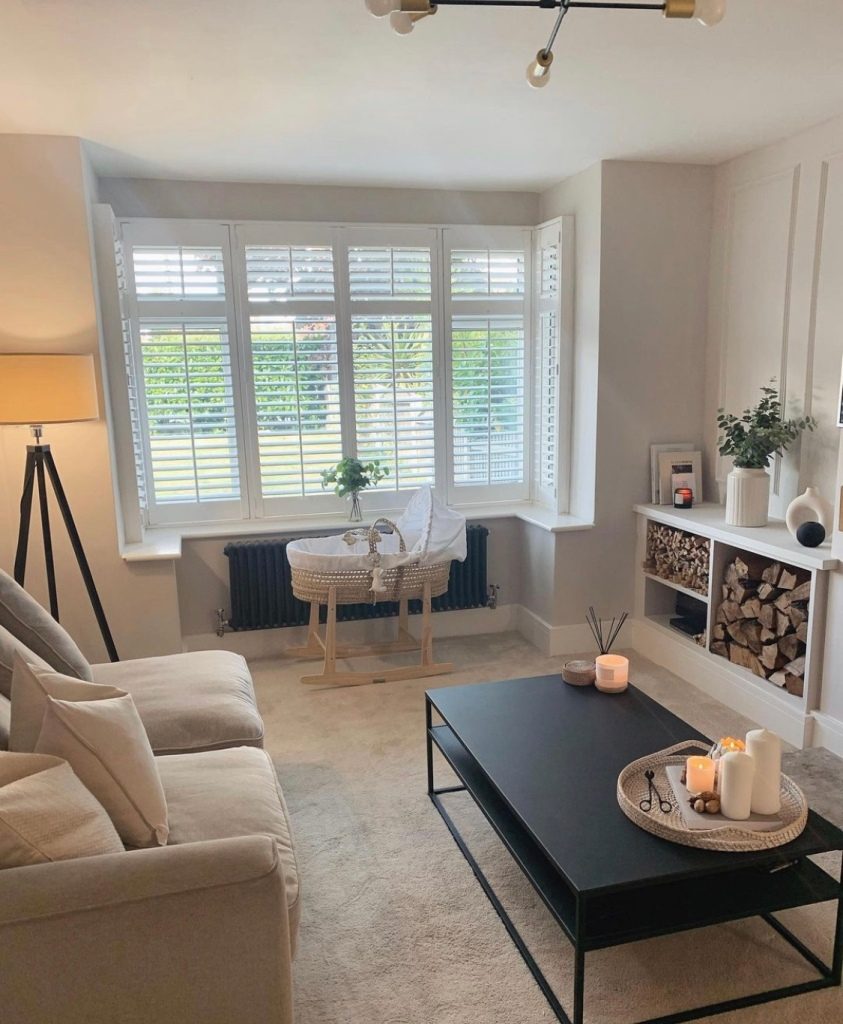 Image source @ourrenovationjourney
Living rooms that have a large picture window looking for privacy will love this idea by @ourrenovationjourney. The simple blinds and no curtains add space to this small lounge with the right balance of privacy and sunlight.
Keep your window cill simple with a few decor accessories like a vase of plants to avoid making the space feel cluttered. We really love the details of this living room, right down to the matching black coffee table and radiator to make everything come together nicely.
Convert large living room windows into a reading nook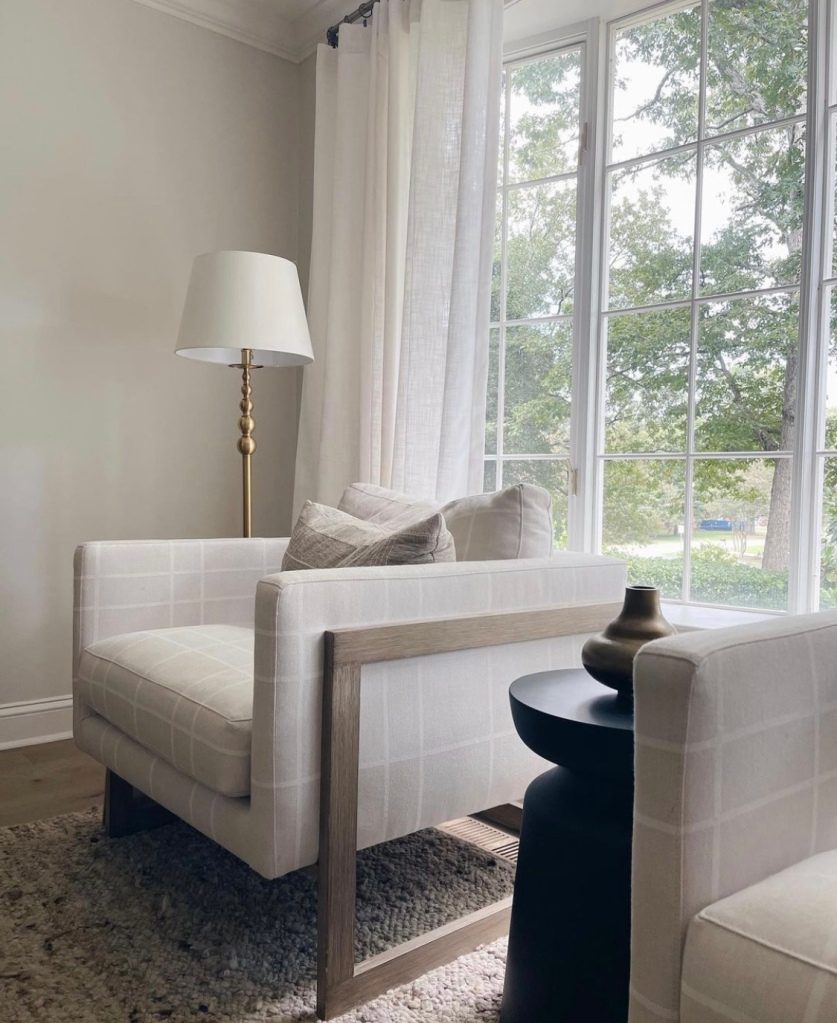 Image source @ourhickoryhouse
Convert your living room window space into a cute and relaxing reading nook. We love this living room window idea by @ourhickoryhouse that uses simple and sophisticated furnishings to dress up the large, tall picture windows as a place to enjoy reading with plenty of direct sunlight.
The sheer curtains for privacy work well with the space to add a depth of texture and to make the space feel comfy.